Some posts on this site contain affiliate links, meaning if you book or buy something through one of these links, I may earn a small commission. Read the full disclosure policy
here
.
---
I've been playing around with this post for a long time in my head. But I've always avoided writing it because, really, how can I possibly chose sides when it comes to New Zealand? Picking a favorite island would be like picking a favorite child or puppy or ice cream flavor. You just can't do it.
Or can you? (Well, maybe not with the child example, but with New Zealand's islands, maybe.)
In order to try and decide which island is "best" — the North Island or the South Island — I'm going to look at 10 major aspects of New Zealand to see how they compare on each island. I think this will be a learning experience for us all. People always ask me which island is "better." … Well, perhaps we're about to find out.
Let the smackdown begin!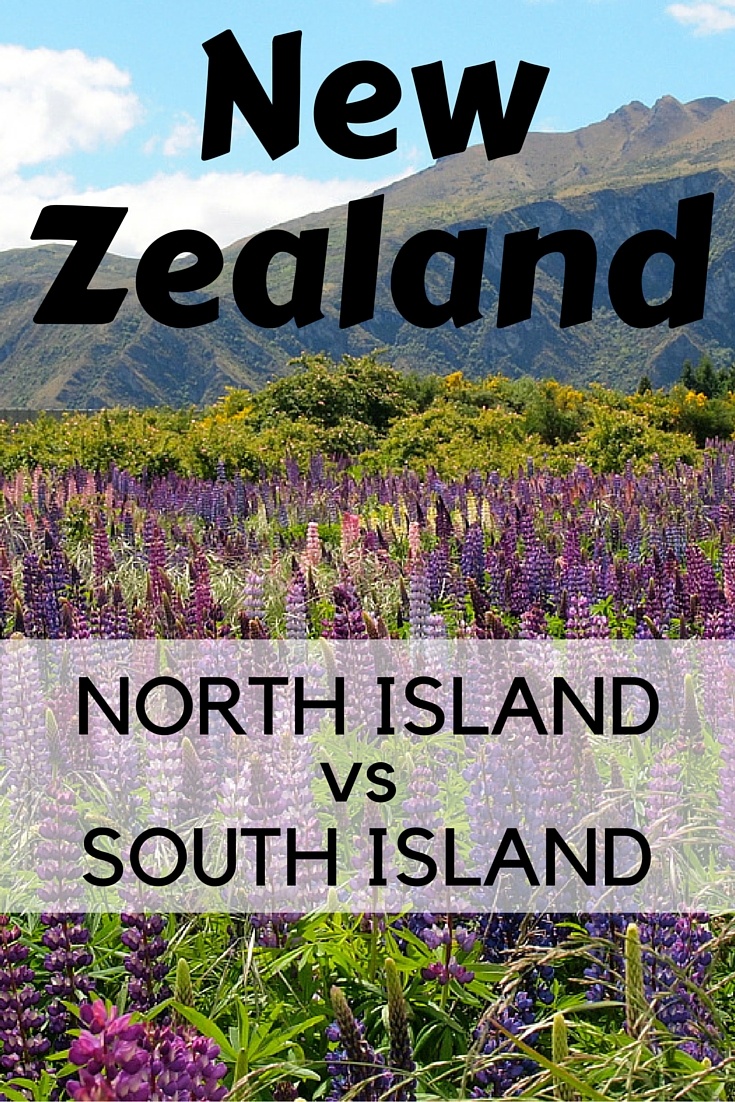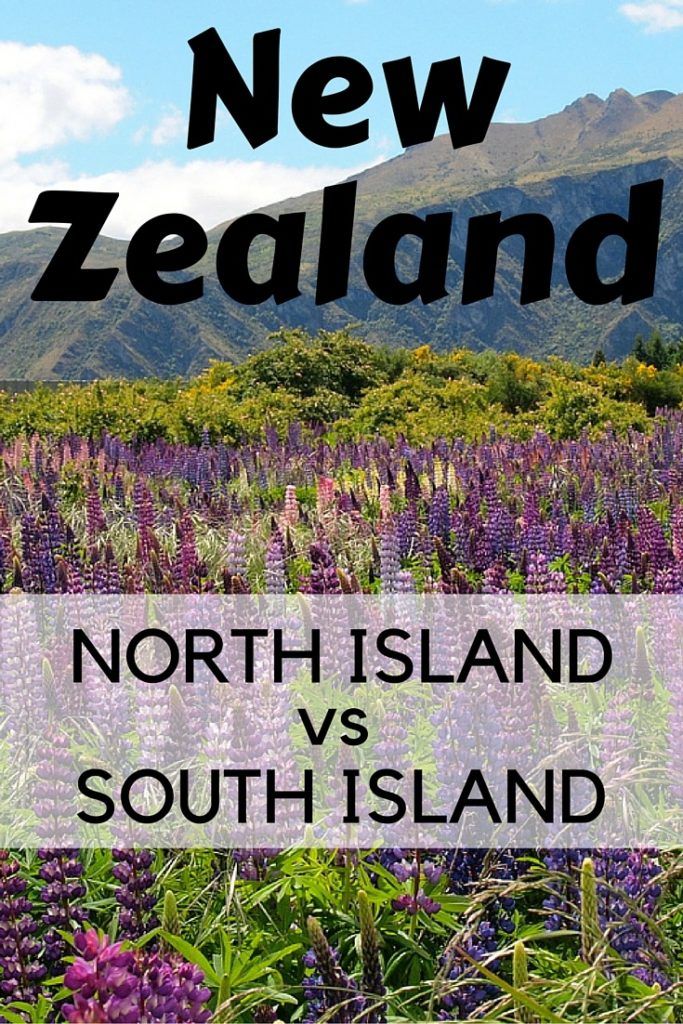 Area
Let's start somewhere easy and non-debatable — size. Now, the whole country only covers roughly the same area as the state of Colorado, so there's not much land to really debate over.
But, here are the numbers:
The North Island is roughly 43,911 square miles.
The South Island covers about 58,384 square miles, and feels much bigger when you are traversing through it.
Smackdown winner: South Island
Tally: North Island — 0 South Island — 1
Accessibility
All of New Zealand is relatively accessible (whether by plane, bus, car, boat, or what have you), but some areas are easier to get to than others.
For example, the North Island has 4 of New Zealand's 7 international airports, including the one in Auckland, which handles most of the country's arrivals. Wellington, too, has a large airport that handles a lot of domestic and international flights. On the South Island, the biggest airport is in Christchurch, which, while sizable, doesn't handle nearly as many international flights as Auckland.
As far as buses go (which is the best way to get around the country if you can't rent a car or campervan), the two biggest carriers (InterCity and NakedBus) both service more cities on the North Island than the South Island (both make 34 major stops on the South Island, while InterCity has 41 stops on the North Island, and NakedBus has 59). Many of the buses on the North Island also tend to run more frequently. (Though, this could be because the North Island is smaller, has more cities, and isn't divided in half by a gigantic mountain range…)
Smackdown winner: North Island
Tally: North Island — 1 South Island — 1
Cities
Which brings us to the cities… This is a tricky one, because New Zealand is full of unique and interesting cities.
Roughly 76 percent of the country's inhabitants live on the North Island, with more than 30 percent calling Auckland home. But you know what? I don't really love Auckland. It feels like any other decent-sized city in the world; to me, Auckland lacks a bit of character. By contrast, Wellington (also a North Island city) is bursting at the seams with character. It's no secret that this is my favorite city in the world. The North Island is also home to fun cities like Taupo (a mecca for fishermen), unique stops like Rotorua (full of geothermal wonders), and wine-centric towns like Martinborough. And we can't forget the farming community of Matamata, which is home to Hobbiton!
On the South Island, the largest city is Christchurch, which, while still recovering after a big earthquake in 2011, is truly gorgeous. There's also the popular resort town of Queenstown, which will easily steal your heart if you're not careful. Then there are surprisingly cool towns like Dunedin and Invercargill, and coastal gems like Kaikoura. But, since the South Island is much more sparsely populated than the North, that means that there are also a ton of really small towns that may not have much to offer other than stunning views. (But really, do they need to offer anything else?)
Smackdown winner: Draw, because each island has some great towns and cities.
Tally: North Island — 2 South Island — 2
Cultural Offerings
New Zealand is an interesting country because it's two islands can sometimes feel like completely different worlds.
Looking to tap into New Zealand's native Maori past, the North Island is your best bet. Set aside an afternoon at Te Papa Tongarewa (the national museum of New Zealand) in Wellington, visit the Waitangi Treaty grounds in the Bay of Islands, or take in a cultural dinner and concert in Rotorua. The Maori culture is a very unique one, and it's worth your time to experience it while you're in the country.
On the South Island, the cultural focus is different. The South is home to the rugged "Southern Man," and the cultural offering of choice down here is either sheep farming or rugby.
Smackdown winner: North Island
Tally: North Island — 3 South Island — 2
Food
So what's the food like in New Zealand? Well, there's a lot of lamb and mutton (there are roughly 40 million sheep here, after all), fish and chips, and a delicious invention known as Hokey Pokey ice cream. New Zealand is also known for its Green-Lipped Mussels, and, of course, its wine. The South Island's Marlborough Region is said to produce some of the best wine in the world. But, since I'm not much of a drinker, I cannot personally back this claim up.
So what sets the islands apart? Well, the South Island might have a slight advantage, because Dunedin is home to the Cadbury Chocolate Factory, and Queenstown is home to Fergburger. And, who doesn't love chocolate and burgers?
Smackdown winner: South Island, by a hair.
Tally: North Island — 3 South Island — 3
Landscapes
New Zealand may very well be the most diverse and beautiful country on the planet. Remember how I said the whole country was roughly the size of Colorado? Well, packed within that small area is just about every climate and landscape you can imagine. From beaches to rainforests to mountains to rolling green hills to volcanic deserts, this country seriously has it all.
On the North Island, you have the beaches of Northland, the underrated Coromandel Peninsula, the East Cape, the geothermal oddities of Rotorua, the volcanoes of Tongariro National Park, the rolling green hills of northern farmland, coastal beauties like Castlepoint, and unique spots like the Putangirua Pinnacles.
While the North Island is gently rolling and seemingly perpetually green, things couldn't be more different on the South Island. The South Island is rugged, with the Southern Alps acting like a snow-capped spine that runs down the center of the island. Highlights here include the Marlborough Sounds, the rain-drenched West Coast, the Canterbury Plains, amazingly accessible glaciers like Fox and Franz Josef, the tallest mountain in New Zealand (Mount Cook), the Southern Scenic Route along the coast, the Southern Lakes region around Lake Wanaka, strange rock formations like the Pancake Rocks in Punakaiki and the Moeraki Boulders, and amazing fjords like Milford Sound and Doubtful Sound.
Smackdown winner: It's a tough choice, but the South Island gets my vote.
Tally: North Island — 3 South Island — 4
Beaches
New Zealand isn't exactly associated with beautiful beaches in the way that other South Pacific islands (like Hawaii and Fiji) are — but it actually does have a lot of sand and sun to offer.
On the North Island, the beaches are more traditional white-sand affairs that you might associate with long romantic walks or horseback riding. There's 90 Mile Beach at the tip of the island (which is actually an official part of Highway 1), beaches in the beautiful Bay of Islands, beaches (including Hot Water Beach) on the Coromandel Peninsula, beaches in the Bay of Plenty, Golden Bay and Hawke's Bay, and Oriental Bay in Wellington. The North Island beaches enjoy a lot of sun and warmer temperatures, making the water more inviting year-round. The North is also home to New Zealand's most popular surfing beaches, including ones in Taranaki and Raglan.
By contrast, the beaches on the South Island tend to be a bit more blustery and cooler (with perhaps the exception of some of the beaches in Abel Tasman National Park). But the surf here can be bigger, and the wind-swept effect and mountainous backdrop can lead to some stunning coastal scenery. Popular beaches in the South include those along the West Coast, beaches in Kaikoura, beaches around Dunedin and the Otago Peninsula, beaches along the South Coast, and of course the lakeside beaches in towns like Wanaka and Queenstown.
Smackdown winner: Draw, because while the North Island has more traditional beaches, the South Island has some truly breath-taking ones, too.
Tally: North Island — 4 South Island — 5
Wildlife
New Zealand has some pretty awesome wildlife, both native and non-native. From whales to seals to kiwi birds, there's a lot to spot all over the country. Interestingly enough, though, most of New Zealand's wildlife has been introduced. It's only native mammal is a small bat, and its other native species are mostly birds.
On the North Island, you can find a lot of wildlife. Take a dolphin-watching cruise in the Bay of Islands, or go on a seal hike along the coast in Wellington. Take a jaunt over to Kapiti Island to see a lot of the country's native bird species, including the adorable kiwi bird, the mischievous kaka, the curious weka, and the extremely rare takahe. Or get up-close with the country's sheep population at the Agrodome in Rotorua.
On the South Island, keep and eye out for the cheeky kea bird, visit the penguins and albatross that call the Otago Peninsula home, go whale watching (or dolphin swimming) in Kaikoura, and play with some of the world's smallest and rarest dolphins (the Hector's Dolphin) in Akaroa.
Smackdown winner: South Island
Tally: North Island — 4 South Island — 6
Adventure Sports
Chances are, if you've thought about visiting New Zealand, you've also thought about some of its adventure sports. The country is definitely a daredevil's paradise, but has activities suitable to all sorts of sensibilities.
On the North Island, top adventure sports include the SkyWalk and SkyJump in Auckland, sandboarding in Northland, black water rafting or canyoning in the Waitomo caves, zorbing in Rotorua, skydiving and bungy jumping in Taupo, doing a flying fox in Gravity Canyon, and skiing on volcanos like Ruapehu or Taranaki. There are also popular hikes here, such as the Tongariro Crossing, which is supposed to be one of the best day hikes in the world. Sounds like a lot on offer, right?
Well, actually, the North Island has nothing on the South Island when it comes to adventure sports. The South Island (more specifically, Queenstown) was the birthplace of such crazy activities as bungy jumping and jet boating, and is also home to some of the best ski fields in the country. Here you also have many hiking options, including on glaciers like Fox or Franz Josef, and plenty of climbing/canyoning opportunities. More into water sports? Try whitewater rafting or river boarding. Skydiving is also popular here in towns like Wanaka, as are other sky sports such as parasailing and paragliding. The South Island is all about adrenaline, and you can even try out stunt plane flying in Nelson or gliding in Omarama.
Smackdown winner: South Island for sure. Queenstown alone could sweep the points in this category.
Tally: North Island — 4 South Island — 7
The Locals
No country would be complete without its locals, and New Zealand is no exception. New Zealanders are some of the friendliest, funniest, most laid-back people I have ever met, and living with them for any amount of time will undoubtedly leave an impression on you (even if it just means converting you into a rugby fan).
But can I really categorize the Kiwis by the island they live on? Well, North Islanders are usually seen more as city-dwellers, while the South Islanders tend to be categorized as farmers and/or adventurers. But, at the end of the day, that has nothing to do with the personality of the locals.
Smackdown winner: It's a draw, because all Kiwis rock, regardless of which island they call home.
Tally: North Island — 5 South Island — 8
Drumroll, please…
…
Final Tally:

South Island wins

!
…
You know, I'm actually a bit surprised. I didn't think it was possible for me to pick a "favorite" New Zealand island. It still may be hard to say, "Yes, the South Island is best," because I really love the North Island, too.
In my mind, both islands are winners, and both are well-worth visiting.
RELATED: New Zealand Road Trip: The Perfect Itinerary if You Only Have 2 Weeks
What to Pack for New Zealand
There are definitely a few things you'll want to make sure to bring in order to help you check off these bucket list items. Things like:
Check out more of my New Zealand packing tips here!
READ NEXT: The Ultimate New Zealand Bucket List
What's your opinion? If you've been to New Zealand, can you choose a favorite island? If you've never been there, which island would you be more likely to want to visit after reading this?