Some posts on this site contain affiliate links, meaning if you book or buy something through one of these links, I may earn a small commission. Read the full disclosure policy
here
.
---
Usually, when you come across people with shovels on a beach, they are very young people. You know, little kids building sand castles, or just throwing the small grains into the air to see whose eyes they can get into.
So the scene at Hot Water Beach, then, was a little odd.
There were plenty of people digging with shovels in the sand.
But none of them were children.
At Hot Water Beach, on New Zealand's Coromandel Peninsula, however, this is not out of the ordinary. Grown men (and women) bring their shovels to this popular beach at low tide and dig down deep into the sand. Because the beach lies atop a natural hot spring, the water that seeps up through the sand to fill the dug holes is warm.
It's like digging your very own hottub.
The aptly-named Hot Water Beach is just one of the many popular spots that make the Coromandel Peninsula on New Zealand's North Island one of the most popular vacation spots in the country. In fact, the area markets itself as "where Kiwis go on holiday!"
But you don't have to be a local to appreciate what the Coromandel Peninsula has to offer.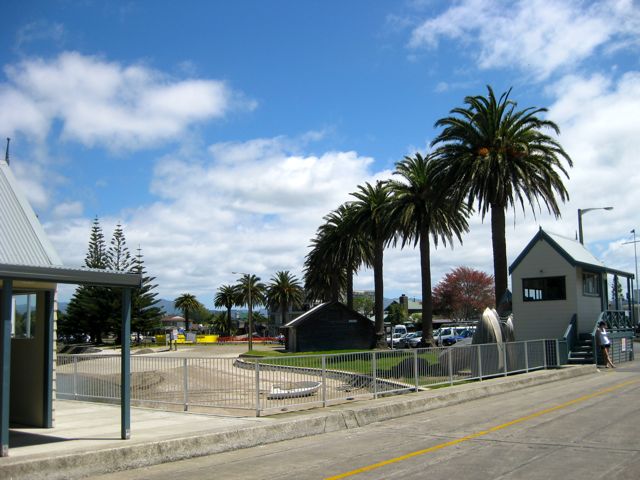 The best way to see some of the region's best sites is to hop on the Pacific Coast Highway outside of Auckland and take the scenic loop around the peninsula. The highway winds along spectacular coastline, with ocean on one side and rainforest-draped mountains on the other.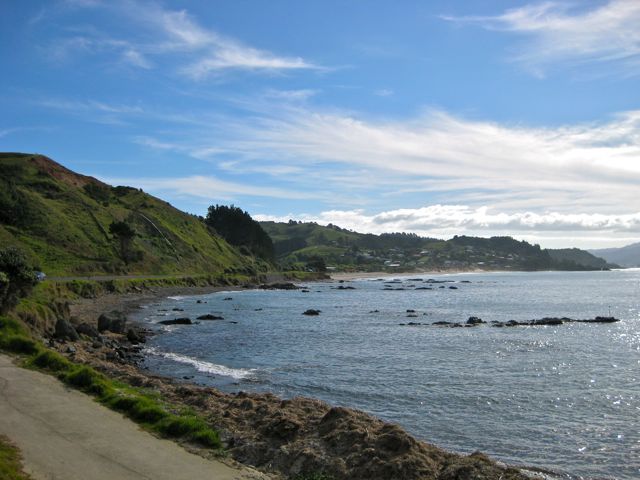 My friend Andrea and I decided to add this loop onto our trip up to Northland, since we'd heard so many good things about it.
Our one regret? Not allowing ourselves more time.
We picked up a rental car in Auckland on the last day of our trip up north, and set off immediately for the Coromandel Peninsula. We decided to start on the far side of the peninsula and work our way around and back to Auckland, where we had a flight back to Wellington that evening. The drive to the far end of the peninsula took about 2 hours.
We hit up Hot Water Beach first, since we knew we needed to be there at low tide to really appreciate it. We had forgotten to bring a spade with us, however, and so we just dug our feet into the sand and watched while others fashioned their own make-shift hottubs as the waves from the Pacific lapped at their heels.
After Hot Water Beach, we continued around the peninsula without much of a plan. We knew we had limited time, but we wanted to see as much as possible.
Cathedral Cove was on our list, but we knew that the extra drive and 45-minute hike down to the famous beach nestled beneath natural rock formations was not going to fit into our timeline if we wanted to make our flight that evening.
So we compromised.
We headed, instead, to nearby Whitianga, a quaint little town right on the coast in Mercury Bay. There, we booked a water-based tour with Cave Cruzer Adventures, which had caught our eye in a brochure because of a wacky little ad.
Andrea and I were the only two on the afternoon tour, which took place aboard an inflatable-type ex-Navy vessel that skimmed over the swells off the peninsula.
Our guide, Captain Steve, took us out into the rough waters outside Whitianga, showing us sites with names like Shakepeare's Cliff, Lonely Bay and Cook's Blowhole.
We zipped through a marine reserve, hoping to catch sight of dolphins or penguins or maybe even an orca. But it was windy and the seas were rough, which meant our losing streak when it came to spotting wildlife continued.
We sailed out to Cathedral Cove and admired it from a slightly different perspective than most tourists. With the turquoise water and pearly white cliffs, it was easy to see why this spot is so popular.
The area has a few sea caves and places where the ocean has eaten away holes in the rocks. On calm days, Captain Steve takes his tours right into some of these caves and holes, but we were forced to admire them from a safe distance — you know, far enough away so that the powerful waves wouldn't crunch us on the pointy rocks.
After taking our fill of photos at Cathedral Cove, Captain Steve turned our boat around and guided us into a nearby bay, which was much calmer than the open sea. Here, he broke out a conch shell and a didgeridoo, and attempted to teach us how to play them. While Andrea and I could both at least get a sound out of the conch shell, I have a feeling neither one of us will ever be famous didgeridoo players…
After about two hours out on the water (in which our exposed knees and cheeks got fried in the strong sunshine), we returned to the Whitianga Wharf and bid our guide farewell. (If you're ever in the area, I definitely recommend taking a tour with Captain Steve.)
Andrea and I hopped back in the car and got back on the highway. We were running late, but were somehow not worried about missing our flight. I think, by that point, New Zealand and its "no worries" attitude had rubbed off on us.
We continued around the peninsula, me braving the twisting coastal highway. We made brief stops in Coromandel Town and Thames for some photos and hokey pokey ice cream, but unfortunately didn't have nearly enough time to explore them.
As it was, we only made it back to the airport with about 45 minutes to spare before our flight.
In my opinion, the Coromandel Peninsula remains one of New Zealand's "hidden treasures." While people clearly know about it, it never felt touristy or commercialized to me in any way. It remains natural and stunningly beautiful, especially if you catch it on a clear, sunny spring day like we did.
Our short jaunt to the area was great, but there's so much more that the Coromandel Peninsula has to offer, like fishing, surfing at Whangamata or Pauanui (some of the best surfing in NZ, I'm told), golfing, learning about gold mining in Waihi (complete with a ride of Goldfields Railway through the Karangahake Gorge), and hiking to the Pinnacles in the Kaueranga Valley upriver from Thames.
I guess a lot of these activities will just have to get added onto that "next time" list of mine… It sure is getting long.
Have you visited New Zealand's Coromandel Peninsula? If so, what were your favorite parts?