Some posts on this site contain affiliate links, meaning if you book or buy something through one of these links, I may earn a small commission. Read the full disclosure policy
here
.
---
Just before I was about to end my study abroad stint in New Zealand, my friend Andrea and I decided that we wanted to have one last adventure in Aotearoa before we had to return to a soggy, grey Ohio just on the verge of winter.
We chose a trip to Northland.
The Northland Region is (as one might expect) the northernmost section of New Zealand's north island, and is known for its sparse population and warm summer weather. Since we had been living in a rather urbanized area (Wellington) for nearly 5 months, getting away to somewhere quieter sounded like a perfect end to our time in New Zealand.
Plus, we were told Northland had some amazing scenery.
We flew up to Auckland on cheap domestic tickets (one of my favorite things about traveling in New Zealand), and caught an afternoon bus to the little town of Paihia in the Bay of Islands.
The Bay of Islands is one of New Zealand's prime destinations for tourists and fishermen alike. Not only is the area gorgeous and chock full of fish, but its main town, Paihia, is a great jumping off point for many Northland tours.
We used Paihia as our base for the next few days, seeing the very best of what Northland and the Bay of Islands has to offer.
If you're planning your own trip to New Zealand's far north, here are the things you won't want to miss:
4 Must-Dos in Northland, New Zealand
Drive on 90-Mile Beach
Whether you take your own wheels or book a bus tour from Paihia, driving on 90-Mile Beach is a must-have Kiwi experience. 90 Mile Beach is an official part of New Zealand's State Highway 1, but is sadly not anywhere near 90 miles long. It's actually only about 55 miles long, and it's unknown how it got the name "90 Mile Beach."
The leading theory is that the name stemmed from the days when missionaries would traverse New Zealand on horseback. A horse could generally go about 30 miles in one day, and, since it took them three days to cross the stretch of beach, they estimated at being 90 miles long. They must have forgotten that everything moves slower in sand…
Regardless of how the beach was named, it was crazy (yet also very cool) when our tour bus pulled off the main road and started trundling along on the hard-packed sand.
Our driver joked that this is both New Zealand's oldest and newest highway — oldest because the beach has been around for as long as the country has, and newest because the tide "repaves" it each day.
We stopped for a short time on the beach for some photos, before piling back into the bus and continuing on along the sand highway.
Visit Cape Reinga
Our ultimate goal was to reach Cape Reinga – essentially the northernmost reach of New Zealand.  Here, the tip of the country juts out like a finger, with Cape Reinga on one side and Cape Maria van Diemen on the other.  We were told that Cape Reinga *technically* isn't the northernmost point (that honor actually goes to the Surville Cliffs), but it's often treated as such anyway.
We arrived at the Aupouri Peninsula under sunny skies, and spent time admiring the capes and the Cape Reinga lighthouse.
I'm not going to lie: I was slightly partial to Cape Maria van Diemen as far as pure scenery goes.
Cape Reinga is not only a popular tourist destination, but also has significance to the native Maori people. Reinga means "underworld" in Maori, and the Maori believe that the cape is where the spirits of the dead enter the underworld. An alternative name for the cape is Te Rerenga Wairua, meaning "the leaping-off place of spirits." There's a singular gnarled tree that clings to a cliff on the cape, and it's said this is where the spirits "leap off" from.
Cape Reinga is also interesting because it roughly marks the spot where the Tasman Sea meets the Pacific Ocean. From the lighthouse, you can see where the two bodies of water clash. The water erupts in waves, and you can see the two distinct colors – deep blue for the Pacific and lighter blue for the Tasman – come together.
I could have spent all day in this place, but we were moving on again before too long.
Ride the Te Paki Sand Dunes
On our way back toward Paihia, we made a stop at the Te Paki Sand Dunes on the edge of 90 Mile Beach for a popular New Zealand adventure sport – sand surfing. Our driver once again guided the bus over hard-packed sand, and soon began pulling plastic toboggans and boogie boards out from underneath the bus.
I had forgotten to bring my eyeglasses or an extra pair of contacts with me, however, and so I was advised not to try it out. I was admittedly bummed, but I had fun watching everyone struggle up the large dune (some can reach 100 meters!) and then dive head-first down it, gripping their toboggans for dear life. One or two completely wiped out and ending up rolling a good way down the dune.
The clouds began rolling in before long, and, once everyone had had their fill of sand, we piled back into the bus and headed south once more.
A stop at a fish and chips shop in Mangonui rounded out our adventure. After a long day of sightseeing and being wind-whipped at the capes, the greasy food never tasted so good.
Dolphin-watching in the Bay of Islands
The next morning, Andrea and I rounded out our Northland adventure with a water tour of the Bay of Islands. Unfortunately we were greeted with cloudy skies, so we probably didn't appreciate the true beauty of the area as much as we could have.
Our tour was a sightseeing and dolphin watching tour with Fuller's, and we came across a few pods of bottlenose dolphins on our way out to Cape Brett and the famous Hole in the Rock.
On calm days, the tour boats usually sail through the hole in the rock, but rough seas made it a bit too dangerous. Another tour boat attempted it, but we watched as it ultimately had to turn around.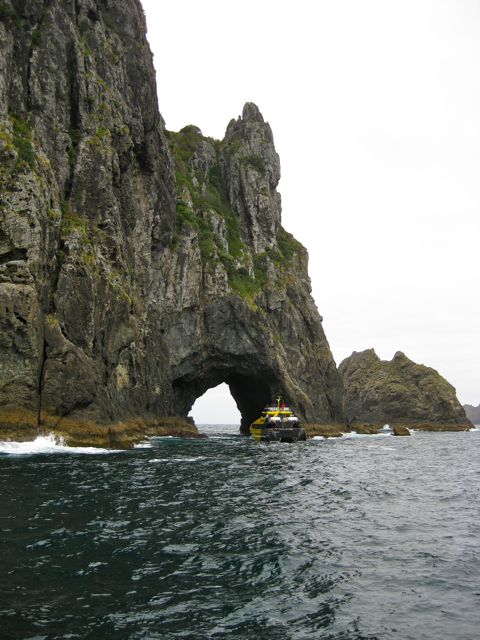 Since this tour left from and returned to Paihia within a couple of hours, we arrived back in the drizzly town before lunchtime. We had just enough time to grab lunch and a few souvenirs, and then it was back on a bus to Auckland.
We both vowed to return to the Bay of Islands on some future trip to New Zealand, in hopes that we might catch it in all its sunny-weather glory. As it was though, it was still pretty impressive, even under a cloud-laden sky.
IF YOU GO
Where to stay in Paihia: The Breakwater Motel and the Cook's Lookout Motel are the top-rated hotels in Paihia on TripAdvisor. Or there are also a lot of great B&Bs in Paihia to choose from.
Tours to book from Paihia:
Have you visited any of these spots in Northland? What else would make your must-do list?