Some posts on this site contain affiliate links, meaning if you book or buy something through one of these links, I may earn a small commission. Read the full disclosure policy
here
.
---
While I was writing my post on my top 5 Roads Less Traveled in New Zealand, I realized that at least one of them probably deserved some extra attention — the Southern Scenic Route drive through the Catlins.
The stunning, day-long drive from Dunedin to Invercargill was possibly my favorite thing I did while living in New Zealand for five months – and that's saying something!
So here's a closer look at the highlights of this drive, in photos.
Driving the Southern Scenic Route in New Zealand
Beginning in Dunedin, the Southern Scenic route winds first along New Zealand's rugged southern coast, where the views on a clear day will probably have you pulling over ever 100 feet to take photos like these:
The road then wanders away from the coast, taking you through gently rolling farmland, where, at the right time of year, you'll probably see some lambs gamboling about.
Stop in the town of Balclutha to stock up on snacks and perhaps sandwiches for lunch, because there won't be many large towns on the coast between here and Invercargill.
The road then leads you back to the coast, where you'll remain for a while. Try not to laugh too much at the name of this next spot: Kaka Point.
Nugget Point
About halfway through the drive, make sure to leave ample time to drive out and explore Nugget Point. Stop at Roaring Bay, where, at the right time of year, you may see rare yellow-eyed penguins, New Zealand fur seals, Southern elephant seals, Hooker sea lions, and plenty of seabirds. I, of course, saw none of these, but the area is still pretty.
From Roaring Bay, continue on to Nugget Point. You'll have to leave you car behind eventually and walk along a costal track, but the walk is easy and doesn't take long. Plus, you get endless views like these:
Continue on all the way to the lighthouse at Nugget Point, which has spectacular coastal views and rock formations that give the area its name.
Purakaunui Falls
Further along the Southern Scenic Route, if you're in the mood for waterfalls, veer off the main road and stop at Purakaunui Falls. A 10-minute hike through a podocarp forest will lead you to the falls.
The rest of the drive to Invercargill will take place away from the coast, but various side roads will lead you to worthwhile coastal spots. For example, be sure to stop at Porpoise and Curio bays.
Curio Bay
Keep an eye out for rare Hector's dolphins, which call scenic Porpoise Bay home, or climb down onto the rocks as the surf crashes in.
Over at adjoining Curio Bay, check out one of the world's most extensive and least disturbed examples of Jurassic fossilized forest. The petrified forest is best viewed at low tide, though the area is impressive at any time of day.
It's at this point that the landscape will being to change. You'll see more farmland away from the coast, spy more sheep, and the scenery will take on a markedly more windswept look the closer you get to Invercargill.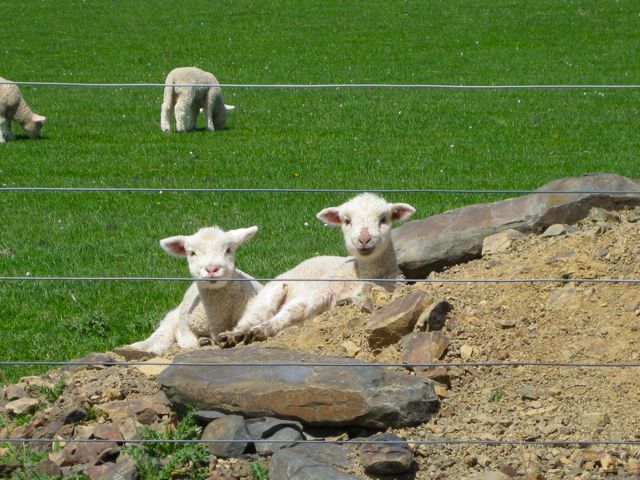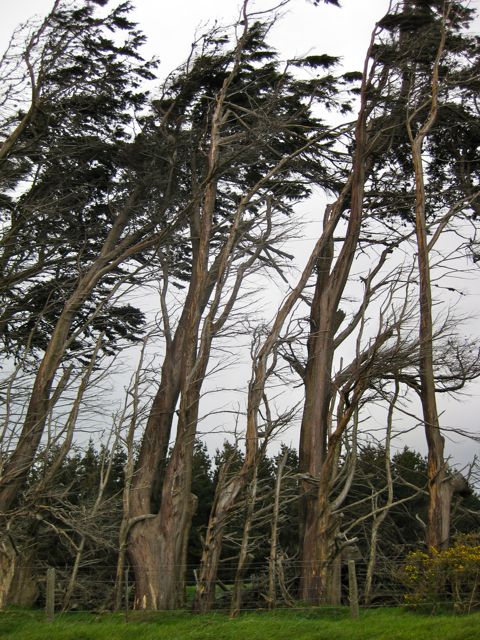 Bluff
Before you head into Invercargill, consider driving the extra half hour down to Bluff, the southern-most city on New Zealand's south island. It touts itself as being the place "where the highway starts," and the international signpost at Stirling Point is a popular spot for photos.
If it's a clear day, head up to Bluff Hill, where you may be able to spot Stewart Island away in the distance (not shown in the below photo, however, because it was too cloudy). You can take a ferry over to Stewart Island, if you dare brave the treacherous Foveaux Strait.
After a quick tour of Bluff, head on into Invercargill for a relaxing evening after a long day driving the Southern Scenic Route. Beware of the wind and the ever-changing weather, but enjoy the little southern town.
Note: There are numerous awesome stops along the Southern Scenic Route that did not get included in this post, mostly because driving the route from Dunedin to Invercargill in one day means picking and choosing only a few of the top spots to stop off at. Some areas are also only open at low tide, or outside of lambing season (which I was traveling during, as evidenced by all the cute, woolly baby sheep).
If you're planning to make this drive, be sure to pick up a detailed map of the route, which will give you descriptions and suggestions of the best places to stop.
And then let me know what your favorite sights were!
Is the Southern Scenic Route one you would like to drive?
Pin it for later: