Some posts on this site contain affiliate links, meaning if you book or buy something through one of these links, I may earn a small commission. Read the full disclosure policy
here
.
---
What. A. Year.
It's usually at this time every year that I write a post summing up my travels and top travel memories from the past 12 months. These posts are usually jam-packed with adventures.
Last year, for example, I visited 13 different countries and spent 159 days on the road, having adventures that included riding a camel in the Sahara Desert, taking a whisky road trip around Scotland, attending my first rodeo, going on safari with my sister, and traveling through Turkey with my dad.
2019 was so incredible! And 2020 was originally on track to be even MORE epic, if you can believe it.
But then of course COVID-19 came into our lives, and everything changed.
I'm still going to round up the year that was 2020, telling you about the few adventures I did have, and also highlighting some of the good non-travel things that happened this year.
2020 travel by the numbers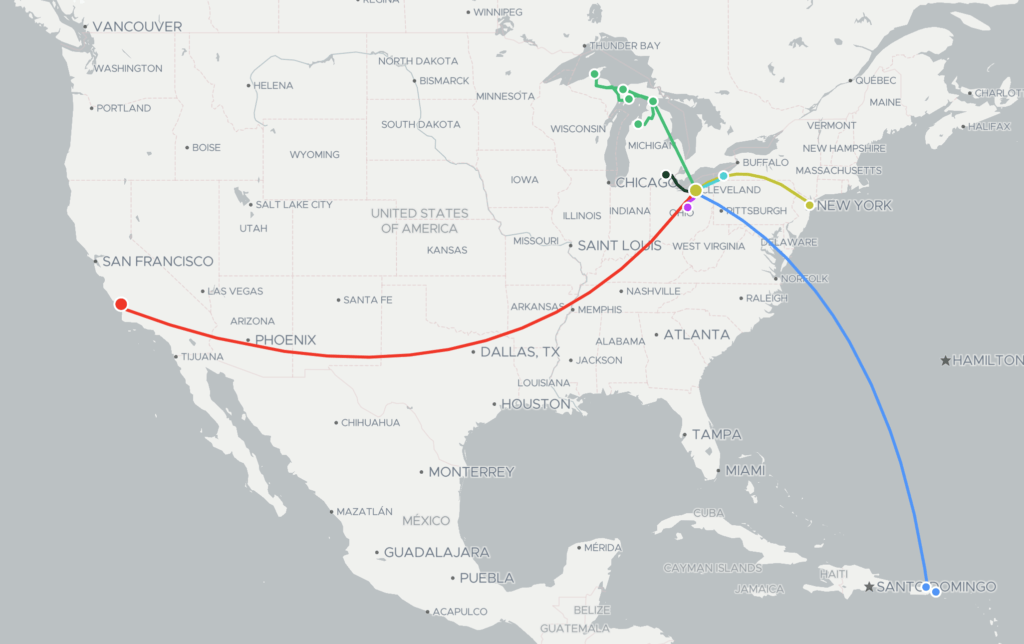 The majority of my travel in 2020 (23 days of it) happened in the first two months of the year, before the pandemic officially gripped the world.
The one good thing to come out of 2020 is certainly the reduction of my carbon footprint since I didn't fly as much. Silver linings, right?
Another thing that I feel is worth sharing is the amount of travel (and therefore work) that I canceled this year. I had a lot of big plans for this year, some of which were already in the works when the world shut down in March.
Some of the things I canceled this year included:
I know that, at the end of the day, all of these things can be rescheduled. I know the world will still be waiting out there once this is all over and it's safe to travel again. And I'm very, very thankful that I still have my health, my family, and my business after this year.
But it's okay to also be sad about everything we missed out on in 2020; we're allowed to feel multiple emotions at once!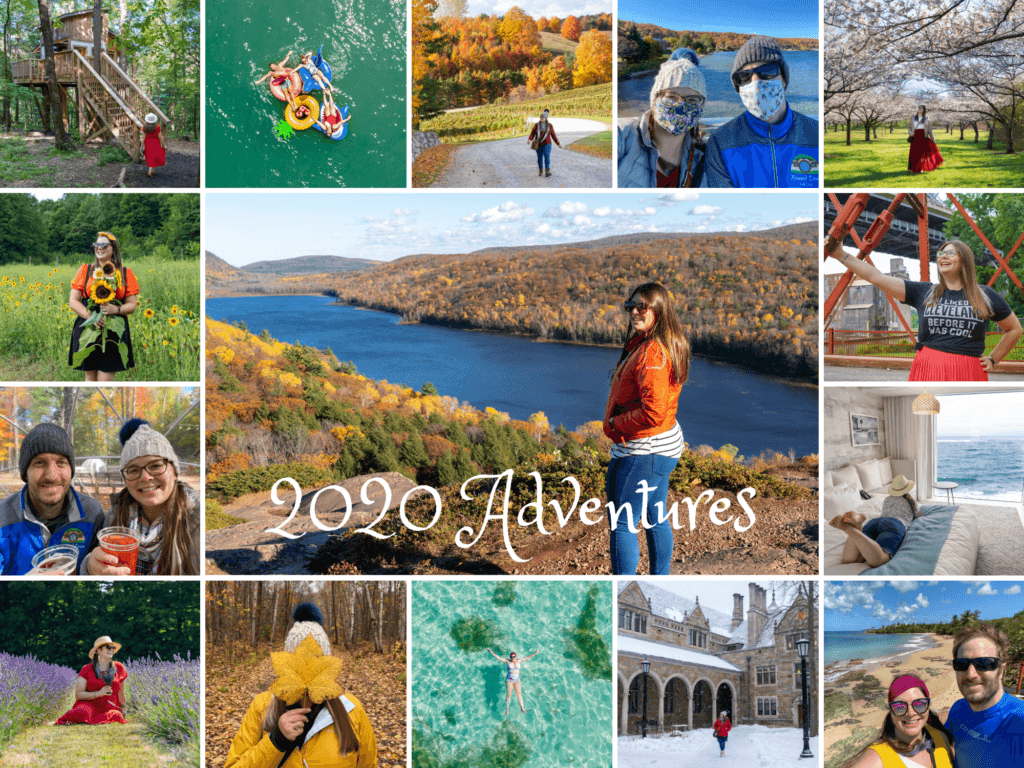 My 2020 travel highlights
I did still manage to fit in *some* travel this year, especially early on in 2020 before everything closed down.
I started out the year with a trip to California for a mastermind retreat with some of my travel industry friends. I also made my annual trip to New York City in late January to speak at the New York Time Travel Show.
Other than those short jaunts, here were my top 5 trips in 2020 (which also were my ONLY other trips in 2020):
1. A long weekend in Ann Arbor
As part of a partnership with the city of Ann Arbor, Michigan, Elliot and I headed up to the college town in January for a long weekend of snowy exploration. Visiting in winter was a lot different than my first visit the previous summer, but we still had a great time!
We went ice skating, learned about making cheese, went to trivia night at a cat cafe, and ate/drank ALL the delicious things. It was an excellent long weekend away, and a fun couples trip to take with Elliot.
>> Read more: Winter Travel: A Long Winter Weekend in Ann Arbor, Michigan
2. A Caribbean getaway to Puerto Rico
Our first "big trip" of the year also ended up being our only big trip of the year. Elliot and I planned a weeklong getaway to Puerto Rico for late February, trading in cold winter weather in Ohio for the balmy warmth of the Caribbean.
We LOVED this trip, which saw us exploring San Juan and the smaller island of Vieques. We went on a food tour, visited museums, went beach-hopping, and even spent a day sailing on a catamaran. Considering we didn't get back on a plane again in 2020, I'm extra glad we planned this trip when we did.
Once the world opens back up, I really hope you'll consider visiting Puerto Rico!
>> Read more: 5 Days in San Juan, Puerto Rico: The Perfect Caribbean Getaway and Planning the Perfect Island Getaway to Vieques, Puerto Rico
3. Staying overnight in a treehouse
After a couple months of lockdown in Ohio, we were itching for a change of scenery. So when an invite came through to stay in a secluded treehouse near a state park less than 2 hours away from us, the decision wasn't a difficult one.
Elliot and I drove down to Mohican State Park for one night in June, and spent it disconnected in a luxury treehouse. It was the perfect socially distanced getaway, and was a good way to ease back into talking about safe and responsible travel.
>> Read more: Sleeping in the Trees: Staying at The Mohicans Treehouses in Ohio
4. Renting a beach house on Lake Erie
It's crazy how much more stressful planning a trip became in 2020! The first multi-night trip I planned after the start of the pandemic was for a short stay at a beach house on Lake Erie in early August.
Elliot and I went with my sister and her boyfriend, and we stayed 3 nights at a gorgeous house with a private beach in Pennsylvania. I did a ton of research before choosing a rental, and we loaded up our cars with everything from food to board games to plenty of cleaning products.
The trip ended up feeling extremely safe (mostly because it didn't require any contact with other humans), but it was a LOT more work to plan than usual. I haven't written about the trip itself (maybe I'll save it for next summer), but did share a lot about the planning that went into it.
Overall, I'd say the trip was well worth it; we all needed a break!
>> Read more: How to Plan a Trip During a Pandemic
5. Road tripping around Michigan in the fall
The last trip I took in 2020 was actually the longest one! Elliot and I decided that we felt safe enough in the fall to take a carefully-planned road trip around the northern part of Michigan. At the time, the "second wave" of COVID hadn't yet taken hold, and we planned our entire trip around avoiding other people.
What resulted was a great 10-day road trip that included visits to Mackinac Island, the Upper Peninsula, and the Traverse City area. We visited several state parks, took a boat cruise to see Pictured Rocks National Lakeshore, did a DIY winery tour around the Leelanau Peninsula, and saw alllll the fall colors.
To be perfectly honest, if our trip had been planned for just a few weeks later, it's very likely we would have canceled it. But, as it was, we took all the precautions we could (i.e. getting tested before we left, only doing take-out for meals, staying in places with contactless check-in, and focusing on outdoor activities), and overall enjoyed the trip.
(And yes, I'll eventually share our whole itinerary in case you want to plan a similar fall road trip next year!)
>> Read more: Stepping Back in Time for 2 Days on Mackinac Island and 9 Reasons You Should Visit Michigan's Upper Peninsula
My 2020 life/business highlights
This was a rough year to run a business – especially one in the travel industry. But instead of only focusing on the negative, here are a handful of good things that happened this year, too:
1. Hitting 10 years of blogging
That's right, I celebrated my 10-year blogging anniversary this year! Way back in 2010, while I was working full-time as a copy editor at a newspaper, I started this travel blog as a creative hobby. I had no clue then that it would eventually become my full-time job, or that I'd still be running it a decade later!
I also celebrated 5 years of full-time blogging in 2020, which I kind of feel like is an even bigger achievement!
I wrote a couple posts about this anniversary if you want to check them out:
2. Growing Cleveland Traveler
In the beginning of 2019, in the middle of an impulsive bout of post-New Year's motivation, I started a second travel website. I called it Cleveland Traveler, and aimed to turn it into a niche guide to my adopted hometown in Ohio.
I wasn't super dedicated to the site in 2019, posting inconsistently and infrequently, especially through the middle of the year. But with more time spent at home in 2020 and a freelance writer friend to assign new articles to, I was finally consistent in publishing nearly every week this year!
The consistency, coupled with the fact that people have been searching for more local things to do this year, has meant that Cleveland Traveler has grown a LOT in 2020!
In December alone, the site will hit 100,000 pageviews (thanks mostly to some popular holiday content that will die off after Christmas, but it's still exciting!). I'm looking forward to seeing where this site can go in 2021; it's definitely a relief to have a secondary source of income that is finally growing!
3. Working the 2020 election
This has been a pivotal year for several important causes, from social justice to climate change. Many of us have had a bit of a reckoning with our own implicit biases, and it's no surprise that influencers have been much more vocal about the things they care about this year than ever before.
This is a GOOD thing. If you have an audience, you absolutely should be using your influence for good.
Along with making and matching donations to causes I care about, and trying to share as much useful and science-based info on the pandemic as possible, I also volunteered to work the polls for the first time in November!
Was I excited to spend 14+ hours in an enclosed space with thousands of strangers in the middle of a global pandemic? Nope. But I did it anyway because I care about democracy and I didn't want a shortage of poll workers to be a reason why some people couldn't vote.
I'm glad I did it; it (and the outcome of said election!) was definitely a personal highlight of my year.
4. Becoming an aunt!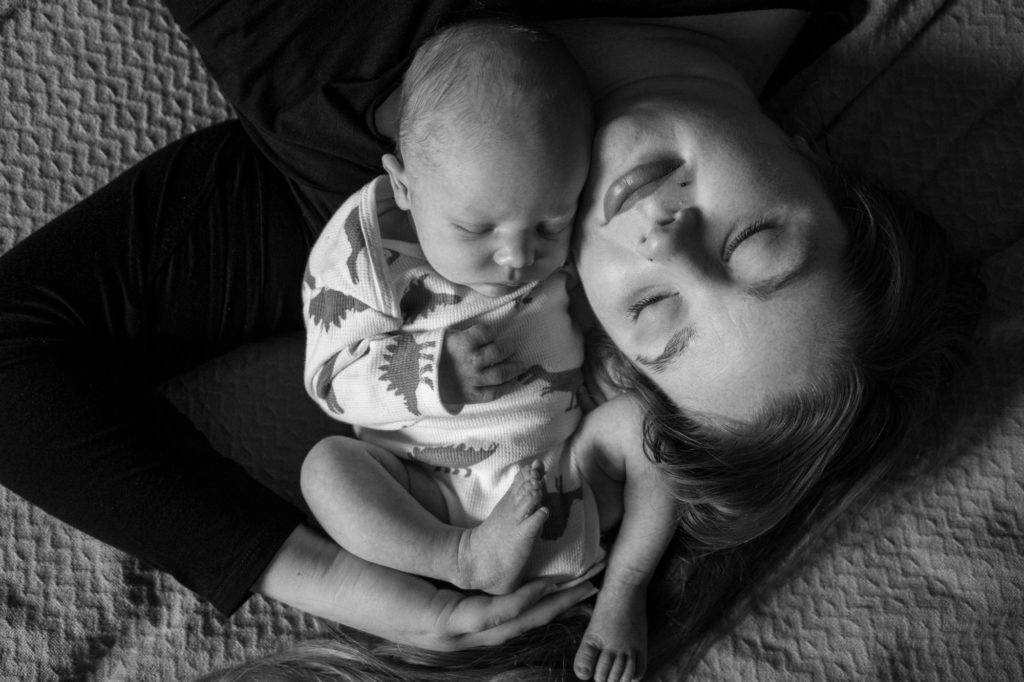 Lastly, one of the best things to come out of 2020 was my brand new nephew! My sister had her first baby (the first grandchild in our family!) on November 18. Both mom and baby are happy and healthy, and thanks to me quarantining after working the election anyway, I got to be the first one to meet Baby Will and take some newborn photos of him before Thanksgiving.
This has been a crappy year in terms of getting to spend time with family, but we're all still very excited about this new addition! Hopefully we'll be able to love on him a lot more next year.
My 2020 blogging highlights
I found most of this year to be challenging in terms of writing – and finding the motivation to write.
When I did stumble upon a burst of inspiration, I did my best to work through some post ideas that have been lurking around in my drafts folder for a while. Which is why you found me writing about some past trips this year, as well as more timely travel pieces.
Here's a round up of some content you may have missed this year:
Pandemic-related content
My other favorite blog posts from 2020
Has 2020 been the year any of us expected? Definitely not. But, just as I'm now looking back at this post and being pretty proud of what I DID accomplish, I hope you can look back at your year and find some positives in it, too.
And let's all hope that 2021 is a MUCH better year in so many ways.
---
What were some of YOUR highlights in 2020?