Some posts on this site contain affiliate links, meaning if you book or buy something through one of these links, I may earn a small commission. Read the full disclosure policy
here
.
---
Whether it's due to limited vacation time, running low on disposable income, or maybe even a global pandemic forcing us all indoors (never thought I'd be writing that one seriously!), there are plenty of times when we find ourselves forced to stay at home when we'd rather be out exploring the world.
And while being grounded can be frustrating, it doesn't necessarily have to be boring – and it doesn't necessarily have to be travel-free!
If you find yourself stuck at home – for whatever reason – and want to keep the travel fire burning, here are 12 things you can do that can still inspire wanderlust.
12 Travel-Related Things You Can Do At Home
1. Discover somewhere closer to home
Many people assume that "travel" has to mean going somewhere far away. But it absolutely doesn't! You can have an adventure or discover something new right in your own hometown, state, or country.
I'm a big fan of long weekend getaways, and even the idea of a "small-cation," where you don't have to go far in order to take a break.
Plan a trip to explore a nearby city, town, or amusement park; get yourself outdoors to a nearby park with trails; or go for a long drive with no destination in mind at all. There are likely a lot of things right on your doorstep that you've never discovered or tried before.
2. Update or create a bucket list
I've had a bucket list written down for years, and keep it pretty regularly updated. Now would be a great time to create your own bucket list if you don't have one, or update yours if you do.
I'm not suggesting this because I think we're all going to die, but because I enjoy watching my list grow and change. One big thing I've learned from traveling the world is that there's always more to see; my list has only gotten longer over the years, even as I've crossed things off it!
It doesn't have to be a true "bucket list" (i.e. a list of things to do before you die), either. It could be a list of things you want to do/see before you reach a certain age milestone, before you have kids, etc. Setting goals is healthy, and setting travel goals can be a fun, positive exercise that can get you excited about future trips.
3. Save travel-inspired things on social media
While your brain might not be in trip-planning mode when you can't be traveling, that doesn't mean it won't be later. So if you find yourself perusing Pinterest or Instagram, why not set aside some of that inspiring content for later?
Create a Pinterest board you can easily return to later. Save some posts with good tips or just beautiful images on Instagram. Start a few travel-themed digital "magazines" on Flipboard.
The times when you can't travel are the perfect times to daydream about bucket list trips.
4. Travel virtually
If you can't leave your house or go very far away, don't worry. You can still explore some incredible places from the comfort of your own home (no human contact or real pants required)!
In today's digital age, it's easier than ever to "travel" virtually.
A few ways you can travel virtually any time include:
Take a virtual tour of a famous museum. Museums like the British Museum in London, the Musée d'Orsay in Paris, and the Uffizi Gallery in Florence can all be explored virtually thanks to Google Arts & Culture. Check out this list of museums with virtual tours for more ideas.
Explore a national park from home. Thanks to Google Earth, you can explore a ton of places all around the world right on your computer or phone. This includes US national parks!
Check out a live cam from your favorite zoo. Lots of zoos and aquariums have fun live cams you can watch whenever you want. Like the Panda Cam at the Smithsonian's National Zoo, the sea otter cam at the Monterey Bay Aquarium, or the polar bear cam at the San Diego Zoo.
Discover a new city. Google Earth can be used to explore entire cities abroad! You could also head over to YouTube and watch some videos about new destinations from your favorite video creators.
Watch some IG Stories highlights. Most travel influencers who use Instagram save some of their best destination content into trip "Highlights." Head over to your favorite Instagrammer's profile and watch a few of these to inspire some wanderlust. (Highlights are displayed in circles above the main photo feed on a user's IG profile.)
5. Spin the globe and learn about a new country
It's never a bad time to learn something new about the world! You could either choose places you've always been interested in visiting (maybe use your new bucket list to help decide this!), or you could literally spin a globe and choose randomly.
If you want some suggestions, here are some fun and informative posts I've written about some of the places I've visited over the years:
6. Play a few rounds of GeoGuesser
When I first discovered GeoGuesser years ago, I was OBSESSED with it. It basically makes a game out of live-view maps. It presents you with essentially a street view image, and you have to try to guess where the image is from. You can "walk" around the image a bit to look for clues, but it's not always easy!
Take turns playing with friends, or try it out on your own. I like the general "World" game, but you can also play with maps from specific countries, or even famous landmarks.
7. Travel on your table top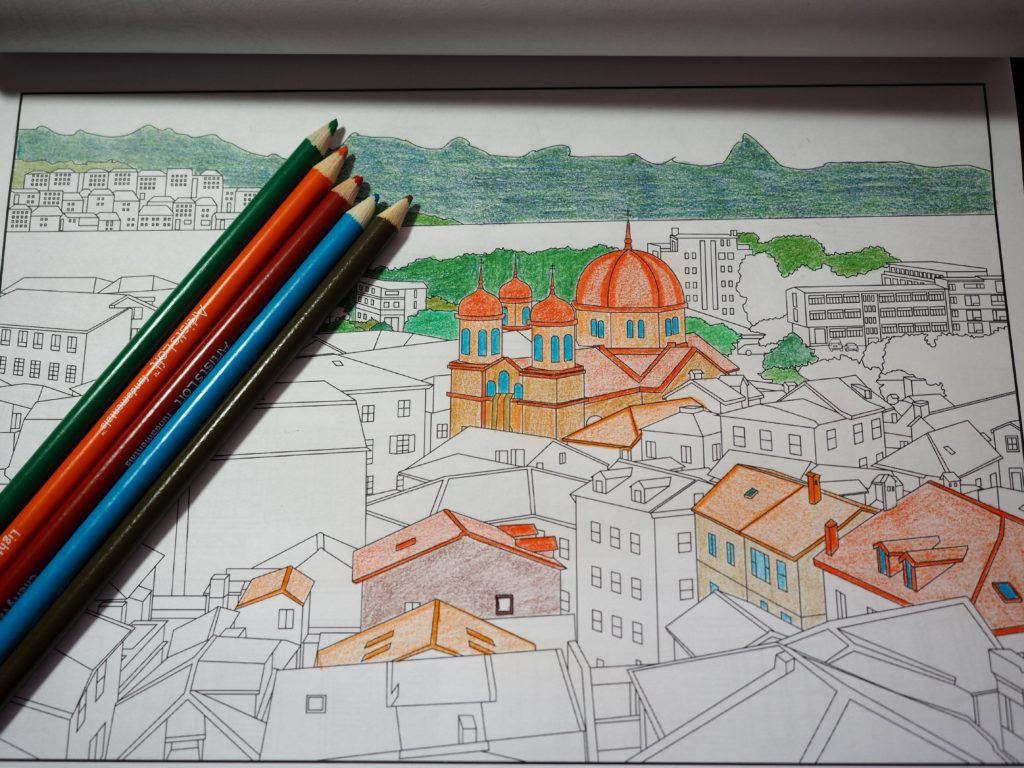 Don't forget to take a break from the computer and TV screens every now and then! Pick out a travel-themed puzzle, board game, or even coloring book.
For jigsaw puzzles, here are a few ideas:
And you can do jigsaw puzzles online, too! I discovered Jigsaw Planet during the first round of COVID lockdowns and had a lot of fun doing virtual puzzles (as well as making some of my own!).
For travel-themed tabletop games, my friend Ashely has written about 17 different ones to choose from!
And there are several travel-themed coloring books on Amazon like this one and this one.
8. Try food from around the world
Did you fall in love with pho in Vietnam or falafel in Egypt or tagliatelle al ragu in Italy? Now might be the perfect time to try to tackle some new world cuisines at home; you can find recipes for just about everything online!
If you want to take your chef's skills to a new level, you can even consider taking an online cooking class. My favorite I've found so far is this live pasta making class with real Italian grandmas!
And if cooking at home really isn't your jam… then head to Yelp or Google Maps and pick a new international restaurant near you to try!
RELATED: Drinking Around the World Around the House: 9 World Cocktails to Make at Home
9. Watch a travel movie or TV show
Thank God for streaming services, am I right? I know I can always turn to a good travel movie or TV show to reignite that travel spark.
Some of my personal favorites when it comes to movies that make me want to travel include:
You can find an even larger list of travel movies here at The Planet D.
When it comes to travel TV shows, there are SO many to choose from! I have always loved anything Michael Palin does, Anthony Bourdain's Parts Unknown, and current Discovery series Expedition Unknown. And my friend Jeff's Never Say Never series on Nat Geo/Disney+ is also excellent!
If you like comedy, there's always An Idiot Abroad or Cunk on Earth. And for anyone looking for a reality show escape, you can always find episodes of The Amazing Race on Hulu or CBS All Access.
10. Discover new books to spark wanderlust
Prefer to read about travel? There are lots of excellent and inspiring travel stories and memoirs out there.
Some of my favorite travel books include:
And I have an even bigger list of roughly 30 travel books you can check out here.
I've also been inspired by non-travel-specific books to visit places, too. For example, my first trip to Europe saw me visiting Hungary, Romania, Bulgaria, and Turkey, thanks entirely to a historical fantasy called The Historian. And if I hadn't already been to Scotland several times, Outlander 100% would have made me want to go.
11. Find a new favorite travel podcast
If you're more into podcasts, there are plenty of travel-specific ones to choose from. Just a few to look into include:
Women Who Travel
Women on the Road
World Wide Honeymoon
On She Goes
Wild Ideas Worth Living
Extra Pack of Peanuts
Amateur Traveler
Explore The World Travel Podcast
12. Start researching your next trip
Lastly, you can start researching and thinking about your next trip! Just because you can't get out on the road right now doesn't mean that will always be the case.
Use time at home to think about the trip you want to prioritize or plan next. Consider doing some research online while you have some downtime; you don't necessarily need to be booking flights or hotel rooms yet, but you can absolutely still be making notes and getting ideas of what you might want to do.
Then when you ARE able to travel again, you'll have a head start on the planning!
READ NEXT: How to Plan an Awesome Trip in 16 Easy Steps
---
What do you do to keep the travel spark alive when you're stuck at home?
Pin it for later: