Some posts on this site contain affiliate links, meaning if you book or buy something through one of these links, I may earn a small commission. Read the full disclosure policy
here
.
---
After running a travel blog for more than a decade, I've learned a thing or two about planning trips. Whether they're solo adventures or vacations for the whole family, I've planned a little bit of everything over the years.
So, with the popular summer travel season nearly upon us, I thought I'd finally sit down and write a post filled with all my tips on how to plan an awesome trip.
I'll admit that I often take for granted the fact that I've been planning trips for myself and my loved ones for 12+ years now. It's so natural for me to open up a few tabs to search for flights and hotels and find cool things to do that I forget how daunting the travel-planning process can sometimes be for others.
If you're a bit rusty at planning trips (or maybe have just always been too intimidated to do it all yourself in the past), then this post is for you! I'll cover all the things you need to do to plan your own independent travel.
I'm going to start with the sorts of questions you need to ask yourself in order to decide when and where to travel, and then take you through the whole trip planning process in the order that I recommend doing it.
By the end, hopefully you'll be ready to plan a trip that you'll love!
16 steps to planning an awesome trip
1. Consider your travel style
Before you even decide on any other details like where you want to go and when, you first should think about what *kind* of trip you want to plan.
This might be influenced by your travel style, or what you ultimately want to get out of your vacation.
For example, are you a budget-traveler looking for an affordable getaway, or do you want to go all-out on a luxury holiday? Do you want to travel solo, or with a friend, or is this going to be a family trip? Are you picturing yourself enjoying a slow-paced getaway, or are you a pack-it-all-in type of traveler?
The answers to these questions will influence everything else about your trip planning, which is why you should tackle these basics first.
2. Decide where you want to go
You may already know exactly where you want to travel. But if you don't, don't stress!
People always ask me how I decide where to travel next, and I always tell them that it depends! I plan some of my trips around work opportunities, but I plan others around my own buckets list, specific seasons, or even just individual events or experiences.
If you're having trouble deciding where to travel, believe me this isn't a strange predicament! We can be spoiled for choice sometimes with such a big world out there to explore.
My tip for deciding where to travel if you really have no clue is to again revisit your thoughts on what *kind* of trip you want to take. Close your eyes and picture yourself on your perfect vacation. What do you see?
Are you laying on the beach with a good book? Are you on safari in South Africa? Are you tucked away in a little jungle bungalow? Are you surrounded by skyscrapers in a big city? Are you eating a specific style of food?
If you're still having trouble, you could always plan your trip around one big bucket list item (maybe a national park you want to visit, a holiday or festival you want to celebrate, or an activity you've always wanted to try), or around a specific theme.
For example, I've planned trips around events like the Albuquerque Balloon Fiesta in New Mexico and polar bear season in Manitoba, and also with themes like the whisky-centric road trip I took in Scotland with my husband Elliot, and the Lord of the Rings-themed tour I took in New Zealand.
You could also plan your trip around food you want to eat, hikes you want to tackle, or even cool places that you want to stay. The options are endless, and you can get pretty creative.
If you want to plan your trip around cheap flights alone, sign up for alerts from Going (formerly Scott's Cheap Flights) so you don't miss out on flight deals.
3. Check entry requirements
This one won't really apply if you're planning a domestic vacation, but an important thing many people don't think about during the planning stages of an international trip is to make sure you know what you need to actually enter a foreign country.
A passport that is valid for at least 6 months after the start of your trip and that has at least 2 empty stamp pages is the first thing you'll need. If you don't have a passport, know that it can sometimes take months to apply for and receive one!
You'll also want to look into whether you need any visas or vaccinations in order to enter your intended destination (the latter of which may be a new requirement for entry to many countries after COVID-19, but vaccination requirements are not new!).
If you're traveling on a US passport, you are eligible for visas on-arrival in many countries, meaning you'll just get stamped in, or receive your visa when you arrive. But there are still some countries that require you to apply for a visa before you leave home.
Australia, for example, is one you might not know about; they require Americans to get an electronic visa before they arrive. The European Union is planning to implement a similar e-visa system by late 2023.
You definitely don't want to get to the airport and be denied boarding your flight because you missed a detail like this!
You can check basic visa requirements for Americans at travel.state.gov.
4. Pick some tentative dates
Depending on your circumstances, choosing when to travel might actually happen before you decide where you're going to go. For example, if you have kids or are a teacher with a limited window in which to travel, or if your job requires you to get vacation dates on the calendar as soon as possible each year.
But if those don't apply to you, I'd recommend choosing your destination before you pick your dates. Obviously if you're planning your trip around a specific event or season, your travel dates will need to reflect that.
And if you're not, there still may be better times to visit your desired destination. For example, you might want to avoid hurricane season in the Caribbean, or plan a safari during the wildebeest migration, or simply visit popular national parks outside of the busy summer months.
Where you're going will probably affect how long you want your trip to be, too, since you don't want to spend more time in-transit to your destination than actually enjoying it.
If you have limited time in which to travel or are planning around a specific event, you might want to select exact dates for your trip. But otherwise I'd recommend being a little bit flexible, as it can help with the next few steps.
5. Figure out your budget
Once you decide on what type of trip you want to take, have zeroed in on your destination, and know when you plan to travel, then it's time to start thinking about budget.
Budgeting for travel is a very personal decision, and I will never tell you how much you "should" or "shouldn't" spend on a trip. That's completely up to you!
But I can give you a few tips on how to go about creating a realistic budget, regardless of your travel style or intended destination.
First, you'll need to do some homework on your chosen destination. Some things you'll want to find out include:
How much will it cost to get there? (Will you drive or fly, and how much should you expect to spend?)
How much is the average night in the type of accommodation you plan to stay in?
How much do any special activities, tickets, or tours you want book cost?
How much is the average meal in a restaurant?
How much should you set aside for tipping?
You can find the answers to most of these by doing a little bit of Googling. Flight and hotel prices can be gauged simply by doing some quick searches (you don't need to be ready to actually book anything yet), and you can sometimes find details like the cost of meals on blogs that share travel budgets.
Budget Your Trip also has a huge database of average costs for most countries all around the world. You can search for where you're planning to travel (here) and get a good idea of how much you should expect to spend per day.
After you get a rough estimate of how much things will cost, you'll want to assume that you'll spend at least 10% more than that (trust me, it's easy to do!) – and I always bake in an emergency fund, too, just in case.
(And if you're looking for ways to save some money on your trip? Travel in the low season if you can. This will vary from location to location, but you can often find great off-peak deals on everything from flights to hotels.)
6. Book your flights
Congrats, all your pre-planning work is done, and now you're ready to start booking things!
If you're going to be flying to your destination, I recommend booking your flights first. Your flights will lock in your trip dates, and are usually one of the more expensive parts of trip planning – so you may as well get it out of the way first.
There are LOTS of articles out there on the best time to book a flight to get the best prices, but there's really no hard and fast rule about when you should start booking flights – just don't leave it until the last minute!
Generally speaking, it's best to book domestic flights 4-8 weeks before you plan to travel, while you want to lock in international flights 3-6 months before traveling if you can. (But I can tell you from experience that booking within those time frames won't always save you money; so many factors go into airline pricing!)
If you want to weigh your options (i.e. if you're a little bit flexible on dates, don't care which airline you fly, and have multiple airports to choose from), then I would recommend using a site like Kayak or Skyscanner to compare prices before you commit to booking.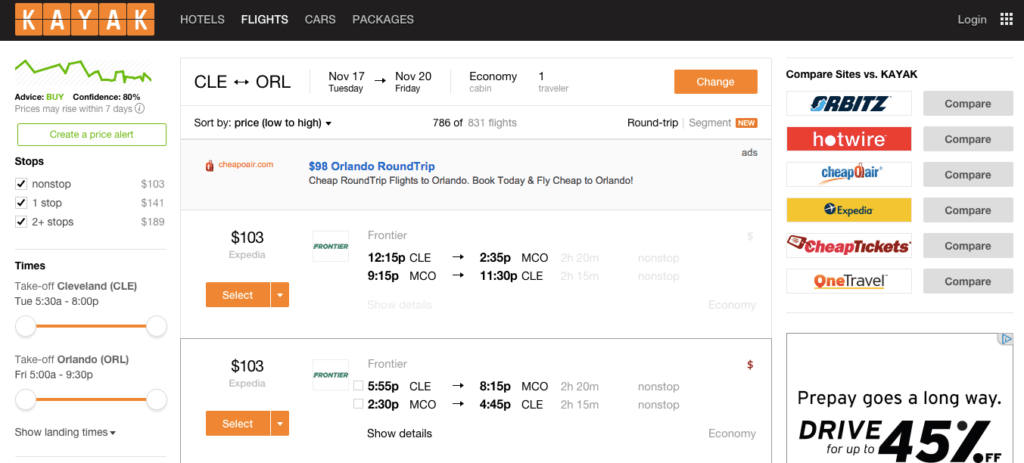 I DO NOT recommend booking flights through a third-party site, however. Even if you find what looks like a great deal, I would still book directly with your chosen airline instead.
This does require an extra step or two, but it means if you run into a canceled flight or any other issues on your trip, you can deal directly with the airline itself instead of trying to reach the third party you booked through. (I made this mistake once about 10 years ago, and will never make it again!)
And, since you're going to be booking directly with the airline anyway, be sure to sign up with the airline's frequent flier program before your trip. I won't get into travel hacking here, but frequent flier programs act like a free rewards program, so why wouldn't you want to sign up?
7. Apply for visas if necessary
If you're traveling somewhere where you need to apply for a visa in advance, the time to do that is after you know your exact travel dates (which is usually after you book your flights).
You'll need to do your own research on how long the visa process takes, and whether you'll need to send your passport away, visit an embassy, or simply apply online.
I will say that in 10+ years of traveling, I've only had to get visas in advance a handful of times, and only two of those (China and Russia) required me to go somewhere or send my passport away. Many countries allow you to apply for visas online now, or pre-apply for a visa on arrival online.
If you're a US citizen, you can find all the relevant visa information at travel.state.gov.
8. Get travel insurance
In the "Before Times," I used to wait to buy travel insurance until everything was completely booked – sometimes I would even wait until the day before I was leaving to insure my trip.
But this was pre-pandemic. Back in the days when I was really only concerned about emergency medical coverage, and not as much about what would happen if I had to cancel my whole trip. Now, that's something I think about more frequently!
In our current travel atmosphere, I would think about insuring your trip a little earlier to ensure that it will be covered in case something unforeseen happens. Many travel insurance providers will only cover your entire trip if you purchase coverage within 15 days of making any trip arrangements (i.e. booking flights).
The main thing you want travel insurance for is to cover emergency medical costs, including medical evacuation/repatriation. You also may want it in the case of lost baggage (a real concern these days), or trip interruption due to things like natural disasters or terrorism.
And in our 'Rona-filled world, you may also want coverage in case another global pandemic pops up and screws up all your plans. Epidemics/pandemics never used to be covered by most travel insurance plans, but a lot has changed in the last couple of years.
You're still unlikely to find "cancel for any reason" (CFAR) insurance offered by most providers, but many travel insurance companies will cover some changes/cancelations tied to COVID-19 now – but you need to read terms carefully.
Travel insurance companies I would recommend include:
World Nomads – Usually my go-to for affordable basic coverage. They are NOT covering cancelations due to fear of traveling, but will cover some costs if you or a traveling companion gets COVID-19 either before traveling or while you're away from home.
Seven Corners – I usually purchase an annual travel insurance plan through them (which is worth it if you travel as much as I do!). They are offering plans now that include coverage if you contract COVID-19 abroad and need treatment, but don't offer CFAR coverage.
Travel Guard – Travel Guard is one of the few major travel insurance companies that does offer CFAR coverage as an add-on to its regular travel insurance plans. However, Travel Guard's plans tend to be more expensive to begin with, and "cancel for any reason" coverage costs an extra 50% of your total policy.
Insurance isn't sexy, but seriously… just get it. It gives you some peace of mind, and can truly save you if a freak incident occurs. (And if you're going on a tour abroad, chances are you'll be required to have emergency medical insurance.)
9. Figure out your rough itinerary
Depending on what kind of trip you're planning, this may be really easy (for example, if you're planning a shorter trip to just one destination), or more complex (for example, if you're planning a multi-state road trip). But this is the time to start putting together a rough itinerary.
This rough itinerary should include how many nights you want to stay in each location, and any big activities or attractions you want to plan for. You want to take into account things like driving/travel distances, opening hours, and how jam-packed you want your days to be.
I usually turn to Google Maps to figure out travel times, and to make sure I'm grouping things together where they make sense.
I can tell you from years of experience that things will almost ALWAYS take longer than you anticipate, whether it's visiting a museum or going on a hike, so don't overfill your days unless you thrive on fast-paced travel!
You don't need to make ALL the decisions yet, but you want to get a rough plan written out. Leave a little space for some flexibility, too, because we all know that travel rarely ever goes 100% to-plan!
Pro tip: As you start booking things, I highly recommend using an app like TripIt to keep track of all your plans and reservations. There's a free and paid version, and this app is one that I personally can't travel without!
10. Book accommodation
The next piece in your trip-planning puzzle is accommodation. You may already have an idea of where you want to stay and for how long based on your drafted itinerary, but now it's time to lock in those choices.
For shorter trips (for me, a short trip is anything 2 weeks or less in length), I recommend pre-booking all of your accommodation. That way, you won't have to stress about finding a place to sleep in the middle of your trip.
For longer trips, I still recommend at least booking your first few nights, but wouldn't judge if you didn't pre-book everything. When I took longer trips around Europe and Southeast Asia, I sometimes wouldn't book a place to stay until a few days before I was arriving somewhere new. (Though that was back in my backpacking days when a cheap hostel room was all I needed.)
I generally don't book accommodation right away after booking my flights – unless I know that I want to stay in a very specific place that might book up. (For example, if you want to stay at a national park lodge, or are traveling to a popular destination during high season, then you should try to book things earlier.)
I almost exclusively use Booking.com to search for hotels these day, as I think their interface is easy to use, and I like that you can only leave a review if you've actually stayed at a place. You can also sign up and get "Genius" status after a certain number of stays, which scores you additional discounts on future bookings.
People always ask whether I check TripAdvisor reviews, too, before booking a hotel, and the answer is yes, usually – but with the caveat that you have to look at the very best and worst reviews with a critical eye. Generally, though, if you compare reviews on TripAdvisor with ones on Booking.com, you'll get a fairly accurate idea of whether the place will suit you.
For vacation rentals and specialty lodging (think: treehouses, cabins, etc.), I often search Vrbo or Airbnb, and have also sometimes stumbled upon cool places to stay on social media.
Check out my Where to Stay page for some of my personal favorites from all around the world.
11. Book any additional transport
Do you need to book a rental car? Train tickets? Ferries? This is the time to do all of that, now that your plans are coming along.
For rental cars, I personally don't have a preferred rental company; I often go by whatever is affordable and offering the kind of vehicle that I need.
In North America, I usually compare rental options using Discover Cars. In Europe, I tend to search for and book my car rentals through Auto Europe.
RELATED: The Ultimate Guide to Planning a Campervan Road Trip in New Zealand
For train tickets and ferries, you'll need to do some research into whether these are things you need to pre-book, or whether you can just purchase tickets on the day you need them. This will vary widely depending on where you're traveling.
Two sites that I often use to check train options in Europe are Omio and Trainline. Omio can also show you bus, flight, and even some ferry options.
12. Decide what your must-sees/must-dos are
You've probably already considered what some of the top things are on your trip checklist based on where you're going and the rough itinerary you've come up with.
So now it's time to do the rest of your research and fill in the gaps. Hop on your favorite travel blog or start scrolling through Instagram, and start making note of things you want to see, museums you want to visit, places you might like to eat, where you can catch the best sunsets, etc.
I save a lot of these ideas by saving/favoriting specific places in my Google Maps app. That way I can see them all plotted in one place, which makes day-to-day planning a little easier.
(And remember that you can download Google Maps for entire cities/regions to use offline!)
13. Pre-book tours, tickets, etc.
Once you have your list of must-dos, go through it and figure out which things (if any) you need to pre-book.
You may be able to just walk into a museum or park any time you want, but things like food tours, adventure sports, theater shows, meals at famous restaurants, etc. may need to be booked in advance.
(And, after COVID, many museum entrances still need to be booked in advance!)
In most cases, you may only need to pre-book these sorts of activities a couple days in advance. But for really popular tours or shows, you may actually need to book a couple weeks out!
These details are things you'll want to pay attention to in the earlier planning stages of your trip.
14. Pack for your trip
About a week before you're set to leave, it's time to start keeping an eye on the weather forecast and think about packing!
Packing for a trip can be stressful, I know. But there are three main things to keep in mind when you're packing:
The weather forecast for when you're visiting (keeping in mind both the high AND low temps).
Any activities you have planned that may require special clothing or footwear.
Whether the destination you're traveling to has any cultural norms you need to follow in regards to what you wear (ladies, this is mostly for us!).
From there, a whole lot of personal preference comes into play in regards to what you want to take and how much luggage you want to carry.
I have a whole page dedicated to packing tips, which includes some specific packing lists for destinations like Morocco, New Zealand, a European river cruise, a US road trip, and more.
You can also check out my post on the 12 things you probably DON'T need to pack, along with the 12 things I ALWAYS pack. I also have tips for traveling carry-on only!
15. Go through your final pre-trip checklist
I always make a checklist for myself before I leave on a big trip (sometimes I print one out, other times I just make a list in a note on my phone) to ensure that I haven't forgotten anything. Even though I've been a frequent traveler for more than a decade now, it's really easy to forget to take care of the little things!
A few things that are important to remember if you're traveling internationally include:
Make a copy of your passport and any other important documents. Email a copy to yourself, and print out a second copy to tuck away in your luggage.
Print out any tickets or confirmations that you might need to show (some places have not moved into the digital age and still want to see papers).
Have a plan for money. This includes calling your bank/credit cards to let them know you'll be traveling, and also figuring out how much cash you might need and what's the best way to get it (generally airport currency exchange counters are the WORST option; I prefer to use local ATMs, or exchange cash at local banks).
Make sure someone at home knows your rough plan, especially if you'll be traveling solo.
Have a plan for how you'll keep your valuables safe on the road.
For more details on all of these, check out this post: Travel Checklist: 11 Things to Do Before Going on an International Trip
16. Have an awesome time!
It's finally time! You should now be able to get in your car or on that plane and enjoy the awesome trip you've just planned all by yourself!
Make lots of memories, take lots of photos (if that's your thing), and come home ready to start dreaming of your next trip!
---
Do you usually plan all your own travel? Do you follow similar steps to plan your trips?