Some posts on this site contain affiliate links, meaning if you book or buy something through one of these links, I may earn a small commission. Read the full disclosure policy
here
.
---
When it comes to road tripping in Europe, there are so many options for epic trips. You can trace fairy tales on the Romantic Road in southern Germany, circumnavigate islands like Iceland or Ireland, chase sunshine and port in Portugal, follow the fjords in Norway… the choices are endless.
But one of my favorite road trips that I've taken recently in Europe? A 10-day trip through Scotland that focused on whisky.
Now, before you write this off as not for you because maybe you don't like whisky enough to plan a whole road trip around it, know that I don't drink Scotch at all!
This road trip doesn't just consist of visiting distilleries and drinking whisky – it also includes exploring Edinburgh, a taste of the isles, and time spent in the beautiful Scottish Highlands. But yeah, it also includes a lot of whisky.
Planning a Scotland road trip
First of all, let's talk about road tripping in Scotland.
It's an excellent place for a road trip, with some stupidly scenic places like the Highlands and the Hebrides. It has some established road trip routes like the North Coast 500, but Scotland is small enough that you can more or less see whatever you want in a relatively short amount of time.
I recommend at least a week for a proper Scottish road trip; this itinerary covers 10 days, but you could easily extend that to two weeks or more if there's more you want to see.
Renting a car in Scotland
You will definitely need a rental car for this Scotland road trip itinerary. You *can* get around parts of Scotland using trains, ferries, and buses, but to really have the freedom to visit all the places suggested here, you'll need to rent a car.
Elliot and I rented a car through Auto Europe, and picked it up after our time in Edinburgh. I like Auto Europe for car rentals in the UK, and recommend them!
Search for rental cars in Scotland here.
Driving in Scotland
Scotland's roads are generally well-maintained, and it's fairly easily to navigate them as an English-speaker. But there are a few things about driving in Scotland that you need to know:
Scotland is part of the United Kingdom, and they drive on the left-hand side of the road (while sitting on the right hand side of the car). This can seem daunting, but you really do get used to it pretty quickly.
Traffic throughout Scotland usually isn't too bad once you get out of the major cities. For this itinerary, you don't really need a car in Edinburgh, and to avoid the hassles that come with trying to find parking in the city, I'd recommend picking up your car once you're ready to leave Edinburgh.
"Highways" in Scotland are often just 2-lane roads outside of the main cities, and it's very common out in the countryside and on the isles to find yourself driving on one-lane/single track roads. Be very alert when driving on one-lane roads – you'll sometimes need to stop to let others pass.
And be prepared for roundabouts (or rotaries)! Even on highways, you'll come across these.
When to visit Scotland
You can road trip in Scotland any time of year, but the weather is generally the best during the summer months.
July and August are the busiest months in Scotland (with August being festival month in Edinburgh), which many people prefer to avoid. For this particular itinerary, it's also worth noting that mid-summer is usually "silent season" for many distilleries. Silent season is when they take a break from whisky production in order to do annual maintenance.
For both of these reasons, Elliot and I planned our Scotland whisky road trip in June. Late May or early September would also be a good option, in addition to June.
10-day Scotland road trip itinerary
Here's the full itinerary we used, in case you want to steal it to help plan your own trip! (And yes, this is 100% based on a trip we took, and all these photos are ones I personally took!)
(Note: I don't recommend picking up your rental car until Day 4 of this itinerary; you don't need a car in Edinburgh, and it's annoying to try to find parking there anyway!)
Day 1: Intro to Edinburgh
I'm not exaggerating when I say that Edinburgh is one of my favorite cities in the world. It's beautiful and historic, and is a true city without feeling too overwhelmingly big.
I've visited Edinburgh in every season, and maintain that it's really the only place to start a trip in Scotland. In this case, it's definitely the only place to start a whisky-centric trip in Scotland!
On your first day in the city, I recommend getting acquainted with it. We'll start in the Old Town, which is the older and more historic part of the city.
Start on the Royal Mile in the Old Town, which is the touristy street that runs from Edinburgh Castle at the top to the Palace of Holyroodhouse at the bottom.
You may want to visit one of these castles, too – my pick is Holyroodhouse, which I think is more interesting than Edinburgh Castle since the former is still used as a royal residence whenever the King is in town.
Along the Royal Mile, you can also pop in to St. Giles Cathedral, and stop by to see Victoria Street, my favorite street in Edinburgh that may or may not have inspired Diagon Alley in Harry Potter.
If you walk down Victoria Street, it will take you down to the Grassmarket, which is a lovely place to sit out on a patio and enjoy a drink.
This evening, you might want to sign up for a historical city tour after dark. Edinburgh has a very long history – and not all of it is nice. There are various tours you can take to explore the darker side of the city, from nighttime ghost tours to after-dark historical walks.
---
Where to stay in Edinburgh
There are lots of hotels to choose from in Edinburgh, and most of them are within walking distance (or a quick Uber ride) to all the highlights both the Old Town and New Town.
Some of my favorite places to stay in Edinburgh include:
Mid-range hotel in the Old Town: Holiday Inn Express Edinburgh Royal Mile – I like this hotel on Cowgate because it's close to the Royal Mile, and yet not super noisy. The rooms are bright and clean, the free wifi is fast, and you usually get free breakfast with your booking. (Read reviews | Book here)
Apartment in the Old Town: No. 1 Apartments – George IV Bridge – I love these apartments on George IV Bridge. I rented a one-bedroom apartment here once, and I had a view of Edinburgh Castle from my kitchen window! (Read reviews | Book here)
Luxury hotel in the Old Town: Radisson Blu Edinburgh – If you want to stay right ON the Royal Mile, check out the Radisson Blue with its contemporary rooms. (Read reviews | Book here)
Apartment-hotel in the New Town: Eden Locke – For studio and one-bedroom apartments on George Street, I like Eden Locke. It's perfectly situated near restaurants and cafes in the New Town, but still within walking distance to Princes' Street Gardens and the Old Town. (Read reviews | Book here)
---
Day 2: Whisky in Edinburgh
Okay, let's get to the whisky portion of this itinerary already!
Start your morning with a leisurely breakfast, and then make your way over to the Scotch Whisky Experience on the Royal Mile.
Even if you don't like to drink whisky, a tour here is worth doing. You'll get to learn about the history of whisky and the distillation process, along with all the different whisky regions in Scotland – complete with a cool scratch-and-sniff card!
Even the most basic tour includes a whisky tasting inside a room filled with more than 3,300 bottles of Scotch whisky. Definitely bring the camera for this one!
Elliot and I did The Silver Tour (the most basic tour), though there are longer tours that include more tastings. Instead of paying for a longer tour, we headed to the museum's bar next, where we grabbed a whisky tasting flight and chocolates to pair with it.
(And nope, nobody will look at your weird for doing a whisky tasting before lunch in Scotland!)
This afternoon, take a stroll through Princes Street Gardens and explore the New Town (which, is only "new" in relation to the Old Town; it's still very historic).
On the edge of the New Town at one end of the gardens is the new Johnnie Walker Experience, which offers tours and tastings of this iconic brand (book a tour here). This just opened in late 2021, and is still all shiny and new. (I think the Scotch Whisky Experience is better value for money, but fans of Johnnie Walker won't want to skip a stop here, even if it's just to visit the gift shop.)
Johnnie Walker also has a rooftop bar/restaurant with excellent Edinburgh views – just be sure to book a table in advance if you want to check it out.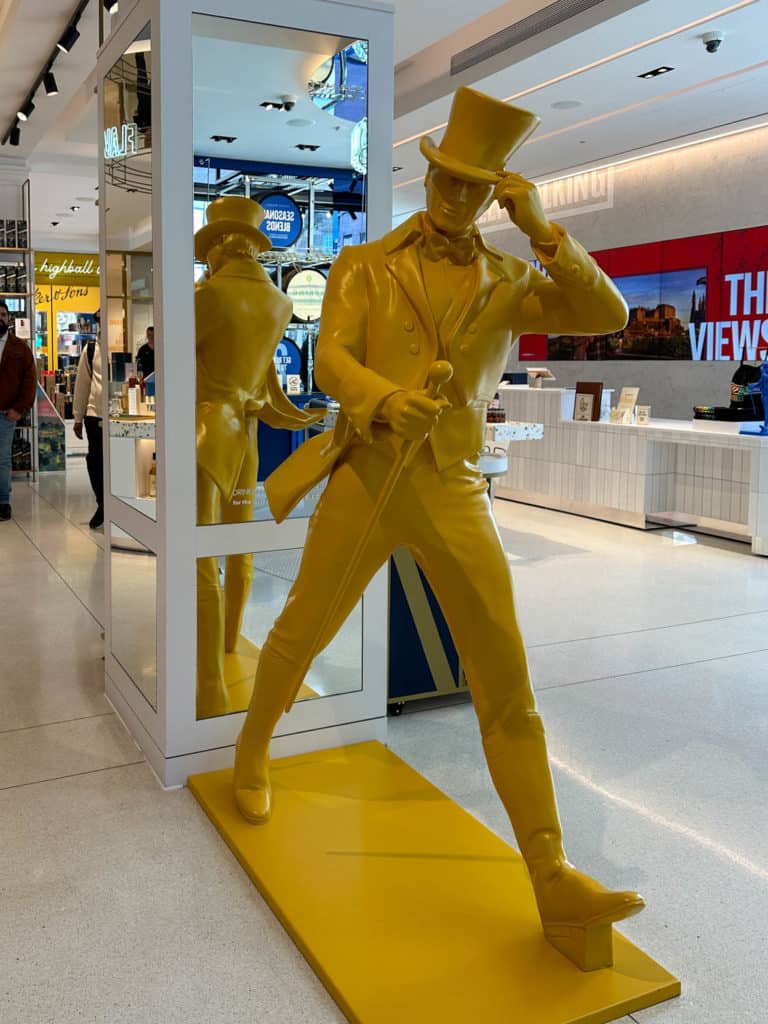 If you still feel like more whisky is in order (or perhaps instead of visiting Johnnie Walker), consider signing up for an evening whisky and storytelling tour. For me, Scotch and stories go hand-in-hand; the "water of life" is just as much a part of Scottish culture as storytelling, and this tour melds them in a fun way.
For sunset tonight (and remember that in the summer months the sun sets pretty late in Scotland!), head to Calton Hill in the New Town, which has some of the best evening views out over Edinburgh.
Day 3: Choose your own Edinburgh adventure
Edinburgh isn't a very big city, but there are still plenty of things left to do! What you plan for your final day in the city depends on your personal interests.
Option 1: Museums and monuments
Start your day at the National Museum of Scotland. This museum is dedicated to the history of (you guessed it) Scotland, but has exhibits covering things like art, design, world cultures, and even dinosaurs, too. (They also have the real Dolly the Sheep here!)
Next, you can stop in at the Scottish National Gallery, located on The Mound beneath Edinburgh Castle, or perhaps the The Writers' Museum, which covers some of Scotland's most famous writers like Burns, Scott, and Stevenson. (I'm sure at least one of them liked whisky, right?)
All of these museums are free to visit, so you can spend as long as you like at each one.
From there, if you're up for a little exercise, you can head up the Scott Monument for unique views over Edinburgh. This Victorian Gothic monument is dedicated to Scottish author Sir Walter Scott, and is one of the largest monuments to a writer anywhere in the world.
It's not an easy climb (it's 287 steps up, and includes some extremely narrow passages), but it's worth it if you like epic city views as much as I do.
Option 2: Harry Potter
Fun fact: Author JK Rowling lives in Edinburgh, and was living in the city while writing most of the Harry Potter books. This fact is well-known, and you'll find the Boy Wizard all over Edinburgh.
If you're a big Harry Potter fan, then you can dedicate your final day in Edinburgh to the magic of the city.
I would start out with a Harry Potter walking tour around Edinburgh. All the tour guides stretch the facts a *little* bit when it comes to pointing out places that JK Rowling may have frequented when writing about Hogwarts, but these tours are nevertheless fun for all ages.
The tour will likely include a stop at Greyfriars Kirkyard, an old cemetery with gravestones bearing some familiar names. It's worth coming back here later on your own if you're into historic cemeteries.
Stop in to The Elephant House cafe on George IV Bridge for lunch or a snack. A big sign outside calls this cafe the "Birthplace of Harry Potter." That claim is a stretch (Rowling has said she got the idea for Harry years before she moved to Scotland), but she DID write at The Elephant House in the early days when she was a poor cafe-hopping writer. Plus, they have really good tea and cakes here.
Another option for later this afternoon is to head for the Magic Potions Tavern at Department of Magic. This spot is most known for their Harry Potter-themed escape rooms, but you can also stop in to mix magical cocktails (reservations necessary).
RELATED: A Harry Potter Lover's Guide to Edinburgh, Scotland
Regardless of what you do during the day, I recommend stopping by SCOTCH, the whisky bar inside the 5-star Balmoral Hotel, for a drink tonight. This elegant, low-light bar has an extensive whisky selection.
Don't know what you like? Let one of the Whisky Ambassadors choose something for you – they have more than 500 bottles of whisky to choose from!
Elliot tried a dram of Octomore 8.3 at this bar, which holds a record for being the peatiest (smokiest) Scotch in the world.
Day 4: To Islay
Pick up your rental car this morning and bid farewell to Edinburgh! Even though I love this city to death, there's so much more of Scotland to see.
Pro tip: Most rental car pickups will be at the Edinburgh airport, but see if you can pick up your car in Edinburgh city instead to save some money. Search for rental cars here.
Your destination today will ultimately be the island of Islay – pronounced "EYE-luh" – the southernmost of the Inner Hebrides islands. It sits off the west coast of Scotland, meaning you have a little bit of a drive AND a ferry to catch in order to get there.
I highly recommend pre-booking your ferry ticket on the Caledonian MacBrayne (CalMac) ferry from Kennacraig. This ferry leaves the port of Kennacraig for Islay a few times per day in the summer; we booked on a ferry that left around 3:30 p.m., allowing us plenty of time to make our way there.
The drive from Edinburgh to Kennacraig takes roughly 3 hours, though we made stops at Loch Lomond for a quick walk and coffee, and another stop in Inverary to grab lunch.
The ferry to Islay is a fairly large car ferry with comfortable lounges and a cafe, and the journey takes about 2 hours. You can sail to either Port Askaig in the north, or Port Ellen in the south, though it doesn't matter *too* much since Islay isn't very big and you can drive between those two cities in about 30 minutes.
Once you arrive on Islay, get settled in to your accommodation and head out for dinner. My accommodation recommendations on Islay are all in the south part of the island, so I recommend dinner in either Port Ellen or Bowmore this evening.
Pro tip: Islay is not a large island, so it doesn't take very many visitors to make it "busy." You'll want to make reservations at most restaurants on Islay, especially if you're visiting during the summer months.
After your long travel day, you'll likely want to get an early night – which is recommended because starting tomorrow it's all about the whisky!
---
Where to stay on Islay
If you only choose one place to stay on Islay, make it the Glenegedale House. This guesthouse is one of my favorite places I've stayed in Scotland. It's equal parts luxurious and cozy, with the absolute nicest owners you'll ever meet. Graeme and Emma treat all of their guests like family, right down to sharing their extensive whisky and gin collections with you.
Glenegedale House is located near Islay's small airport; you can see the sea from the breakfast room, and say hello to the neighbor's sheep outside. The rooms here are beautifully decorated (I was obsessed with the custom wallpaper throughout the house), and the daily breakfast spread is expansive – and always includes a bottle of whisky to add a tipple to your morning porridge!
Read reviews on TripAdvisor | Book the Glenegedale House here
If the Glenegedale House is booked (it's understandably quite popular!), other good options on Islay include:
Islay House Hotel in Bridgend – This historic mansion just opened as a hotel in 2016, and is now one of the top places to stay on the island.
The Machrie Hotel & Golf Links – This upscale spot is just down the road from the Glenegedale House. Rooms overlook the Big Strand and Laggan Bay beyond the Machrie Links golf course.
Harbour Inn in Bowmore – This hotel sits right on Lochindaal just around the corner from Bowmore Distillery. It's small and cozy, too, with a popular restaurant that overlooks the loch. (We stayed here for one night because the Glenegedale House was booked!)
---
Day 5: Three Distilleries Path
Islay is world-famous for its peaty Scotch whisky. The island only covers 240 square miles, and yet it is home to nine working distilleries. There's a reason that many people simply refer to Islay as "Whisky Island."
You likely still won't have time to visit every single whisky distillery on the island, though – and actually, I wouldn't recommend this anyway since all distillery tours (at least, the basic ones) are in general really similar.
We're going to start your Islay whisky education with a visit to three of the most well-known distilleries: Laphroaig, Lagavulin, and Ardbeg. These three distilleries sit right in a row along the coast to the east of Port Ellen, and are connected by the 3.5-mile-long Three Distilleries Pathway.
The pathway exists as a walking track if you want to get some exercise, or you can of course drive between all the distilleries, too.
Pro tip: Scotland has very strict drunk driving rules, but all of the distilleries on Islay will provide you with "driver's drams" (little glass or plastic bottles) for free to put all your tastings in so you can take them with you for later. Just let them know you're driving when you arrive for your tour or tasting.
Start at Laphroaig, where you can start off with their classic 1.5-hour Experience Tour. For £18, you get a full tour of Laphroaig's whisky-making facility, including their malting floor and peat kiln. They also have a nice little whisky museum here, and your tour ends with a dram and a tasting glass you can take home. This is the perfect introductory distillery tour. (More tour info here.)
Next, head over to Lagavulin, where Elliot and I loved the Warehouse Demonstration. This is less of a tour, and more of a guided whisky tasting, where you get to pull whiskey straight out of the casks for tasting in one of the Lagavulin warehouses. For £38, it's a pretty good deal, as you get to try 5 different drams. (More tour info here.)
Back on the Three Distilleries Pathway, be sure to stop and check out the ruins of Dunyvaig Castle, near the Lagavulin Distillery. It may be windy, but it will invigorate you after all those drams of whisky!
Lastly, stop at Ardbeg. You might not be up for another distillery tour, but Ardbeg has a great cafe (the Old Kiln Café), which makes for the perfect lunch spot. You can of course order a dram or two to taste along with your meal, which is what we did.
Pro tip: You absolutely want to pre-book most of these distillery tours. They limit visitor numbers and only run a certain amount of tours per day, so making a reservation is always a good idea. Just be aware that Islay can be fairly old school – you may need to send an email, or even make a phone call in order to pre-book a tour!
This afternoon, take a break from the distilleries to get to know Islay a little better. You can head northeast from Ardbeg (along narrow single-track roads, beware) and visit some lovely beaches and historic sites.
Stop to see the historic Kildalton Cross, an intricately carved and well-preserved Celtic cross that dates back to the 8th century.
A little further along the road, you'll find beautiful beaches like Claggain Bay. If you hit this part of the island on a sunny day, I promise you'll likely think you've been transported somewhere other than Scotland.
This evening, you might want to catch a sunset at the Big Strand, or simply enjoy a cozy night in at your accommodation. (There's always Scotch – and also gin – to sip here after dinner.)
Day 6: The rest of Islay
Islay isn't a very big island, but there's still plenty more to see!
If you're up for another distillery tour today, I recommend driving out to Kilchoman, Islay's "Farm Distillery." This is a newer distillery on Islay, but a unique one in that not only do they malt their own barley, but they also grow it. Try their 1-hour Classic Tour, which costs £10 and includes a tasting and a tasting glass you can take home.
From Kilchoman, it's a relatively short drive to Machir Bay, another lovely Islay Beach. It's not good for swimming, but is perfect for a long walk.
I would also recommend making the drive out to the village of Portnahaven on the far southwestern tip of the island. This little fishing village at the end of the A847 road has a small sheltered harbor where you can often spot seals.
There's not a ton to do here except enjoy the scenery and watch for seals, but I think that's enough of a reason to put it on your to-do list.
For lunch today, consider stopping at the Port Charlotte Hotel, or continuing back into Bowmore. You'll pass the Bruichladdich distillery, too, in case you want to make a stop there.
This afternoon, work off some of those extra whisky calories by taking a walk to see some ancient ruins at Finlaggan. Located on (and in) Loch Finlaggan, this ancient settlement was once the seat of the Lords of the Isles.
The Lords of the Isles ruled the west coast and islands of Scotland during the Middle Ages, often separate from the Kings of England and Scotland. Today, only ruins remain, but it's a pretty neat spot to visit.
Nearby to Finlaggan, you can also visit the beautiful and peaceful Islay House Community Garden, and the Islay Woollen Mill.
This evening, pop into the tasting room at Bowmore Distillery. The bar is beautiful and has big windows overlooking Loch Indaal. We didn't do a distillery tour here, but Elliot did try one of their tasting flights and really liked it.
RELATED: A Complete Guide to Visiting the Island of Islay in Scotland
Day 7: To Speyside
I hope you're not whiskied-out yet – because there's still a whole 'nother whisky region to go!
Scotland actually has five distinct whisky-producing regions. And while Islay is a favorite among lovers of peaty (smoky) whisky, probably the most famous single malt Scotch-producing region is Speyside, an area in the Highlands along the River Spey. So that's where we're heading today.
Today is going to be a long travel day, so I recommend having a hearty breakfast and booking an early ferry from Islay back to Kennacraig. From Kennacraig, it's a good 4.5 hours to the heart of Speyside.
The drive today is a beautiful one, though, skirting both Loch Lomond & The Trossachs National Park and Cairngorms National Park. And you'll absolutely know once you hit "The Highlands," because the landscapes just get more and more epic.
If you want to tack on a little extra time for a detour, take the route that will take you past Oban, and detour to visit the stunning Glencoe, home to one of the most famous landscapes in Scotland (thanks, James Bond and Harry Potter).
There are no planned stops today, to allow you time to stop and enjoy the Highland scenery. After arriving in Speyside, enjoy a relaxing evening at your accommodation.
---
Where to stay in Speyside
We stayed at the Cardhu Country House, just down the lane from Cardhu distillery in Knockando. This B&B is located in an old manse (a former minister's house) surrounded by farmland, and was the perfect place to relax in the evening after a long day of whisky touring.
And as a fun bonus, all the rooms at the Cardhu Country House are named after local distilleries!
Read reviews on TripAdvisor | Book a room at Cardhu Country House
Other Speyside accommodation options include:
---
Day 8: Malt Whisky Trail
Speyside is home to Scotland's Malt Whisky Trail, a unique trail that was established in the 1950s as the first trail of its kind in the world.
Speyside is home to the bulk of Scotland's single malt whisky distilleries (there are roughly 50 distilleries in Scotland's Moray Speyside region producing whisky!), though only 9 sites are included on the official Malt Whisky Trail.
You won't be able to visit every site on this trip, but thankfully Elliot and I visited most of them (and plenty of non-distillery sites, too!) to let you know which ones are definitely worth it.
Today, start your morning off with a visit to the Speyside Cooperage, where you can get unique insight into how all those whisky casks are built and maintained. There's a fun 4-D video all about cask making, and then you can watch the coopers at work. It's fascinating, and was a highlight for both Elliot and I.
Afterwards, it's a short drive to Glenfiddich, one of Scotland's large-scale whisky producers that's home to the world's most-awarded single malt whisky. The 90-minute Distillery Tour here is really comprehensive, and costs £20 per person and includes 4 different tastings.
For lunch, Glenfiddich has a nice restaurant and bar onsite (The Malt Barn) where you can grab lunch and maybe one more dram (for the non-driver) before you continue on.
This afternoon, head to the cozy Strathisla, the oldest operating distillery in the Scottish Highlands. This is, in my opinion, the prettiest distillery we visited, and I could have happily hung out in their tasting lounge for hours.
Taking a tour here is an option, but the traditional distillery tour won't be all that different from the others you've been on. Elliot and I opted to just hang out in the tasting room and order a Fly Dram, a quick 3-dram tasting.
Pro tip: In Speyside (as well as on Islay), not all distillery tours are offered every day of the week. So be sure to pinpoint the tours you know you definitely want to do in advance, and make sure the days of the week will work out with your planned itinerary!
You'll probably be needing a break from barrels and drams this evening, so why not head up to the beautiful Moray coast? It's just a 40-45 minute drive to the town of Portnockie, where you can visit sea cliffs, go for a walk on the coastal path, and see Bow Fiddle Rock.
For dinner, drive along the coast to to Cullen, a cute seaside village with a beach (and a beachfront golf course!). Stop for dinner with a view at the Cullen Bay Hotel; try the Cullen Skink, a creamy fish soup that this village is famous for.
RELATED: A Non-Drinker Travels the Scotch Whisky Trail – And You Can, Too!
Day 9: Malt Whisky Trail
Ready for Scotch Whisky Trail round 2?
Start a little further north at either Benromach or Glen Moray. Elliot and I opted for a tour at Glen Moray, which was interesting since the distillery uses all the latest technology and aims to not waste anything (even down to the steam coming off the wash stills).
You get to go into a warehouse here, too, where you can smell how different types of casks affect the aging whisky. This was really interesting for the science nerd in me!
After the tour at Glen Moray, you can head into the bar and do an amazing whisky and chocolate pairing. Not gonna lie: this pairing was a big reason I wanted to visit this distillery!
Grab a quick lunch in the city of Elgin, and then get ready to head off-trail. (Well, off-whisky-trail, at least.)
Both Elliot and I highly recommend stopping to do a tour of The Macallan. The Macallan Estate isn't part of the Malt Whisky Trail, but it's worth a detour for its new state-of-the-art visitor experience.
The Macallan tour is not like ANY other distillery tour you'll take in Scotland. The distillery, opened in summer 2018, is very futuristic, and features multimedia-heavy displays that creatively explain the whisky-making process.
Speyside locals really don't love The Macallan (they mockingly call it "Malt Disney"), but both Elliot and I thought it was great.
After your second distillery tour of the day, have a relaxing evening in Speyside. Grab dinner in Dufftown, and perhaps stop by the Craigallechie Bridge for some photos.
Pro tip: You don't need to pre-book all of these Speyside distillery tours like you did on Islay; we walked in for many of them. But one you absolutely DO want to pre-book is the tour at The Macallan. These sometimes book up days in advance!
Dat 10: Back to Edinburgh
You have time for one or two last stops this morning before it's time to return to Edinburgh.
You could stop in to Cardhu, a smaller distillery that's interesting because it was pioneered by a woman. But honestly, other than the quick history lesson about Helen Cumming, the tour won't be anything new.
Elliot and I opted to stop at Ballindaloch Castle instead, which ended up being one of my favorite non-distillery stops in Speyside. This fairytale-like castle is still lived in by the Macpherson-Grants, the family that has called the castle home since 1546.
You can tour the castle in less than an hour, and have a walk through the beautiful grounds and gardens.
Then you can make one last distillery stop at The Glenlevit, the distillery currently producing the most single malt whisky every year in Speyside.
We did a distillery tour here because it's one of Elliot's favorite Speyside whiskies (and the tour was really good!), but there's also a small museum about the Glenlivet story you can peruse and a coffee shop if you just want to grab a snack.
From Glenlivet, it's a little over 3 hours back to Edinburgh, where your Scotland whisky road trip will come to an end.
---
This of course is just a small taste of what you can see in Scotland in 10 days, but focusing our trip around whisky made for a fun theme. I hope this can help fellow whisky-lovers plan their dream trip to Scotland!
READ NEXT: Did You Know? 13 Fun Facts About Scotland
Would YOU want to plan a whisky-themed Scotland road trip?
Pin it for later: