Some posts on this site contain affiliate links, meaning if you book or buy something through one of these links, I may earn a small commission. Read the full disclosure policy
here
.
---
I was not your average teenager obsessed with boy bands and the latest hair clip fashions (I was a teen in the 2000s — hair clip fashion was a thing). Instead, my adolescent attention was drawn to slightly… nerdier pursuits. Namely: the "Lord of the Rings" trilogy.
I saw "Fellowship of the Ring" when it came out in 2001, and soon began reading anything and everything Tolkien-related that I could get my hands on. I also made it a life mission to visit New Zealand, the REAL home of Middle-Earth.
All through high school I saved up money from part-time jobs, holidays, birthdays, etc., so that I could go to Middle-Earth and be a hobbit. Or, more specifically, so I could go on a "Lord of the Rings" tour of New Zealand that I read about online.
The tour was offered by Red Carpet Tours — the first and most comprehensive "Lord of the Rings" tour company in New Zealand — and when I finally went in 2005, it was everything I hoped it would be and more.
And now, more than a decade later, Red Carpet Tours is still offering the BEST "Lord of the Rings" and "Hobbit" tours in New Zealand.
After keeping in touch with the company's owners over the years (they're seriously like the aunt and uncle you never knew you had), I was lucky enough to get to experience a Red Carpet Tour for a second time in 2014, and let me tell you: they've only gotten better.
If you're a fan of Middle-Earth at all, this is definitely a tour you want to know about.
Red Carpet Tours Lord of the Rings tours of NZ
If you're curious about traveling with Red Carpet Tours and wondering if it's worth it, read on to have all your questions answered!
Where will you go?
The 14-day tour starts in Auckland (at the top of the North Island) and ends in Queenstown (at the bottom of the South Island), meaning you cover a lot of ground in just two weeks. You're in a new town nearly every night, with the exception of 3 nights in Wellington and 3 nights in Queenstown.
The pace may be fast, but it's worth it to get to see all the great locations included on this tour.
Notable stops and overnights include:
Some notable "Lord of the Rings" and "Hobbit" sites you get to see include:
Who will you travel with?
It's hard to explain the types of people who go on these tours, but they're NOT the typical "geek" stereotype many people automatically picture when they hear "Lord of the Rings tour." Sure, a couple people may have costumes or cloaks in their luggage, and others may spend a ton of money on Weta replicas and souvenirs… but most are really cool, normal people.
We had multiple countries represented in our group, including Canada, Australia, the US, England, France, the Netherlands, Germany, Singapore, and even Luxembourg! The ages ranged from 10 to the 60s/70s range, though I'd say the average hovered somewhere between 25 and 30. This was actually a surprise to me — I was impressed by how many 20-somethings saved up for an epic trip like this!
The first time I went on this tour (back in 2005), there were 9 people in our "fellowship." But, with "Lord of the Rings" tourism booming again after the "Hobbit" movies, the tour groups are larger these days. My group was 29 people (plus our tour guide and driver).
This is a larger group than I'm used to traveling with, but I actually didn't mind it. People were usually on-time (or, more likely early!) for everything, and having a larger group means there's a better chance you'll find people to get along with. (Though, on a tour like this, you already have one huge thing in common — prepare for some serious and long-lasting bonds.)
Who is the guide?
With specialty tours like this, there's always the fear that you'll get stuck with a guide who isn't a fan and who just looks at their job as a job. Well not with this company.
Red Carpet Tours is a family-owned and operated company, meaning you'll usually be guided by Vic James or his daughter Julie. They are as big of "Lord of the Rings" fans as anyone on tour, so you can be sure that the passion is there, no matter who is guiding. They are fans first and foremost, meaning they know exactly what you're hoping to see and do on this once-in-a-lifetime tour.
We had Julie guiding on our trip, and she was fantastic. Always smiling and always trying to force people to put on costumes and re-enact scenes. (Yes, it's going to happen. Just accept it.)
How will you travel?
As the groups get larger, so does the transport. We were on a large coach for this tour — larger than we needed, meaning it was pretty easy to spread out. Our driver, Craig, was a wealth of information about New Zealand, and Julie would often pop in "Lord of the Rings" DVDs or behind-the-scenes extras from "The Hobbit" on longer drives.
The bus made frequent stops, too, so long travel days didn't usually feel long.
The buses usually have wifi, too (though, like with nearly all wifi in New Zealand, you have to pay for it).
The tour also includes a ferry crossing between the North and the South islands. I LOVE that this is part of the tour, because this crossing is stunning!
Where will you stay?
The accommodations on this tour are all in 4-star hotels. I had no complaints at all — in fact, some of them (like the Amora in Wellington) were far nicer than I would usually expect from a group tour like this!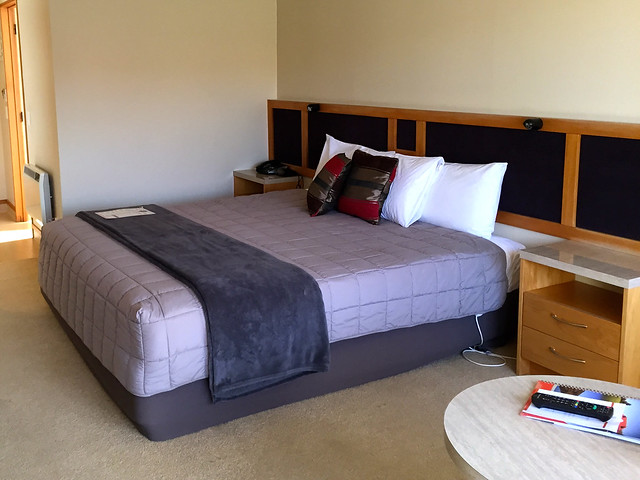 You stay in some unique properties, too. Like the Powderhorn Chateau in Ohakune. This ski lodge-like hotel was used by most of the "Lord of the Rings" stars when they were filming in the area, so you have a good chance of getting a "star room." (If you do, you can buy a souvenir keychain saying you slept in Orlando or Elijah's room…)
The hotels are all centrally-located, too, and most have at least one restaurant on-site.
What will you eat?
A good number of meals are included in the tour (all breakfasts, 4 dinners, and 1 or 2 lunches), and the guides will often book group dinners for anybody interested. You certainly don't HAVE to eat with the rest of the group, though — you're free to do your own thing most every evening.
The food in New Zealand isn't exactly exotic, but there are a few things I definitely recommend trying: like green-lipped mussels and venison (which they actually farm in New Zealand, so it's incredibly tender and delicious). You can also try local lamb/mutton, and any seafood you order is usually guaranteed to be fresh, too.
What will you do?
This tour is JAM-PACKED with cool activities — and not ALL of them are Middle-Earth-related. Yes, this tour was made for fans. But I feel like even non-fans would enjoy it.
Some of the included activities include:
But there were plenty of optional extras, too. Such as:
What makes this tour special?
Because of the relationships they've built with property owners, Weta employees, and even actors over the years, Red Carpet has access to places and people that you simply can't get as a normal tourist in New Zealand.
For example, you won't find places like the Pelennor Fields or Leaf Brooch Canyon on your own — they are located on private land, and the owners only come out to meet people traveling with Red Carpet.
Similarly, you'll get to meet all sort of people in Wellington, from calligrapher Daniel Reeve to Thorin's stunt double to people who were extras in the films. Once I even got to go with a Red Carpet group into the boardroom at Weta to hold their Academy Awards.
And when you go to places that normal tourists CAN visit (like Edoras and some of the sites around Queenstown like the "Breaking of the Fellowship" lake), you get the added bonus of being with an expert guide who knows all sorts of extra stories and tidbits about the locations and the filming that happened there.
Plus, you don't just go up and SEE the locations. You spend time out in the elements actually interacting with them. You hike to the top of Edoras. You dance on the Party Field in Hobbiton. You climb trees and run through canyons and re-enact battles.
This isn't just a bus tour with a handful of photo stops — you can get as involved with the locations as you want.
Any downsides?
With a large, fast-paced tour like this, you are always going to sacrifice some flexibility and independence. But that's kind of a given with a group tour like this.
The days also start EARLY on this tour — you usually have to be on the bus between 7 and 8 a.m., and you often don't get to your evening destination until around dinner time. You usually have evenings free, though. And you get free time in the places that matter, like Wellington and Queenstown.
Would I recommend it?
Umm, DUH.
I LOVE Julie and Vic (and his wife Raewyn) and admire the dedication they have towards this company. It really shows. They are always trying to make the experience better, and they have some serious connections (for example, there will be even more actors, stunt performers, and Weta artists included in 2015 tours and beyond).
If you are even the slightest "Lord of the Rings" fan and want to see New Zealand, then this is the absolute perfect way to do it.
---
If you want to read more about this tour, here are some posts to check out:
Essential NZ info
READ NEXT: 12 Things to Do on an Adventurous New Zealand Honeymoon
---
Is this a tour YOU would consider in New Zealand?
Pin it for later:
*Note: I received a complimentary 14-day Lord of the Rings tour with Red Carpet Tours. As always, though, all opinions are my own. And, in this case, I really do LOVE this company — this was my second tour with them, after all!