Some posts on this site contain affiliate links, meaning if you book or buy something through one of these links, I may earn a small commission. Read the full disclosure policy
here
.
---
I've written before about an epidemic that plagues many American workers: the fact that many of us leave vacation days on the table every year. (In 2018 alone, more than 700 MILLION vacation days went unused!!) I've provided suggestions in the past for how to travel more with limited vacation time, and one of my top tips is to embrace and perfect the long weekend trip.
Long weekend trips can be the perfect way to get away from the routine and stressors of home and work without having to sacrifice a lot of time or money. And the even better news is that you can pack quite a few long weekend getaways into a year since they usually only require you to use up 1 or 2 paid vacation days at a time!
In order to help you plan even better (and more!) short vacations this year, here are my top tips for planning the best long weekend getaway possible.
Tips for planning the perfect long weekend trip
1. Decide on a budget
Before you settle on a destination for your long weekend trip, the first step is to set your budget. Not everyone can afford to spend thousands of dollars on each and every trip they take, so setting a rough budget before you do any other planning can help shape your getaway into something you're financially comfortable with.
When planning out your budget, you'll want to consider the cost of things like transportation, accommodations, activities/sightseeing, and food.
And while a lot of people believe that all travel is expensive, remember that you can absolutely travel closer to home on a smaller budget.
2. Fly or drive?
Once you have a rough idea of how much you want to spend on your long weekend trip, you can start thinking about where you want to go. And where you want to go will largely depend on whether you're willing to fly somewhere, or whether you'd prefer to save money and drive. There are pros and cons to both, of course.
Assuming you have a car of your own, driving will usually be your cheapest option, and will give you the most flexibility since you'll be able to stop places along the way, and stay wherever you want since you won't need to rely on public transportation or taxis/Ubers to get around. The downside is that you may not be able to travel quite as far, and you may have to factor parking fees into your budget.
If you're willing/able to fly, you can go even further. (And yes, you can even leave the country on a long weekend trip!)
The US is well-connected both domestically and internationally with flights, and in many cases you don't have to spend an entire day flying in order to go somewhere really cool. For example, here are some sample flight times to several different destinations from New York City:
You could go tons of other places, too, from the Rocky Mountains to Mexico's Riviera Maya. When looking for flights for long weekend getaways, I recommend looking for the least amount of layovers possible, and to keep an eye out for overnight (redeye) flights that can help maximize your time away. For example, if you're going to Iceland, you can leave Thursday night after work and arrive Friday morning for a full long weekend of adventure. Even if you return on Monday, you're still only using 2 days of vacation time.
If you're not sure where you can fly that will still fit into your budget, I recommend checking out Kayak's Explore tab, where you can set your home airport, your budget, and length of trip, and then find out where all you can fly!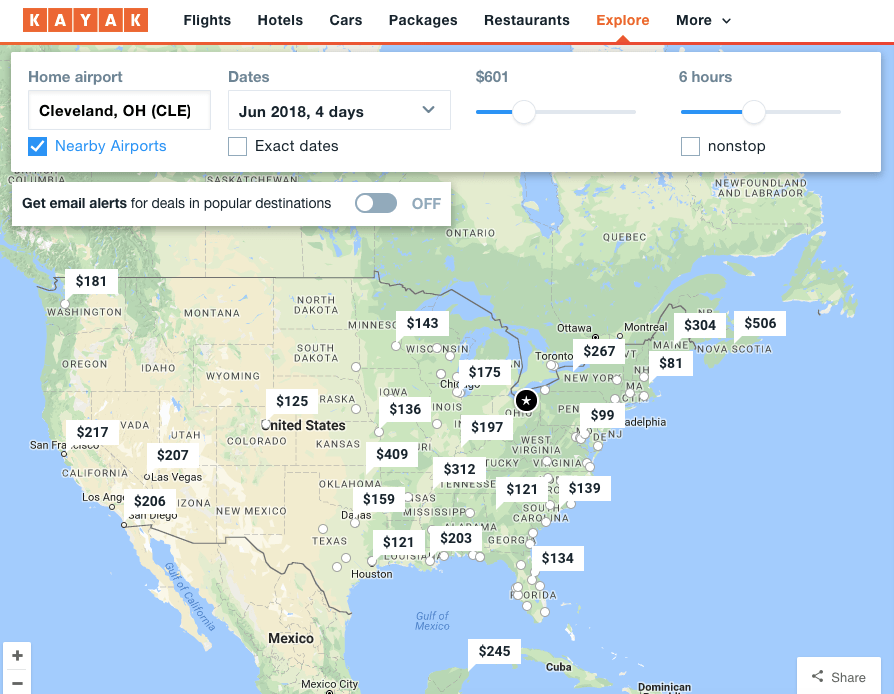 I have also traveled within the US by bus and train, and they are options worth considering, too, especially if you're looking to do a city break.
3. Factor in travel time
My biggest piece of advice is to factor in travel time when considering how long you want your trip to be. If you're only driving 2 hours away from home, you could easily take just 1 day off work and still fit a lot into your weekend. But if you're flying somewhere 5 hours away, a 4-day trip probably makes more sense.
I recommend deciding where you want to go and figuring out how long it will take you to get there (and home again) before asking for time off work. THEN you can start booking your travel.
4. Do some research
Once you've decided where you want to go and how you'll get there, it's time to do a little pre-trip homework. Do some research on things like where to stay (best neighborhoods, best deals, etc.) and what there is to do in the destination.
When considering where to stay, take into account things like how easy it is to park there if you're driving, or how walkable it is to other things you want to see/do if you're flying. (Sometimes it's worth paying a little extra to stay in a really central location; you don't want to have to spend half your time on public transport or in taxis on such a short trip!)
And when it comes to things to do, I recommend making a list of your must-dos first, and then the things that you'd like to do/see if you have time. This will help you in Step 6!
5. Book accommodation in advance
While many travelers like to allow for flexibility and spontaneity in their travel plans, the truth is that a long weekend trip isn't really meant to be super flexible. You don't really have the time to make decisions on the fly on a trip that may only be 3 or 4 days long.
Because of this, I recommend booking all your accommodation in advance. And I recommend staying in the same place for the whole time since changing hotels every day just eats into your already limited time.
When considering accommodation options, remember that you don't have to limit yourself to hotels. You can also look into B&Bs/guesthouses, Airbnb rentals (get some free Airbnb credit here), campsites, etc. Where you stay is largely based on where you're going and what kind of traveler you are, but I do recommend staying as close to "the action" (whether that action is a city center or a beach) as possible.
How far in advance you book completely depends on where/when you're traveling, but you'll usually find the best rates if you book at least a few weeks in advance.
6. Have a rough plan for each day
Like I mentioned above, a long weekend trip isn't really meant to be super flexible. So, in order to get the most out of such a short trip, I recommend coming up with a rough plan for each day of your trip. This might be something you outline before you leave home, or it might be something you do on Day 1 of your trip once you get to your destination (I sometimes wait until I arrive so I can plan things around the weather forecast).
Since you've already done your research and have your lists of things you want to do/see, put together a loose itinerary that maximizes your time. To do this, you'll want to consider things like opening/closing times, and the proximity of sites to one another.
For example, when my husband Elliot and I visited Portland a couple summers ago, we dedicated one half-day to exploring the downtown area on foot, one half-day to a couple gardens/parks that required an Uber ride but were close to one another once you got there, and one full day to the Columbia River Gorge, which we rented a car in order to go and see.
Having a rough plan for each day of your trip will help you see and do as much as possible while not wasting time or money. (And of course you can still dedicate half a day to just aimlessly wander of cafe-hop if that's more your speed!)
7. Plan must-do tours/activities in advance
If there's one specific tour or activity that you 100% know you MUST DO on your long weekend trip, go ahead and book it in advance. Not only will this help you plan your rough itinerary, but you also won't have to worry about it selling out or being full when you get there.
If you're headed to Disney or Universal, buy your tickets in advance. If you know you want to do a food tour or see a specific show, book it before you leave. Want to eat at a specific award-winning restaurant? Make reservations. And if you're going to a major city, look into buying an attraction pass in advance. Then it's one less thing you have to stress about once you get there.
For example, when Elliot and I did a long weekend trip to Chicago, things on our must-do list included seeing an improv show, eating deep dish pizza, going to both observation towers in the city, and visiting at least one museum. Before we left home, I bought us tickets to see Improvised Shakespeare, and we got two Chicago CityPasses for the observation decks and museums. We still had a lot of freedom to decide *when* we wanted to do specific things, but we didn't have to worry about standing in too many lines that would eat into our limited sightseeing time.
8. Pack light
Lastly, you don't need 17 different outfit choices for a long weekend trip. Pack one outfit per day, along with some comfortable walking shoes. Make sure you're packing appropriately for your destination (taking into account both the weather forecast and the culture), but don't go overboard.
This is especially important if you're flying over your long weekend trip. There's no point in wasting time standing around at baggage claim (or, worse, the lost luggage counter). Pack carry-on only so you can get on with your getaway as soon as your arrive.
READ NEXT: 10 Tips for How to Travel More with Limited Vacation Time
Are you taking any long weekend trips this year? Do you have any favorite destinations for long weekend getaways?
Pin it for later: