Some posts on this site contain affiliate links, meaning if you book or buy something through one of these links, I may earn a small commission. Read the full disclosure policy
here
.
---
There are a few things that are on every Harry Potter fan's bucket list: to visit Platform 9 3/4 at Kings Cross Station (the real one), to check out the "Making of Harry Potter" studio tour in London, and to geek out at both "Wizarding World of Harry Potter" parks (Hogsmeade and Diagon Alley) at Universal Orlando.
It's so secret among people who know me that I am kind of a big nerd. I had already ticked off the Harry Potter sites in London and Harry Potter sites in Edinburgh, but I had yet to enter the ultimate fan realm in Florida.
So when Universal Orlando offered me tickets to visit their two theme parks during a special "Celebration of Harry Potter" event, I kind of couldn't say no.
I've now visited Universal Orlando several different times, and, whether consciously or not, usually spend the majority of my time in the Harry Potter parks. (What can I say? Once a nerd, always a nerd.) 
Even though I'd seen pictures of both the Harry Potter sections of the Universal parks before my first visit, I wasn't fully prepared to see them in real life – and let me tell you: they are AWESOME!
After multiple days of park-hopping, butterbeer-drinking, and imaginary spell-casting, I've come up with this list of 10 things you MUST do if you visit Universal Orlando's Harry Potter parks.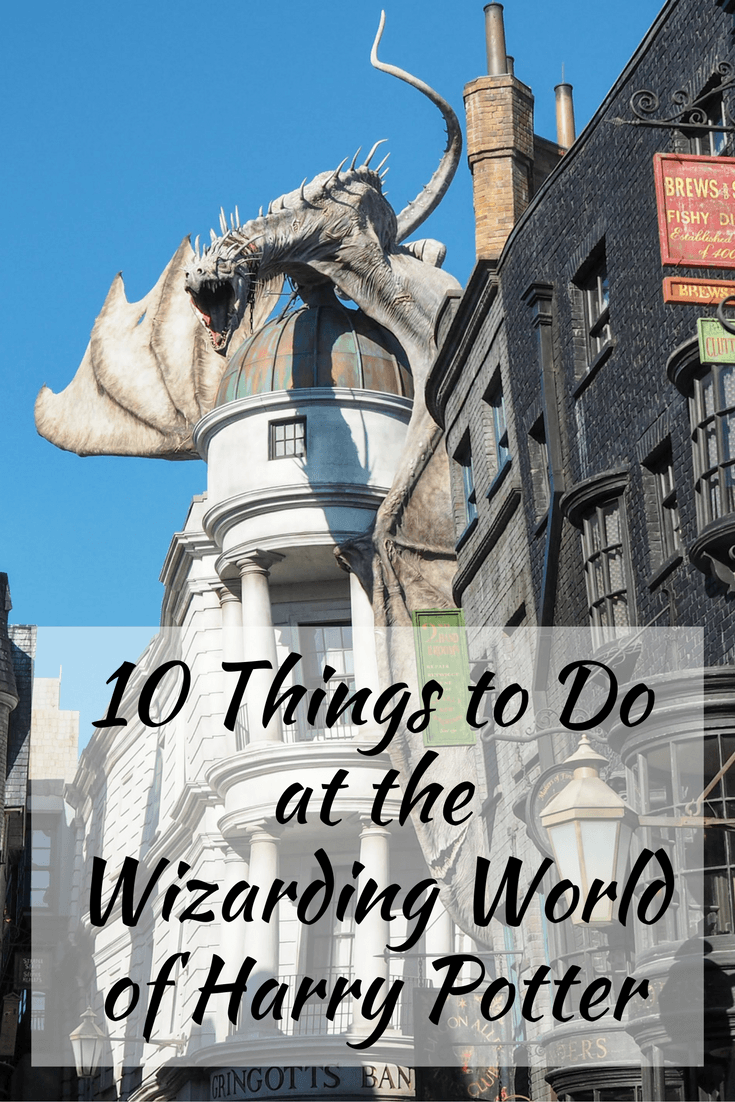 You can technically fit all of this into just one day if you have a Park-to-Park ticket, or you can spread it out over two days since Hogsmeade is at Islands of Adventure and Diagon Alley is at Universal Studios. (I will say, though, that a Park-to-Park ticket for at least one day is worth it, because it's the only way you'll be able to ride the Hogwarts Express between the two parks!)
Buy your Universal Orlando tickets here.
10 things to do at the Wizarding World of Harry Potter
Here are the top 10 things I feel like you NEED to do when you're a Harry Potter fan at Universal Orlando, based on .
1. Exchange money at Gringotts
You'll find Gringotts in Diagon Alley (complete with fire-breathing dragon on top), but the Gringotts building itself is home to a (really cool) ride. Not far away, though, you'll find the Gringotts Money Exchange, where you can exchange your Muggle money for Gringotts bank notes.
I was slightly disappointed that you don't get handed a bag full of galleons, but it was fun nonetheless, especially since there's a goblin inside to interact with (ask him about his favorite color!).
And don't worry, this isn't something you spend any money on. You actually exchange money for Gringotts "money," and you can use the Gringotts money just about everywhere within the Universal parks.
2. Ride the indoor rides
There aren't a *ton* of rides in the Harry Potter parks – in fact, there's only ONE in Diagon Alley and 3 in Hogsmeade. Meaning it's pretty easy to ride them all if you want to. My personal favorites? It was the innovative indoor rides that really blew me away.
The "Forbidden Journey," located inside Hogwarts Castle in Hogsmeade (in Islands of Adventure), is a grown-up motion simulation ride in which you feel like you're following Harry around on a broomstick, dodging dragons and dementors.
And the "Escape From Gringotts" ride in Diagon Alley (in Universal Studios) is a mixture of an indoor roller coaster and a 3-D ride where you get chased by Voldemort and Bellatrix through the vaults. Both were unlike any ride I've ever been on before!
*Be warned: The Forbidden Journey ride made me feel a bit sick, so if you're prone to motion sickness, I'd definitely take some Dramamine for this one!*
And, pro tip: don't be scared by wait times. Wait times of up to 30 minutes will seem like nothing once you get inside, because the lines have you winding your way through Hogwarts and Gringotts respectively, complete with talking photos, animatronic goblins, and some appearances by Harry Potter characters.
The first time we went on the Forbidden Journey the line was only 10 minutes long – and I felt like we actually missed out on part of the experience because we went through the line so fast!
There's also a kid-friendly coaster in Hogsmeade (Flight of the Hippogriff), and the new Hagrid's Magical Creatures Motorbike Adventure (a more adult roller coaster) in the same area of the park.
RELATED: Universal Orlando: Which of Its Three Parks Should You Visit?
3. Go inside all the shops
Especially in Diagon Alley, make sure to allow enough time to explore all the shops.
Just like in J.K. Rowling's version of the magical shopping street, you'll find everything from Weasleys' Wizard Wheezes joke shop to Madame Malkin's robe shop to Florean Fortescue's Ice-Cream Parlour to Quality Quidditch Supplies to Ollivander's wand shop (if you have kids, definitely wait in line for the whole experience at Ollivander's!).
You can even shop for "dark" objects in Borgin and Burkes down Knockturn Alley.
Yes, most of the shops sell souvenirs and t-shirts instead of actual wizarding goods, but it's still really fun to wander through them all anyway.
And keep an eye on the "fake" shop windows, too (i.e. the ones that don't lead into actual shops) – these are often animated in fun and magical ways.
4. Buy an interactive wand
Don't think this one is just for kids! If you're going to go to Ollivander's to get a wand of your own, be sure to get the interactive version!
Throughout both Diagon Alley and Hogsmeade, there are interactive shop windows, fountains, and statues where you can wave your wand and bring something to life.
It was so fun to watch faces – of both kids AND adults – light up when they made something "move" or made a fountain spring to life with the correct flick of a wand.
I didn't know about this feature of the parks before arriving the first time (and had no plans to buy a wand), but thought it was genius and a fantastic way to make people feel like they were really "part" of the magical world.
Once I got a wand of my own, it only made the Harry Potter parks feel more magical. I had so much fun following my map to all the spots where I could cast a spell and cause it to rain or make a feather float. So. Much. FUN.
5. Eat at either the Leaky Cauldron or Three Broomsticks
There's one restaurant in each Harry Potter park (along with various stands selling drinks). You'll find the Leaky Cauldron in Diagon Alley and the Three Broomsticks (and attached Hog's Head Pub) in Hogsmeade.
Both serve "traditional British pub food" – I had a plate of mini meat and fish pies – and a range of Harry Potter-inspired drinks and beers. The prices actually aren't terrible, and it's a fun atmospheric thing to do.
My tip? Go for lunch instead of dinner and the lines won't be as long.
6. Drink butterbeer
Speaking of those HP-inspired drinks, you HAVE to try butterbeer. There are three different ways to try it – hot (offered seasonally), cold, and frozen – so pick one and have at it. (For the record, the warm butterbeer was my favorite.) The drink is incredibly sweet, though, so be warned that you may not be able to finish it.
If you want to try something that's not quite so sweet, order a Green Fishy Ale from The Hopping Pot in Diagon Alley. It's a take on bubble tea: a green, cinnamon-y drink with blueberry bobas that pop in your mouth. It doesn't LOOK particularly appetizing, but I loved it!
The drink stands and restaurants also sell things like Pumpkin Juice, Otter's Fizzy Orange Juice, Tongue Tying Lemon Squash (lemonade), Peachtree Fizzing Tea, and Gilly Water (just good ol' bottled water), along with assorted alcoholic beverages.
7. Get candy at Honeydukes, or ice cream at Florean Fortescue's
You of course can't go to Hogsmeade without visiting Honeydukes, the famous wizarding candy shop. Pick up a Chocolate Frog, some Fizzing Whizzbees (chocolate-covered pop rocks – my favorite), and of course some Bertie Botts Every Flavor Beans.
Play a fun game with your Every Flavor Beans: don't look at the flavor guide, and simply hand them out to your friends and have them guess the flavor! (Warning: There are more gross ones than good-flavored ones…)
If ice cream is more your speed, be sure to stop into Florean Fortescue's Ice-Cream Parlour in Diagon Alley – they even sell butterbeer-flavored ice cream, which is very popular.
8. Enjoy the live shows
At each park, you can catch short live performances that will immerse you further into the Wizarding World.
In Hogsmeade, look out for performances by the Frog Choir, as well as a Triwizard Spirit Rally. In Diagon Alley, you can see a dramatic telling of The Tales of Beedle the Bard, and listen to music by Celestina Warbeck and the Banshees.
9. Take the Hogwarts Express between parks
If you're going to Universal Orlando mostly for the Harry Potter parks, you want to make sure to get a park-hopper (park-to-park) ticket so you can visit both parks in one day. Then you can take the Hogwarts Express between Diagon Alley and Hogsmeade!
Get on at Kings Cross Station in Universal Studios, and get off at Hogsmeade Station in Islands of Adventure. (And be sure to take the train the other way, too, as the experience is slightly different depending on which way you're going!)
It's a fun way to "travel," and actually can save you some time walking between parks (assuming the line for the train isn't too long).
The ride itself is fun, too, but I won't give away why – you'll have to ride it yourself to see!
10. Visit the parks at night
Lastly, early park entry is great, but there's also something magical about visiting Hogsmeade and Diagon Alley after dark.
This won't be possible every night (especially during the summer months when the sun doesn't set until much later), but be sure to check the opening hours of each park for every day of your trip to see if you can catch either of these parks after dark.
I promise it's worth it! (Plus, if you stay right up until closing time, you'll have the areas almost all to yourself!)
There's also a nighttime light show projected onto the Hogwarts castle in Islands of Adventure. This only happens on select nights, but it's something worth planning your visit around if you can!
Where to stay at Universal for early park access
One of my biggest tips for visiting Universal Orlando is to stay at one of the park-associated hotels. There are eight of them: the Cabana Bay Beach Resort, Loews Royal Pacific Resort, the Hard Rock Hotel, Loews Portofino Bay Hotel, Loews Sapphire Falls Resort, the Aventura Hotel, and the new Endless Summer Resort – Surfside Inn and Suites and Dockside Inn and Suites.
Staying at any of these hotels will give you access to both Universal parks one hour before they officially open – meaning this is the best way to see Diagon Alley without any people, or to get in line for the Gringotts ride when there's no wait.
All the hotels offer free transport to CityWalk and the parks (some of them offer transfer by boat, others by bus), or most are actually close enough that you can also walk if you want to.
Additionally, staying at one of the "premium" hotels (Loews Portofino Bay Hotel, Hard Rock Hotel, or Loews Royal Pacific Resort) also will get you FREE Universal Express Unlimited passes to skip lines at some rides and attractions. This is an incredible added value (up to $129 per person), and works for Harry Potter and the Escape from Gringotts, Flight of the Hippogriff, Harry Potter and the Forbidden Journey, and the Hogwarts Express in the Harry Potter parks.
If you don't stay at one of the premium hotels, I love staying at the Cabana Bay Beach Resort, which is a funky, family-friendly hotel that opened in 2015. It has two pool areas, a lazy river, a Starbucks right inside the hotel, and a free shuttle bus to take you to CityWalk and back that operates from 7 a.m. – 2 a.m. every day. And the prices are more than reasonable – we paid an average of $125 per night.
Check out Cabana Bay reviews on TripAdvisor | Book your own stay at Cabana Bay here!
Any of the on-site hotels are great choices, though. If you can't decide which one you want to stay at, compare prices of hotels near Universal here.
How many days do you need at Universal's Harry Potter parks?
You can technically fit a visit to both parks into just one day if you have a Park-to-Park ticket and don't plan to do much else at Universal Orlando.
I'd recommend spreading it out over two days, though, since Hogsmeade is at Islands of Adventure and Diagon Alley is at Universal Studios. This way you can spend one day at each park. (Though, I still recommend a a Park-to-Park ticket for at least one day, because it's the only way you'll be able to ride the Hogwarts Express between the two parks!)
---
Looking for more Universal Orlando content?
Check out these posts, too:
Check for Universal Orlando ticket deals here.
---
Are you as nerdy as me? Is going to the Harry Potter parks in Orlando on your bucket list?
Pin it for later: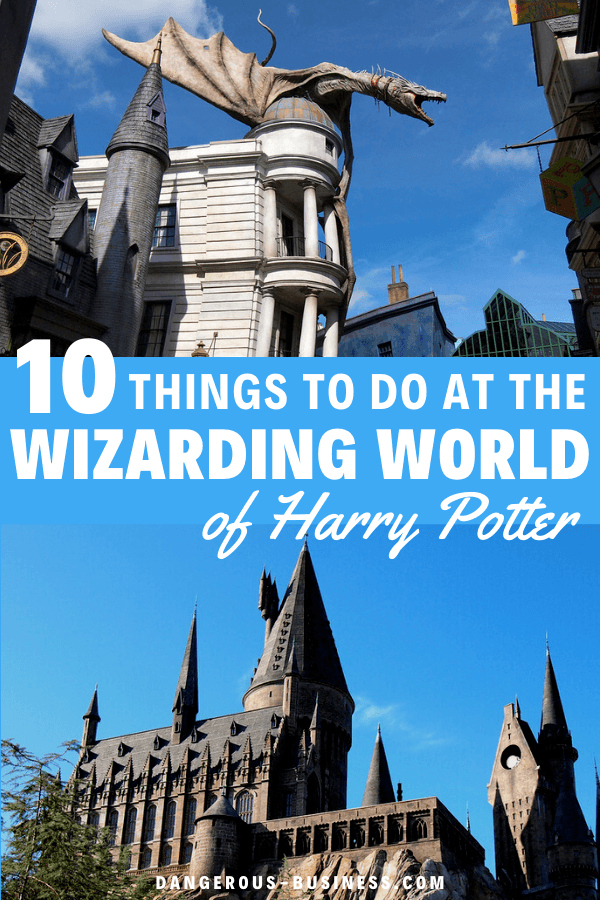 *Note: I did receive complimentary park-to-park tickets from Universal Orlando. However I paid for everything else myself and all nerdy opinions and tips are completely my own!