Some posts on this site contain affiliate links, meaning if you book or buy something through one of these links, I may earn a small commission. Read the full disclosure policy
here
.
---
I'll admit it: I'm a total Universal Orlando fangirl. Some people are enamored with Disney, but for me it's all about Universal.
I've visited Universal's Orlando parks multiple times in the past couple of years, and despite it always being bustling and (usually) hot, I always find myself loving it.
Whether it's casting spells in Harry Potter world, watching the Grinch's antics at Seuss Landing during the holidays, or splashing around in the wave pool at Volcano Bay, there's a lot of fun to be had year-round at Universal.
NOTE: Universal Orlando is back open to guests, but with some new COVID-19 guidelines and practices in place. As of January 2022, all visitors are required to wear masks throughout most of the park. Learn more here.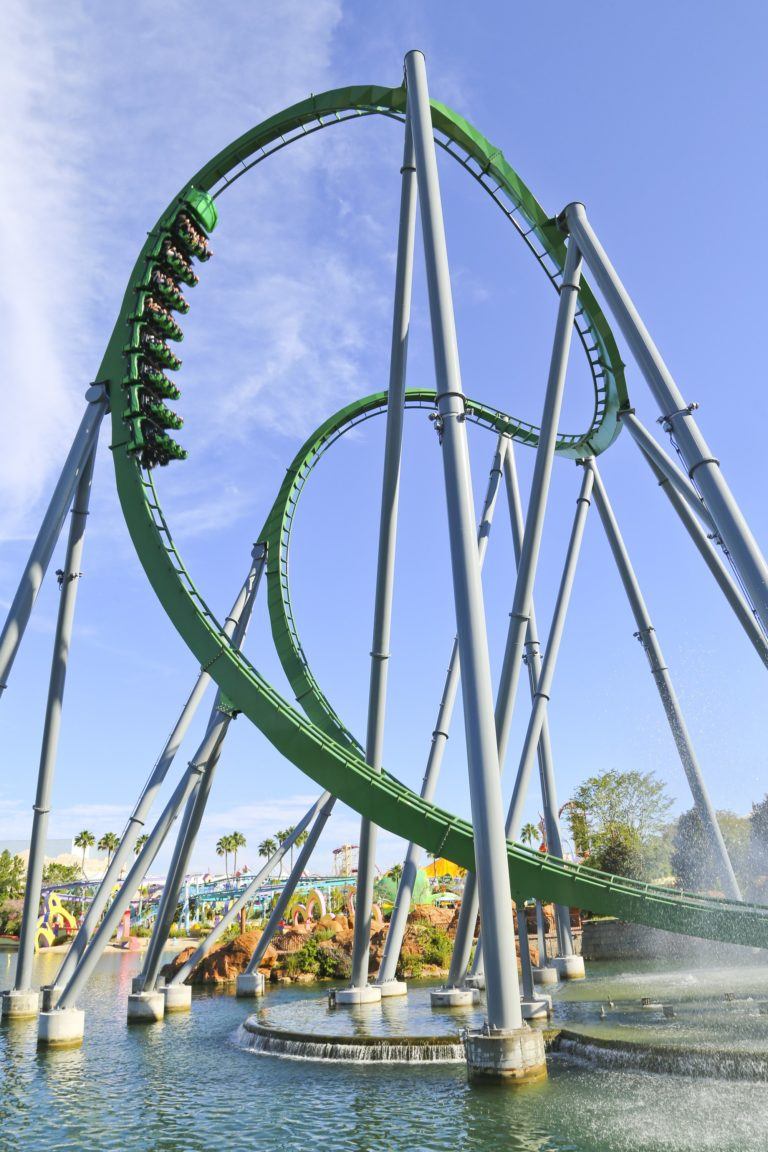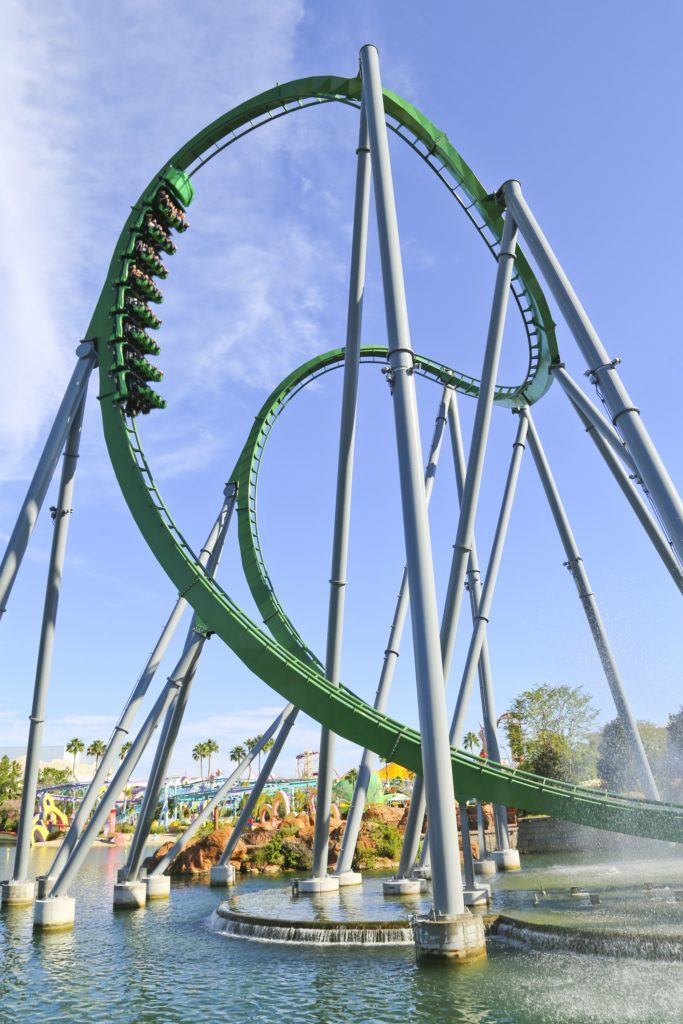 But I understand that planning a trip to a place like Universal can be a little daunting. The Orlando resort now has three separate parks – Universal Studios, Islands of Adventure, and Volcano Bay – and if you've never been before you may have no clue which one(s) are going to be right for you.
So here's where I come in! After spending quite a bit of time in each of the Universal Orlando parks, here's my breakdown of what to see, do, and eat in each park. This should hopefully help you decide which Universal park is better for you.
Buy your Universal Orlando tickets with a discount here!
Universal Studios
Universal Studios is the backbone of Universal Orlando Resort. This theme park was the first of the three to open in 1990, and is themed around movies and television.
From Universal's official website: "Go beyond the screen, behind the scenes and jump into the action of your favorite films at the world's premier movie and TV based theme park."
Sections of the park
Universal Studios is only roughly divided up into sections that correspond with different movie-making locations around the world, but there are a couple of distinctly themed sections, too. Namely the Simpsons "Springfield" section of the park and The Wizarding World of Harry Potter: Diagon Alley, which is perhaps the most intricately-themed part of Universal Studios.
RELATED: 10 Things to Do at the Wizarding World of Harry Potter in Orlando
The best rides at Universal Studios
This is of course only based on my personal preference, but my favorite rides here include:
Hollywood Rip Ride Rockit – A thrilling roller coaster where you can choose a song to listen to for the duration of the ride. I'm spoiled when it comes to roller coasters (having grown up near Cedar Point in Ohio), but this one definitely gets your adrenaline going with the first hill, which you ascend while lying flat on your back in the car.
Harry Potter and the Escape from Gringotts – This incredible ride mixes a roller coaster with 3-D technology and is seriously fun whether you're a Harry Potter fan or not. The line for the ride winds its way through Gringotts Bank in Diagon Alley, and then you go on an "underground" adventure that includes Harry and his friends, Voldemort, and a fire-breathing dragon.
Revenge of the Mummy – Man, I hope this ride never goes away! It's mostly an indoor roller coaster, but a delightfully creepy and kitschy one that includes all of the best parts of (the original!) Mummy movie.
Men in Black Alien Attack – In this interactive ride you scoot around in a pod-like car, laser gun in hand. Your mission is to zap as many aliens throughout the streets of New York as possible. Prepare to laugh a lot on this one!
Hogwarts Express – Found at Kings Cross Station, this working train will transport you from Diagon Alley to Hogsmeade, which is found at Islands of Adventure. It's a fun way to move between parks (but note that you WILL need a park-to-park ticket in order to ride).
There are also a lot of 3-D and motion simulator rides at Universal Studios. I sadly can't ride many of these because they make me feel sick, but a few that people seem to love include:
Race Through New York Starring Jimmy Fallon ride (the first to implement a virtual line)
E.T. Adventure (where you get to ride a bike like in the movie!)
Despicable Me Minion Mayhem
The Simpsons Ride
TRANSFORMERS: The Ride-3D
Fast & Furious – Supercharged (this one has elements of a normal ride since you do ride in a moving tram, but the majority of the "action" is on screens)
Shows to see at Universal Studios
Not into rides? There are a few entertaining shows/performances to take in at Universal Studios, too. Like:
The Bourne Stuntacular
Animal Actors On Location
The Blues Brothers Show
Universal Orlando's Horror Make-Up Show
The Tales of Beedle the Bard in Diagon Alley
You can also check out Universal's Cinematic Celebration, a nighttime light and water show celebrating famous movie moments, and Universal's Superstar Parade, which includes fun floats and favorite characters like SpongeBob SquarePants and the Minions.
RELATED: Holidays at Universal Orlando: 3 Things You Can't Miss
Where/what to eat and drink at Universal Studios
There are lots of dining options within Universal Studios, from a seafood grill to an Italian restaurant to a 50s-style diner. But the "musts" really revolve around the two main themed sections of the park:
Diagon Alley – In this section of the park, you can grab a British pub-style meal at the Leaky Cauldron, get ice cream at Florean Fortescue's Ice-Cream Parlour, and grab a butterbeer (or Green Fishy Ale, which is my favorite) at The Hopping Pot.
Springfield – In the Simpsons section of the park, grab an adult drink at the Duff Brewery beer garden or Flaming Moe's, food to-go at Krusty Burger, and a massive, face-sized pastry at Lard Lad Donuts.
Universal Studios for kids
Full disclosure: I do not have children, so I can't speak from experience as to what kids would like the most at any of these parks. BUT, I can tell you what there is to do for kids at Universal, along with what I think I would have loved as a kid.
At Universal Studios, kid-friendly rides include Kang & Kodos' Twirl 'n' Hurl, Woody Woodpecker's Nuthouse Coaster, the Hogwarts Express, E.T. Adventure, and Despicable Me Minion Mayhem. For littler kids, there are themed play areas (like Curious George Goes To Town), and plenty of character encounters, including ones with Shrek and Donkey, the Transformers, SpongeBob SquarePants, and more.
You can also book a character breakfast a Despicable Me character breakfast if the kids are in love with the Minions; the breakfast happens every Saturday morning at Loews Royal Pacific Resort.
Cool photo ops at Universal Studios
A couple of my favorite spots to snap a selfie include:
In front of the Knight Bus outside the entrance to Diagon Alley.
In Diagon Alley with your interactive wand/when the dragon is breathing fire.
With a big (fake) great white shark, near where the old Jaws ride used to be.
With a giant donut in the Simpsons section.
Outside the entrance with the spinning Universal globe.
Islands of Adventure
Opened in 1999 as the second park at Universal Orlando, Islands of Adventure focuses on just that: adventure!
Sections of the park
Islands of Adventure features seven themed "islands," which include Marvel Super Hero Island, Toon Lagoon, Jurassic Park, The Wizarding World of Harry Potter, The Lost Continent, and Seuss Landing.
Each island is highly themed – much more so than the different parts of Universal Studios. Hogsmeade (the Wizarding World park) is probably the most popular, but every island is definitely worth wandering through.
The best rides at Islands of Adventure
Again, this is just based on my personal opinion, but my favorite Islands of Adventure rides include:
Jurassic World VelociCoaster – Brand new in 2021, the VelociCoaster is similar to the Hulk coaster (also on this list), except taller and faster. It's definitely a true thrilling roller coaster. As a bonus, the line for this ride is inside the "raptor paddock," which is indoors.
Harry Potter and the Forbidden Journey – The wait for this ride is almost as fun as the ride itself, since the line has you winding through the rooms of Hogwarts Castle. The ride itself makes you feel like you're following Harry around the Quidditch pitch on a broomstick. (Note: This is a motion simulator ride and yes, does usually make me feel sick – but it's so awesome that I still ride it.)
The Incredible Hulk Coaster – This one is a must for thrill-seekers. You can't miss the big green coaster looming over the rest of the islands, and a complete revamp of the track makes for a much smoother ride these days.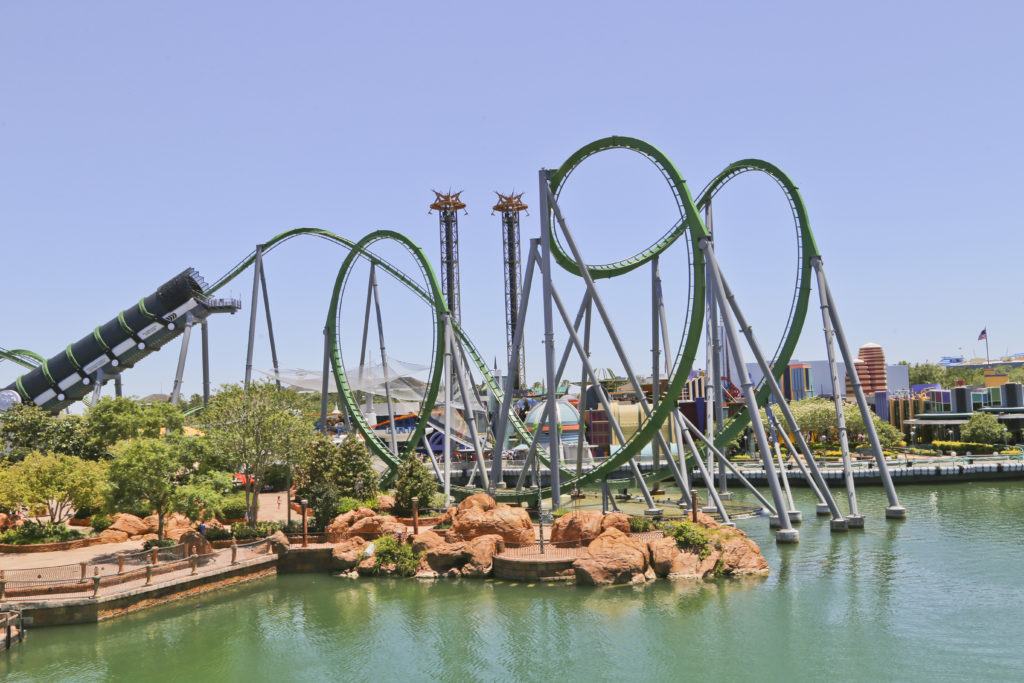 Hagrid's Magical Creatures Motorbike Adventure – This roller coaster replaced the Dueling Dragons in Hogsmeade in 2019, and is definitely a thrill ride with a Harry Potter storyline to make it even more fun. The cars are shaped like Hagrid's motorbike (complete with sidecar), which I love.
Skull Island: Reign of Kong – This ride is a 3-D adventure that's not a motion simulator. You get into a huge safari-like vehicle, and drive through the jungles of Skull Island. Your chances of meeting a giant ape are high.
Water rides – Islands of Adventure is where you want to go if you're looking to get wet at a theme park. Here you'll find Dudley Do-Right's Ripsaw Falls, Popeye & Bluto's Bilge-Rat Barges, and Jurassic Park River Adventure (which is definitely the best one).
There are of course other rides, too! These ones are just my favorites.
Shows to see at Islands of Adventure
A couple shows to see include:
Poseidon's Fury

Oh! The Stories You'll Hear! in Seuss Landing
Performances by the Frog Choir and Triwizard Spirit Rally near Hogwarts Castle
The Nighttime Lights At Hogwarts Castle (which is themed at the holidays)
Where/what to eat and drink at Islands of Adventure
You'll find plenty of food options here, too, but my personal recommendations include:
Mythos Restaurant – Located in The Lost Continent, this full-service restaurant is consistently voted as one of the best theme park restaurants in the world. It features a mix of Mediterranean, Asian, and American fare, and is definitely worth a stop for lunch or dinner.
Hogsmeade – In Hogsmeade, grab a British pub-style meal at the Three Broomsticks, an adult beverage at the Hog's Head, and pick up some Harry Potter-themed candy at Honeydukes.
You can also check out the Green Eggs and Ham Cafe (where, yes, you can get a Green Eggs and Ham sandwich), or grab a giant turkey leg at any of the eateries in Jurassic Park.
Islands of Adventure for kids
Most of the shows at Islands of Adventure are kid-appropriate, and I'd argue that this park has the most kid-friendly sections (mostly because of Seuss Landing).
Kid-friendly rides at Islands of Adventure include One Fish, Two Fish, Red Fish, Blue Fish; The Cat in the Hat; The High in the Sky Seuss Trolley Train Ride; the Caro-Seuss-el carousel; Pteranodon Flyers; Flight of the Hippogriff; and the Hogwarts Express.
There are 3 kids play areas (Fievel's Playland; Jurassic Park Discovery Center; and Camp Jurassic), and character encounters with the likes of Spider-Man and Captain America, and The Cat in the Hat and friends in the Dr. Seuss Character Zone.
Character dining options at Islands of Adventure include a cool chance to have a meal with Marvel superheroes, along with The Grinch & Friends Character Breakfast that is available around the holidays.
Cool photo ops at Islands of Adventure
A new photo opportunity that was added after "Jurassic World" came out is the Raptor Encounter in the Jurassic Park island, where you can snap selfies with a velociraptor.
I also of course always get a photo in front of Hogwarts Castle, and Seuss Landing is super colorful and great for pictures, too.
Volcano Bay
Universal Orlando's newest theme park is Volcano Bay, a water theme park that is replacing Wet 'n Wild. It opened in May 2017, and is pushing the boundaries of what a water park can be.
Volcano Bay features a 200-foot-tall waterfall, a huge wave pool, more than a dozen water rides and slides, and a new wearable that aims to eliminate standing in line for rides.
I was invited to experience the opening of Volcano Bay and, as someone who loathes putting on a bathing suit, I actually had a TON of fun.
Volcano Bay has its very own Polynesian-inspired backstory, and the theme is present in every single corner of the park, from the names of the slides to the food you'll find in the restaurants.
Sections of the park
There aren't designated sections of Volcano Bay – it's one big park with a Polynesian theme. There is an area dedicated to kids, though (The Reef), so the whole family can enjoy the park.
The best rides at Volcano Bay
Volcano Bay currently has 18 different rides and slides. Some of the most popular include:
Krakatau Aqua Coaster – I mean, it's a water roller coaster – how can it not be fun??
Ko'okiri Body Plunge – This trapdoor-like slide is located at the very top of the volcano, and drops riders 125 feet at a 70-degree angle.
Ohyah & Ohno Drop Slide – These body slides include either a 4-foot or 6-foot plunge into a pool at the end.
Honu ika Moana – There are two slides to choose from here. My pick? Go on the blue Honu slide with 3 or 4 friends. Your tube goes up two massive walls and truly is thrilling.
TeAwa The Fearless River – Forget the lazy river. Grab a tube and ride this fast-flowing river instead.
Shows to see at Volcano Bay
There's no live entertainment at Volcano Bay, but my favorite thing to do was hang out at The Reef, a small pool right next to the main wave pool/beach. Here the clear slide from the Ko'okiri Body Plunge runs right through the pool, meaning you can get an excellent view of the brave souls trying this slide.
And of course you can always people-watch at Waturi Beach.
Where/what to eat and drink
Going along with Volcano Bay's theme, you'll find plenty of island-inspired food and drink on offer. Check out:
Kohola Reef Restaurant & Social Club – Try the mango BBQ pulled pork sandwiches or coconut crusted fried chicken.
The Feasting Frog – Grab a poke bowl or taco sampler to enjoy on the patio.
Whakawaiwai Eats – Try the Island BBQ chicken pizza, a pretzel dog with pineapple salsa, or jerk shrimp mac and cheese.
Volcano Bay for kids
Waturi Beach is of course family-friendly, and there are kid-specific areas like Tot Tiki Reef (suitable for even the littlest of little ones) and Runamukka Reef. The Puka Uli Lagoon area is also fine for kids, and the Kopiko Wai Winding River might be suitable for kids who don't want to (or can't) go on the bigger water rides.
Cool photo ops at Volcano Bay
Look for the large kiosks where you can use your TapuTapu wearable to snap selfies. And be sure to get up close to the large tiki heads because they talk!
---
Looking for more Universal Orlando content?
Check out these posts, too:
---
My top Universal Orlando tips
So which park is right for you? Which park should you visit? Which is the best Universal park?
The truth is that they're all different and all very much worth visiting! I can't pick a "best" or favorite (though I do prefer Diagon Alley to Hogsmeade when it comes to the Harry Potter worlds), and chances are you're going to want to visit them all!
I would recommend at least 3 or 4 days to fully enjoy Universal Orlando, with at least one full day dedicated to Volcano Bay.
Here are some other tips for making the most out of your Universal Orlando experience:
1. Get the right tickets
They ARE offering multi-day 3-park passes (meaning you can hop between all the parks as much as you want), which is probably your best bet value-wise. I would personally dedicate one full day to Volcano Bay and then hop between Universal Studios and Islands of Adventure as much as you want (i.e. you can take the Hogwarts Express between Diagon Alley and Hogsmeade as much as you want!).
You also may want to invest in Express Passes if you'll be visiting during a busy time of year. These passes let you skip most of the lines on most rides, meaning you can fit a lot more into your day.
Buy Universal Orlando tickets with a discount here.
2. Go early; stay late
The late morning and early afternoon are almost always the busiest times at any amusement park. To really make the most out of your time, go to the parks as early as you can, maybe take a break in the afternoon, and then stay until closing.
3. Get the Universal app
Universal has a handy smartphone app for both iOS and Android that is especially useful during these current times. Use the Official Universal Orlando Resort App to view park maps, check ride wait times and sign up for Virtual Lines, and even place mobile food and drink orders.
The app can help you organize your visit in one place, and can also help you avoid standing in unnecessary lines.
4. Stay on-site
Want to get into the parks even earlier? Stay at one of Universal's on-site hotels, which allow guests to enter all three parks one hour before the posted opening times.
And which hotel should you stay at?
Cabana Bay Beach Resort is usually my go-to hotel at Universal Orlando. I love the colorful retro theme, the pools and lazy river, and the Starbucks in the lobby. AND, as an added bonus, Cabana Bay guests can walk right into Volcano Bay since the new water theme park is connected to the back of the hotel.
Check out Cabana Bay reviews on TripAdvisor | Book your stay at Cabana Bay here!
I also really like Loews Sapphire Falls Resort, which is a very pretty hotel that offers water taxis to CityWalk and free shuttles to all the parks.
Book your stay at Sapphire Falls here!
The other on-site hotels at Universal Orlando are:
Any of these make great bases for visiting both Universal parks. If you can't make up your mind, compare prices of hotels near Universal here.
5. Spend time at CityWalk
CityWalk is the area kind of in between Universal Studios and Islands of Adventure. It's where Universal's main parking deck is, and also where all the shuttles will drop you off if you get transported from your hotel.
CityWalk is also an entertainment hub in and of itself.
There are tons of restaurants (my favorites include Cowfish, Antojito's, and Toothsome Chocolate Emporium & Savory Feast Kitchen), a movie theater, a mini golf course, shops, and theaters where groups like The Blue Man Group perform.
CityWalk is open much later that the theme parks, meaning this is a great place to hang out and grab drinks with friends after dark.
READ NEXT: A Couples' Long Weekend Getaway to Orlando
---
So what do you think? Which Universal Orlando park would YOU most want to visit?
Pin it for later:
*Note: Thanks to Universal Orlando Resort for inviting me to the opening of Volcano Bay, and for providing support during previous visits to Universal. As always, all opinions and tips are 100% my own.