Some posts on this site contain affiliate links, meaning if you book or buy something through one of these links, I may earn a small commission. Read the full disclosure policy
here
.
---
I write a lot about history on this site, because it's something I always seek out when I travel. I often weave historical facts into my blog posts, and in the past have touched on all different kinds of history, from painful history at sites like concentration camps in Europe and killing fields in Cambodia, to more light-hearted history like that of country music and whisky.
When I first decided that I wanted to write a post about Black history sites in America, I wasn't sure at first if I, a white travel blogger, was the best one to compile this list.
At the end of the day, though, Black History is still history. And it's often us non-Black travelers that can benefit the most from learning about significant historical moments that are often glossed over in (or simply just omitted from) our white-washed history classes at school.
If I can use this platform to write about Native American history in the Southwest or Jewish history in Europe, then I hope you'll also be open to me sharing info on Black history in the USA. It shouldn't fall to just the Black travel bloggers out there to talk about these places.
I'm a firm believer that travel in itself can be an excellent education, but we often are unaware of all the things we haven't learned. So take this as a reminder of some of the things many of us could stand to learn a little more about.
I've done my best to include a wide range of historical and educational sites and tours on this list, and have turned to fellow travel content creators to help me write about the ones I haven't personally visited yet. I hope this list inspires you to add at least one or two of these spots to your own US travel plans in the future.
It's worth noting that many of the sites included on this list are now on the official US Civil Rights Trail, which includes 100+ sites across 14 states that were integral to the Civil Rights Movement in the United States.
This trail is a great starting point (check out a good road trip guide here), but I wanted to make sure to include more than *just* notable Civil Rights locations here.
PLEASE NOTE: We've included info on opening hours and admission costs for each museum and attraction, and have also tried to note current changes/closures due to the COVID-19 pandemic. But please keep in mind that these details can change! Please consult the websites of each attraction for updated info before you visit.
Black History museums
1. National Museum of African American History and Culture
Washington, DC | Submitted by Larissa of Life with Larissa
Located in the heart of Washington D.C., the National Museum of African American Culture and History (NMAAHC) aids in the visual depiction of Black history over time, with the building itself being a work of art.
Having the opportunity to visit this museum with my family was surreal, and the experience sparked much needed conversation between us. Although it's not an entirely pleasant experience, I think it's important to note that NMAAHC mimics life in that it showcases moments of sorrow and joy and everything in between.
Comprising five floors highlighting the various struggles and successes of African Americans, the museum does take time to go through, so I suggest dedicating an entire day to the experience. Because the museum has so many elements to appreciate, I know I will be back to visit in the future and I encourage everyone to take time to experience the National Museum of African American History and Culture.
The museum is usually open from 10 a.m.-5:30 p.m. every day except Christmas Day. Although the museum does not charge an admission fee, do check the website for the time of year you're planning to visit, as sometimes timed-entry tickets may need to be reserved.
You can also pair up a visit to the museum with a Black History-focused tour of DC.
COVID-19 update: The NMAAHC is temporarily closed.
2. National Civil Rights Museum
Memphis, Tennessee
When I spent a long weekend in Memphis a few summers ago, the most memorable thing I did was visit the National Civil Rights Museum on Mulberry Street. This museum traces the US Civil Rights Movement from its very beginnings through to present-day.
The museum is powerful and moving – and is made even more so due to the fact that it's been developed around the very spot where Civil Rights leader Dr. Martin Luther King Jr. was assassinated in 1968.
Even if you think you understand the impact of slavery and the Civil Rights Movement on our country's current social and political climate, you should still visit this museum – because you probably missed out on a lot of the history in school.
The immersive exhibits lead you through a timeline of civil rights history, beginning with the African slave trade in North America, and ending at Room 306 of the former Lorraine Motel, where Dr. King was staying when he died.
The National Civil Rights Museum is open Mondays from 9 a.m.-6 p.m., and Wednesday-Saturday from 9 a.m.-5 p.m. Tickets are $17 for adults and $14 for kids. Allow at least 2 hours to full explore the museum.
COVID-19 update: The museum is currently limited to 30% capacity with a flow of 25 guests every 20 minutes. Masks are required, and cashless transactions are preferred.
3. National Underground Railroad Freedom Center
Cincinnati, Ohio
During the Civil War (and in the years leading up to it), Cincinnati was a border town in Ohio (a free state) across from Kentucky (a slave state). The city unsurprisingly played a huge role in both abolitionism and the Underground Railroad.
The story of slavery in America is told at the National Underground Railroad Freedom Center, a fantastic museum right on the Ohio River in downtown Cincinnati.
The museum doesn't just focus on the early days of America, though. According to its mission statement, the museum's goal is to "reveal stories about freedom's heroes, from the era of the Underground Railroad to contemporary time, challenging and inspiring everyone to take courageous steps to freedom today."
Along with large exhibits on the slave trade in the Americas and the Underground Railroad, the museum also has exhibits on modern-day slavery and the fights for freedom that are ongoing in our world today.
There are a mix of permanent and special exhibits here, along with the John Parker Library and Family Search Center, where volunteers can help you trace your family tree.
Admission to the National Underground Railroad Freedom Center is $15 for adults and $10.50 for kids. The museum is currently open Thursday-Sunday from noon-5 p.m.
COVID-19 update: The museum is currently requiring timed tickets. Masks are required, and cashless transactions are preferred.
4. Old Slave Mart Museum
Charleston, South Carolina | Submitted by Noel of This Hawaii Life
Charleston is a beautiful historic southern city, but it's about more than just old Southern houses. To learn about Black History in Charleston, you should definitely visit the Old Slave Mart Museum. This Antebellum auction house is part of Charleston's African American history, and is included in the National Register of Historic Places.
At a time when most slave auctions where done outdoors in the South, Charleston had an ordinance that forbade this; and so the Ryan auction house was started on Queen and Chalmers streets in 1859 with a variety of buildings, sales rooms, and yards, along with a kitchen, jail, and morgue.
After enslavement ended in the 1860s, the building ended up being a tenement building, an auto repair shop, and later a Black arts and crafts museum. It was finally acquired by the city of Charleston and converted into a museum in 2007.
Located on a small quiet street not too far from the waterfront areas of town, the Old Slave Mart is imposing and sinister looking. Inside, you'll find story boards and artifacts that include the actual shackles and chains used on the slaves that were brought in from West Africa.
I found that the museum is relatively small, and a DIY tour will get your through most of the story boards in under an hour. It was easy to follow and you get to explore both levels of the building in order to learn about this dark past and Charleston's slavery trade in the South.
The Old Slave Mart Museum is open 9 a.m.-5 p.m. Monday through Saturday. Admission is $7 for adults and $5 for kids.
5. Legacy Museum and National Memorial for Peace and Justice
Montgomery, Alabama | Submitted by Rebecca of Rebecca and the World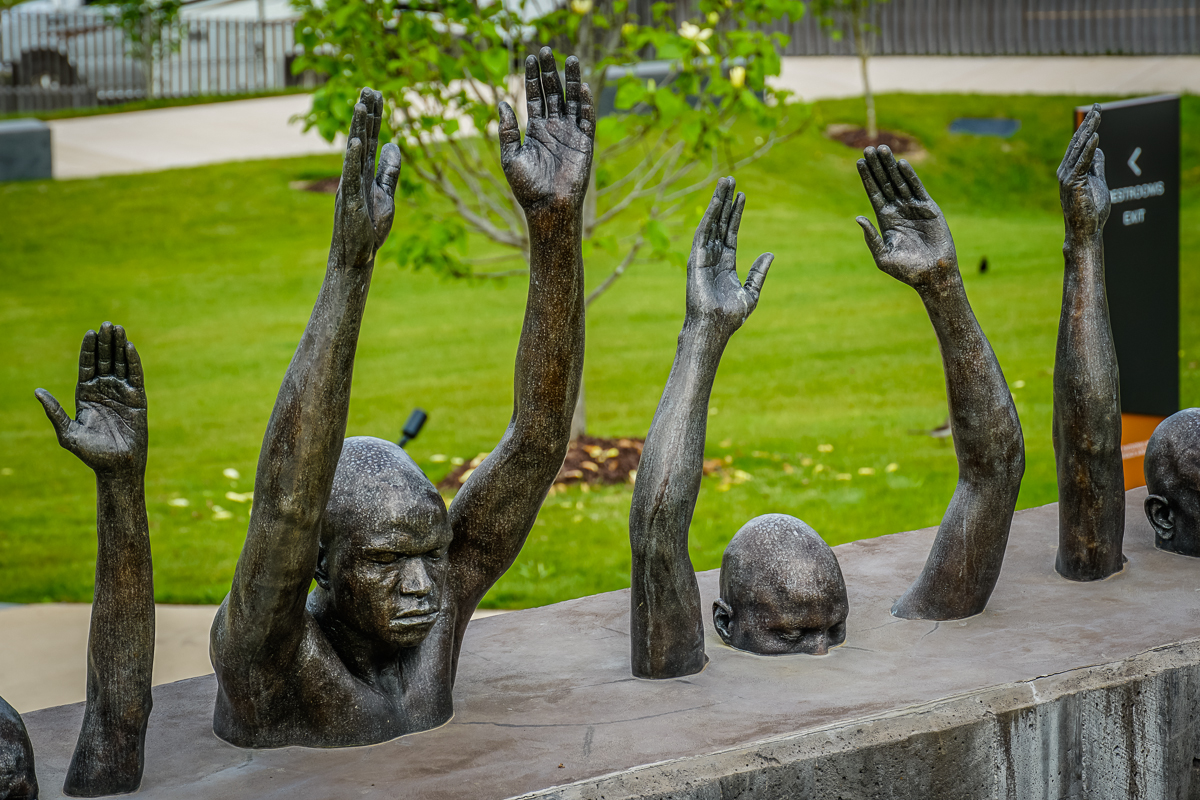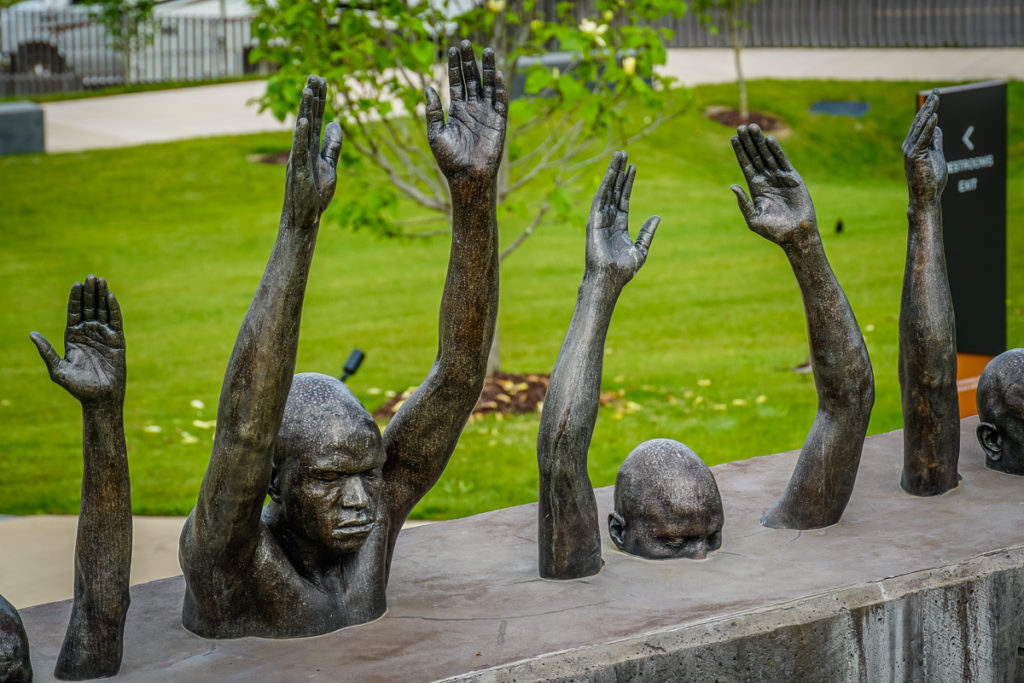 In Montgomery, Alabama, you will find what has been described as the United States' first lynching memorial. Two sites, both overseen by the Equal Justice Initiative and opened in 2018, provide shocking accounts of brutality against Black Americans from slavery to today.
I recommend visiting the Legacy Museum first, with its rich visuals, exhibits and videos. From the moment you step into the museum, you will be immersed in historical accounts of slavery (hauntingly told by holographic characters), an overview of the Jim Crow era, and appalling statistics about mass incarceration today.
Just under a mile away (you can walk there or take a shuttle), the National Memorial for Peace and Justice sits on six acres. A lush grassed area gives way to an unforgettable memorial that acknowledges the more than 4,400 Black men, women and children that were brutally murdered between 1877 and 1950.
Walking in, you will wind your way through eye-level columns – each of which lists U.S. counties and the names of lynching victims. As you go further into the memorial, the columns hang from the ceiling, hauntingly resembling lynching victims.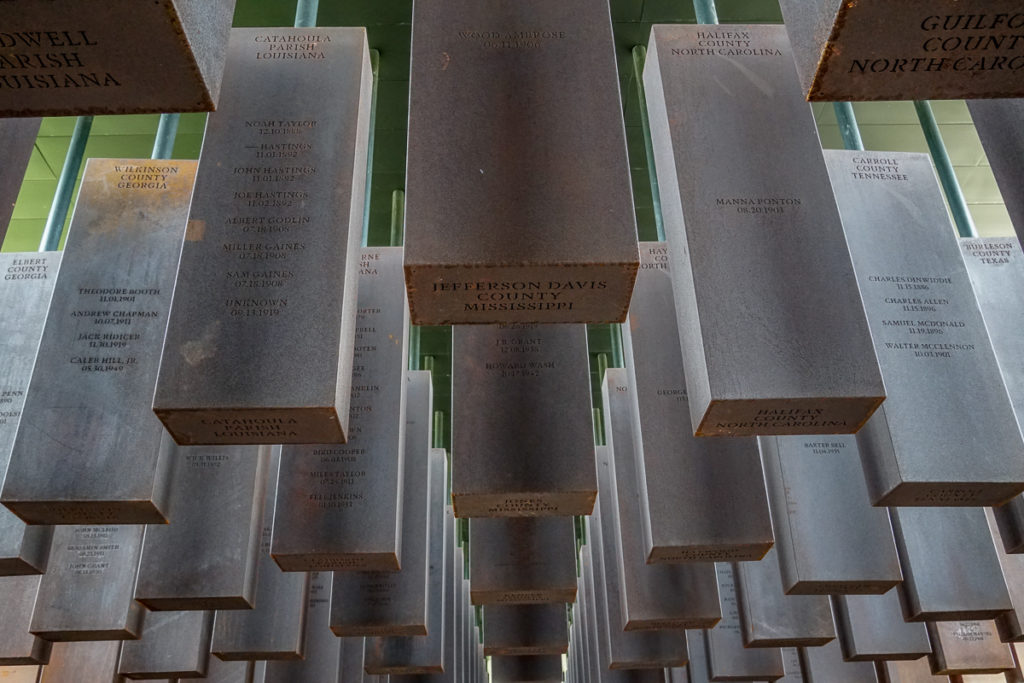 Both experiences are self-guided, but staff are available to answer questions. The museum and memorial are confronting, and you will need time afterwards to process what you've seen, read and heard.
It costs $10 (adults) for a combination ticket to visit both sites (it's $8 to visit just the Legacy Museum, while the Memorial has free admission). Tickets for the Legacy Museum are timed – I recommend booking online in advance so that you can visit both sites in the same day.
COVID-19 update: The Legacy Museum is temporarily closed, but the monument is open.
6. Birmingham Civil Rights Institute
Birmingham, Alabama | Submitted by Karen of Family Travels on a Budget
The Birmingham Civil Rights Institute in Alabama shares the story of the Civil Rights Movement as it was experienced in the city.
Visitors to the Institute learn Birmingham's history, from its earliest days as an iron producing town through the Jim Crow era, desegregation and into the 21st century. Interactive exhibits draw visitors into the disparities that existed for racial minorities in housing, education and politics. Difficult issues like the KKK and lynchings are addressed with sensitivity.
Exhibits cover major moments in the Civil Rights Movement including Rosa Parks' bus ride, peaceful protests led by Dr. Martin Luther King, Jr., the attacks on peaceful protestors at Kelly Ingram Park, and the 16th Street Church bombing that killed four young girls. The Institute doesn't stop there, but takes guests on the continuing journey through desegregation, the election of the city's first black mayor, and into today.
A final exhibit challenges visitors to think about their role in society and how they can make a difference for their local community.
The Institute, located at 520 16th Street North, sits across the street from the 16th Street Baptist Church and Kelly Ingram Park. The Birmingham Civil Rights Institute is open every day except Monday. Adult admission is $15, and free on Martin Luther King, Jr. Day.
COVID-19 update: The museum is temporarily closed.
7. Freedom Rides Museum
Montgomery, Alabama | Submitted by Jen Ambrose and Ryan Victor of Passions and Places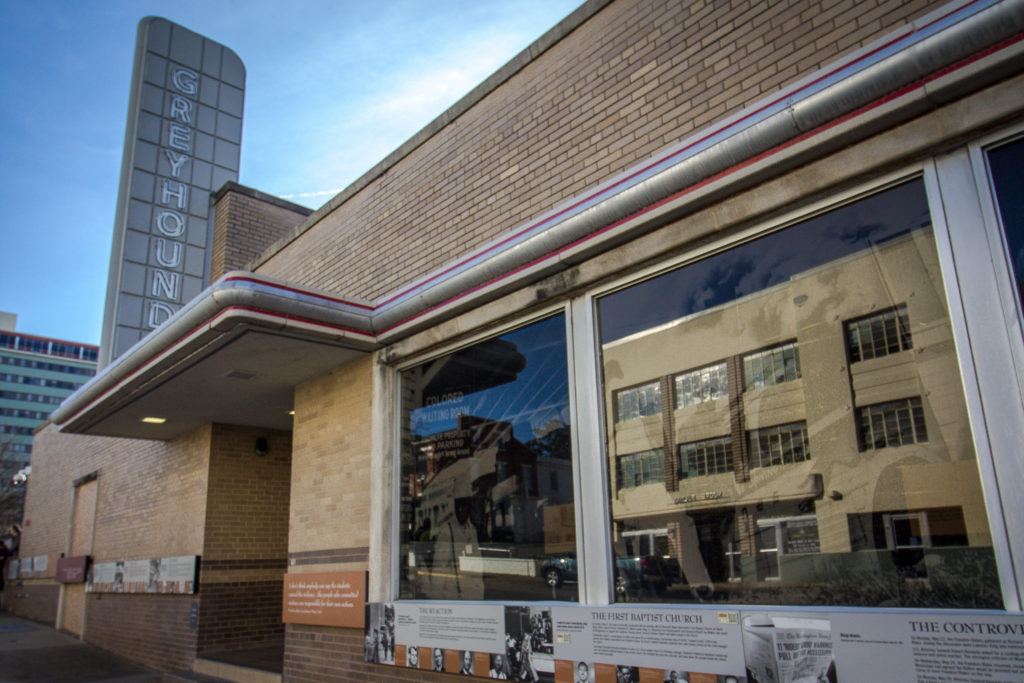 One of many important Civil Rights sites in Montgomery, the Freedom Rides Museum is a must-see on any Alabama road trip. Housed in a renovated Greyhound bus station, its exhibits tell the story of a student-led non-violent protest of segregation.
In the spring of 1961, groups of college students – Black and white, male and female – rode the Greyhound bus from Washington, D.C., to New Orleans. In violation of local laws and norms, the Black and white students sat together on the bus, and in bus station restaurants and waiting areas. When a group of these Freedom Riders got off the bus in Montgomery, Alabama, they were violently attacked by a mob of supporters of segregation. And despite their promise to protect the protestors, the police took no action.
Today, visitors to the Freedom Rides Museum can learn the details of this protest, the students who participated, the horrific laws they were fighting, and the violence they faced. The museum staff and interns from the nearby university are super knowledgeable, and they'll guide you through the exhibits to provide more context.
The museum is located on the edge of downtown Montgomery, and admission is $5. It's open 11 a.m.-4 p.m. Tuesday-Friday, and 10 a.m.-4 p.m. on Saturday.
COVID-19 update: The museum is open, but operating at reduced capacity.
8. Green McAdoo Cultural Center
Clinton, Tennessee | Submitted by Apryl Chapman Thomas of Southern Hospitality Magazine Traveler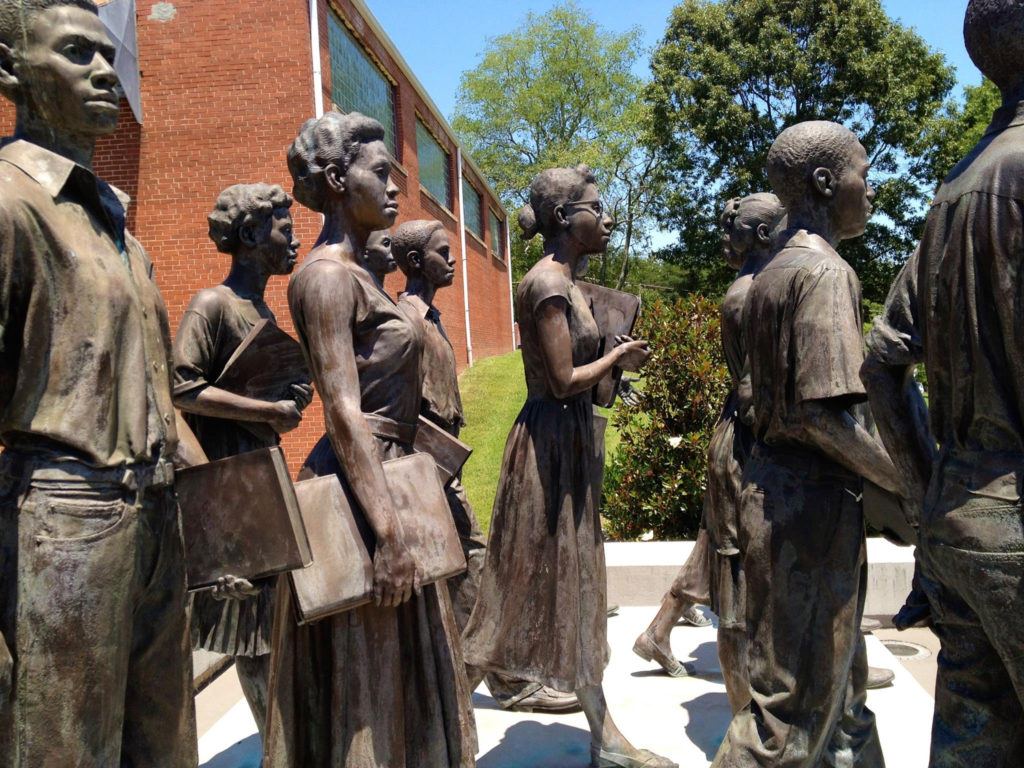 About 20 miles northwest of Knoxville, Tennessee, is Clinton, a typical Southern town, in both appearance and atmosphere. However, as the saying goes, "it's the quiet ones you got to watch."
In August 1956, this small town made a historic move. Clinton High School would become the first high school to desegregate in the region when 12 young students from Green McAdoo (an African-American grammar school) walked through its doors. The 12 students would become known as the "Clinton 12."
Today, the Green McAdoo Cultural Center guides visitors through this tumultuous time in both the country and Clinton. The museum experience begins in a 1950s classroom where you learn about the students of McAdoo and the local lawsuit that started the process and its connection to the landmark Brown versus Board Education case.
Once class is "dismissed," explore the exhibits that chronologically highlight the events that unfolded in the town. Learn about the creation of a local guard, listen to firsthand recounts, "meet" important figures like Reverend Paul Turner, and more. Perhaps one of the most notable parts of the story that everyone today can learn from is how the communities within Clinton eventually came together.
The McAdoo Cultural Center ends with detailed biographies on the "Clinton 12" and those who participated in the desegregation of Clinton High School. Before you leave, be sure to check out the detailed statue of the "Clinton 12" and note their determination and will.
The museum is open Monday-Saturday from 10 a.m.-5 p.m.
9. Idaho Black History Museum
Boise, Idaho | Submitted by Kay of The Awkward Traveller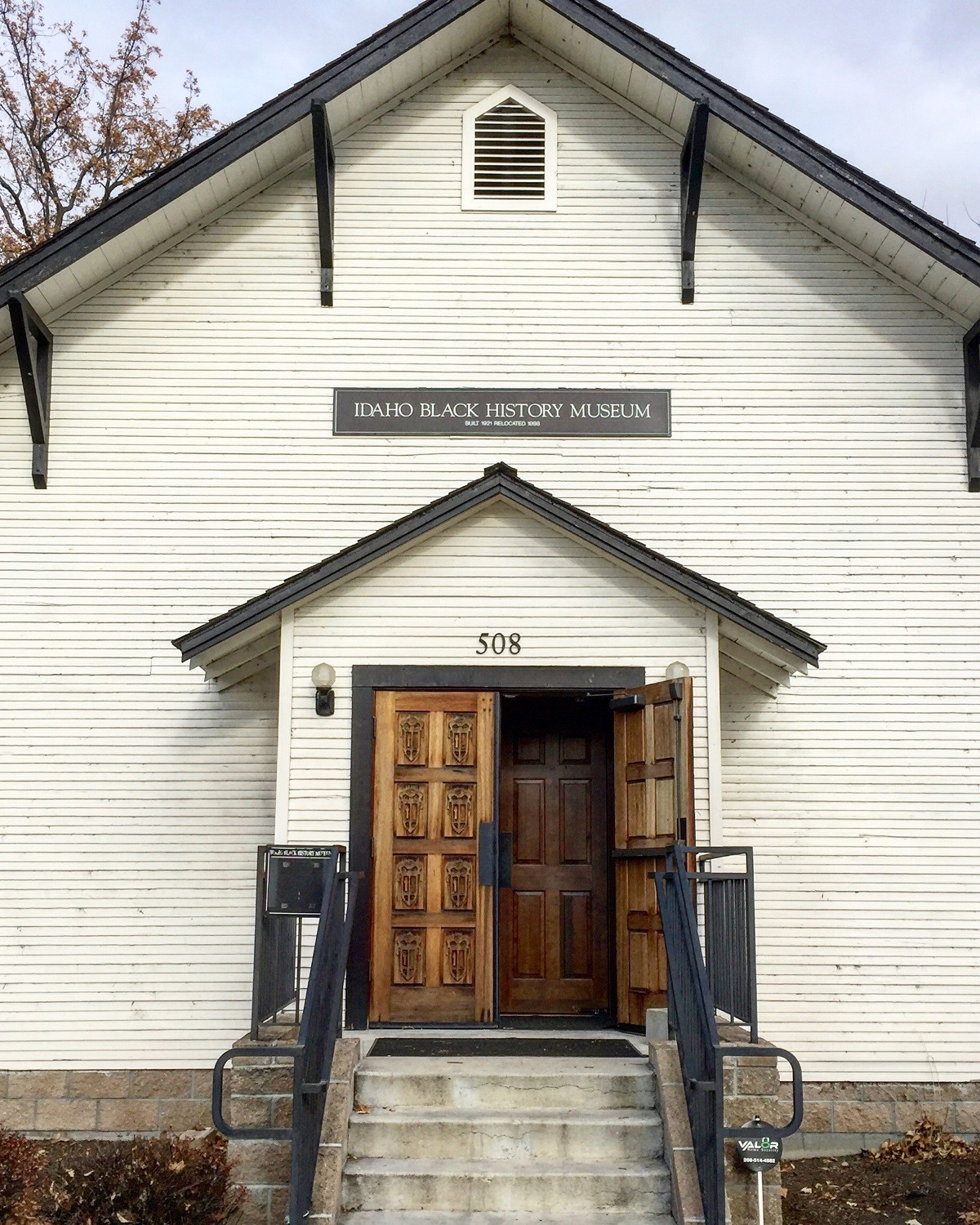 Idaho is often overlooked when it comes to Black history in the USA, yet Black miners, ranchers, and cowboys shaped Idaho's culture to what it is today.
The Idaho Black History Museum, set in a historic Black Baptist church in Boise, explores Idaho through the Black lens – one that saw Idaho as a means to escape the Southern states post-Civil War.
Visiting the Idaho Black History museum is one of the best things to do in Boise because it is critical to understanding the foundation of Idaho as a state, as well as the Black community within it.
The museum also holds workshops, lectures, community events, and outreach programs. The non-Black residents of Boise are also willing to learn and listen; in one lecture for improving the county's criminal justice system to better serve BIPOC communities, a large portion of attendees were white. The Idaho Black History museum serves as a bridge between cultures in the state, as well as advocating for institutional reform and education.
The museum is open Wednesday-Saturday and operates on donations.
---
And while this list has covered some really excellent Black history museums in the United States, we've really only scratched the surface! Some others that are also worth the visit include:
Slave Haven Underground Railroad Museum in Memphis, Tennessee – This museum is located in a 19th-century home that was once part of the Underground Railroad. Visitors can learn about the house and its role in helping people escape slavery, complete with tunnels and trap doors.
Buffalo Soldiers Museum in Houston, Texas – This museum tells the story of the historic Buffalo Soldiers, Black calvary regiment soldiers who served mostly out West in the years following the Civil War. The museum tells their story, and covers the wider history of African Americans in the US military.
Mississippi Civil Rights Museum in Jackson, Mississippi – This museum is connected to the Museum of Mississippi History, and together the two chronicle Mississippi's past. The Mississippi Civil Rights Museum specifically focuses on the Black experience in Mississippi, from the pre-Civil War era through the Civil Rights Movement.
---
Museums that celebrate Black culture
While learning about Black history is important, we shouldn't only focus on the serious museums and attractions. Black joy should be just as big a part of Black history – hence why I'm separating these museums since they celebrate a different side of Black history and culture.
1. Stax Museum of American Soul Music
Memphis, Tennessee | Submitted by Ashley of My Wanderlusty Life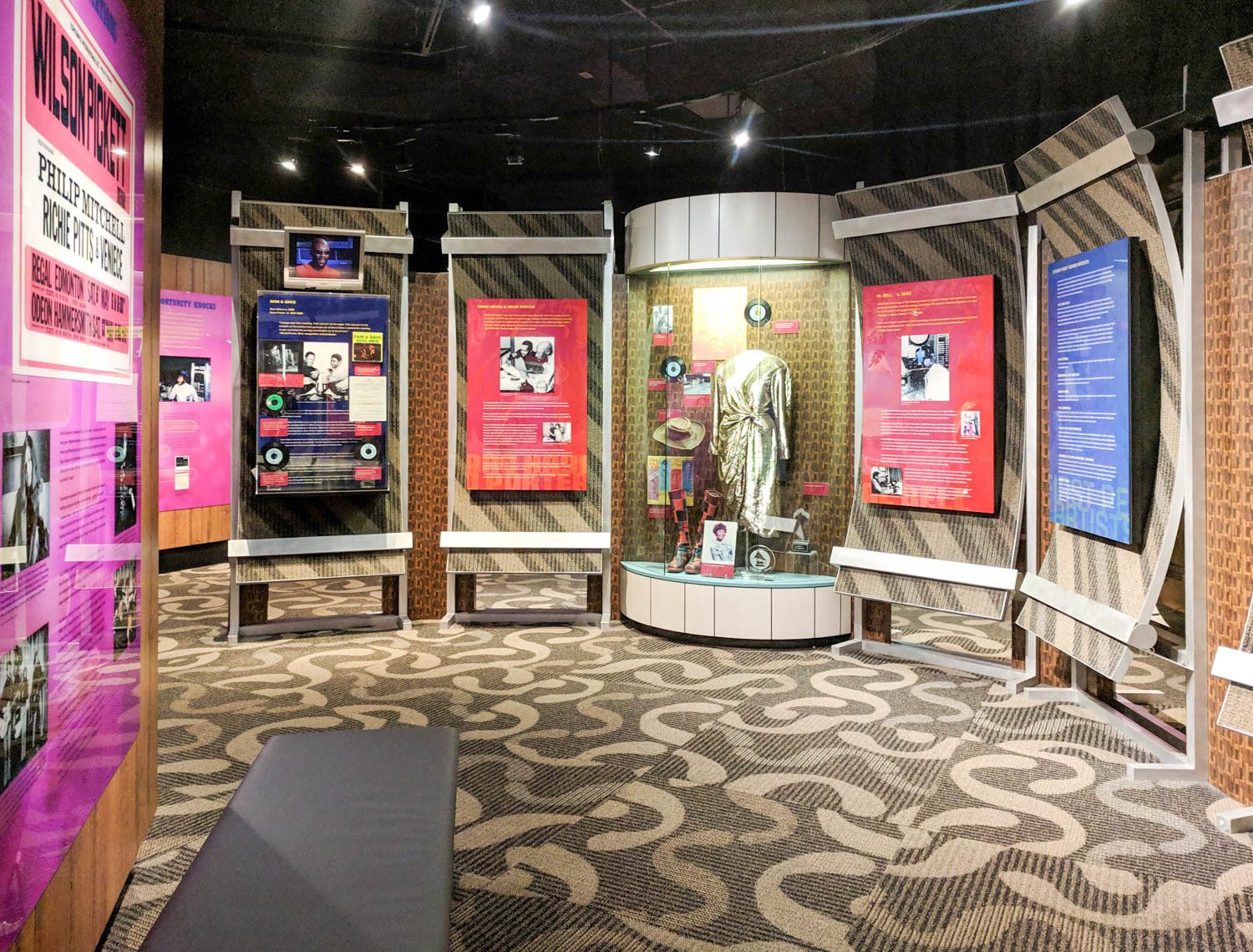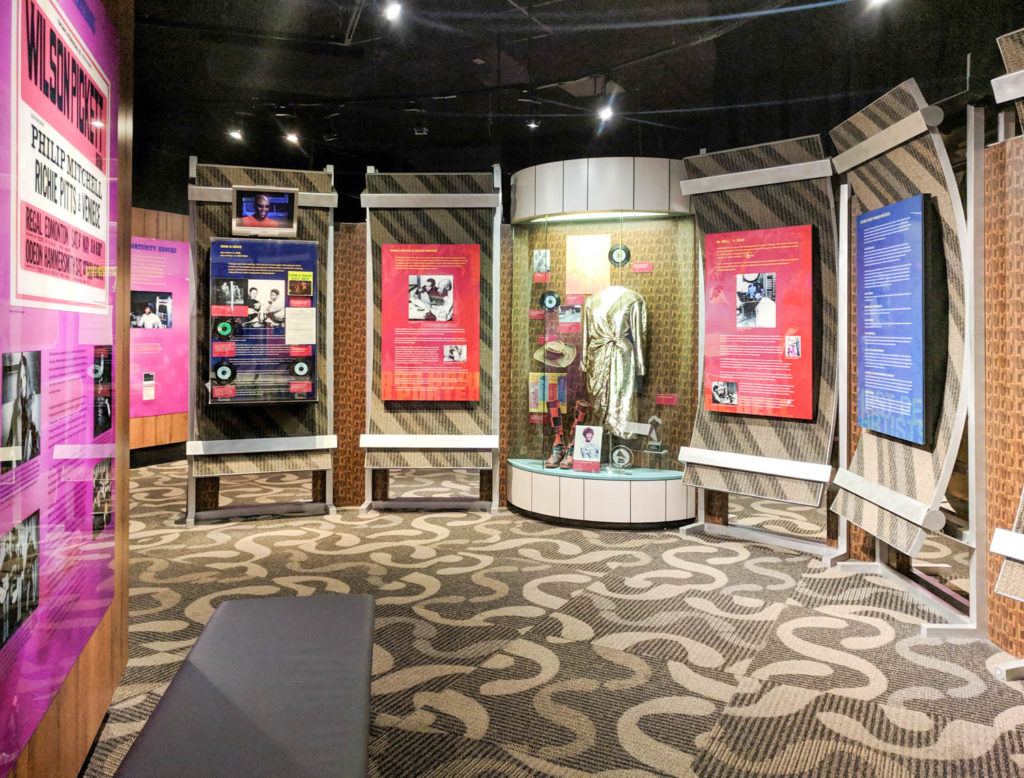 The Stax Museum of American Soul Music is located in Memphis, Tennessee, and is a truly groovy place to learn about Black history. You can find the museum at the former location of Stax Records, a record label founded in 1957 that was once home to such names as Isaac Hayes, Otis Redding, Sam & Dave, the Staple Singers, and so many more.
A trip to the Stax Museum will take you on a journey through the history of soul music as well as Stax's own past as a movie theater-turned-recording studio that powered some of the biggest names in the industry. It starts with soul's humble beginnings in the church (there's an actual early-1900's church from the Mississippi Delta inside), and moves all the way through the soul boom of the 60s and 70s.
Stax tells the story of soul music through videos and listening stations, priceless memorabilia like Tina Turner's dresses and Isaac Hayes's 24k gold-trimmed Cadillac, a replica of the original recording studio, and even a beckoning Soul Train dance floor.
Of all the great things to do in Memphis where you can learn about Black history, the Stax Museum is definitely one of the most fun and interesting.
The Stax Museum is open Tuesday-Sunday from 10 a.m.-5 p.m. Tickets are $13 for adults and $10 for kids.
COVID-19 update: Tour group size is currently limited to 25 guests, and it's recommended you purchase tickets online in advance. Masks are required, and cashless transactions are preferred.
Note from Amanda: In Memphis, the Rock n Soul Museum is also worth a visit if you want to learn about the roots of rock music. This museum is a Smithsonian affiliate.
2. Motown Museum
Detroit, Michigan | Submitted by Stella Jane of Around the World in 24 Hours
One of Detroit's big claims to fame is Motown Records. And there's no better place to learn the history of Motown and its importance to Black American history than the Motown Museum in Detroit.
The museum itself is actually located in the former home of Motown Records founder Berry Gordy, and it was created by his sister, Esther Gordy Edwards. Berry Gordy is one of the most towering figures in Black American music. He got started as a songwriter for Jackie Wilson, and then he started Motown Records with a small loan from his family.
Some of the great Black artists you'll learn about at the Motown Museum include Smokey Robinson and the Miracles, Michael Jackson and the Jackson 5, Diana Ross and the Supremes, Marvin Gaye, The Temptations, The Four Tops, Gladys Knight and the Pips, and Stevie Wonder.
It's impossible to imagine what popular music would be like today without Motown Records. The most successful musicians in the world today, like Beyonce, Jay-Z, and Bruno Mars, come to pay tribute to the Motown Museum and see the studio that started it all.
The Motown Museum is located on 2648 W Grand Blvd. and is open Wednesday-Sunday from 10 a.m. to 6 p.m. Admission is $15 per adult.
COVID-19 update: Tour group size is currently limited to 10 guests, and it's recommended you purchase tickets online in advance. Masks are required, and they are doing temperature checks at the door.
3. Museum of the African Diaspora
San Francisco, California | Submitted by Rai of A Rai of Light
Africa is considered the cradle of humankind, and the Museum of the African Diaspora (MoAD) in San Francisco sets about to question and celebrate the universal connection of you and I through our association with Africa.
Rather than a collection of pieces like a traditional art museum, the MoAD distinguishes itself as a home of storytelling, primarily through asking visitors, "When did you first realize you are African?"
This contemporary art museum highlights Black culture by documenting the history, art, and beliefs of the African diaspora through time, with exhibits positioned across three floors. There is a strong focus on bringing new artists onto the scene, and the Emerging Artists Program has introduced some amazing work to me.
A highlight of any visit is the three-story mural of what appears to be the face of a child at first glance, but on closer inspection you see that this image is actually made up using the faces of thousands of people.
The MoAD is located at 685 Mission Street and is open Wednesday – Saturday from 11 a.m. -6 p.m. and Sunday from noon-5 p.m. Admission is $10 for adults.
COVID-19 update: The MoAD is temporarily closed.
---
Some other museums that celebrate and display Black art and culture include:
---
Historic sites to learn about Black History
1. African Burial Ground National Monument
New York, New York | Submitted by Rachel of Rachel's Ruminations
The African Burial Ground, a national monument in New York City, illuminates a little-known period in African-American history. Enslaved Africans were brought to New York as early as the 1630s, and slavery wasn't entirely eliminated there until after a very gradual emancipation started in 1799.
The African Burial Ground was a 6-acre cemetery used by both free and enslaved Africans in the 17th and 18th century in what is now lower Manhattan. When a new federal building was being built on the site in 1991, the graves were rediscovered. Archeologists investigated the 419 graves found on the site, but perhaps 15,000 are still buried under nearby buildings.
The African Burial Ground today tells the story of these individuals and serves as a place of remembrance of the African diaspora at the same time. Inside, displays show how these enslaved people lived, and the archeological evidence – including many remains of young children – attests to their hard lives. Outside is a memorial to these nameless people who built Manhattan, and, nearby, the place where they were reburied using West African rituals.
You can read more about the African Burial Ground here. It is located at 290 Broadway between Duane and Reade Streets. It's open Tuesday-Saturday from 10 a.m.-4 p.m., and admission is free.
COVID-19 update: The African Burial Ground Monument is temporarily closed.
2. Harriet Tubman Underground Railroad National Historical Park
Church Creek, Maryland | Submitted by Melissa of The Family Voyage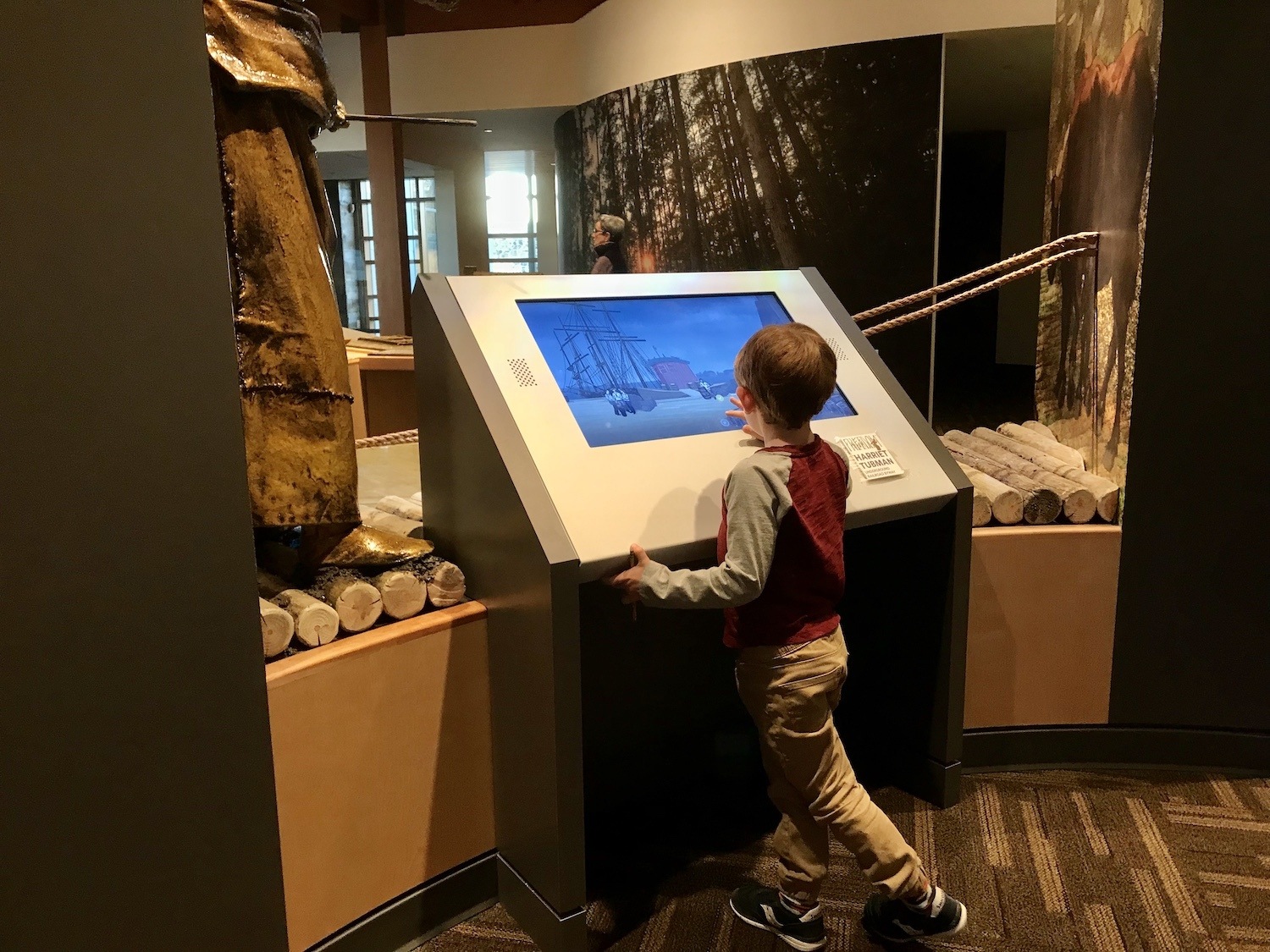 One of the most revered figures in Black American history is Harriet Tubman, who escaped from enslavement on Maryland's Eastern Shore but subsequently returned 13 times to guide 70 other enslaved people to freedom and worked as an abolitionist in Philadelphia. Today, visitors can learn her story and honor her legacy at the Harriet Tubman Underground Railroad National Historic Park, which has been established in the area where she grew up and from which she eventually fled.
The site has an incredible, immersive museum where visitors can bear witness to Harriet Tubman's story and learn both the brutal reality of her enslavement as well as the extraordinary bravery of her years as a free woman. After experiencing the Harriet Tubman Underground Railroad Visitors Center, you can continue your visit by walking or driving to various sites along the Harriet Tubman Underground Railroad Byway.
The Visitors Center and many sites along the Byway are completely free to visit. The National Historic Park makes for an easy day trip from Washington, DC (just under 2 hours by car), or you can visit as part of a weekend stay on the Eastern Shore to see the wild horses of Chincoteague and Assateague.
The Visitors Center and park are open every day except holidays from 9 a.m.-5 p.m., and admission is free.
COVID-19 update: The park is temporarily closed.
3. First African Baptist Church
Savannah, Georgia | Submitted by Kate of Our Escape Clause
The oldest Black congregation in the USA can be found meeting at the First African Baptist Church in central Savannah, just as they have been doing since 1773 – and yes, that's 3 years before the colony of Georgia even became part of the USA!
Unsurprisingly, given the time period, the First African Baptist Church was founded and built – literally and figuratively – primarily by enslaved people, and the church continues to act as part of their legacy today.
While the congregation has been active since the 18th century, the building itself was completed in 1859 – just two years before the outbreak of the US Civil War.
Touring the First African Baptist Church as part of your Savannah itinerary adds extremely valuable context to a city that is often visited for its physical beauty (much of which it owes to the labor of enslaved people) and delicious food (the legacy of which, again, can often be traced to the labor of enslaved people).
A visit to the church will teach you not only about the history of the congregation (including the church's role as a stop on the Underground Railroad), but also additional important Black history in Savannah, including the horror of The Weeping Time in 1859, the largest-ever auction of enslaved people in US.
Tours of First African Baptist Church are given Tuesday through Saturday at 11 a.m., 2 p.m., and 4 p.m., and at 1 p.m. on Sunday. Tickets are $10 USD.
Note from Amanda: Savannah has lots of fascinating history, and is one of my favorite cities to visit in the US. While you're there, check out this list of Black-owned business in Savannah by Gabby over at Packs Light, and be sure to also visit the Owens Thomas House & Slave Quarters, which does the historic home tour right.
4. Whitney Plantation
Edgard, Louisiana
Unlike at the vast majority of antebellum plantations you can visit across the southern USA, the visitor experience at Whitney Plantation doesn't focus on the wealth and lived experience of the white plantation owners. Instead, this is the only plantation in Louisiana (and, in fact, maybe in the United States) that focuses solely on the experience of enslaved people who lived, worked, and died there.
Whitney Plantation is located along the Mississippi River in southern Louisiana, along a stretch of the "Old River Road" roughly one hour from New Orleans. A tour here covers much more than just life on this one plantation; it covers the whole slavery experience in Louisiana.
You can visit the old slave cabins and original owners' house from 1790, but also will see a freedman's church, along with monuments and memorials built to honor the estimated 100,000 people who were held in slavery in Louisiana. This sort of set-up is totally unique to Whitney Plantation.
Visiting Whitney Plantation is confronting and uncomfortable, but I place it up there as one of the absolutely necessary things to do on a trip to New Orleans.
Whitney Plantation is open Friday-Monday from 10 a.m.-3 p.m., and tours cost $25. You can book tours plus transportation from New Orleans for around $65-$70. Book a tour here.
COVID-19 update: Whitney Plantation is open again, but all tours are currently self-guided. You'll need a timed ticket, and to be able to download an app on your phone in order to access all the tour materials. Masks are required in any indoor spaces.
5. Laura Plantation
Vacherie, Louisiana | Submitted by Moshe of The Top Ten Traveler
Laura Plantation, located midway between New Orleans and Baton Rouge in Louisiana, is a rare evidence of the history of slavery in this area. The story of this place is based on Laura's memories, written in 1936, and other historical documentation. Laura was the last owner from the Duparc family, who owned this plantation for almost 100 years (four generations).
While the tour starts at the "big house" with the history of the Duparc family, the most powerful part is when you leave the house. There is a massive contrast between the greenery and peaceful landscape, and the unpeaceful history of the place. Then you arrive at the slaves' quarters.
There are two slave cabins left today, out of 69 cabins that stood here before the Civil War. Every cabin, not larger than a standard bedroom, was divided into two small rooms, and each was a home for a family of enslaved people. In these small rooms, people lived, cooked, washed, raised children, and socialized. Here they woke up every morning to a life of slavery and came back at night after a long day in the fields.
Visiting Laura Plantation, learning about this history, and seeing it with your own eyes is an emotional experience. This is a must-visit site for every person.
Tours of Laura Plantation last approximately 75 minutes, and cost $23 per adult. It's recommended that you book a tour in advance, as they are only offered 5-6 times per day.
COVID-19 update: Timed entry tickets for tours must be purchased online in advance, and group size is limited to 9 guests. Masks are required indoors, and they may perform temperature checks.
Note from Amanda: I don't recommend visits to all plantations in the South; many gloss over the reality of slavery and the legacy it's left behind. Whitney and Laura are really the only two plantations in the New Orleans area I would recommend. For me, a good rule of thumb is to check whether a plantation can be rented out for weddings or other events. If so, it's one I'll skip, as I don't believe we should celebrate the pretty, white-washed aspects of plantation life while ignoring the horrors that happened there.
6. Fort Mose Historic State Park
St. Augustine, Florida | Submitted by Victoria of Florida Trippers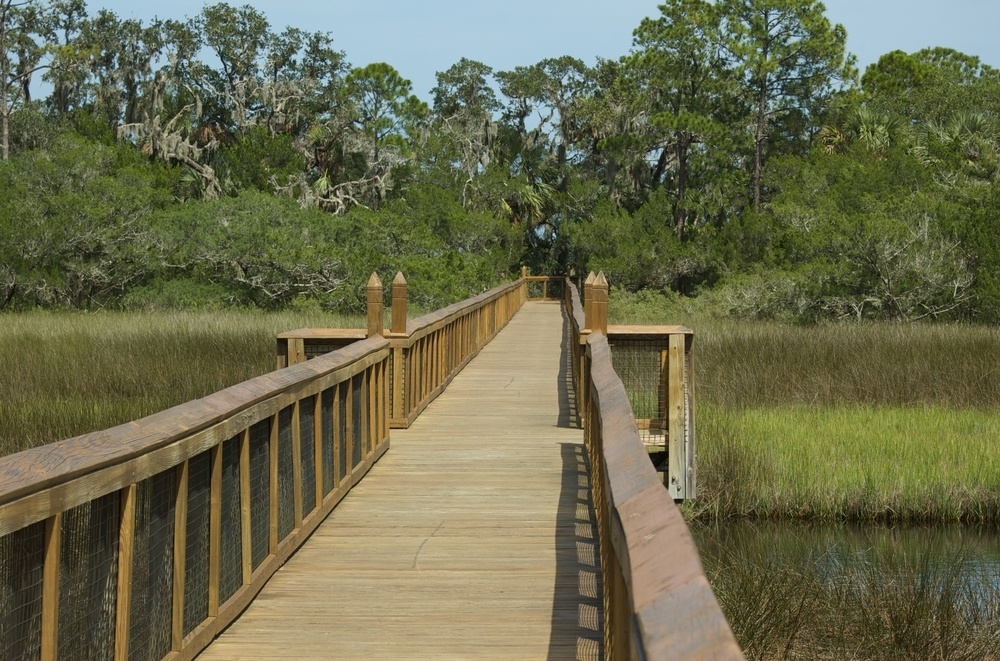 One of the most interesting places to learn about Black History in the United States is at Fort Mose Historic State Park in Florida. Most people have never even heard of Fort Mose, but it played an important role in American Black history and is one of the best things to do in Florida if you love learning about the past.
Located just 2 miles north of Saint Augustine, Fort Mose was the first legally sanctioned free African American settlement in the USA. Founded in the 1730s, it was the first settlement of its kind specifically constructed for people running away from the Carolinas and slavery in those English colonies.
Unfortunately, the settlement itself was destroyed and no longer stands, but it was a precursor for what would become the Underground Railroad Network, and you can still visit the site where Fort Mose stood.
Today, visitors to the park can learn about the site's history in an interactive museum, and can enjoy the outdoor spaces which are popular for boating and bird watching.
The Visitor Center at Fort Mose Historic State Park is open Thursday-Monday from 9 a.m.- 5p.m. The grounds are open daily from 9 a.m.-5 p.m. The park is free to visit, and the museum costs $2.
COVID-19 update: The park is open, but the museum and all other indoor facilities are closed. Restroom availability may be limited. Masks are required indoors.
7. Tuskegee Airmen National Historic Site
Tuskegee, Alabama | Submitted by Ashley of Destination WWII
One of the most significant periods in American history is World War II, but less well-known is the all-Black branch of the U.S. Army who helped lead the Allies to victory. Tuskegee Airmen National Historic Site is located at a humble airfield in Alabama where you can learn all about the Tuskegee Airmen – the U.S. military's first Black aviators. (Though the term also refers to mechanics, nurses, instructors, and the rest of the support staff.)
Tuskegee Airmen NHS is located at Moton Field in Tuskegee Alabama, the Airmen's first training site. Inside the restored hangars you'll find a museum that tells their stories through informational displays, historical artifacts, and, of course, original aircraft. There's an informative film, a gift shop, and, because the site is run by the National Park Service, free guided ranger tours. You can also explore the historic buildings of the airfield on your own.
Tuskegee Airmen National Historic Site is one of the great World War II travel destinations in the U.S. and a remarkable site at which to learn about the two battles the Airmen fought: the war against the Axis powers abroad and racism struggles here at home.
The site is open from 9 a.m.-4:30 p.m. Monday-Saturday, and admission is free.
COVID-19 update: The site is temporarily closed.
8. Martin Luther King Jr. National Historic Park
Atlanta, Georgia | Submitted by Olivia of O. Christine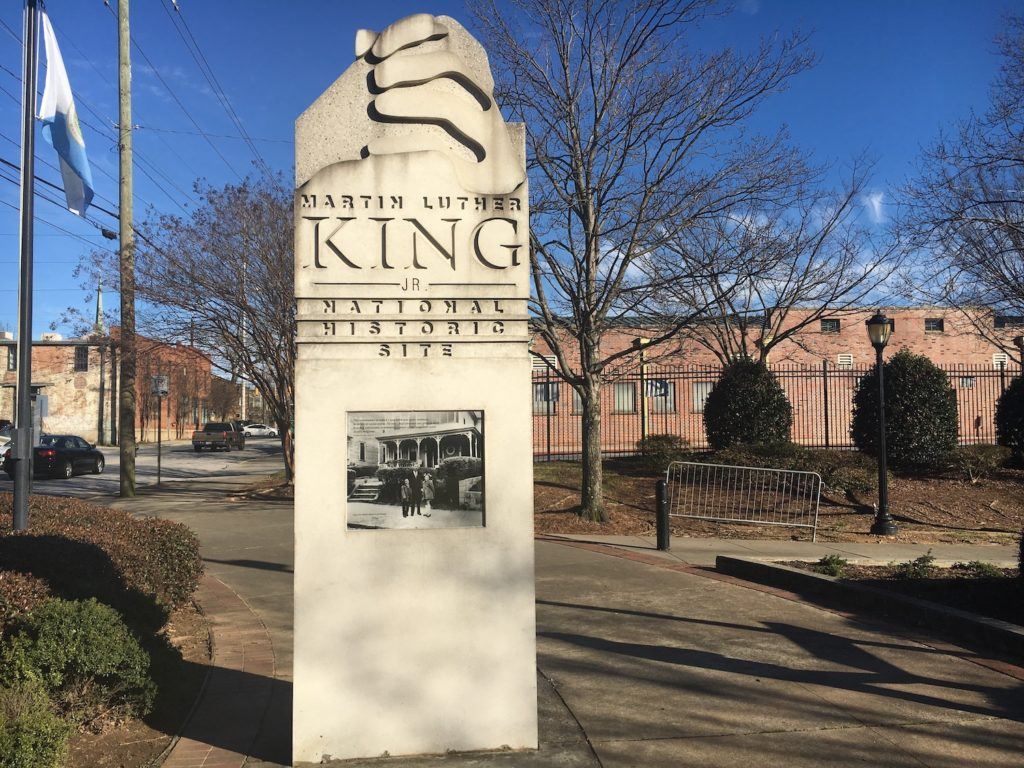 An integral city during the Civil Rights Movement and in African American history, Atlanta, Georgia holds no shortage of Black History sites and landmarks. During your tour of the city, be sure to visit the Martin Luther King Jr. National Historical Park, a three-block park comprised of notable sites connected to Dr. King's early life and legacy.
Stop by the visitor center first to get acquainted with the area. View current exhibits or sign up for a free Birth Home tour (first come, first serve), and stroll the Peace Plaza.
Then cross the street to visit the Historic Ebenezer Baptist Church, where Dr. King grew up attending and later became an ordained minister. Adjacent to the church is the King Center, where Dr. and Mrs. King's tomb rests with a beautiful reflection pool and "eternal flame."
You can continue your exploration of the historic site across the street to view the Historic Fire Station No. 6 (where you can learn about the desegregation of the Atlanta Fire Department) and visit King's birth home (tours booked at the visitor center).
The Martin Luther King Jr. National Historic Site is free to visit and is connected to the Freedom Park Trail, which you can walk for 1.5 miles to the Carter Center. The visitor center and indoor sites are open daily (except for holidays) from 9 a.m.-5 p.m.
COVID-19 update: The visitor center and indoor sites are temporarily closed.
9. Brown v. Board of Education National Historic Site
Topeka, Kansas | Submitted by Theresa of The Local Tourist
Until May 17, 1954, it was perfectly legal for schools and businesses to segregate based solely on race. On that date, however, the U.S. Supreme Court unanimously decided that the doctrine of separate but equal was unconstitutional.
Thirteen families, including Oliver Brown, initiated a case against the Board of Education of Topeka, Kansas, when their children were denied admittance to the schools closest to their homes and instead were bused to Black-only institutions. After the plaintiffs lost at the local level, they appealed and took it to the highest court in the country, which consolidated the Topeka case with four others.
Today, the Brown v. Board of Education National Historic Site tells the story of this case that changed the nation. It's located in Monroe Elementary, one of the four former segregated schools in Topeka. Exhibits provide an overview of racism and segregation, a kindergarten room restored to its appearance in 1954, and the Civil Rights Movement that followed the historic decision.
The most impactful gallery is "The Road to Brown v. Board of Education." Videos and photos display disturbing scenes from the time, and it's a profound lesson in what humans are capable of doing to each other. The site is also an education in resilience and the growth that's possible when people to the right thing.
The site is open 9 a.m.-5 p.m. Tuesday through Saturday, and admission is free.
COVID-19 update: The site is temporarily closed.
10. Birmingham Civil Rights National Monument
Birmingham, Alabama | Submitted by Stephanie of History Fangirl
The Birmingham Civil Rights National Monument protects an important slice of historic Birmingham that includes the Sixteenth Street Baptist Church and Kelly Ingram Park. Created during the final days of the Obama administration in 2016, the monument honors both the symbolic role that Birmingham played in the Civil Rights movement as well as the specific and tragic events here which pushed it forward.
The Sixteenth Street Baptist Church is most famous for being the site of the KKK bombing where four little girls died. However, the church was more than that, and was chosen by the KKK because it played such a significant role in the Civil Rights Movement. Much of the movement's organizing came from here, and it had been an important stopping point for Black thinkers and artists for decades.
Kelly Ingram Park across the street is where the nefarious Bull Connor committed some of the worst state-sponsored atrocities. You will find statues here depicting the fire hoses aimed at children as well as other public art.
Visiting the monument is free. Tours for the church can be prearranged under certain conditions for a fee.
11. Edmund Pettus Bridge
Selma, Alabama | Submitted by Stephanie of Oklahoma Wonders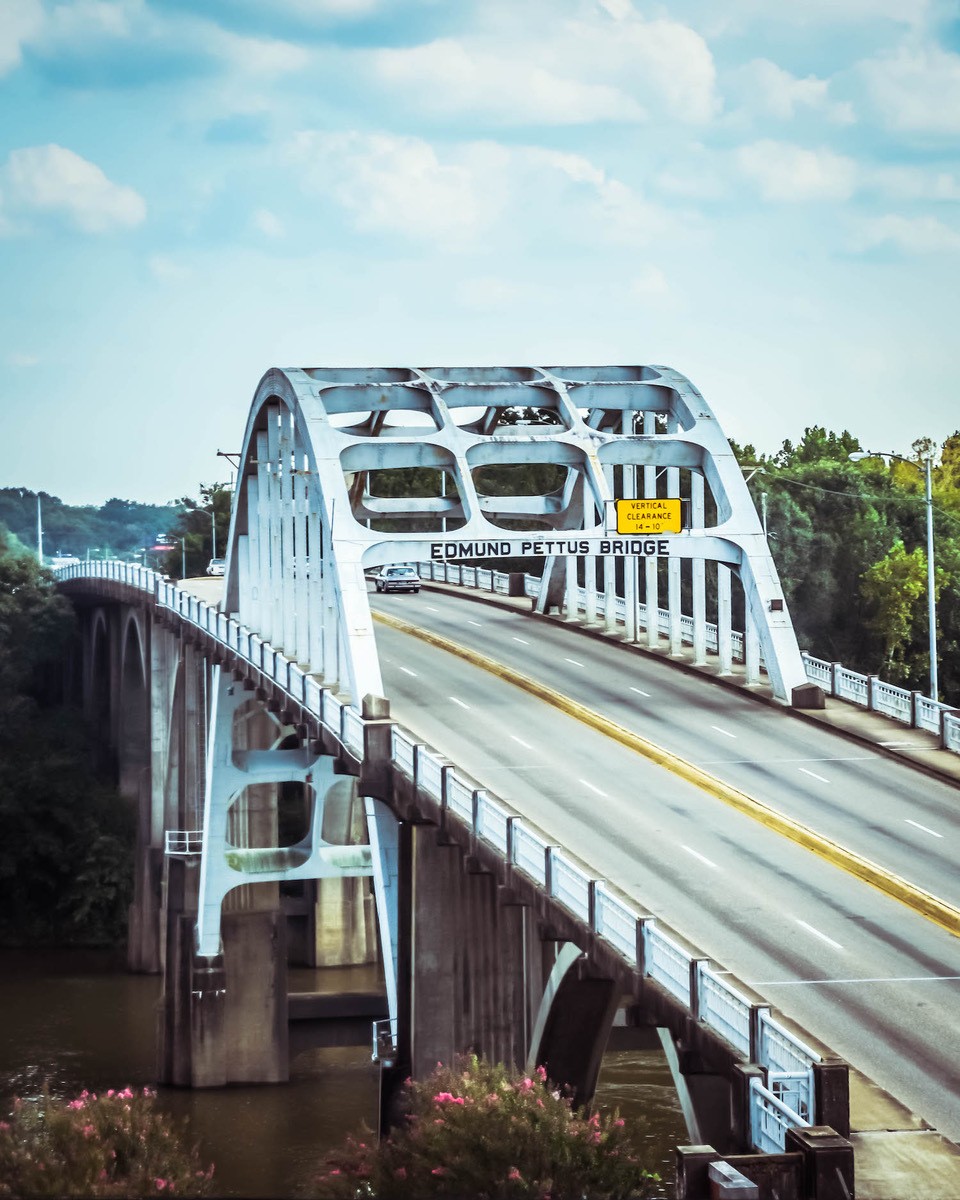 Walking across the Edmund Pettus Bridge in Selma is a way to connect physically and spiritually with Black and Civil Rights History in this country. While there are so many great educational institutions and monuments to see, walking across the bridge is more like going on a short pilgrimage.
Named after a prominent Confederate, the Pettus Bridge has now come to mean so much more. During Jim Crow, while Black Americans technically had the right to vote, many states in the South put in place artificial barriers to stop them. Voting Rights demonstrations were held in the state, and Selma became an important flashpoint after a protestor, Jimmie Lee Jackson, was shot at a protest and died.
In response, a peaceful march was planned from Selma to the state capital in Montgomery. In what became known as Bloody Sunday, protesters were beaten by State Troopers as they attempted to cross the bridge to leave Selma.
Of course, you will also want to get the context about the important role the bridge played. Before your walk, pay a visit to the National Voting Rights Museum and Institute nearby.
Walking across the bridge is free. Entry to the museum is $6.50 with discounted tickets available to students and senior citizens.
12. Little Rock Central High School National Historic Park
Little Rock, Arkansas | Submitted by Roxanna of Gypsy With a Day Job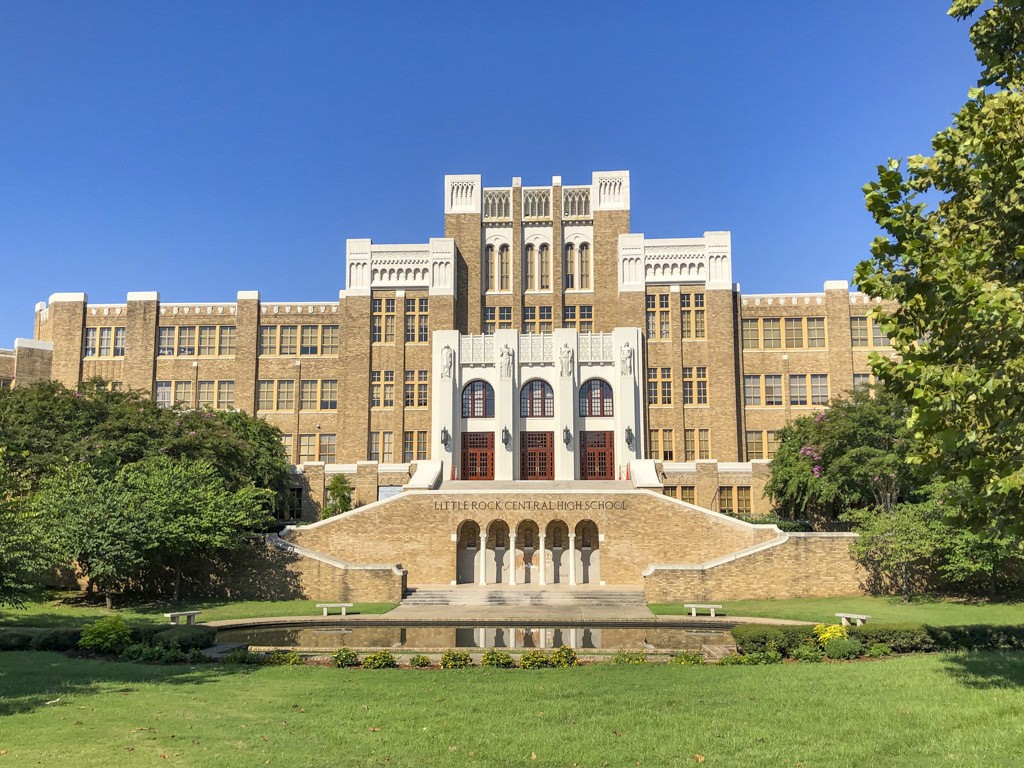 Little Rock Central High School National Historic Park tells the story of the fight for desegregation in the city schools in 1957, and the first 9 Black students to attend the school. These teenagers, now known as the Little Rock 9, were excited, expecting classes and opportunities that had not been available at their Black-only school.
Opposition was inevitable, but they did not anticipate angry mobs, screaming, cursing, spitting, or their own governor bringing troops to bar them from entering the school. The students became a media focal point through a 25 day crisis that culminated with federal troops escorting them to class.
The Historic Park shares these events in a gripping multimedia format. Like so many places to learn about Black History in the United States, LRCHS is jarring, shocking, and heart breaking. But it also shares a story of rising above. As mere children, the Little Rock 9 faced hatred and harassment with dignity, encouraging Black students across the southern states.
Perhaps the most important place to visit in Little Rock, the LRCHS National Visitor Center is open from 9:00 a.m. to 4:30 p.m. every day. The high school itself may only be visited by guided ranger tours, arranged through the visitor center. Entrance is free.
COVID-19 update: The historic park is temporarily closed.
13. International Civil Rights Center and Museum
Greensboro, North Carolina | Submitted by Christina Riley of NC Tripping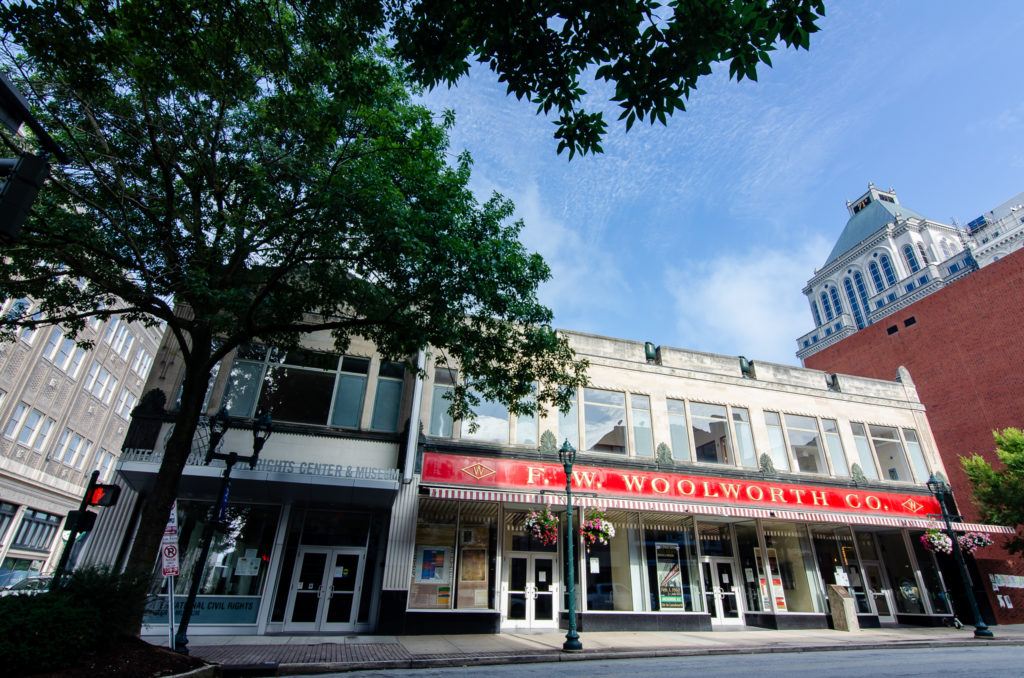 Located in the heart of downtown, the International Civil Rights Center and Museum is one of the most visited attractions in Greensboro. On February 1, 1960, it was known as FW Woolworths and on that day, four North Carolina A&T State University students sat down at the "Whites Only" lunch counter inside.
Franklin McCain, Joseph McNeil, Ezell Blair, Jr. and David Richmond staged a sit-in to challenge the laws of segregation, and the event was a huge moment in the American Civil Rights movement. The A&T Four (eventually, Greensboro Four) laid down a foundation for change and nonviolent protests that sparked movements across the nation.
Today, the International Civil Rights Center and Museum sits in the Woolworth building as a permanent fixture to celebrate the courage of the Four. With educational exhibits, photography, artifacts, and interactive galleries, this museum is a must to expand an understanding of Black History in America.
The museum is open from 10 a.m.- 6 p.m. daily. Admission is $15 for adults, and $10 for youth. Children under 5 are free.
COVID-19 update: The site is temporarily closed.
14. Martin Luther King Jr. Memorial
Washington, DC | Submitted by Sinead of Map Made Memories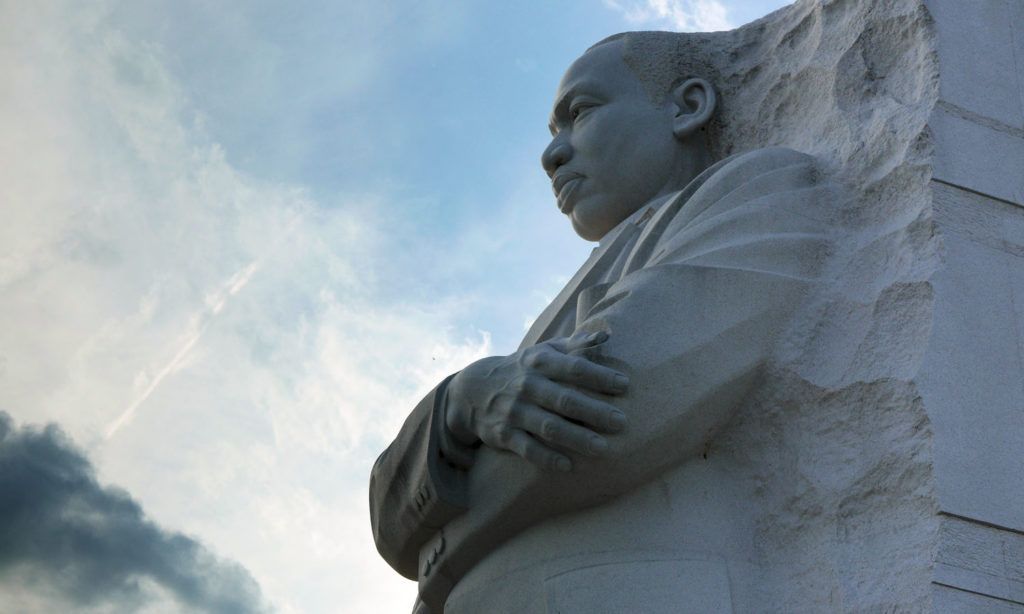 We visited Washington, DC, as part of our family gap year with our three children. Among the many museums and world-famous monuments in the city, we visited the free to enter Martin Luther King Jr. Memorial in West Potomac Park. This sunset visit is one of my favorite memories of our year long trip.
I found the simple yet striking memorial incredibly moving and evocative. There are no fountains, pillars or temples – just a simple statute which is a dignified statement of strength and hope.
But what I remember most is the effect this memorial had on my children. They recognized the Stone of Hope statue and were full of questions – "Who is this man? What did he do to have such an enormous statue of him made? Why is he here?" As a family, we read the powerful quotes from Dr. King that are etched into stone near his statue, and I answered my children's questions as best I could. Their interest was ignited and the children have since independently chosen to read and learn about Dr. King and the Civil Rights Movement.
This memorial is outdoors and free to visit.
15. Stonewall Inn and Forever Living Monument
New York City, New York | Submitted by Norbert of GloboTreks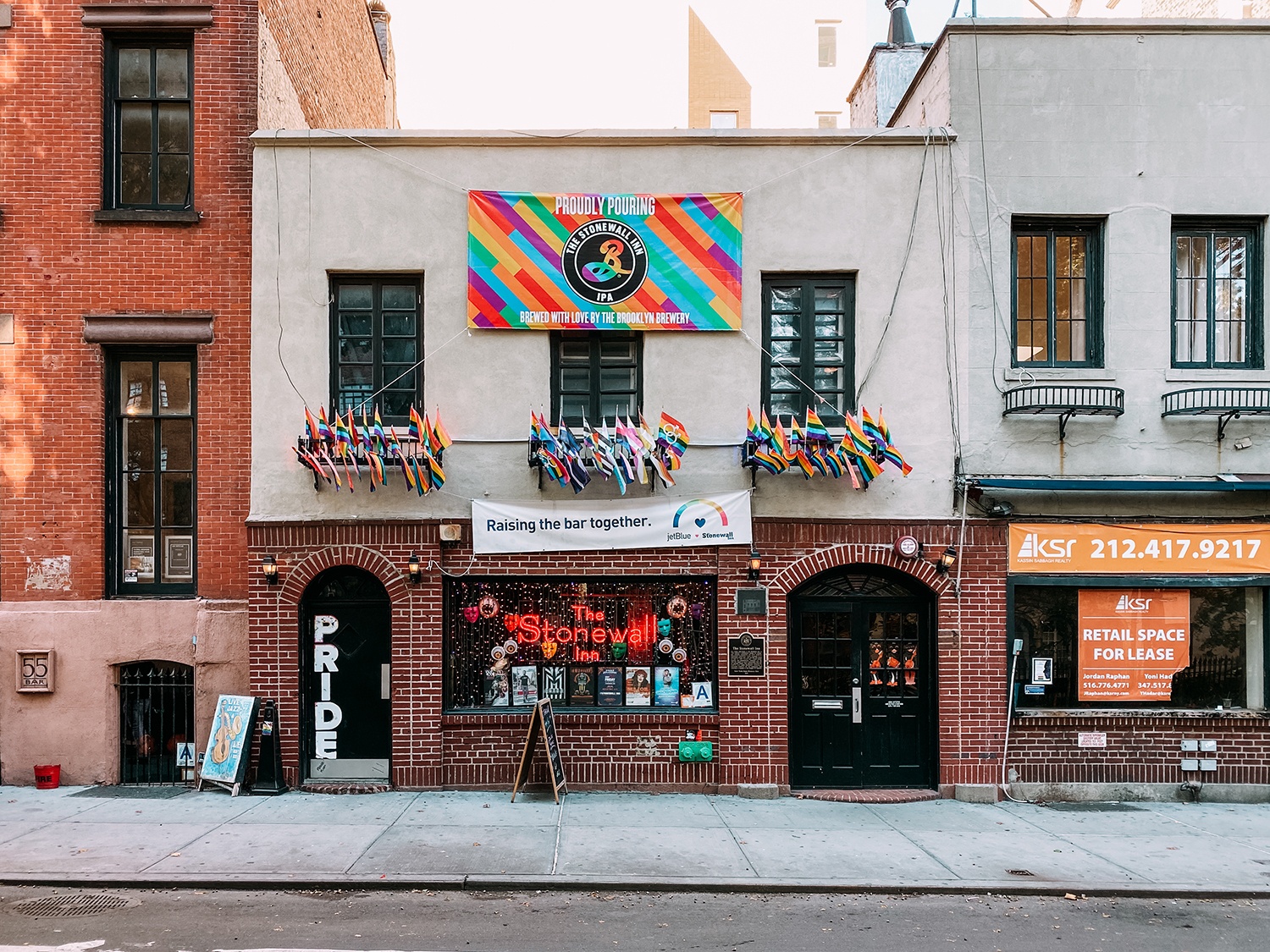 New York City is full of iconic sights, but tourists often miss one of its pivotal spots regarding human rights movements: The Stonewall Inn.
While Stonewall is more associated with LGBTQ rights, one of the most prominent figures in the Stonewall uprising of 1969 was Marsha P. Johnson, a Black street queen, gay liberation activist, and self-identified drag queen.
At the time, Stonewall was the only bar for gay men in New York City where dancing was allowed, making it a common target for frequent police raids on gay bars. The police would come unannounced and expect to be paid off while they lined up patrons to arrest transgender people and those in drag. But this night the raid didn't go as planned.
While Johnson did not start the riots on June 28, 1969, she is well regarded as being one of the key individuals in the vanguard of the pushback against police brutality. Johnson is known to have climbed a lamppost and dropped a heavy bag onto the hood of a police car, shattering the windshield. The rest is history.
Today, you can visit the Stonewall Inn and enjoy a drink, dance, and watch a drag show. Take a look at some iconic memorabilia inside the bar and learn about its history, now commemorated as a New York State Historic Site.
Right in front of the bar, there's Christopher Park, where you can expand your exploration with a virtual tour of the Stonewall Forever Living Monument. You can even visit the monument from home!
---
Black History tours and trails
1. Boston Black Heritage Trail
Boston, Massachusetts | Submitted by Brianne of A Traveling Life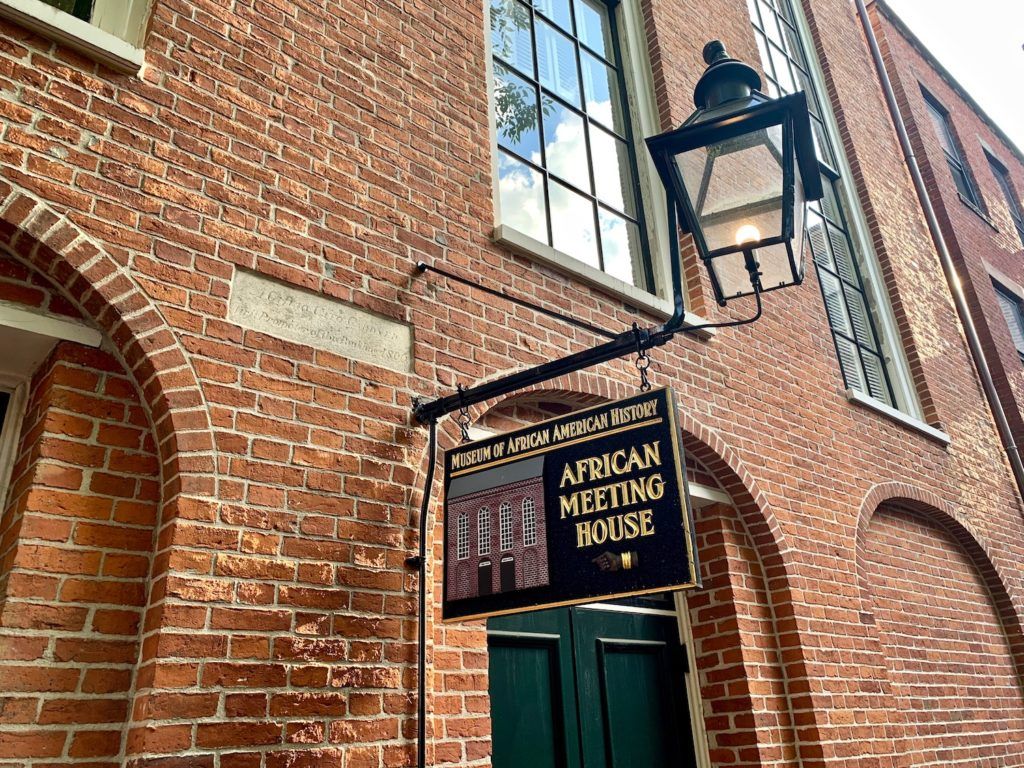 Boston's Black History Trail shines an important light on the city's African American community from the Civil War to the early days of the Civil Rights movement. The 1.5 mile-long trail weaves through picturesque Beacon Hill, which was a thriving Black neighborhood during the 19th century, and its 14 stops include homes, businesses, churches, and stations on the Underground Railroad.
The trail starts at one of Boston's most prominent attractions, the Robert Gould Shaw and 54th Regiment Memorial, which honors the Union army's second all-Black regiment of the Civil War.
While the homes on the tour are privately owned, tourists can enter two sites, both of which are National Historic Landmarks: the Abiel Smith School, which was built in 1835 to house the city's school for Black children, and the nation's first African Meeting House, which gave people of all races a place to assemble and advocate for freedom for 160 years.
To explore Boston's Black History Trail, you can pick up a map from the National Park Service (46 Joy St.), and head out on a self-guided tour. Or, during the spring and summer, you can join a free 90-minute tour led by an NPS ranger.
2. Treme walking tour
New Orleans, Louisiana | Submitted by Bret Love & Mary Gabbett of Green Global Travel
Even if you were an avid fan of the HBO series named after it, you might not realize that Tremé, New Orleans is the oldest African-American neighborhood in the USA. It's also arguably the birthplace of modern music: Congo Square was the only place in America where African and Afro-Caribbean people were allowed to preserve their cultural traditions for over a century, which eventually led to the birth of jazz (popularized in local brothels) and rock 'n' roll.
To learn more about the rich history of the neighborhood, check out French Quarter Phantoms' Tour Treme. The guided walking tour earned National Geographic's GeoTourism Award for "sustaining and enhancing the unique geographic character of the region" through their commitment to aesthetics, culture, environment, heritage, and the well-being of local residents. The tour of the .69-square mile neighborhood takes in all the important sites.
There's Congo Square, the "Place des Nègres" that would teem every Sunday with enslaved Africans (who were given the day off under France's Code Noir) and free people of color. There's Storyville, where brothels once hosted performances by future legends like Jelly Roll Morton and Louis Armstrong. There's iconic Creole restaurant Dooky Chase, where MLK and Co. would break bread while planning Civil Rights actions, and the Mardi Gras Indian history of the Backstreet Cultural Museum. And you won't want to miss the Petit Jazz Museum, founded by Tremé historian Al Jackson.
It's a great walking tour for those looking to get outside the French Quarter, and especially intriguing for music lovers and anyone curious about African-American history.
This tour runs at 10:30 a.m. on Saturday, Sunday, and Monday. The 2-hour tour costs $25 per person ($22 if you book online in advance).
3. Memphis Black history tour
Memphis, Tennessee
This tour in Memphis gets rave reviews from visitors. It's officially called "A Tour of Possibilities," and aims to "explore the African American influence on local business, music, sports, politics, education and religion" in Memphis.
The 2.5-hour tour covers a dozen different significant sites throughout the city of Memphis, focusing on the city's role in the Civil Rights Movement.
Currently, this tour is being offered as a driving tour where you can drive your own vehicle (making it a no-contact way to learn about Black History in Memphis). Book this tour here.
---
Other Black History tours throughout the US that have great reviews include the following:
---
If you have made it all the way to the end of this list, then bravo. I commend your curiosity and desire to learn more about ALL United States history, and hope that this list has provided some inspiration.
This of course is not an all-inclusive list, and I apologize if I've left off any significant spots; I had to cut off submissions somewhere! I do think it's an excellent starting point, though, and invite you to add at least a few of these to your must-visit list.
---
Have you visited any of these sites or others in the US that teach us about Black History?
Pin it for later: