Some posts on this site contain affiliate links, meaning if you book or buy something through one of these links, I may earn a small commission. Read the full disclosure policy
here
.
---
When it comes to traveling in East Africa, most people associate this part of the continent with safaris and mountains; Kenya is home to the Maasai Mara and the wildebeest migration, while Tanzania is home to the Serengeti and Mount Kilimanjaro.
And while of course going on safari is a must-do in East Africa, it's worth noting that that's not the *only* thing to do here. For example, did you know that this part of the world is also home to some great beaches?
And you can find some of the best on the islands of Zanzibar.
When I was planning an East Africa trip for myself and my sister last year, I knew I wanted our adventure to end with a few relaxing days by the beach. And the tour we ended up booking included just that: 4 days of sun and turquoise waters on Zanzibar.
A little Zanzibar history
Zanzibar is a semi-autonomous archipelago off the east coast of Tanzania (Tanganyika). It's made up of a few islands, with the largest island being the one most people visit. This larger island is officially called Unguja, but most people simply refer to it as Zanzibar.
When it comes to history, Zanzibar has an interesting one. The islands have been inhabited for thousands of years, first by Bantu-speaking people who built coastal communities that were involved in trading with Persian, Indian, and Arab traders by about the 9th century.
The name "Zanzibar" comes from a Persian term meaning "Black coast," likely due to the darker skin of the region's original inhabitants.
When the Age of Exploration came to East Africa, Zanzibar became part of the Portuguese Empire (around 1503). The Portuguese rule lasted about 200 years, until the islands became part of the Sultanate of Oman in 1698. In the mid-1800s, the Sultanate's capital was moved to Stone Town, and Zanzibar eventually became a sultanate of its own.
During the centuries of Arab rule in Zanzibar, the islands became integral to the ivory, spice, and slave trades. The islands were often called the "Spice Islands," and one of the biggest ports for the East African slave trade was in Zanzibar City.
The British got involved in the region in the mid-1800s when they began attempting to dismantle the African slave trade. By 1890, Zanzibar was a protectorate of Britain, but still maintained a sultan.
When pro-British Sultan Hamad bin Thuwaini died in 1896 and the British opposed his successor, Great Britain and the Zanzibar Sultanate fought the world's shortest war: it lasted just 38 minutes. Zanzibar would remain a British protectorate until 1963.
In 1964, just a month after Zanzibar became a constitutional monarchy under the Sultan, the people rose up against the Sultanate during what's now called the Zanzibar Revolution. The Sultan fled the islands, and the Sultanate was replaced by the People's Republic of Zanzibar and Pemba.
Just a couple months later, Zanzibar merged with mainland Tanganyika, and remains a semi-autonomous part of Tanzania today.
Zanzibar is still an important exporter of spices like cloves, nutmeg, and cinnamon, and has also grown a sizable tourism industry. Many people (like me!) combine visits to Tanzania with a stop on the Spice Island.
When to visit Zanzibar
Zanzibar's seasons mostly revolve around rain. High season in Zanzibar is from June to October, when the weather is cooler and drier. You can visit the islands any time of year, though people generally avoid April and May (the peak of the "long rains"), and the shorter rainy season in November. It's hotter from December-February, but still fine for a beach vacation.
I visited Zanzibar in August, and the weather was perfect for a beach getaway.
How to get to Zanzibar
There are two main ways to reach the main island of Zanzibar: by boat or by plane.
If you're looking for the more adventurous option, you can take the ferry from Dar es Salaam on Tanzania's mainland. The crossing is on fairly large and modern ferries, and takes roughly 2 hours. There are four ferry crossings per day, but you'll want to opt for the earliest ones to get the calmest seas.
You'll definitely want to book your ferry ticket in advance (it gets very busy!), and be aware that the trip can be a little overwhelming if you're traveling on your own, or if it's your first time traveling in East Africa. Read my friend Helen's post to learn everything you need to know about taking this ferry.
The other option is to fly to Zanzibar. There are short flights several times per day between Zanzibar and Dar es Salaam, as well as several daily flights from Nairobi and some other international destinations.
Ferry tickets run anywhere from $35-$60 per person each way, while you can often find flights from Dar es Salaam to Zanzibar for as low as $40 per person one-way.
4 days in Zanzibar itinerary
Zanzibar has become a somewhat popular honeymoon destination for couples looking for more affordable alternatives to the Seychelles and the Maldives. But it's by no means a couples-only destination.
There's still a laid-back backpacker vibe in many parts of the main island of Zanzibar, and plenty to see/do no matter what your travel style.
So how long should you spend in Zanzibar? Some people opt to spent a week (or more) in Zanzibar. I was there for 4 days and think it's probably the least amount of time you'd want to spend in order to see a bit of everything.
Here's how I recommend structuring a Zanzibar itinerary if you have 4-5 days:
Day 1: Stone Town
The capital city of Zanzibar is actually just called Zanzibar City, but the historic center of that city is called Stone Town – and you'll find that a lot of people just refer to the whole city as Stone Town.
Stone Town has been an important center of trade for centuries, first for the Swahili traders, and then for the Arab ones. Because of this unique history, the city reflects a mix of influences, including Swahili, Portuguese, and Islamic ones.
While many visitors to Zanzibar head straight for the beaches, I highly recommend basing yourself in Stone Town for at least a couple nights in order to learn about this part of the island, too.
A note for the ladies: Zanzibar is majority Muslim, and Stone Town is more conservative than the rest of the islands. It's recommended you cover up a bit when walking around Stone Town. I made sure my chest and midriff were always covered, and usually had my knees and sometimes my shoulders covered, too. You can wear whatever you'd like on the beaches, but in town it's best to dress more conservatively.
---
Where to stay in Stone Town
The group I was traveling with stayed in the heart of Stone Town at the historic Dhow Palace Hotel. This boutique hotel is located in a restored mansion that once belonged to a member of the Omani royal family.
The hotel has a pool, rooms with air conditioning and balconies, and beautiful antique furniture throughout the property that adds to its charm.
The Dhow Palace is within walking distance to all the main sights and shopping in Stone Town, and is an affordable and comfortable accommodation option.
Read reviews on TripAdvisor | Book a room here
Other Stone Town accommodation options depending on your budget include:
---
Stone Town walking tour
Start your day in Stone Town with a walking tour of its historic center, which is a UNESCO World Heritage Site. A guided tour is recommended in order to successfully navigate the labyrinth of narrow, twisting alleyways that make up the heart of Stone Town.
Your senses will be pushed into overdrive by the smells of spices and fresh oranges, the sounds of shop vendors, and the sights that meld so many cultures together.
Pay special attention to the incredible carved wooden doors that Zanzibar is famous for.
Most walking tours of Stone Town will include a visit to the Old Fort (built by the Omanis after they chased to Portuguese out), a stop at Beit al-Sahel (the People's Palace Museum, located in a former sultan's palace), and a walk through Forodhani Gardens and the Darajani Bazaar.
Book a Stone Town walking tour here.
Old Slave Market
A stop at the Old Slave Market might be included on your walking tour of Stone Town, but I would recommend coming back for a longer visit on your own (and if it's not included in your walking tour, then definitely come back for a proper visit!).
In the US and Europe, we learn about the Atlantic Slave Trade in school because it's the slave trade that our countries participated in. But it wasn't the only slave trade operating from the African continent.
The East African Slave Trade was happening on the opposite side of the continent, supplying the Middle East with African slaves. And Zanzibar became the main port for this slave trade. By the mid-1800s, 50,000 humans were being sold at the slave market in Stone Town each year.
Today, an Anglican Cathedral sits atop the site of the former Stone Town slave market. There's a small museum next door with exhibits detailing the history of this slave trade and how it was tied to the ivory trade that also ran through Zanzibar.
You can also visit two remaining slave chambers, where men, women, and children would have been held in tiny, cramped conditions while awaiting being sold at the slave market.
Visiting this place isn't pleasant, but I would argue that it's essential if you really want to understand the history of Zanzibar and the Swahili Coast.
Entry to the East Africa Slave Trade Exhibit requires a small fee, and you'll be offered a local guide outside the exhibit who can take you inside the slave chambers and cathedral. I would recommend accepting a guide, and tipping them at the end of the short tour.
Rooftop dinner
You can spend the rest of your afternoon wandering through the shops in Stone Town, or maybe return to your hotel for a swim and a break from the heat.
This evening, head to one of the most-recommended restaurants in Zanzibar: The Tea House Restaurant on the rooftop of the Emerson on Hurumzi Hotel. With sweeping views of Stone Town and the Indian Ocean, this is one of the best places to watch the sun set and enjoy a meal.
The restaurant offers a set menu for dinner, serving up dishes that would traditionally be served at at a Persian wedding. Pull up a cushion and listen to traditional Taarab music as you sip a cocktail (yes, they serve them here!) and wait for the multi-course meal to be served.
This was one of my favorite things that we did in Zanzibar, and the food was delicious. The dinners run $40 per person (not including drinks), and reservations are required. Dinner is served at 7 p.m., but you can arrive at 6 p.m. in order to watch the sunset.
If for whatever reason you don't really care about fancy rooftop dinners (or perhaps if you just can't get a reservation), then another option for this afternoon/evening would be to book a Zanzibar spice tour and cooking class.
This tour is offered twice per day, including in the late afternoon. You'll visit a market to buy supplies, get a tour of a spice farm, and learn how to make several Zanzibar dishes in a cooking class.
Day 2: Safari Blue boat trip
While you could spend another day shopping and eating in Stone Town, I recommend getting out on the water today.
One of the top-rated companies in Zanzibar for boat trips is Safari Blue, and my experience with them was top-notch.
Their classic "Safari Blue Experience" tour includes sailing in a traditional dhow boat in Menai Bay off the south coast of Zanzibar, snorkeling stops, a visit to a sand bar, and a "Swahili seafood feast" on an island.
This full-day tour was a highlight of my East Africa trip, and well worth the $70 per person price tag.
Dinner at Forodhani Gardens
After you get back from the boat trip, get cleaned up and head to Forodhani Gardens for dinner. In the evening, this public waterfront garden turns into a food market where you can get everything from seafood kebabs to sugar cane juice.
The must-have here is a "Zanzibar pizza," which is basically just a stuffed crepe cooked to order.
Day 3: Head to the beach
Stone Town is fascinating, but everybody knows you really go to Zanzibar for the beaches.
And when it comes to beaches, you'll find the best ones on the east side of Zanzibar's main island. There are several popular cities that people tend to flock to, including Nungwi, Kendwa, and Jambiani.
Nungwi and Kendwa are both at the northern tip of Zanzibar. Nungwi is home to more luxury hotels and beach resorts, while Kendwa is a popular backpacker haunt with weekend beach parties and a monthly Full Moon Party.
Further south along the coast, you'll find Paje and Jambiani, both backpacker-friendly towns that are less touristy and have beautiful beaches.
My group stayed in Paje at a budget-friendly beachfront hotel called The Waterfront, which has a pool and a rooftop lounge area, along with air conditioned rooms and a restaurant with beach views. It's also next door to Mr Kahawa, a popular coffee shop and cafe that's right on the beach.
Wherever you decide to stay, I recommend spending the rest of your day enjoying the sun and sand! It only takes about an hour to get from Stone Town to the other side of the island.
If you stay in Paje, you can easily while away some time watching kite surfers (or maybe even try it yourself!), as it's a popular water sport here.
---
Zanzibar beach accommodation
I obviously haven't stayed everywhere in Zanzibar, but these are all options that come highly recommended, depending on which beach area you're interested in staying near:
In Nungwi: The Z Hotel Zanzibar – A boutique luxury beach hotel with chic and modern rooms.
In Pingwe: Baladin Zanzibar Beach Hotel – This is one of the top-rated hotels in all of Zanzibar. It's a beautiful boutique hotel with beachside bungalows in the town where the famous The Rock restaurant is.
In Paje: The Waterfront Zanzibar Beach Hotel – This is where I stayed in Paje, and I loved everything about it, from the spacious rooms to the rooftop lounge area. You can also rent beach gear like SUPs and kayaks from the hotel, hang out by either the pool or the beach, and have dinner on-site. (Click here to book a room.)
In Jambianai: The Loop Beach Resort – A pretty beachfront resort that remains really affordable.
In Jambiani: Red Monkey Lodge – A guesthouse offering simple rooms and a great restaurant right on the beach.
---
Day 4: The Rock and sunset cruise
Have a nice relaxing morning enjoying the beach; maybe grab a paddleboard or kayak and get out on the water, or simply take a walk along the beach.
This afternoon, head to The Rock restaurant in Michamvi-Pingwe. This restaurant is world-famous; you've probably seen photos of it at high tide, where it looks like it's floating in the middle of the Indian Ocean.
The restaurant isn't actually floating – it's built atop a big rock (hence the name), and you can walk out to it at low tide. At high tide, though, you can only reach it by small boat!
Full disclosure: The food at The Rock is just okay. But the drinks are great, and the view and overall experience is worth it in my opinion!
After lunch, consider ending your beach stay with another boat trip. We went out for a sunset cruise in Chwaka Bay on the Free Spirit, a beautiful dhow with a covered upper deck perfect for lounging.
But of course spending another night chilling at the beach or your hotel would also be a good option.
Full disclosure: I can't claim to have created this itinerary on my own. It's based off the 4 days I spent on Zanzibar on this tour with Rock My Adventure, with some of my own recommendations thrown in.
Have more time?
If you're planning to spend longer in Zanzibar, here are some other things you might want to add to your to-do list:
If you have more time…
Visit Prison Island – Changuu Island (AKA Prison Island) was home to a former slave prison, and is now home to Aldabra tortoises that have been imported from the Seychelles. Tours to Prison Island usually include "meeting" the tortoises, and usually some swimming and/or snorkeling. A tour like this includes a visit to Prison Island, or you could try this one, which is only a half-day tour.
Explore Jozani Forest – Jozani Chwaka Bay National Park is the only national park in the Zanzibar islands, and it's home to the rare red colobus monkey. If you fancy a walk in the jungle and the chance to spot these rare monkeys, then a tour like this is something to put on your to-do list.
Snorkel or SCUBA at Mnemba Island – Zanzibar is home to some good diving as well as snorkeling, and a favorite spot for this is near Mnemba Island, a small private atoll that's surrounded by a marine park. Just note that tours like this DO NOT include a visit to Mnemba Island, as it's a private island and you can only step foot on it if you're staying there.
Make it luxurious
Celebrating a honeymoon or anniversary, or planning some other sort of romantic trip to Zanzibar? Then you might want to go all-out and make it ultra luxurious by staying on one of the other Zanzibar islands.
Pemba Island – This isn't a private island, but is much less-visited than Unguja (the main island of Zanzibar). There are less hotels and great diving here. You can stay at the luxurious Aiyana Resort & Spa, or the Manta Resort, with its famous underwater room.
Mnemba Island – To set foot on this private island, you have to stay at andBeyond Mnemba Island. It's an intimate and luxurious place for a getaway; there's only room for 24 guests at a time.
FAQ about visiting Zanzibar
Here's some other info that might be helpful if you're thinking of planning a trip to Zanzibar:
Is Zanzibar safe?
The first question I usually get when I return from a destination that isn't in the Global North (i.e. literally anytime I visit any corner of the African continent) is: "Is it safe there?"
On the topic of safety in Zanzibar, yes, it's a pretty safe destination for tourists.
Will you run into tour guides or taxi drivers who will try to rip you off? Possibly. Will you come into contact with assertive vendors and shop owners in Stone Town, or persistent boys trying to sell you things on the beaches? Probably. Should you keep an eye on your purse, wallet, and other valuables when out walking around? Always.
And if you're traveling solo, all the usual safety tips apply (i.e. not walking down dark streets on your own at night, watching your alcohol intake, etc.).
But this is really the worst of what you might run into in Zanzibar. Overall, it's a pretty laid-back place to visit.
One important safety note for any LGBTQ+ readers: Tanzania (and therefore also Zanzibar) is behind the times when it comes to gay rights. Same-sex sexual activity is illegal in the country, and they do send people to prison for it. I haven't personally heard of any tourists being arrested, but it's something you want to be aware of if you're thinking of visiting.
Do I need a visa for Zanzibar?
In short, probably. Zanzibar is politically a part of Tanzania, so the visa you need in order to visit is a Tanzanian visa.
Citizens from most Western countries (including Canada, Australia, and most EU countries) can get Tanzanian visas on arrival for $50 USD. For US citizens, though, the visa cost is $100, and you can either get this visa at the border, or you can get a Tanzania visa online in advance. (My sister and I got ours online in advance, and while the site's payment system was a little frustrating, it worked in the end – but next time, I would probably just do the visa on arrival!)
If you're paying cash, make sure any bills you bring are from 2013 or later – they don't accept older bills, or bills that aren't in good shape.
Do you need any vaccines to visit Zanzibar?
It's likely that you'll be asked for a Yellow Fever vaccine certificate upon arrival in Zanzibar. Technically you only need to provide one if you've been in a Yellow Fever zone previously, but you may be asked regardless.
Yellow Fever zones cover most of central Africa, including Kenya – so if you're visiting Kenya on your East Africa trip, you'll need to get the vaccine, especially if you plan to visit Tanzania (or Zanzibar) afterward.
Otherwise, you'll want to consult with your doctor about taking an anti-malarial (the risk is lower in Zanzibar, but still there), and be up-to-date on all your other routine vaccinations. (I didn't get anything extra for my trip to East Africa, though some travelers also opt for Typhoid and Hepatitis A shots.)
There's also currently an increase in cases of dengue fever in Zanzibar, which is a mosquito-borne disease that has no vaccine. You'll definitely want to be prepared to ward off mosquito bites – read this post for lots of suggestions.
How do you get around on Zanzibar?
When you arrive in Zanzibar, it's a good idea to have a pre-arranged transfer booked from either the airport or ferry port to your hotel. Most hotels (especially the ones in Stone Town) offer this for a fee.
Getting around on the rest of the island can be done in taxis, or in shared mini buses called dala dalas.
What language do they speak in Zanzibar?
Zanzibar is such a melting pot because of its history, but you'll find that Swahili is the language most often spoken. You'll also find locals who speak Arabic and French, and plenty of English, too, especially in places with more tourists.
So, suffice it to say, you shouldn't have any trouble communicating with people in Zanzibar.
If you want to learn a few Swahili words before you go, here are a few you'll use the most:
Jambo – Hello
Mambo – Hello/how are you? (more informal, but used more often)
Asante / asante sana – Thank you / thank you very much
Karibu sana – You're very welcome
Hapana asante – No, thank you
Hakuna matata – No worries (yes, the Lion King told you the truth!)
Hakuna shida – No problem (this one is used more often by locals)
Pole pole – Slow or slowly; you'll get to know this one, as Zanzibar is very much on "island time," and things often move pole pole!
What should you pack for Zanzibar?
Like I mentioned above, Zanzibar is a fairly conservative place – but it's also hot and humid pretty much year-round, and you're likely to be spending a lot of time at the beach or in the water.
For this reason, I'd recommend maxi dresses and skirts for the ladies (with a scarf of lightweight wrap that you can throw over your shoulders), and lightweight t-shirts, pants, or shorts for men.
Throw in a few swim suits, a good pair of walking sandals, a sun hat, and plenty of sunscreen and bug spray, and you're honestly good to go!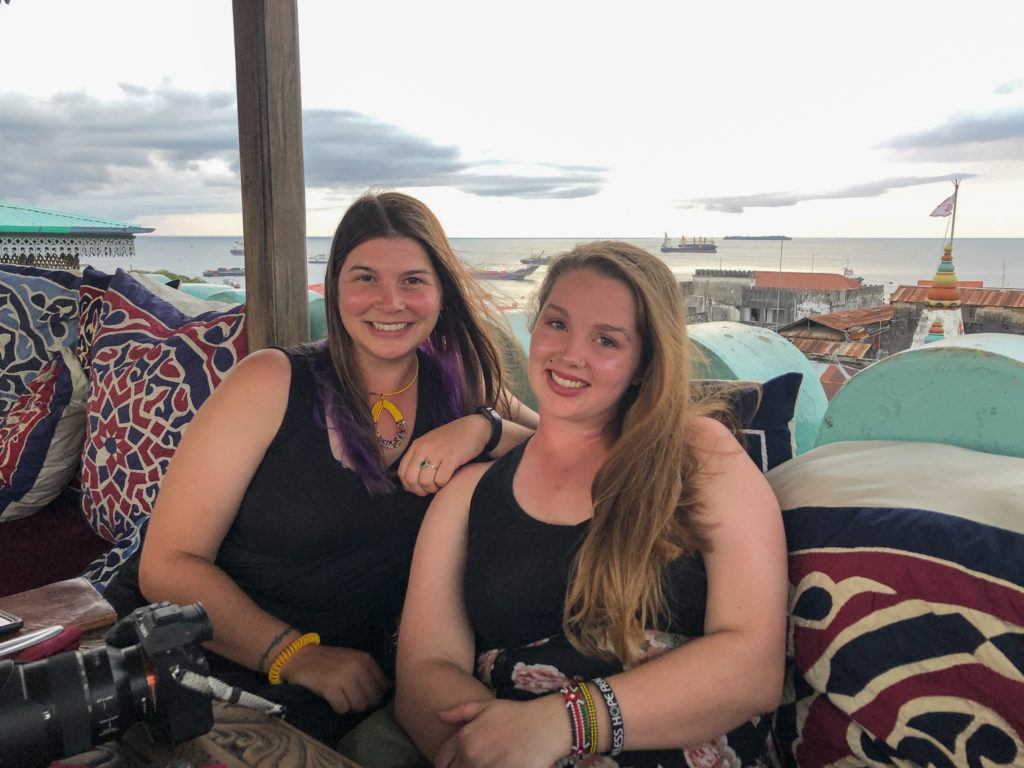 Here's my Zanzibar packing list:
Check out my summer packing essentials list for more ideas!
---
Okay, 4400 words later, and hopefully I've covered everything you need to know about planning an island getaway to Zanzibar!
Here are some other posts you might like to read:
---
Is Zanzibar on your travel bucket list? What would you most like to do there?
Pin it for later: