Some posts on this site contain affiliate links, meaning if you book or buy something through one of these links, I may earn a small commission. Read the full disclosure policy
here
.
---
When you think of an exotic beach destination, what do you picture? Over-water bungalows in Bora Bora? Longtail boats in the Thai Islands? Sea turtles and lava flows in Hawaii?
Well let me introduce you to an exotic beach destination that you might not have considered yet: the Seychelles!
The Republic of Seychelles is an island nation that sits more than 900 miles off the coast of East Africa in the Indian Ocean. The country comprises of 115 different islands, many of which are uninhabited.
The country has a history influenced by both the French and the British (and both their slave trades, which brought people over from mainland Africa). Because of this, the islands are an interesting mix of cultures with three official languages: English, French, and Creole.
If you've heard of the Seychelles at all (it's not really promoted yet in the Americas as a holiday destination, though I expect that this will soon change), you may think of it as a honeymoon destination for the rich and famous – after all, this is where Prince William and Kate Middleton went on their honeymoon!
I hadn't really thought much about visiting the Seychelles before, and kind of assumed that it wouldn't be a place I'd enjoy visiting on my own. But then I was invited to visit by the Seychelles Tourism Board and couldn't say no!
Much to my delight, I found that the Seychelles are about more than just beaches and honeymoons. In fact, the country surprised me with everything it has to offer.
7 reasons to visit the Seychelles now
Here are all the things I loved about the Seychelles:
1. Beaches (duh)
The Seychelles are home to what are arguably some of the best beaches in the world. Fine white sand, turquoise waters, and a year-round tropical climate makes this place a dream.
I kept joking that some of the islands were basically just one big beach!
I've written more extensively about the best Seychelles beaches in another post, but some of my favorites included:
The famous Anse Source D'Argent on La Digue
Anse Lazio on Praslin
Grand Anse on La Digue
Beau Vallon on Mahe (especially for sunset)
Anse Royale on Mahe
And the best part? I never felt like any of these beaches were crowded (I mean, these photos weren't edited at all to remove people!).
RELATED: My 5 Favorite Beaches in the Seychelles
2. Jungle / mountains
The Seychelles are known for beautiful beaches, but the islands are also home to some seriously cool jungles and even mountains.
The Seychelles are NOT volcanic islands, meaning they're quite different from somewhere like Hawaii. The mountains here are sheer and made from granite, giving the islands a very unique look.
The largest island of Mahe especially charmed me with its different landscapes, including huge granite mountains and boulders covered in palms and other jungle-y plants.
Hiking is even popular here, with various trails leading to great viewpoints all across the island and through Morne Seychellois National Park. The tallest mountain is Morne Seychellois at just under 3000 feet.
3. Cool native wildlife
The Seychelles were largely uninhabited by humans for a long time, but that doesn't mean there was a lack of life on the islands. In fact, the Seychelles have some of the most unique flora and fauna!
For example, the Aldabra giant tortoise is native to the Seychelles and is one of the largest tortoises anywhere in the world. You can find them roaming free on islands like Cousin and Curieuse, as well as in enclosures on the more touristed islands like Mahe and Praslin.
And the Seychelles is also home to the Coco de Mer palm, which produces the heaviest seed/nut of any tree in the world! I went to see these amazing trees in the Vallée de Mai Nature Reserve on Praslin, which is recognized UNESCO World Heritage Site.
AND you can even find pitcher plants (you know, those carnivorous ones) on some of the islands, including in Morne Seychellois National Park on Mahe.
4. Good infrastructure
The Seychelles relies on tourism as its major economic industry, playing host to both cruise ship passengers and independent travelers throughout the year. And the tourism infrastructure in the country is great!
Nearly everyone speaks English, the roads around the islands (while narrow and twisting at times) are well-paved, and it's very easy to get around even if you're traveling on your own.
I thoroughly enjoyed traveling in the Seychelles and at no point felt nervous or confused since the islands cater to tourism so well. (Read more about my experience in the Seychelles as a solo traveler.)
5. Delicious food
Island cuisine is usually pretty tasty, and this is true in the Seychelles, too. Seafood and creole dishes feature on most menus, and the seafood especially is fresh and delicious.
If you want to try some unique Seychellois dishes, they do a yummy octopus curry and also make a curry using the islands' native fruit bats. (I didn't try the last one, but am told you can find it if you look for it!)
6. Affordable luxury
Yes, there are high-end 5-star resorts in the Seychelles that come with high price tags (like the Four Seasons and Raffles), but you can find fairly affordable luxury here, too, especially if you look into guesthouses/B&Bs.
And, since there are so many beaches everywhere, the water is never far away even if you end up booking something without direct beach access.
(Also, there are NO private beaches in the Seychelles – even if a beach is in front of a specific hotel, it's still a public beach and you should be able to access it if you want to.)
7. The fact that it hasn't been "done to death"
Lastly, I loved visiting a destination that I haven't seen plastered all over Instagram and other travel blogs. I know this probably isn't a concern to most normal travelers, but it was definitely a plus for me.
It's exciting to feel like you're "discovering" a destination rather than just visiting all the spots everyone and their grandmother have already seen.
I mean, yes, Anse Source D'Argent on La Digue is said to be one of the most-photographed beaches in the world, but I still felt a bit intrepid by going there since I haven't seen a million photos of it already on Instagram.
Looking for a good Seychelles itinerary? Check out this 1-week Seychelles itinerary.
Bonus: That it's easy to pair up with a safari in Africa!
And, as an added bonus, the Seychelles are in perfect proximity to pair up with a safari in a place like South Africa! You can easily visit the Seychelles from Southern Africa, meaning you can go from game drives to beach bumming without much stress.
The differences in culture and landscapes would make a nice combo, too.
RELATED: How to See the Best of South Africa in 12 Days
IF YOU GO…
GETTING THERE: Daily flights arrive at Mahe's international airport (SEZ). I connected to the Seychelles via Dubai on Emirates, but direct flights arrive from various destinations in Africa and the Middle East. Starting in March 2018, British Airways will also be offering direct flights from London.
GETTING AROUND: On the larger islands (like Mahe and Praslin), you'll need a car or taxi to get around. Taxis are readily available, as are rental cars. On La Digue, the preferred mode of transport is by bicycle. Traveling between islands is usually done by ferry (it takes one hour to get from Mahe to Praslin), though short inter-island flights are also available.
MONEY MATTERS: The Seychelles use the Seychellois Rupee as currency. Currently $1 USD is equal to 14 Rupees. The Seychelles aren't particularly cheap. A ferry ride from Mahe to Praslin costs about $50 one-way. A typical meal in a nice restaurant will cost $20-$35.
WHERE TO STAY: Like I mentioned above, there are lots of luxury options in the Seychelles, but also plenty of off-beach guesthouses and B&Bs to choose from if you're looking to save money. Check out the top places to stay in the Seychelles here.
READ NEXT: Seychelles Itinerary: How to Spend 1 Week in the Seychelles
So what do you think? Are you ready to plan a trip to the Seychelles now?
Pin it for later: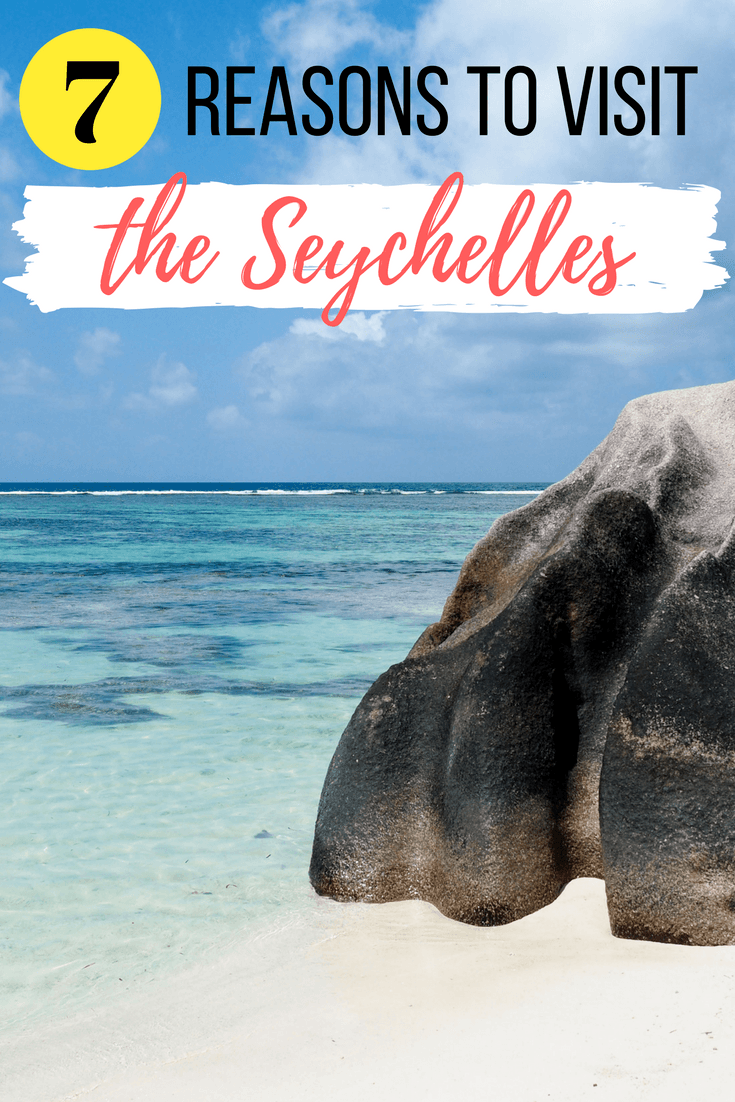 NOTE: Thanks to the Seychelles Tourism Board for hosting me in the Seychelles. As always, all opinions and recommendations are 100% my own.