Some posts on this site contain affiliate links, meaning if you book or buy something through one of these links, I may earn a small commission. Read the full disclosure policy
here
.
---
Located in the Indian Ocean off the east coast of Africa, the Seychelles are a group of 115 islands that are basically the definition of paradise. White sand beaches, warm turquoise water, giant tortoises, and all the palm trees await you there.
And while the Seychelles are most often associated with honeymoons (Prince William and Kate Middleton vacationed here after their 2011 marriage), the truth is that there's SO much more to the Seychelles than just romantic beach resorts.
In fact, to truly experience these islands, you really need at least a week in the Seychelles.
Lucky you, though, that I've put together the perfect Seychelles itinerary for one week in the Seychelles! Here's everything I think you should do with a week in this island paradise.
Seychelles itinerary: 1 week in the Seychelles
Day 1: Arrival and Mahe
Getting to the Seychelles can take a bit of time depending on where you live, but there are more connections to the island nation than you probably expect. There are direct flights from places like Johannesburg, South Africa; Dubai, UAE; Frankfurt, Germany; Paris, France; and soon London in the UK. I flew from Boston to Dubai, and then Dubai to Mahe International Airport.
Depending on where you're flying from, you'll arrive on Mahe (the largest island in the Seychelles and home to its only international airport) in the early morning or early afternoon. From the airport, you can grab a taxi to your hotel.
If you arrive later in the day like I did, I recommend spending the rest of the day enjoying your hotel and maybe visiting a beach for sunset. I stayed at a hotel that was just steps from Beau Vallon Beach, which is the most popular beach on Mahe for sunsets.
Where to stay on Mahe
I stayed at the Savoy Resort & Spa on Beau Vallon Beach. This resort is huge, with a large pool and three on-site restaurants. While I really loved my room here, I will say that I don't think this resort is really a 5-star one as advertised. (The service is really closer to a 4-star, or maybe even high 3-star.)
There are lots of places to choose form on Mahe, though. Also on Beau Vallon Beach is the H Resort (the highest-rated Beau Vallon hotel), and I had a great lunch and tour at the nearby Carana Beach Hotel, which has the most affordable rooms with private plunge pools on the island.
For those looking for luxury, Mahe has both a Four Seasons and a MAIA Luxury Resort & Spa.
And for more mid-range options (that are still super luxurious), there's the Kempinski Seychelles Resort, Le Meridien Fisherman's Cove, and a Hilton property.
Day 2: Mahe Island
On your second day, I recommend exploring Mahe by either renting a car or hiring a taxi driver for the day. The top things to see include:
The capital city of Victoria, which is the smallest world capital
Beaches! The best on Mahe include Anse Intendance, Anse Royale, Baie Lazare, and Beau Vallon for sunset
Morne Seychellois National Park if you prefer hiking to sightseeing
The lookout at Mission Lodge, where Queen Elizabeth II once sat for tea
Either the Seychelles National Botanical Gardens or Jardin Du Roi Spice Garden
A tour of the tea factory or Takamaka Rum Distillery
I think a lot of visitors to the Seychelles treat Mahe as the airport and that's it, but the truth is that there's a lot to see and do! Mahe has an excellent mix of beaches and jungle, and deserves at least a full day of exploration.
RELATED: My 5 Favorite Beaches in the Seychelles
Day 3: Praslin Island
Ferries run frequently between Mahe and Praslin, or you can also fly between the two. The ferry only takes about an hour, though, and is more of an adventure. Take a morning ferry from Mahe so you can have the whole day to explore Praslin.
From the ferry dock, grab a rental car or taxi and head straight to the Vallée de Mai, a national park and UNESCO World Heritage site. This is a nature preserve filled with rare coco de mer palms – they're so rare that they only grow in the Seychelles! They also produce the largest, heaviest seeds/nuts in the world, which are pretty cool to see. It's worth it to hire a guide here so you can spot not only the coco de mer palms, but also all the other unique flora and fauna like orchids and black parrots.
(Traveler tip: If there's a cruise ship in-port, get to the Vallée de Mai before 10 a.m. if you want to avoid the crowds!)
After the Vallée de Mai, head to Praslin's most famous beach: Anse Lazio. This is usually regarded as one of the best beaches in the Seychelles, and it's not difficult to understand why. Anse Lazio is characterized by white sand, turquoise water, rusty-red boulders, and plenty of shady palm trees.
Have lunch at Bonbon Plume right on the beach (go a little early to get a table, and try the red snapper if they're serving it), and spend a few hours enjoying the sun and sand.
In the late afternoon, head to your hotel and enjoy the rest of your evening there.
Where to stay on Praslin
I stayed at Paradise Sun, a 4-star resort hotel right on the beach (Cote d'Or, near Anse Volbert), and would recommend it. The hotel has a nice pool, plenty of beach loungers, and things like snorkeling gear and paddleboards for guests to use. I liked my beachy hut, and enjoyed the buffet dinner I had on-site.
For true luxury-seekers on Praslin, go for Raffles (the only hotel on the island where every room has its own private plunge pool) or the Constance Lemuria.
Day 4: Curieuse Island and Praslin Island
Today, take a day or half-day trip from Praslin to Curieuse Island. Along with being the only other island in the Seychelles where the coco de mer palm grows, Curieuse Island is also home to a breeding program for giant Aldabra tortoises. The land giants roam freely here, which is perfect if you want to grab a tortoise selfie!
Many people pair trips to Curieuse Island with St. Pierre Island, which is a great place for snorkeling. Check out Tourbookers for tour options.
Afterwards, enjoy the rest of the day on Praslin at your hotel or on the beach.
Day 5: La Digue Island
From Praslin, it's only a short 15-minute ferry ride over to La Digue, the smallest of the three most popular islands in the Seychelles. Even though you'll experience "island time" everywhere in the Seychelles, things are even more relaxed on La Digue.
There are virtually no cars on the island, and the main mode of transport is by bike. Since you'll be traveling with luggage, though, your hotel will likely offer to pick you up from the ferry and transport you and your things. Afterwards, though, be sure to get your hands on a bike so you can explore the island!
I would spend your first day beach-hopping to all the free beaches on La Digue. Grand Anse is probably the most popular (and arguably the most beautiful), but you can also visit Petite Anse, Anse Patates, Anse La Réunion, Anse Marron, and more! (La Digue is pretty much just one big beach!)
La Digue covers less than 4 square miles, meaning you can easily explore the whole thing by bike.
Where to stay on La Digue
La Digue has a few resorts/hotels, but staying at a guesthouse or B&B is more popular here.
If you want to go the resort route, Le Domaine de L'Orangeraie Resort and Spa is the highest-rated on the island, followed by Le Repaire Boutique Hotel.
Or you can check out guesthouses on La Digue.
Day 6: La Digue and ferry to Mahe
Today on La Digue is all about the island's most famous beach: Anse Source D'Argent.
This beach is often said to be one of the most-photographed in the world, and certainly wins my vote for most beautiful beach in the Seychelles. It's an absolute must-do for any Seychelles trip.
Anse Source D'Argent does lie on private property, though. You have to pay to enter L'Union Estate (your admission includes a tour through the old copra factory and vanilla plantation), but I think the $10 entry fee is more than worth it.
I recommend bringing a picnic lunch so you can spend most of the day here. Anse Source D'Argent is a long beach – it's actually like three or four beaches in one because of the different sections separated by giant granite boulders – so you can easily while away the hours exploring, swimming, and napping in the shade.
Once you head to the beach, there's no food for sale – but you will find to beach bars where you can grab a coconut, fruit smoothie, or alcoholic cocktail.
In the later afternoon, catch a ferry back to Praslin and then another back to Mahe. (Check with your La Digue hotel to see if they can meet you at the ferry dock with your luggage so you don't have to drag it to the beach with you!)
Day 7: Snorkeling tour from Mahe
You could definitely spend your last day in the Seychelles simply lounging by the pool or on the beach, but if you want just one more adventure, consider booking a snorkeling/sightseeing tour from Mahe to the islands in nearby Ste Anne National Marine Park.
Tours to the marine park usually include snorkeling and swimming in the reserve, a stop at Moyenne Island to see some giant tortoises, and lunch and cocktails on the boat. This would be a great way to round out your time in the Seychelles.
(Want to book it? Check out this Full Day Reef Safari from Mahe.)
Day 8: Departure
Today will sadly be the day you'll say goodbye to the Seychelles. But don't forget that this island paradise is close to some other fantastic destinations. For example, many people pair up a week in the Seychelles with a safari in South Africa!
RELATED: How to See the Best of South Africa in 12 Days
What to pack for a Seychelles trip
The Seychelles have a tropical climate year-round. Expect heat and humidity no matter what time of year you visit.
A few things I was glad to have on my trip included:
How much does it cost?
While your trip will obviously be different from mine, here are some sample prices (in USD) you can expect in the Seychelles:
1 night at a 4-star hotel: Usually starting around $400
Rental car on Mahe: $50-$100 per day, depending on type of car
Mahe-Praslin ferry: $50 one-way
Seychelles National Botanical Gardens entry: $7.50
Vallee de Mai entry: $22
Dinner: $15-$30 per person
The Seychelles isn't really a budget destination (though you can certainly save some money by staying in a guesthouse or apartment and self-catering some of your meals). But the good news is that almost all the beaches are free to visit!
Who's ready to plan a trip to the Seychelles?
Pin it for later: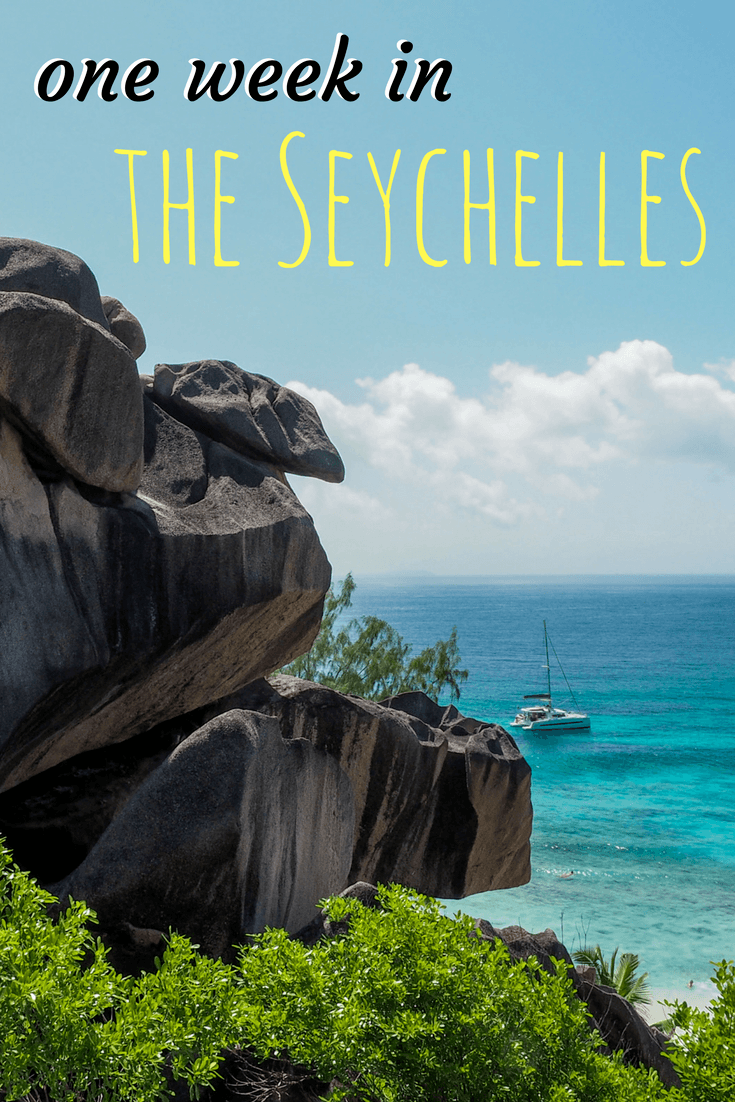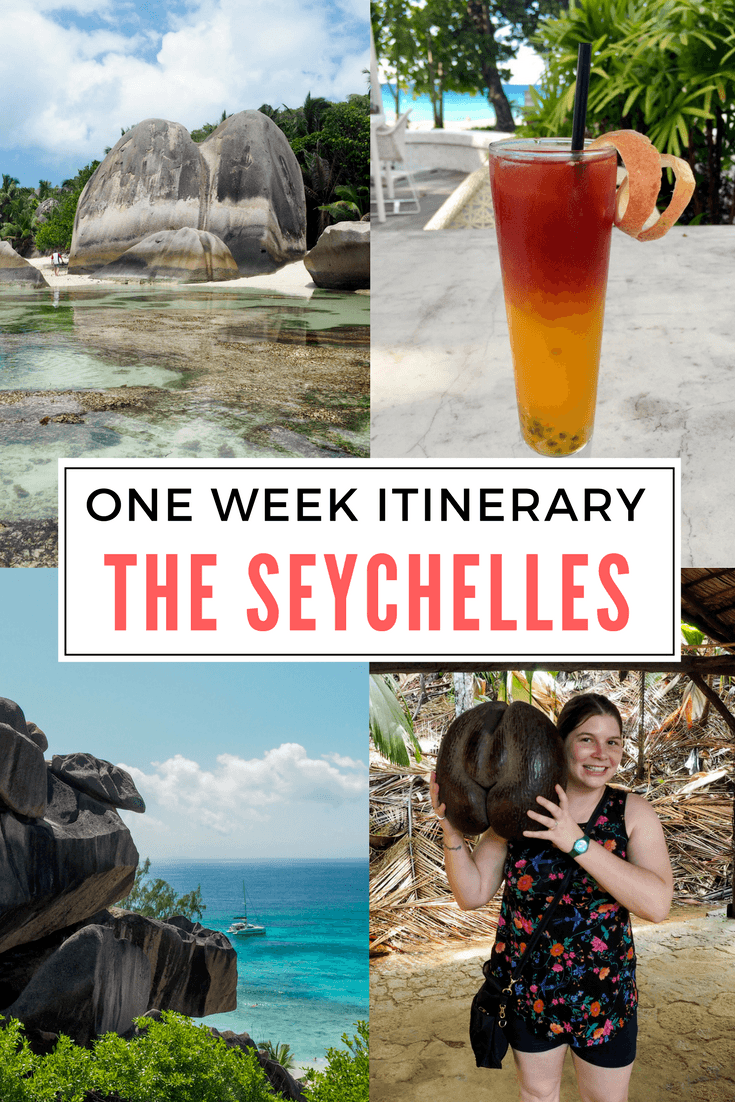 NOTE: Thanks to the Seychelles Tourism Board for hosting me in the Seychelles. As always, all opinions and recommendations are 100% my own.