Some posts on this site contain affiliate links, meaning if you book or buy something through one of these links, I may earn a small commission. Read the full disclosure policy
here
.
---
In the past 3 years, I've gone from never really feeling much of a pull to the continent of Africa, to visiting 9 countries on 4 separate trips there.
It's true what Rudyard Kipling said about the continent: "One cannot resist the lure of Africa." Especially once you've gotten a taste of it.
My first trip to Africa took me to the southern part of the continent. My dad and I traveled through South Africa together, and then I did an overland trip that took me through Namibia and Botswana on my way to Victoria Falls. My second trip to the continent saw me visiting the Seychelles and Egypt (talk about two polar opposite countries!), and on my third trip I visited Morocco.
And now I've just come back from 2.5 weeks in East Africa, visiting Kenya and Tanzania with my sister, Melissa.
Most people (and especially most Americans) don't really realize how HUGE of a continent Africa is. It's the second-largest continent after Asia, covering 11.6 million square miles. It's made up of at least 54 countries (I say at least, because there are a couple unrecognized/disputed territories), and roughly 3,000 different ethnic groups.
The real lure of Africa, I think, is the knowledge that there's always more of it to explore.
In order to not get completely overwhelmed when planning a trip to the African continent, it's best to visit one or two countries at a time. On this trip, my sister really wanted to go on safari. And there are few better places in Africa for a first-time safari than Kenya and Tanzania.
You can certainly plan a trip to this part of Africa independently, but for a few different reasons we opted to book a tour. We traveled with a company called Rock My Adventure, which specializes in small-group adventure tours in Africa. We did their 17-day Kenya & Tanzania Adventure, which ended up being an excellent introduction to these East African countries.
Traveling with Rock My Adventure
Full disclosure: Rock My Adventure is run by a friend of mine. I've known Helen for years (we met at a travel blogging conference in Ireland way back in 2013!), and when my sister mentioned Africa as somewhere she wanted to go, I saw it as a good opportunity to support a friend.
Helen knows most of Africa well; she's been traveling around the continent (mostly solo) for more than 10 years now. And she's dialed in to an underserved market when it comes to Africa travel: the mid-range traveler like me.
There are tours that cater to budget travelers in Africa (like the overland trip I did in 2016), and plenty of luxury safari packages. But it can be tough to find something in between. Rock My Adventure offers that in-between option.
Designed especially for solo travelers who don't want to tackle Africa on their own, Rock My Adventure offers a product that mixes must-have experiences with some off-the-beaten-path locations. You stay in unique yet affordable accommodations, and get to meet locals – many of whom are Helen's friends.
And the best part? Rock My Adventure tours offer a lot of value for money. Almost everything is included (with the exception of a handful of meals), and the price point is reasonable for the length of each trip.
I went in expecting to enjoy this trip, but was completely blown away by how fun and well-organized it was. East Africa can be a challenging place to travel in, but booking this tour made it a breeze.
Melissa and I had SO much fun. Here are the highlights from our Kenya and Tanzania tour.
10 Kenya and Tanzania tour highlights
1. Elephants and giraffes in Nairobi
Our tour began in Nairobi, the capital of Kenya. Nairobi is a big city (population 4.4 million), and yet the country's wildlife is never very far away. Two of our first animal encounters were with baby elephants and endangered giraffes.
We first visited the David Sheldrick Elephant Orphanage, a center that rescues orphaned elephants from around Kenya (many of them orphaned after their mothers die from poaching or drought), raise them until they're about 3, and then slowly reintroduce them into the wild.
Tourists can visit the orphanage once per day to watch them feed the babies and learn a little about their stories.
Next up was the Giraffe Centre, where they are breeding the endangered Rothschild Giraffe in order to reintroduce them to the wild. So far, they've been quite successful and have brought this animal back from the brink of extinction. Here, we fed the giraffes grass pellets, and even got a few giraffe "kisses!"
I will note that both of these places can be busy/crowded during high season (which is when we visited), but both are doing amazing work to save Kenya's wildlife, and the positives far outweigh the negatives in my opinion.
2. Nairobi tour with Nai Nami
One of our favorite activities in Kenya was going on a walking tour of Nairobi with Nai Nami. This tour company is run by a group of former street boys, and is such a cool company to be able to support.
The tour took us to areas no other tourists go – in fact, to areas that tourists are told specifically to avoid. Our guides told us their stories as we crossed from uptown to downtown, walking through the "Official Training Center," where young boys learn to become thieves.
Their stories aren't sanitized. In fact, they're downright heartbreaking. But now these young men are turning their struggles into a learning experience for others, and some of the proceeds go back into local youth programs.
I don't usually condone slum tourism or anything similar when I travel, but this isn't that. You aren't visiting places to gawk at poverty; you're seeing the reality of how many people live in Nairobi, and hearing about what life is like for many kids there.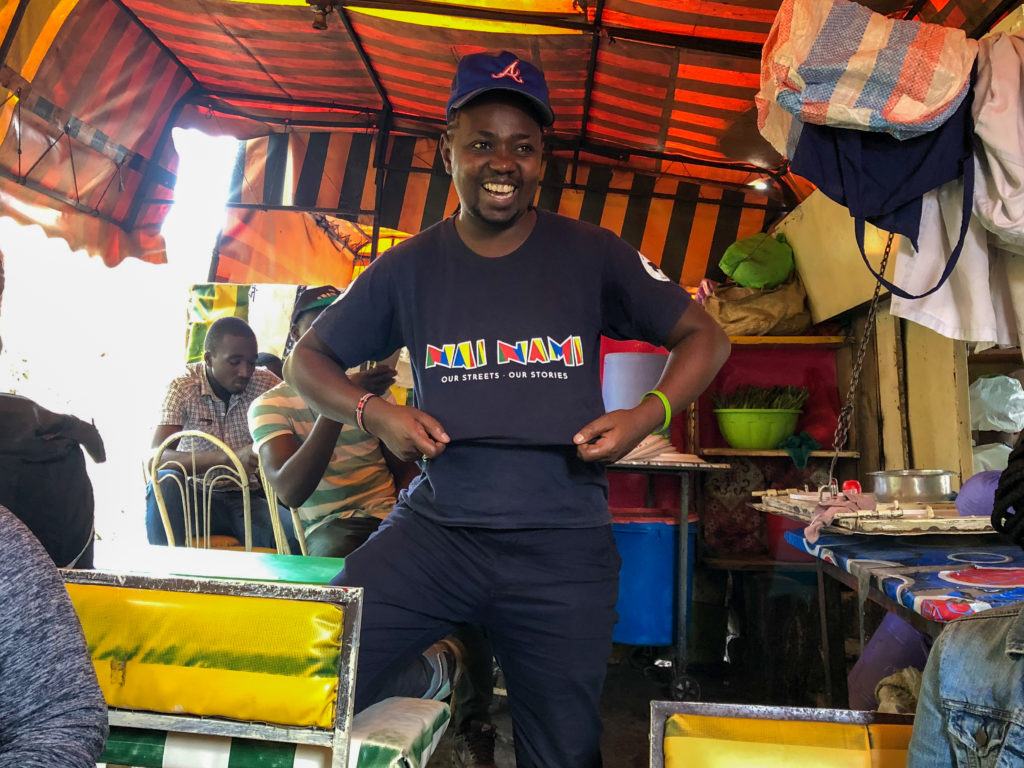 This was included as part of our tour, but anyone can book an alternative walking tour of Nairobi with these guys.
3. Safari in the Maasai Mara
My sister's first African safari was a memorable one for sure! We did a full-day safari in the Maasai Mara National Reserve, complete with a tea break under an acacia tree and a picnic lunch.
As for the safari itself, we saw tons of animals, from giraffes and zebras to elephants and migrating wildebeest. We saw hippos in the Mara River, and crocodiles feasting on an unlucky wildebeest.
The highlights, though, were the cats: a pregnant cheetah, a mama leopard who walked within feet of our truck, and a rare serval cat (who even hissed at us as he trotted by!).
And our last sighting of the day was a lioness who had just killed a wildebeest. We were awed as we watched her try to drag the carcass away, and then ridiculously delighted when she disappeared for a bit, only to reappear with her 3-week-old cubs!
Watching baby lions play around on a dead wildebeest was one of the most weirdly adorable things I've ever seen.
4. Sunrise hot air balloon ride
We spent three nights and two full days in Kenya's Maasai Mara. On the morning of our second day, Melissa and I woke up before sunrise to climb into a giant basket and silently rise into the sky along with the sun.
I've been hot air ballooning before, but it never ceases to amaze me how gentle and serene it can be. We floated over the Mara as the sky turned from gray to blue to pink, and had fun spotting animals from above (our coolest sighting was a hyena eating some leftovers!).
Our balloon flight lasted about an hour, after which we landed in the middle of the reserve and had a champagne breakfast right there – definitely a giant step above my usual bowl of cold cereal at home!
We then went on a mini game drive back out of the reserve, where we spotted two cuddling male lions, baby elephants, and even a leopard up a tree.
Our balloon excursion was an optional activity that we paid extra for (and it's not cheap), but I definitely think it was worth it!
5. Camping safari in the Serengeti
After we crossed the border into Tanzania, we made for two of the most famous game parks in all of Africa: Serengeti National Park and the Ngorongoro Conservation Area.
Going on safari in the Serengeti during the dry season is basically the epitome of the African safari experience. It's equal parts awe-inducing and awful to trundle across the "Endless Plain," getting covered in a fine layer of brown dust as you become convinced that you'll never be able to find anything in such a vast expanse of dry grass and scraggly trees.
But then suddenly you come across a dozing pride of lions or some hunting cheetahs or a baby giraffe, and it's immediately the best day ever. We had some excellent wildlife sighting in the Serengeti, including several lions, cheetahs fresh off a kill, tons of hippos, baby giraffes, and lots of jackals.
This was also a camping safari, meaning we spent two nights sleeping in a tent under the stars. The camps we stayed at were basic, and you had to be careful after dark since animals could (and did) walk through camp, but with views like this of the Milky Way at night, I really couldn't complain.
6. Morning game drive in the Ngorongoro Crater
If I had to choose my favorite safari destination in East Africa, I think the Ngorongoro Crater in Tanzania would be the winner. It's an entire ecosystem of its own; the animals that live within the 3200-square-mile crater spend their whole lives there and don't really ever leave – not because they can't, but simply because they don't need to!
Our safari began under foggy skies, with a low layer of cloud settled over the top of the crater (which at one point in time was a volcano probably taller than Kilimanjaro). The fog and clouds lifted as the sun rose, though, revealing all the crater's colors and its steep walls.
This is one of the more beautiful spots I've gone on safari, and the wildlife sightings were pretty great, too! We saw lions (including one that laid down right next to our truck), elephants, hippos, zebras, hyenas, and more.
We had several really close-up encounters, including my very favorite one of the whole trip: the one where a massive bull elephant walked right up to our safari truck and gave us all a once-over as he walked by.
I cried, guys. Literally shed tears over how special that moment with the elephant was. I can now check off "be moved to tears by a travel experience" from my bucket list.
RELATED: 8 Things to Know Before Your First African Safari
7. Waterfalls and coffee in Moshi
Safaris over, we headed east towards Mount Kilimanjaro. We spent a day in the foothills of Kili, hiking to a waterfall, and learning to make coffee with people from the Chagga tribe in the village of Materuni.
Even though I was most definitely a tourist in Tanzania, this day felt much less touristy than some others; I remember smiling almost the entire time.
We ended the day by driving out to the Kikuletwa Hot Springs, a natural pool out in a rural part of Tanzania. The spring was beautiful and a great place to swim, and I loved that it was being enjoyed by an equal number of locals and tourists.
8. Exploring Stone Town
This tour was a busy one. We covered a LOT of ground in just two weeks. Which was why it was perfect to end with a few chilled out days on the island of Zanzibar. We took a ferry over from the town of Bagamoyo, and spent 4 nights on the island.
We started out in Stone Town, the largest city in Zanzibar and a UNESCO World Heritage Site. Stone Town has seen influences from Arabic to British over the centuries, and was an important center for the spice and slave trades during the 19th century. Today, it's an interesting mix of cultures, architecture, and religion.
We went on a walking tour of Stone Town, getting slightly lost in the labyrinthine alleyways (it reminded me a bit of the medinas in Morocco!), marveling at the city's famous carved wooden doors, smelling everything from fresh citrus to spices, and learning about the tolerance that still exists there.
Melissa and I also visited the East Africa Slave Trade museum in Stone Town, which I think is integral to understanding how Zanzibar came to be what it is today. There's now a church on the site of Stone Town's former slave market, but the adjacent museum does a really good job of making sure this painful history is not forgotten about.
9 Rooftop dinner
On our final night in Stone Town, we went to The Tea House rooftop restaurant at Emerson on Hurumzi. This is the top-rated restaurant in Stone Town, and they offer traditional dinners complete with floor seating, Persian dishes, and live Taarab music.
Not only was the setting incredible, but the food was delicious, and we had a fantastic time as a group. If I were planning any sort of romantic trip to Zanzibar, this would be one of the top things on my to-do list!
10. Getting out on the water in Zanzibar
You can't go to Zanzibar and NOT get out on the gorgeous water!
One of my favorite activities was the snorkeling/island-hopping trip we took on a traditional dhow boat with Safari Blue. We went snorkeling, visited a sandbar that's only visible during low tide, drank fresh coconuts, and had lunch on an island that's home to some huge baobab trees.
I can't remember another time in recent years when I was so happy to spend the entire day in a bathing suit.
We then headed over to the east coast of Zanzibar and the beach town of Paje. There we spent out last days chilling by the water (be it beach or pool), visiting a famous restaurant called The Rock that looks like it's floating at high tide, and going on one more dhow boat trip.
This was the perfect end to our whirlwind trip through Kenya and Tanzania.
BONUS: Unique accommodations
Lastly, I have to talk about one more thing I loved about this tour: all the unique places we stayed!
From glamping outside of Nairobi to staying in a 16th century building in Stone Town, the accommodation was always interesting. No, we didn't always have hot water, and yes, we always slept with mosquito nets, but I really enjoyed all the places we slept on this tour.
Some highlights included:
Should you book a tour in Kenya and Tanzania?
Traveling in general can be tough, but traveling in Africa comes with a whole different set of challenges. These challenges run the gamut from language barriers and cultural differences to lack of infrastructure and a still-developing tourism industry.
Even on the most luxurious trips, things aren't going to go 100% to plan. For this reason, I do think Africa is an excellent place to book a tour. Going on a tour means you'll have a guide with you to handle all the logistics, and a built-in group of fellow travelers to share all the amazing memories with.
And if you're looking for a tour to Kenya and Tanzania that's on the slightly more adventurous side, I can highly recommend Rock My Adventure.
The Kenya & Tanzania tour we did costs roughly $3800 per person (not including flights). This is excellent value when you consider that it includes all your accommodation and transport (usually in private vehicles), multiple safaris, the majority of your meals, and tons of bucket list activities.
My sister and I loved this tour, so don't be surprised if you see me traveling with Rock My Adventure again in the future!
---
Would you go on a tour like this in East Africa? What other questions do you have for me about the experience?