Some posts on this site contain affiliate links, meaning if you book or buy something through one of these links, I may earn a small commission. Read the full disclosure policy
here
.
---
It's no secret whatsoever that New Zealand is my favorite place on earth. If I could move there tomorrow, I probably would. I love everything about the South Pacific nation, from its landscapes to its laid-back vibe, to how beautiful and remote parts of it still are.
I've been to Aotearoa four times now (and I even lived there for about 5 months), and yet I'm STILL finding new things to do on each and every trip.
To inspire you and give you some ideas for your own NZ itinerary, I've put together this ultimate bucket list of things you should do in New Zealand.
The Ultimate New Zealand Bucket List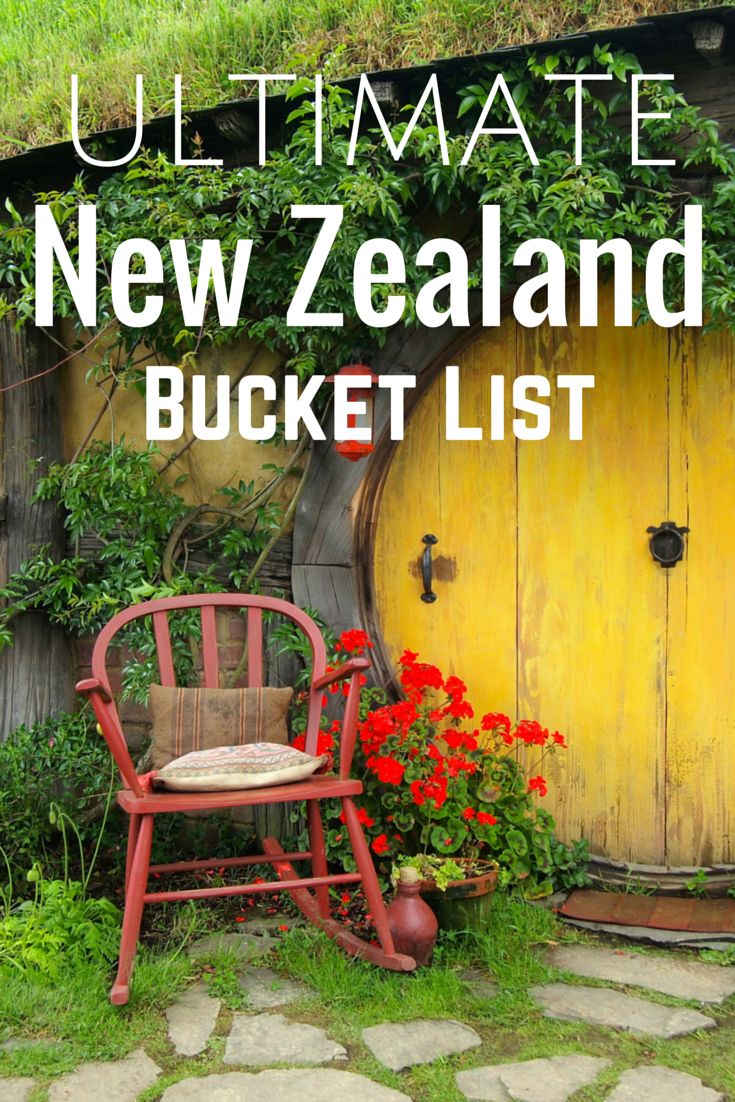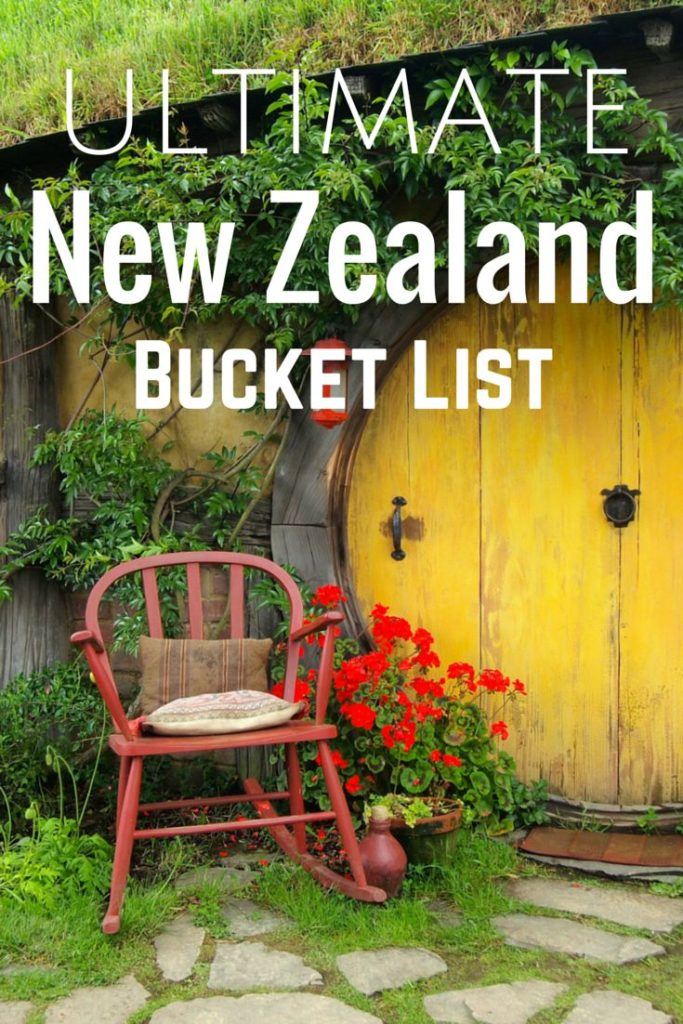 See an All Blacks rugby game
Rugby isn't just a sport in New Zealand — it's akin to a religion. Catch the All Blacks, the New Zealand national team, in person at least once.
Drive 90 Mile Beach
Even though it's incorrectly named (the beach isn't 90 miles long, it's more like 55 miles), 90 Mile Beach IS officially a New Zealand highway — meaning if you have a car capable of tackling sand, go for a drive on this unique beach! (And, if not, rent a board and ride the sand dunes instead.)
RELATED: DOs and DON'Ts on a New Zealand Road Trip
Ride horses in Pakiri
Ever wanted to ride a horse on the beach? Check out Pakiri Beach Horse Rides.
Hug Tane Mahuta
Tane Mahuta is a giant kauri tree in Waipoua Forest in Northland — and by giant I mean the largest kauri tree in the world. The name means "Lord of the Forest," which is pretty apt due to its size and the fact that it could be as old as 2,500 years.
Brave the SkyWalk
In Auckland, you won't want to miss the great views from the top of the Sky Tower. And, if you're brave enough, sign up for a SkyWalk — a guided walk around the outside of the tower on a platform 630 feet above the ground.
Drink wine on Waiheke Island
A short ferry ride away from Auckland lies Waiheke Island, a popular spot for a day trip from the city. The island is know for its fantastic wineries, so be sure to visit a few (Cable Bay is my favorite).
Dig yourself a hot tub on the Coromandel Peninsula
The Coromandel Peninsula is one of my favorite little-known spots in New Zealand. If and when you go there, be sure to visit Hot Water Beach at low tide, when you can dig a hole in the sand and watch it fill up with geothermally-heated water.
See glowworms in Waitomo Caves
Head to the Waitomo Caves south of Auckland, where you can see thousands of glowworms hanging in the dark caves. For an extra fun adventure, go black water rafting while you're there.
Surf in Raglan
The surf town of Raglan is known for being both chilled out and beautiful — and would be a great place to take some surf lessons.
RELATED: 6 Ways to Save Money While Traveling in New Zealand
Skydive the Bay of Islands
You can skydive all over New Zealand, over lakes and mountains and everything in between. If you want a really pretty jump over water, though, consider booking your jump in the Bay of Islands, which has some incredible beaches.
Be a Hobbit in Matamata
No trip to New Zealand would be complete without a trip to the Hobbiton movie set in Matamata. Pose with some colorful hobbit holes, and then have a pint at the Green Dragon pub.
RELATED: 5 Middle-Earth Locations You Can Visit in Real Life
Witness Rotorua's geothermal oddities
If you want to witness some geothermal wonders first-hand, go to Rotorua. Once you get past the smell of sulphur that permeates the town, you can enjoy geothermal parks, geysers, bubbling mud pools, and mineral pools in all sorts of ridiculous colors.
Attend a Maori cultural show/hangi
Before the Europeans arrived in New Zealand, the Maori people called the nation home. Rotorua offers a few opportunities to visit a recreated Maori village for a traditional hangi dinner (food steamed in the ground) and to see some traditional songs/dances. My favorite is either the Mitai Maori Village, or the Tamaki Maori Village Experience.
Go zorbing
Ever wanted to throw yourself down a hill inside a giant hamster ball? Well you can do it in Rotorua! It's called zorbing, and it's really really fun.
Hike the Tongariro Crossing
If hiking is your thing, you won't want to miss the Tongariro Alpine Crossing, a 12-mile hike through volcanic landscape in Tongariro National Park. The hike is one of the most popular day hikes in New Zealand, and has some really unique views over volcanoes and emerald green lakes.
Support conservation on Kapiti Island
New Zealanders are really passionate about conservation, whether it comes to preserving their country's stunning landscapes or its native fauna. One of my favorite conservation areas is Kapiti Island, a bird sanctuary. My favorite bird there? The colorful takahe! Head over for a day trip, or an overnight stay.
Hang out on quirky Cuba Street
You can't miss Cuba Street in Wellington — it's where you'll find lots of international cuisine, some shopping, art, and plenty of buskers performing all over the place.
Ride the Wellington Cable Car
The historic Wellington cable car runs between Lambton Quay and the city's botanic gardens, and while it doesn't sound super exciting, you should definitely ride it anyway. The ride is short and sweet, and the views at the top out over the city are fantastic.
Climb sea cliffs at Castlepoint
On the windy east coast towards the bottom of the North Island you'll find Castlepoint, a pretty beachside town with a lighthouse. Not many people come out this way, but it's worth the drive — just be careful to not get blown off the cliffs by the intense wind.
RELATED: New Zealand Smackdown: North Island vs. South Island
Cross the Cook Strait by ferry
Taking the ferry between the North and South islands is definitely a must! The journey takes about 3 hours and there's plenty of nice scenery along the way.
Kayak in Abel Tasman National Park
Located at the top of the South Island near the city of Nelson, Abel Tasman is a national park worth a visit. Rent a kayak and explore the pretty coves and beaches (or you can book a tour to see the best of the park by water and on foot).
Hike the Queen Charlotte Track
Whether you want to just do a half-day hike or tackle the entire 43.5-mile track, hitting the Queen Charlotte Track through the Marlborough Sounds is well worth the effort. You'll hike through coastal forest and along historic bays, and get some incredible views of the Sounds.
Go whale watching in Kaikoura
Located in a spot where mountains meet the sea, Kaikoura also sits near a deep underwater trench that draws all sort of marine life to the area year-round. Kaikoura is best known for its whale watching tours (though you can also swim with dolphins and/or fur seals there).
Swim with Hector's Dolphins in Akaroa
Further down the coast on the Banks Peninsula you'll find Akaroa — an adorable, French-infused town that is also home to some unique marine life. Here you can see (and swim with) the rare Hector's Dolphin, the smallest dolphin in the world.
Ride the TranzAlpine Train
The TranzAlpine train runs between Christchurch (on the east coast) and Greymouth (on the west coast) on the South Island, crossing the Southern Alps at Arthur's Pass. The train ride only takes a few hours, making it a must if you love trains and/or great scenery.
RELATED: Packing For a Trip to New Zealand
Hike on a glacier
New Zealand has some really unique glaciers; on the West Coast, they extend down from the mountains into temperate rain forests. You can book a heli-hike on either the Franz Josef or Fox glacier, which I highly recommend — just do it before they recede much further!
Watch stars at Lake Tekapo
The skies over Lake Tekapo in the center of the South Island are some of the darkest and clearest in New Zealand — maybe even in the world. If you've ever wanted to go stargazing, this is the place to do it.
See Mount Cook
Standing at 12,218 feet, Mount Cook is New Zealand's tallest mountain. On clear days, you can see the mountain from miles away across Lake Pukaki. But it's worth driving to Aoraki/Mount Cook viallage to see the mountain up close, too. If you have time, consider one of the walking tracks in the area — my favorite is the Hooker Valley Track.
Pose with boulders
If giant rocks that look like dinosaur eggs don't interest you, then don't go see the Moeraki Boulders on the Otago coast. But, if that DOES sound cool, head to Koekohe Beach.
See at movie at Cinema Paradiso
This funky little movie theater in the town of Wanaka is definitely worth a visit (as is the whole town of Wanaka, for that matter). The theater replaces normal movie theater seats with couches and car seats, and they bake fresh cookies at intermission.
Go bungee jumping in Queenstown
Commercial bungee jumping was "born" in Queenstown at the Kawarau Bridge in the 1980s. Today, the city has three different jumps — and you definitely should do at least one of them. (My pick? Definitely the Nevis, which is the most epic of the three!)
Ride in a jet boat
Like bungee jumping, jet boating was also born in Queenstown. These boats are designed to zip along on top of Queenstown's shallow rivers, and can pull exciting 360-degree spins inside narrow canyons.
Take a flightseeing tour over the Southern Alps
It's one thing to fly in a teeny tiny plane — but it's another entirely to do it over some epic, snow-capped mountains. Be sure to splurge on a flightseeing tour somewhere on the South Island.
Visit Milford Sound
Milford Sound was once called "the eighth wonder of the world" and is New Zealand's top tourist attraction. Meaning that a cruise on the fjord of course deserves a spot on this list. 
RELATED: New Zealand Fjord Smackdown: Milford Sound vs. Doubtful Sound
Climb the world's steepest street
In the city of Dunedin, you can find Baldwin Street, officially the steepest street in the world. I dare you to try and run up it.
Explore the Otago Peninsula
Not far from Dunedin lies the Otago Peninsula, which is home to some unique New Zealand residents like the royal albatross and the endangered yellow-eyed penguin.
Drive the Southern Scenic Route through the Catlins
One of my favorite drives in New Zealand is the drive along the Southern Scenic Route through a particularly scenic areas known as the Catlins. There are some incredible coastal views here, so plan on pulling over a lot to take photos.
Go cage diving with great whites on Stewart Island
Believe it or not, New Zealand is home to a large number of great white sharks! Some massive ones live off the coast of Stewart Island (the "third" NZ island), and in the summer months you can book cage diving tours.
Take one of the "Great Walks"
New Zealand is known as a hikers paradise, and the country has 9 of these multi-day treks through some of the country's most breathtaking natural scenery. Popular Great Walks include the Milford Track, the Kepler Track, and the Routeburn Track.
Go lupin hunting in the spring
Starting in November and lasting pretty much all spring, the lupins bloom all over New Zealand's South Island. Yes, they're technically weeds. But do they ever make for gorgeous photos! Spend at least an afternoon lupin-hunting.
Witness the Southern Lights
Lastly, if you find yourself in a very dark place towards the bottom of the South Island, it's worth checking out the forecast for the Aurora Australis — the Southern Lights. The dancing lights are often visible from the very south of New Zealand, and are incredible to see.
Explore New Zealand by campervan
If you ask me, the best way to explore New Zealand is by campervan road trip! You have the freedom to see and do what you want, and can also save some money on food and accommodation by cooking and sleeping in your van.
RELATED: New Zealand Road Trip: The Perfect Itinerary if You Only Have 2 Weeks
What to Pack for New Zealand
There are definitely a few things you'll want to make sure to bring in order to help you check off these bucket list items. Things like:
And, even though it's not a tangible item, I also always recommend packing a good travel insurance policy! That way everything from lost luggage to a bad accident is covered – because you just never know! I recommend World Nomads for basic (and really affordable) travel insurance.
Check out more of my New Zealand packing tips here!
New Zealand is a bucket list destination for a lot of people — and it's no wonder, since there are so many bucket list-worthy things to do there! BUT, that doesn't mean that traveling to New Zealand isn't attainable. Heck, I've been there four times! You CAN find deals on flights to New Zealand (Air New Zealand often has great fare sales from the U.S.) and you can travel New Zealand on a budget, too.
Which items are on YOUR New Zealand bucket list?