Some posts on this site contain affiliate links, meaning if you book or buy something through one of these links, I may earn a small commission. Read the full disclosure policy
here
.
---
"You mean people actually LIVE on this street? How do their cars make it up?"
"Better question: How do their cars make it DOWN in the winter?"
Our incredulity was evident in our voices as we stood looking up the steep incline of Baldwin Street – the steepest street in the world.
Located just a few minutes northeast of downtown Dunedin, New Zealand, Baldwin Street looks like many of its residential neighbors: lined with trees and bushes, dotted with driveways – and proceeding at an alarmingly steep grade.
The grade of Baldwin Street, to be exact, is 35 percent (or 19 degrees) at its steepest point. It may not sound like much on paper, but I assure you it looks pretty daunting when you're standing at the bottom of it, looking up.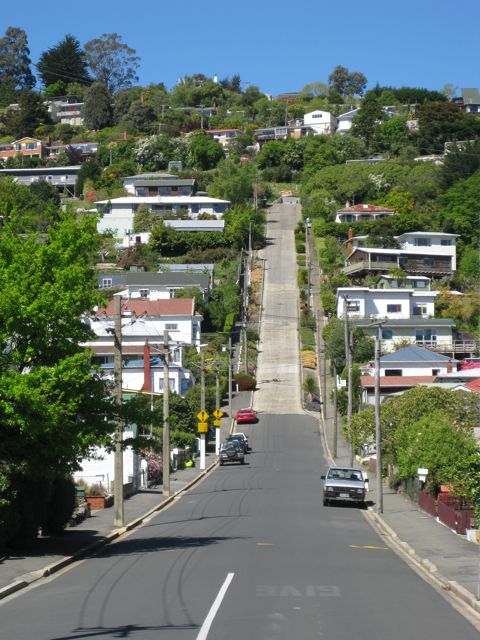 "Let's run!" Jaime exclaimed as we parked in an empty spot right at the bottom of the street. Andrea and I exchanged sideways glances.
"Go for it," I said, "but I'm walking."
A handful of tourists each day trickle to Baldwin Street to tackle the severely-slanted pavement. This could be due to the fact that the road is marked explicitly on every Dunedin city map. Or maybe lots of people are just up-to-date on their Guinness World Records. Who knows.
Most walk. A few try to bike it. And some try running. Every summer, there's a footrace up and down the hill called the "Baldwin Street Gutbuster" – and for good reason: it's not easy.
Jamie realized this as soon as we started climbing. And I say "climbing," because you really don't have any other choice but to climb up Baldwin Street.
"Thought you were gonna run, Jamie."
"My calves hurt already!" was her reply.
About halfway up, we took a break – both to give our legs a rest, and to take some silly posed photos. Since we were visiting Baldwin Street in the middle of the afternoon, there was little traffic. Then again, there probably isn't ever a ton of traffic on the short little street, unless you count foot traffic from tourists like ourselves.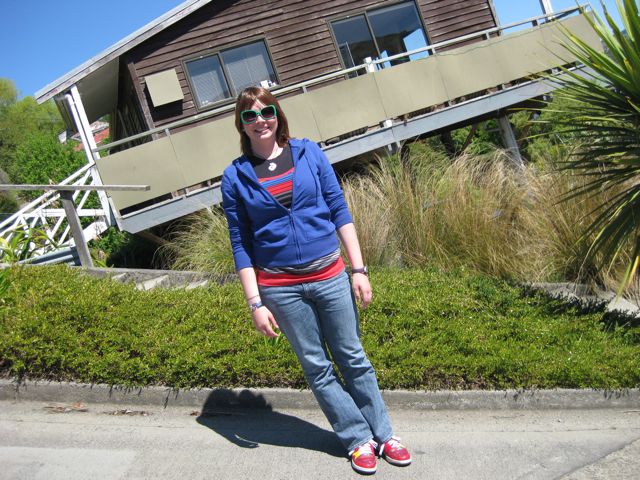 We reached the top soon enough. I'll admit, I was out of breath and breaking a bit of a sweat. But also feeling good. It wasn't a mountain or anything, but climbing the steepest street in the world should at least count for something, right?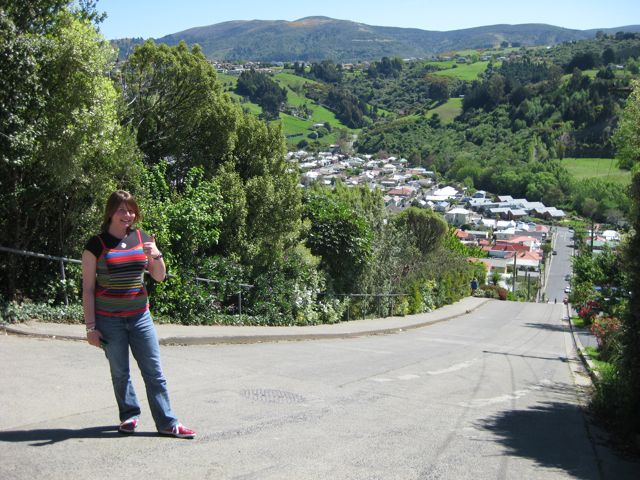 From the top of Baldwin Street, the Dunedin suburbs stretch out in all directions. We stood for a few minutes simply taking in the view. And also noticing how freaking steep the street looked from this vantage point. Toward the middle of the road, it looked as though it just dropped off, like a cliff.
Eat your heart out, San Francisco.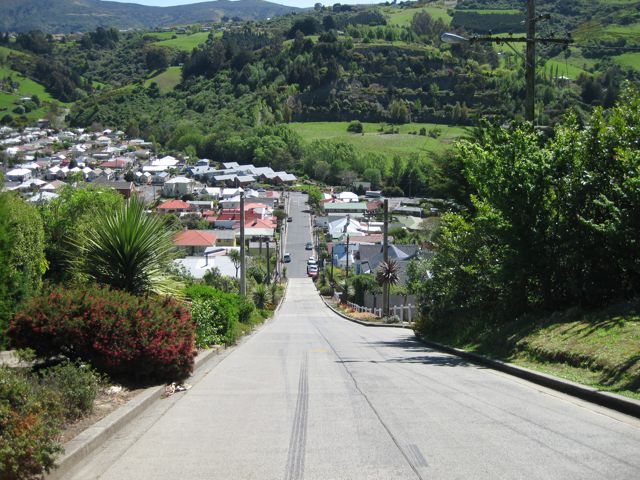 After a few minutes of gawking and snapping photos of our accomplishment, we headed back down the street the way we'd come. The decent was much, much easier. Jamie even broke into a bit of a jog.
A stop into the Steepest Street Gift Shop at the bottom of Baldwin Street rounded out our adventure, where we purchased certificates (signed personally by the shop's owner) for $1 certifying that we'd made it to the top of the steepest street in the world.
Have you braved Baldwin Street? Tell me about it! In what way did you make it to the top?