Some posts on this site contain affiliate links, meaning if you book or buy something through one of these links, I may earn a small commission. Read the full disclosure policy
here
.
---
I've had an ongoing love affair with the city of Wellington, New Zealand, for the majority of my life. I first visited in 2005 (right after I graduated high school), and immediately told my parents I was going to move to the New Zealand capital. I did just that three years later during university with a semester abroad in Wellington, falling in love with the quirky, creative, windy city even more.
I've since been back to Wellington several more times, and it remains one of my favorite cities anywhere in the world – and that's saying something, considering how many awesome cities I've visited!
Wellington is a city that's full of character. It's the political capital of New Zealand, yes, but it's also the country's cultural and creative capital. At times it feels more like a small town than a major city, which has helped it be named the "coolest little capital in the world."
Fun facts about Wellington
First, let's get to know Wellington a bit better:
Wellington is located at the south-western tip of the North Island, near the Cook Strait that separates the North and South islands of New Zealand.
Legend tells that the Polynesian explorer Kupe first discovered and explored the region that would become New Zealand in the 10th century. The Wellington area was inhabited by indigenous Māori peoples before European colonization in the 1800s (and its name to them is Te Whanganui-a-Tara).
Wellington was named in 1840 after Arthur Wellesley, the first Duke of Wellington (who never visited New Zealand).
Wellington is the southernmost capital city in the world, sitting at 41.2924° S. (It wasn't the country's first capital, though; Old Russell/Okiato was the first capital from 1840-41, and Auckland was the capital up until 1865.)
The population of the Wellington metro area is around 420,000.
Wellington is one of the windiest cities in the world, earning it the nickname "Windy Welly." Winds here average 16 mph (7.15 m/s).
Wellington is reported to have more cafes per capita than New York City!
RELATED: 7 Things You Must Do in Auckland, New Zealand
The best things to do in Wellington
As someone who's visited Wellington many times – and even lived there briefly! – here are my personal picks for the best things to do on your first visit to Wellington.
1. Have a beach day at Oriental Bay
Oriental Bay is the name of both a Wellington neighborhood and the city's only true beach. On a sunny day, the water here turns a beautiful deep turquoise color, and the colorful houses climbing up Wellington's hills make for a great backdrop.
Oriental Bay is the spot where the first stirrings of my feelings for Wellington were born. On a nice day, this is, hands-down, my favorite place to be in Wellington. And I'm not alone in feeling this way — locals and visitors alike gravitate toward Oriental Bay on weekends and sunny days.
2. Visit Te Papa
New Zealand's national museum, Te Papa Tongarewa, is located in downtown Wellington, right at the end of Taranaki Street near the waterfront. Not only can you learn all about New Zealand's history here, but entry into the sleek, modern museum is free.
I may be a bit biased, but this is one of my favorite museums in the world because of its layout, displays, interactive features, and wide range of exhibits. Popular things to see at Te Papa include exhibits on New Zealand nature and Māori and Pacific culture; the only Colossal Squid on display in the world; and an incredible, groundbreaking exhibit about the Gallipoli campaign in World War I.
Te Papa makes for a great rainy day activity in Wellington (which you could very well need!). They also offer a guided museum tour if you're into that.
3. Wellington Waterfront Walk
There's a whole walking and cycling route along the entire Te Whanganui-a-tara (Wellington harbor) called The Great Harbour Way / Te Aranui o Pōneke. A great section of this is the Wellington Waterfront Walk that stretches from Te Papa to Frank Kitts Park.
This is always a lively area, with people walking, biking, skating, and even rowing when the weather is good, along with bars and restaurants spilling over into outdoor terraces filled with bean bag chairs. If locals aren't at the beach on a sunny day, they're probably in this area.
The Wellington Writers Walk also follows this route, and features large carvings of different literary quotes you can look out for.
(And, if you're traveling to Wellington with kids, Frank Kits Park has a nice play area with a big slide shaped like a lighthouse.)
4. City to Sea Bridge to Civic Square
When you're walking along this section of waterfront, you'll eventually see the City to Sea Bridge, a pedestrian bridge and public artwork that connects the Whairepo Lagoon to Civic Square. The bridge is covered in wooden sculptures carved by Maori artist Paratene Matchitt, and is really an attraction in its own right.
At the other end of the bridge lies Te Ngākau Civic Square, which is home to the famous "fern ball" sculpture suspended in the air.
The original "Ferns" sculpture by artist Neil Dawson was removed in 2015 due to safety concerns, and a replacement was finally put up on 2020.
In Civic Square, you'll also find the entrance to the City Gallery Wellington. Entry to this art museum and gallery is also free!
5. Ride the historic cable car
From Civic Square, it's a short walk into Wellington Central to the lower station of the Wellington Cable Car, which is definitely a must-do in Wellington.
The historic Wellington cable car is a funicular railway that has been running between Lambton Quay (the city's main shopping street) and Kelburn for more than 100 years, carrying both locals going about their day-to-day lives and tourists looking for some great views. (I love this about Wellington – nothing is solely for locals or only for tourists.)
A ride up to the top takes just 5 minutes, with one stop in the middle. Once at Kelburn Station, there's a small (and free) cable car museum you can visit, plus a viewing area that offers up some of the very best views of Wellington. It also basically puts you right in the Wellington Botanic Garden.
(You can technically pre-book your cable car tickets if you want, but you don't have to. It's easy to purchase them at the station.)
6. Wellington Botanic Garden
Covering 64 acres, the Wellington Botanic Garden is a beautiful place to explore with 150+ years of history in the city. The garden itself includes various floral displays and planned gardens (the Lady Norwood Rose Garden is particularly famous), and is free to visit!
You'll also find sculptures, a duck pond, and a cafe within the gardens.
Space Place at Carter Observatory is also within the garden grounds, and is a science museum that covers stars, planets, constellations, and New Zealand's contribution to astronomy. This is a paid museum.
7. See The Beehive
Wellington is New Zealand's political capital, and is home to all the usual government buildings. One that's not so "usual" is the Executive Wing of New Zealand's Parliament Buildings, which is colloquially referred to as "The Beehive" because of its interesting shape.
The famous building was constructed between 1969 and 1981, and today houses the offices of government ministers.
You can take a tour of NZ Parliament (which includes The Beehive) if you have time. I did it while I was living in Wellington, and found it interesting. Tours are offered multiple times per day, 7 days a week, and are free! But you do need to reserve tour spots in advance, as group sizes are limited. More info here.
---
Wellington tours
Want to see some of these things on a tour of Wellington? Here are some good options:
---
8. Visit Old St. Paul's
If interesting architecture is a draw for you, then you'll want to make time to visit Old St. Paul's in Wellington. This Gothic Revival-style church dates back to 1866 and is known for its beautiful interior arches made from native New Zealand woods like rimu and kauri.
It's a beloved heritage building not far from Wellington's main train station (also a heritage building), and entry is on a donation basis. Tours are also available.
9. Watch a sunset from Mount Victoria
Have you really been to Windy Welly if you weren't nearly blown away atop Mount Victoria? Debatable.
Known locally as "Mount Vic," Mount Victoria is the name of both a neighborhood and a 650-foot-tall hill just to the east of Wellington City. From the Mount Victoria Lookout, you get incredible 360-degree views of Wellington. It's a popular sunset spot, but worth seeing at any time of day.
You can either drive up Mount Vic via Alexandra Road (or take a bus!), or there are also several hiking and mountain biking trails that lead to the top.
BONUS: Mount Vic film locations
Mount Vic was also used as a filming location for the "Lord of the Rings" films – most notably some early scenes in "Fellowship of the Ring," including the famous "get off the road!" scenes with the hobbits hiding from Black Riders.
If you want to find these spots, follow the "Hobbit's Hideaway trail," which is marked on maps and trail signs on Mount Victoria.
10. Hang out on Cuba Street
Back in central Wellington, my favorite all-weather spot in the city is Cuba Street. This is where you go when you want to eat, grab a drink, shop, or just hang out. Cuba Street is always lively with cafes, bars, and buskers, and has a couple blocks that are car-free.
Some popular spots for food along Cuba Street include:
HELL Pizza – A pizza restaurant with pies named after things like the 7 Deadly Sins (and they also have a "Mordor" pie)
Fidel's Cafe – A Cuban Street institution serving up food and Cuban coffee
The Flying Burrito Brothers – I ate here a lot in college!
Midnight Espresso – It does, indeed, serve up coffee and food until after midnight
Olive – The serve French- and Italian-inspired food and have a cool indoor courtyard vibe
Floriditas – A classic New Zealand restaurant
Kaffee Eis – My absolute favorite spot for gelato
I lived close to Cuba Street when I lived in Wellington, and spent a lot of time here! There's a wide variety of international restaurants, too.
11. Coffee shop or brewery-hop
Wellington has an abundance of cafes of all shapes and sizes – in fact, I've read that there are more cafes per capita here than in New York City!
Some good coffee shops to try include:
L'affare
The Hangar
Customs
Swimsuit Coffee (multiple locations)
Havana Coffee Works
Pour and Twist
Evil Twins Coffee
Peoples Coffee
Another thing you'll find a lot of in the Wellington region are craft breweries, which is a change from when I lived there! Wellington is now becoming a craft beer powerhouse in New Zealand, so it's definitely something to look out for. There's even a "Craft Capital Beer Trail" you can follow.
A few popular spots in central Wellington include:
Garage Project
Heyday Beer Co
Parrotdog Brewing
The Whistling Sisters
And this half-day brewery tour takes you out to even more breweries a little bit outside of central Wellington.
12. Get your geek on at Weta Workshop
I'm a huge "Lord of the Rings" fan – and yes, I mean HUGE. (I've even been on a Lord of the Rings tour of New Zealand.) If you are, too, then you can't go to Wellington without visiting Wētā in the suburb of Miramar.
Weta Workshop is the place where movie art, effects, and props have been created ever since the Lord of the Rings trilogy put New Zealand on the movie-making map. Start with a behind-the-scenes tour of Weta Workshop (amazing for any movie fan), and end in the Weta Cave, where you can buy all sorts of geeky memorabilia.
The behind-the-scenes Weta tour is super interesting even if your aren't a big fan of hobbits and orcs. (Book an entry ticket here, or a ticket with transfers here.)
BONUS: Roxy Cinema
Also in Miramar not far from Weta, you can visit the historic Roxy Cinema. This art deco beauty began its life as The Capitol Theatre in 1928, was utilized as a shopping center after the theater closed in 1964, and eventually became vacant. The theater was saved and lovingly refurbished by a team from Wētā Workshop, and reopened in 2011 as the Roxy.
You can catch a film here on one of two two luxurious cinema screens, enjoy lunch or dinner at CoCo at the Roxy, or just grab a coffee at The Roxy Café.
13. Visit a coastal suburb
Wellington is made up of a bunch of different neighborhoods and suburbs, each with its own character. If you want to get out of the city for an afternoon, I would suggest one of the southern coastal suburbs like Lyall Bay, Houghton Bay, or Island Bay.
The suburb of Island Bay, situated on a bay of the same name, is one of my personal favorites. There's a lovely sandy beach here, and you can start hikes nearby, including the Red Rocks Coastal walk that leads out to a seal colony during the winter months.
14. Learn about native wildlife at Zealandia
Just slightly west of central Wellington lies Zealandia Te Māra a Tāne, the world's first fully-fenced urban eco-sanctuary. The conservation-focused sanctuary protects native species like birds, lizards, plants, and trees, and is definitely worth a visit!
You can visit during the day to look out for native birds like the takahē and prehistoric reptiles like the tuatara lizard. You can also visit a night (super cool!) to try to see glow worms and the nocturnal kiwi bird.
Guided walks/tours are offered daily year-round – and this is an outdoor experience, so dress accordingly! (Book a daytime tour here, or book a nighttime tour here.)
15. Visit a nearby regional park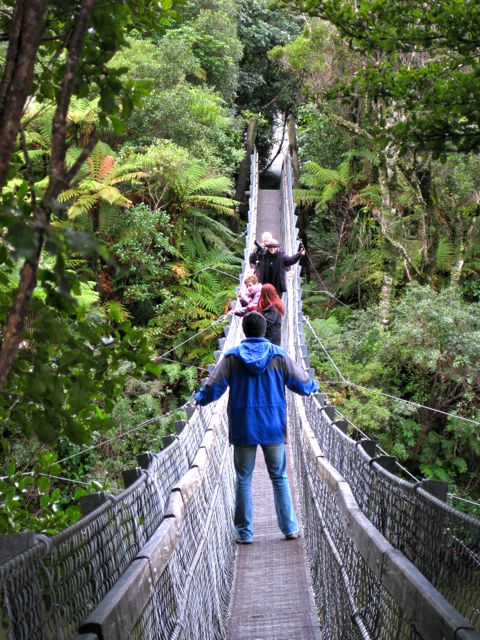 The Wellington Region of New Zealand is bursting with parks and forests – more than 123,000 acres of them, in fact. Locals often spend their free time hiking (in NZ they call it "tramping") and biking in these regional parks.
My personal favorite is Kaitoke Regional Park, roughly 45 minutes from central Wellington in Upper Hutt. Located in the foothills of the Tararua Ranges, there are some nice hiking options in this park, along with a very cool swing bridge, several rivers you can swim in, AND a "Lord of the Rings" filming location. (The Rivendell set was built here in Kaitoke, and there are signs showing where certain scenes were filmed.)
Some other great regional parks close close to the city include:
East Harbour Regional Park
Belmont Regional Park
Akatarawa Forest
Baring Head/Orua-pouanui
BONUS: Trips from Wellington
If you're spending more time in the Wellington region, it's also within a couple hours' drive to the following North Island spots:
Paraparaumu and the Kāpiti Coast (Kapiti Island is amazing to visit!)
Martinborough and the Wairarapa wine region
Cape Palliser (also home to another LOTR filming location at the Putangirua Pinnacles)
Castlepoint with its sea cliffs and lighthouse
Tours you might like to some of these places:
How many days do you need in Wellington?
Wellington is a relatively small city (the whole metro area has a population of about 420,000, but only about half that population lives in Wellington proper). And while there's plenty to do, you can easily see all the highlights in 2-3 days.
Just be sure to pack wind- and water-resistant clothing, as Windy Welly's weather can get intense!
RELATED: What to Pack for a Trip to New Zealand
How to get to Wellington
Wellington has a small international airport with frequent daily domestic connections to other cities in New Zealand, as well as daily flights to cities in Australia.
You can drive to Wellington from other destinations on the North Island, and you can reach Wellington from the South Island via one of the ferries that crosses the Cook Strait between Picton and Wellington. (The Interislander and Bluebridge ferry companies operate these.)
RELATED: The Perfect 2-Week New Zealand Road Trip Itinerary
Where to stay in Wellington
I recommend staying either in the Wellington CBD, or in Te Aro just south of downtown. Some of my favorite hotels in the city (that I've personally stayed at) include:
And if you're doing a campervan trip around New Zealand, then the Wellington Top 10 Holiday Park in Lower Hutt is the closest good campsite.
Is Wellington NZ worth visiting?
If you've read this far, I think you can probably guess my answer to this: yes, of course! Wellington is definitely worth visiting, and worth dedicating at least a couple days to in any New Zealand itinerary.
Wellington is not just another capital city – it's the Coolest Little Capital in the World!
---
Have you ever been to Wellington? If not, is it a city you'd like to visit?