Some posts on this site contain affiliate links, meaning if you book or buy something through one of these links, I may earn a small commission. Read the full disclosure policy
here
.
---
So you've booked that dream river cruise to Europe. You've chosen your state room, purchased flights, and have already bought a guidebook (or two). Now comes perhaps the hardest part about getting ready for a river cruise: figuring out what to pack!
Most people go on European river cruises in the spring and summer months, with a handful cruising in the winter to visit Europe's famous Christmas markets.
What you pack will of course depend on which season you're traveling in. But here are my tips for what to pack for a river cruise in Europe after going on 4 such cruises myself.
Common questions about packing for a river cruise
Here are some of the most common questions you might have about packing for a river cruise:
Do I have to dress up?
The top question I get about river cruises is related to how "fancy" you need to get onboard. There are generally no formal nights on river cruise ships. There may be one Captain's Dinner night where you're advised that shorts and tank tops are not appropriate, but otherwise the cruise will be fairly casual.
Most people will dress up a little bit for dinner in the main dining room – but by "dress up" I mean put on a clean pair of pants and maybe swap out the sneakers for something slightly nicer.
For ladies, dinner attire can be anything from a nice pair of capris/pants and a top to putting on a sundress. Cocktail dresses would be considered very fancy for a river cruise.
For men, most will wear pants or a nice pair of jeans and a polo shirt (or similar). You won't find many men wearing shorts at dinner, but there aren't generally any rules against them. A few gentlemen may opt for a suit jacket for dinner, but jackets and ties are not required on this kind of cruise.
For the rest of the time on your cruise, dressing for comfort is key!
What kind of shoes are best?
What kind of shoes you want to bring will largely depend on your cruise itinerary. Obviously if you're doing a more active river cruise, then you'll probably want a pair of good sneakers, or at least some good walking sandals.
In fact, you probably want those things anyway, as walking tours are a common excursion on any river cruise, and you'll need comfortable shoes!
Lately, my go-to casual shoes for both myself and my husband have been SUAVS Zilker knit shoes. These lightweight, flexible shoes are super packable, breathable, and basically feel like you're just wearing socks. They're machine washable, too, which is a big bonus. (They don't have a ton of arch support, though, so keep that in mind.)
Whatever shoes you pack, just make sure that you're going to be comfortable in them even if you're wearing them for hours on end!
Can I do laundry?
If you're on a longer river cruise (or if your cruise is part of a longer trip around Europe), you might need to do laundry at some point. While there aren't any self-service laundry facilities on river cruise ships, there will always be an onboard laundry service.
Laundry prices on a river cruise are comparable to prices in higher-end hotels, with every clothing item costing a certain amount to be washed, dried, and pressed. I would personally only pay this much to have laundry done if it's absolutely necessary, but the service IS there if you need it.
And you can expect your laundry to be returned to you in 24 hours.
What's provided in the room?
Amenities will vary slightly based on which cruise line you're sailing with, but in general you can expect to find bath robes, slippers, a hair dryer, and toiletries like shampoo and conditioner in your room.
Do I need outlet/voltage adapters?
SOME river cruise lines will offer two types of outlets in every state room (usually a US plug and a European one). Others will just have the European ones, meaning traveling with an outlet adapter is never a bad idea. I like this one.
As for voltage, most electronics (like your phone charger, tablet charger, camera charger, etc.) are built these days to handle any voltage between 110v and 250v. So the ONLY instance where you might need a separate voltage adapter is if you're using a curling iron, straightener or hair dryer of your own that's single-voltage from the US, and your ship only has European plugs. (But you can easily avoid this issue by purchasing dual-voltage gadgets – here's a dual-voltage hair dryer, and here's a dual-voltage curling iron + straightener.)
What to pack for a river cruise in Europe
I've traveled on river cruises in spring, summer, and winter. The packing list below represents what I recommend packing for a river cruise in Europe in either spring, summer, or early autumn.
(If you're headed to Europe on a river cruise in winter, check out the bottom of this post for suggestions on how to tweak this list for winter!)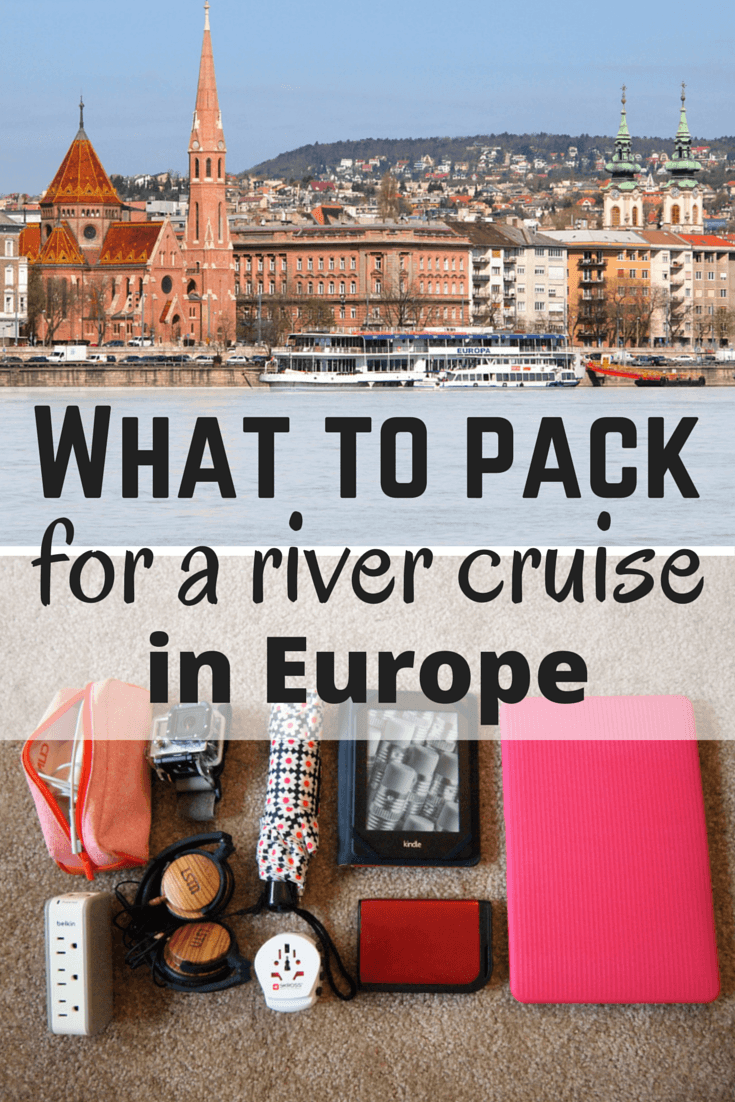 The suitcase
To be completely honest with you, your suitcase for a river cruise doesn't really matter. The beauty of a river cruise is that you only need to unpack once, and then you can shove that suitcase under your bed for the duration of your cruise (and yes, most river cruise lines design their beds so that full-size suitcases slide easily under them!).
I usually travel with my Osprey rolling bag in Europe. Mine is a 60-liter bag with sturdy wheels and removable backpack straps (though I always leave the backpack straps at home). Osprey makes amazing soft-sided bags – this particular one has been traveling around the world with me for 7+ years and is still in fantastic shape.
If a hard-sided suitcase is more your speed, I'm a fan of spinner luggage from Samsonite.
RELATED: The Best Luggage and Bags for Travel
I utilized my favorite packing cubes (GREAT for keeping tops and bottoms organized) for packing. As a bonus, these cubes can help you organize things in drawers when you unpack onboard, too.
(And if you're packing bulkier items like sweaters and are worried you might run out of room, I also like these vacuum compression bags that you can roll the air out of. I recommend using them sparingly so your luggage isn't too heavy, but they work great for things like sweaters and down jackets.)
River cruise clothing (for women)
Remember, this specific river cruise packing list is based on a spring/summer river cruise. Your list might vary depending on what kind of excursions you're planning to do!
It's also assuming that you're going on a 7-8 day cruise (which is pretty average). If your cruise is longer, adjust accordingly!
My top tip for packing light is to stick to mostly neutral colors and one or two accent colors that you can mix and match. This way, you can create multiple outfits with fewer articles of clothing.
I generally pack this amount of clothing whether I'm traveling for 2 weeks or 2 months – but I usually wear clothing items more than once as long as I don't get sweaty in them! (A small bottle of fabric refresher can help, too.)
Shoes for a river cruise
Whatever you decide to pack, just be sure you have at least one pair of shoes that you'll be comfortable walking in. River cruises offer a lot of free walking tours, and you don't want to have to skip them because of poor shoe choice!
(If you're going in the winter – like on a Christmas market cruise – I would swap out the sandals for a warm pair of boots like these stylish winter boots by Columbia.)
My carry-on backpack
My new favorite backpack that's both functional AND stylish for the streets of Europe is this Pacsafe backpack. This small backpack has anti-theft features like slash-proof straps, lockable zippers, and RFID protection, and will fit all your carry-on essentials.
Inside this bag:
*I recommend these for any trip anywhere! They make it easy to charge any type of device that you've brought along, from cameras to iPads to Kindles.
RELATED: How to Keep Your Money and Valuables Safe on Your Travels
My purse
There are lots of purse options out there that are great for traveling. Currently, I like the Travelon Anti-Theft Bucket Bag if you need a larger purse, or this Pacsafe Citysafe cross-body bag as a smaller option.
If you prefer using a small backpack as your handbag, I love this Pacsafe Citysafe convertible backpack, which is both stylish and secure.
In my purse (on travel days):
NOTE: I don't ever recommend carrying your passport on you at all times. Unless you're told you need your passport when you're off the ship, just leave it in the safe in your room.
---
More river cruise posts
You might also like these posts about river cruising in Europe:
---
What about for men?
If you're a man planning to go on a river cruise (or, probably more likely, a wife wondering what to pack for your husband), here's what I would suggest:
What if I'm going on a winter river cruise?
If you're doing a Christmas market cruise, I would do the following to amend this list:
READ NEXT: Christmas Markets with Viking River Cruises
---
Have you ever been on a river cruise? What kind of things did YOU pack?
Pin it for later: