Some posts on this site contain affiliate links, meaning if you book or buy something through one of these links, I may earn a small commission. Read the full disclosure policy
here
.
---
We've all seen the commercials interspersed in episodes of Downtown Abbey on PBS: those tranquil ads narrated by a soothing British accent, starring a Viking longship sailing down the Danube in Budapest or some other picturesque river in Europe.
And we've thought to ourselves, "That looks pretty cool. I'd like to do that someday."
Well, there's no better time than the present, people.
I'm not really new to river cruising – my partner Elliot and I went on our first river cruise in April 2015, when we sailed down the lower Danube through Eastern Europe – but I still get a little flutter when I see those Viking commercials.
Everything about river cruising appeals to me: the small ships, the port stops every single day, the fact that just about everything is included. And, of course, the luxury of unpacking a suitcase in a cozy state room and not having to re-pack it until the end of the cruise.
So when Viking River Cruises contacted me inviting me to check "visit Christmas markets in Europe" off my bucket list last year, I just about leapt at the chance. Not only would it mean a river cruise down a new river in Europe, but it was also going to be in December, when European cities deck the halls, streets, and everything in between for the holidays.
I ended up going on Viking's Rhine Getaway, which sails down the Rhine between Amsterdam and Basel, making stops in both Germany and France. You can book this same cruise at any time of year, but in December the focus is almost entirely on the region's Christmas markets.
Before going on this cruise, I had a hunch that a river-based tour might be one of the best ways to visit a lot of different cities and Christmas markets in a relatively short period of time. And I think I was right.
Read on for answers to some of the most frequently-asked questions about sailing on a Christmas market cruise with Viking River Cruises.
How is a Christmas market river cruise different from a regular one?
Like I mentioned above, you can book Viking's Rhine Getaway cruise at any time of year. The cruise sails between Amsterdam and Basel, with multiple departures each month. In the weeks leading up to Christmas, however, the itinerary focuses on the Christmas markets that Europe is so known for.
The itinerary doesn't change, though, and the tours offered in each port city don't change in December, either. But your guides will point out all the Christmas markets in the city for you to explore during your free time, and that's what most people end up doing.
On board the ship, you'll enjoy festive activities like tree-trimming and gingerbread house decorating, and warm drink options will usually include mulled wine. On my cruise, our program director even did an intro to European Christmas markets on one of the first nights, giving us a brief history lesson and suggestions on what to buy in each city.
The atmosphere in most European cities around Christmas is already so festive that Viking doesn't really have to do a whole lot to create a "Christmas market" cruise itinerary.
RELATED: 23 Photos That Will Make You Want to Go to a European Christmas Market Right Now
What are the cruise highlights?
The Rhine Getaway cruise sails down the Rhine, the busiest river in all of Europe. Port calls are almost all in Germany and France, and you make at least one stop – sometimes two – per day.
My personal highlights included:
A stop and tour at Kinderdijk to see the famous traditional windmills that help keep the Netherlands above sea level.
A full day in Cologne to explore and visit the city's eight Christmas markets.
Sailing the Upper Middle Rhine for half a day, passing lots of cute towns and hillside castles.
An evening stop in Rudesheim to visit its Christmas markets at night.
A tour of Heidelberg that included a visit to the city's half-ruined castle.
Wandering around gorgeous Speyer, with its huge cathedral and adorable Christmas market.
Finally visiting the Alsace city of Strasbourg.
Optional tours to Freiberg, Germany and Colmar, France.
In each port there was usually an included bus/walking tour of the city with a local guide, and then some free time. There were optional extra tours, too, such as a beer hall crawl in Cologne, and a music-filled traditional dinner in Rudesheim.
You could sign up for some, all, or none of the tours – there was also always the option to explore entirely on your own, which was made easy by the fact that the ship was usually docked within walking distance of a city center.
I was 100% dedicated to visiting as many Christmas markets as possible on this cruise and consequently was racking up 20,000+ steps each day on my Fitbit, but for some who have done Christmas market cruises in the past (many Viking cruisers come back again and again), they opted for more relaxing days.
Check out this video for more of the highlights:
Who goes on Viking River Cruises?
Speaking of those Viking cruisers, there's a common belief among people who have never been on a river cruise that they are mostly "for" an older crowd. And while there were lots of older couples and groups of friends on my Christmas market cruise, there was also a fairly sizable younger crowd, too. There were about a dozen 20-somethings traveling with a larger group from Pennsylvania, and we had a young couple honeymooning on the ship, too.
I really believe that river cruising is becoming the new "it" way to see Europe, and it's only a matter of time before everyone is doing it. Right now, I think river cruises make for fantastic multi-generational trips. (In fact, I took Elliot's mom with me on this one!)
After two river cruises, I've also gleaned that river cruise passengers tend to be extremely well-traveled. Most of the people we chatted with at meal times regaled us with stories of trips to just about every corner of the world, making for some fascinating conversation.
What is the ship like?
Viking River Cruises is a Scandinavian company, and the design of its ships reflects this. Clean lines and neutral colors are the norm.
The ship I was on was the Viking Idi, which holds just under 200 passengers. The state rooms are built with function in mind, with either two twin beds or one queen, depending on how you're traveling. The bathrooms are small but incredibly space-efficient, and our room also had a veranda big enough for two chairs.
My favorite feature in each room, though? Two different types of wall outlets – one to fit European plugs and another for US devices!
Beyond the state rooms, the ship had a large and comfortable lounge with a bar, a small library, one main restaurant, and one terrace at the front of the ship where they served buffet-style meals.On the top deck was a sun deck with a walking track and a couple of small putting greens.
It also had two coffee stations at the entrance to the lounge, meaning you could bet on always having access to coffee, hot chocolate, and fresh cookies.
What is there to do on the ship?
Here's the thing about a river cruise: since you sail right into cities, you're not actually meant to spend a ton of time on the ship. That's why you won't find a theater or casino or any of the things you'd find on a large ocean liner.
Elliot's mom and I took advantage of just about every minute of time we had off the ship, meaning we were usually only there for meal times and maybe a couple of hours in the evenings.
If you DO spend more time on the ship, though, there are a few things to do. Nearly every afternoon there was some sort of activity in the lounge (many times involving food and/or alcohol), and there was some form of entertainment just about every night. This entertainment ranged from local musicians coming aboard to perform to trivia nights.
Don't want to hang out in the lounge? The state room TVs came equipped with a selection of movies and TV shows that you could watch for free. We felt compelled to start re-watching Downton Abbey, and also watched a pretty cool documentary about Vikings before bed each night.
How often do you stop?
River cruising in Europe is great because so many cities are built right ON the large water ways. This means that getting to/from the main attractions is really easy in many ports.
On the Rhine Getaway itinerary, we stopped somewhere at least once a day. A couple of days we stopped somewhere in the morning, and then met up with the ship somewhere else in the afternoon. It's really quite incredible how they plan the itinerary and excursions so precisely.
In about half the ports you could walk off the ship and directly into the city you were visiting. In the other half, buses had to pick us up at the river and transport us into a city if it wasn't on the river, or if it was on a smaller tributary to the Rhine (i.e. places like Heidelberg and Strasbourg).
How much free time do you get?
How much free time you end up with in each port totally depends on what you decide to do. There's a free tour offered in just about every city, and on this itinerary they are often walking tours. I LOVE walking tours in cities I've never visited before, because they usually give you such a great overview of the city's main sites and history.
In this case, the guides would also point out all the Christmas markets that we could visit on our own.
Even if you do every walking tour, though, you still end up with free time. The amount of free time varies – for example, we had an entire free day in Cologne, and only about 4-5 hours in the evening in Speyer.
But, in most cases, I didn't feel rushed at all. Many of the places we visited for a couple of hours in the evenings (like Rudesheim and Speyer) were small enough that you could easily wander around the city center and grab a gluhwein in about an hour.
In fact, in at least one case I felt like we had too MUCH time. Our day in Strasbourg necessitated a bus ride into the city since the ship can't sail there, and we were given three departure times to choose from later in the day. We assumed we would go for the latest departure back to the ship at 5 p.m., but found we had actually seen everything we wanted to (and were absolutely frozen) by about 2:30 p.m.
And, of course, if you skip all the guided tours and just go off on your own, you end up with lots of free time.
What's included?
A big question people ask about river cruises is what you get for the money you pay. And the answer is: a whole lot. Just about everything onboard is included: your room, the service of the incredible staff and crew, all your meals, and even wifi.
There's usually one included tour in each port, too, and everything surrounding those tours (guides, transport, and a QuietVox system so you can listen to your guide through headphones) is included, as well.
The only things not included are alcohol and soft drinks outside of meal times, and any optional tours you might want to sign up for. It's also up to you to leave additional tips for the awesome staff and crew at the end of your cruise.
What about before and after the cruise?
Viking makes it really easy to put together a stress-free vacation – they'll even book your flights for you if you want!
For most of their cruises, they also offer pre- and post-cruise add-ons that can extend your time in a destination. For the Rhine Getaway, you had a choice of a pre-cruise program in Amsterdam, and post-cruise time in either Basel or Lucerne, Switzerland.
RELATED: Giving Amsterdam a Second Chance
We didn't opt for any pre- or post-cruise tours, but did end up arriving in Amsterdam a day early and staying in Basel one extra night (hello, more Christmas markets!). We ended up booking Radisson Blu hotels in both Amsterdam and Basel, and found out upon getting to both that Viking also uses those hotels for their passengers – very good taste, Viking!
If you opt to do your own thing before your cruise, you'll be in charge of getting yourself to the ship. Afterwards, though, you can have the concierge set up transport for you to get wherever you need to go in the disembarkation port. (If you book a pre- or post-tour through Viking, they obviously handle all the transport for you, too.)
What impressed you the most?
There are a lot of things I really like about river cruising, from the small ships to the freedom to sit wherever you want at dinner. But the thing that impressed me the most was definitely the Viking Idi's staff and crew and how seamlessly everything seemed to run.
Even though I'm sure plenty of stressful things happen behind the scenes, you would never know it. Everyone was always friendly and professional, and you felt like they really cared about your trip. It was the little details that stood out – the bottles of water they would pass out as you left the ship in the morning; the dining room staff remembering what I liked to drink at dinner, even when I was at a different table; and our program director personally pushing an older gentleman's wheelchair around port cities when his wife got too tired. THAT is amazing, above-and-beyond service.
And the logistics… how they managed to get 190 passengers off and on the ship each day (sometimes multiple times per day) without a hiccup was astounding.
Should I go on a river cruise?
My answer is definitely YES. River cruising is becoming so popular – and with popularity comes more and more options catering to all sorts of interests. I loved the Rhine Getaway itinerary because there was a lot to see and explore – I did SO much walking! And going around the holidays made it even better.
And if you're worried about price, definitely sign up to get Viking's special offers sent to you – they're always having great sales. In the past couple of months, I've seen free airfare, 2-for-1 deals, early booking discounts, and more. So if you've always thought river cruising was too expensive for you, have another look. The Rhine Getaway, for example, starts at around $2100 per person for Christmas 2016.
READ NEXT: Exploring Russia with Viking River Cruises
What other questions do you have about Christmas market cruises, or about sailing with Viking?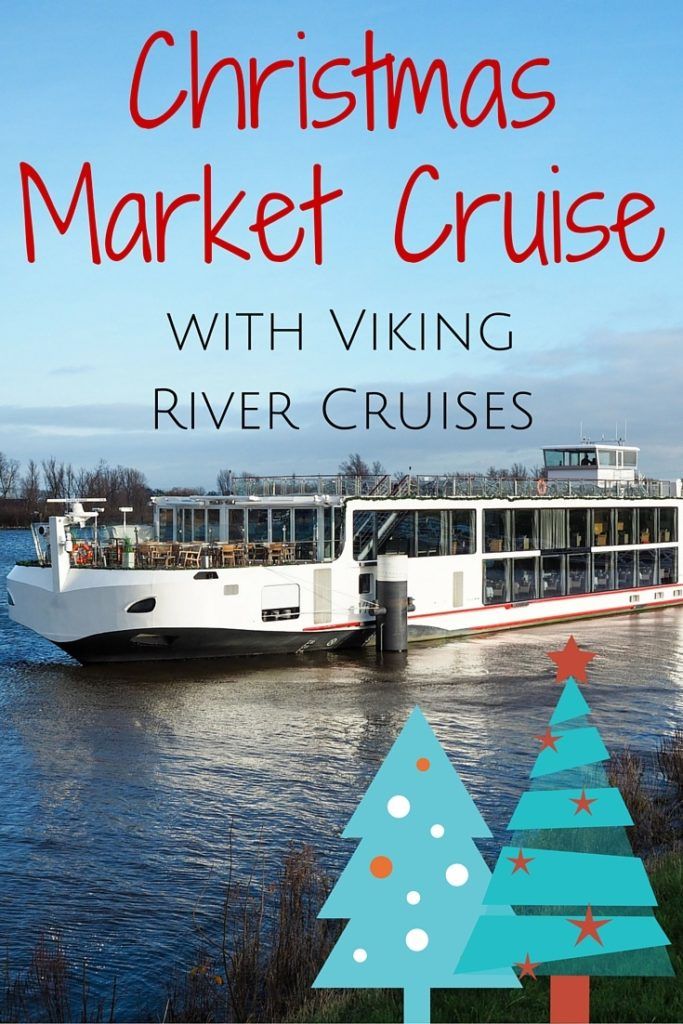 *Note: Thanks to Viking River Cruises and Radisson Blu for hosting us on this trip. As always, all opinions (and way too many souvenir gluhwein mugs) are 100% my own.