Some posts on this site contain affiliate links, meaning if you book or buy something through one of these links, I may earn a small commission. Read the full disclosure policy
here
.
---
There are a lot of things to consider when planning a trip. Domestic trips come with questions like: How can I get there? and What is there to do? International trips come with extra questions like: Do I need a visa? What currency do they use? and How will I get around?
But there's one universal question that can apply to any trip, whether you're going halfway around the world or just to the next city over: What should I pack?
And the first thing to decide when it comes to packing for travel is what kind of luggage you're going to use.
There's SO MUCH luggage out there to choose from, and if you go into luggage shopping without an idea of what you need and want, you're likely to get overwhelmed by it all.
So, to help you out for your next adventure, here are all my recommendations for the best backpacks, luggage, and bags for travel.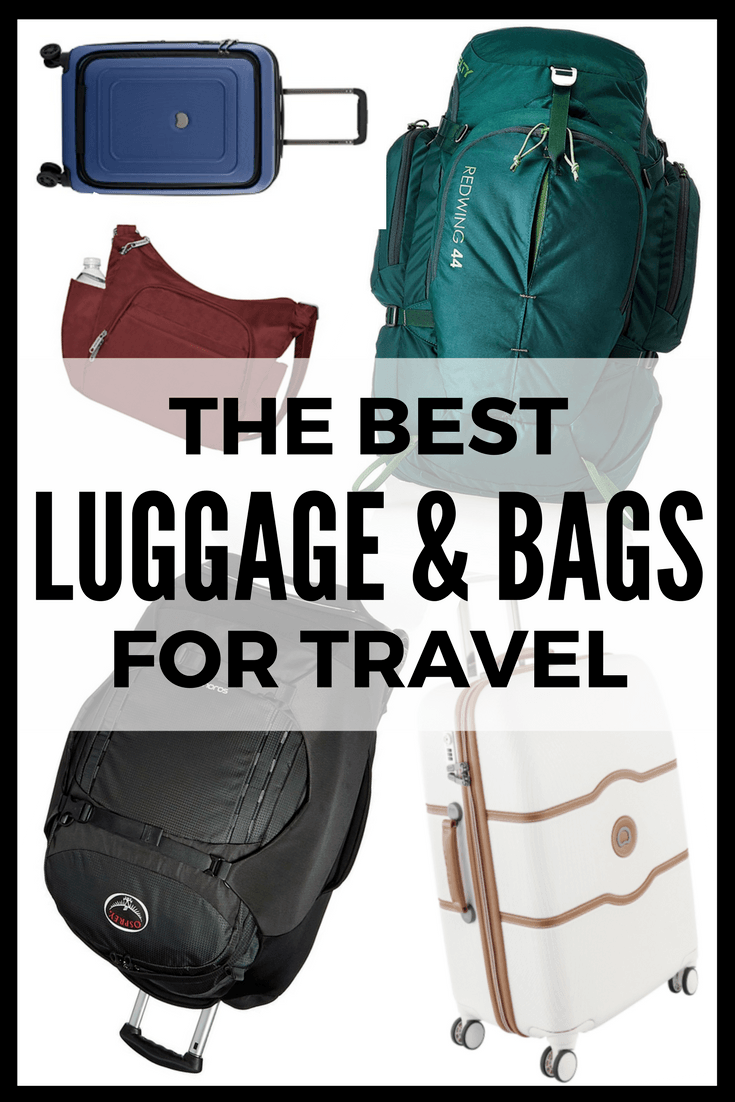 Backpacks
As I've gotten older and my travel style has somewhat shifted, I've more or less hung up my backpacks, so to speak (they're actually currently sitting on a shelf in my closet). But for the first few years of my travels, I traveled almost exclusively with a backpack. And I can confidently say that there are some travel situations where they're just the right choice.
When backpacks are ideal: Backpacks are best for independent travel to destinations where you either a.) want to keep your belongings close on travel days or b.) will need to carry your bags over uneven ground or unpaved roads. Backpack-friendly trips that come to mind are non-luxury travel in Southeast Asia, when using public transport in most of South America, and overlanding trips in Africa.
And my top picks for travel backpacks are:
Kelty Redwing 44
I've had my
Kelty Redwing
since 2013, and it traveled around Europe with me for 3 months, and Southest Asia for nearly 2. I love how small this backpack is (it always kept me from over-packing), and love that it unzips fully to be front-loading. There are also some extra side and front pockets that make organizing easy, and the hip belt is comfortable to wear for long slogs to a hostel or hotel.
The only downside is that, when fully packed, the Kelty Redwing slightly too large to pass as a carry-on on most international airlines. But the upsides far outweigh this in my opinion!
Pacsafe Venturesafe EXP65
If you need something a little bigger, I recommend checking out the
Pacsafe Venturesafe EXP65
. This 65-liter backpack should be able to hold anything you could need for a longer trip (I honestly don't recommend going much larger, especially if you're petite!), and comes with the added bonus of all the anti-theft features that Pacsafe is so well-known for. This bag is made from slash-proof material, and has interlocking zippers to make it even more secure. It also has an internal frame and adjustable back harness to make carrying everything more comfortable.
Suitcases / rolling bags
Backpacks aren't suitable for everyone or every trip, though. (And, to be honest, I've used a backpack only twice since 2013!) Sometimes a bag with wheels really is more convenient and therefore more ideal to travel with.
When rolling bags are ideal: I go for a rolling bag or suitcase for any trip when I know I won't need to carry my belongings for long distances or need to lift them over my head. They're best-suited to more developed destinations where you won't be pulling them over uneven ground or up/down lots of stairs. I've used rolling bags all over Europe, the US, and even New Zealand.
My favorite wheeled bags are:
Osprey Sojourn 60
I've had my
Osprey Sojourn 60
for more than 4 years, and it's become my go-to bag for trips of any length because it's so sturdy and versatile. This 25-inch bag does have a larger counterpart (
an 80L version
), but I like the 60-liter bag because it's manageable on public transport and still has plenty of room for everything I need to pack.
An added bonus to this bag is that it comes with removable backpack straps in a separate compartment in the back, meaning it's actually a hybrid bag. I've admittedly never used the backpack straps (I use the compartment for shoes and toiletries instead), but it's nice to have the option.
DELSEY hardside luggage
If a traditional suitcase is more your style, I would go with one of DELSEY's hard-sided spinner suitcases. I like this brand because they make quality hardside luggage that's actually pretty affordable. The suitcase pictured to the left is from DELSEY's Chatalet collection, which is possibly the most attractive hard-sided luggage I've ever seen! They come in
25-inch
and
27-inch
versions in either white or brown.
I also like DELSEY's new Cruise Lite line, which come with a TSA-friendly lock and a built-in luggage scale (how handy!). These ones come in 25-inch and 29-inch versions.
Carry-on only
Even though I usually just suck it up and check a bag on longer trips (it helps when you get free checked bags through mileage programs/airline credit cards), there are plenty of times when I don't need to pack so much. In that case, having good carry-on-only options is a must.
When going carry-on-only is ideal: For shorter trips when you don't need to pack as much, traveling with just a carry-on bag is a no-brainer. It's also smart to do when you have really short layovers or multiple layovers on a long international trip (because lost/delayed luggage is never fun!).
My favorite carry-on-friendly bags right now include:
Osprey Farpoint 40
For a backpack that's carry-on-friendly, my pick is the
Osprey Farpoint 40
. This bag is well-made like all of Osprey's gear, and comes with plenty of pockets (including one in the front for a laptop). I like that it has padded straps and a hip belt that can be stowed away when you don't need them. I've used mine so far on a couple trips in the US, and am happy to report that this bag works fine as a carry-on on even the most picky budget airlines. (Though note that it's *not* small enough to pass as a free "personal item.")
DELSEY Cruise Lite
Do you prefer a carry-on that has wheels? A lot of people do, and I agree that they're often much more convenient (plus then you can bring a small backpack as your personal item!). My favorite carry-on suitcase also comes from DELSEY's new Cruise Lite line. They were nice enough to send me their
21-inch hardside spinner
, which is going to be perfect for domestic and even some shorter international trips – it even has a laptop compartment in the front!
(If you travel a lot within Europe, check out the smaller 19-inch version of this bag, which complies with most international carry-on size restrictions.)
Personal items
Charging for carry-on bags is unfortunately becoming the industry standard for many airlines, but so far you're still allowed to bring a "personal item" onboard for free! Usually this means a small backpack, tote, or handbag that can fit under the seat in front of you.
I've tried out a lot of different personal-item-complying bags over the years, and these are my current favorites:
Pacsafe Camsafe V17
Now that I'm traveling with a lot more camera equipment, I've shifted over to taking a camera-focused bag as my main carry-on. And the
Pacsafe Camsafe V17
is my new go-to. Like all of Pacsafe's bags, this backpack has anti-theft features like slash-proof material and secure zippers. It also has a laptop sleeve and a separate compartment with dividers made for camera gear, which holds my mirrorless camera and one extra lens.
(There's also a larger version of this bag here, but note that this one is too big to fit under an airplane seat.)
STM Haven
The
STM Haven
is a great choice for those who don't need a dedicated camera bag like I do. This slim little backpack will easily fit under any airplane seat and has "floating" pockets for a laptop or tablet, giving your devices a little extra padding. The Haven also has lots of pockets inside and out, which is a must-have for any organizational freak (like me!).
Travelon Bucket Bag
Lastly, a cross-body bag is a must for any traveling woman – and one that is anti-theft is even better. This
Cross-Body Bucket Bag
is made by Travelon, and is a nice mix of form and function. It's not ugly, is big enough for everything I would want to take with me for a day (my camera, wallet, Kindle, a scarf or sweater, etc.), and I also love the side pockets for water bottles or an umbrella. And as an added bonus it's made from slash-proof materials and has RFID-blocking card slots inside.
So there you have it: the best luggage and bags for travel, based on my opinion and experience. Hopefully I've given you some inspiration for your next trip!
For more of my packing tips, check out my Packing Lists page, and my favorite travel gear from 2016.
What are some of YOUR favorite bags or luggage brands for travel?