Some posts on this site contain affiliate links, meaning if you book or buy something through one of these links, I may earn a small commission. Read the full disclosure policy
here
.
---
Southeast Asia has long been a popular destination for backpackers and other budget-conscious travelers who want to stretch their dollar to the fullest.
In this part of the world, everything can be had for less — meals can cost less than $1; a mattress on the floor of a guest house might cost $2 or $3; transport costs next to nothing. "Splashing out" on a luxury hotel or beach resort will only set you back about $60-$100 per night.
It's no wonder that this part of the world has become a "must" on the backpacker trail — you can travel in Thailand or Cambodia for 6 months on what you could easily blow through in 1-2 months in Europe or North America.
But, before you pack your bikini and hippie pants and head off to Southeast Asia, here are 7 things you should know about traveling in this part of the world.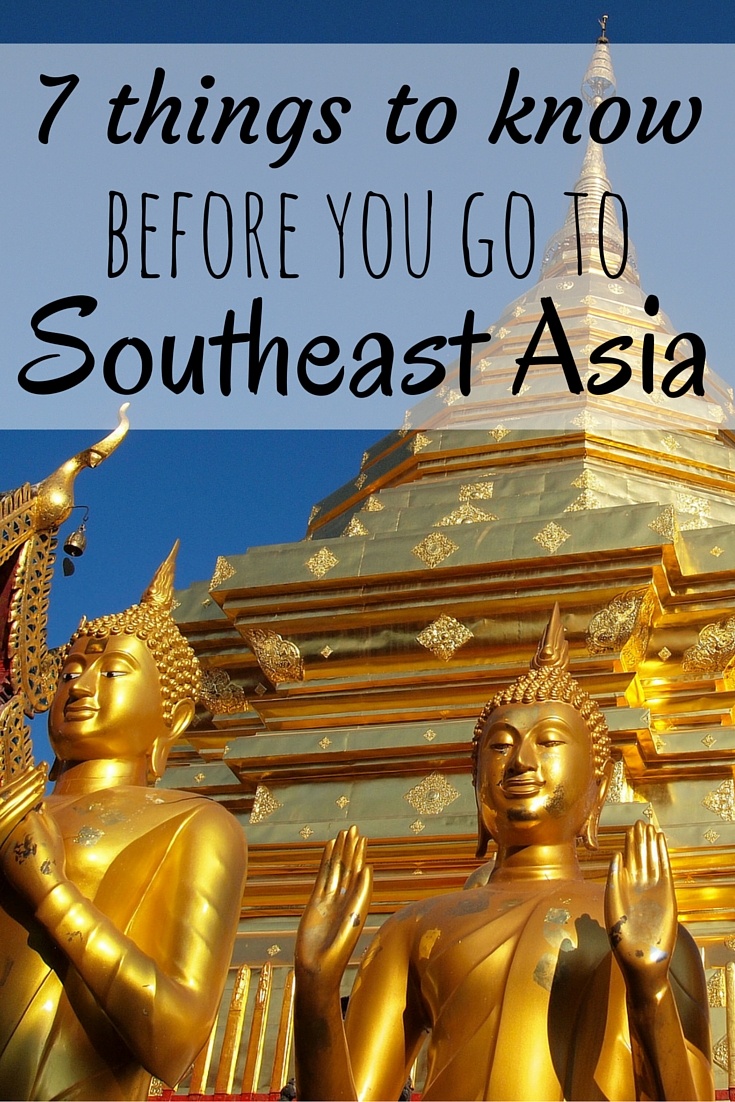 Know your visa requirements
Depending on where you're from and where you're going, visa requirements differ for every country in Southeast Asia. As an American, for example, you can get a 30-day stamp in Thailand (no visa required unless you're staying longer), a visa-on-arrival in Cambodia ($20 and possibly a passport photo at airports and land borders), and a visa-on-arrival in Laos ($35). In Vietnam, however, you have to either obtain your visa beforehand, OR apply for a visa-on-arrival before you leave home.
Don't just assume you can show up with your passport at every border and just be admitted — do your research on visa fees, whether you need passport photos or not, and if there are any visas you're better off getting before you leave.
Don't be an ignorant tourist
Even though Southeast Asia is full of beaches, that doesn't mean you should pack two bikinis and nothing else. Some countries/regions in this part of the world are more modest or conservative than others. Yes, it's true that you'll see plenty of scantily-clad tourists in public from Laos to the Philippines, but that doesn't mean that you should follow suit. Be aware that it's often rude to wear shoes into buildings, and you should pretty much always make sure your shoulders and knees are covered when visiting temples.
Don't be that ignorant tourist who ignores cultural norms just because you want to show off your cute beach wardrobe.
Watch out for scams
Unfortunately, the scams you've probably heard about people falling prey to in Southeast Asia DO happen — and often. Taxi drivers will try to extort you; tuk-tuk drivers will tell you palaces or temples are closed and try to take you somewhere else where they will earn commission; even border guards can try to force you to cough up extra money.
I'm not telling you this to scare you — you should just read up on some of the most common scams before you go so that you can know what to look out for. I traveled in Southeast Asia for almost 6 weeks and didn't get scammed once because I knew what to avoid and watch out for!
A good travel insurance policy is never a bad idea, though – just in case! I recommend World Nomads for basic (and really affordable) travel insurance.
Be prepared to face poverty
Southeast Asia is still considered to be part of the developing world. And, thanks to recent tragedies (recent being within the past 50 years or so) that range from war to genocide to natural disasters, you sometimes can really tell. Roads are not always paved. Vehicles don't always run. Accommodations aren't always what you're used to. And the locals have often gone through A LOT.
Especially in rural areas, you'll see huts and floating houses and lots and lots of litter. It can be off-putting if you're not prepared for it. Unfortunately, thanks to a mixture of factors (including incredibly corrupt government officials and a lack of emphasis on education), there are few ways for people to get out of poverty in this part of the world.
Read up on some of the history before you go (you'll be astounded to learn what most Cambodians alive today went through just a few decades ago), and remember to carry your compassion with you. Get to know some of the locals, and you'll be blown away by how they've been able to survive and move on.
Avoid tourist traps and exploitation
Tourism is one of the fastest-growing industries in many Southeast Asian countries. Being along the "backpacker trail" means that many countries are seeing an influx of visitors, which usually means more scams — and more exploitation. In nations where poverty is already a large problem, be aware that you may find yourself faced with some moral dilemmas.
Don't visit orphanages or give money to begging children on the street — look for local restaurants and programs that train street kids and teach them English instead. Don't visit the "tiger temples" where they drug the animals, no matter how tempting that new Facebook profile picture sounds. And please don't ride the elephants — consider volunteering with them instead.
With so many deal-seeking tourists flocking to Southeast Asia, there's now a lot of competition when it comes to tourist attractions and activities. And many are much less ethical than others.
Get out of backpacker central
As I mentioned before, Southeast Asia is an incredibly popular destination for backpackers — cheap transport, cheap hostels, and cheap booze abound here. But many backpackers make the mistake of never leaving these cheap backpacker havens.
You can't say you've seen Bangkok if you never left Khao San Road. You can't say you explored the Thai Islands if you spent all your time partying on Koh Phangan. And a week in Sihanoukville does not a trip to Cambodia make.
I'm not saying you shouldn't go to these places in Southeast Asia — by all means, party it up and have fun. But also be aware that there are things to see beyond the overflowing hostels and bottomless buckets of booze. Go trekking into the hills of Thailand; eat as much street food as you can get your hands on; visit the temples in Angkor; take the slow boat to Laos; haggle at markets in Vietnam. Get out there and challenge yourself to step outside your comfort zone.
Keep your mind and heart open
Even though you may only be traveling to Southeast Asia for the beaches and partying, keep your eyes, mind, and heart open. There's much more to this part of the world than Full Moon parties and hippie pants. There are dense jungles, intricate temples, floating markets, towering limestone cliffs, and rich cultures with history and traditions that stretch back for hundreds of years.
Open yourself up to the beauty of this part of the world and its simple, slow pace of life, and I guarantee you'll have a trip that you'll never forget.
What other tips would you give for traveling to Southeast Asia?
PS – Check out my Packing for Southeast Asia post, too!