Some posts on this site contain affiliate links, meaning if you book or buy something through one of these links, I may earn a small commission. Read the full disclosure policy
here
.
---
I am no stranger to solo travel. In fact, in the past five years, the majority of my travel has been on my own.
I've done all sorts of things solo: train trips, city breaks, adventure tours, and more. But one thing I had not done before was go on a cruise by myself.
To be honest, I never used to think cruises were good for solo travel; they're typically something you do with a partner or family members, and I wasn't convinced they could be enjoyable for a solo traveler.
But when Viking River Cruises invited me to try out their "Waterways of the Tsars" cruise through Russia in October and I couldn't find a travel buddy able to join me, I decided to just go on my own.
Having traveled with Viking before, I knew what to expect going in – and I was relatively confident that it wouldn't be *too* awkward as a solo traveler.
And you know what? I actually LOVED it!
The pros to cruising solo
I'm a bit of an introvert to begin with, so I actually enjoyed having a cabin all to myself to retreat to for a relaxing cup of tea after dinner, or in between excursions to edit some photos or just watch the news. The state rooms on Viking's ships are more than large enough for one person to spread out in, and after a few weeks of changing hotels every 1 or 2 days, I was SUPER excited to unpack and hang all my clothes up in a closet!
Being on my own also made getting to know people on my cruise extremely easy. When you are both the youngest person on the ship AND traveling alone, you tend to draw a lot of curious inquiries. Meaning I met a ton of fascinating travelers and had some great conversations – especially over meals. Since Viking doesn't do assigned seating for anything, I often joined different people at each meal.
I wasn't sure if it would feel awkward to be alone on a luxury cruise like this, but it actually wasn't awkward at all. In a group of 190 people, you're bound to find at least a few that you'll click with, if not more.
And, because I didn't have to take into account another person's interests or preferences, I had complete control over my time. I could sign up for the tours I wanted, listen to the lectures that sounded interesting to me (an hourlong presentation on the Romanov dynasty? yes, please!), take naps in the afternoon if I felt like it, and even wander off on my own for a few hours like I did in St. Petersburg.
Viking offers plenty of things to keep you entertained both on and off the ship, but there's never any pressure to do any of it. So even though I was on a cruise with escorted tours offered, I still felt like I was able to do my own thing, too.
The cons to cruising solo
Remember how I said that being a solo traveler makes it super easy to talk to people? Well, the downside of this is that you'll probably answer all the same questions over and over – mainly about what you do and why in the world you're on your own. As a frequent traveler (and blogger), I'm kind of used to this, though, and usually take it in stride. And thankfully most people thought the whole travel blogging gig sounded pretty cool!
REALTED: Exploring Russia with Viking River Cruises: The Highlights
The biggest downside to doing a river cruise solo is the dreaded single supplement fee. This is when you have to pay for two people (or at least pay extra) even if it's just you traveling. Many travel companies assess this extra fee if you want your own room, so it's not something exclusive to Viking or cruise lines in general. There ARE ways around this – last year, Viking offered some great rates for solo travelers on some of its more popular itineraries, and there are other river cruise lines that offer dedicated state rooms for single travelers (they just aren't always advertised). You can also look out for 2-for-1 deals, which would essentially have you paying a normal fare.
Other than that, though, my solo cruise experience was really positive. And hopefully as river cruising becomes more and more popular, more cruise lines will get on board (pun intended) with reducing or eliminating that single supplement.
Who would enjoy a solo river cruise?
I think you would enjoy a solo river cruise if…
… you enjoy spending quiet time on your own.
… you like a little more independence when you travel.
… you're outgoing enough to sit down and introduce yourself to strangers at meals.
… you want to go on a river cruise but don't have anybody to go with.
Overall, I really enjoyed my solo river cruise. The Viking staff was so nice and accommodating, I loved having my own floating hotel room for 12 nights, and I met a lot of really cool people. (And, on top of that, I was in Russia! It's pretty cool!)
RELATED: 8 Things That Surprised Me About Russia
So, even though I didn't expect to be saying this, I would absolutely consider doing another solo cruise in the future!
So what do you think? Would YOU ever consider going on a cruise solo?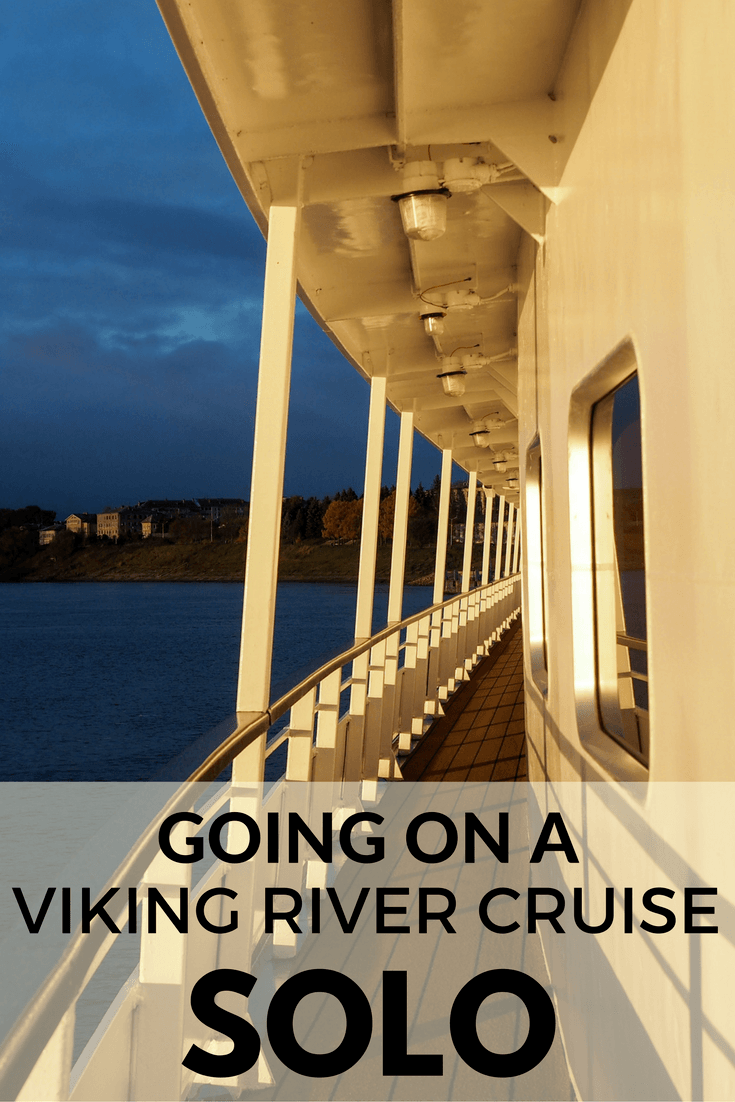 *Note: I was a guest of Viking River Cruises on this trip to Russia, and received a complimentary cruise. As always, though, all opinions are 100% my own.