Some posts on this site contain affiliate links, meaning if you book or buy something through one of these links, I may earn a small commission. Read the full disclosure policy
here
.
---
You're probably already tired of reading year-in-review posts like this. But too bad. 2010 was a big year for me, especially as far as this travel blog is concerned, so I wanted to take a little time to look back at how far A Dangerous Business has come, recap my travel adventures over the summer, and highlight some of the things I've learned about travel and travel blogging in the past year.
Blog Beginnings
A Dangerous Business was created back in February 2010 as a WordPress-hosted blog. For the few few months, I had no idea what to do with it. I updated a handful of times per month, but didn't really have a direction in mind, or any goals. I struggled with calling myself a travel blogger when I wasn't really traveling, and I had trouble grasping the concept of marketing myself and my writing (especially when I had virtually no readers).
In April or May, however, I got inspired. I started reading some other travel blogs, and realized that this could be more than just a hobby to dabble in. I realized that people were actually turning their blogs into their careers. And they were happy.
So in early May, I decided to get serious. I started a Twitter account and began interacting with the travel blogging community. I picked a new theme for my blog, and commited to posting at least 5 or 6 days a week. And, slowly, my page views started to increase.
Building a Following
At the very end of July, I bit the bullet and purchased a domain name and moved my blog over to being self-hosted. I dove head-first into Twitter and started commenting up a storm on other blogs, making connections and forging relationships. I rolled out new features to highlight my fellow bloggers, and concentrated on churching out quality content 6 or 7 days a week.
It's been A LOT of work. But, honestly, I've loved every minute of it.
Recently, I've started a Facebook page, guest posted my ass off, tweaked my design a bit (including adding my awesome new custom header), and even drew up an advertising page in hopes of bringing in a little extra cash.
Even I am surprised at how far I've come. Today, I have over 850 followers on Twitter, and more than 110 "likes" on Facebook. My daily page view average has risen from about 3 in February to around 200 today, and my readers are actually sticking around and leaving me comments.
It just goes to prove that hard work really does pay off.
Travel in 2010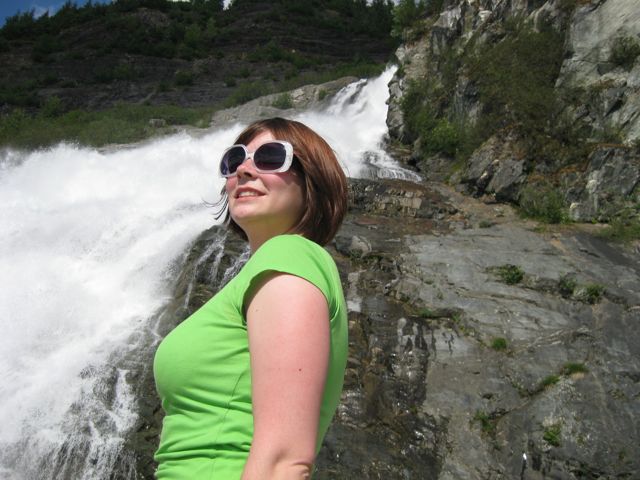 Of course a travel blog is supposed to focus on travel. 2010, however, wasn't a huge year for me travel-wise. A new job with very few vacation days and meager paychecks meant I just didn't have much opportunity.
But June took me out of Ohio at last. I tackled Seattle in two days, and then headed to Alaska and Canada on a cruise with my family.
I spent the rest of my travel time exploring places closer to home — like Pittsburgh, one of my favorite cities; Cedar Point, my favorite amusement park; and other odd things around my home state of Ohio — and playing around with making some travel videos.
I may not have hit up any exotic locations or far-off cities, but traveling closer to home forced me to become a bit more creative and resourceful as a travel blogger. And, in the end, I think that has only helped strengthen my writing and what A Dangerous Business has to offer.
Things I learned in 2010:
As a fresh-faced travel blogger just starting out, I had a lot to learn. I've had my ups and downs over the past year, made mistakes, and celebrated successes. Little has been very predictable and nothing has been easy, but I've learned a lot along the way.
A Little Honesty Goes a Long Way
Amidst photo-laden posts, travel guides, silly stories and top 10 lists, I've thrown in some really honest posts about my personal life, travel, and blogging within this crowded community. I've learned that these brutally honest, lay-everything-out-there posts resonate well with other bloggers and travelers.
The Travel Blogging Community is Great
The travel blogging community has been so supportive and welcoming to me over the past 10 months. Thanks to my fellow bloggers, I'm loving what I'm doing.
Blogging Can Be Unpredictable
Sometimes, I can predict when a post is going to be popular or generate a lot of conversation. But, most of the time, I have no idea what to expect. Some posts that I'm really proud of end up being duds, and some posts that I throw out there at the last minute or as fillers end up getting tons of page views and comments. I've just decided to stop worrying about it, and just let whatever happens happen.
Travel Blogging is Hard
Nothing in this industry is given to you on a silver platter. If you want to succeed as a travel blogger, you have to work at it, and work hard. It often means putting in a lot of hours, and getting back very little in return. Some days are downright frustrating. But, the key is perseverance.
I Love What I'm Doing
Travel blogging has become a huge part of my life, but a part of my life that I adore. Even though running this blog has turned into a second job (albeit one I don't really get paid for), I don't mind it at all. It doesn't feel like work. I've found something that I'm passionate enough about to keep doing even when it's not very fun, which is rare, I think.
My Favorites of 2010
Here, in no particular order, are some of my favorite posts from the past year that haven't already been mentioned somewhere in this recap:
All in all, 2010 has been a good year for A Dangerous Business. What began in February on a whim has grown into a product that I am truly proud to put my name on.
I can only hope for even better things in 2011!
Check back next week to find out what I'll be up to in the new year!