Some posts on this site contain affiliate links, meaning if you book or buy something through one of these links, I may earn a small commission. Read the full disclosure policy
here
.
---
"And in the end, the love you take is equal to the love you make."
Paul McCartney ended his 2010 North American tour with this line in Pittsburgh, Pennsylvania. And I was there to hear it.
I was raised as a Beatles fan. My mom owns every Beatles album ever released in the U.S., and everything from Beatles books to movies. ("A Hard Day's Night" is rated right up there with the classics in our house.) It was pretty much inevitable that my sister and I would turn out to be fans, as well. For years, we've watched Beatles specials with Mom on TV, flipped through old photos in Beatles books, and I even toyed with the idea of learning guitar or learning how to sing because of the Beatles. (Too bad I can't really sing in-key.)
And I decided I would add "take Mom to see Paul McCartney someday" to my ever-growing bucket list. I can actually cross that one off now.
When we found out Sir Paul was coming to Pittsburgh – one of my favorite cities – my sister and I decided that we were going to finally buy mom those tickets. After all, Paul's getting up there in years. How much longer will he really be touring? (Well, actually, judging from his performance, perhaps many more years. But, more on that later.)
We bought the tickets, invited one of Mom's friends with us, and surprised Mom with a "Christmas in July" gift that had her excited for weeks before the big day. On concert day, we piled into the car and fought the rush-hour traffic into downtown Pittsburgh to the brand new Consol Energy Center. The hour leading up to the show was a blur of Paul merchandise, concession stands, photographs, and plenty of anticipation.
Paul went on late. Nearly an hour late, in fact. But, once he took the stage, nobody seemed to care. He put on a fantastic show. Easily the best concert I've ever been to, and perhaps the best I will ever go to.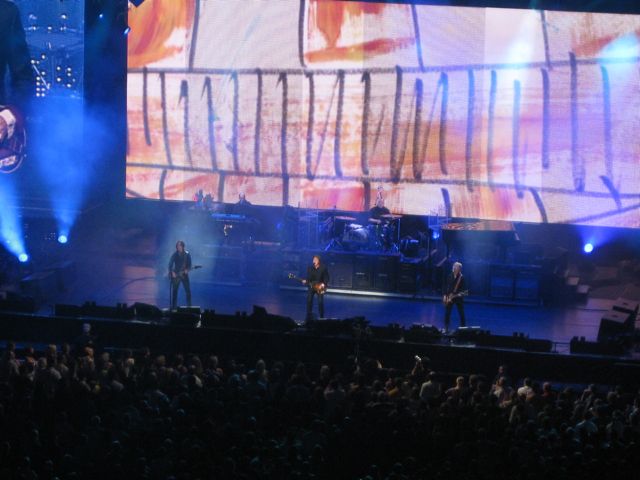 For someone pushing 70, Paul McCartney can still rock out. He played for 2 1/2 hours straight, without so much as a water break, and then came back on to play six more songs in two separate encores. And he was perfectly in tune the whole time.
The mix of music was perfect – some Beatles classics (like "Hey Jude," Blackbird," "Let it Be" and "Yesterday"), some Wings favorites (like "Jet" and "Live and Let Die"), and some of his more recent stuff (a favorite of mine was "Everybody Gonna Dance Tonight" from his 2007 album, complete with mandolin riff). He also included tributes to both George and John, rousing standing ovations from the audience.
And his band was fantastic, too. All the elements were spot-on.
As you can see, we didn't have fancy seats. We were up in the balcony, but we did have a straight-on view of the stage. This was perfect, because we could see Paul, but also had a great view of the two giant jumbotrons that flanked the stage.
Paul McCartney definitely knows how to put on a good show. He had the perfect amount of "chit-chat" in between his songs, sharing a few inspiration stories here and there, but mostly letting the music speak for itself. He also made sure to interact with the audience plenty, reading out some of the signs in the front row, making some jokes, and inviting a girl on stage so he could sign her thigh (she promised to get it tattooed there). A couple even got engaged in the crowd during his performance of "My Love," and he congratulated them afterwards by name.
Some of my favorite songs he played included audience participation, such as "Hey Jude" and "Give Peace a Chance."
I also loved the energetic "Paperback Writer," "Back in the USSR" and, of course, "Let it Be."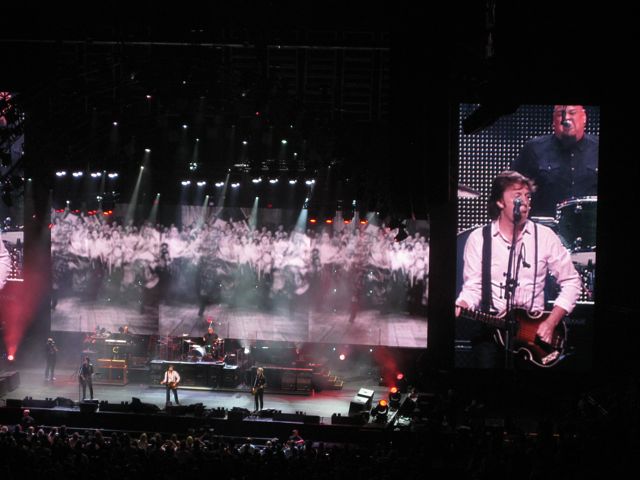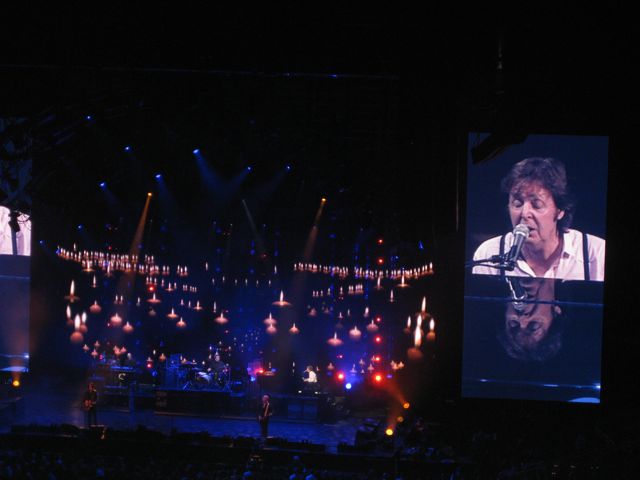 And everyone was really surprised when fire and fireworks accompanied "Live and Let Die," lighting up the entire venue.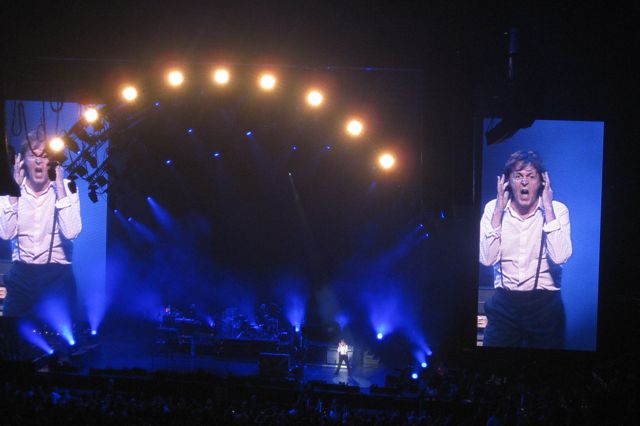 It's still pretty surreal to think that I saw Paul McCartney, one of the original pioneers of rock n' roll, live in concert. Amazing.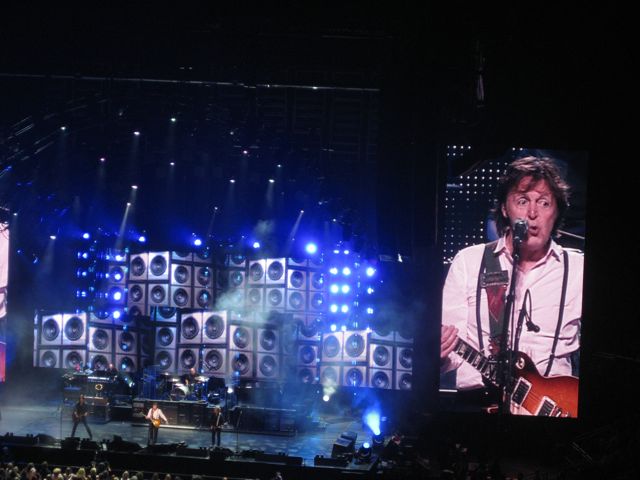 And as if the 2 1/2 hour show wasn't enough, he came back on for not one, but TWO encores. The first one included a pretty intense rendition of "Helter Skelter."
(We knew he'd come back for the second encore, because he hadn't played "Yesterday" yet… and what's a concert from an ex-Beatle without "Yesterday?")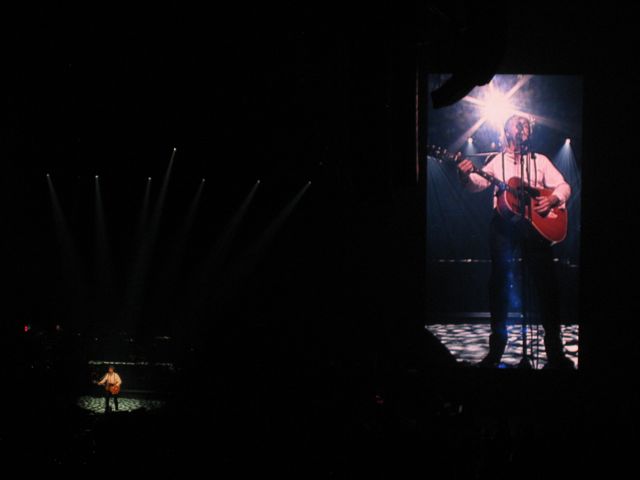 After "Yesterday," Paul closed the concert by playing the "Sgt. Pepper" reprise, along with "The End."
I don't think the Consol Energy Center could have hoped for a better inaugural concert. Paul McCartney is, and will probably remain, one of the greatest rock stars of all time.
And I think the best part of it all was looking around at the crowd and seeing such a diverse range of faces — young, old; male, female. Paul's music easily spans the generations, allowing fans of all sorts to "Come Together."
Hopefully the tour's name ("Up and Coming Tour") is only a sign of more good things to come for Paul.
And I know this for sure: If he comes back next year, we'll be there in the audience again.
Have you ever seen one of your favorite musical acts in concert?