Some posts on this site contain affiliate links, meaning if you book or buy something through one of these links, I may earn a small commission. Read the full disclosure policy
here
.
---
I sat down not long ago and decided to try and pinpoint where it all began; to try and figure out what first sparked the wanderlust that oh-so-often flares up inside of me.
I finally came to a conclusion: It all started because of a mysterious woman in a red trenchcoat.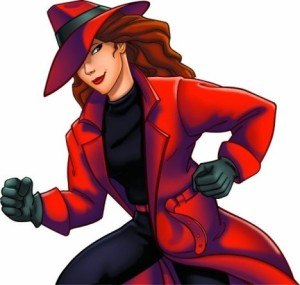 That's right — Carmen Sandiego. Remember her?
I didn't have cable growing up. I lived out in the country, on a Christmas tree farm with a gravel driveway a quarter-mile long. Aside from Saturday morning cartoons on the major networks, most of my television entertainment came from PBS.
Ah, PBS. "Sesame Street." "Nova." Telethons where you could donate money and receive giant stuffed Elmo dolls in thanks.
After school each afternoon in elementary school, I would do some homework, and then my babysitter and I would sit down for an episode of "Wishbone" (where I learned all the important things about classic literature from a spunky Jack Russell Terrier), followed by my favorite show on TV: "Where in the World is Carmen Sandiego?"
I loved that show with unmatched vigor, from the opening song sung by Rockapella, to the trivia challenges the gumshoes faced, to the last segment starring a humongous map on the floor.
My love for this show, I think, should have been the first warning sign.
In case you aren't familiar with the educational game show, participants (potential "gumshoes" for the ACME Detective Agency) were charged with helping track down a rogue agent, Carmen Sandiego, who had defected to V.I.L.E. (the writers sure did love their plays on words).
Gumshoes competed in three rounds to test their worldly knowledge and detective smarts. But it was always the third round that I remember: The round where the winning gumshoe had to pinpoint all the countries on a continent within a set amount of time as the host named them at random.
I can still picture the large, multi-colored maps of Africa and South America that would be laid out on the floor. I can remember biting my nails and rooting for the last-standing contestant, hoping he or she would know where such exotic-sounding countries like Namibia and Uruguay were located on the map.
I wanted to be on that show so badly.
The winner — if he or she correctly identified all the countries within the time limit — got a free trip to anywhere in the United States. To my 9-year-old self, this sounded like the greatest thing in the world.
When my babysitter graduated from high school, she actually gave ME a present — a Carmen Sandiego "spy kit" that she'd gotten at Pizza Hut. Inside it were a faux-passport, along with fake money from various countries around the world. I remember it being one of my favorite things to play with that year, imagining myself in Italy or Russia or Brazil, tracking down bad guys.
Without even knowing it at the time, my sense of adventure and wanderlust was already in full swing. Perhaps, even at the age of 9, the travel bug had already given a little nibble.
I wanted to know all those places on those maps — Venezuela and Germany and Kenya and more. And that desire went beyond mere geography. I wanted to actually KNOW them. The blinking beacons that indicated a correctly-identified country in that third and final round became like a roadmap of all the places I hoped to see in the world.
Carmen Sandiego was a villain, indeed. She stole my travel ignorance, and made me want to see the world.
I suppose I owe her a lot of thanks.
Can you pinpoint the time in your life or specific influence that sparked your own wanderlust? What was your travel catalyst? Who/what do you blame?