Check out some of the reviews I've written, on everything from travel books and travel movies, to concerts and other adventures.
Accommodation
While traveling around Europe for a month in 2013, I had the chance to stay at a bunch of hostels in the PLUS line. And, as someone who doesn't really *love* hostels, I was really surprised by these. Each property is unique, but each also pays attention to the sorts of things most travelers really care about. In the end, I decided that I could definitely stay at some of these hostels again — and definitely recommend the PLUS brand as a whole to my readers.
Looking to feel like a local in Paris? Consider a holiday rental through GoWithOh. They offer apartments in lots of Paris neighborhoods — including the artsy Montmartre. Check out my apartment review (linked above), or read about my time in Montmartre here.
While I enjoy trying out a variety of accommodation types when I travel, my favorite is probably the serviced apartment. Renting an apartment on the road can make you at least feel like you've got more of a "home" as opposed to just another place to sleep. I really fell in love with these apartments in Hammersmith the last time I was in London.
When I was in Iceland earlier this year, I tried out renting an apartment for the first time, as opposed to staying in a hotel or hostel. The verdict? I LOVED staying in an apartment! It was truly a home away from home, and this particular one was also in a fantastic location in downtown Reykjavik.
More accommodation reviews:
Tours
Even wondered what it's like to travel with small-group tour company Intrepid? I took an 18-day tour with them through Eastern Europe, and tell you all about it in this post. Read on to learn about how you'll travel, who you'll travel with, where you'll stay, and what you'll do on this specific tour.
I gave Busabout a try in summer 2012, joining one of their Eastern Trekker trips through the Balkans. The trip covered 5 countries in 9 days. Read on to learn about my experience — the good and bad.
Last summer in Scotland, I signed on to a 5-day tour around the Scottish Highlands. The tour, operated by sexy, adventurous Haggis Adventures, took me to places like Loch Ness and the Isle of Skye on a tour that is seriously one of the best I have ever been on. Read all about it here.
If Belize is on your bucket list, check out this short tour with Intrepid Travel in Central America. Highlights included seeing Mayan ruins in San Ignacio, chilling out on Caye Caulker, snorkeling with rays and sea turtles, and an overnight visit to the ruins of Tikal in Guatemala.
Everything you could want to know about using Busabout's hop-on, hop-off bus service to travel around Western Europe.
Want to visit the Greek Islands but don't want to spend all your time on a boat? Consider this amazing 2-week trip with Intrepid, which includes visits to 5 islands in the Cyclades. If its beaches and amazing sunsets you're after, this is definitely a tour for you.
Southeast Asia is popular with backpackers from all over the world, but if you want to experience it slightly differently, consider a tour like this one. With stops in places like Ha Long Bay, Hoi An, Saigon, and more, this is a great introduction to Vietnam, its history, its people, and its food.
If you're going to Southeast Asia, don't count out Cambodia. While I had mixed feelings about the country, I'm really glad I went. Phnom Penh and its Khmer Rouge history is important to see. The Angkor temples are incredible. And seeing how people live in the Cambodian countryside was sobering.
Day tour reviews:
Food
The last time I was in NYC, I decided to explore a few of its most popular neighborhoods a little differently — through food. Read this review of a walking food tour through Little Italy and Chinatown with Ahoy! New York Food Tours. Just don't do it on an empty stomach.
Chicago is known for its deep dish pizza. But, on a tour of the city with new company Chicago Pizza tours, I learned that that's not the ONLY kind of delicious pizza in the Windy City.
Did you know that Toronto used to be known as "Hogtown," or that Canada is the world's largest exporter of pork? I learned that and more on a fascinating (and beyond delicious) food tour of Toronto that focused solely on pork. From bacon to pulled pork to even maple-bacon taffy, this tour is the real deal.
London's East End is really interesting culturally, with a long history that is often reflected in its food offerings. On this delicious tour of London's newest up-and-coming neighborhood, I ate everything from curry to bread pudding to a corned beef bagel. It was all tasty, and the tour itself was about so much more than just the food.
More food posts:
Travel Gear
I don't travel with a lot of fancy photography equipment, and I know plenty of others who don't, either. But that doesn't mean we can't take great travel photos. This post highlights the gear that always comes with me when I'm on the road — including a pocketable camera, a versatile tripod, a waterproof video camera, and more!
A closer look at what travels with me around the world, from my laptop shell to my favorite travel purse. I'll also introduce you to things like the Mophie, the Hoboroll, and the Scrubba. If you're on the lookout for new travel gear, check this post out.
Ever wonder if it's possible to replace your laptop or cheap netbook computer with an Apple iPad on the road? I gave it a try on a shot trip to Canada, and concluded that it can, indeed, be a viable option. While I wouldn't travel long-term with only an iPad, it's a good alternative to a heavy laptop on shorter jaunts.
Reviews of accessories for the female traveler:
Travel Books
J. Maarten Troost writes about the two years he and his fiancee spent "adrift in the equatorial Pacific" in this humorous travel novel. The title is a bit misleading, as the book isn't really about cannibals or their sex lives. What the book is, however, is funny, irreverent, and unbelieveable at times. But, in the end, it's also a smart, wickedly entertaining read.
After being fairly unimpressed by "Eat, Pray, Love" the movie (see review below), I decided to give the book a try. Many people told me it was better than the film — and I'm inclined to agree. But did I fall in love with the Liz Gilbert in the book? Read this short review to find out.
Wishing you could take amazing photos when you travel? It's actually easier than you probably think. In this fantastic photography e-book, Bethany Salvon explains in simple, understandable terms how you, too, can take awe-inspiring travel photos. I've never really understood concepts like aperture and HDR before browsing through this book. But Bethany breaks it all down in simple terms and makes it all seem very accessible. This book is definitely worth $10.
Travel Clothing
Sure, you've probably heard of pickpocket-proof pants and shorts — the kind with all sorts of extra buttons and hidden pockets to make it difficult for would-be thieves to get at your shiny things. They may indeed be a good alternative to money belts and 'round-the-neck passport holders for those worried about keeping their money and passports out of the reach of sticky fingers.But I've never seen a pair that would actually look flattering on women. Enter this new alternative, in the form of comfy underwear!
Travel Movies
I hadn't read the book before going to see Liz Gilbert's story played out on the big screen by Julia Roberts. I had simply seen the colorful, frenetic previews that used a song by one of my favorite bands. I wanted to love this movie, but istead came away feeling rather… ambivalent about it. Something is missing, though I'm not sure if I can put my finger on what.
Movies — with their exotic backdrops and intriguing characters — can act as a pull to a specific destination or region of the world. Here are some movies that, over the years, have inspired me — in different ways and for different reasons — to travel. From "Amelie" to "Lord of the Rings," these movies have given me a sense of wanderlust that makes me want to see all different parts of the world.
Misc.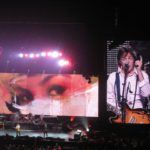 I was lucky enough to see Sir Paul in Pittsburgh in August 2010 — on the last leg of his 2010 North American tour, to be exact. I grew up with Paul; I've been a Beatles fan all my life, in fact, thanks to my mom. So when we heard he was coming to Pittsburgh, we knew we had to go. And, let me tell you, for someone who's pushing 70, Paul McCartney can still rock out with the best of them and put on a fantastic show.
This travel start-up is really promising — low prices with no hidden fees that focuses on the social aspect of today's digital world. The site is streamlined and easy to use, and will probably give the big booking sites a run for their money once it gets off the ground.
If you're headed to London anytime soon and plan to play tourist for a few days, considering picking up a London Pass. This pass will save you quite a bit of money if you use it to visit multiple attractions (read the post to find out how, and to get suggestions for itineraries!).
Smackdowns
You can't go to Chicago without trying some of its famous deep dish pizza. It would be like a slight to the city. Like making rude gestures at it. Like a sin. In short, it would just be really bad. So, when I first decided I was going to visit the Windy City, "eating pizza" immediately was put on my list of must-do things. I decided to try out two of the places that seemed to come up the most in recommendations: Gino's East and Giordano's. Read this comparison review to find out which one I liked best!
The Willis Tower's "Skydeck Chicago" on the 103rd floor is easily Chicago's most popular tourist attraction, drawing more than 1.3 million visitors per year to its 360-degree views. But, while the Skydeck is wildly popular, it actually has some competition a mile and a half away in the John Hancock Observatory. The 100-story John Hancock building boasts an Observatory similar to the Skydeck on its 94th floor, with views out over Lake Michigan and the city of Chicago. So which is better? Find out what I thought here.
Having trouble deciding which of New Zealand's islands is best for you? Can't decide between the North and the South? Then check out this "smackdown" review, which details the strengths and weaknesses of each island, from the cities to the landscapes to the wildlife and everything in between. Of course, if you ask my opinion, you should make time to visit both!
The Grand Canyon is one of the top tourist attractions in the United States — and rightly so. But many people only associate a visit to this natural wonder with large tourist crowds. However, it doesn't have to be that way! There is more to the Grand Canyon that just the popular South Rim. In this comparison post, find out how the well-known South Rim compares to the lesser-visited North Rim. It may help you decide which side of the Grand Canyon is right for you!