Some posts on this site contain affiliate links, meaning if you book or buy something through one of these links, I may earn a small commission. Read the full disclosure policy
here
.
---
The Paddock Club is a premium VIP experience available at all Formula 1 races. After experiencing the Paddock Club for myself at the US Grand Prix in Austin, I'll give you the low down in this post on what the Paddock Club includes and whether or not I think it's worth it!
---
In our post-vaccine euphoria in 2021, my husband Elliot and I decided we were going to plan some bucket list trips; trips that we had been putting off, or that we had deemed too pricey in the past that we now wanted to make sure to experience before the next worldwide catastrophe hit. Life is short, and you can always make more money.
One of those bucket list trips was going to a Formula 1 race in person. Elliot has been an F1 fan since he was a child (thanks to his British dad), and is a veritable encyclopedia of Formula 1 trivia and knowledge. But he'd never been to an F1 race.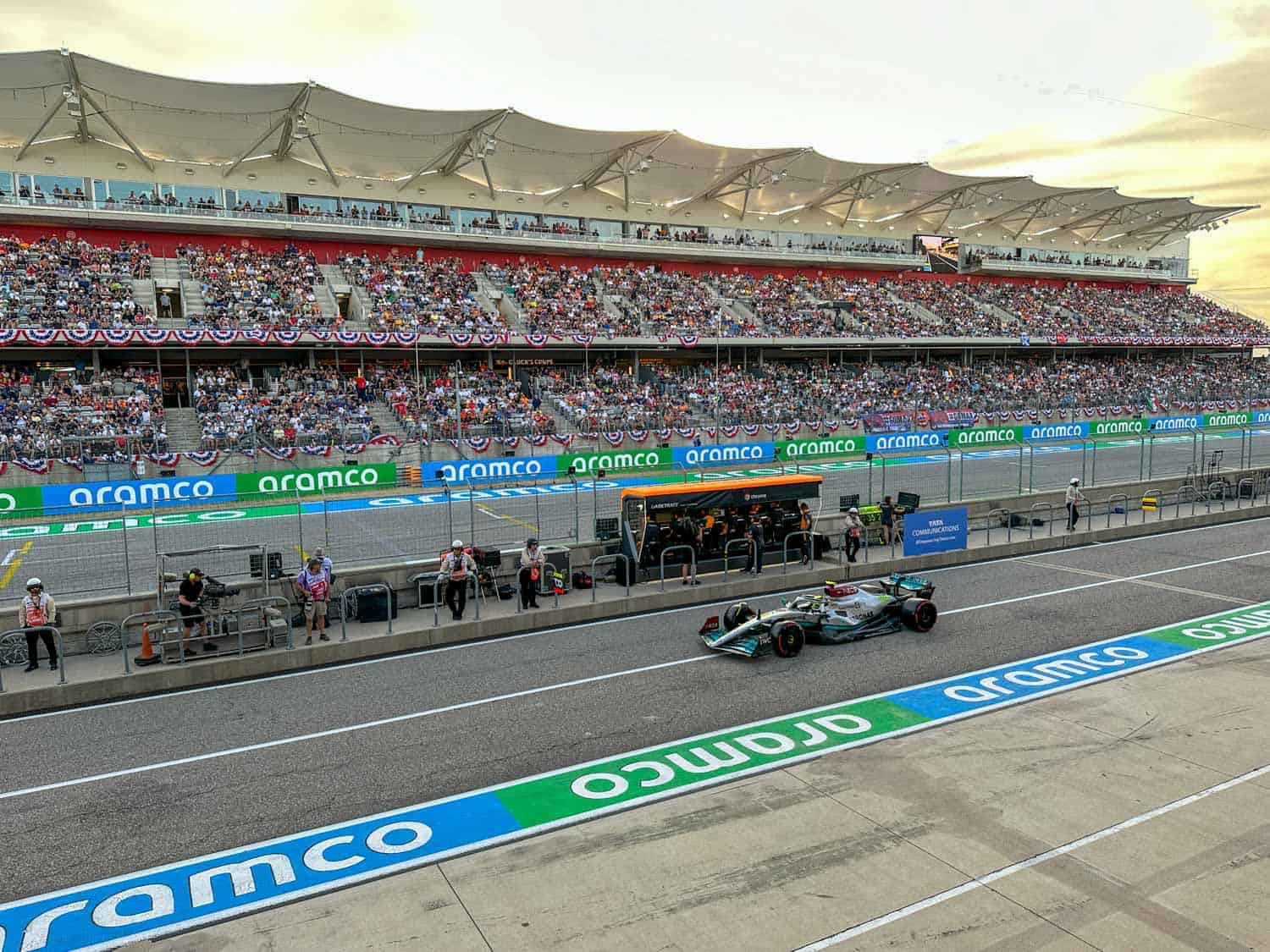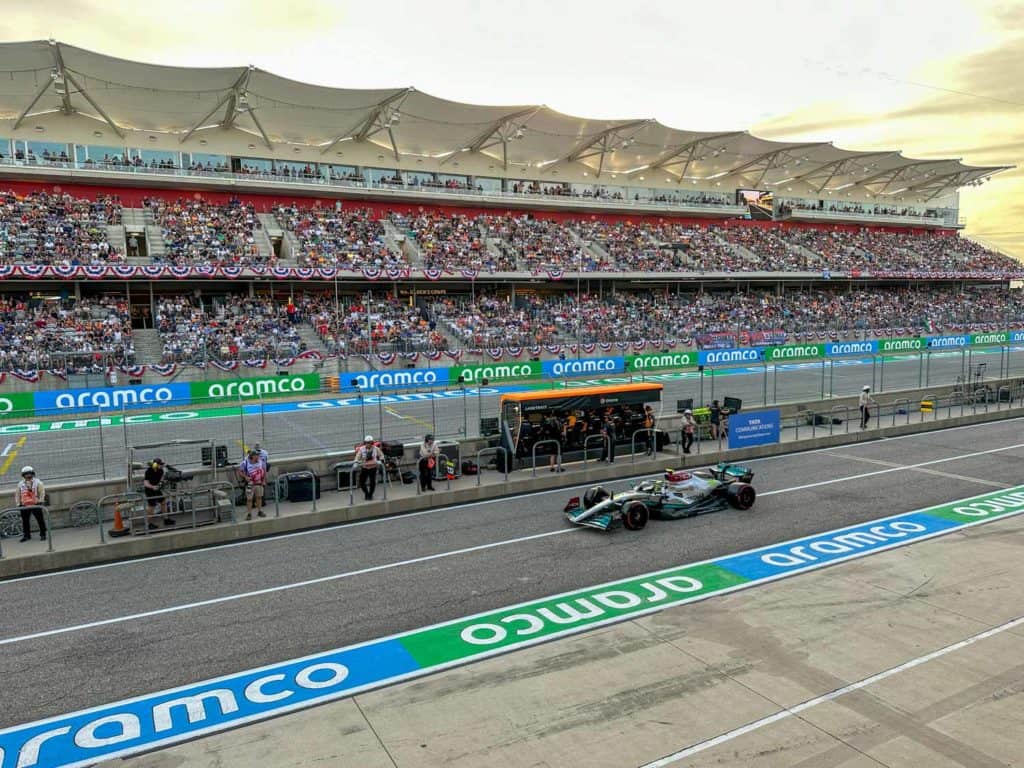 He decided he wanted to try to go to the United States Grand Prix in Austin, Texas, both because he likes the Circuit of the Americas track, and because, logistics-wise, we felt like it would be the easiest race for us to get to in 2021 when there were still lots of travel restrictions abroad.
I then made the suggestion that if we were going to go to an F1 race, we may as well truly splurge and purchase Paddock Club tickets.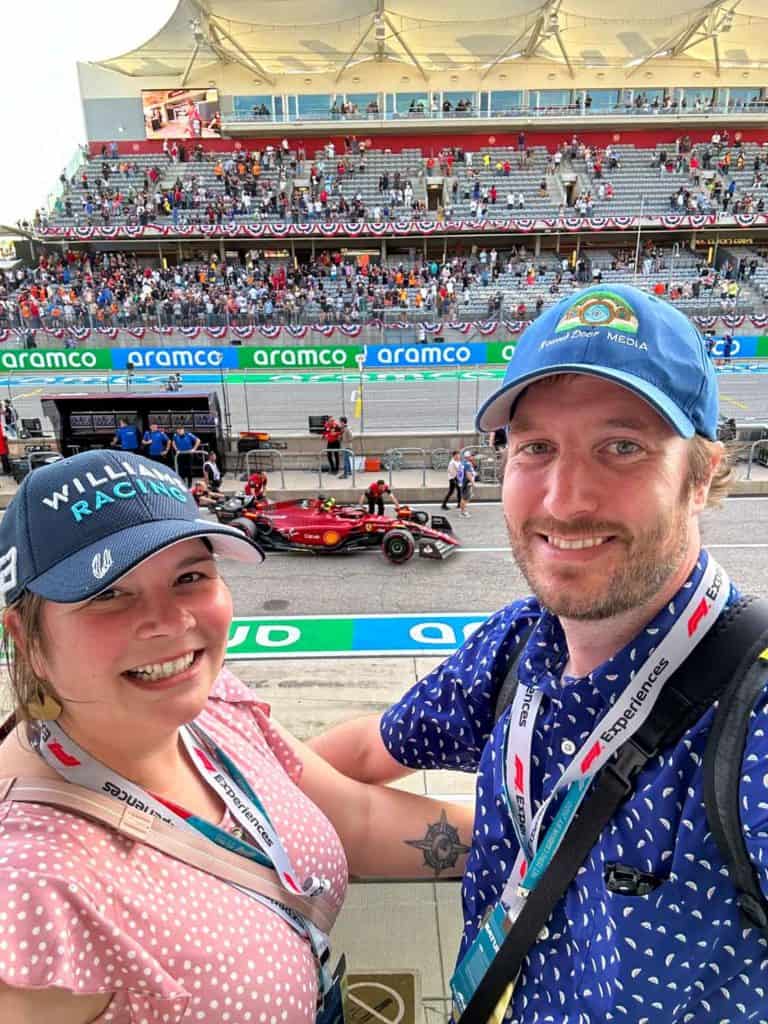 What is the Paddock Club?
The Formula 1 Paddock Club is the overarching term to describe some of the fanciest hospitality suites available to the general public at an F1 race. The Paddock Club obviously changes slightly from race to race based on the track, but the standard trappings are indoor suites with outdoor seating directly above the pit lane, and top-notch food and beverage service.
The Paddock Club offers up some of the very best viewing opportunities during an F1 race, and ticket packages at this level usually include extras at the track, too.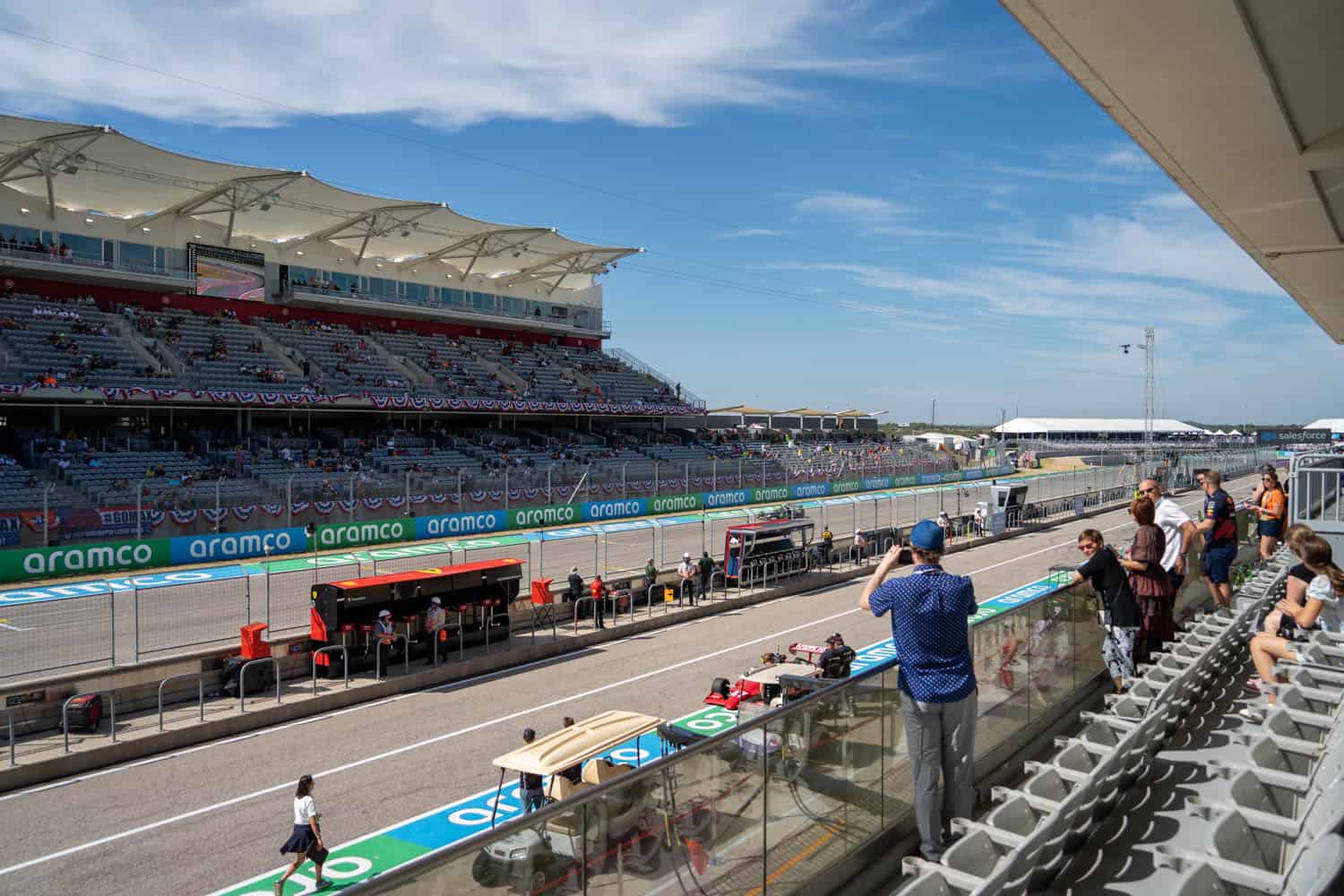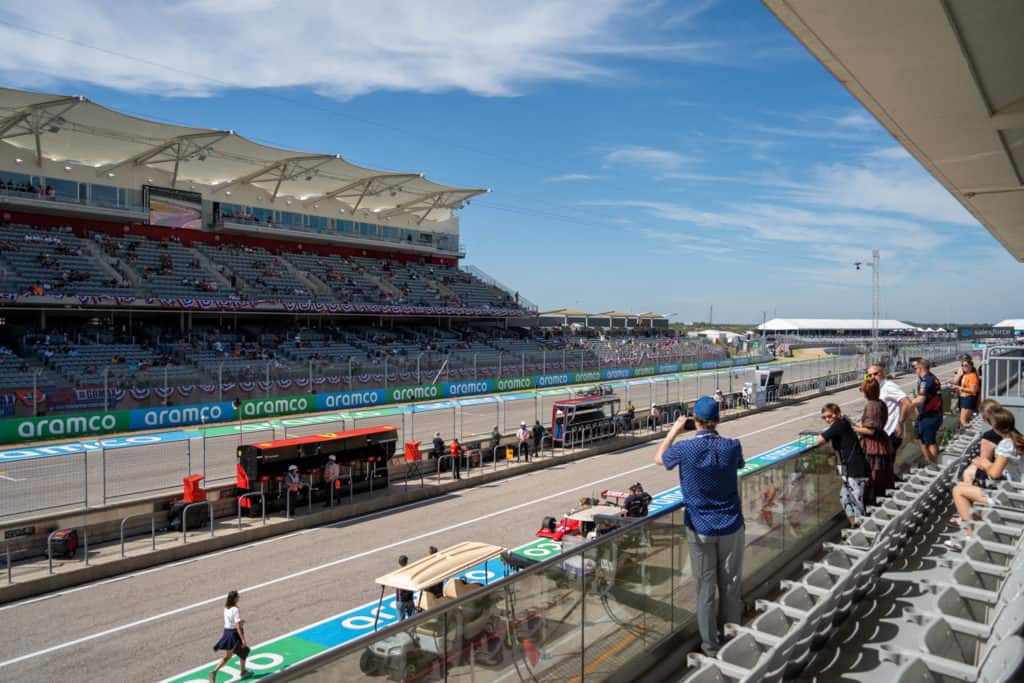 Even though Paddock Club can be very pricey, we decided to buy 2-day Paddock Club tickets for the USGP in 2021. (We then ended up not going in 2021 because of COVID restrictions, but were able to defer our tickets to the 2022 race!)
Based on the research I tried to do before our F1 Paddock Club experience and the resulting lack of non-salesy info I could find beyond forum postings, I decided to share our Paddock Club experience with you in case you're wondering if these pricey tickets are really worth it.
Let's talk Paddock Club at a Formula One race!
Note: We booked regular, non-team-branded Paddock Club tickets for the US Grand Prix in Austin through F1 Experiences. Our sales rep was Tyler, and he is awesome.
Everything you want to know about F1 Paddock Club
What is the F1 "paddock"?
Just like in horse racing where the paddock is the area of a racetrack where horses are prepped before a race, the Formula 1 Paddock is the "backstage" area at the track where the teams set up their mobile operation centers. These glorified tents are where the teams relax, eat, and prep for each race.
The Paddock Club, then, is as close as you can get to this backstage action without actually knowing someone with an "in" at an F1 team.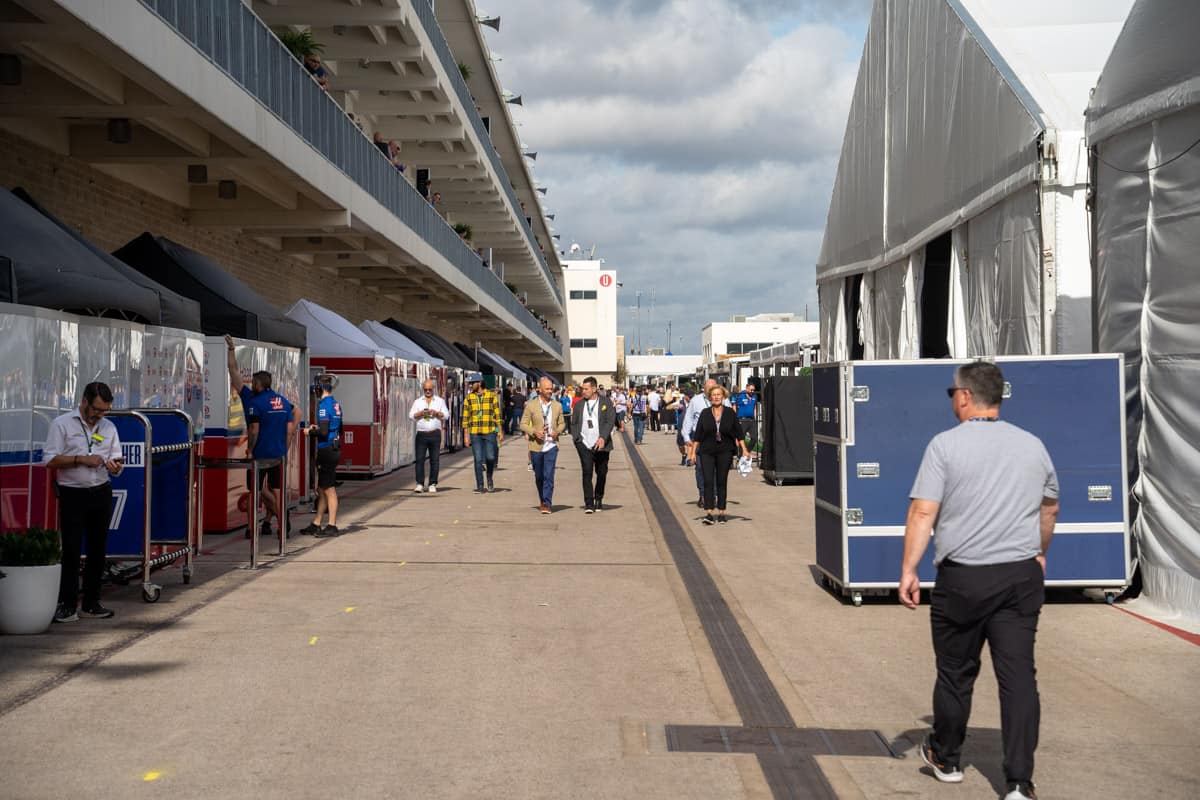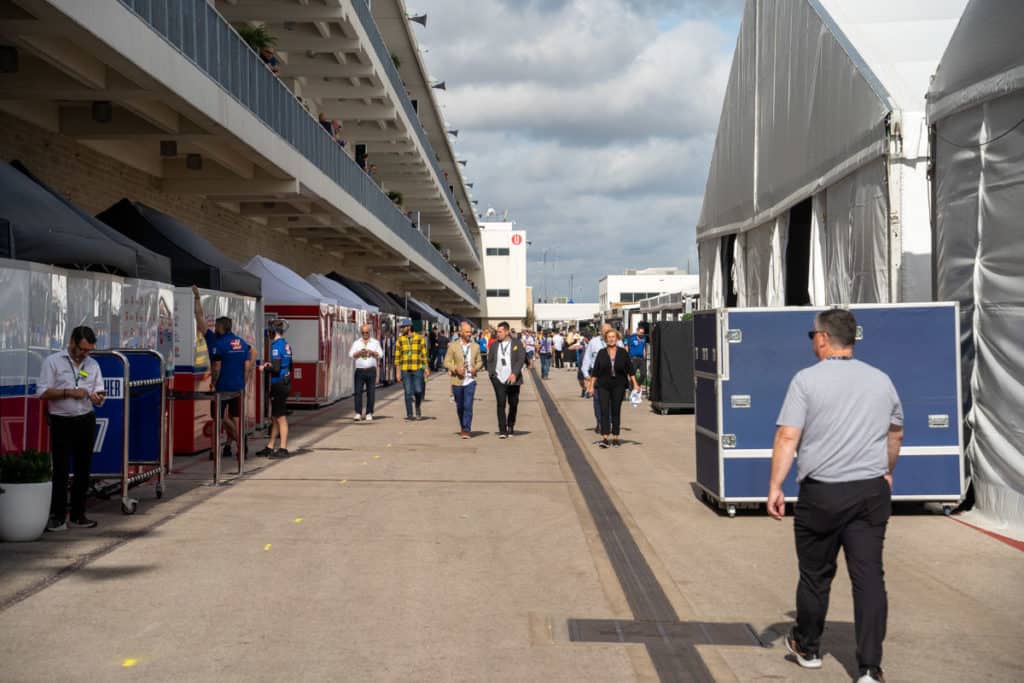 What do F1 Paddock Club tickets get you?
As I mentioned above, the Paddock Club varies slightly from race to race simply because each track is different. But the Paddock Club is a Formula 1 branded product, and therefore the basics are consistent across all races in a season.
With Paddock Club tickets, you can expect the following to be included:
Access to a premium hospitality suite above the pit lane with indoor seating, food, a bar, and TVs that show the race action
Catered meals (usually a buffet) and an open bar (though at our race, only beer, wine, and one or two specialty mixed drinks were available)
Outdoor seating above the pit lane/team garages where you can watch the action up-close, usually connected to your hospitality suite
Access to a general Paddock Club area where there are things like racing simulators you can try for free, and additional food/bar options
Pit lane walks (we had the chance to 1-2 per day)
Guided track tours (you usually have to sign up for these separately, and availability is not guaranteed)
Potential visits/Q&As/meet and greets with drivers, team bosses, or other F1 personalities, though these will vary depending on which hospitality suite you're in
That intangible feeling that you're right "in" the action
Team-branded Paddock Club packages often include exclusive team garage or paddock tours.
And in 2022, Paddock Club tickets also included one guided paddock tour per weekend, where you had the chance to go into the paddock area for a short time with a guide. This is often the best way to get close to drivers at the track during race weekend, but I'm not sure paddock access is being included with all Paddock Club tickets for the 2023 season.
If you purchase Paddock Club tickets through F1 Experiences, your ticket package can also include things like accommodation and transport to the track if you want to add that on (in some cases, it's worth it!).
What are the Paddock Club hospitality suites like?
The Paddock Club hospitality suites vary from track to track, but I'm going to guess they're mostly similar to what we experienced in Austin at the Circuit of the Americas.
Suites have tables (and we had an assigned table to sit at), a buffet laid out for food (where a chef serves you), a small walk-up bar, and lots of servers who come around to offer water, specialty drinks, desserts, etc. and keep the tables cleared and tidy. The staff inside our hospitality suite was amazing!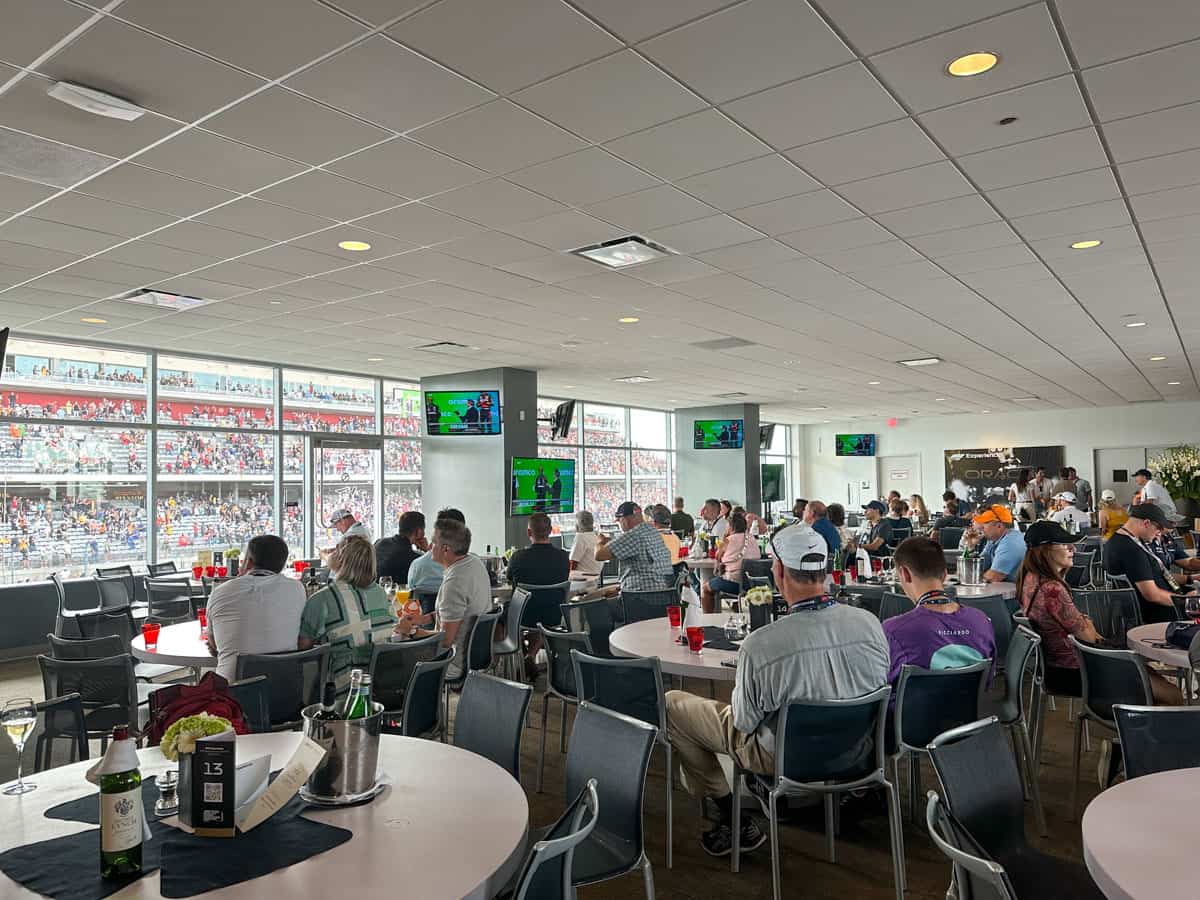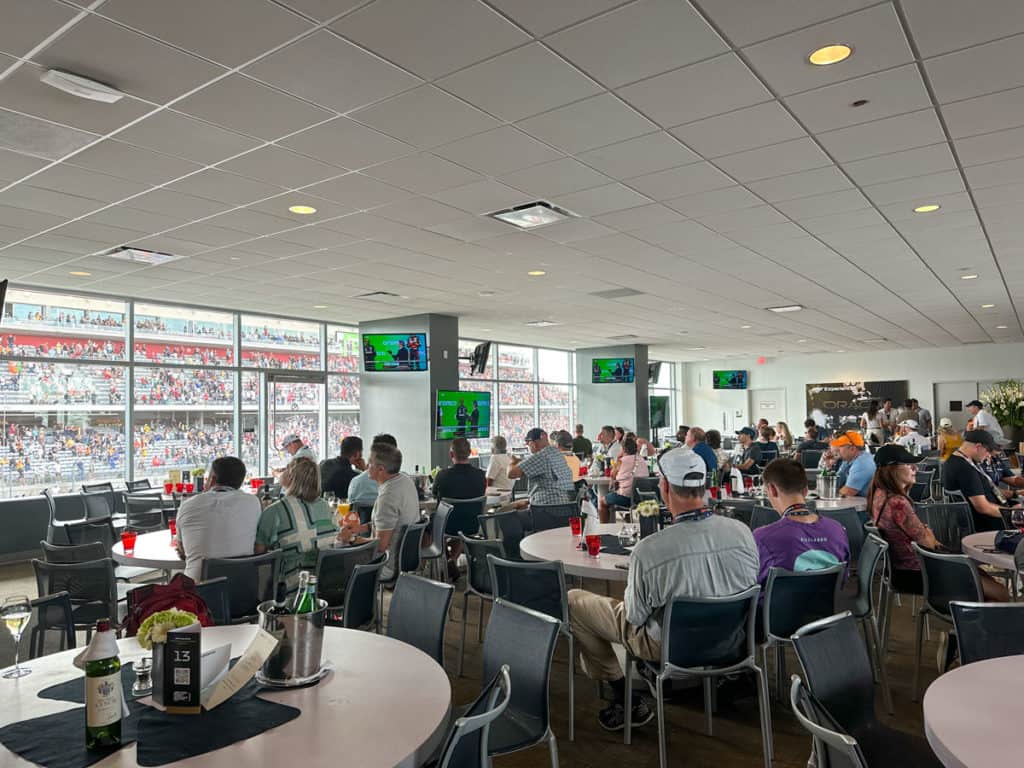 Each suite also has a handful of TVs showing a broadcast of the race or race day activities, which is helpful because then you can still keep an eye on things even when you're inside grabbing food or a drink. (And some people will sit inside almost the entire time.)
In Texas, it was also nice to know that the hospitality suites were all very cool and air conditioned!
What is the Paddock Club view like?
The hospitality suites lead out to seating above the pit straight, which is arguably the best view you can get at an F1 race! (And this is true of every race venue; the Paddock Club always has a prime view of the pit lane.)
Exactly which garages you're over varies from race to race, and depends on which suite you end up assigned to. In Austin, we were above the Alpine, Mclaren, and Ferrari garages, and had an incredible view of pit stops.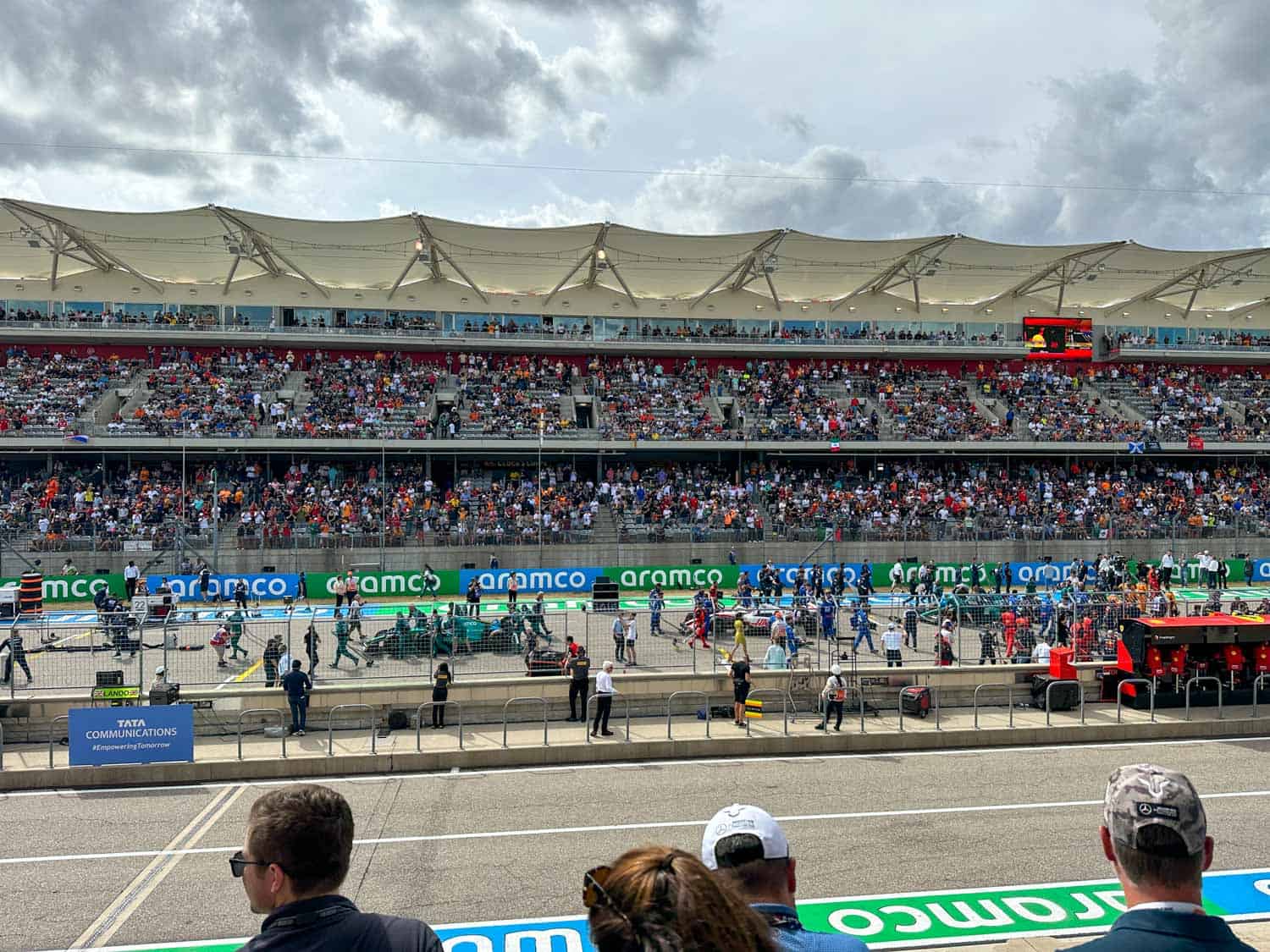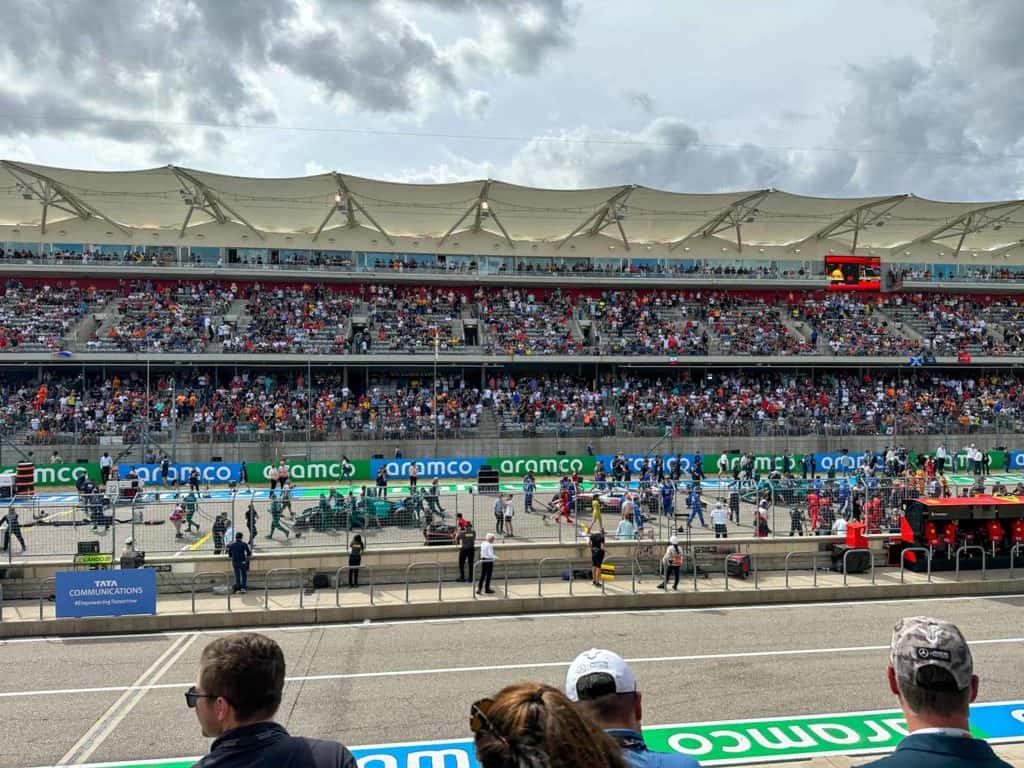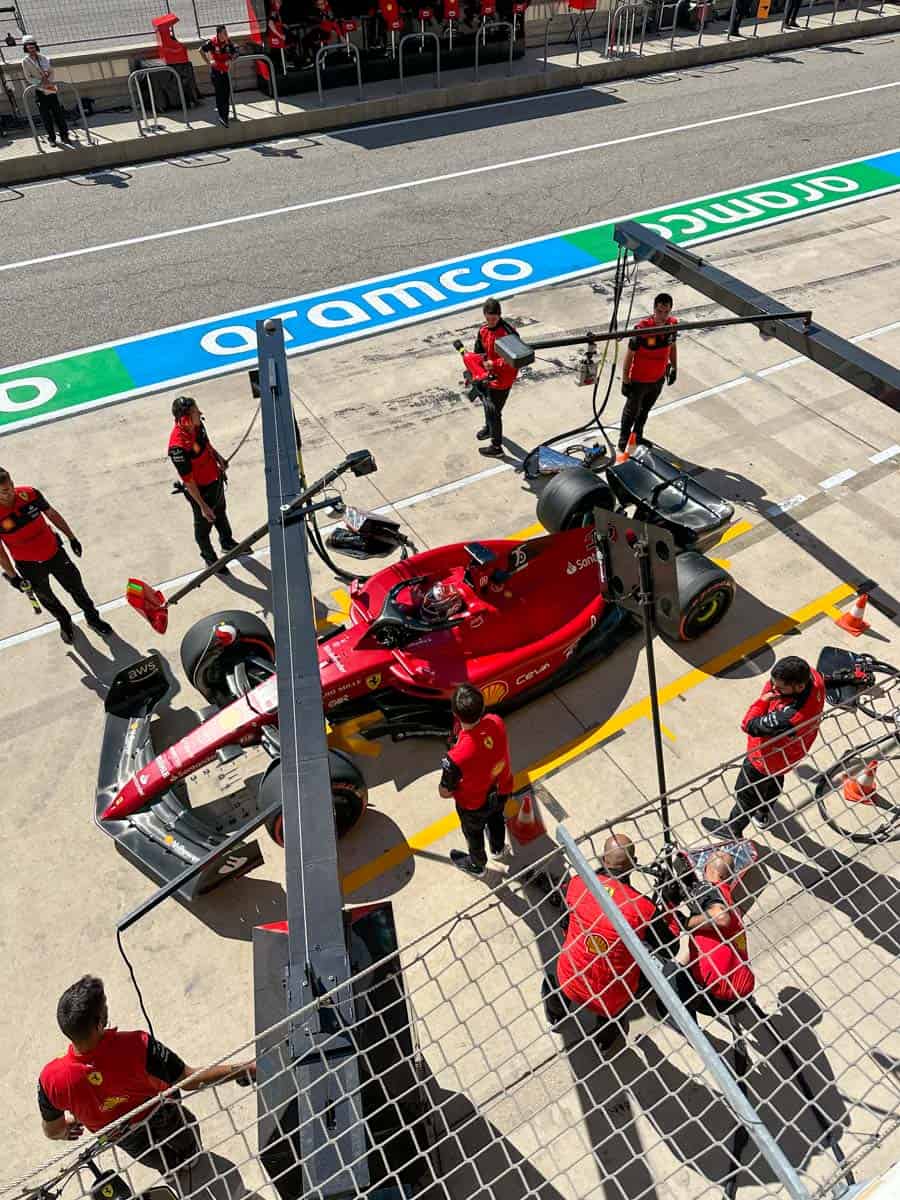 It was also fun to spot drivers, team bosses, and other F1 personalities from this vantage point above to pit lane.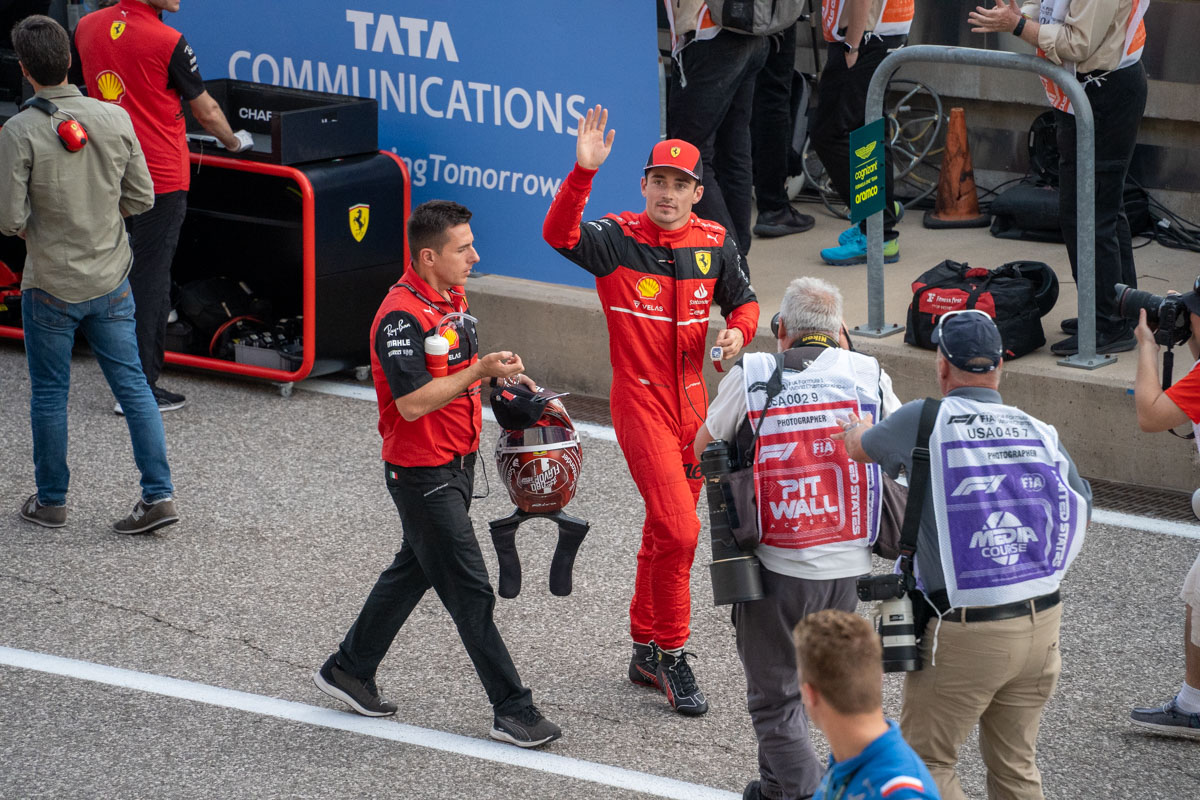 How is the food in F1 Paddock Club?
The food in our hospitality suite was very good for buffet food. There was always a wide selection of food each day, and they switched it out for every meal (because yes, it's likely you'll be at the track for more than one meal!).
There was a menu laid out on the tables before each meal, but you had to go up to the buffet to be served. I had everything from shrimp to steak, plus some nice desserts.
But I'll admit that Elliot and I were too excited to see the action on the race track, and didn't spend enough time indoors to truly appreciate all the food options.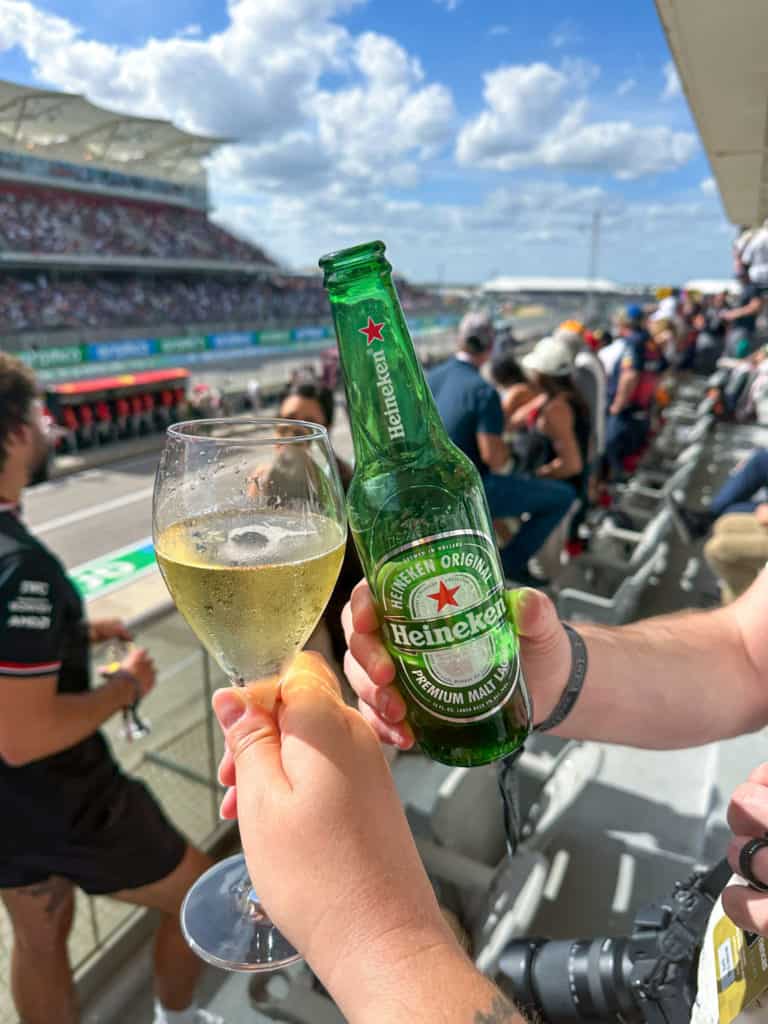 Does the Paddock Club have a dress code?
If you ask the question of what to wear in the Paddock Club online, you'll read that the Paddock Club dress code is "smart-casual." Think dark jeans/dress slacks and a polo shirt for men, and maybe a cute dress for women. Some people dress up more, and some people dress up less – I didn't really notice anyone policing outfits.
I'd say I saw most women in the Paddock Club wearing dresses or dress pants, and men wearing everything from summery suits to shorts with polo shirts.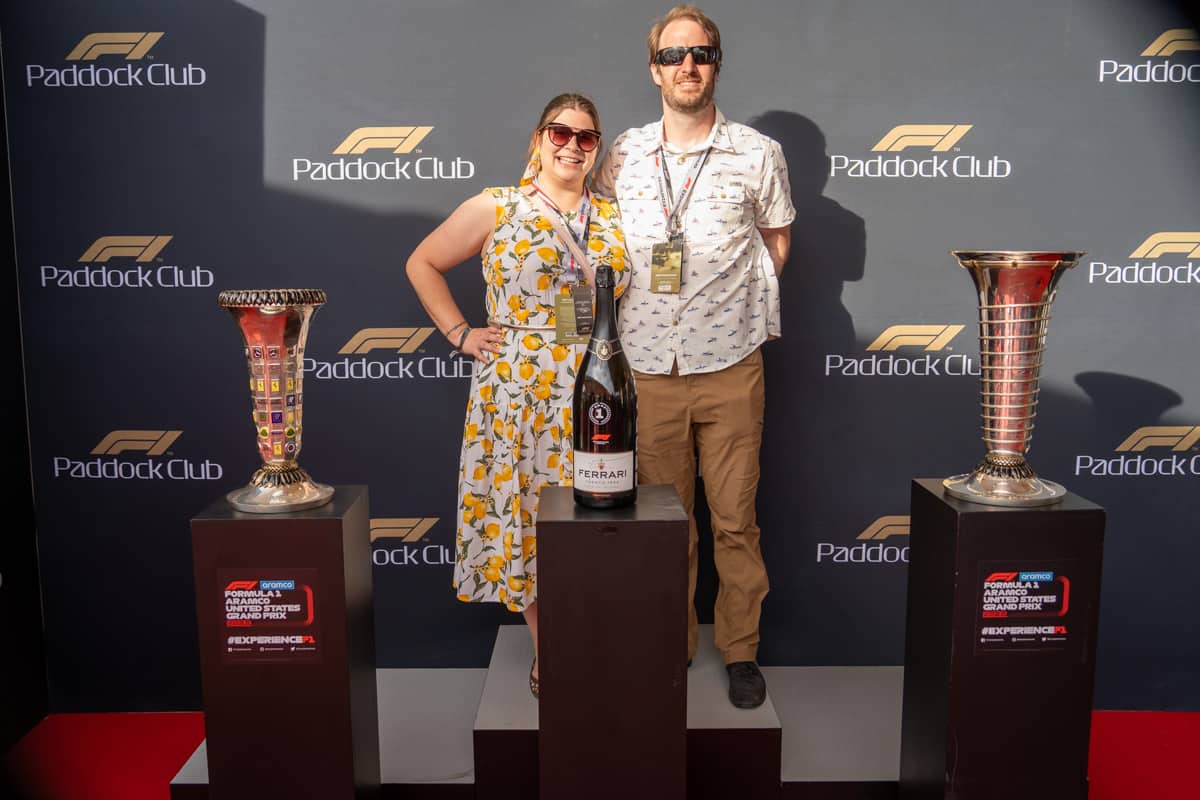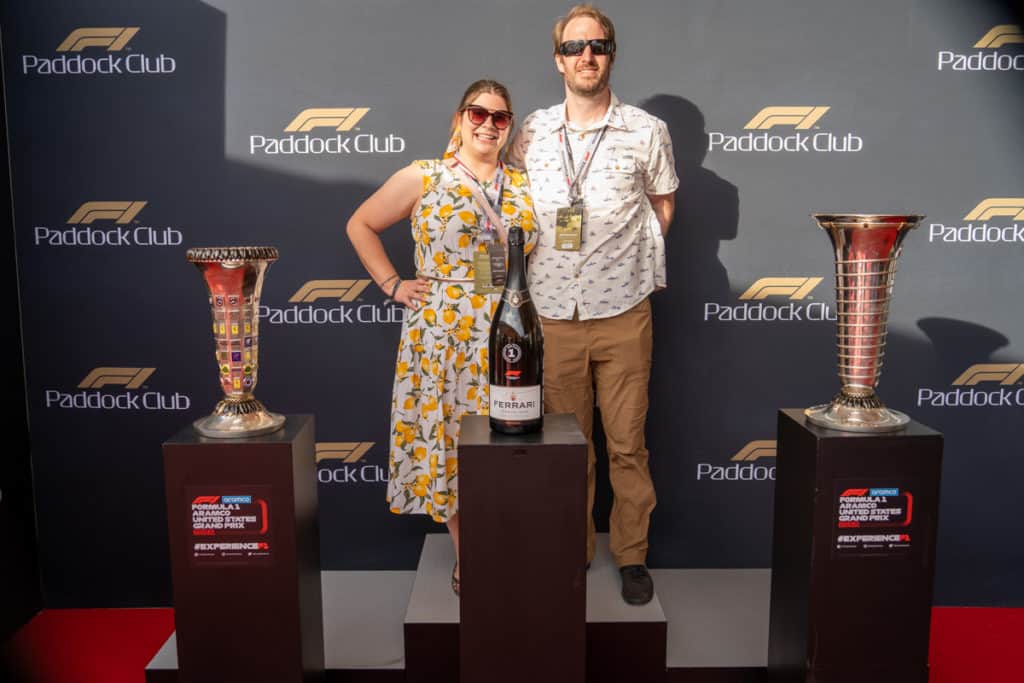 My tip for your Paddock Club outfit is just to make sure it's comfortable! You usually have a lot of walking to do at a track even before you get to the Paddock Club, so no matter what you wear, make sure your shoes are comfortable!
Everything online suggests that you shouldn't wear team gear in the Paddock Club – but honestly we saw all manner of team-branded shirts, jackets, and hats in our suite. If you're in a specific team's suite, however, then it definitely would not be appropriate to wear another team's kit.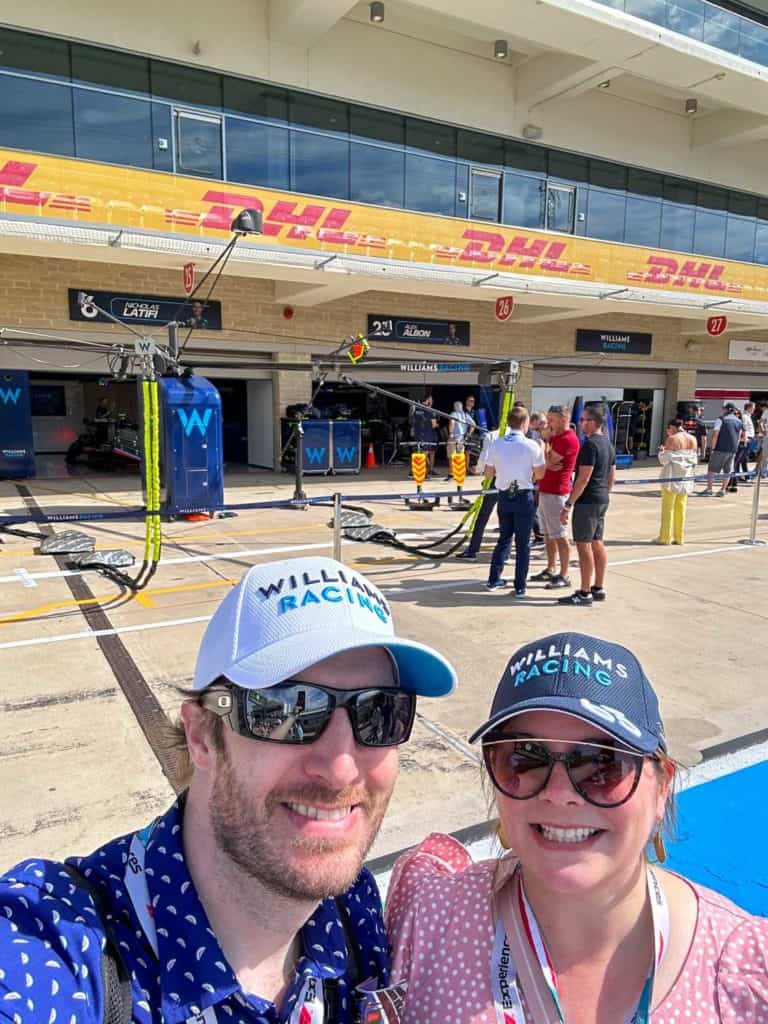 How do you get Paddock Club tickets?
Paddock Club tickets are sold separately from regular Formula 1 grand prix tickets. They are sold as a hospitality package, most often through a site like F1 Experiences. (Though there are other sites out there that sell them, too!)
Since Paddock Club tickets are rather exclusive (and also in high demand after the recent surge in F1's popularity), you won't usually find these listed for sale alongside other ticket packages. Instead, the best way to find out when Paddock Club tickets go on sale is to sign up for info from a site like F1 Experiences, Grand Prix Events, or Edge Global Events. (I can personally recommend F1 Experiences!)
Once you express your interest in Paddock Club, it's likely that a sales rep will reach out to you with info about the races you're interested in. The Paddock Club goes on sale sometimes up to a year before a race, and these tickets almost always sell out – so be prepared to plan ahead and buy early. (We booked our Austin tickets in December 2021 for the October 2022 race.)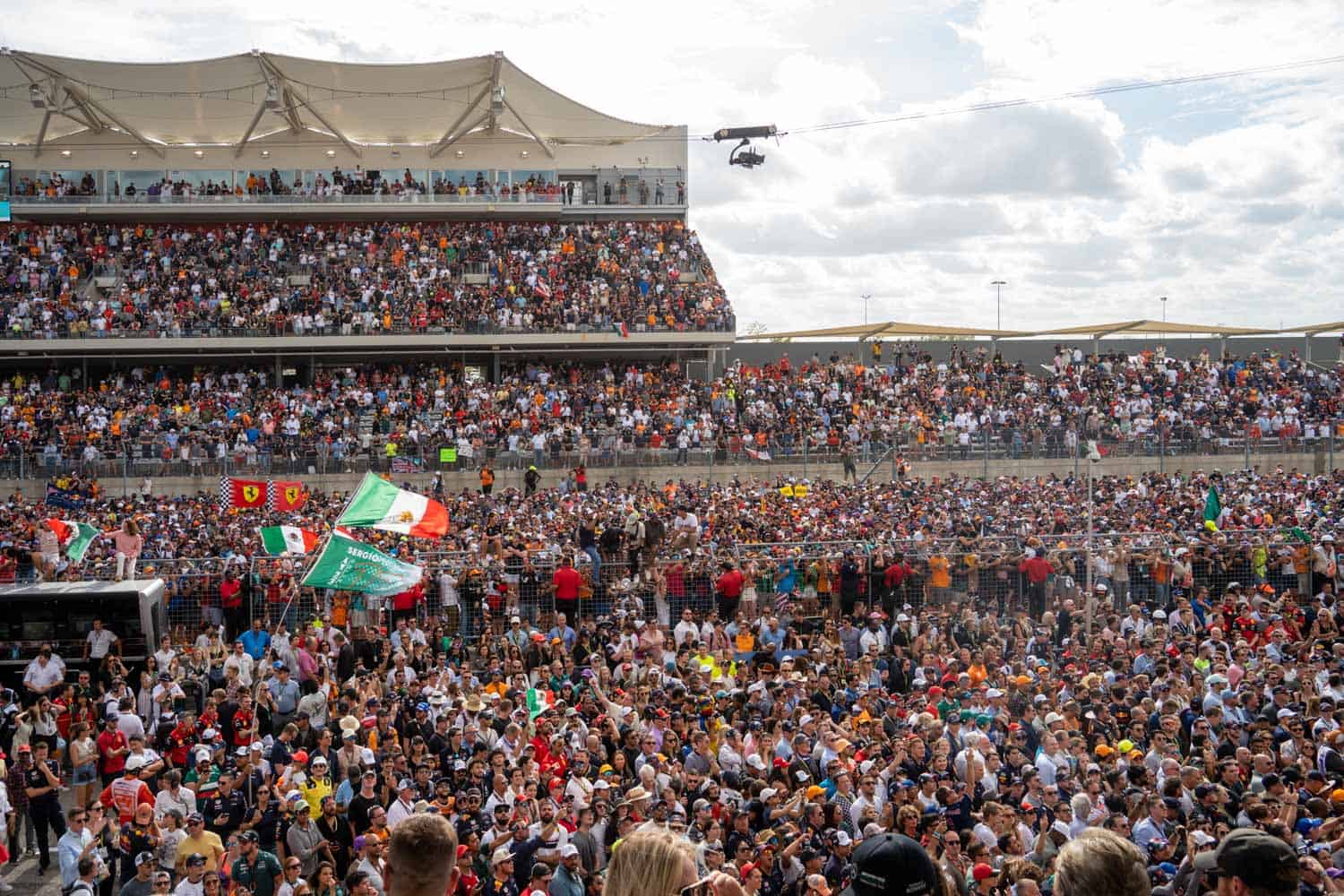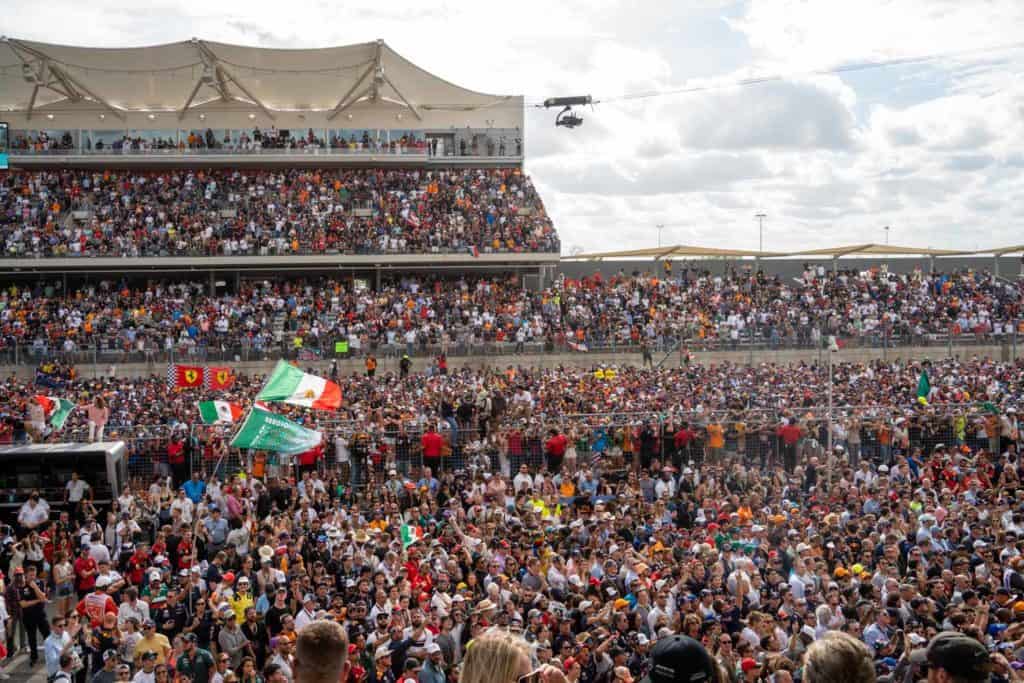 Sites like F1 Experiences also sell team-branded Paddock Club tickets for teams like Red Bull, McLaren, Alpine, Alfa Romeo, and Haas.
What are F1 Paddock Club prices like?
When we bought our original Paddock Club tickets in 2021, F1 offered 1-day, 2-day, and 3-day Paddock Club experience packages. We went with the 2-day tickets, having Paddock Club access on Saturday and Sunday of race weekend.
In 2023, however, Paddock Club is only being sold as a full 3-day ticket package at most races, so that means prices are even more expensive.
For a 3-day ticket package, you can expect to pay at minimum $5000 per person – but most races are more expensive, and Paddock Club for the most popular/famous races on the calendar can easily be 2 or 3 times that amount.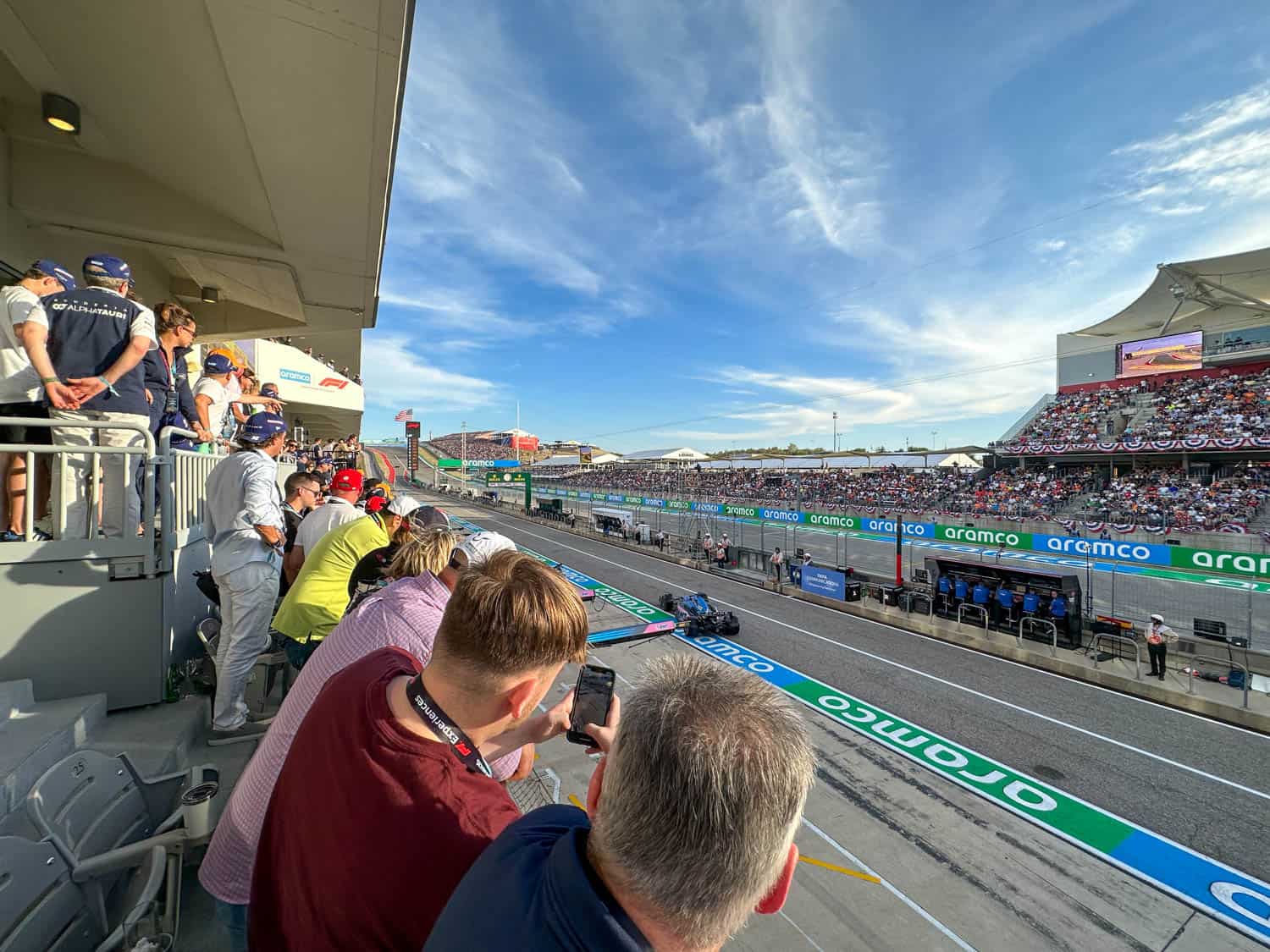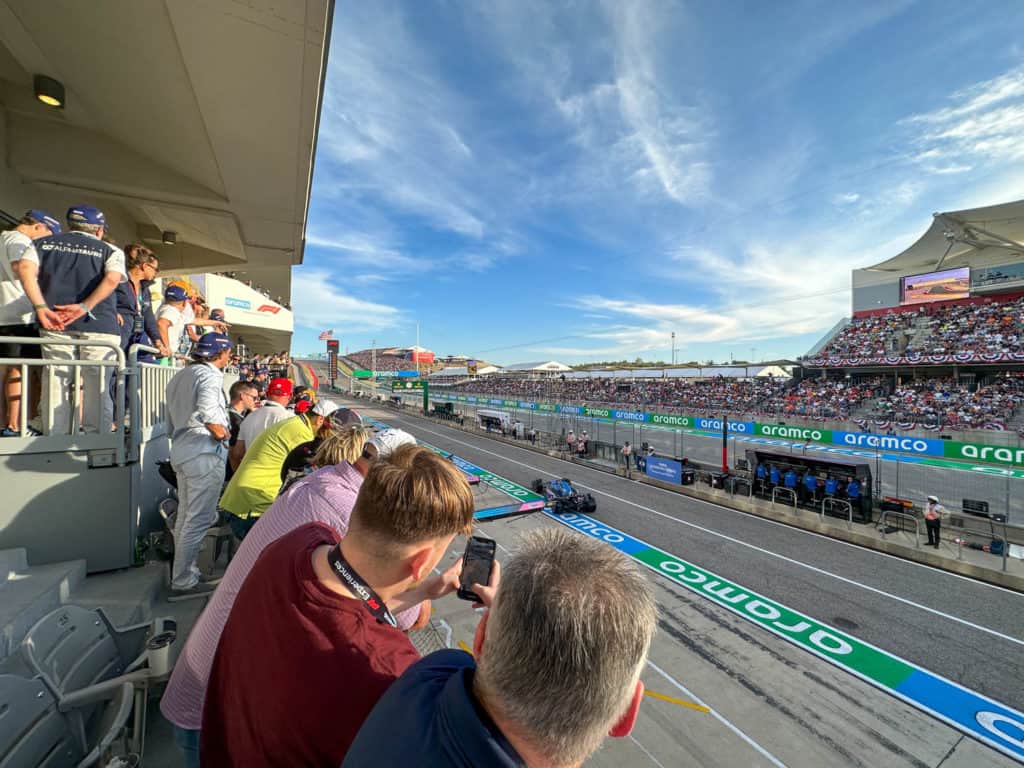 If you add on a hotel and transport to/from the track, the price obviously goes up even more. (But in my experience, F1 Experiences did not inflate the accommodation price much, and it was SO convenient to have bus transport to and from the track!)
Is the F1 Paddock Club worth it?
Look, the Paddock Club isn't for everybody. In fact, Formula 1 tickets in general aren't monetarily accessible for all fans, which sucks.
BUT, if the Paddock Club is within your budget, I think it can be worth it.
And the reasons it's worth it aren't necessarily the food or free-flowing champagne, or even the hospitality suite itself. The reasons it's worth it are the intangible things like feeling like you're "in" the action of the race, and the excitement of potentially getting to see your favorite driver(s) up close.
During our Paddock Club experience, we got to sit above the Ferrari garage on Saturday while they practiced pit stops, brushed right past Max Verstappen during our guided paddock tour, saw lots of drivers milling about in the team garages during pit lane walks, and even got to meet Sir Jackie Stewart on the track!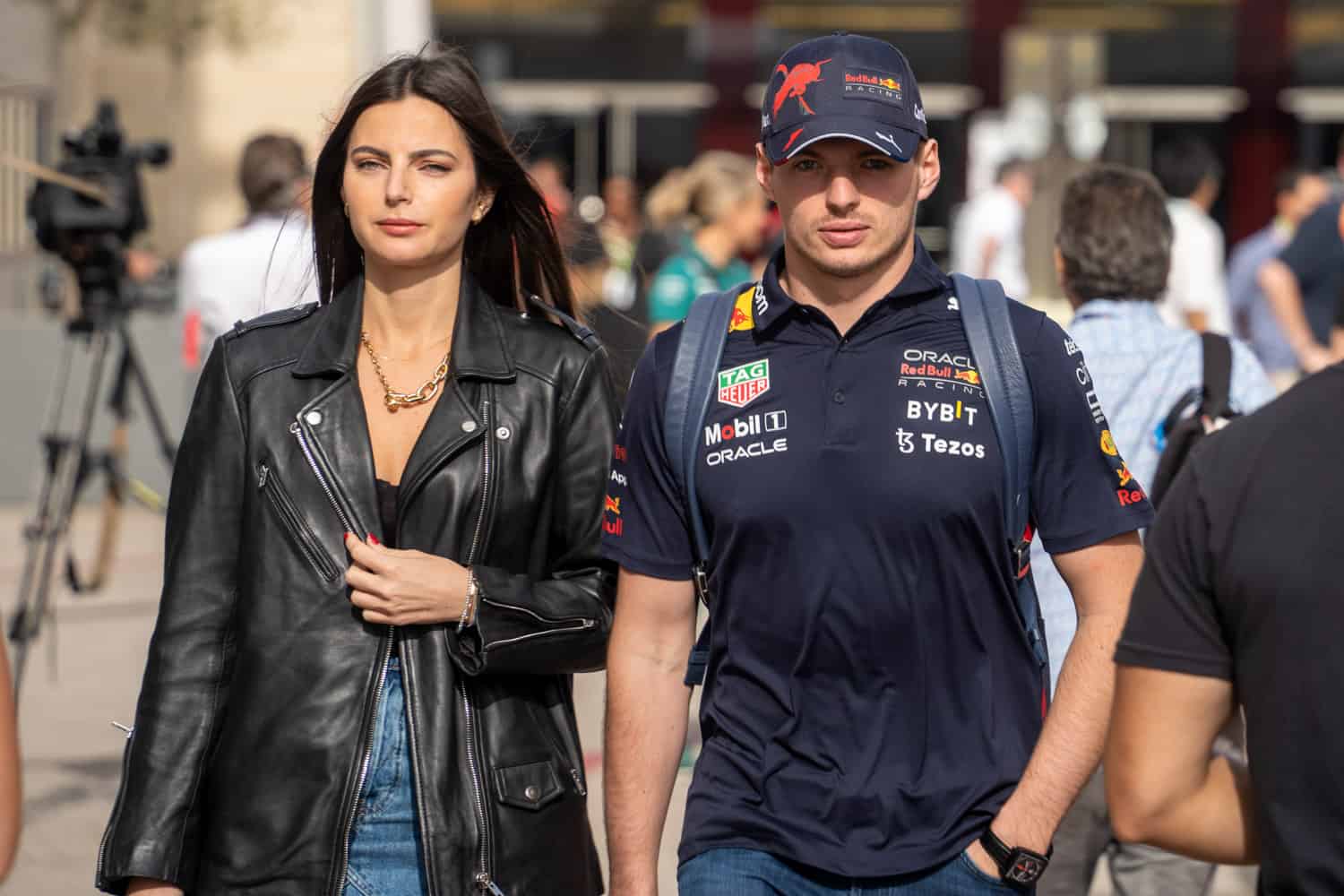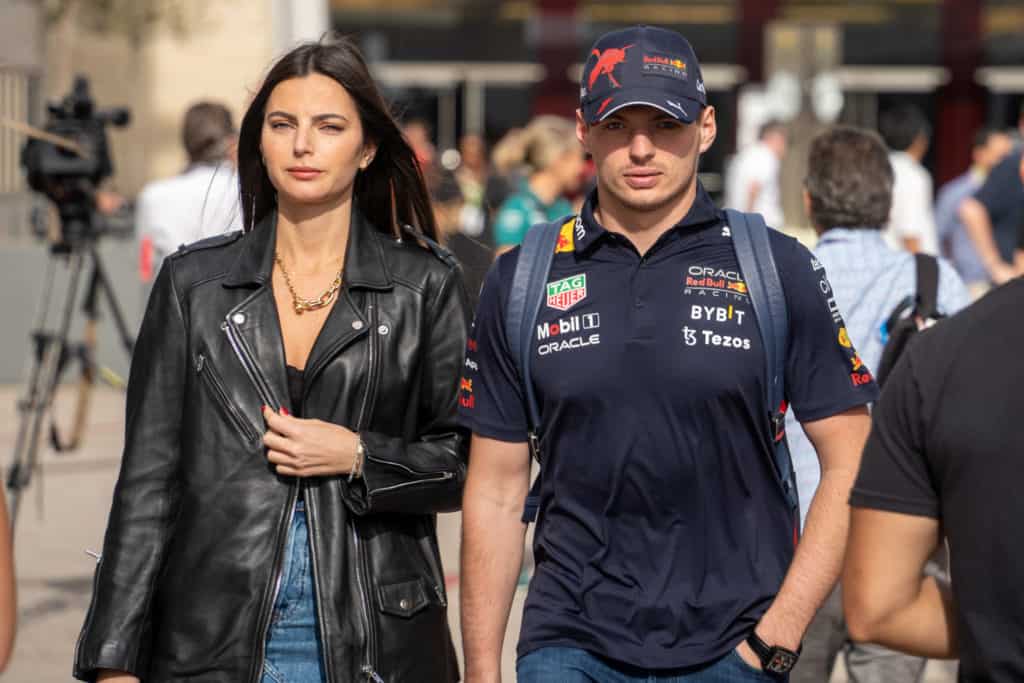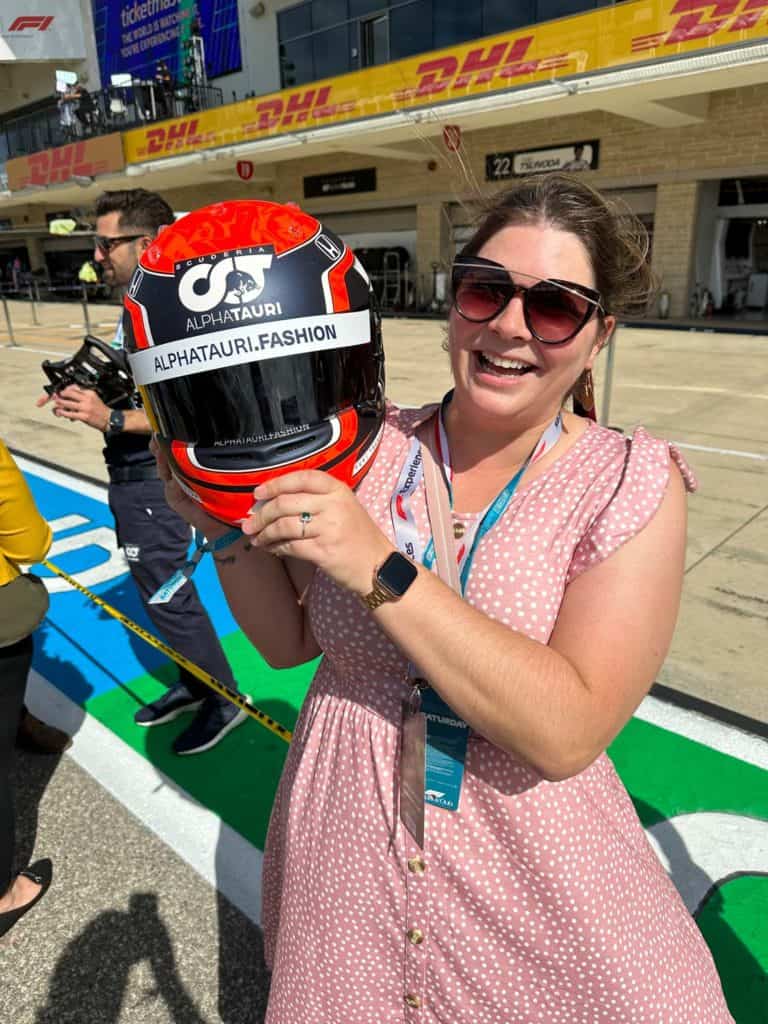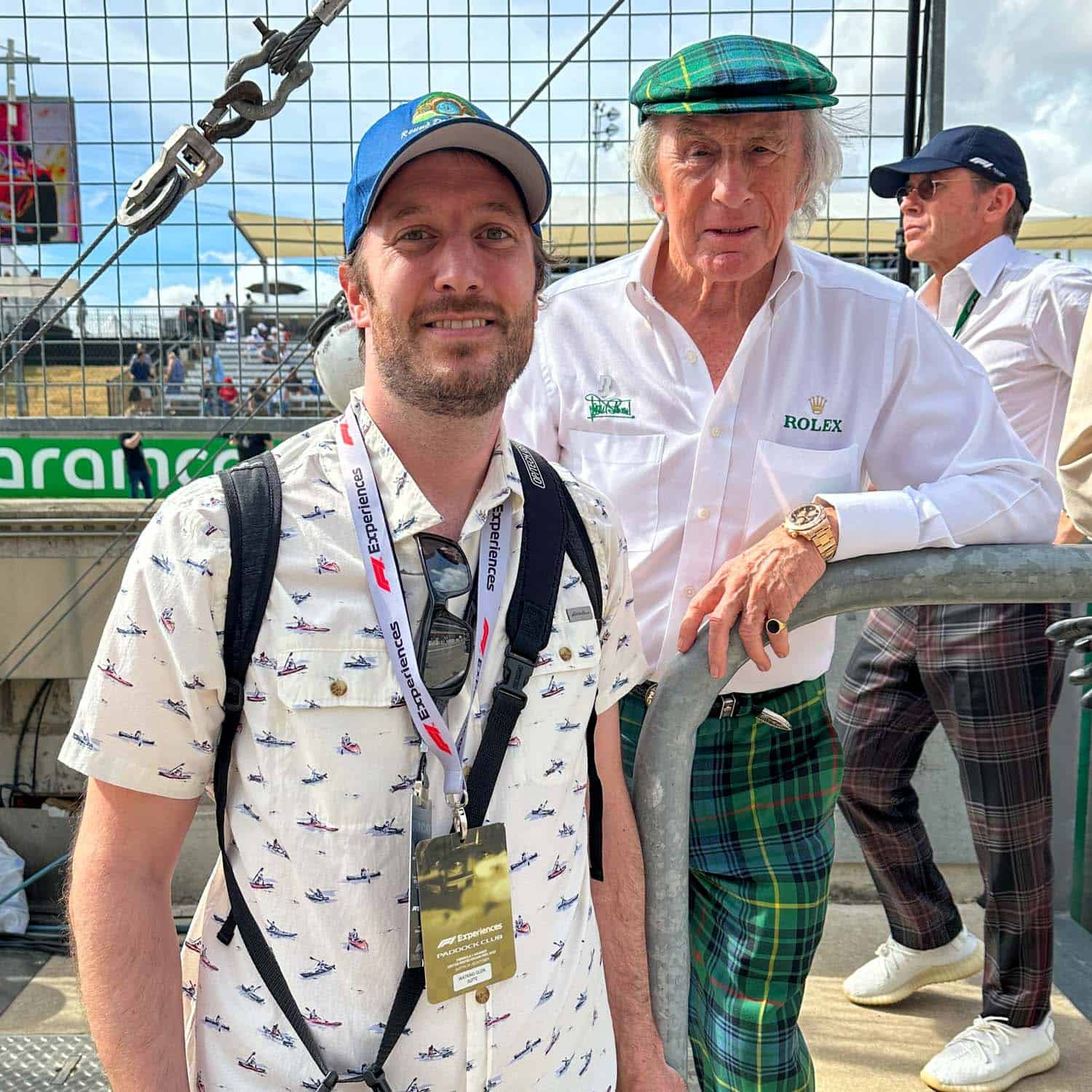 It was a very memorable weekend, and definitely a once-in-a-lifetime type experience. (Because, even though we loved it, I'm not sure we'll be shelling out that much money for F1 race tickets again!)
RELATED: 17 Things to Know About Traveling to the USGP Formula 1 Race in Austin
Important Paddock Club tips
If you're thinking about buying (or maybe have already purchased) Paddock Club tickets for a Formula 1 race, here are my top tips for making the most of your weekend!
1. Be prepared for a crowd
Hundreds of thousands of people attend F1 race weekends around the world, and the Paddock Club is the most popular premium ticket money can buy. Meaning that it might not end up feeling as "exclusive" as you might expect.
Just like the rest of the COTA circuit, the Paddock Club in Austin was packed full with F1 fans. And while everyone was dispersed into different hospitality suites so there weren't lines for things like food or bathrooms, it certainly felt crowded when it was time to do pit lane walks or find a seat to watch the race from.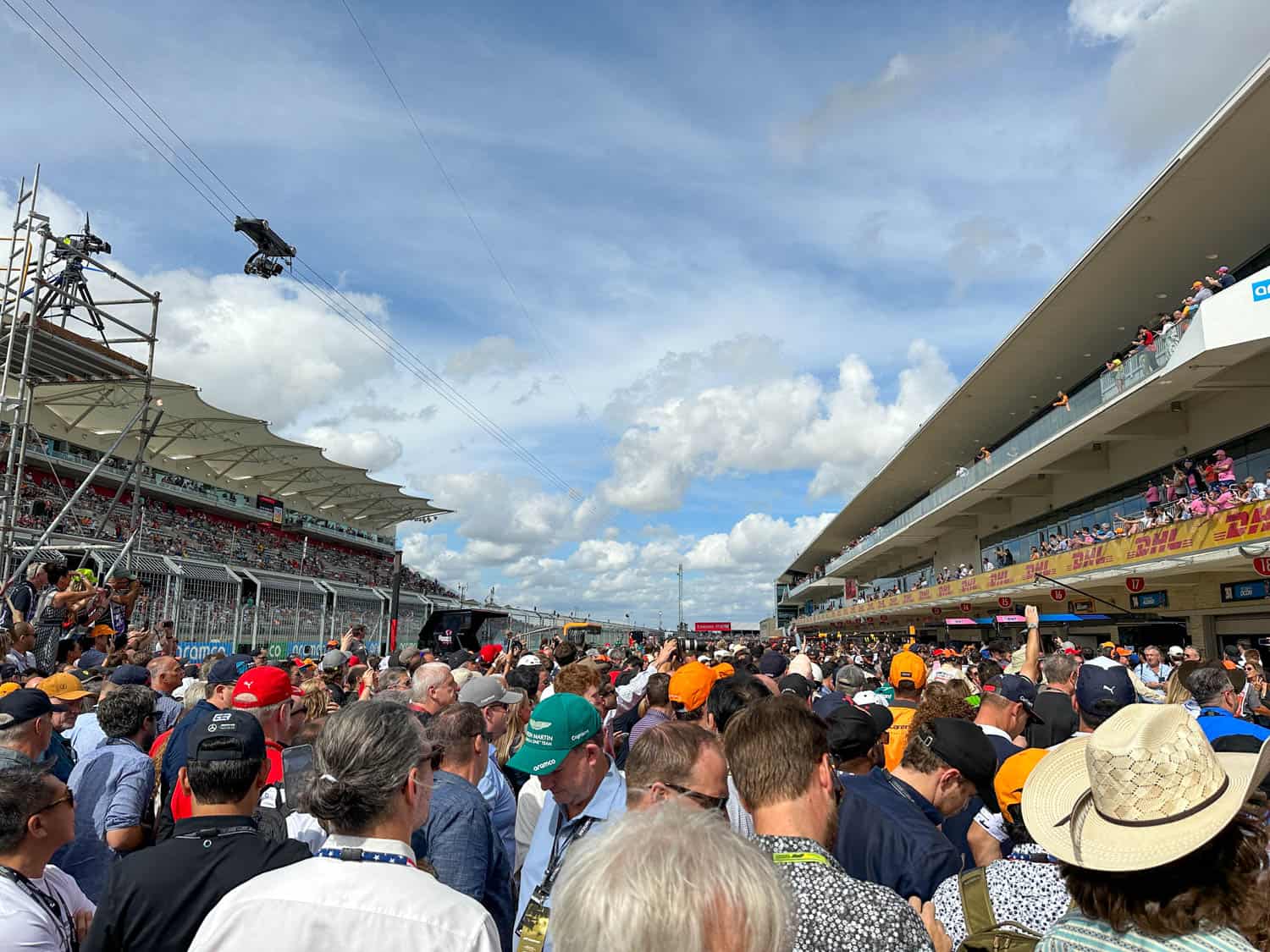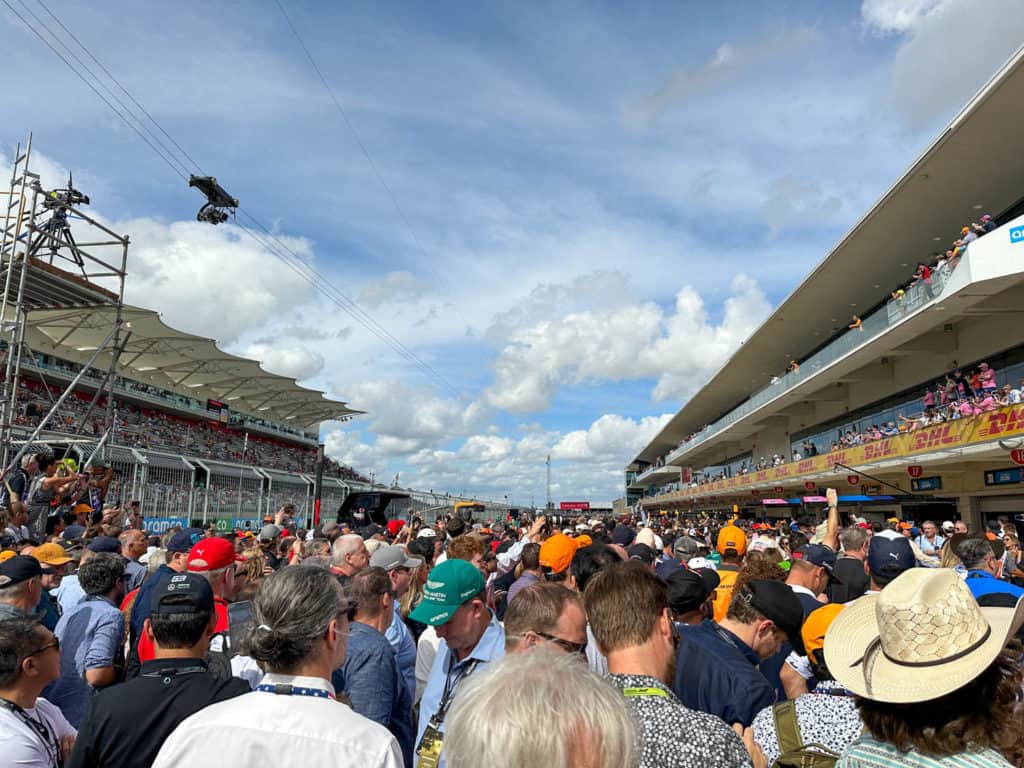 While you'll be away from the general crowds around the track, you can still expect to share the Paddock Club experience with plenty of other people.
2. Don't just go on Sunday
While all Formula 1 races take place on Sundays, Paddock Club tickets usually include multiple days at the track on race weekend (Friday, Saturday, and Sunday for 3-day packages). And you'll definitely want to go every day to make the most out of the experience!
Race day is exciting, yes, but we actually had most of our favorite experiences on Saturday.
Fridays and Saturdays are usually less busy at the track, which means fewer people around. We had front-row seats for the support races, free practice, and qualifying, and saw some really exciting pit stops up close. Not to mention that all the Paddock Club extras like race simulators and other entertainment were much less busy on a non-race day.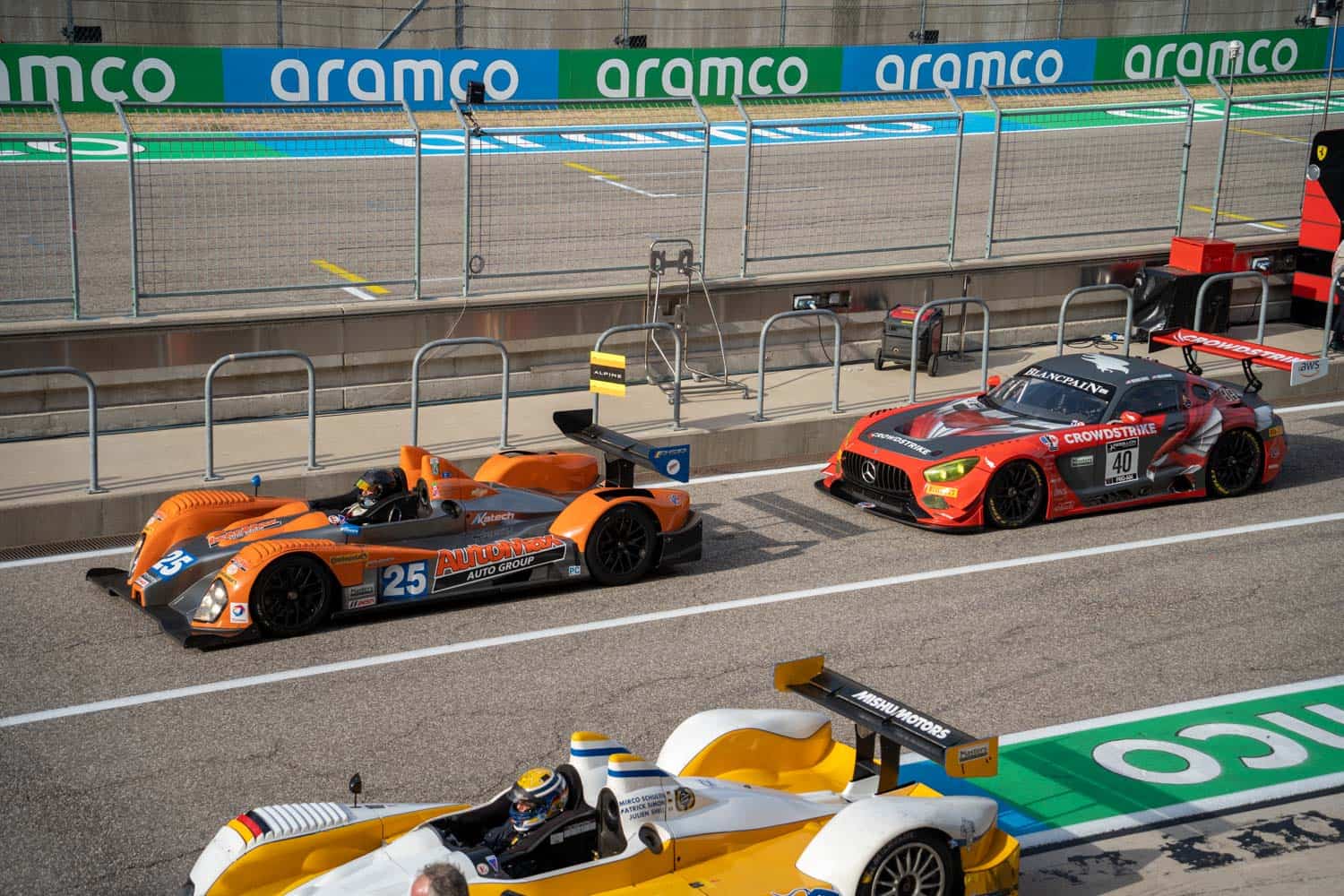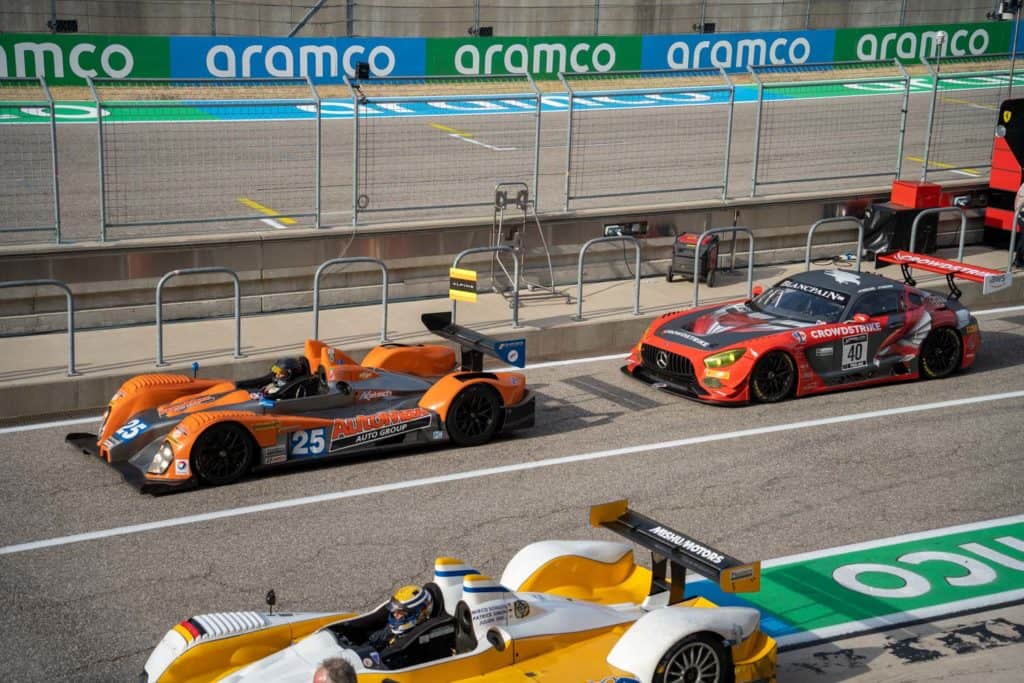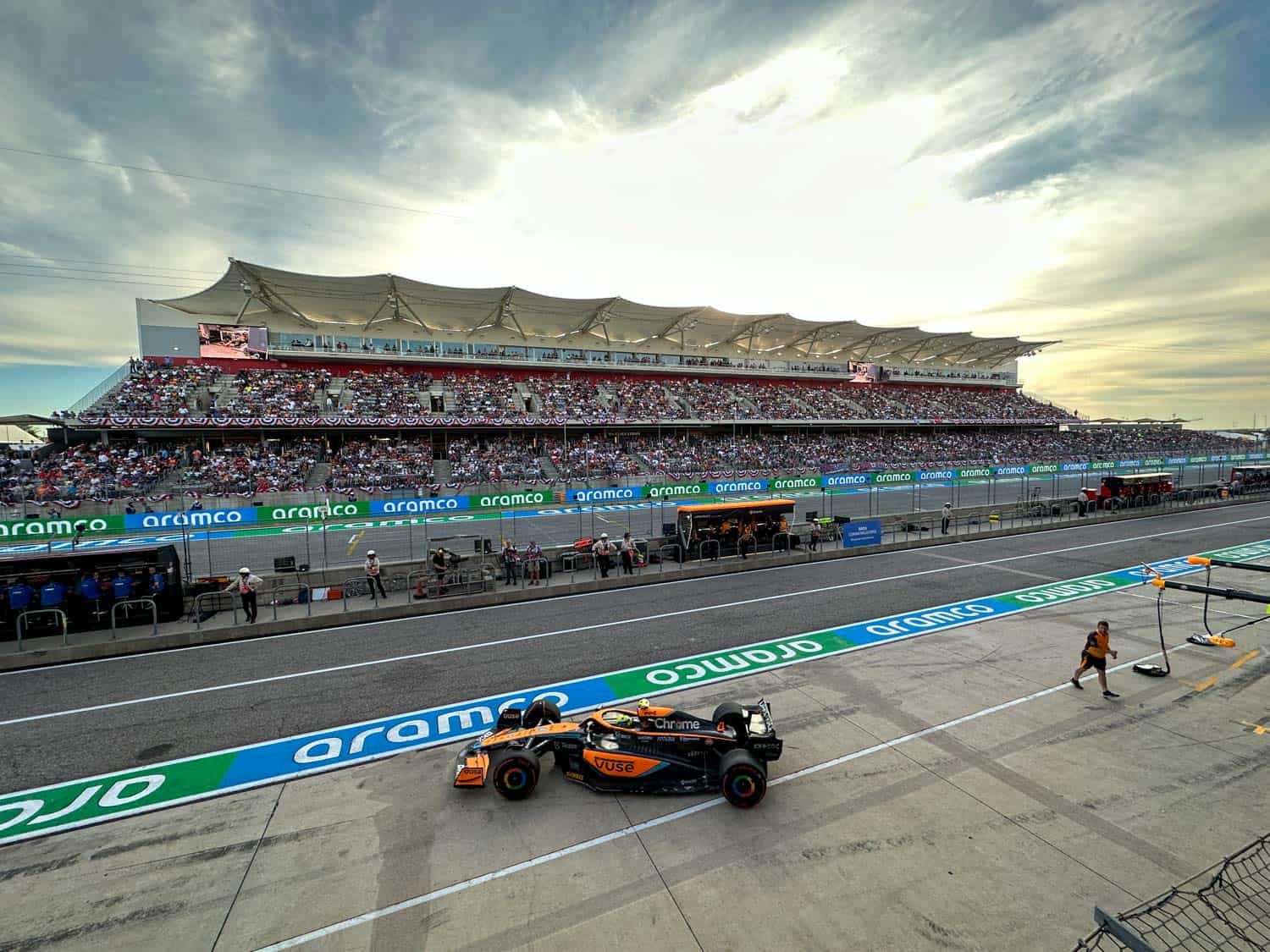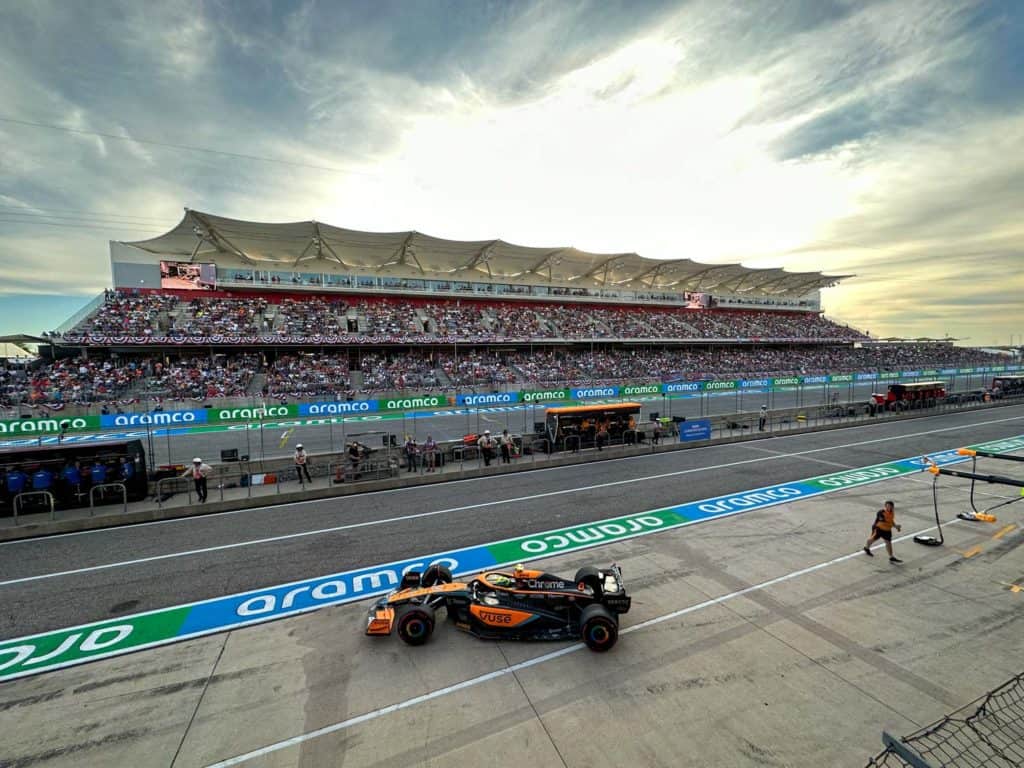 3. Claim your race seats early
Speaking of race day… since everyone with a Paddock Club ticket comes to the track for the race on Sunday, you'll want to secure your race seat outside your suite early!
Since we had no problem getting seats right at the front during qualifying on Saturday, Elliot and I assumed it would be just as easy for the race on Sunday, and went to do one last pit lane walk. But we then discovered that there were a lot more people in the Paddock Club on Sunday, and didn't get the prime race seats we'd hoped for.
(It ended up fine, of course, since many people come outside for the race start and eventually go back indoors to watch the rest of the race on the suite TVs.)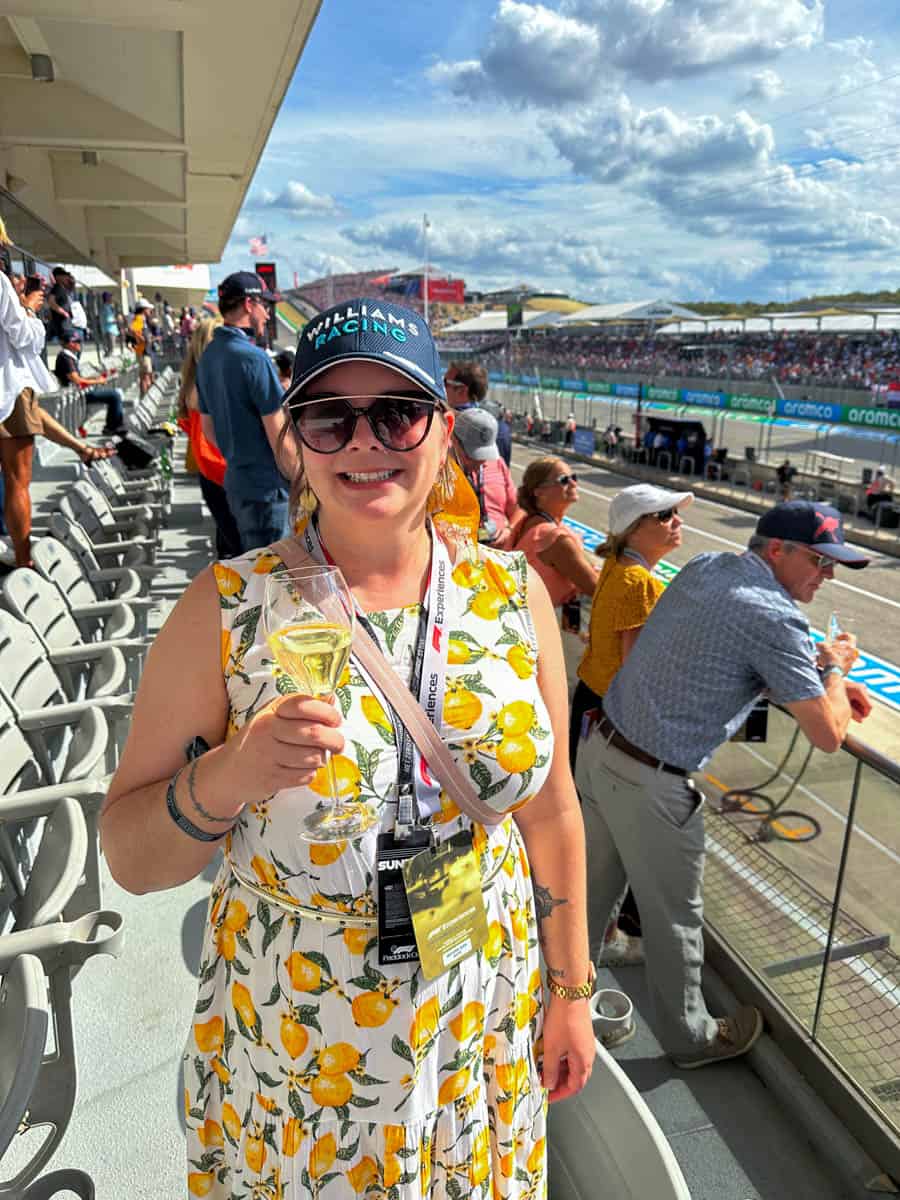 4. Sign up for track tours ASAP
Another thing you'll want to do early is sign up for a track tour. This Paddock Club perk includes a ride around the circuit (on the track itself) on a flatbed truck, and is very popular!
We didn't realize that you needed to sign up for a slot on one of these tours ASAP, though, and missed out. I recommend doing this as soon as you arrive at the track on the first day.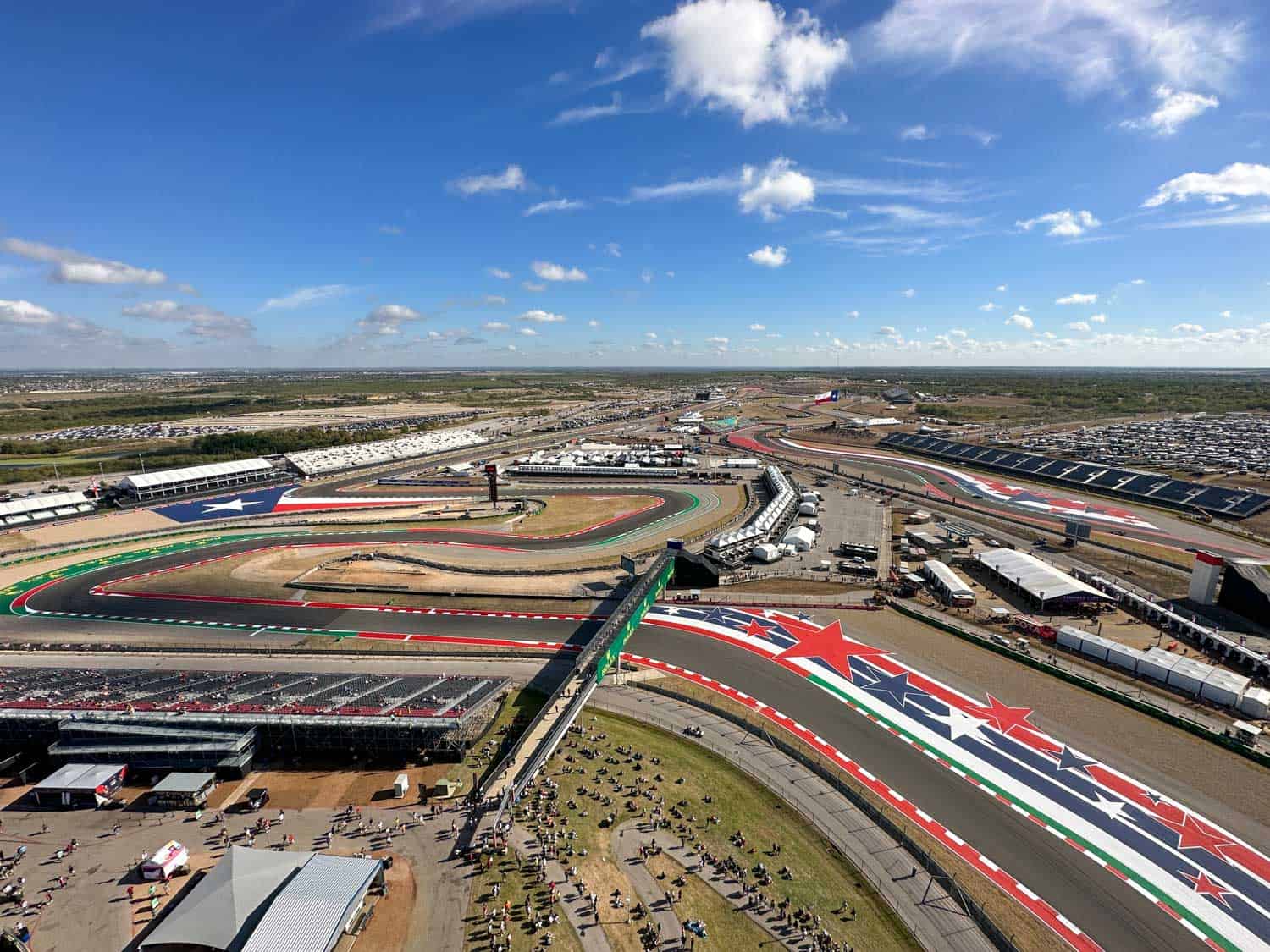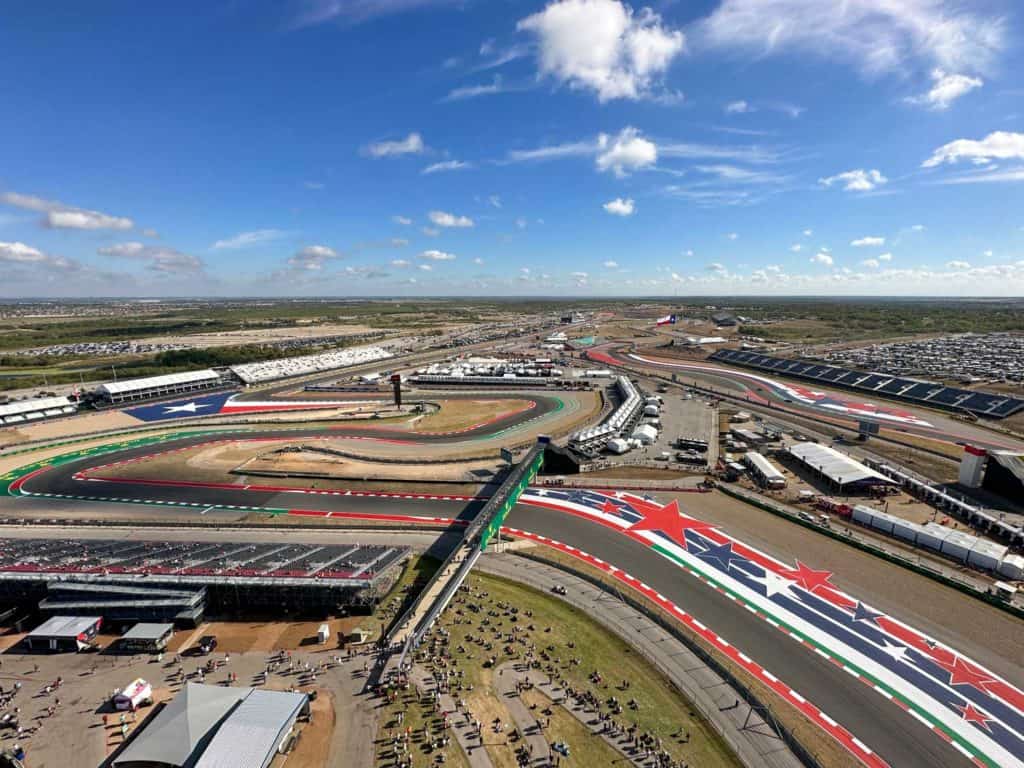 5. Know what's included/what's not
Even though Paddock Club is the most well-known premium hospitality package available at an F1 race, the packages can vary slightly from track to track, and the ticket package may not include things you think it will.
For example, you'll definitely get access to a hospitality suite with food/drinks, and seats above the pit lane. You'll probably also get pit lane walks. But other things – like guided paddock tours, track tours, grid walks, and access to the podium ceremony – might not be included for certain races.
At Austin, for example, we got to do several pit lane walks and one guided paddock tour, but because of the track layout, we did not have access to the podium ceremony after the race.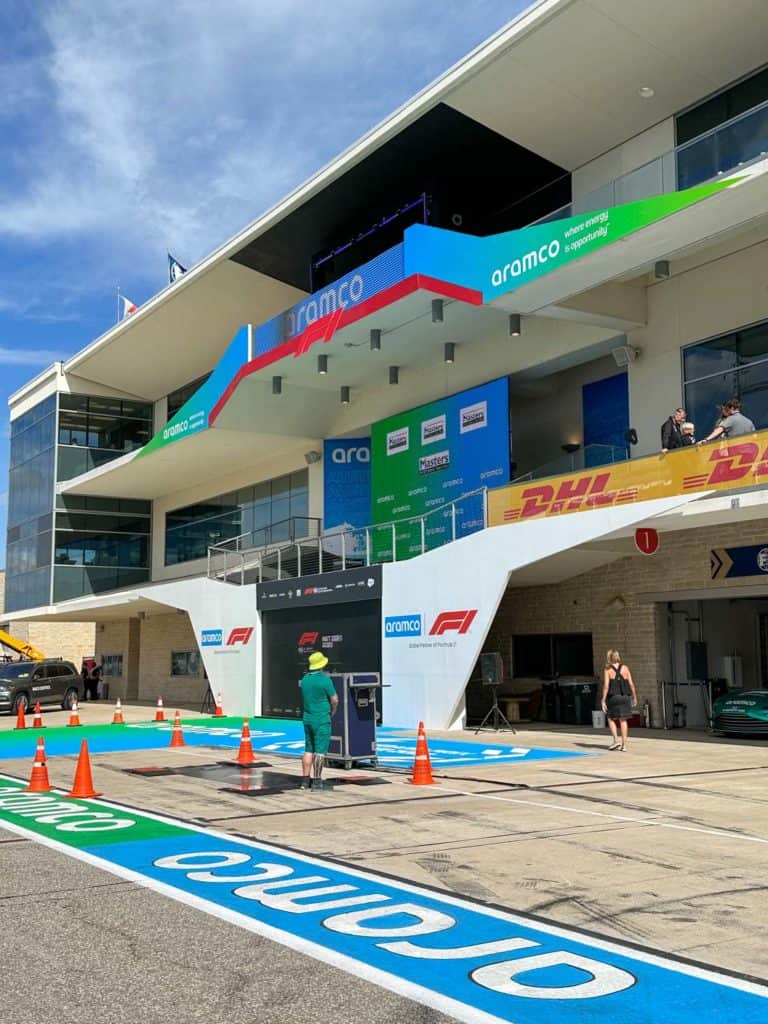 6. Explore outside of your suite
It's fun to explore what's going on elsewhere around the track (I highly recommend spending a few hours on Friday or Saturday outside of the Paddock Club!), as well as elsewhere in the Paddock Club outside of your hospitality suite.
For example, race simulators, photo ops, and a separate bar area with food stations were all available in the general Paddock Club lounge area. We also had views out the back of the hospitality suites over the paddock, and saw lots of drivers leaving their garages after practices, qualifying, and the race itself.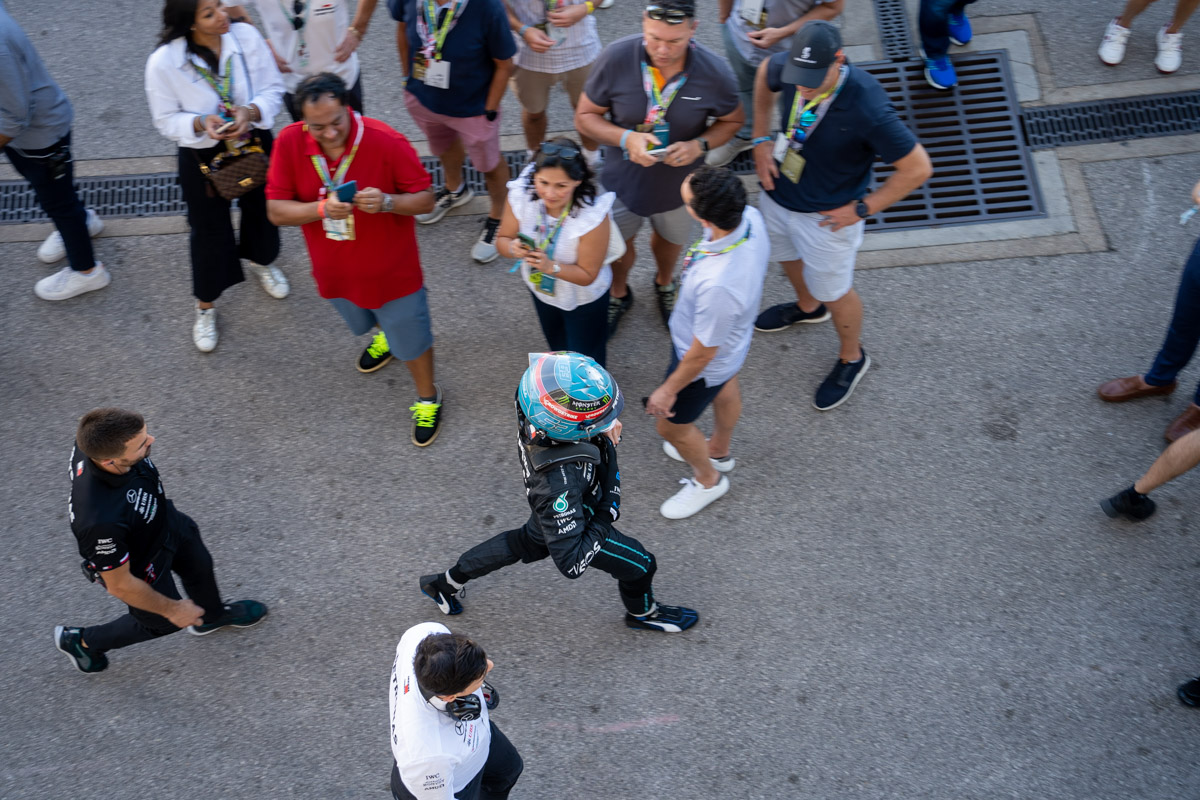 7. Do the pit lane walks!
If pit lane walks are available to you, do them! You probably won't bump into any drivers during these walks since the garages themselves are still roped off, but you'll get to see lots of other interesting things!
We watched pit stop practices up close, and got peeks into every team garage. We also saw several drivers from afar – and also got a unique view of the driver's parade before the race.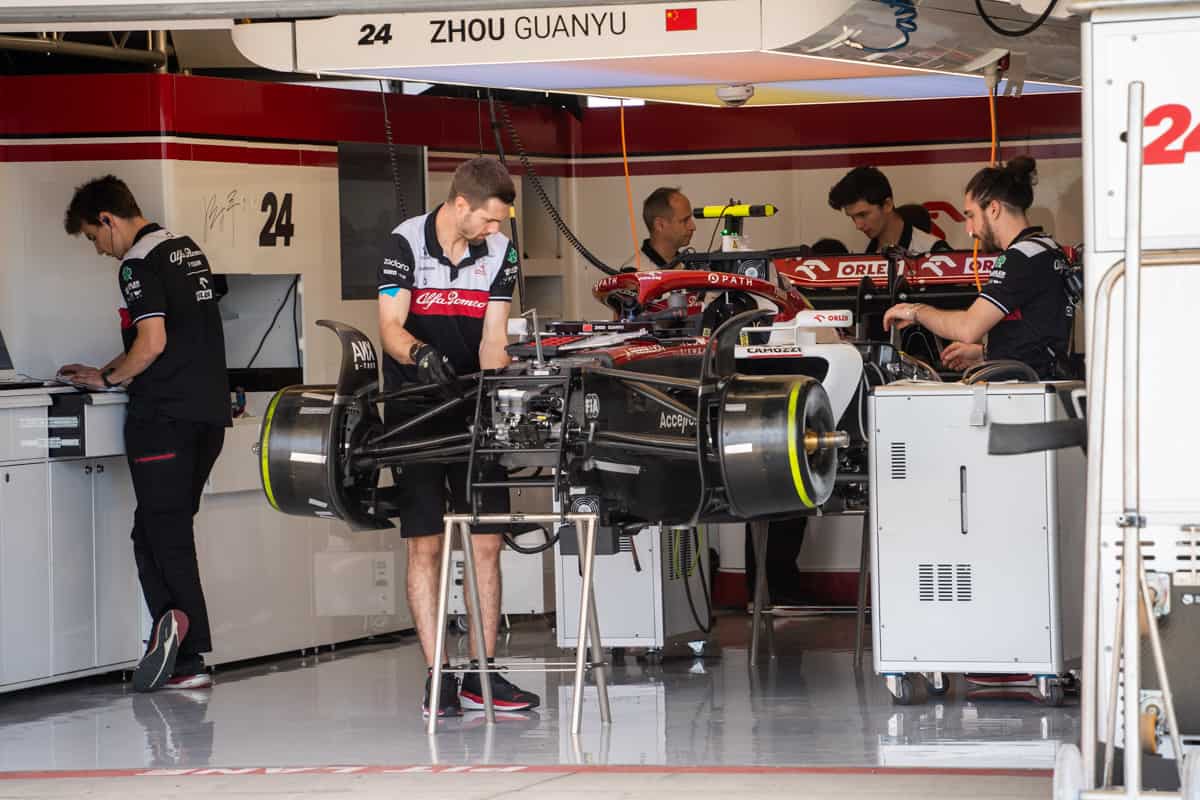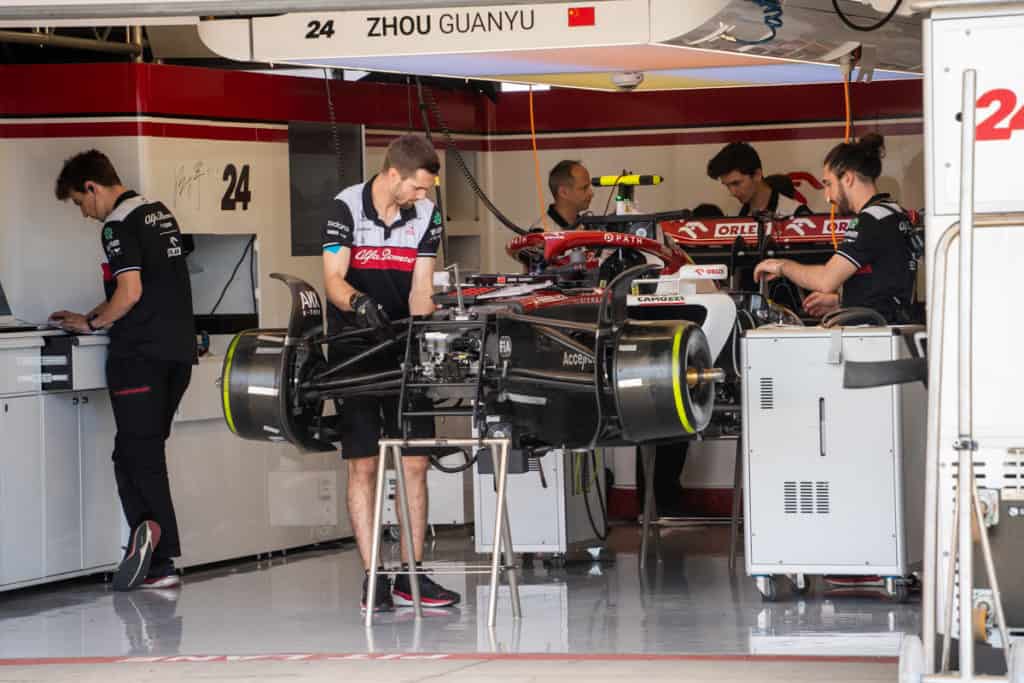 8. Always have a camera and pen on you
You just never know who you may run into, whether in the hospitality suites, in the pit, or in the paddock if you get to go.
We weren't quick enough to ask Max for a selfie or autograph when we saw him in the paddock (though I did get a video), but we watched others later get lucky by trotting alongside drivers and holding out hats with Sharpies all ready to go.
Most tracks allow you to bring a camera if you want, but a smartphone is also just fine for impromptu photo ops.
---
Want to spend less? If you want to splash out on a Formula 1 hospitality package but don't want to stretch to Paddock Club, the Champions Club sold by F1 Experiences is another good option. This also gets you into a hospitality suite with catered food and drink, good seating, and some extra VIP bonuses, but usually runs about half the price of the Paddock Club.
Want to spend more? If Paddock Club doesn't sound exclusive enough, then you can look for Legends Club tickets, which are Paddock Club tickets that also include things like a full day of Paddock access, and prime viewing of the podium ceremony. Some races (like Monaco and the US races) include further VIP ticket options that come with crazy price tags.
---
Want more F1 race tips? Read this post!