Some posts on this site contain affiliate links, meaning if you book or buy something through one of these links, I may earn a small commission. Read the full disclosure policy
here
.
---
As Formula 1 grows in popularity in North America (and especially within the United States), more and more Americans are becoming interested in the sport – and in going to races.
And while there are THREE US races on the F1 calendar for 2023, the the one that's officially known as the United States Grand Prix is the one that takes place at the Circuit of the Americas (COTA) in Austin, Texas.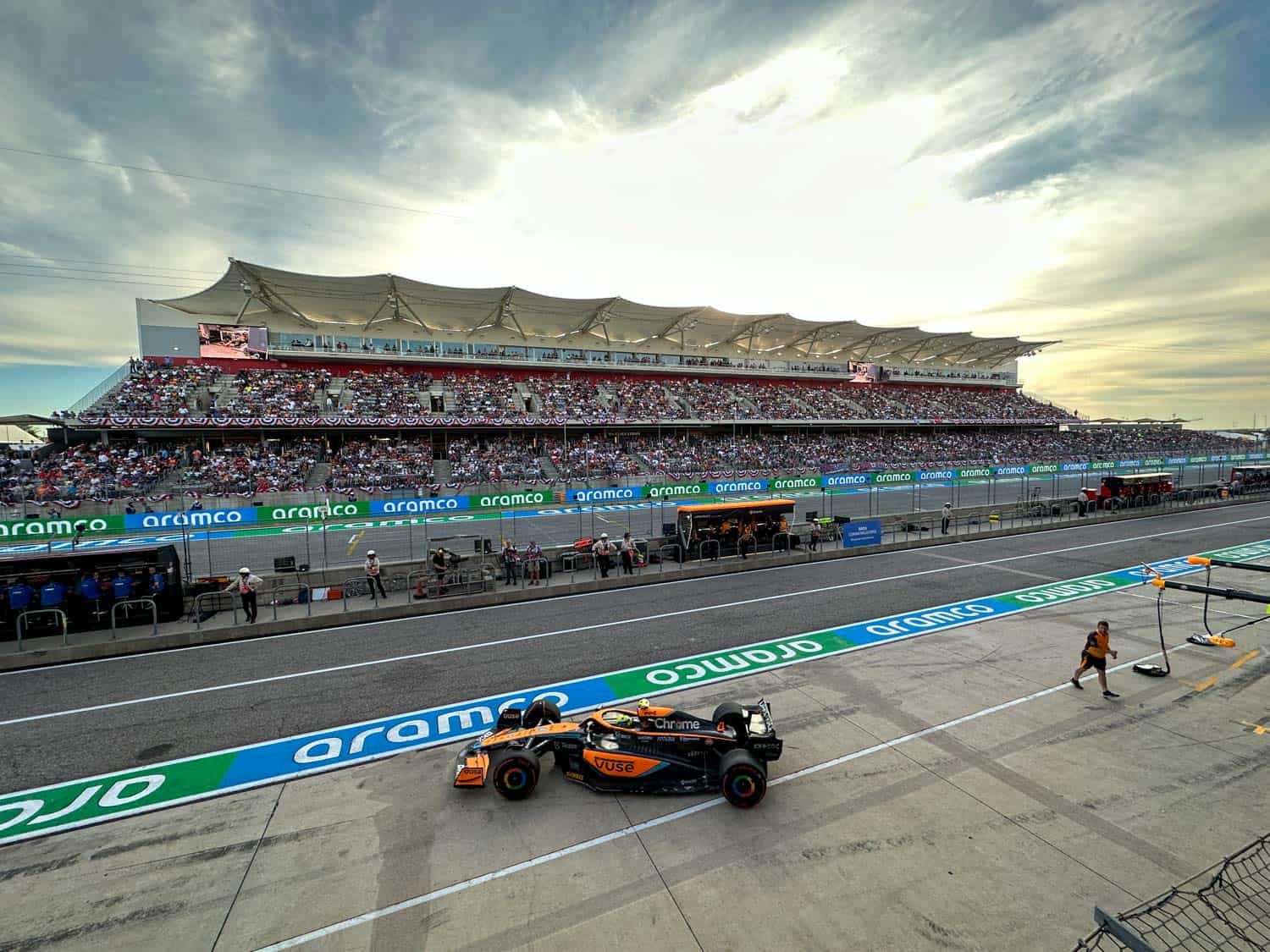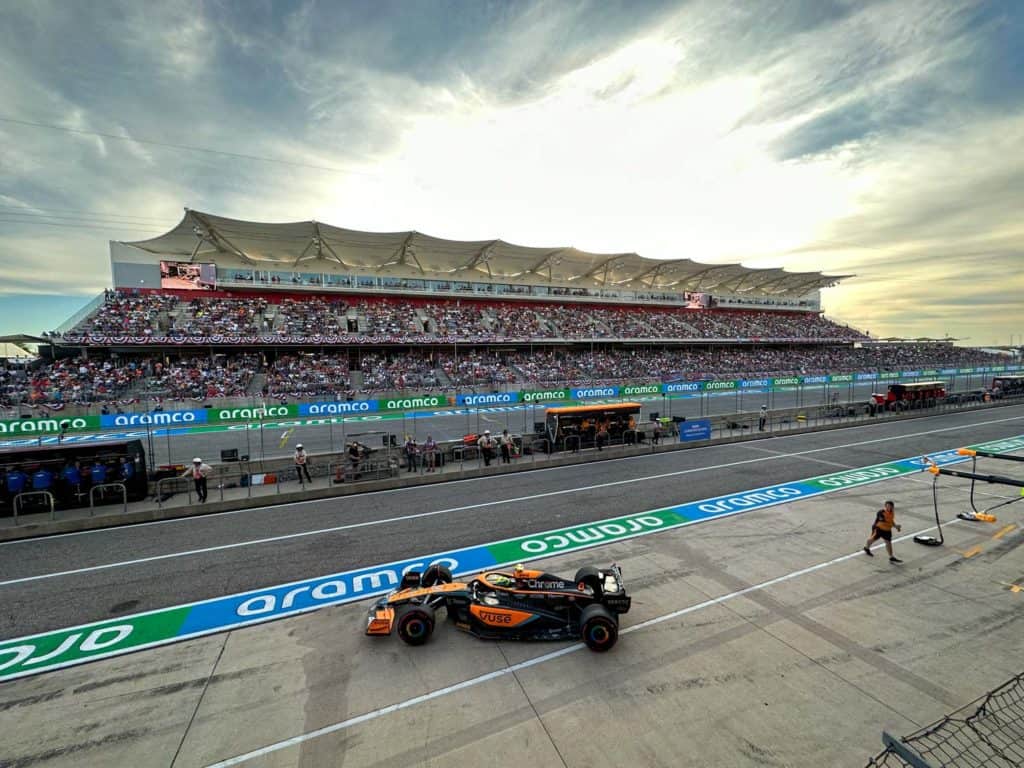 Formula 1 has been racing at COTA for more than a decade, and it's a favorite track for a lot of Formula 1 fans. Austin goes all-out for its Grand Prix, and the weekend has drawn upwards of 400,000 in-person spectators in recent years.
If you're thinking of going (or already planning to go) to the USGP at COTA this year, here's everything you need to know about attending this particular F1 race in person.
First, a few F1 FAQs
Since I know I don't write about a ton of sports travel, here are the basics for my regular readers!
What is Formula 1?
Formula 1 is a type of motor racing, where drivers compete in open-wheel single-seater cars. Currently, 10 teams each field 2 drivers, and they race at tracks in countries all around the world from March-December.
Formula 1 is the top tier of motor racing; race car drivers aspire to get a coveted seat driving in F1, and the competition is pretty fierce! (If you've watched any of Netflix's "Drive to Survive" series, then you know a bit about it.)
And while its popularity is just now on the rise in the US, Formula 1 is not a new sport. It officially began back in 1950 – though of course the cars have changed a lot since then!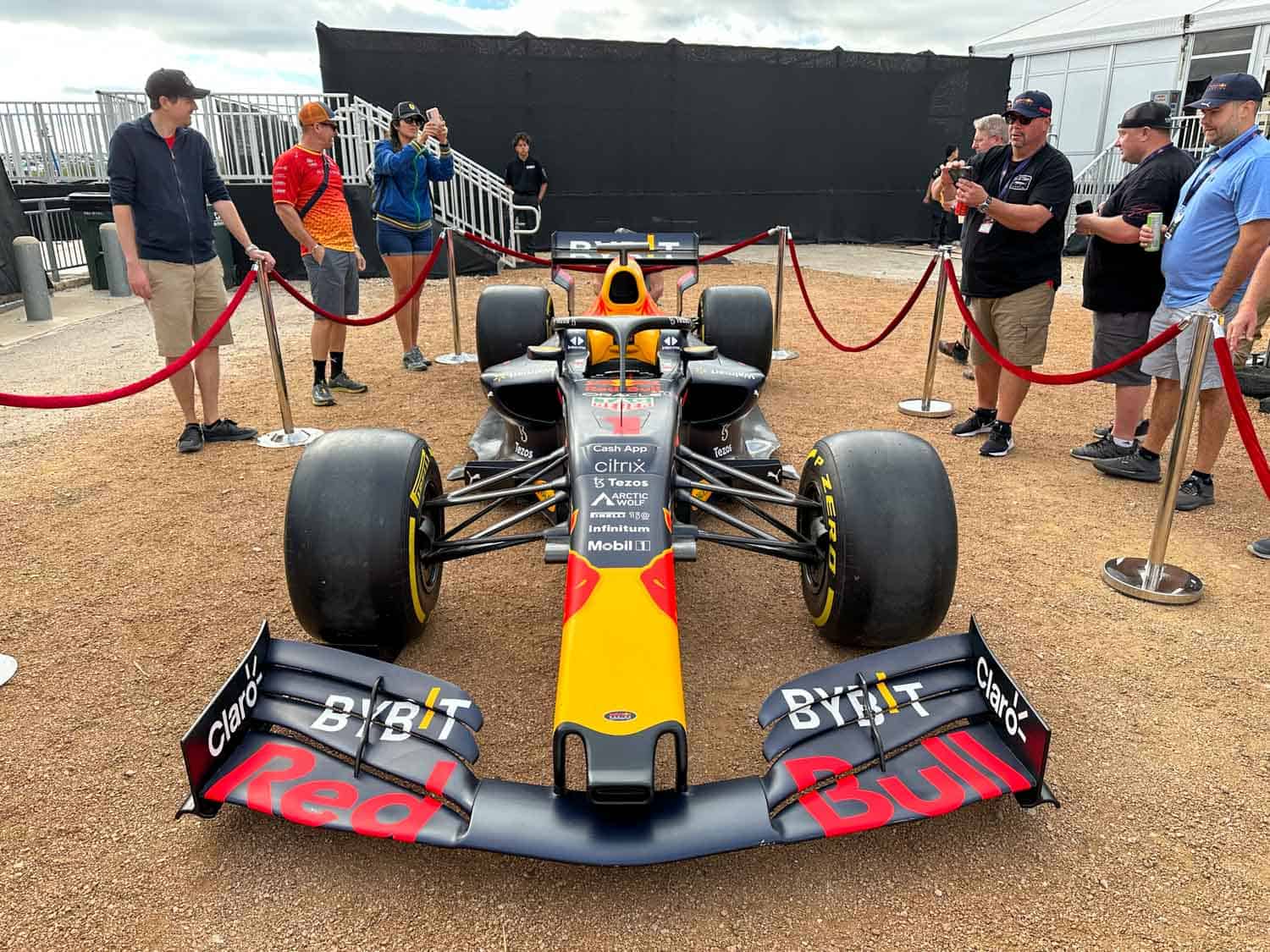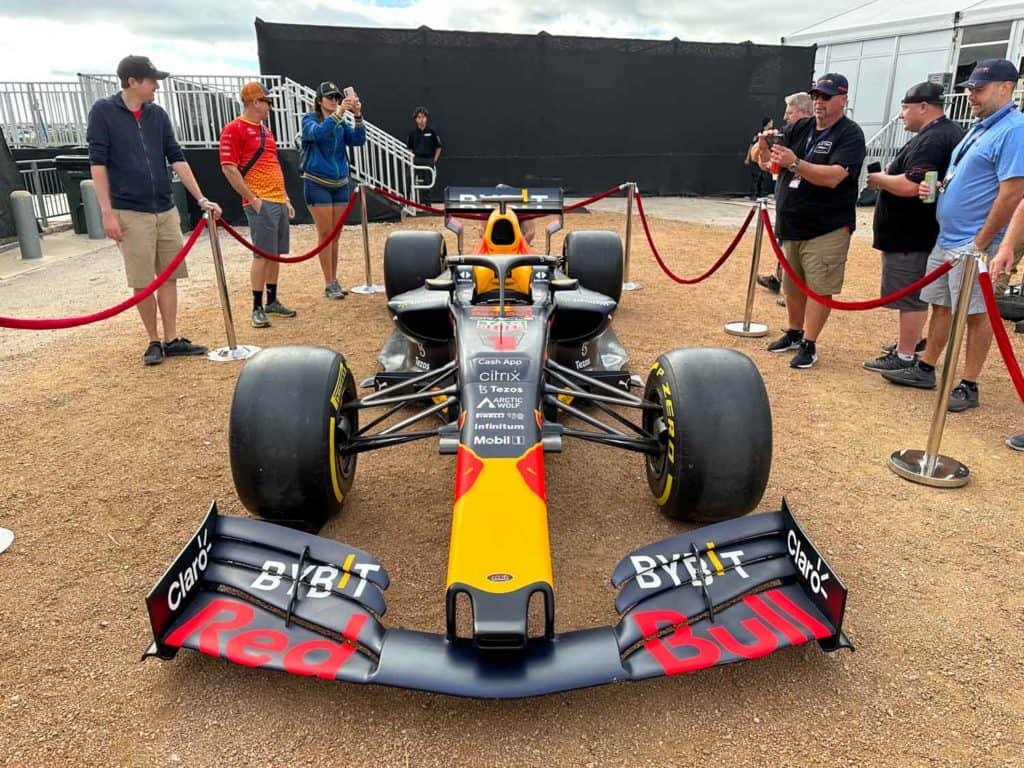 What is the USGP?
The USGP stands for the United States Grand Prix, which is currently the official name of the race that takes place once per year at the Circuit of the Americas track in Austin, Texas.
The USGP has been held on and off since 1908, when it was first known as "the American Grand Prize" (though, prior to that the Vanderbilt Cup was the very first American auto racing event). The USGP has been held on a variety of circuits and tracks over the years, including tracks in Watkins Glen, Detroit, Phoenix, and even Indianapolis.
COTA is set to host the USGP up until at least 2026 on its current contract with F1.
Oval track racing (i.e. like NASCAR) grew into the dominant motor sport in the US, but in recent years the popularity of Formula 1 is growing again.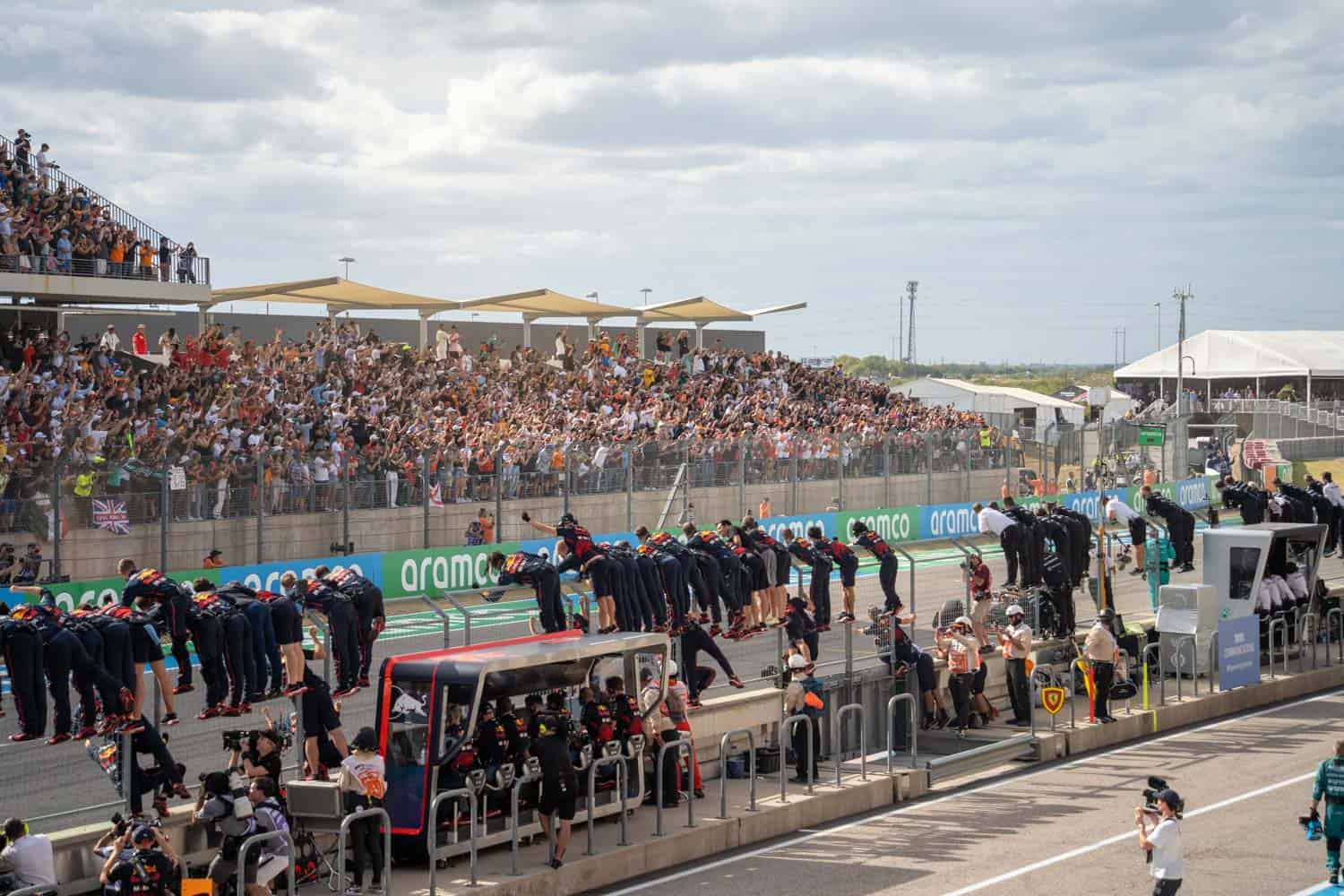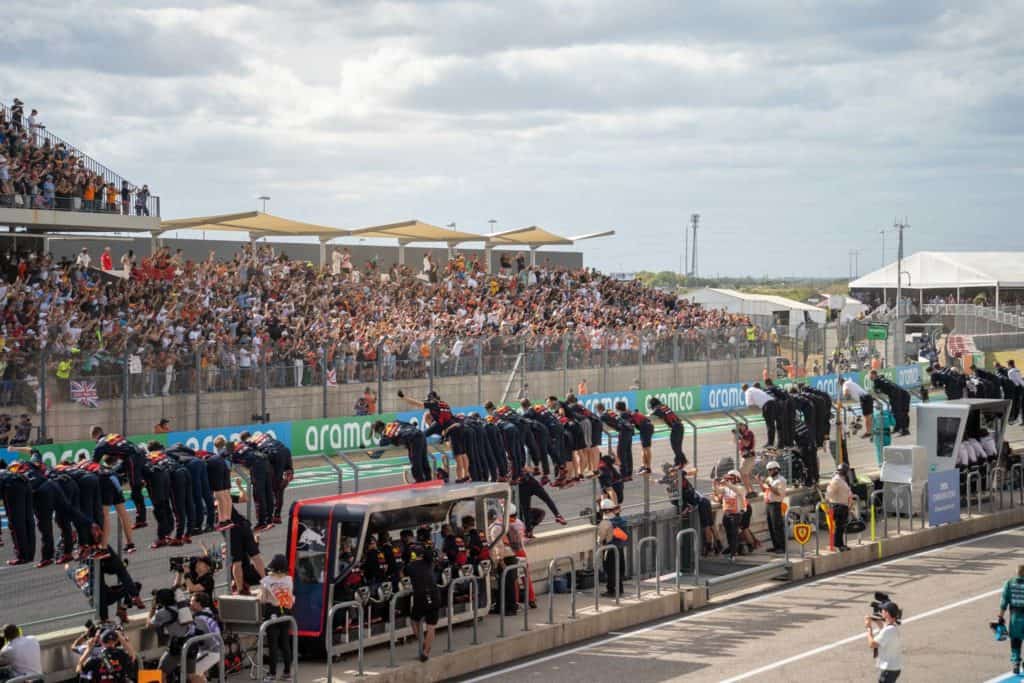 Where does the USGP take place?
The United States Grand Prix takes place in Austin, Texas at the Circuit of the Americas track. The track was purpose-built to host F1 races back in 2012, and was designed by German architect and track designer Hermann Tilke.
Tilke, who has designed more than a dozen tracks around the world, took favorite elements from his other track designs and put them all into COTA. The track is 3.426 miles (5.513 kilometers) long, and the USGP race length is usually 56 laps here.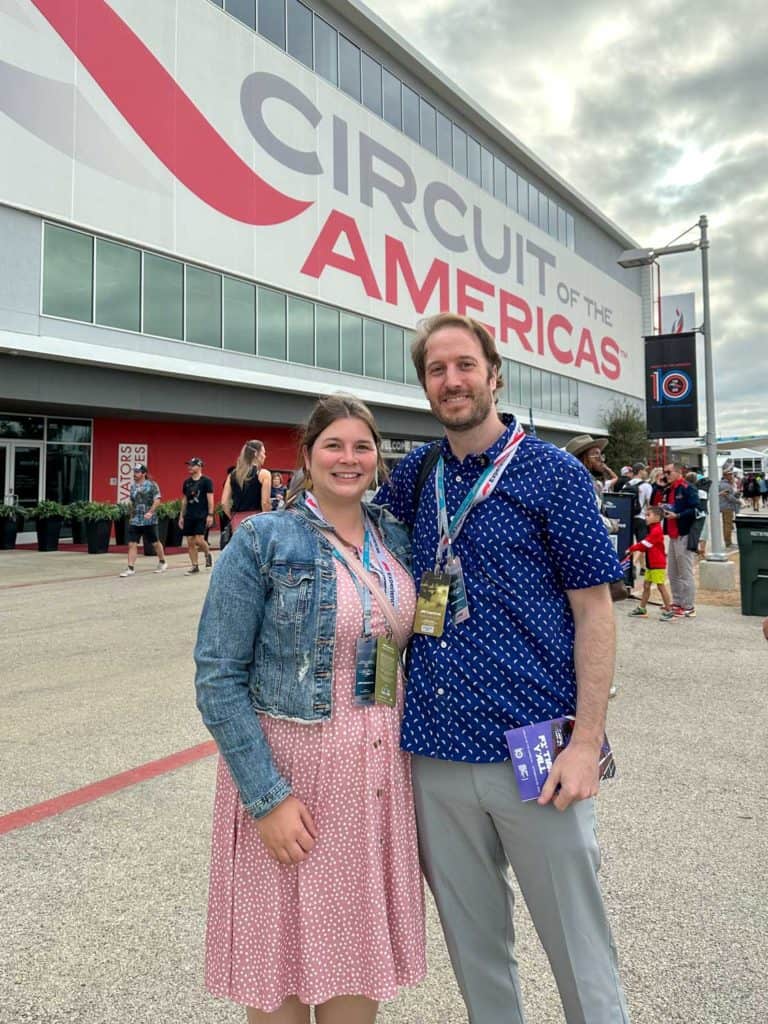 When is the United States Grand Prix?
In 2023, the Formula 1 Lenovo United States Grand Prix takes place October 20-22.
This year, the USGP will be one of the 6 races on the calendar that hosts a sprint race. Meaning one practice session and race qualifying will take place on Friday, October 20th; a sprint shootout (AKA qualifying for the sprint race) and the sprint race will take place on Saturday, October 21st; and the main race will happen on Sunday, October 22nd.
This means that the 2032 USGP will be even more exciting (and in-demand) than usual!
Things to know about going to the F1 USGP
My husband Elliot (who has been an F1 fan since grade school) and I have been to the USGP at COTA, and these are all the things we think you should know if you're planning to attend in 2023 or beyond.
1. Tickets will probably (definitely) sell out
In 2022, a record 440,000+ people showed up over the 3-day Formula 1 race weekend at COTA, with an estimated 150,000 people attending Sunday's race final. In 2023, with an extra sprint race on the schedule, I would anticipate even more people going.
Tickets – and especially the more affordable general admission tickets – will certainly sell out. Even the most expensive ticket packages will likely sell out*.
Most tickets for the USGP at COTA are sold in 3-day packages, though it's possible that F1 or the track could release single-day tickets closer to the race. (For 2023, there ARE some 1-day tickets available!)
*When this post was first published in April 2023, many tickets for the 2023 USGP had already sold out. In early October 2023, though, there still are *some* tickets remaining.
2. There's not just one type of ticket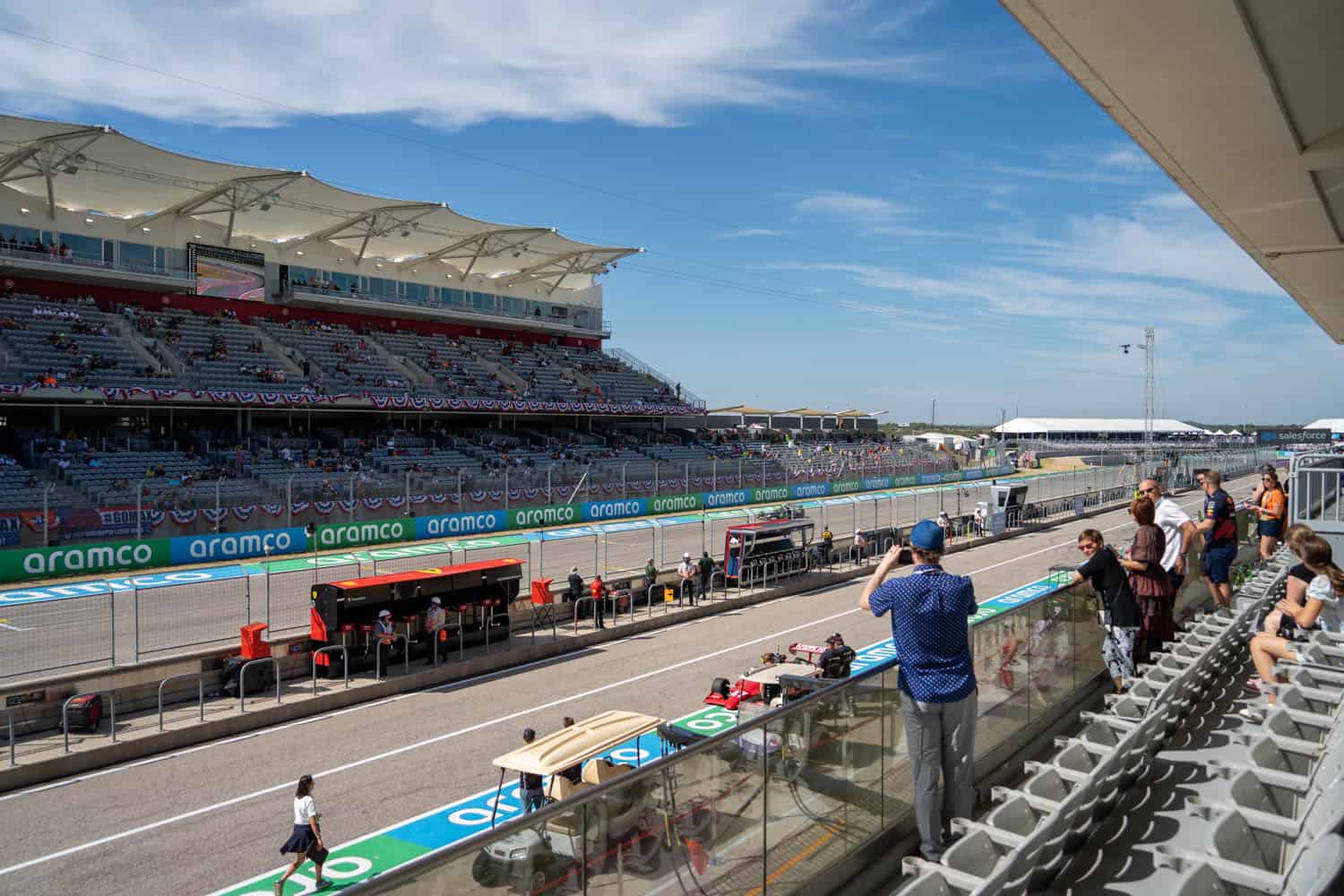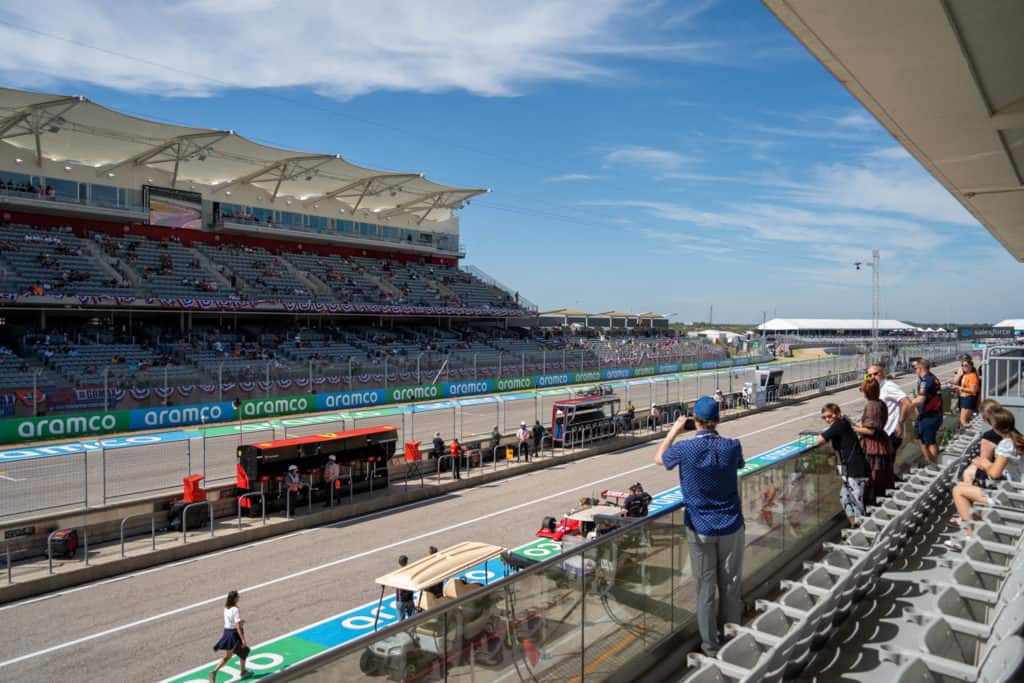 There are several ticket types you can try to purchase based on where you want to sit and how much you want to spend. These include:
General admission tickets – These get you into the track, but don't get you an assigned seat. The good news is you can sit on any of the GA grassy areas along the track – and there are lots to choose from! The bad news is that these areas can get SUPER packed on busy race days.
Bleacher tickets – These are currently at Turn 9, Turn 12 and Turn 19, and are reserved seats in bleacher-style grandstands. (Get GA and bleacher tickets through the COTA site.)
Premium grandstand tickets – These get you an assigned seat in nicer grandstands (think: actual seats with backs, some might be covered). These are currently on the Main Straight, Turn 1, Turn 2, Turn 4, Turn 15, and Turn 19. (Buy these from F1 directly, or check the COTA site.)
Hospitality tickets – Think of these like the VIP sections, where tickets get you trackside seats with good views, along with catered hospitality. These include ticket packages for things like the Champions Club and Paddock Club (both sold through F1 Experiences), as well as other premium hospitality clubs and suites sold by COTA. These tickets get super pricey.
All tickets give you access to everything happening at COTA during the weekend, including any support races and demonstrations, plus entry into fan zones and team shops. (Only VIP tickets will get you access to things like the pit lane, team paddocks, and hospitality suites, however.)
The "best" seats are subjective, of course, but you can't go wrong with Main Grandstand tickets. Not only do these have some of the best views, but they're also covered and put you in a great spot if you want to join the "track invasion" after the race to see the trophy presentations at the podium ceremony.
For GA tickets, sitting on the hill near Turn 1 is always one of the most popular spots.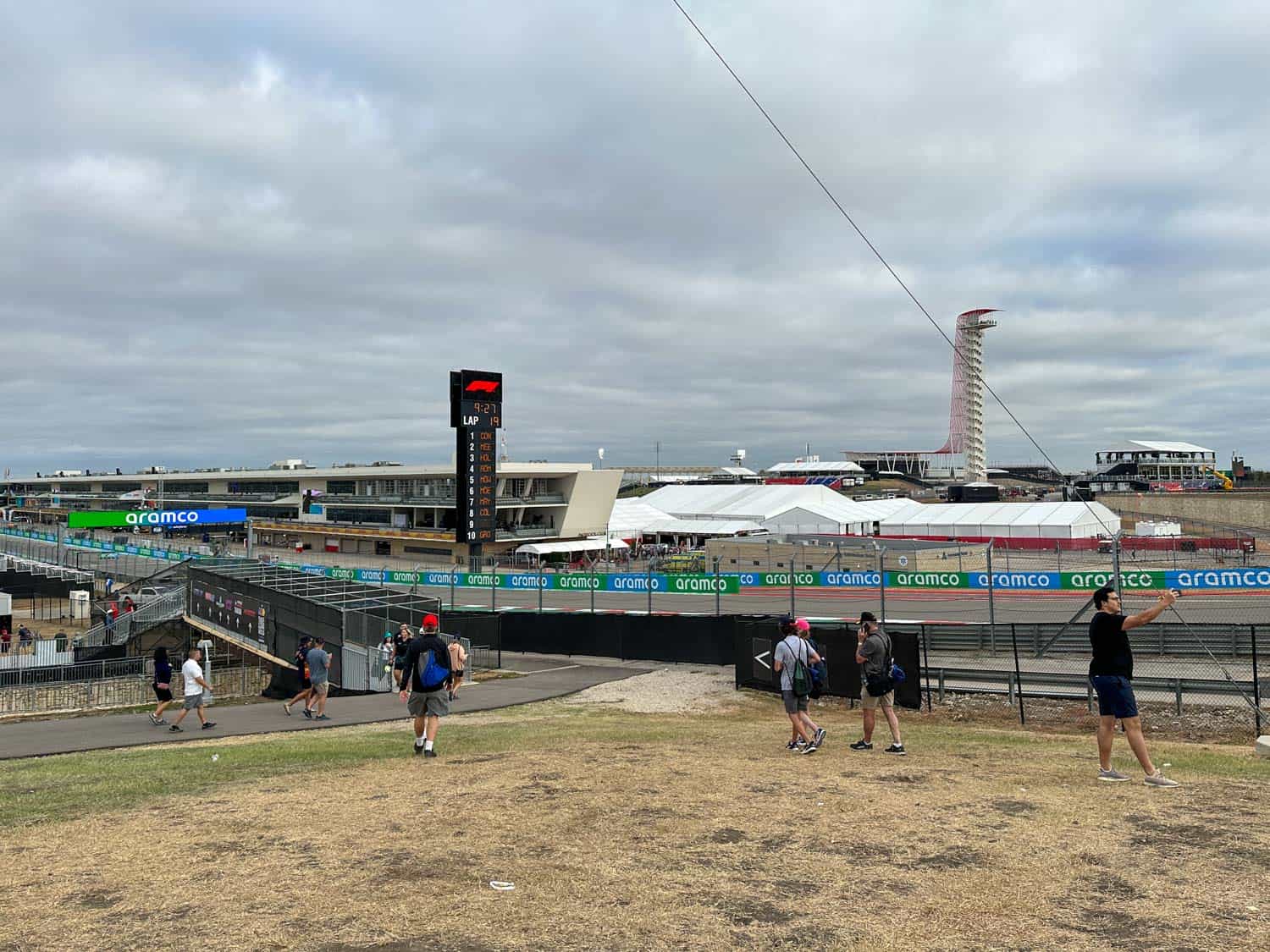 RELATED: Is Paddock Club Worth It at a Formula 1 Race? An F1 Paddock Club Review
3. Daily tickets include concert access
Another thing worth noting for COTA is that your tickets – even GA tickets – also get you access to concerts that happen in the evenings usually on Friday and Saturday. As long as you have valid track tickets for the day, you can attend the concert that evening for free, which takes place on a special "Super Stage" on the infield of the track.
And COTA goes BIG with its F1 race weekend concerts. Acts like Pink, Taylor Swift, Justin Timberlake, Elton John, Bruno Mars, and Ed Sheeran have performed in the past.
In 2023, the scheduled concerts are The Killers (on Friday) and Queen + Adam Lambert (on Saturday).
Certain ticket packages will offer upgraded seating options for these concerts, but all race day tickets include GA concert admission on the day of the ticket.
4. Getting to/from the track can be a nightmare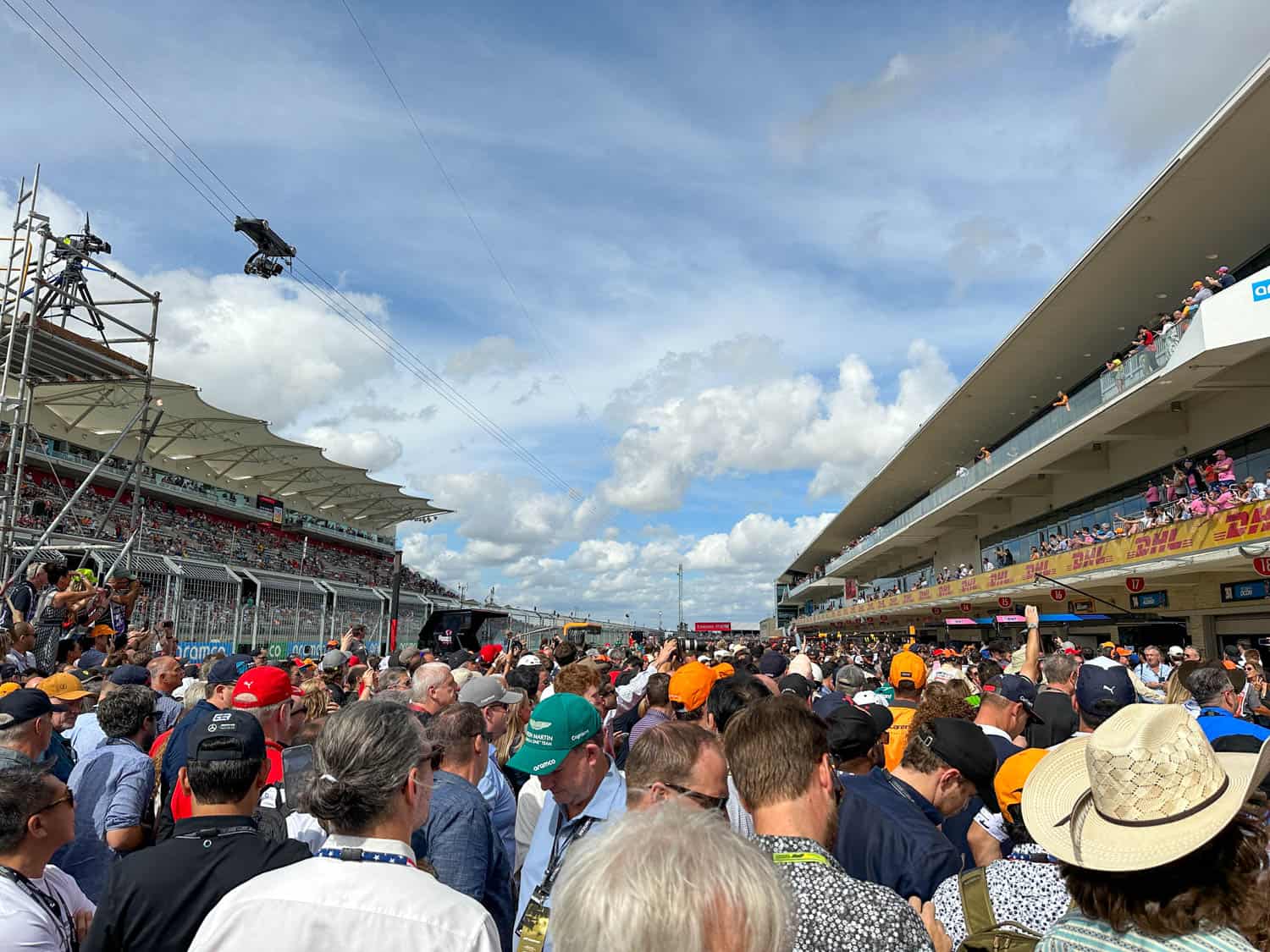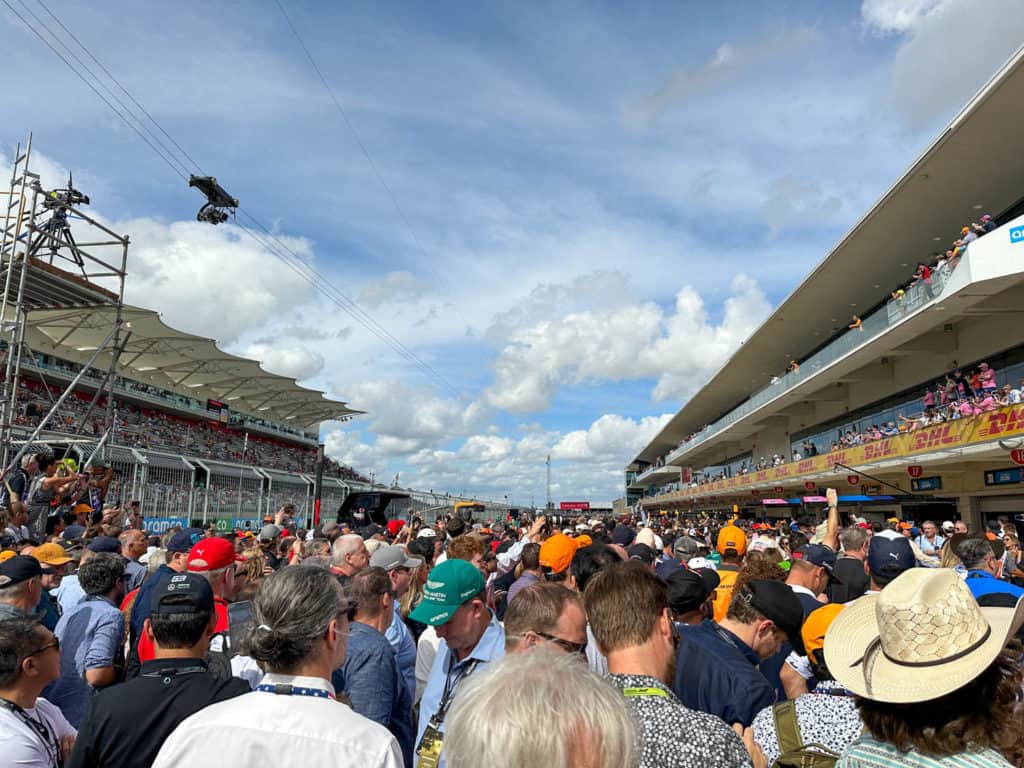 COTA is located less than 15 miles southeast of downtown Austin. But there are only a couple 2-lane roads that lead to the track, and traffic congestion gets insane on race weekend. (Insane as in, after qualifying or the race, expect to sit in traffic for AT LEAST an hour just to get out of the COTA parking area.)
COTA does sell parking passes for the weekend (as do people who live near the track), but I personally would only recommend driving if you are prepared to arrive really early each morning and stay fairly late. (And if you're going this route, definitely pre-book your parking passes.)
If you don't have a car, your options for getting to the track include (very expensive) Uber/Lyft rides that will drop you off at a location outside the track, or catching the shuttle that runs from downtown. The shuttle is recommended, and in 2022 COTA added some dedicated lanes specifically for these buses. As with everything F1-related, though, the shuttle is not cheap.
Elliot and I actually bought a ticket package that included bus transfers between our hotel and COTA, and you better believe we took advantage of these!
5. COTA is huge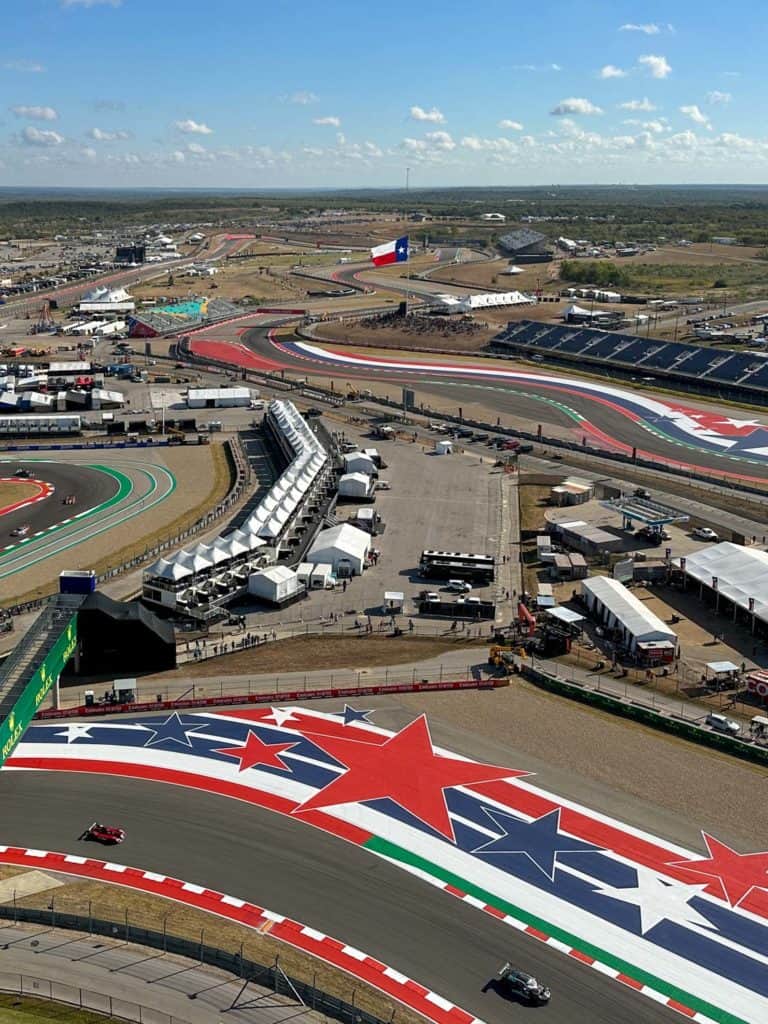 The Circuit of the America covers hundreds of acres (1500 acres, its website says). The track itself is nearly 3.5 miles if you were to walk around it. So just be aware that your race weekend is likely going to include A LOT of walking.
Even if you buy an expensive hospitality package, you're probably still going to be walking a lot. If you want to visit any of the fan areas, or go up the Observation Tower, or attend one of the nighttime concerts, it requires a lot of walking.
Regardless of what your race weekend outfit consists of, make sure you wear comfortable shoes!
(There is a track shuttle that picks up/drops off at various spots around COTA, but I wouldn't necessarily rely on being able to use it all the time.)
6. Don't just go on race day
F1 weekends aren't JUST about the main race. There's always a lot more going on at the track, and it's true at the USGP, too.
Along with fan zones, food vendors, and live music/entertainment, there are also "support races" to watch (in 2022, the races were from the Masters Historic and Masters Endurance Legend series; in 2023, there will be support races from the new all-female junior series F1 Academy).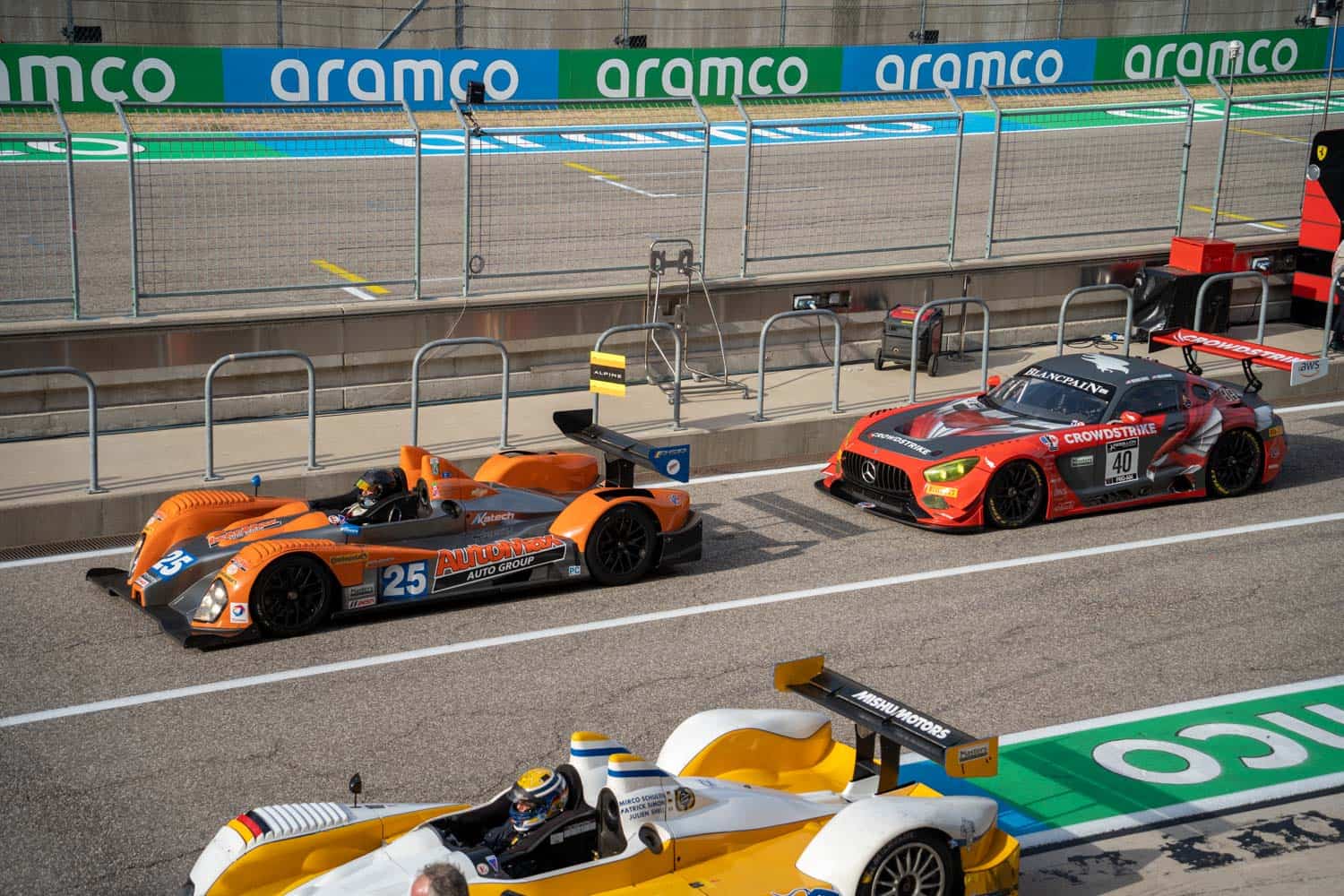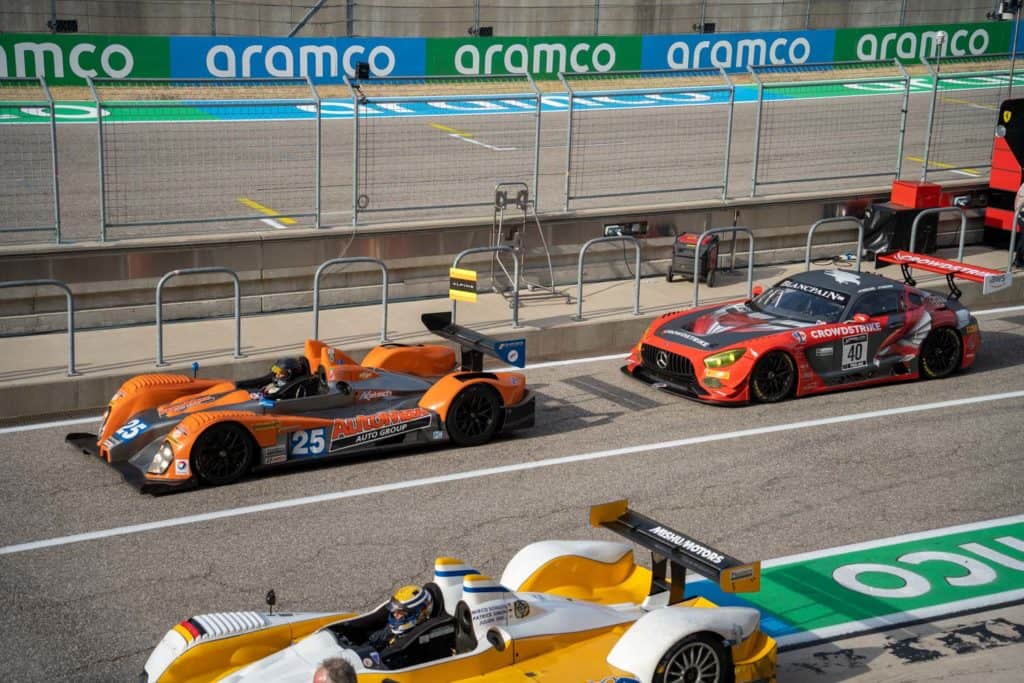 Plus, Friday and Saturday are usually a lot quieter at the track. (It may not be as true this year because of the sprint race, but generally Sunday is the busiest day of the weekend.) Friday and Saturday (and especially the mornings on those days) are a good time to explore the track, perhaps try to make it to a driver interview session, and just enjoy the F1 atmosphere.
(And if you've booked a hospitality package, Friday and Saturday will be the days for pit lane walks, track tours, and more.)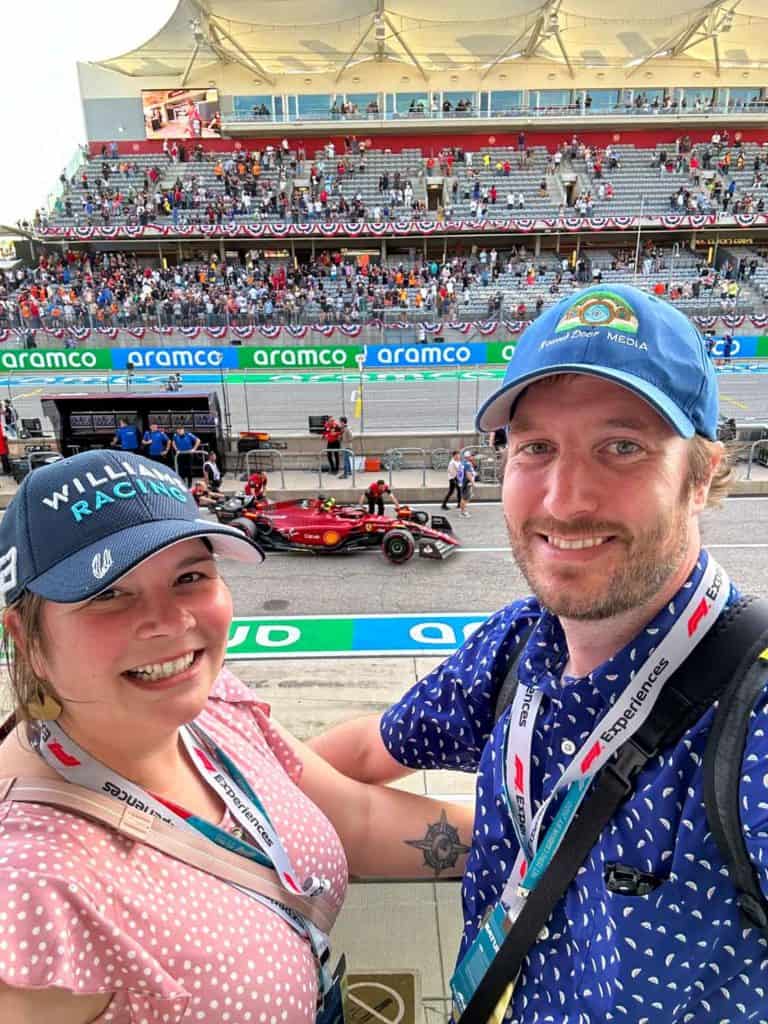 7. Arrive early for GA seating on Sunday
If you've booked general admission tickets on race day, you'll want to get to the track EARLY. Race time on Sunday is usually in the afternoon (in 2023, the race starts at 2 p.m. local time), but the track usually opens around 7:30 a.m.
In order to scope out a patch of grass with a great view, you don't want to wait to get to the track until lunchtime – there won't be any good options left by that point! Go early. Set up your seating area. Take turns with those you're attending with to get food, wander the track, etc.
(If you want to sit on the grassy hill at Turn 1, for example, prepare to get to the track before it opens, and to make a beeline there once you're through the security gates!)
8. Know what you can/can't bring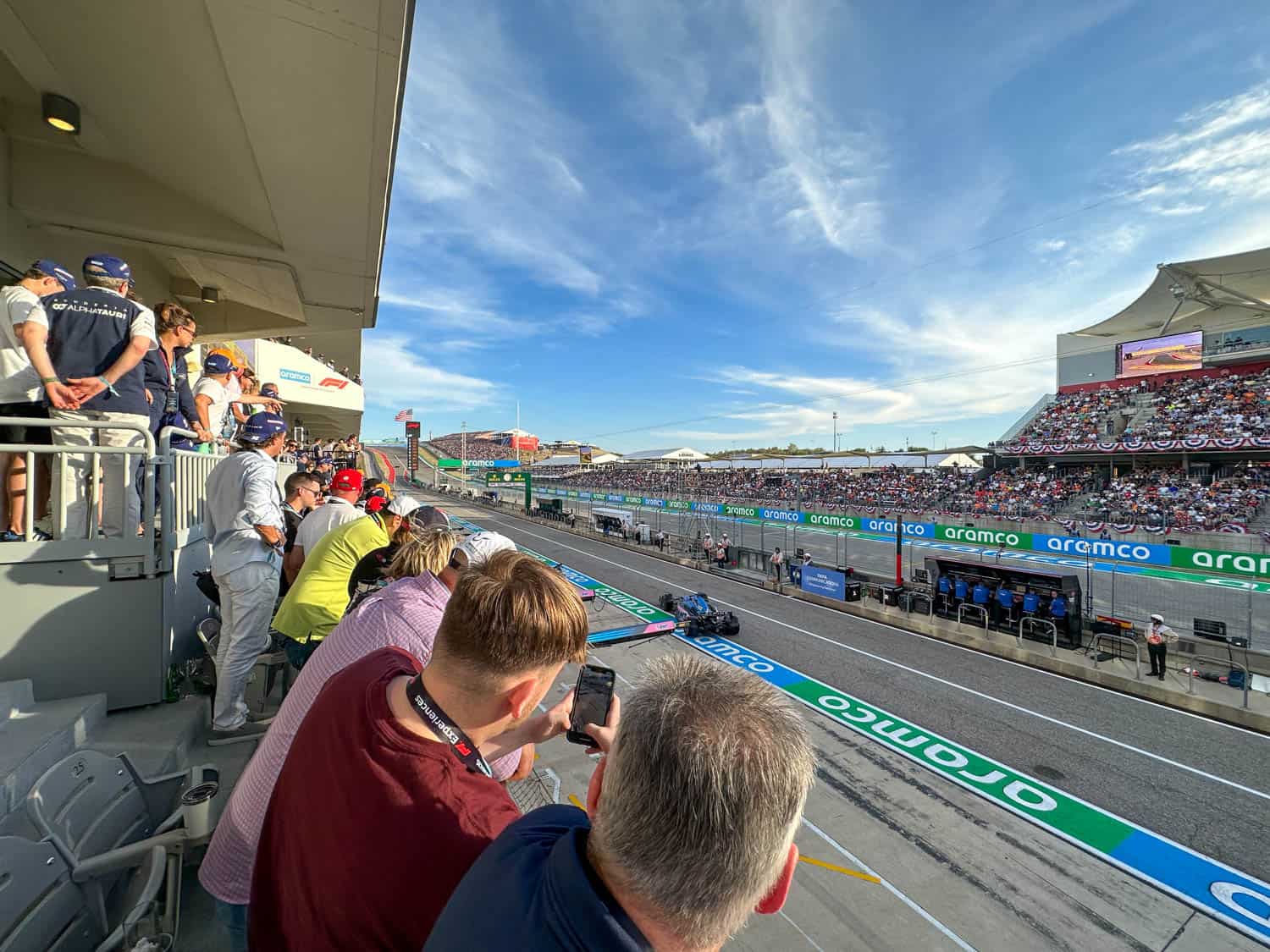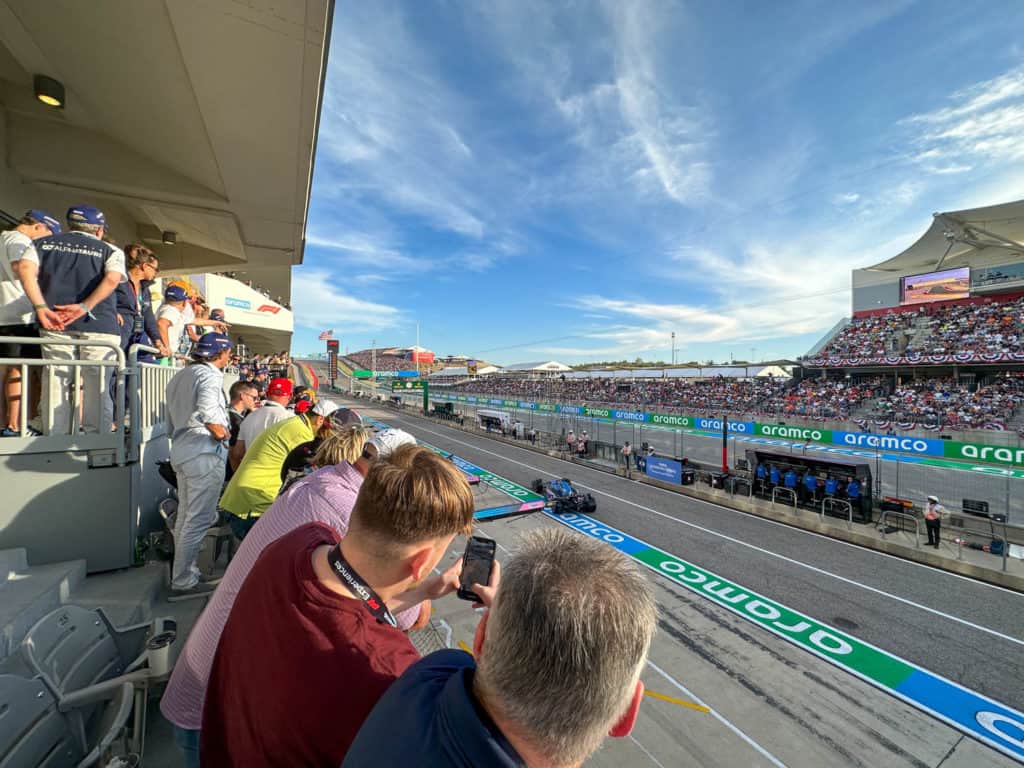 Whether you're shelling out on Paddock Club tickets or just going the GA route, there are rules about what you can and can't bring in to the Circuit of the Americas.
Things you CANNOT bring include:
Bags larger than 12x12x20 inches (so, no suitcases)
Coolers and thermoses
Your own food or alcohol
Metal water bottles/glass containers
Tripods, monopods, and huge telephoto lenses for cameras
Drones
Weapons of any kind
Bikes, scooters, skateboards, or any other means of transport that aren't your feet or medically necessary
Non-collapsible chairs
Tents or canopies
Anything that might be extra annoying to those around you (i.e. horns, whistles, balloons, frisbees, smoke bombs, etc.)
Things you CAN bring to the race include things like:
One sealed plastic water bottle (filled), or an empty plastic water bottle or Camelback that you can fill at the track
Blankets
Portable, collapsible chairs
Umbrellas (small ones; not gigantic patio or golf umbrellas)
Sunscreen (definitely pack this!)
Personal camera equipment (which includes cameras with smaller detachable lenses)
Binoculars
Baby strollers
Small signs/posters (no bigger than 11x 17 when unfolded) that you hold and don't tie to anything; they have to be event-related and not offensive
You do NOT have to have a clear bag for F1 events at COTA, but everyone does go through a security screening before you enter the track.
9. Yes, food and drink is expensive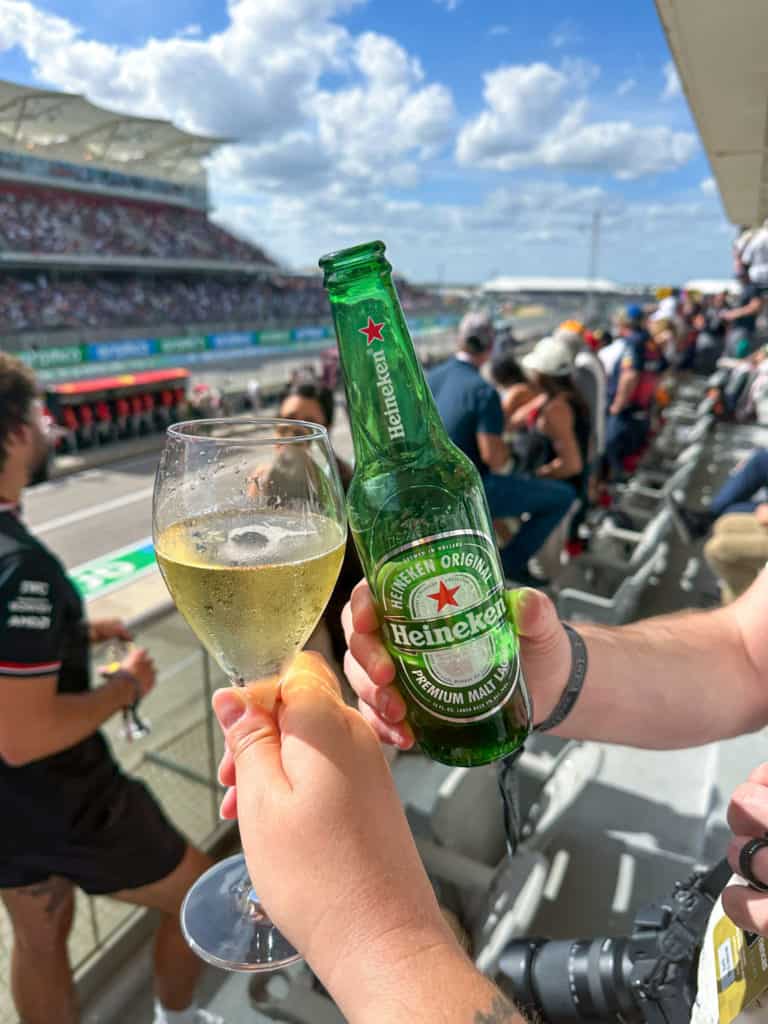 Since you can't bring anything other than a small bottle of water with you to COTA, know that yes, you're going to spend silly amounts of money on food and drink throughout the weekend. (Unless you purchase a hospitality package, in which case most food and beverages are included.)
There are actually lots of food options around the COTA track, with food stands and trucks serving up everything from coffee and donuts to tacos and BBQ. But you'll definitely be paying amusement park/sports venue prices for everything (think: $15-$25 per meal at least).
There is alcohol for sale, but it's expensive (like $10 for a beer), and the official COTA policy is a 2 alcoholic beverage limit per person per ID (though I can't speak to whether they enforce this or not).
10. Team gear is also expensive at the track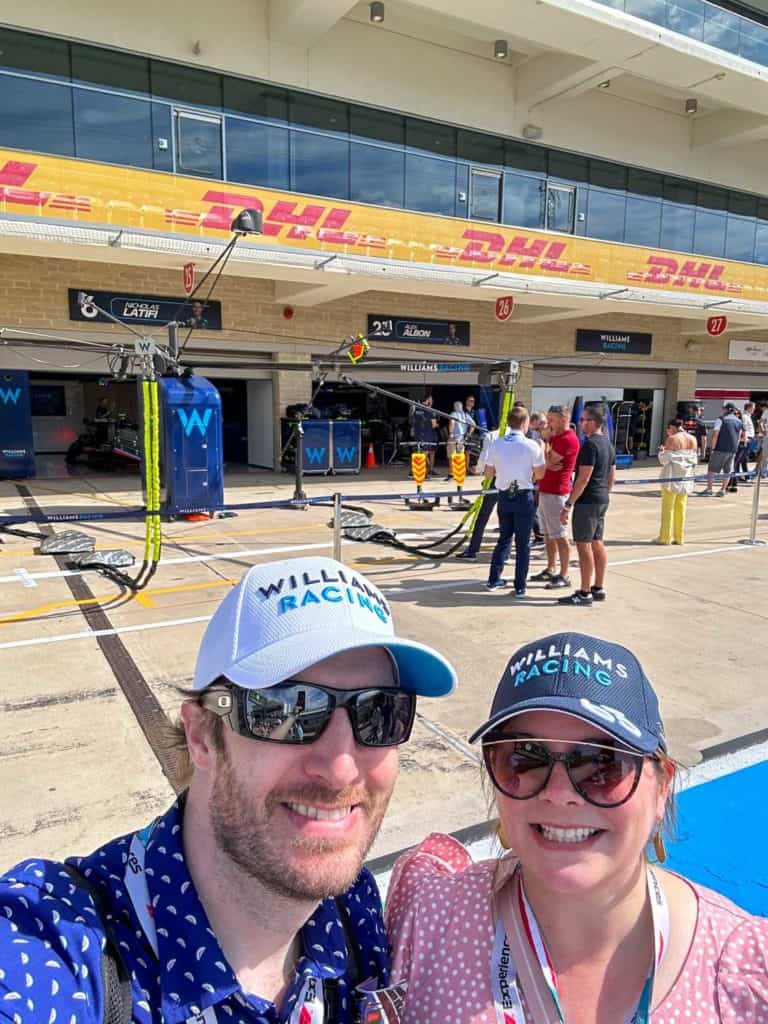 Another expensive thing at the track? Team gear.
There are several pop-up "shops" all around the COTA infield selling mostly team merch (and also some general F1 and COTA gear). T-shirts and hats are the most popular things to buy, but you'll pay a premium for them here.
Since there aren't really *that* many exclusive things for sale at the race itself, you're better off buying your team gear online before you leave home, or elsewhere in Austin before the race. (Several teams host events in Austin leading up to race weekend, and you'll find F1 merch shops at several downtown hotels.)
11. Tower admission may not be worth it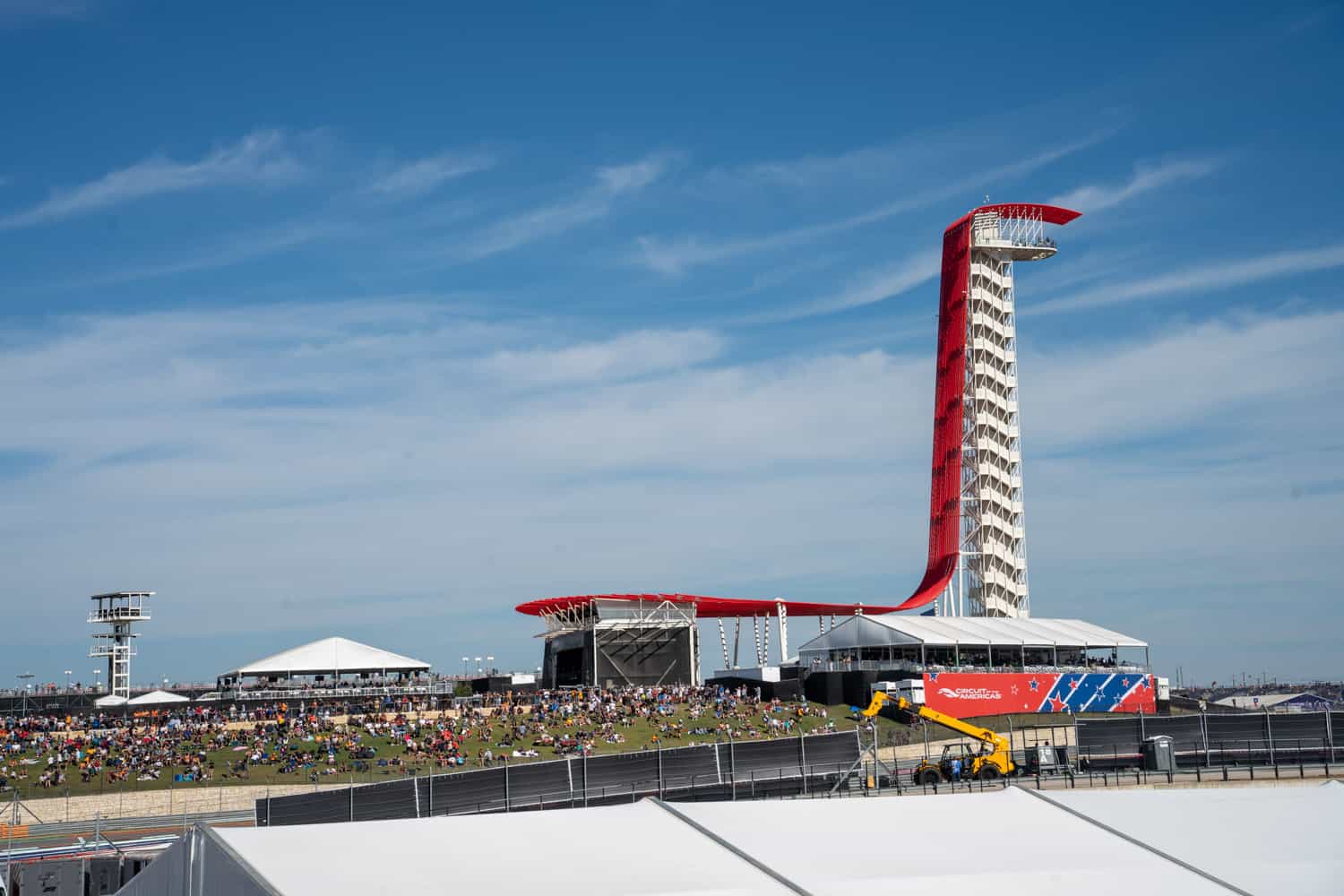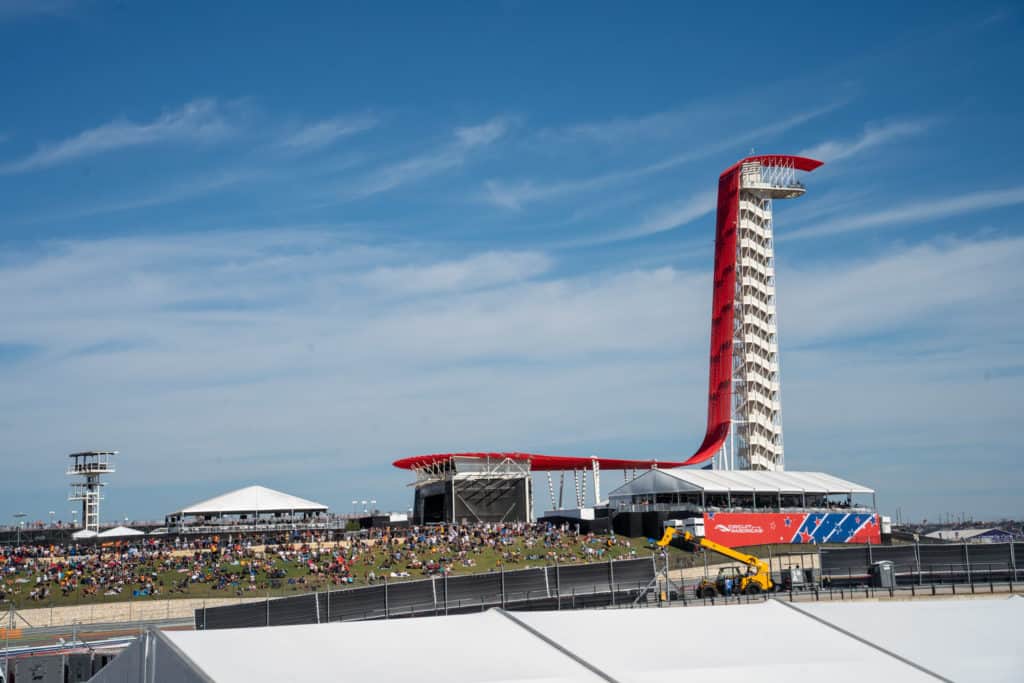 COTA has a fairly famous Observation Tower that sits in the middle of the track infield. At 200 feet tall, the tower gives you what is undoubtedly the best view of the track that you'll get with your own two eyes.
BUT, tower admission may or may not be worth it.
It costs $35 per person to go up the tower. You're taken up in a large elevator, and usually only have about 10-15 minutes to check out the action from the top. The views ARE amazing, and there's a cool glass floor section – but is it $35 cool? I'm not sure.
It's also worth noting that there's often a long line to take the elevator to the top of the tower, meaning you could be waiting 30-60 minutes (or much longer) for just 15 minutes at the top.
I think it might be worth it if you time it right and get there when there isn't a long line. Otherwise I personally think you can skip this.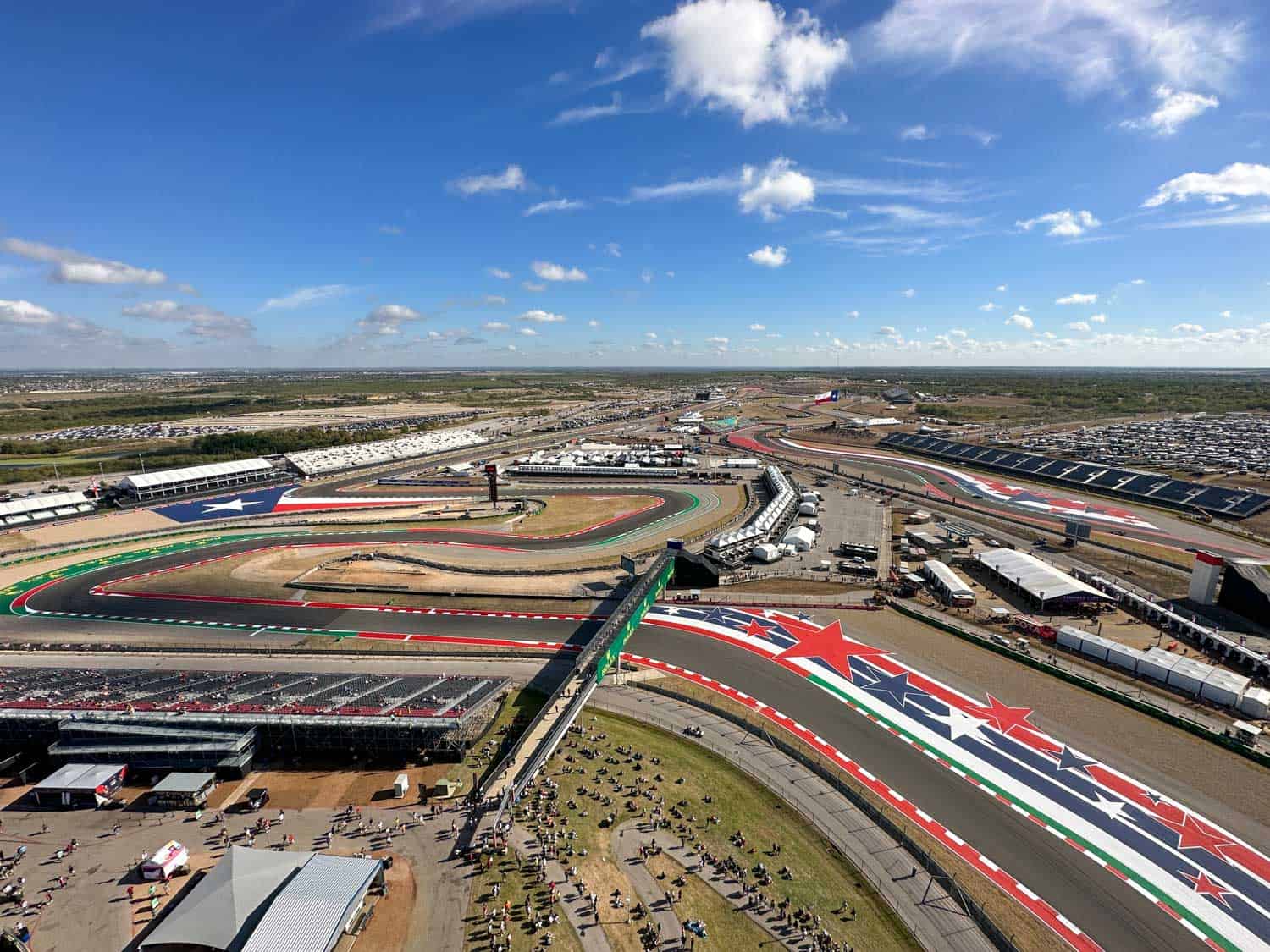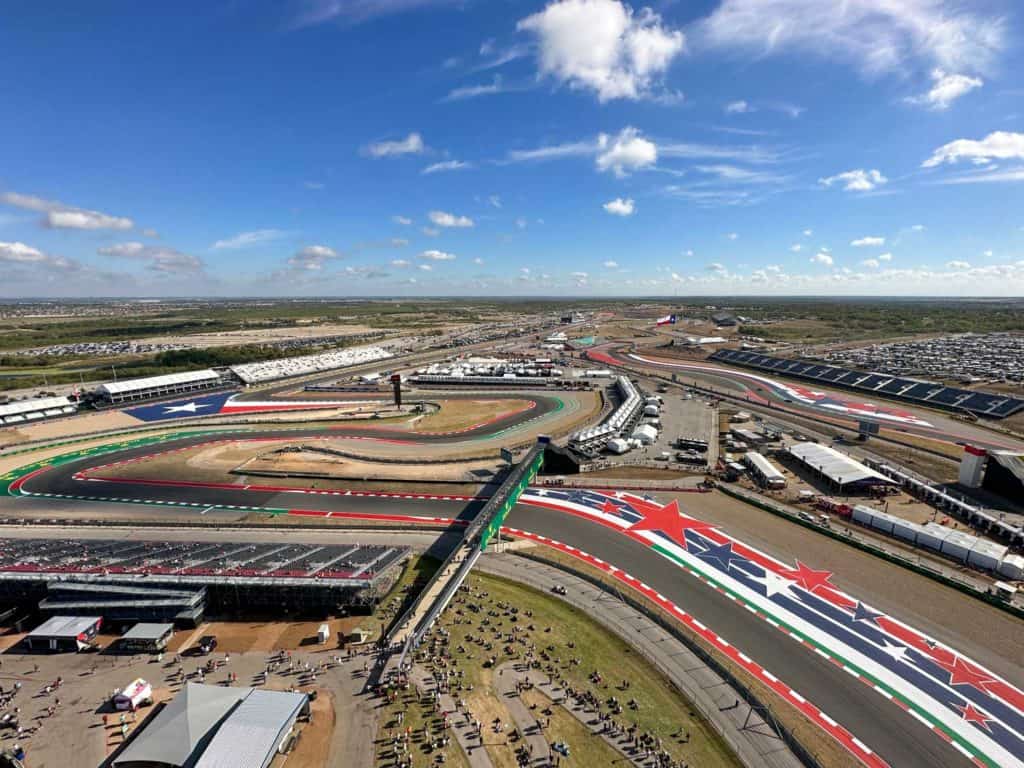 12. Seeing a race live is different than watching on TV
I think the biggest takeaway from our own F1 weekend was just how different it is to watch a race in-person vs. watching it on TV.
When you watch a race broadcast on TV, you see the entire race. Cameras capture every angle of every breakdown, crash, and battle for position, and announcers give you context for what's going on. In person, though, you only see a very small snippet of the action when it happens in front of you – and the cars are going so fast that they're literally just a blur!
And while there are screens showing the race broadcast around the COTA track, they're really too small for most people to properly see, and you can't hear any of the race commentary.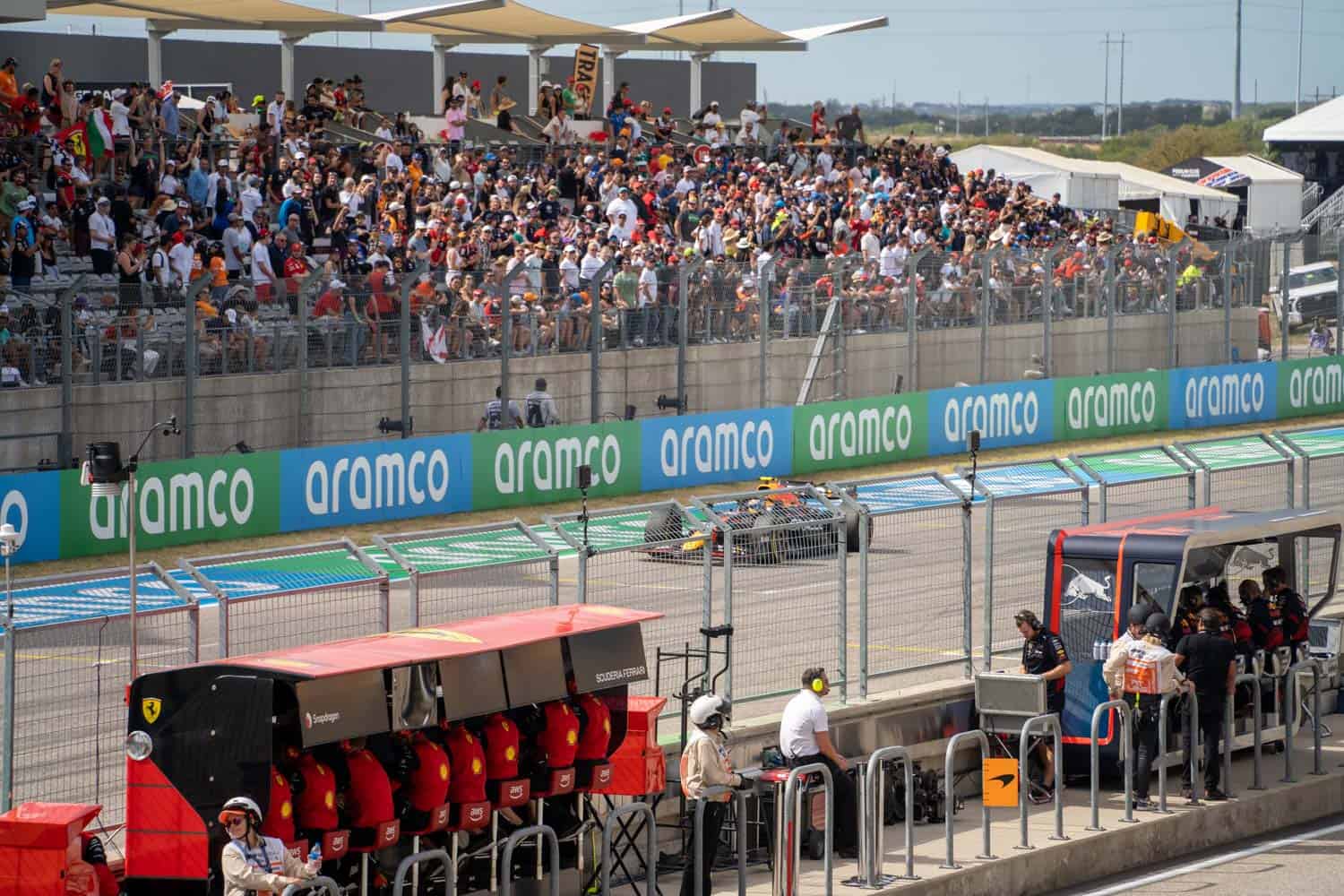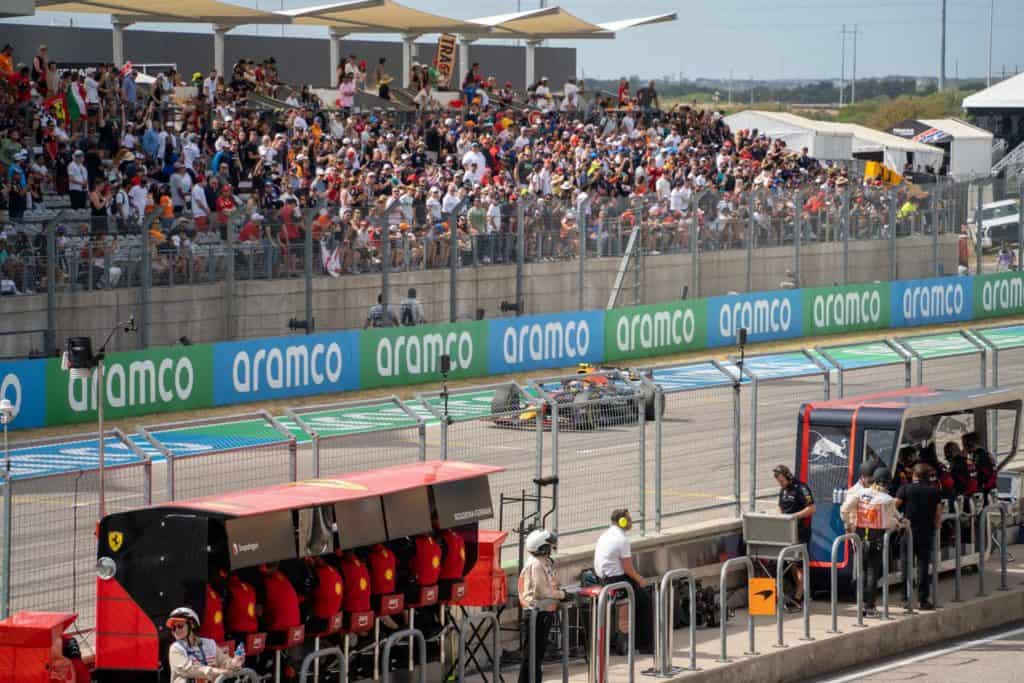 (And if you assume you'll just log into your F1 or ESPN app to listen to the live commentary on there? Well, with 150,000 people watching the race in-person with you, you can forget about good cell or wi-fi service at the track.)
Many of the hospitality suites do show the ESPN broadcast of the race, but watching it requires you to sit indoors – and at that point, you may as well have stayed home!
So my advice is to just accept the fact that you won't actually see much of the race itself when you watch in-person, and instead just enjoy the atmosphere of being there.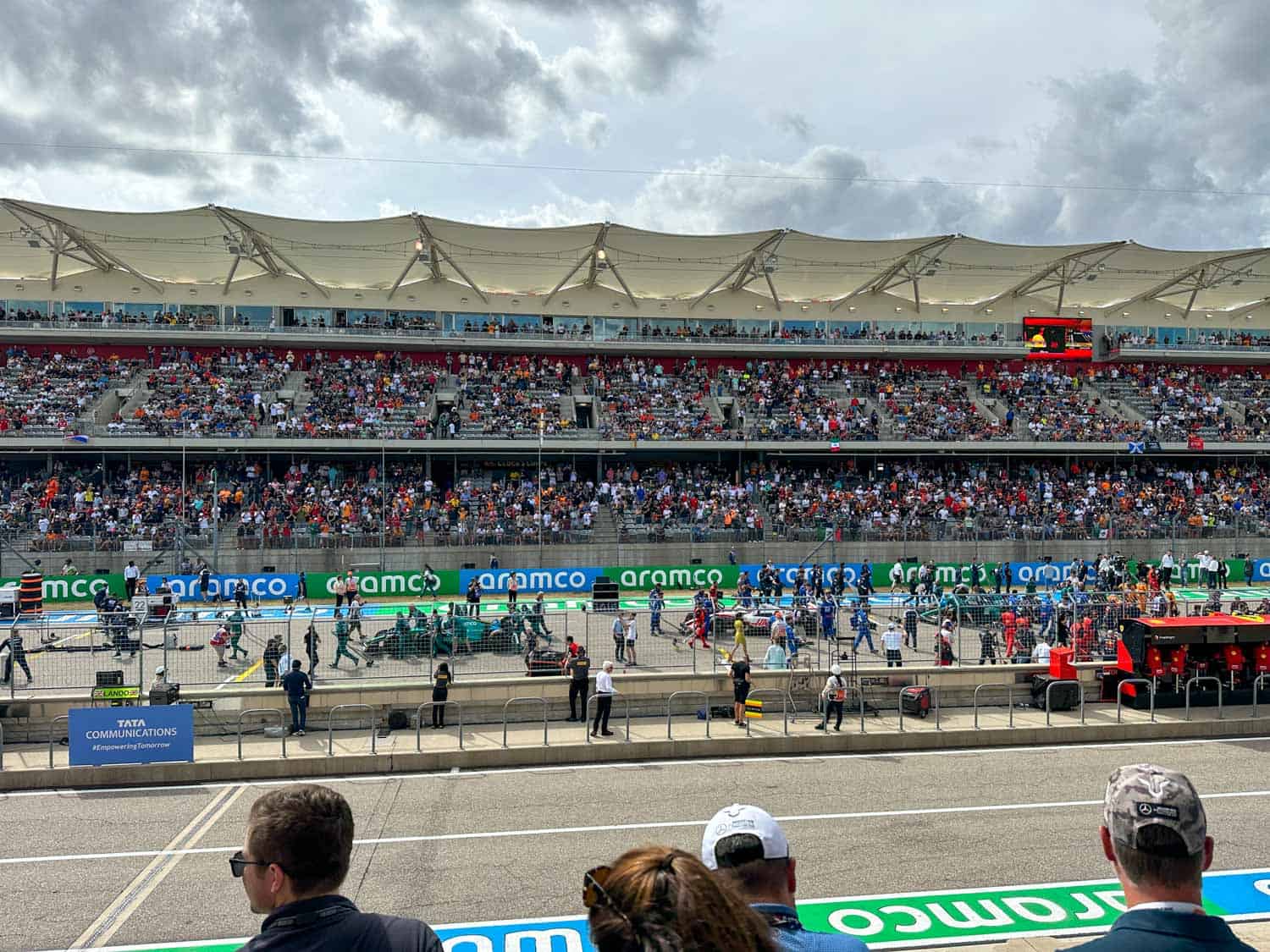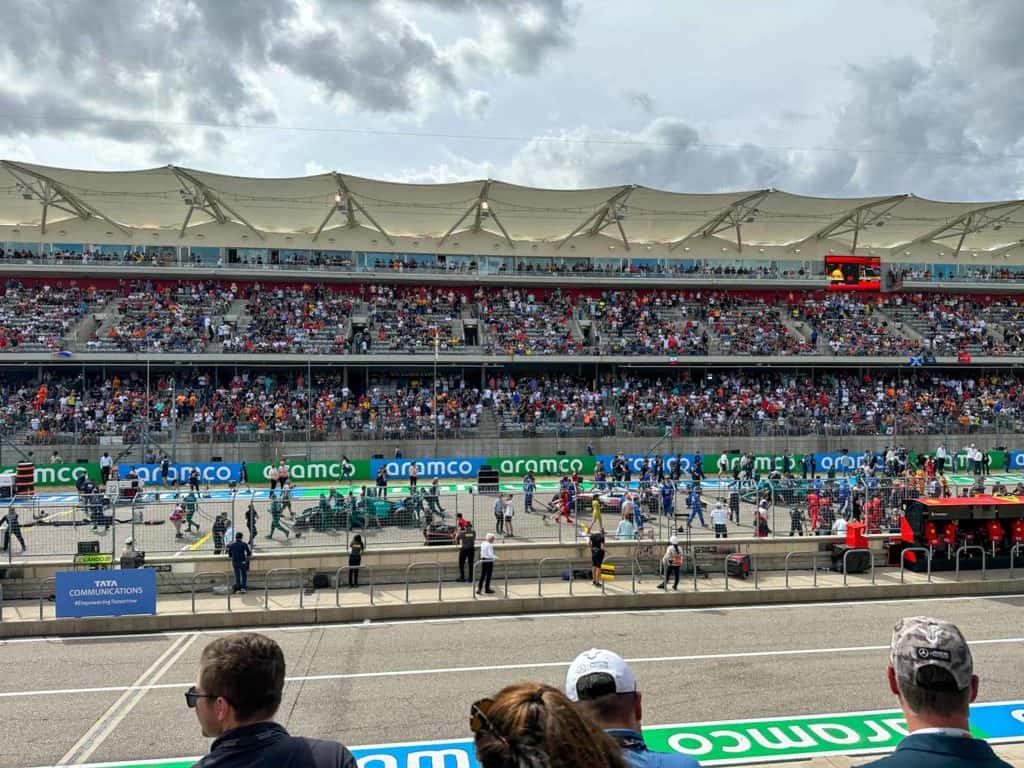 13. You can go to the podium ceremony… maybe
As soon as the last car crosses the finish line and the race ends, the Track Invasion begins. This is an official name for when fans swarm the track near the Main Grandstand at COTA in order to get close to the podium ceremony at the end of the pit lane.
At the Circuit of the Americas, the official areas where you can enter the track for the track invasion are at Turn 1, Turn 19, and Main Grandstand East and West. They open gates at these spots, and humanity quite literally floods onto the track.
If you want to watch the winners receive their trophies, get to one of the four track invasion points before the end of the race. Because once it's go time, it's GO TIME and people sprint for the podium. Thousands of people pack in to try to watch, so expect it to be elbow-to-elbow – but the energy is pretty amazing!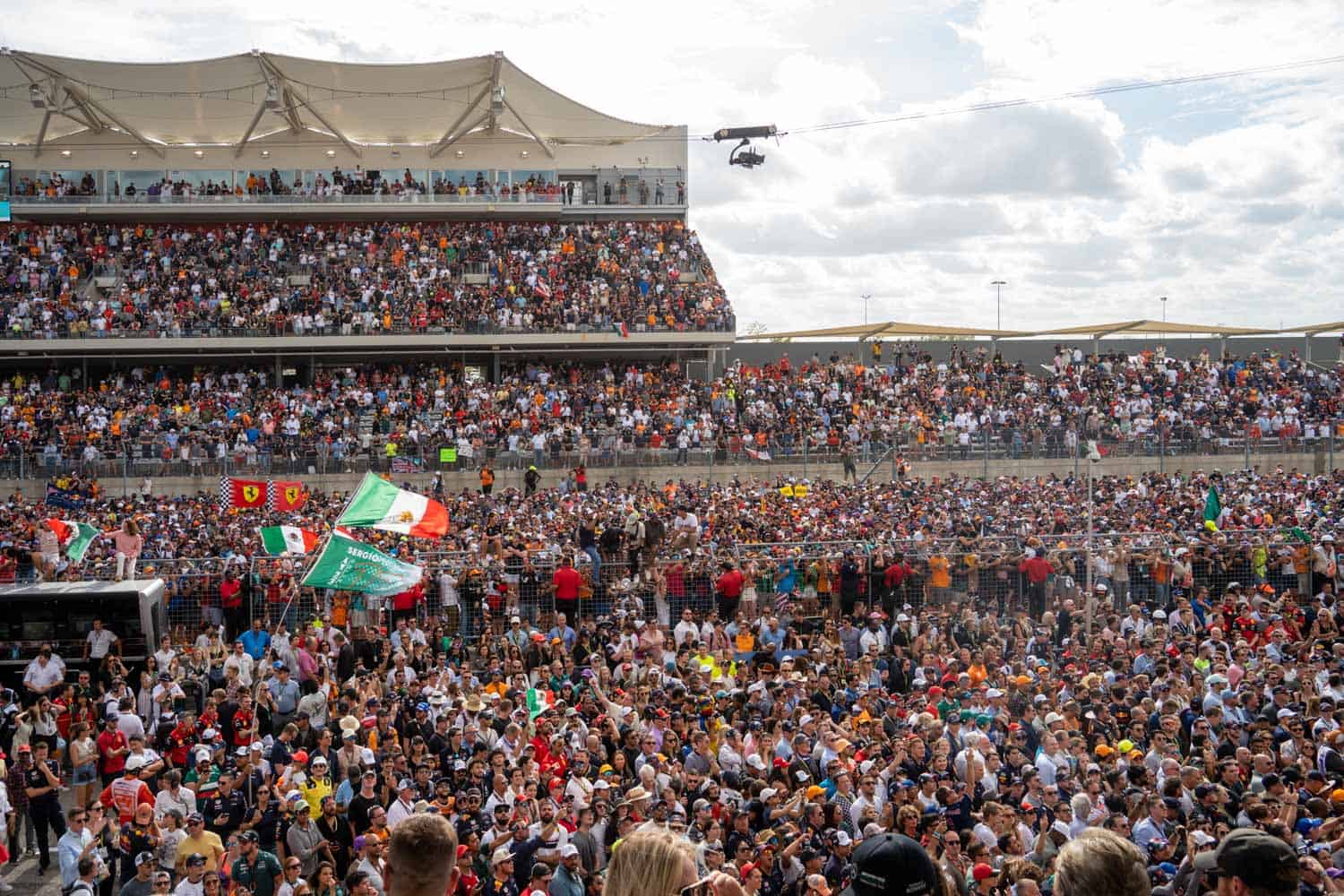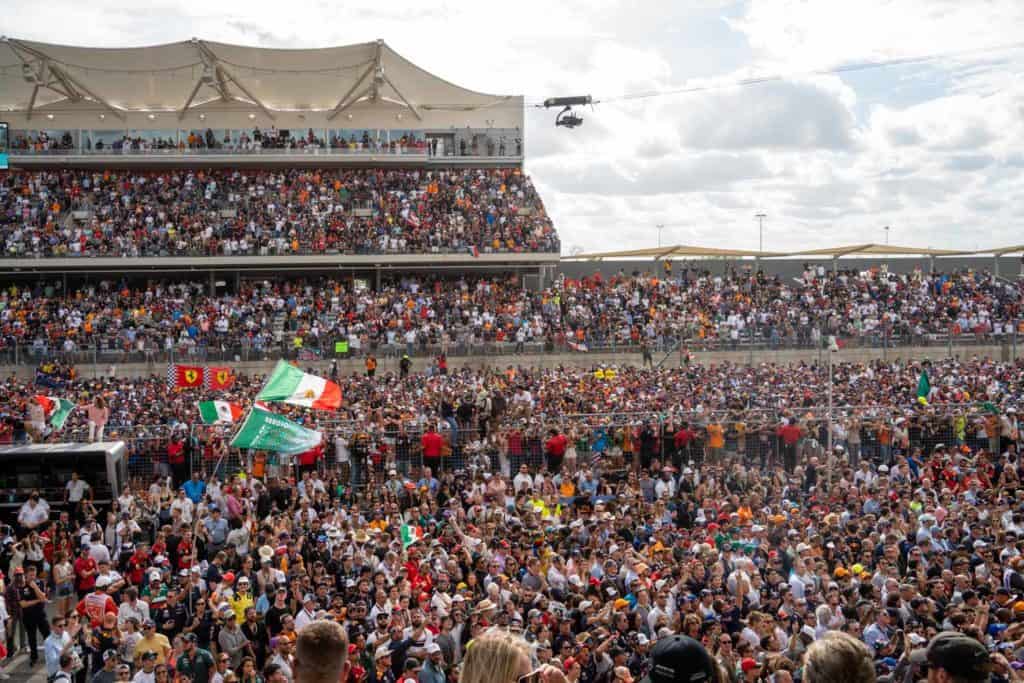 (But please do NOT jump fences, sneak into team garages, or touch anything that doesn't belong to you. Be a respectful racing fan.)
14. Your best chance to see drivers is not at the track
A lot of people go to F1 races for the first time hoping to meet some of the drivers and perhaps get an autograph or selfie.
And while this isn't impossible at the race itself, it's much harder these days than it once was.
The only real chances you'll have to get close to drivers at COTA include:
Keeping an eye out for driver interview panels scheduled at COTA during race weekend, and arriving to the venue super early to get a close seat. (They used to do scheduled autograph sessions, too, but have not done these at COTA for several years.)
Purchasing VIP/hospitality ticket packages that get you access to the F1 Paddock (NOT Paddock Club, but the actual paddock where all the teams have their tents, catering, lounges, etc.). These tickets can be ridiculously expensive, but they will put you in the middle of all the action.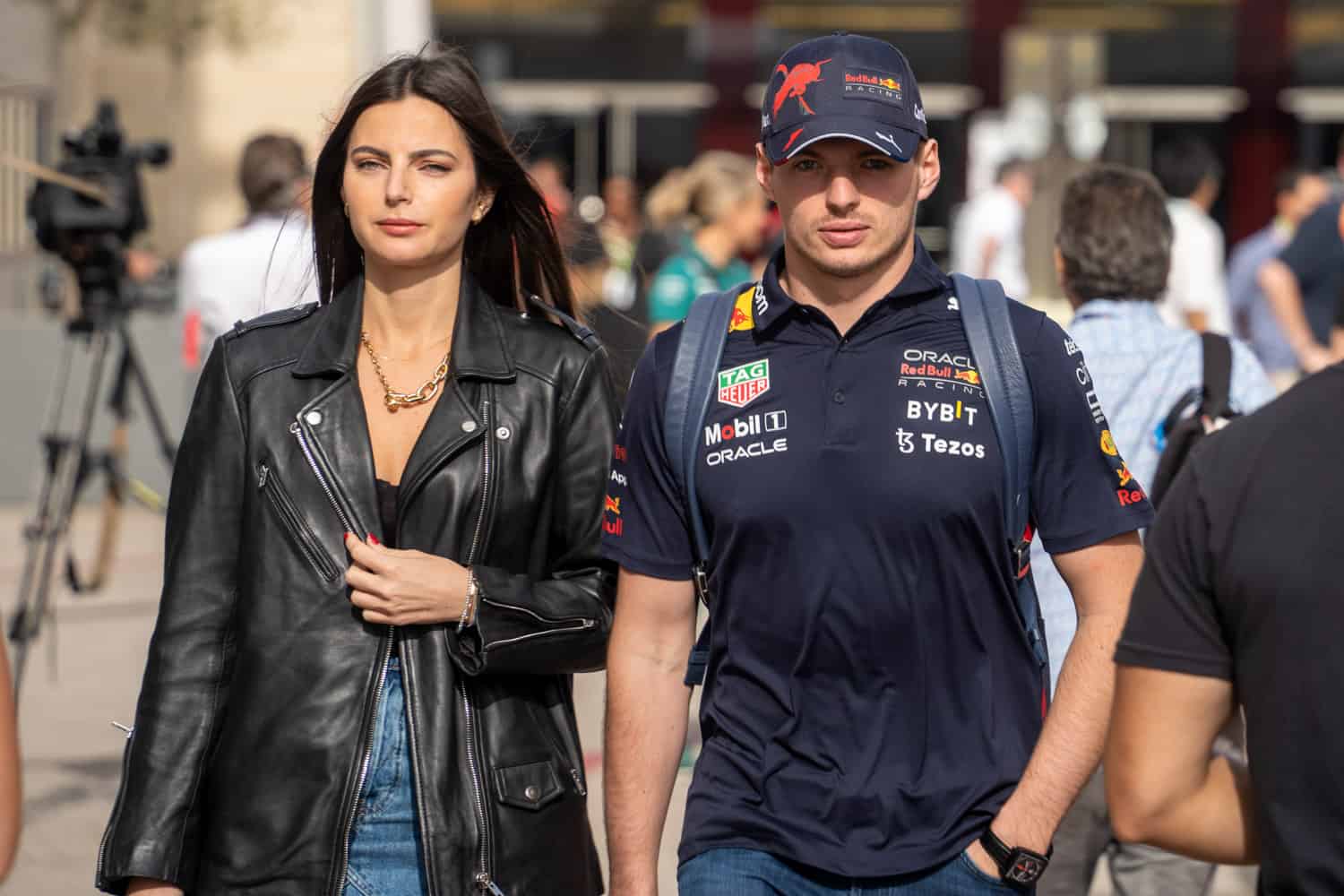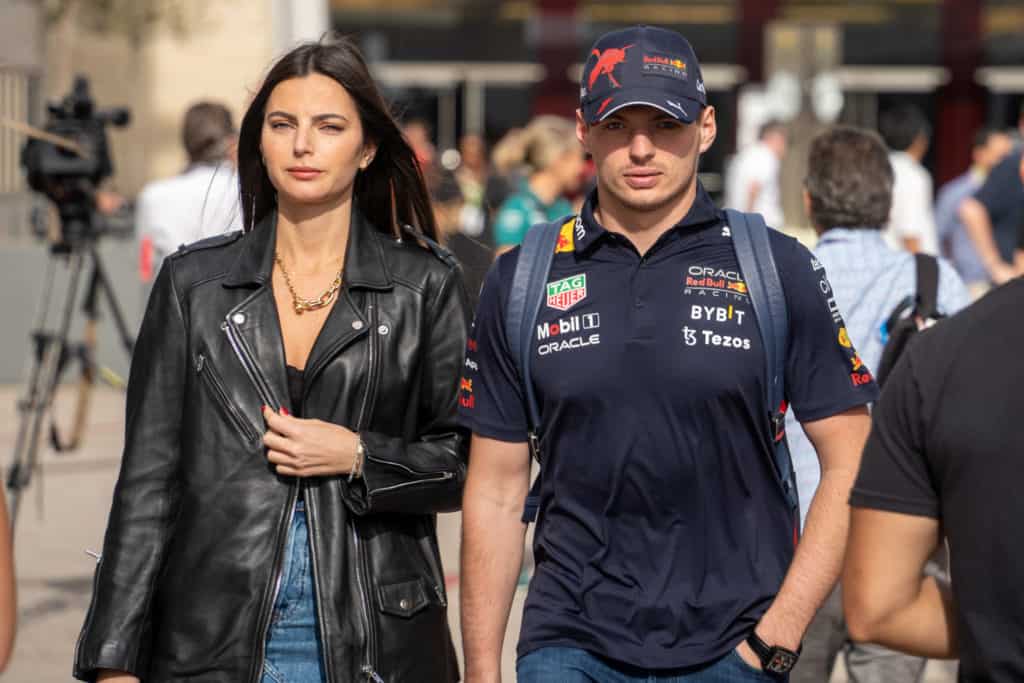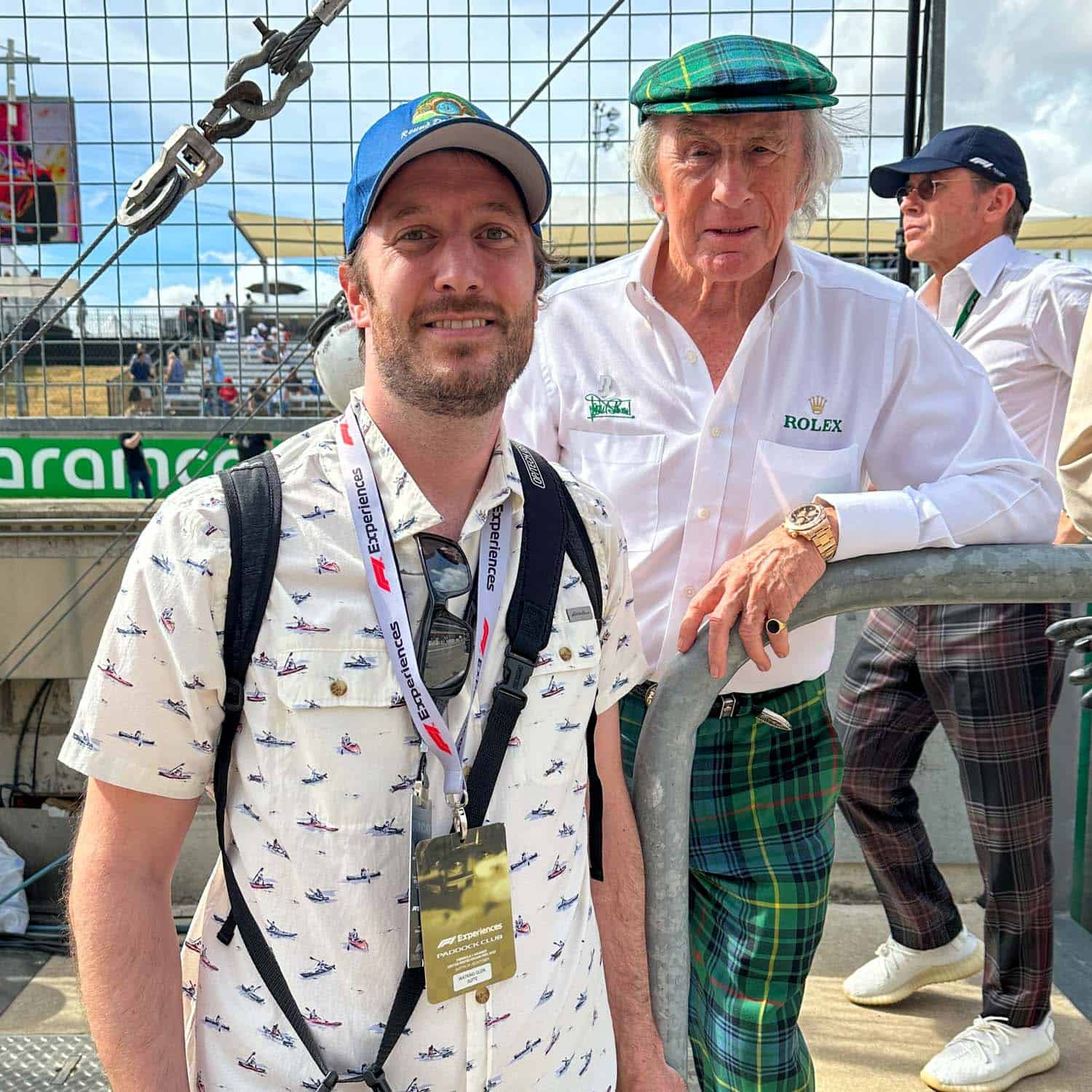 In reality, the average person probably has a better chance of spotting F1 drivers OFF the track than on it.
A few things you can do to maximize your chances of spotting/meeting drivers around Austin during the F1 week/weekend include:
1. Look out for public appearances/fan events
F1 race week is turning into a big annual event in Austin, and I won't be surprised if it eventually rivals SXSW. Many F1 teams host special events, fan zones, pop-ups, parties, etc. in the days leading up to the race, and driver appearances at these are pretty common.
In 2023, you can look forward to:
Williams Fan Zone experience – Check them out from October 16-22 at 800 Congress in downtown Austin. They'll have a show car, Esports rigs to play, team merch, special appearances, and more. (This one is free.)
Red Bull Fan Zone – This 2-day event (October 22-23) will feature a show car, racing simulators, games, food trucks, and even a DJ. Entry is free, but on a first-come, first-serve basis. I would not count on any driver/team appearances here, though, since this happens over race weekend!
There are also often VIP parties, fashion shows, concerts, and more planned around the USGP.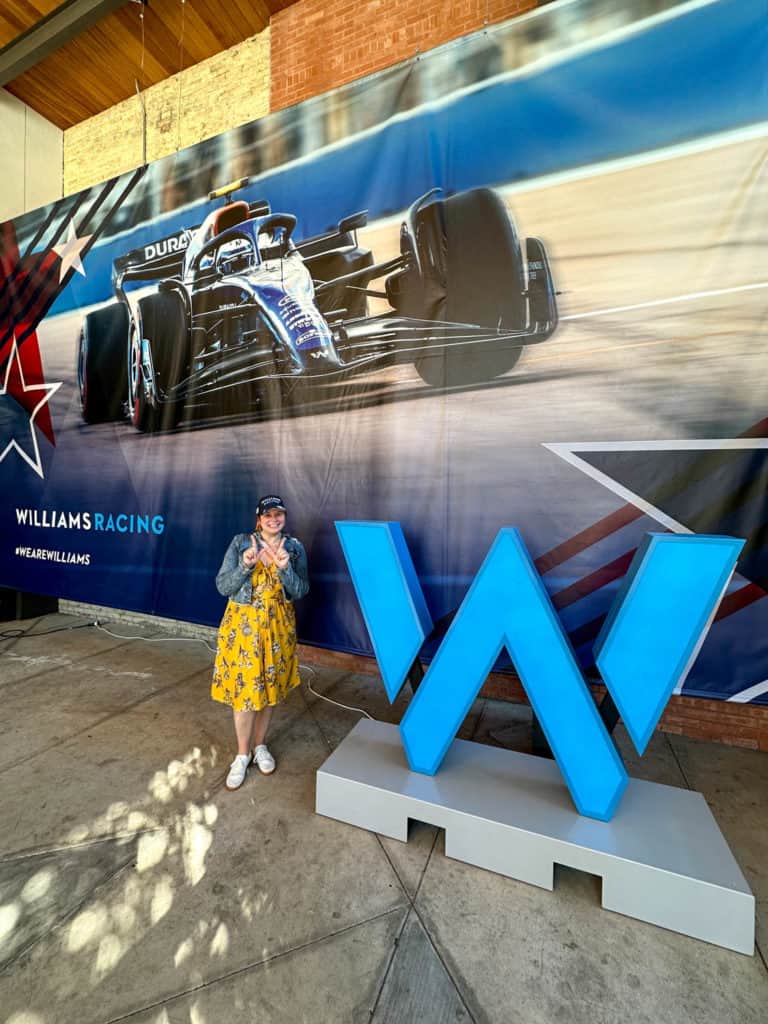 In order to be in-the-know about these events, I recommend following your favorite F1 team(s) on social media in the weeks leading up to the USGP. I found out about the Williams F1 team pop-up on social media first, and then signed up for email alerts about other events.
Most events are not announced until a week or two before race weekend.
2. Stake out the top Austin hotels
Okay, so I've got mixed feelings about this one, but when you have a sport where young, good-looking men are treated like rock stars, you're going to have fans who act like they are!
If you really, really have your heart set on meeting your favorite driver, then your best bet is honestly to hang out at the driver hotel(s).
During race weekend, it's not really a secret that the Fairmont Austin is "the" F1 hotel. In 2022, the entire Ferrari team/crew was put up at the Fairmont, as were the majority of the F1 drivers. There were always F1 fans hanging out near the valet area outside the hotel and in the lobby, and usually the hotel staff didn't shoo them away.
Elliot and I did not know this about the Fairmont prior to booking our race tickets, but serendipitously booked a room there anyway. The night we checked in (Thursday), we accidentally found ourselves in a crowd of people swarming Charles Leclerc as he returned to the hotel from press duties, and another night we managed to spot Kevin Magnussen and a couple F2 drivers – including Logan Sargeant the day before he was announced as the new Williams driver for 2023.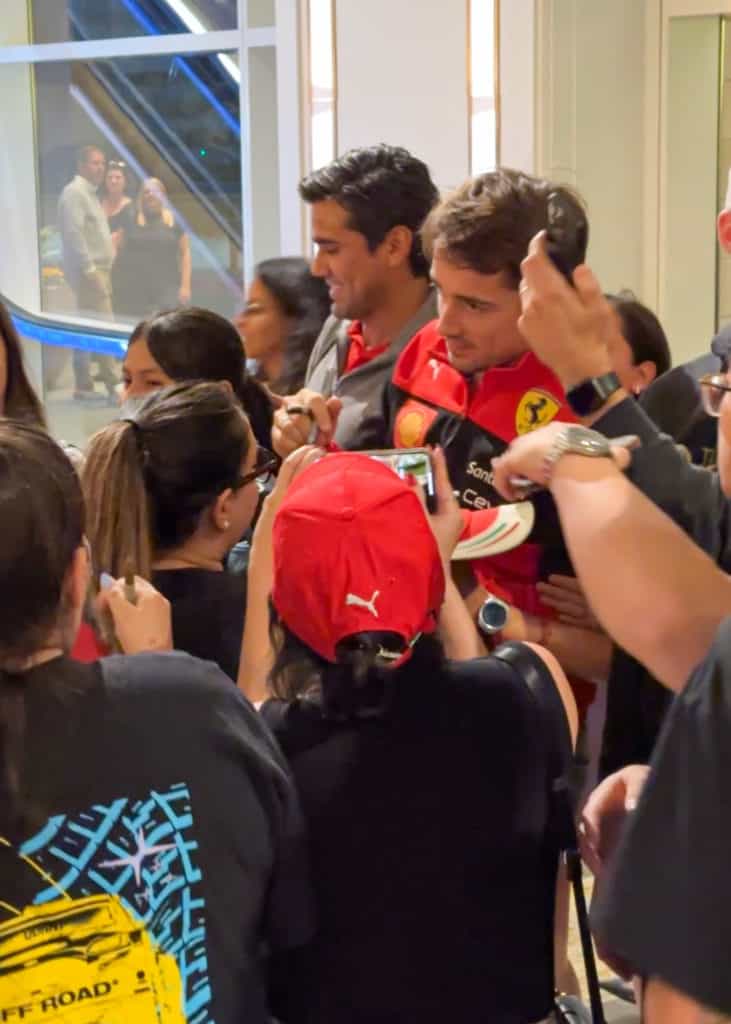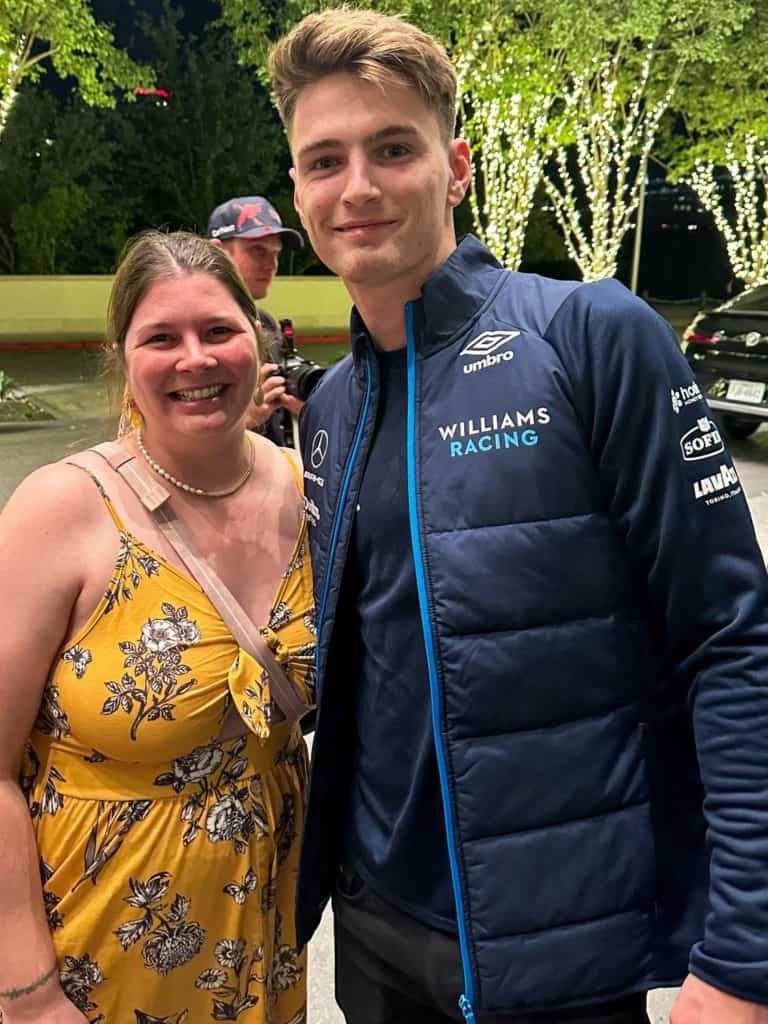 Other Austin hotels that may host F1 drivers include the JW Marriott (reportedly where the Mercedes team and drivers stayed in 2022), the Four Seasons (allegedly where the Red Bull team stayed in 2022), the Austin Marriott Downtown, and The Driskill Hotel. (But basically if it's a 5-star hotel in Austin, it very well could be hosting F1 people.)
Just please remember that F1 drivers are real people who deserve some amount of privacy. Most of them are super gracious with fans, but don't try stalking them up to their rooms. Get your selfie or autograph, say thank you, and leave them be!
15. Hotels are in high demand
Speaking of hotels in Austin during F1 weekend… prepare for them to be exorbitantly priced, and to sell out far in advance.
This should not be a surprise when hundreds of thousands of people descend upon Austin for this one event, but it's still worth keeping in mind. A hotel room that might normally go for a few hundred dollars per night in downtown Austin may be more than $1000 per night during USGP weekend.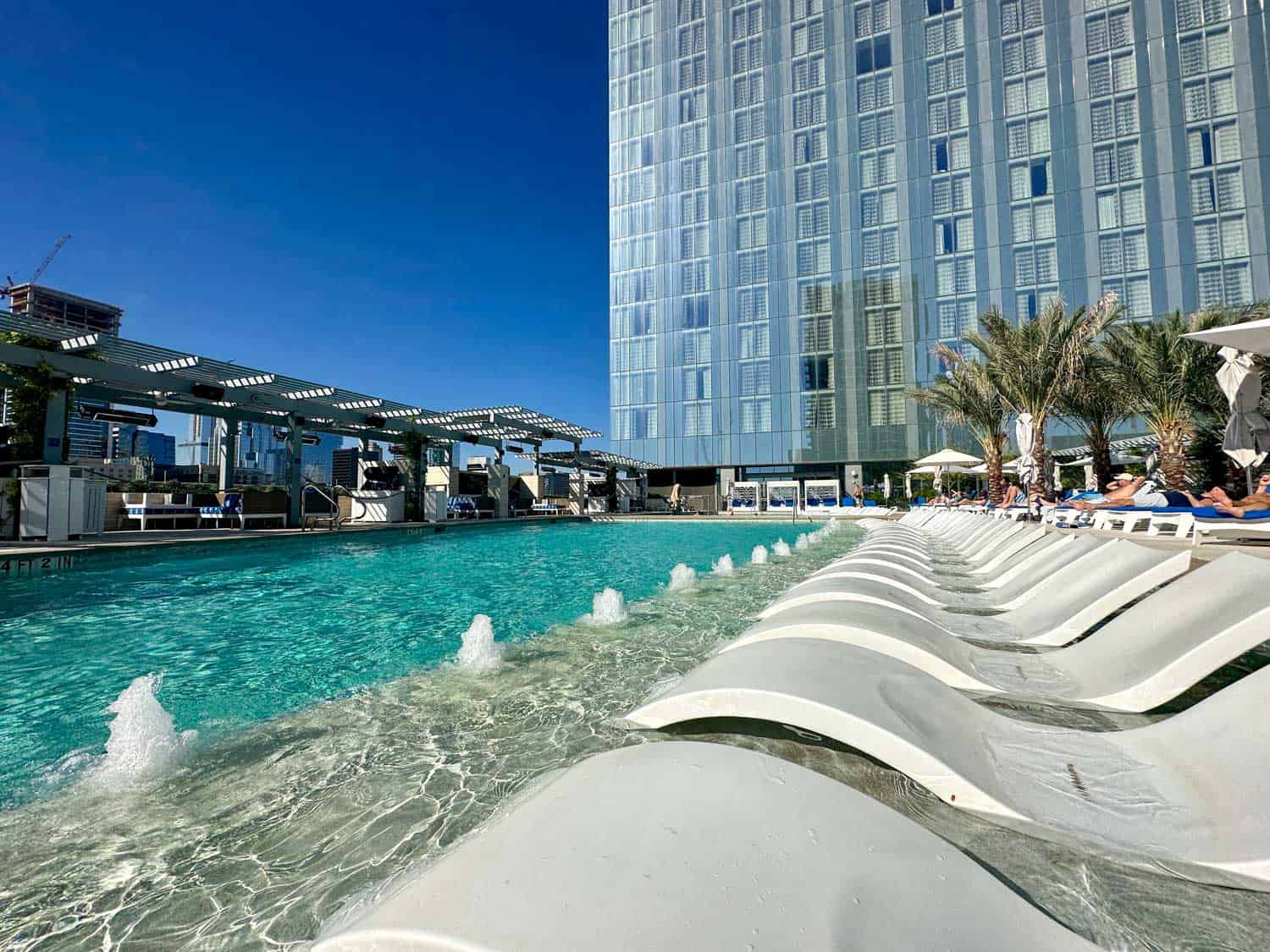 There aren't really great ways to avoid these price hikes other than to book as far in advance as you possibly can, and to consider staying further outside the city for better rates. (For example, hotels in North Austin are always more affordable.)
Some hotels I'd recommend during F1 weekend in Austin include:
But seriously… book your hotel as early as humanly possible for this weekend.
16. Pre-book restaurants and activities
And actually… book everything you can as early as possible. This includes restaurant reservations for anywhere you really want to eat, tours/activities not related to the race, etc.
Again, hundreds of thousands of people will descend upon Austin all at once for this one weekend, so expect everything to be busy. Don't count on being able to walk up to any downtown restaurant or bar from Friday-Sunday without a reservation.
17. Don't plan to leave on Sunday (or Monday)
Because of the timing of the race and inevitable traffic congestion leaving COTA, I do NOT recommend booking your flight home for Sunday evening for simple logistical reasons.
And honestly Monday isn't much better since that's when everyone will be leaving Austin. Even the F1 drivers and teams will be leaving to go set up for the next race the following weekend in Mexico City. With everyone trying to leave Austin on the same day, chances are that flight prices are going to be highest on Monday. (This was definitely my personal experience.)
My advice is to stay until at least Tuesday or even Wednesday, and spend time exploring Austin without the F1 crowds.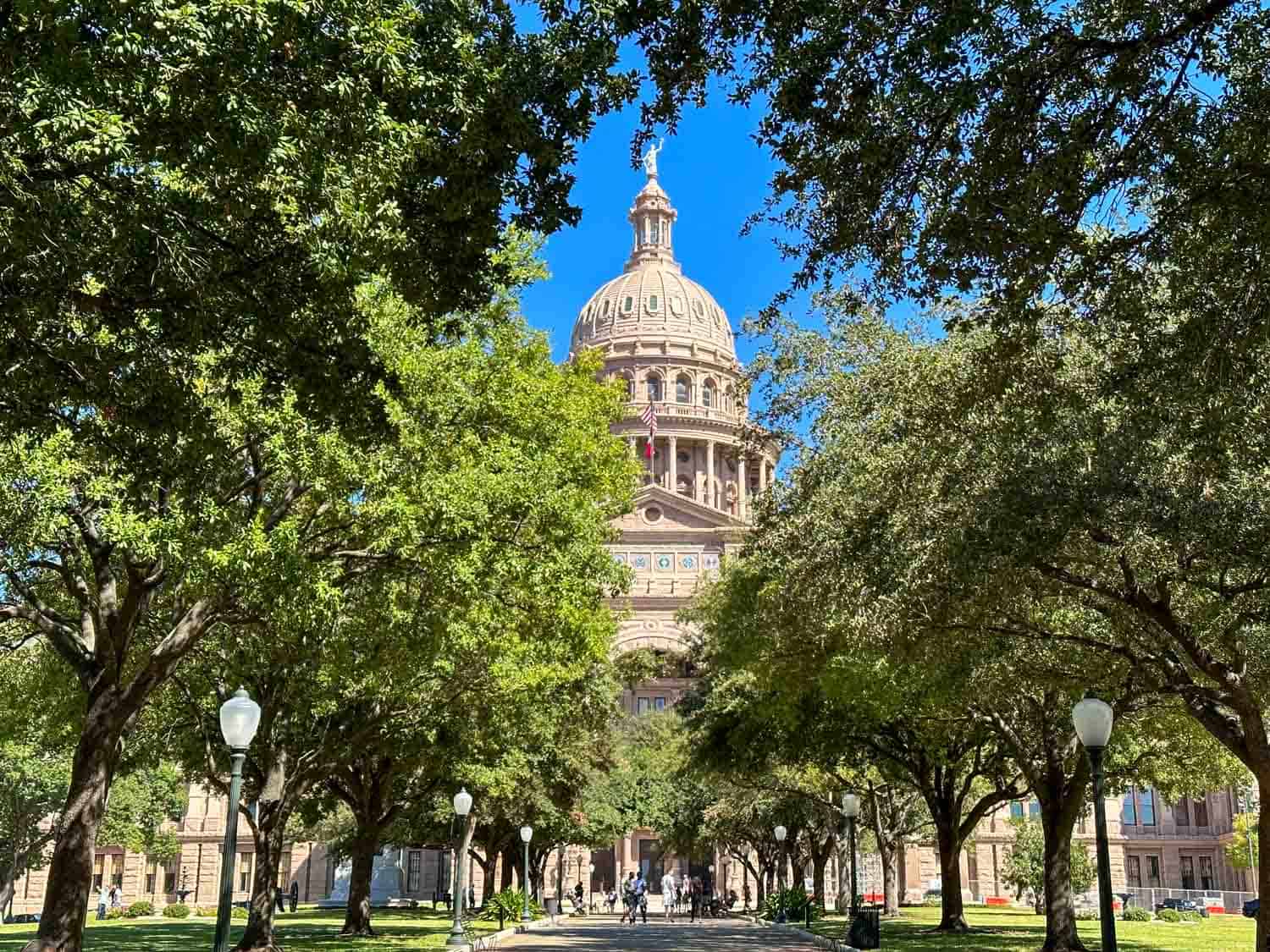 Other things to do in Austin
If you allow yourself an extra day or two to explore Austin before or after the race, a few things you might want to do include:
Go out for live music on Sixth Street or to the bars on Rainey Street.
Rent a kayak or paddleboard on Lady Bird Lake.
Eat delicious BBQ and tacos.
Go for a swim at Barton Springs if it's warm enough.
Watch the bats come out from under the Congress Avenue Bridge at sunset (if they're still around; bat season usually ends sometime in October).
And here are even more things to do in Austin. It's definitely worth exploring beyond the race track!
---
Have you ever been to the USGP F1 race in Austin? Would you ever like to go?