Some posts on this site contain affiliate links, meaning if you book or buy something through one of these links, I may earn a small commission. Read the full disclosure policy
here
.
---
Call me crazy, but I seem to have developed a love of traveling to very cold places in the winter. Manitoba. Iceland. Minnesota. Ottawa. And now Norway.
My first trip to Norway had me exploring the fjords and some of Norway's coolest roads to drive. My second trip, though, was all about winter adventures.
And Norway – especially Northern Norway, up above the Arctic Circle – has no shortage of winter adventures.
First, let me dispel a few of the myths of traveling to Northern Norway in the winter. For one, it's not actually as cold as many people assume. When I went to northern Manitoba to chase the Northern Lights, nighttime temperatures were dipping down to -40 degrees (F). In Northern Norway, though, the Gulf Stream brings warmer air up Norway's coast, and temperatures barely dropped below +20 Fahrenheit.
The days also weren't as short as you might expect. While it's true that this part of Norway experiences permanent twilight for part of the winter, this only lasts for a handful of weeks. In fact, by the end of February, there were easily 8 hours of daylight or more to enjoy each day.
I spent a week split between Alta and Tromsø in late February, and would recommend this part of Norway to anyone looking for a great winter adventure.
RELATED: Norway's Arctic North: Tromsø vs. Alta in Winter
Things to do in Northern Norway in winter
Here are 10 reasons why this part of Norway is awesome in the winter time.
1. Snowy landscapes
Norway's coast doesn't *always* get a lot of snow. In fact, locals in both Alta and Tromsø told us that they had a lot more snow this year than was usual. In both these Arctic cities, it's usually ice that's the main concern (Tromsø even has heated sidewalks to try and make it easier for people to walk around).
But we were lucky to see both cities under a blanket of fresh powder, which definitely made everything feel more wintery and beautiful.
Best places to see them: Anywhere around Alta and Tromsø!
2. The Northern Lights
Let's face it: most people travel to the far northern reaches of the world with one thing in mind: seeing the Northern Lights. And it's no different in Northern Norway.
Fellow blogger Marie and I went out on four different tours (once in Alta and three times in Tromsø), and were able to see the aurora three times (four if you count a quick unexpected showing at the Holmen Husky Lodge in Alta).
The first, second, and last night were very weak showings, barely visible to the naked eye. But the third time – on a windy, blizzard-like night in Tromsø – we were greeted with the most incredible lights show I've ever seen. The aurora danced over our heads for at least 15 minutes, shifting and falling in shades of greens and purples that you could easily see with your eyes.
I almost cried, it was so incredible.
RELATED: Chasing the Northern Lights in Arctic Norway
How to see them in Alta: Book with Paeskatun Tours for a great chance of seeing the lights with a very enthusiastic guide.
How to see them in Tromsø: My pick would be either Tromsø Friluftsenter or Guide Gunnar for a small-group chase.
Book a tour here: Northern Lights Chase from Tromsø (includes possible bonfire and dinner)
3. Dogsledding
Another highlight of visiting Norway at this time of year is the opportunity to go dogsledding in the snow. Many local mushers have teams that they race in the Finnmarksløpet, the longest dogsled race in Europe that begins and ends in Alta each March.
Which means that, during the rest of the winter, you can visit and possibly even drive a sled of your own.
One word of caution, though: driving a team of sled dogs can be hard work! Especially if the track is not flat and there's been fresh snow – this usually means you'll have to help push the sled up hills, which isn't as easy as it looks! (I found this out the hard way in Tromsø and got much more of a workout than I was expecting.)
Thankfully, you can always opt to just ride instead of drive, which is the best way to appreciate both the stunning scenery and the enthusiasm and quirks of the dogs.
Where to go in Alta: The Holmen Husky Lodge is pretty amazing – you can even stay overnight there! (Read my full review here.)
Where to go in Tromsø: Tromsø Villmarkssenter would be my choice, because they care so well for their dogs and run a really efficient operation, despite the large number of people visiting each day. (Book a tour here)
RELATED: Glamping at the Holmen Husky Lodge in Norway
4. An ice hotel
We can't talk about winter in the North without talking about ICE! Along with plenty of it on the streets, you'll also find a very unique hotel in Alta: the Sorrisniva Igloo Hotel.
The hotel is built over a span of about 6 weeks and opens each year just before Christmas. It remains open… well, basically until it melts, because the entire hotel – walls, beds, and even the bar – is made entirely from ice and snow. (It usually stays open until early April.)
You can book an ice bed (padded with a mattress and reindeer hides), or you can just go and visit to admire the intricate details and ice carvings.
Where to go: Sorrisniva, which also offers outdoor adventures like snowmobiling, ice fishing, and reindeer sledding.
5. Snowshoeing
One of my favorite outdoor activities in winter has to be snowshoeing. It's fairly easy, and yet still allows you to get out into nature and enjoy the snowy scenery. In fact, I'm tempted to get a pair of snowshoes of my own to use in some of the parks in Ohio!
Where to do it in Alta: GLØD Explorer offers an easy snowshoe + ice fishing combo tour that includes lunch in a cozy Sami lavvo (tent/teepee).
Where to do it in Tromsø: My pick in Tromsø would be Tromsø Outdoor. Their 2-hour snowshoe tour has you climbing up and down snowy hills on Tromsøya island, which is really fun. (Book a tour here)
6. Reindeer and Sami culture
Finnmark is the most northerly region of Norway, and it's also where you'll find the Sami people. Sami culture can be found all across northern Scandinavia and Russia, and it's a culture that's actually experiencing a bit of a resurgence, especially in Norway where the government has apologized for marginalizing the Sami and now encourages them to celebrate their culture.
In Norway (and elsewhere in Scandinavia), the Sami are the only people allowed to own herds of reindeer, so Sami people and reindeer usually go hand-in-hand.
Reindeer sledding is a popular tourist activity in Northern Norway, and it's a much more relaxing experience than dogsledding since the reindeer just kind of plod along through the snow.
Where to do it: You can have a Sami experience in Alta at the Boazo Sami Siida, but if you want to go reindeer sledding, I highly recommend doing it with Lyngsfjord Adventure outside of Tromsø. Not only are the Sami guides super friendly here, but the landscapes at Camp Tamok up in the Lyngen Alps are stunning – perfect for a sleigh ride.
7. Ice fishing
Growing up as a country girl in rural Ohio with a dad who loves fishing (and who made sure to create a pond on our property when he built our house), I'm no stranger to ice fishing. But a childhood incident where I fell up to my hip into an ice fishing hole kind of turned me off the activity.
I therefore wasn't super excited about ice fishing in Norway – but the experience ended up turning out great!
We snowshoed out to a lake, made our own fishing holes, and then sat on warm reindeer hides as we fished with the tiniest fishing rods in history. We didn't catch a thing, but we still had fish for lunch in a nearby lavvo.
How to do it in Alta: I went with GLØD Explorer on a snowshoe + ice fishing combo tour.
8. Cross-country skiing
You can't really go to Norway without trying cross-country skiing. It's possibly the most Norwegian of all winter activities, and even on a weekday afternoon in February there were tons of people out on the cross-country ski trails in Tromsø.
It's not exactly a natural sport to pick up if you've never done it before (expect a few falls, at least), but I found myself enjoying it a lot more than I expected to!
Where to do it: Tromsø Outdoor offers a great 3-hour intro tour that gets you on the trails with the locals. (Book a tour here)
9. Snowmobiling
No list of snow sports would be complete without some snowmobiling. These "snow machines" are popular just about everywhere that gets lots of snow in the winter (friends in Ohio even have them), and while I've ridden on them before, this was my first time driving a snowmobile myself. And I HATED it.
I found the machine kind of tough to turn, and I didn't like how it felt on anything but perfectly flat ground (i.e. like it was going to tip over at any second). Marie and I disliked driving a snowmobile so much that we actually skipped a second planned tour! I'll stick to riding from now on.
Where to do it: Don't let me scare you off, though! Plenty of people LOVE snowmobiles, and the scenery really is amazing. We went with Sorrisniva in Alta, and Lyngsfjord Adventure also offers tours from Tromsø.
10. The tour operators
Lastly, I have to say a word about the tour operators in Northern Norway: They. Are. Awesome.
I haven't been anywhere else in the world that takes such good care of guests. Every company we traveled with provided warm winter clothing (snow suits, thermal boots, and sometimes even hats and gloves), along with hot drinks and snacks along the way.
This is great for travelers who don't live in cold parts of the world, because it means you don't have to go out and spend a fortune on winter clothing before going to Norway!
---
READ NEXT: A Perfect 10-Day Itinerary for Norway in Winter
Where to stay in Northern Norway
Here are some of my hotel suggestions for both Alta and Tromsø:
Alta hotels:
Thon Hotel Alta – Located in central Alta, the Thon is a good choice both budget-wise and because Peppes Pizza Restaurant downstairs is open even on Sunday nights. ? The rooms include free wifi, and some even overlook the Northern Lights Cathedral. (Read reviews | Book here)
Scandic Alta – Located just around the corner from Thon, Scandic Alta would be my second pick. It also has an in-house restaurant (though it's a little more upscale than Peppes), and many of the tours you book around Alta will offer free pickup from here. (Read reviews | Book here)
Tromsø hotels:
Scandic Ishavshotel – This hotel right on the Tromsø Sound offers some great views, free wifi, and an on-site restaurant. And it's also one of two main hotels where most of the tour companies do free pickups from. (Read reviews | Book here)
Radisson Blu – The Radisson Blu is the other hotel near the harbor where tours pick up from, and is another nice option in Tromsø. (Read reviews | Book here)
Thon Hotel Polar – This is where I stayed in Tromsø. It's further up from the harbor, but close to the city's main shopping street. I loved the sleek and well-designed rooms, and the Egon Restaurant downstairs was nice, too. (Read reviews | Book here)
---
Which of these adventures would YOU be most excited about?
Pin it for later: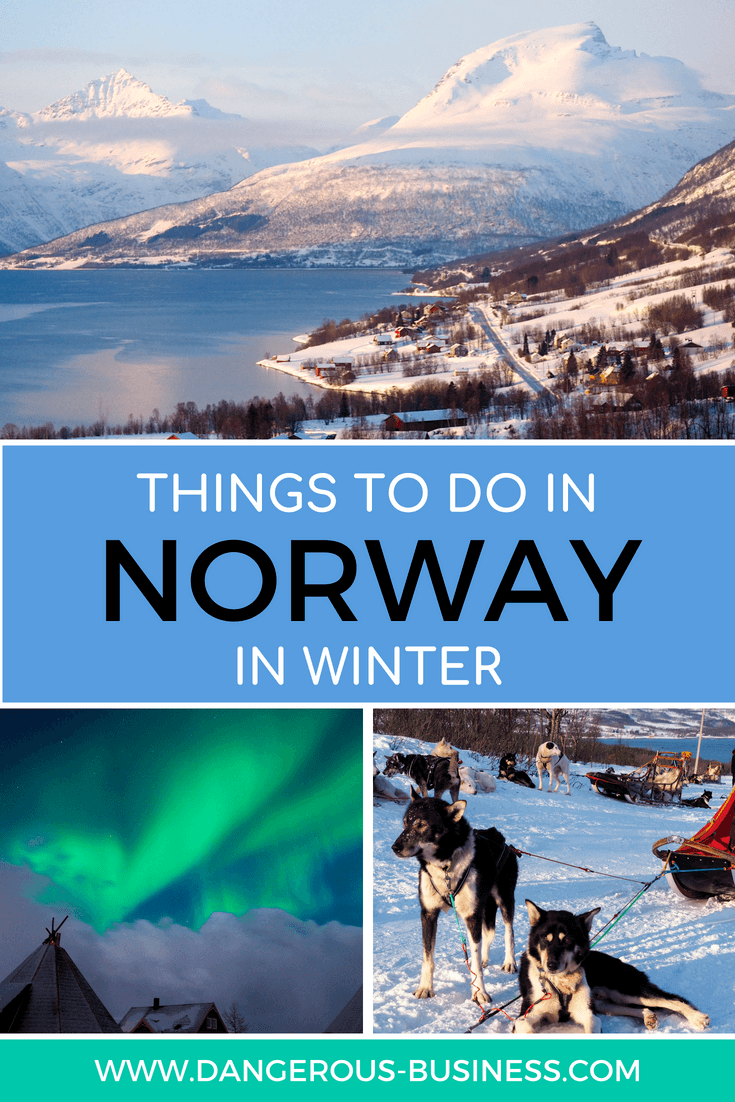 *Note: I was a guest of Innovation Norway and Northern Norway on this trip, and also have to thank all the local tour operators we worked with. As always, though, all opinions are 100% my own.