Some posts on this site contain affiliate links, meaning if you book or buy something through one of these links, I may earn a small commission. Read the full disclosure policy
here
.
---
Traveling to Norway at any time of year could inspire a detailed packing list – layers are necessary year-round, as is gear for any of the various outdoor adventures that Norway has to offer.
But this list is focused on what you'll want to take to head north of the Arctic Circle in the winter months.
It doesn't get as cold in the Norwegian Arctic as it does in neighboring Finland (thanks to the warmer currents coming in off the Atlantic), but you'll still want to prepare for temperatures below freezing.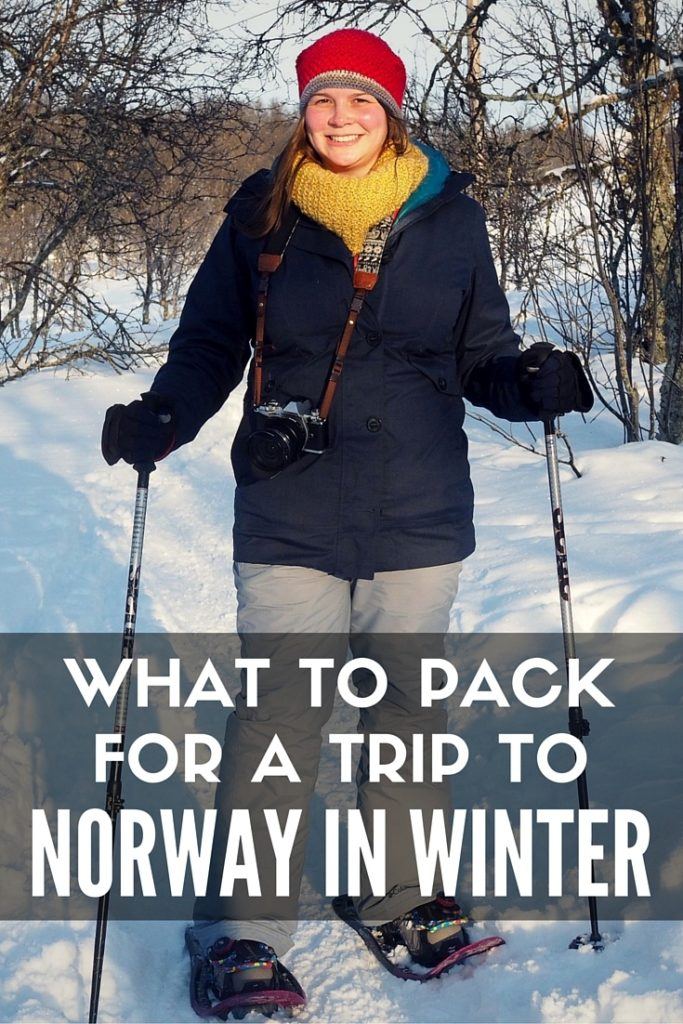 What to pack for Norway in winter: The essentials
Thermal base layer
Whether you're going on a dogsledding trip, sleeping in an ice hotel, or just planning to walk around outside in cities like Alta or Tromsø, you'll want to have a warm base layer close to your skin.
Wool is usually the go-to material for base layers (merino wool is especially great), but if you're like me and are allergic to wool on your bare skin, then I recommend getting a set of Terramar Hottotties. I have their Climasense Cloud Nine Turtleneck and a pair of their Cloud Nine pants, and wore them almost every day in Norway. (They also make silk leggings, which are another great non-wool alternative.)
I especially love the turtleneck – it fits great, is nice and long, and did not get smelly at all even after I wore it daily for almost a week.
A comfy mid-layer
Base layers are all well and good, but you'll need a mid-layer, too, so you aren't sitting around in your long underwear when you take your coat off.
On top, my go-to mid-layer is either a down vest or fleece – for Norway, I paired my turtleneck base layer with a North Face fleece (the Agave jacket is my current favorite) on top.
On the bottom, a pair of comfy leggings is usually what I turn to, as jeans are typically just too bulky. You could opt for some fleece-lined leggings, or maybe cute printed leggings made from sweater material.
Warm and water-resistant top layer
You'll want good outerwear, too. I have a pair of Columbia ski pants that I LOVE, and also have a long, tri-climate coat that is a great winter go-to. If you're looking for an outer layer that's warm AND packable, I also have a Cocoon Coat from Rohan that's a great option for when you need to be able to stuff that outer layer into your suitcase.
Warm boots
I went to Norway prepared with two different pairs of boots – one for just walking around, and one for doing serious outdoor activities. My walking around boots are Columbia Omni-Heat boots, while I love Merrell's Polarand boots for outdoor activities since they have better support. Both do a good job of keeping your feet warm. (Though note the Columbia boots run small, so size up!)
*A note on boots: You may want to buy at least a half-size bigger than you normally wear to accommodate for thick socks AND to make sure your toes have room to move. The tighter your boots are, the faster circulation to your feet gets cut off – and the sooner your feet will get cold.
Serious socks
Another thing to ensure warm feet is to have a good pair of socks. I got some Heat Holders for this trip, which are true to their name – SO warm! These socks are super thick and super soft on the inside. My toes never once felt cold, and I highly recommend these for any winter activity.
Things that will come in handy
Hand warmers
You can pick up some Hot Hands hand warmers for fairly cheap. I promise you'll appreciate them on those snowmobile trips, or when you're standing outside at night looking for the Northern Lights. (Though if you want to cut down on waste, you can also get rechargeable hand warmers now!)
Yaktrax
Because Norway's Arctic cities are mainly found along the coast, this means that they can often be really icy. Tromsø heats some of its sidewalks to shed them of snow and ice, but that doesn't mean you won't find slippery patches (I may or may not have fallen in Tromsø three times while crossing the street…). To combat this, you may want to throw a set of Yaktrax in your bag. These attach to the bottom of your shoes to help you get better traction on snow and ice.
A guidebook
Fellow blogger Kristin Repsher has written a really great guide to Lapland and Northern Norway in winter. If you'd like to read more about the destinations, weather, customs, accommodation, and more, this guide is worth investing in. She also has a whole section on Northern Lights photography.
Travel insurance
Even though it's not a tangible item, I also always recommend packing a good travel insurance policy. That way everything from lost luggage to a bad accident is covered – because you just never know! I recommend World Nomads for basic (and really affordable) travel insurance.
Complete Norway winter packing list
Here's a look at what was in my bag for my trip to Northern Norway:
In my main suitcase
The bag I travel with the most is a soft-sided rolling bag by Osprey. This bag has traveled around the world with me for 5 years, and is still in excellent shape.
Inside my bag you'll find:
1 pair of jeans (part of my go-to flying outfit)
1 pair of sweater leggings
2 pairs of regular, thicker leggings
1 pair of thermal bottoms
1 sweater
1 hooded sweatshirt for layering
2 shirts for layering
Plenty of warm socks (including my Heat Holders)
Pajamas
Underwear/bras (including my favorite quick-dry Ex Officio undies)
Heavy-duty winter hiking boots
Winter coat
Gloves/hat/earmuffs/a chunky knit infinity scarf
My Yaktrax and hand warmers
Toiletries
In my carry-on
My carry-on these days is photography focused – the Pacsafe Camsafe V25, which has a dedicated compartment with separators for camera lenses and gear. It also has an upper section in which to pack other things, like my Kindle and purse.
If you're not too concerned with photo gear, then my carry-on pick is the STM Haven, which is a great carry-on-friendly backpack with great protection for things like laptops and tablets.)
In this bag:
Macbook Air 13″
My GoPro (currently I have the GoPro 7, which is amazing for adventure sports!)
My headlamp (essential for being outside at night, like when taking Northern Lights photos)
Various chargers
Electrical plug adapters
A power strip for making charging easier
Headphones
My purse with wallet, passport, etc.
And what about for men?
It's true that my packing list is geared towards women, but my packing guidelines for men are pretty much the same: Warm, waterproof layers are where it's at!
Here's a look at some of the things my husband, Elliot, packs when we go to cold-weather destinations together:
Anything else you would pack with you for a trip above the Arctic Circle?