Some posts on this site contain affiliate links, meaning if you book or buy something through one of these links, I may earn a small commission. Read the full disclosure policy
here
.
---
When I went to Iceland for the first time (way back in 2012, before the country became an Instagram darling), I arrived with very few plans – mostly because I hadn't done a ton of research before booking a winter trip to Iceland.
But my lack of plans lasted for about 5 minutes after boarding the Flybus from Keflavik International Airport.
There, in the bus' seat-back pocket, was a brochure outlining all the awesome tours and excursions you could do in Iceland. The Golden Circle, horseback riding, snorkeling in between tectonic plates… But one tour in particular caught my eye: the South Shore Adventure on Iceland's South Coast.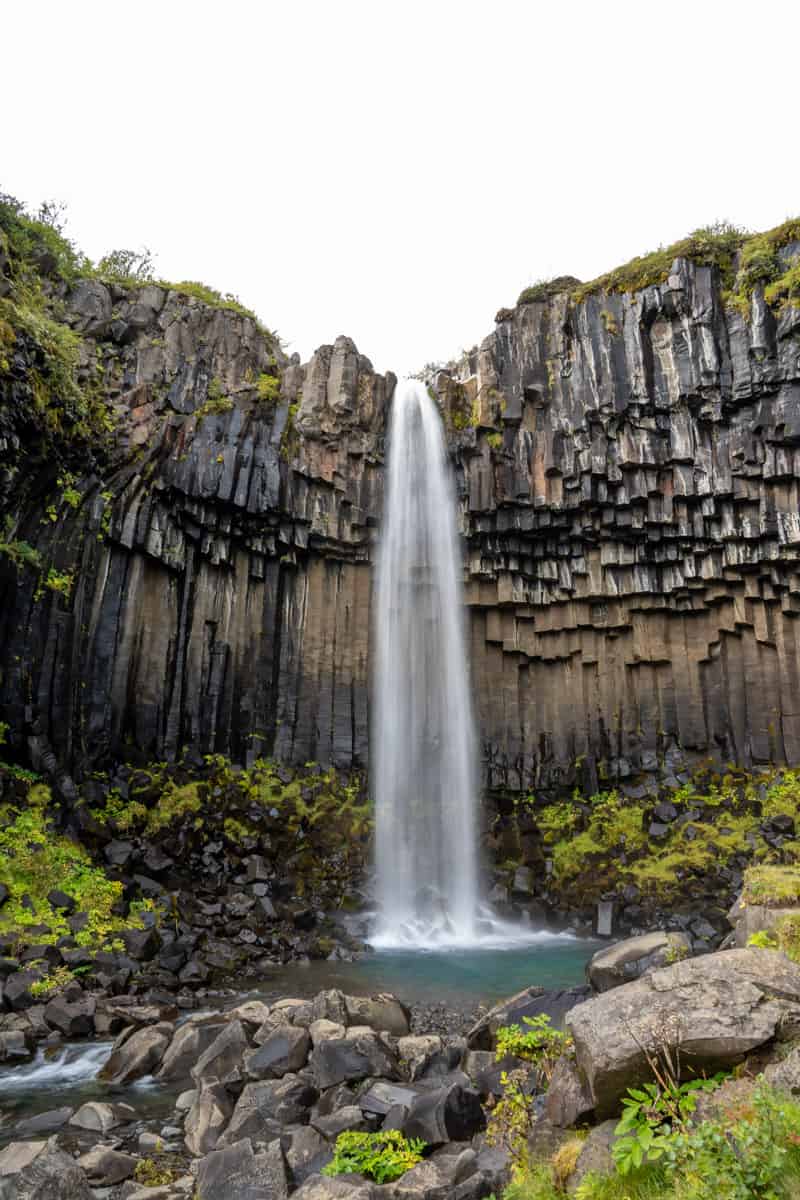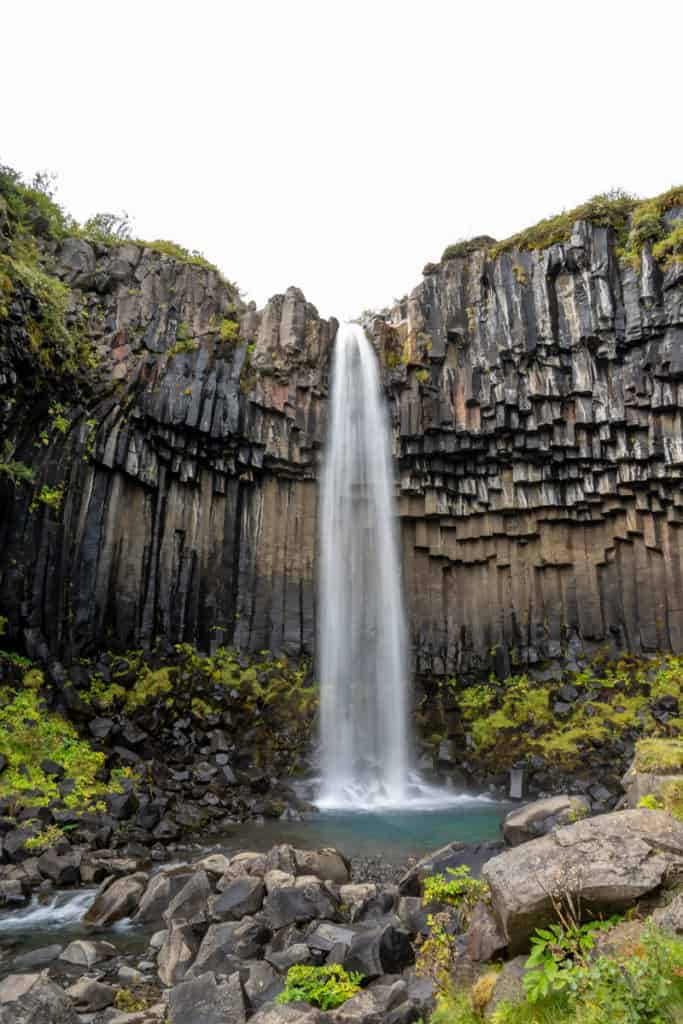 The South Coast ended up being the first part of Iceland I really experienced (after the Blue Lagoon). And it's the one part of Iceland that I've visited on all FOUR of my trips to Iceland.
If you have a rental car in Iceland, you can explore the South Coast over the course of a couple days. If you don't have a car, there are several tour companies that do day trips and even overnight tours to this part of Iceland. Either way, it's a part of the country you won't want to miss!
RELATED: An Epic 10-Day Iceland Ring Road Itinerary
An introduction to Iceland's South Coast
The South Coast of Iceland has no official "start" and "end," but most people would agree that it starts around the town of Selfoss, stretches through the village of Vík í Mýrdal and Vatnajökull National Park, and ends roughly around the town of Höfn.
(Höfn is of course technically in East Iceland, but we'll just call that area the southeast coast; it's still incredible.)
The distance between Selfoss and Höfn is 400 kilometers (about 250 miles), and the way to travel is via Route 1 AKA the Ring Road AKA Þjóðvegur 1. All the sites I'll include here are either along the Ring Road, or easily reachable from it if you're doing a Ring Road road trip.
The South Shore has some of Iceland's most iconic landscapes, from thundering waterfalls to black sand beaches to glaciers and ice caves. And since I've been there several times in just about every kind of weather you can imagine, I'll share my thoughts on which spots are must-sees and which ones you can maybe skip if you're short on time.
When to visit the South Coast
Iceland's South Coast is a popular area for tourists to visit year-round. The Ring Road does not close except in the most inclement weather (which can technically happen any time of year, but is more likely in the fall and winter).
The most popular time to visit Iceland is during the summer – mainly July and August. Anytime from June-September is a good bet though in terms of being able to access everything. This is also the time of year when the greatest number of tours are running.
Here are some examples of good times to visit the South Coast in terms of what you want to see:
Mid-May through mid-August – Experience the Midnight Sun, when the sun barely sets, or sets very very late.
Mid-May through mid-August – Your best chance to see puffins nesting.
Mid-June through early July – See fields of purple lupins blooming along the South Coast.
September/October – The days start to get short enough to possibly see the Northern Lights.
I last visited all 25 of the spots listed below during an August trip to Iceland, but I've also visited in November.
25 epic things to do on Iceland's South Coast
To make this list easier to navigate, we'll "travel" along the South Coast in order from west to east.
I'll list all the most popular sights, and give you my opinion on whether I think each one is worth stopping for or not.
1. Town of Selfoss
Type of sight: Town
We'll start in the town of Selfoss, which is less than an hour's drive from Reykjavik on the Ring Road. The town is the largest in South Iceland – but with a population of under 7,000, it by no means feels like a big city.
Most people drive right on through Selfoss on their way to other sights on the South Coast, but it's worth making a quick stop.
The town sits on the Ölfusá River, and is home to the Bobby Fischer Center, which is a small museum dedicated to the famous chess player. An old milk factory in the center of town has recently been transformed into a food hall and collection of shops; at the very least, stop in for a coffee at the very cute Konungs Kaffi.
Worth it? Yes, for a coffee break or lunch.
Good to know: Most of the restaurants in the food hall are only open until 9 p.m.
2. Seljalandsfoss
Type of sight: Waterfall
Chances are you've already seen photos of this waterfall, as it's one of the most-photographed waterfalls in Iceland. And it's not difficult to understand why.
Seljalandsfoss cascades 200 feet over cliff into a rounded pool surrounded by green moss. Because of the way the cliff face is formed, you can actually walk all the way around the back of this waterfall, which you'll definitely want to do!
The trail is fairly short (you can see it from the parking area), but it's wet and can be slippery in spots. Know that if you want to walk the loop all the way around behind the falls, there's some rock scrambling involved on the far left side if you're going counter-clockwise.
Worth it? Yes, it's a very pretty waterfall and walking behind it is fun.
Good to know: This is a very popular spot, and you have to pay to park in the dedicated parking lot (there's a pay station). Since it's so popular, though, there are services here – including restrooms.
3. Gljúfrabúi
Type of sight: Waterfall
If you visit Seljalandsfoss, you'll notice that the trail continues on past the first famous waterfall. Not as many people make the 10-minute walk, but those who do can visit Gljúfrabúi, or the "Canyon Dweller."
This 130-foot-tall waterfall cascades down into a small gorge, almost completely hidden from view. Those who don't mind getting wet can walk/wade into the canyon and see this impressive waterfall.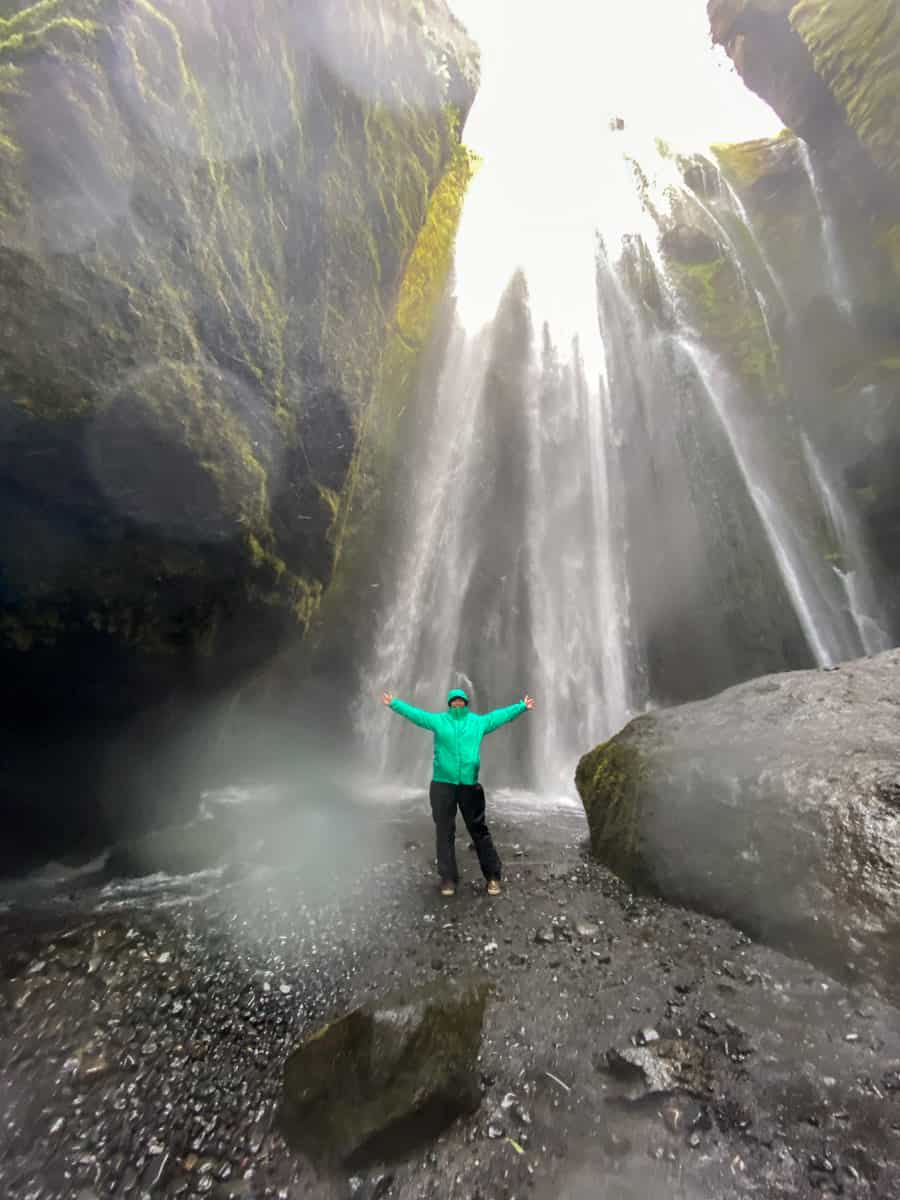 Worth it? Yes, but you will get VERY WET, so I highly recommend fully waterproof coat, pants, and boots to visit this one.
Good to know: You have to walk/wade through a shallow river to get inside the canyon, but once you're inside there are large rock slabs to stand on. Obviously do all of this at your own risk!
4. Gluggafoss
Type of sight: Waterfall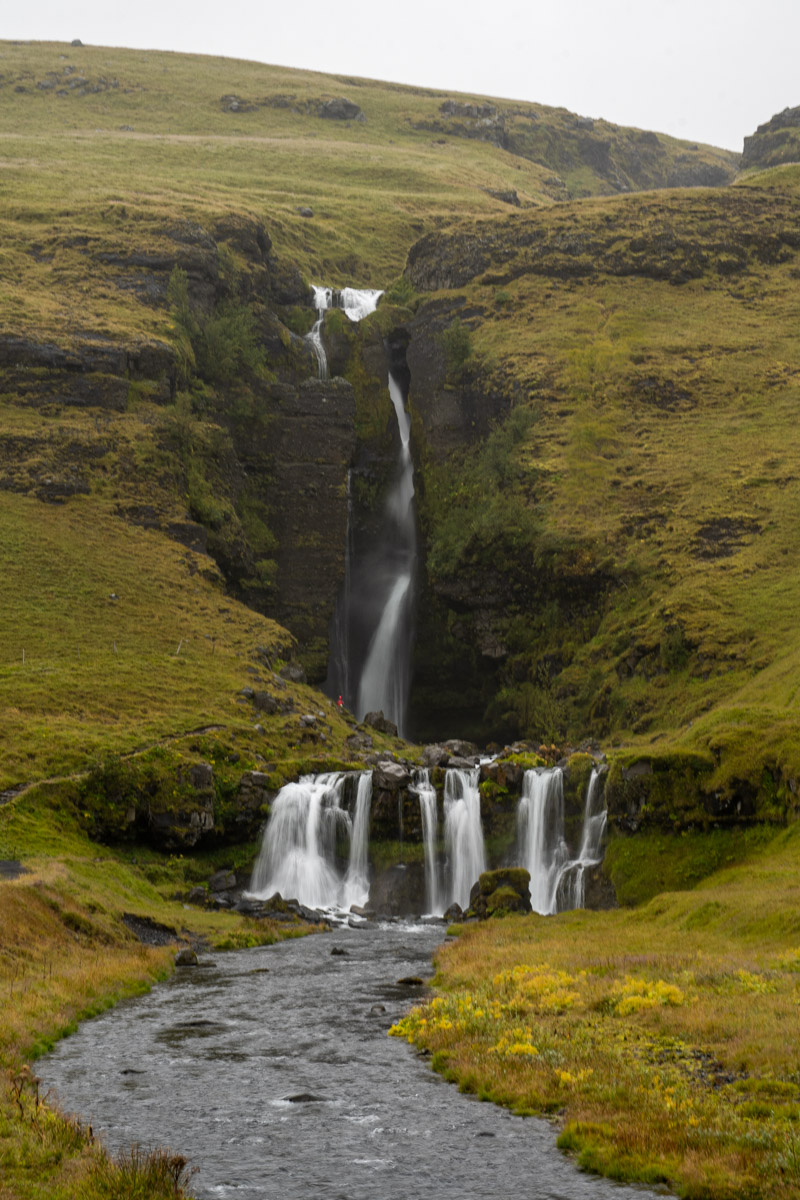 Also known as Merkjárfoss since it's on the river Merkjá, Gluggafoss is another waterfall worth visiting in this area. It's located just a 25 minute drive north of Seljalandsfoss, and is often much less crowded since most people don't seem to know about it.
This waterfall is actually a series of falls that have carved out interesting holes in the rock that resemble windows (and the Icelandic word for windows is "gluggar," hence the Gluggafoss name). The top section of the waterfall plunges 145 feet, while the bottom section is about 27 feet tall.
A flat trail goes right up to the falls from the parking area, and you can walk behind the lower section of the falls here, too.
Worth it? If you have the time to make this detour, yes! It's a nice waterfall and usually not crowded.
Good to know: Gluggafoss is located off Road 261, which is a paved road that meets up with Route 1 in Hvolsvöllur. IF you want to travel from Seljalandsfoss to Gluggafoss (or vice versa), the shortest route will be via Road 250, but know that Road 250 is a gravel road (though one that is usually passable in a small car).
---
BONUS: Westman Islands
The Westman Islands (Vestmannaeyjar) are a small archipelago off Iceland's south coast. The largest island, Heimaey, has a sizable town and lots to do, and makes for an excellent extra day trip or overnight trip from the South Coast.
You can take a car ferry from Landeyjahöfn (about 15 minutes from Seljalandsfoss) and be on Heimaey in 40 minutes. The ferries are large and run several times per day in the summer months.
Once on Heimaey, you can do things like look for puffins, go on a RIB boat safari, visit the Eldheimar Museum to learn about a famous volcanic eruption, and soak in all the scenery.
READ MORE: 1 Day in the Westman Islands: Things to Do on Heimaey Island
---
5. Eyjafjallajökull
Type of sight: Volcano
The volcano famous for snarling thousands of flights back in 2011 looks fairly unassuming rising out of the landscape just north of the Ring Road.
There's no way to get up close to it, but there is a "Eyjafjallajökull Info Point" marked on Google Maps that is a good spot to stop for photos. There are some info boards to read here, too.
Be sure to ask a local how to properly say "Eyjafjallajökull." After working in the news media during the 2011 eruption and hearing hundreds of mispronunciations of the volcano's name for months, it's always cool to me to hear it roll easily off Icelandic tongues.
Worth it? If you want a photo of the famous mountain, sure, this is a quick stop.
Good to know: You can get the same view at the nearby Gamla fjósið restaurant, which makes for a decent meal stop.
6. Skógafoss
Type of sight: Waterfall
Not far away, one of Iceland's biggest waterfalls tumbles over another cliff that marks the country's former coastline.
Skogafoss is one of the larger waterfalls in Iceland (and the largest on the South Coast), with a height of around 200 feet and a width of just over 80 feet. This waterfall truly thunders!
Legend has it that a Viking settler in the area buried a treasure in a cave behind the waterfall, and people have been searching it for centuries. It's said that someone found the chest at one point and grabbed one of the rings on the side, only to have the ring pop off and the chest to disappear again. The alleged ring can now be found on display at the nearby Skógar Museum.
You can get fairly close to the base of the falls here (wear the rain gear!), and there's also a set of stairs that will take you up to the top of the waterfall.
The stairs (and know that there are over 400 of them) are steep, though, and unless you want to hike part of the Waterfall Way (more on that in the next section), I DON'T think climbing the stairs just for the Skogafoss view is worth it.
Worth it? Stopping to see Skogafoss is definitely worth it! Climbing to the viewing platform? Maybe less so.
Good to know: There's a large parking area here, and there's no fee to park! There are restrooms, too, but you will have to pay a small fee to use those.
7. Waterfall Way trail
Type of sight: Hiking trail and waterfalls
Have some time and want to go on an epic-yet-not-super-popular hike? Then the Waterfall Way might be for you. The trail actually starts at Skogafoss, and requires you to climb those hundreds of stairs next to the big waterfall.
Once you're at the top, the Waterfall Way trail follows the Skógá River for 8 kilometers (about 5 miles), passing 26 different waterfalls along the way. The Waterfall Way hike is part of the longer Fimmvörðuháls trail, which goes all the way to Thórsmörk.
This is an out-and-back trail, so you can hike as much or as little as you'd like along the Waterfall Way.
Worth it? Hiking part of this trail is the only reason I'd recommend climbing the Skogafoss steps! You can hike as much of the Waterfall Way trail as you have time for.
Good to know: From Skogafoss, the Waterfall Way trail is a gradual uphill walk. Which means it's all downhill once you decide to turn around.
8. Skógar Museum
Type of sight: Museum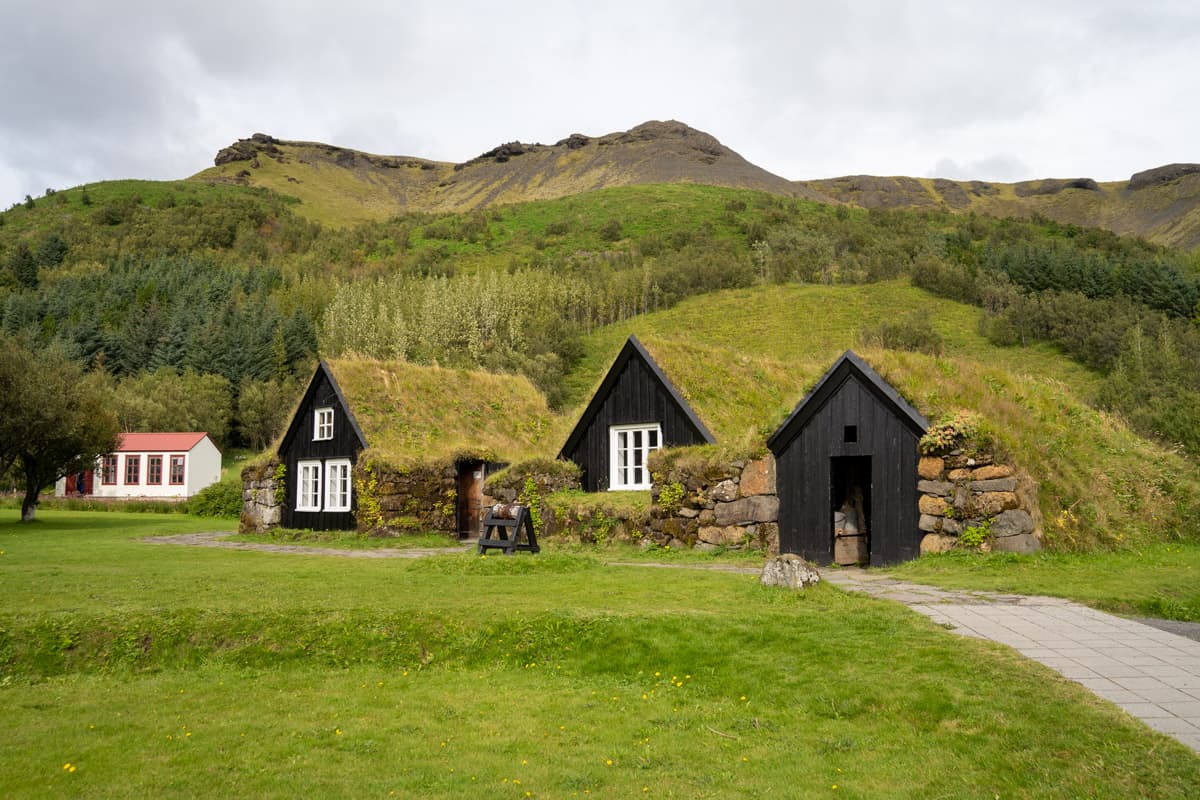 Right next to Skógafoss is the Skógar Museum, a regional folk museum that actually comprises three different small museums and six historical buildings, including a replica turf house village. It's an interesting look into the historic way of life in this part of Iceland.
The three different museums include a folk museum, a technical museum, and an open-air museum (where you'll find the turf houses).
Inside the technical museum there's also a lovely little cafe that's an excellent place to grab lunch.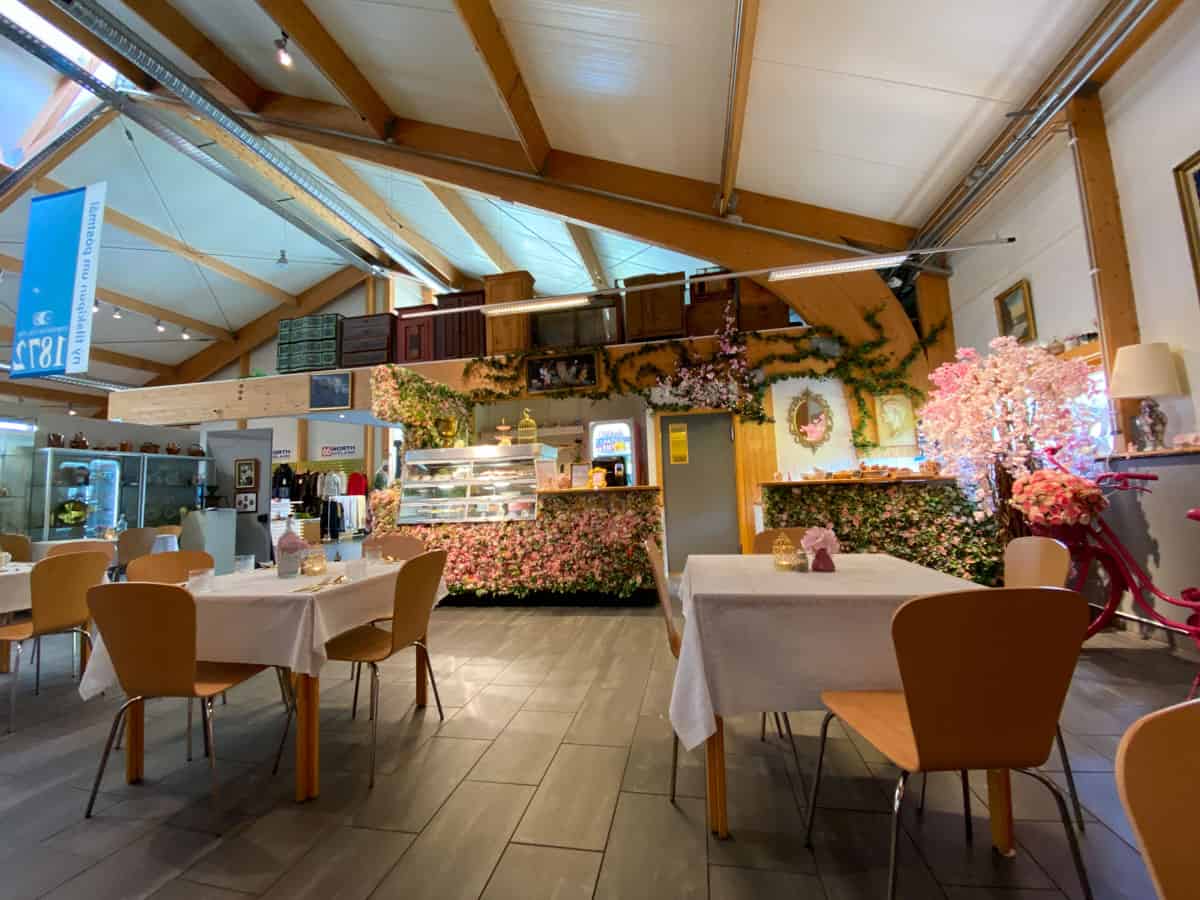 Worth it? If you enjoy small folk museums, then yes this is an interesting stop! (And it's cool because you can go inside the turf houses.) If you're short on time though, I wouldn't call this a must-do.
Good to know: There is a fee to park near the transport museum building of the Skógar Museum – but this can also serve as parking for the next sight on this list! When the museum is open, you can go inside to pay; if it's not open, you may need to pay via an app like Parka, or online at Parka.is.
9. Kvernufoss
Type of sight: Waterfall
Kvernufoss is probably my favorite waterfall on the South Coast – and maybe my favorite waterfall in all of Iceland!
It's very close to the Skógar Museum and Skogafoss, and yet most tourists don't seem to know about it. It's the only major waterfall on the South Coast that you might have all to yourself even if you're visiting during the summer.
Kvernufoss is a thin 100-foot waterfall half tucked-away in a small gorge. Visiting Kvernufoss requires a short (15 minutes or so) hike across a relatively flat field, and once you reach it you have the option to walk down into the gorge and behind the waterfall.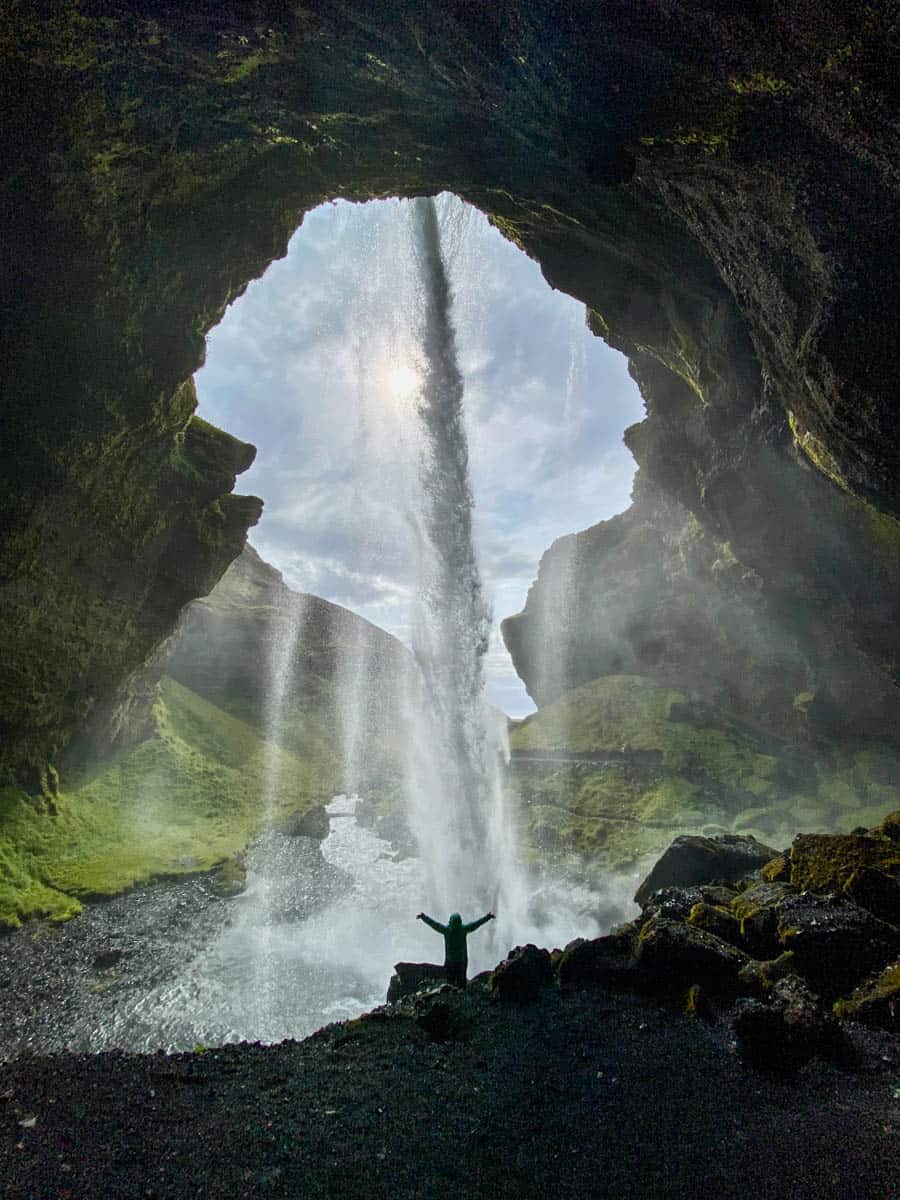 Even though Seljalandsfoss is taller, I felt like walking behind Kvernufoss was even more impressive because you can see basically the entire waterfall as it cascades down.
Worth it? Absolutely yes! This is such a cool waterfall, and not nearly as busy as some of the others on this list.
Good to know: The trail to get to Kvernufoss starts at the parking lot at the Skógar Museum's transport museum (which, remember you need to pay to park at; you can pay in advance here). The trail is mostly flat, but you do have to climb over a farm fence once, which requires you to use a ladder-like set of steps.
10. Sólheimajökull
Type of sight: Glacier
If you want to get up close to a glacier in Iceland, Sólheimajökull is one of the most easy to access. So even though it's not exactly on the coast in South Iceland, I'm still including it here.
Sólheimajökull is part of the larger Mýrdalsjökull glacier, which is the fourth-largest ice cap in Iceland. It sits atop the (still very active) Katla volcano, making it a super unique place to visit.
You can drive up really close to Sólheimajökull arm of the glacier for photos, and can also book a variety of tours here including glacier walks, ice climbing, and snowmobiling. (Just please never attempt to walk onto ANY glacier on your own without a guide – ice can be very dangerous!)
Worth it? If you want to book a glacier hike, this is a great option that's priced pretty well!
Good to know: This is another spot where you need to pay to park. You can pay online in advance, or by using the Parka app.
11. Sólheimasandur plane wreck
Type of sight: Beach/desert
You've likely seen photos of this site, too – the wreckage of a DC-3 plane on a black sand beach.
The plane was a US Navy Douglas Super DC-3 (the US used to have a military base in Iceland), and it crashed on this vast black sandy plain in 1973 during a short supply mission. No one was hurt during the crash, and for whatever reason no one ever moved the wreckage.
You used to be able to drive right up to the plane wreck (I did back in 2015), but you no longer can. The plane is on private land, and the land owners got increasingly frustrated by inconsiderate tourists as the site's popularity grew. They didn't completely close the site down or remove the plane, though. Now you just have to park in a designated lot and hike to the plane.
The downside is that the hike to the plane wreck is 2 miles each way through very flat (and quite boring) volcanic desert terrain, and at the end it's really just the partial skeleton of an old plane to see.
There is a shuttle that runs people out to the plane every 30 minutes starting at 10 a.m. each day (as long as weather allows), but it costs $20 per person in addition to what you have to pay to park, and I really don't think it's worth that.
Worth it? Honestly, no, I don't think this is a stop worth making any longer unless you're spending a lot of time on the South Coast and have 2+ hours to kill in order to do the hike. I definitely don't think taking the $20 shuttle is worth it.
Good to know: Regarless of how you get to the wreck site, you'll have to pay to park in the lot just off the Ring Road. You can do this online in advance, or using the Parka app.
12. Dyrhólaey Viewpoint
Type of sight: Scenic spot
Located high above what's known as "The Endless Black Beach," the Dyrhólaey Viewpoint is definitely a stop worth making on the South Coast. There are actually two areas you can visit on the small Dyrhólaey Peninsula, with the most notable one being the viewpoint at the top of a hill.
The viewpoint has a large parking area with access to a short trail that loops around the Dyrhólaey Lighthouse. Nearest to the cliff edge, you get great views of the Dyrhólaey rock formation, which is a large arch. Just beware that it can be VERY windy up here, so don't get too close to the edge!
Worth it? Definitely worth it for an epic photo stop.
Good to know: The viewpoint is up on top of a hill, and requires you to drive up a pretty steep road. It can also get VERY windy up there. There's another viewpoint closer to beach level, which is marked on Google Maps as "Dyrhólaey View Parking Lot." There are restrooms at this lower viewing area.
13. Reynisfjara Beach
Type of sight: Beach
Iceland is famous for its black sand beaches, and Reynisfjara Beach is perhaps the most famous of those. Wind-swept with huge Atlantic waves, Reynisfjara is the epitome of of what you probably picture when you think of an Icelandic Beach.
It's known for its tall basalt columns right on the beach (which form the Hálsanefshellir Cave), as well as the Reynisdrangar rock formations right offshore (legend has it they're actually trolls who got caught and frozen in the sunlight). Puffins also nest on the cliffs here during the summer months.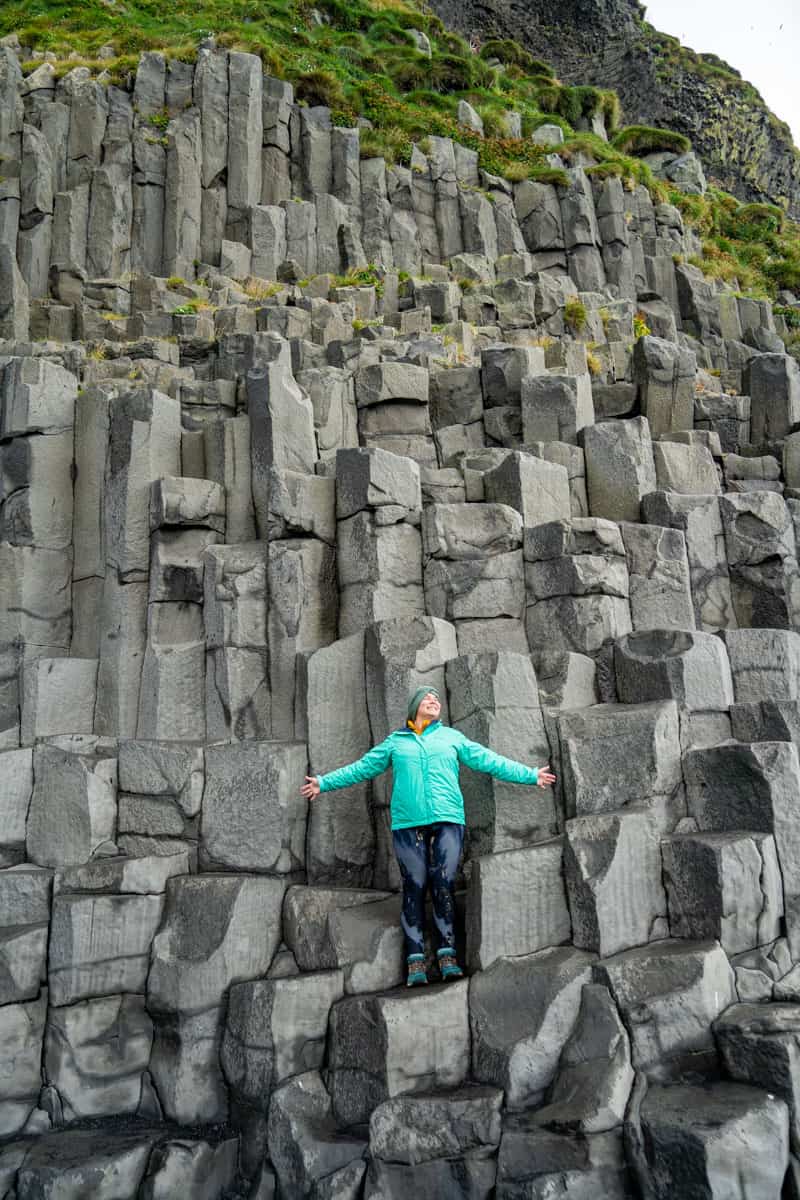 Reynishfjara is definitely an impressive beach, but it's also one of the more dangerous beaches in Iceland. Large "sneaker waves" are common here, and sadly have swept unsuspecting tourists to their deaths before. There are signs warning people about how dangerous this beach can be, but most people ignore them.
Worth it? Honestly I'm on the fence about this one. Yes, it's "famous" in Iceland, but it's also usually crowded and those sneaker waves are seriously no joke and so scary. Ten years ago I would have said it was a must-see, but now I kind of feel like you could skip it.
Good to know: There's a fairly large parking area here that's free to use (for now, at least). There's also a new-ish cafe called the Black Beach Restaurant right next to the parking area.
14. Vík í Mýrdal
Type of sight: Town
Not far from the famous black beach is the small town of Vík í Mýrdal, or just simply Vik. Vik is not really what I'd call a charming town (not like Husavik or Siglufjörður or Seydisfjordur), but it's used as a base for several adventure tour companies and makes a good stopping point.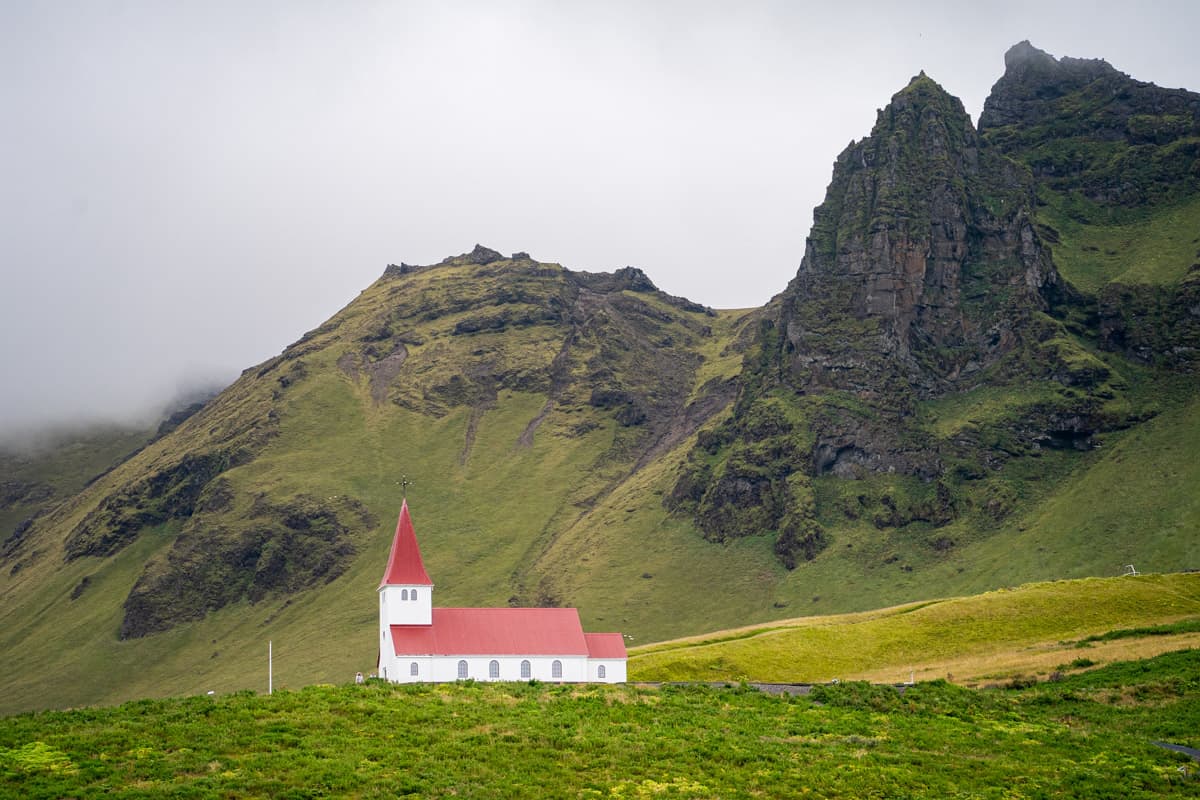 Along with having its own black sand beach (that is much less crowded than nearby Reynisfjara), the red-roofed Vík i Myrdal Church is also a popular spot for photos. If the weather is bad, you can check out the Icelandic Lava Show or the small Skaftfellingur Museum, which centers around shipwrecks.
And if you're looking for food in Vik, I can highly recommend Black Crust Pizzeria, which does indeed make pizza with black crust.
Worth it? You'll probably need to stop here anyway, even if it's just for a meal or to gas up your car. You may as well see the few sights, too.
Good to know: The Ring Road goes right through the center of town.
15. Katla ice cave
Type of sight: Glacier
I debated including this one or not, because the "ice cave" you can visit on Myrdalsjokull Glacier (usually just called the "Katla ice cave") can be a bit underwhelming for some people. It's not a huge, blue-ice cave like the ones you can see in Iceland in the winter.
BUT, the Katla ice cave is accessible year-round, making this the only ice cave you can see during the summer months.
You do have to book a tour in order to visit the Katla cave, which includes a Super Jeep ride and a walk across the glacier. (Book the tour here)
Worth it? If you don't think you'll ever visit Iceland in the winter and you go in with realistic expectations, then I think this can be a fun excursion. (If you're doing another proper glacier hike, though, then I'd probably skip this one.)
Good to know: Glaciers are constantly changing and moving, so there's no guarantee the cave will remain a cave forever. It's also quite small from the photos I've seen.
16. Eldhraun lava field
Type of sight: Lava field
You're going to see lots of lava fields in Iceland. But the Eldhraun lava field is unique.
Eldhraun is the largest lava flow of its kind anywhere in the world, and was the result of a cataclysmic eruption of a volcano called Laki from 1783 to 1784. This volcanic eruption caused plague-like disease and famine in Iceland, and the ash and haze from it altered the climate in the entire Northern Hemisphere. Crop failures caused by this eruption are even partially blamed for sparking the French Revolution.
Today, the massive lava field (it covers more than 215 square miles!) is covered in a thick layer of spongy green-gray moss. This moss looks super inviting to pat or lay on, but please refrain from touching or walking on it! The moss is very fragile, and once damaged may never grow back.
There are several places to stop and see this lava field; I'd recommend "Gönguleið um Eldhraun" on Google Maps, where you can find some info boards and some established trails you can safely walk on.
Worth it? Definitely worth it for a quick photo stop.
Good to know: Remember, don't walk on or squish the moss!
17. Fjaðrárgljúfur Canyon
Type of sight: Canyon
It looks like a mouthful, I know. But just know that "gljúfur" in Icelandic means "canyon." And this is one of the more accessible canyons you can visit along the South Coast of Iceland since it's not far off the Ring Road.
Fjaðrárgljúfur is a canyon through which the Fjaðrá river has carved out a striking landscape that looks like it belongs in Lord of the Rings. The canyon is more than 320 feet deep and stretches for over a mile.
A trail from the parking area will take you up along the top part of the canyon, which is pretty stunning! You can get good views by just walking for about 10 minutes, or you can walk the whole length of the canyon if you have more time. (At the end there's a waterfall called Mögáfoss to see.)
Just note that this canyon has been loved a little too much in recent years (thanks in part to Justin Bieber filming part of a music video here). When I visited in 2022, a designated walking path and rope barriers had been installed along the first half mile or so of the trail to keep people from trampling all the vegetation. The ropes make it impossible to get too close to the canyon edge.
Worth it? Yes, I do think it's worth visiting!
Good to know: You have to drive down a gravel road to get here, but it's well maintained and passable in a regular car outside of the winter months. Parking is free, and there are restrooms near the parking lot. Remember to respect the marked trail.
18. Skaftafell / Svartifoss
Type of sight: Hiking trail and waterfall
Skaftafell is a protected natural area that's part of Vatnajökull National Park, which is home to the largest ice cap in Iceland. Skaftafell used to be a national park itself, and has a visitor center, campsite, and several hiking trails.
There are several hiking trails in Skaftafell (all starting near the visitor center), but the most popular are the trail to see Skaftafellsjökull (a glacier tongue of the larger Vatnajökull glacier), and the hike to the famous Svartifoss waterfall (pictured above).
You've probably seen photos of Svartifoss; the 65-foot-tall waterfall tumbles down from the top of tall, black basalt columns (which gives the waterfall its name since "svarti" refers to the color black).
The waterfall is indeed memorable, but the hike to get to it is less exciting. It's a little under a mile one-way to reach the waterfall, but the All Trails reviews that label this hike "easy" are slightly misleading. It is easy in the sense that the trail is wide and smooth-surfaced and easy to follow. But it's entirely uphill for about 40 minutes, with some steep sections at the beginning.
Once you get close to the waterfall, you have to hike down into the small canyon it flows into where there's a viewing platform. This whole area was pretty crowded on the August afternoon when I went.
Worth it? Honestly… maybe, but maybe not. If you really want to see Svartifoss and don't mind the mile of uphill hiking, then sure, go for it. But the hike itself is pretty boring (there aren't really any views until you get closer to the waterfall), and unless you can go early or late in the day in the summer, you definitely won't have the view to yourself. I'm glad I saw it once, but likely wouldn't do this one again.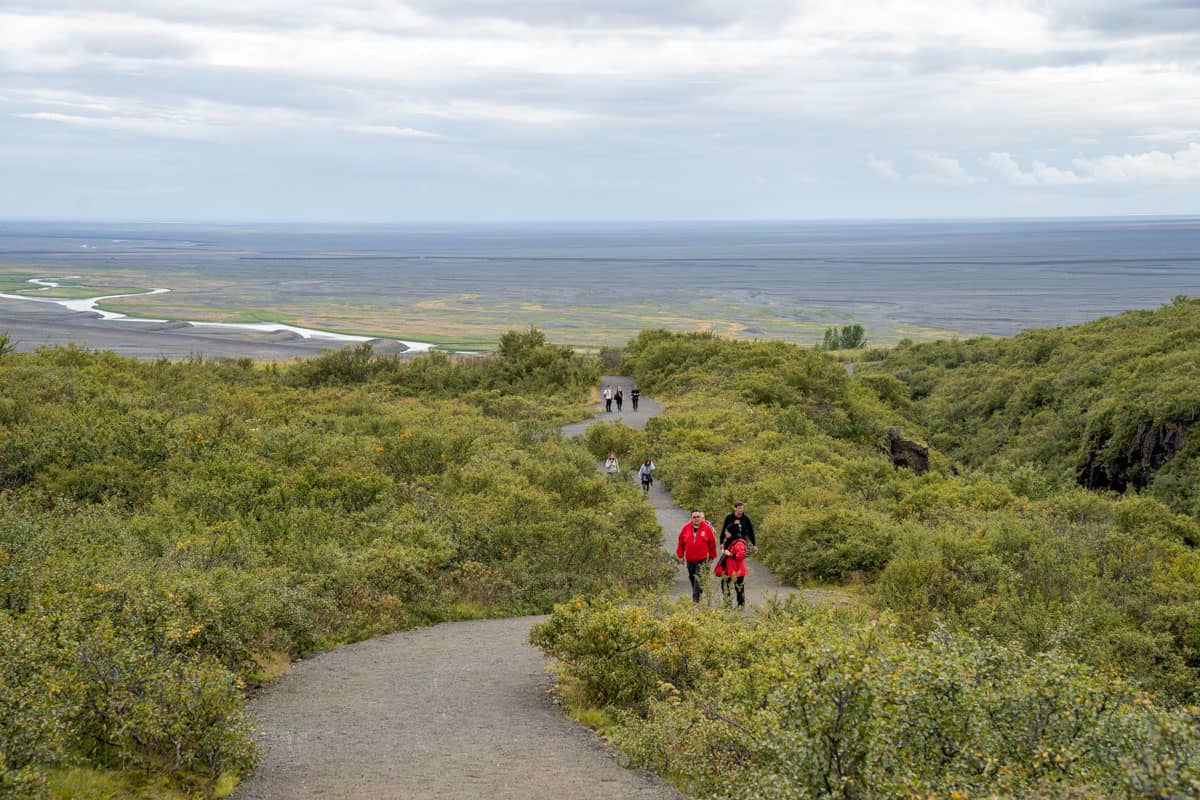 Good to know: If you're looking for a longer hike, you can connect the Svartifoss trail to the trail to the Sjónarnípa viewpoint. Also, there's lots of parking near the visitor center, but you do need to pay to park at a pay station in the parking lot.
(Note that it's also possible to book Vatnajökull glacier hiking tours *near* Skaftafell. Like this short one, or this longer one.)
19. Hofskirkja
Type of sight: Turf church
There are only 6 turf churches left in Iceland, and Hofskirkja is one of them. This makes for an easy stop along the Ring Road that's worth it for a photo.
Hofskirkja was originally built in the 1880s, and was completely restored in the 1950s. Hofskirkja is still a practicing parish, but the church interior is not open to tourists. You can still visit the outside and the attached cemetery, though, which is filled with burial mounds that make the ground look like it has waves.
Worth it? Yes, it's a cool photo stop that's different from almost everything else you'll see on the South Coast.
Good to know: The building is maintained by the National Museum of Iceland. Please respect the fact that tourists are not allowed inside.
20. Múlagljúfur Canyon
Type of sight: Canyon
If you want to know my personal favorite spot on the South Coast… it's this one! Múlagljúfur is a canyon not far from the Fjallsárlón glacial lagoon that hasn't yet been discovered by the tourist masses.
The canyon is not super easy to access, requiring a drive down a bumpy and pitted gravel road (I technically did it in a regular car, but a 4WD is probably recommended). Once you make it there, you then have a moderately strenuous uphill hike for 45 minutes or so on a trail that's not really well marked.
But the views once you make it to the top of the canyon? SO WORTH IT.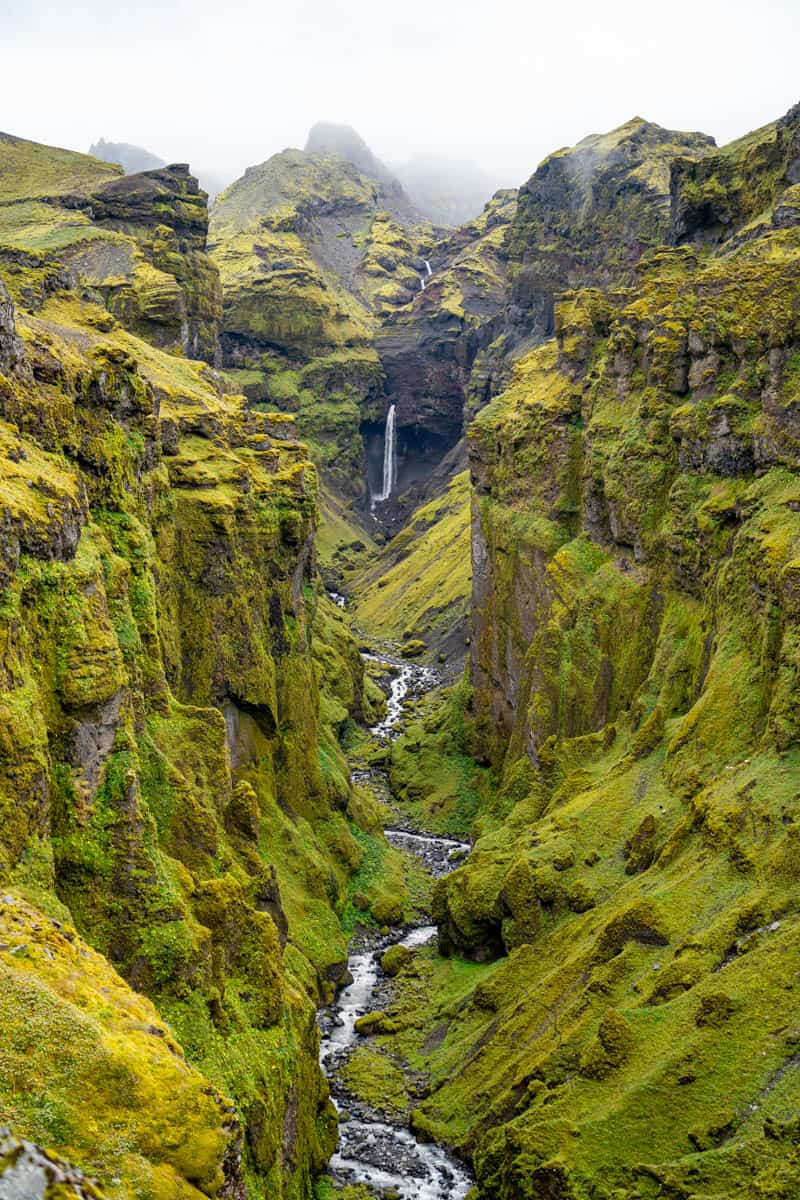 You can see multiple waterfalls cascading down into the moss-covered canyon. And, if you get lucky enough to have the clouds part at the head of the canyon, you'll also see a little peek of glacier. (But I think this spot is even more magical with a little fog and mist.)
Worth it? If you're in relatively decent shape and have a couple hours to dedicate to the whole hike (between hiking and taking photos, this took us a little over 2 hours in good weather), then YES, this is so worth it. I would happily do this hike again.
Good to know: The trail isn't super easy to follow, but just know that you need to go UP until you get to the canyon's edge. There's also a river crossing involved, so waterproof boots are a good idea if you're not confident rock-hopping.
21. Fjallsárlón
Type of sight: Glacier and glacier lagoon
Jökulsárlón below is the most famous glacier lagoon in Iceland – but it's not the only one! Fjallsárlón is smaller, but generally a lot less crowded.
The official spot to visit is marked as "Fjallsárlón Glacier Parking" on Google Maps. There's a cafe here and some services, and this is also where boat tours on this glacier lagoon begin.
If you don't mind tackling a bumpy gravel road, you can also visit the spot marked as "Viewpoint of Fjallsjökull," which is an ever quieter spot to view the glacier lagoon and various glacier tongues. Kate and I visited this area, and had the whole viewpoint to ourselves.
Worth it? If you have time to visit both glacier lagoons, do it! We actually preferred this one because it was so much more peaceful.
Good to know: A zodiac tour on Fjallsarlon is more affordable than a similar boat tour at Jökulsárlón!
22. Jökulsárlón
Type of sight: Glacier lagoon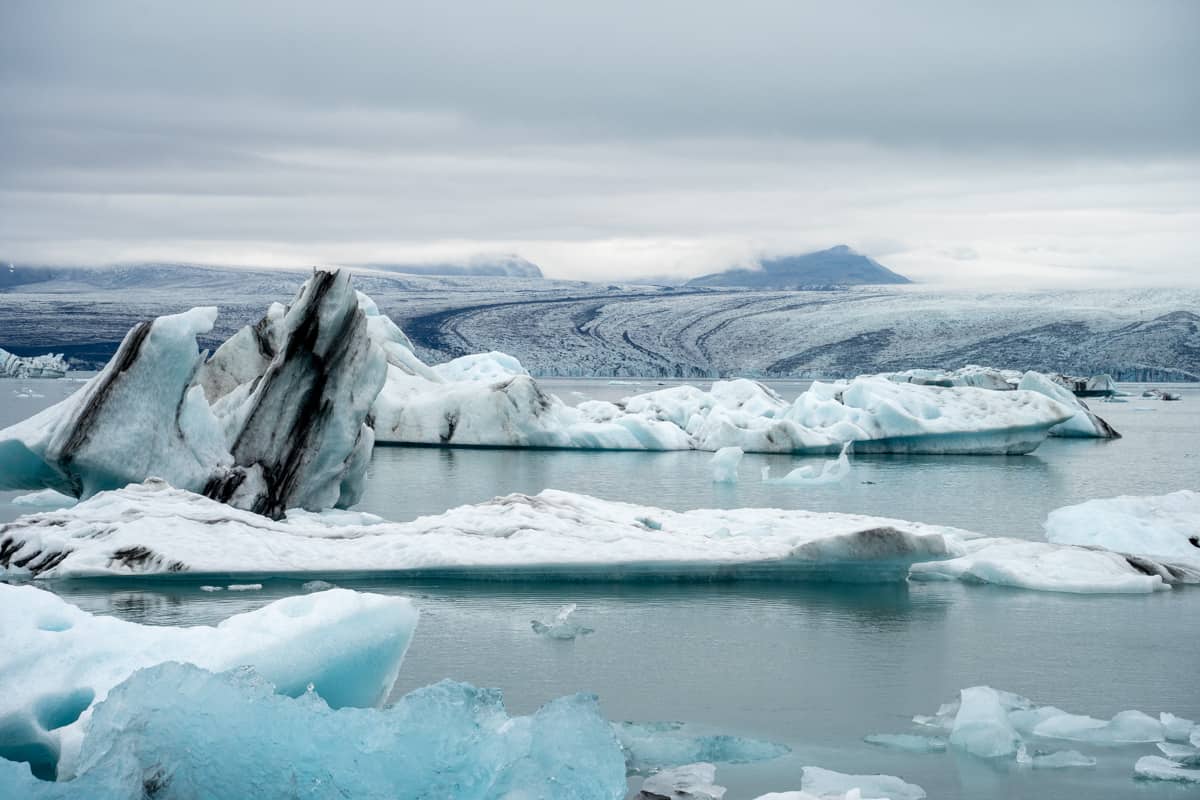 This is Iceland's famous glacier lagoon, where large chunks of ice break off the glaciers in Vatnajökull National Park and slowly make their way out to sea. Getting out into the lagoon on a boat is popular here and fairly easy; you can do a quick 35-minute tour in an amphibious boat if you're short on time, or book an hour-long zodiac tour that will get you up closer to the ice.
You can also just stop here for some photos, as you can walk right up to the edge of the lagoon.
Also, know that the amount of ice in the lagoon varies from season to season, and sometimes even from week to week or day to day.
Worth it? Definitely, whether you're just stopping for photos or to take a boat tour on the lagoon. (But do book any boat tours in advance!)
Good to know: Boat and zodiac tours only run here May-October. (During the winter, though, the ice caves are accessible.) Parking is free, and there are restrooms and usually food trucks here. Just know that this is a very busy place, and the parking lot often fills up fast during the summer months.
23. Diamond Beach
Type of sight: Beach
Just across the Ring Road from Jokulsarlon is a spot known as Diamond Beach, where sea-polished chunks of glacier ice wash up on a black sand beach. It's makes for a cool photo stop.
Worth it? Yes, it's a beautiful spot where you can see black sand AND glacier ice together.
Good to know: There are two parking areas for Diamond Beach, one on each side of the bridge that spans the outlet of Jokulsarlon. Parking is free, and it's a short walk from the parking area to the beach over rocky ground.
24. Vatnajökull Glacier
Type of sight: Glacier
You've been seeing arms and tongues of this great glacier all along the South Coast – but you can get up closer if you want!
As a reminder, Vatnajökull is the largest ice cap in Iceland, covering roughly 8% of the country. Beneath it sit several active volcanoes, as well as Hvannadalshnjukur, the tallest mountain in Iceland.
During the winter months (usually November-March), you can do glacier hikes on parts of the glacier to visit winter ice caves. In the summer, though, the most popular tour to take here is a snowmobiling tour on top of the glacier like this one.
Worth it? You're going to see various bits and pieces of this glacier all along the South Coast. If you're visiting in winter, doing an ice cave tour here is definitely worth it. In summer though? You probably don't need to make an extra trip.
Good to know: Vatnajokull National Park encompasses the entire glacier and many areas around it (the park currently protects 5,460 square miles!).
25. Stokksnes
Type of sight: Beach and scenic spot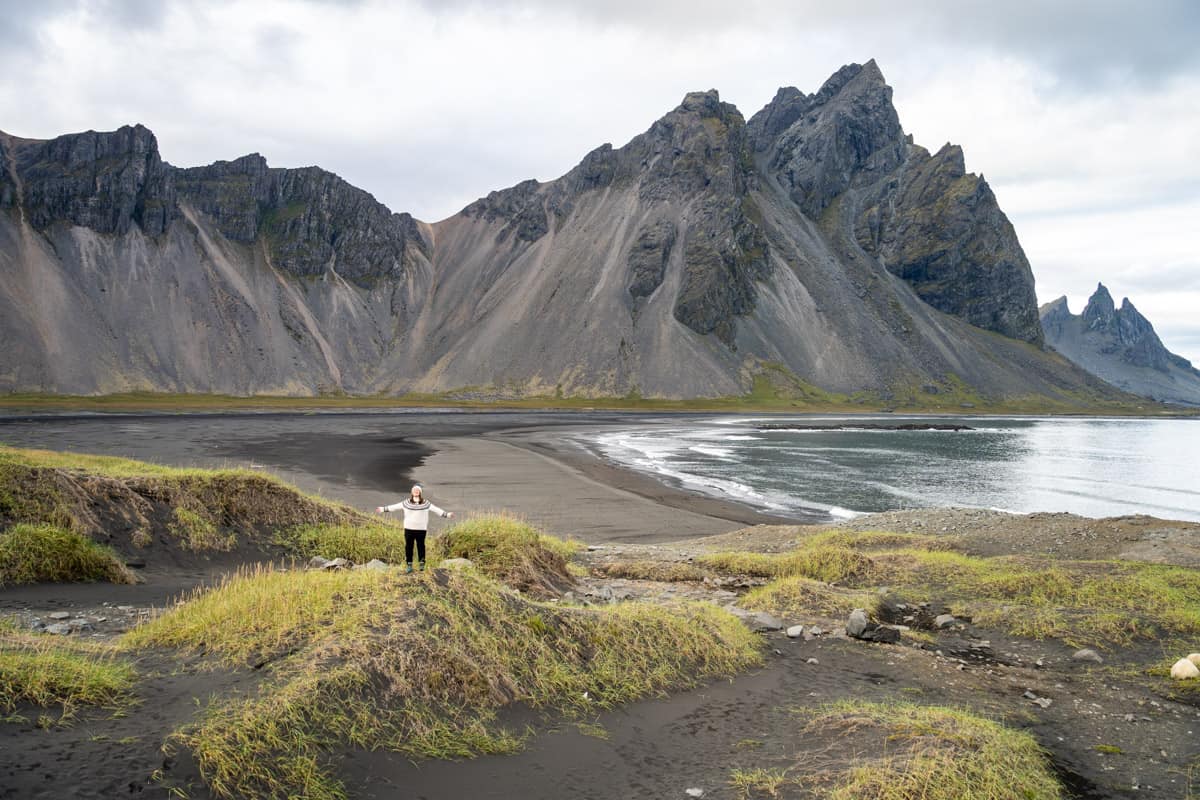 Okay, so this one technically belongs in East Iceland since it's slightly past Höfn. BUT, since it's one of my favorite places in Iceland, I'm going to include it here anyway.
Stokksnes is a small peninsula with dramatic mountains and a black sand beach. You've likely seen photos of the double-peaked Vestrahorn mountain before – I did, and it's what made me want to visit!
The black sand beach below Vestrahorn with its gently rolling dunes is definitely the star here, but you can also visit a "Viking village" that was built as a movie set, as well as hike out to a lighthouse and potentially see some seals.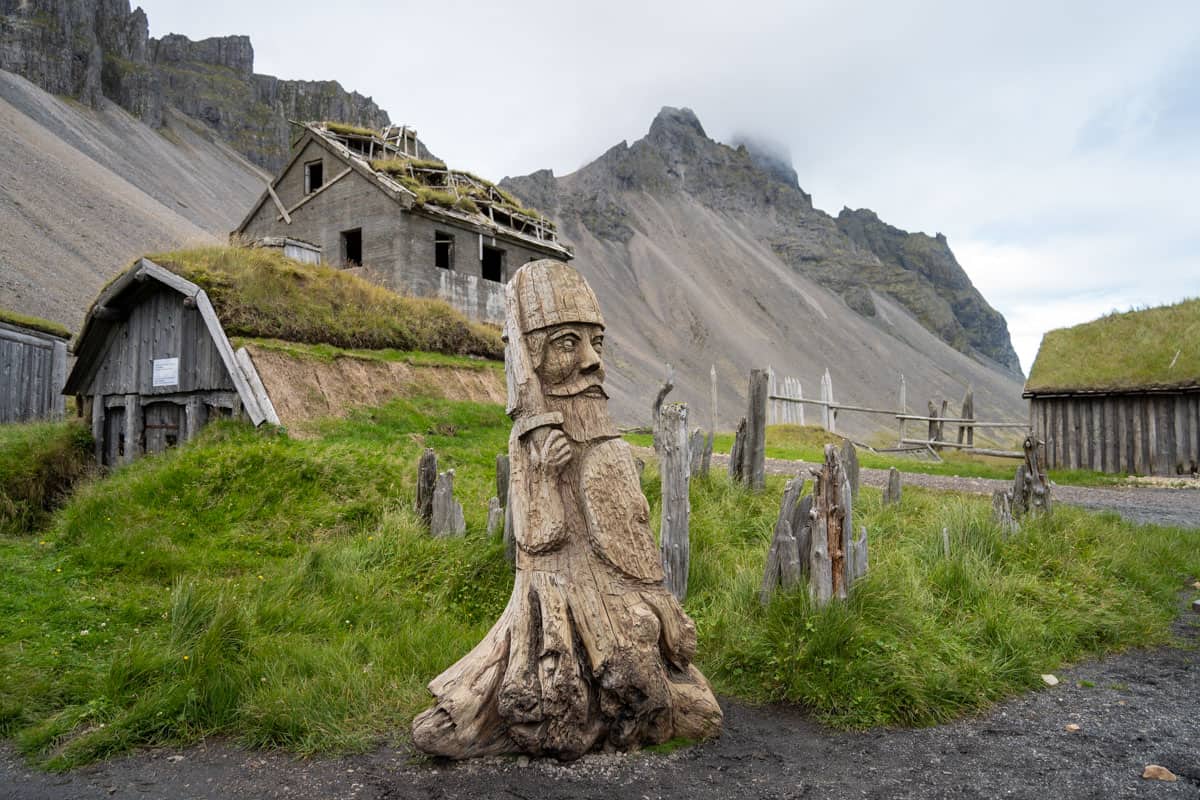 Worth it? Yes, I definitely think so. Even in August (AKA high season), this spot was relatively quiet and we fell in love with the views.
Good to know: The Stokksnes peninsula is private land, so you do need to pay an entry fee in order to visit. Pay your fee at the Viking Cafe (which also serves coffee and food, and has public restrooms).
---
Spots not on this list that maybe should be:
Seljavallalaug Swimming Pool – Only reachable by a hike of roughly 1 mile each way, this is a geothermally heated swimming pool. No services except a basic changing area.
LAVA Centre in Hvolsvöllur – Interactive museum about volcanoes.
Gígjagjá ("Yoda Cave") – A fun photo stop and spot to explore, reachable via a gravel road.
Hoffell Hot Tubs – 5 small hot tubs out in nature. Reviews often say the water is too hot.
(These aren't on my list simply because I haven't visited them and therefore can't talk about them! On my next trip, I'll try to visit some of these.)
See everything plotted on a map:
---
How many days do you need on the South Coast
If you wanted to see every single thing listed above (and to maybe do the hikes, glacier walks, boat tours, etc.), you need AT LEAST 3 days on the South Coast.
You could easily fill 4-5 days though, or you could whittle it down to 2 full days if you skipped some of the longer hikes and only went as far east as Jokulsarlon.
Iceland South Coast tours
Want to explore Iceland's South Coast on a tour instead of driving yourself? That's what I did on my earlier trips to Iceland. Here are some popular tours to check out:
(Note that most of these tours start in Reykjavik, so these are great if you're basing yourself there and not renting a car.)
Where to stay on the South Coast
There are 3 main accommodation types you'll find in Iceland:
Hotels – The standard that you're used to, with front desks and amenities like wifi, hotel restaurants, etc. Hotel rooms in Iceland are usually fairly Scandinavian in style, which sometimes means pretty minimalistic. There are very few hotel chains or huge hotels in Iceland outside of Reykjavik.
Guesthouses – These are usually smaller than hotels. Rooms are basic, and you'll often be using shared bathrooms, kitchens, lounge areas, etc. In smaller towns, guesthouses are more common than hotels.
Apartments – There are apartment rentals across Iceland, which are perfect for longer stays or if you're traveling with family or a few friends.
Since you're probably going to spend a couple nights on the South Coast, here are some good accommodation options.
(Note: If you're traveling during the summer months, you'll want to book your South Coast accommodation as early as possible! It does fill up, and prices do get high.)
What to wear in Iceland
I have one major packing tip for Iceland: warm, waterproof layers!
No matter what time of year you're visiting, you're going to want a rain coat (and probably rain pants), waterproof boots/shoes of some sort, and a hat in Iceland. Add as many layers underneath as you need to stay warm. (The wind and rain are almost always cold, and the high temperatures rarely get above 55 F even in July and August.)
Some must-haves for me include:
Check out my whole Iceland packing list here.
READ NEXT: 19 Epic Things to Do and See on the Snaefellsnes Peninsula in Iceland
---
Who's ready to plan a South Coast trip in Iceland now??
Pin it for later: