Some posts on this site contain affiliate links, meaning if you book or buy something through one of these links, I may earn a small commission. Read the full disclosure policy
here
.
---
If you're looking for a unique spot to visit in Iceland with incredible landscapes and an interesting history that hasn't been to done to death by every other tourist, allow me to introduce you to Heimaey Island, one of the Westman Islands.
The Westman Islands (Vestmannaeyjar) are an archipelago off Iceland's south coast, comprising 15 small islands formed by underwater volcanic eruptions. The largest and only inhabited island in the chain is Heimaey, which has a population of about 4300 people.
And you can easily visit Heimaey Island as part of a tour of Iceland's South Coast, or as a slight detour from a Ring Road road trip.
Westman Islands vs. Heimaey Island
"Vestmannaeyjar," or the "Westman Islands" refer to the whole archipelago of volcanic islands located off the south shore of Iceland. Heimaey Island is the largest of the Westman Islands, and is the only island that is inhabited – and is also the main island that tourists can visit. (The town on the island is also just known as Heimaey.)
So, when someone says "I'm going to the Westman Islands," they probably mean that they're going to Heimaey. It's common for visitors to Iceland to refer to Heimaey as "the Westman Islands."
How to get to the Westman Islands
While you technically can fly to Vestmannaeyjar (there are daily flights from Reykjavik on Eagle Air), the most popular way to get there is by ferry. The ferry Herjólfur sails from the town of Landeyjahöfn on the south coast of Iceland (roughly 1 hour from the town of Vik), taking about 40 minutes to cross over to Heimaey.
The ferry is large (it's a combined car and passenger ferry that can hold 65-70 cars and up to 540 passengers), and comes complete with multiple lounge areas and a small cafe onboard.
The ferry sails at least 7 times per day between Landeyjahöfn and Heimaey during good weather. (Note that during rough winter weather, the ferry sometimes sails from Þorlákshöfn instead.)
You can find more info on ferry prices and the sailing schedule here. (And yes, I definitely recommend booking ferry tickets in advance if you plan to take a car with you!)
When to visit the Westman Islands
You can visit the Westman Islands year-round since the ferry runs year-round, but summer is high season here. Not only is the weather the most favorable during the summer months, but May-August is also when thousands of puffins nest on Heimaey. In fact, more puffins nest on this one island than in any other part of Iceland.
So if you want to see puffins, enjoy long days, and have the best chance of good weather, you'll want to visit the Westman Islands in the summer.
Things to do in the Westman Islands (on Heimaey Island)
Once you get to Heimaey, here are the top things I personally think are worth doing there:
1. Visit the Eldheimar museum
Heimaey Island has actually been inhabited for a long time, but the defining moment that changed the course of its history forever happened in the early morning hours of January 23, 1973, when a previously-unknown volcano dubbed Eldfell ("Hill of Fire") erupted violently.
Through a stroke of eerie luck, a storm the previous day had kept all the local fishing boats in Heimaey's harbor, and all of the island's 5300 inhabitants were able to be safely evacuated from the island. Not one life was lost during the eruption.
The Eldheimar Museum chronicles the story and aftermath of the Eldfell eruption, with the museum being built around several homes that were buried in ash and other volcanic debris.
To fully understand Heimaey and its people, you need to visit this museum and understand the lasting effect this event had on the Westman Islands.
2. Hike a volcano
Speaking of Eldfell, you can hike to the top of the volcano's crater to see how it (quite literally) changed the landscape of Heimaey. The hike to the top is a 3.2-mile loop trail that has some good elevation gain to it.
(If you'd prefer a shorter volcano hike, it's also possible to hike to the nearby Helgafell volcano crater, which is just a 1-mile loop trail.)
3. Look for puffins
Like I mentioned above, tons of puffins nest on Heimaey each summer. There's a bulbous bit of land called Stórhöfði at the southern end of Heimaey Island where the majority of the puffins nest on the cliffs. There are some walking trails up here, as well as a few marked "Puffin Lookout" areas.
During the summer months, the puffins are super easy to spot here – just be quiet and keep your distance from their burrows.
June, July, and early August are the best months to look for puffins.
4. Go on a RIB boat safari
RIB stands for "Rigid Inflatable Boat," and a RIB safari in the Westman Islands is definitely one of the top things to do! A company called RIBsafari offers these tours (along with more traditional boat tours), taking guests all around Heimaey and some of the smaller surrounding islands.
The RIB boats go fast, and you're encouraged to stand up (while holding on) and dance to blaring music as you travel between points of interest. At each stop, a guide will tell you about things like wildlife, history, and anything else you may be curious about.
You'll sail in and out of sea caves, and also see some famous rock formations like Elephant Rock on a tour like this.
My friend and I did the 1-hour RIB Safari on a beautiful sunny August day, and immediately regretted not doing the longer 2-hour tour. It really was that much fun!
5. Play a round of golf
I'm not a golfer myself, but if you are you might want to rent some clubs and tackle the links-style course at Golfklúbbur Vestmannaeyja. This golf course on the edge of the ocean has arguably some of the best views on Heimaey; you can see Elephant Rock and nesting puffins as you play!
6. See the black church
Near the harbor where the RIB tours leave from, you'll find a curious wooden church: an all black stave church.
Stave churches are usually found in Norway, and the Stafkirkjan on Heimaey was indeed a gift from Norway. The church was gifted to Vestmannaeyjar by Norway in the year 2000 to commemorate the 1000-year anniversary of Iceland's conversion to Christianity.
The church is located in an area known as Skansinn or "The Fort," which dates back to the 1500s. Here you can see where the lava flow from the 1973 Eldfell eruption was stopped literally in its tracks by a joint effort of US Army and NATO forces who force-cooled the lava using sea water. They saved the Heimaey harbor (and therefore the whole island's livelihood) by doing this – though just barely!
7. Relax at the swimming pool
Every town in Iceland has a public swimming pool, and Heimaey is no exception! While there aren't any hot springs or thermal pools to enjoy on the island, you can visit the town swimming pool (look for signs for the "Sundhöll Vestmanneyja") as a visitor.
This pool complex has a large indoor pool, along with heated outdoor pools, three hot tubs, and some epic water slides. The entry fee is around $5 USD per person. (Just note that, as at any public bath or pool in Iceland, you'll need to shower fully naked before entering the pool area!)
8. Have drinks and dinner in town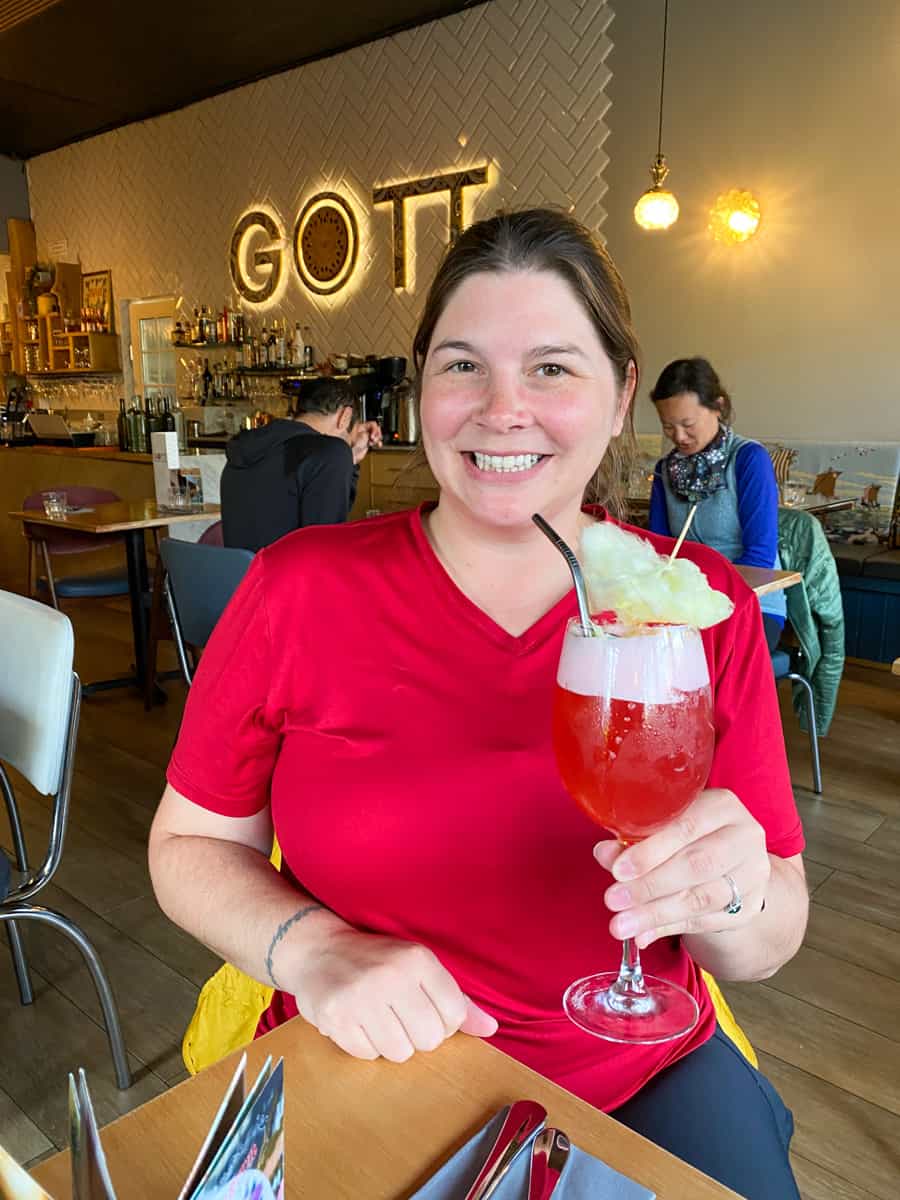 If you're staying overnight on Heimaey, then you can enjoy a meal in town (seafood is unsurprisingly excellent here). Slippurinn is one of the top-rated restaurants, and we also loved the cocktails and food at Gott. There's even a brewery on the island called The Brothers Brewery.
How much time do you need in the Westman Islands?
You can technically fit all the activities mentioned above into a day trip to the Westman Islands. But, if you want to fully soak everything in and not worry about rushing to make a return ferry, then I recommend staying overnight on Heimaey.
Where to stay on the Westman Islands
The majority of accommodation options on Heimaey include guesthouses and hostels. But a few options that are highly recommended include:
I personally stayed in a little glamping cabin, which was super cute!
Do I need a car on the Westman Islands?
Many people will tell you that you don't NEED a car to visit the Westman Islands (and certainly the ferry ticket is cheaper if you're not bringing a vehicle!). But I actually disagree. I'd recommend that you do bring a car with you to Heimaey if you've already rented one in Iceland.
While you can easily walk from the ferry dock into town, the island isn't *that* small. For example, if you wanted to walk to the puffin cliffs on the south end of the island, it would take you almost 1.5 hours, with parts of it being uphill.
I was very happy that we decided to being a car with us to the Westman Islands, as it made getting around quick and easy. And we had no issues finding parking anywhere, despite visiting during high season.
READ NEXT: An Epic 10-Day Iceland Ring Road Trip Itinerary
---
Who's ready to plan a trip to the Westman Islands?