Some posts on this site contain affiliate links, meaning if you book or buy something through one of these links, I may earn a small commission. Read the full disclosure policy
here
.
---
"Where the mountains sing through the screams of seagulls
Where the whales can live 'cause they're gentle people"
If you're anything like me, your mid-2020 involved a LOT of binge watching. You probably watched every new show, series, and movie that was released on Netflix, Hulu, Amazon, etc.
And if you, too, were the epitome of a couch potato that year, then chances are you saw the delightful Netflix film "Eurovision Song Contest: The Story of Fire Saga." Starring Will Ferrell and Rachel McAdams, the film follows a quirky duo from Iceland as they realize their dreams to compete in the Eurovision Song Contest.
And if you saw that movie, then you were also introduced to the little Icelandic town of Húsavík.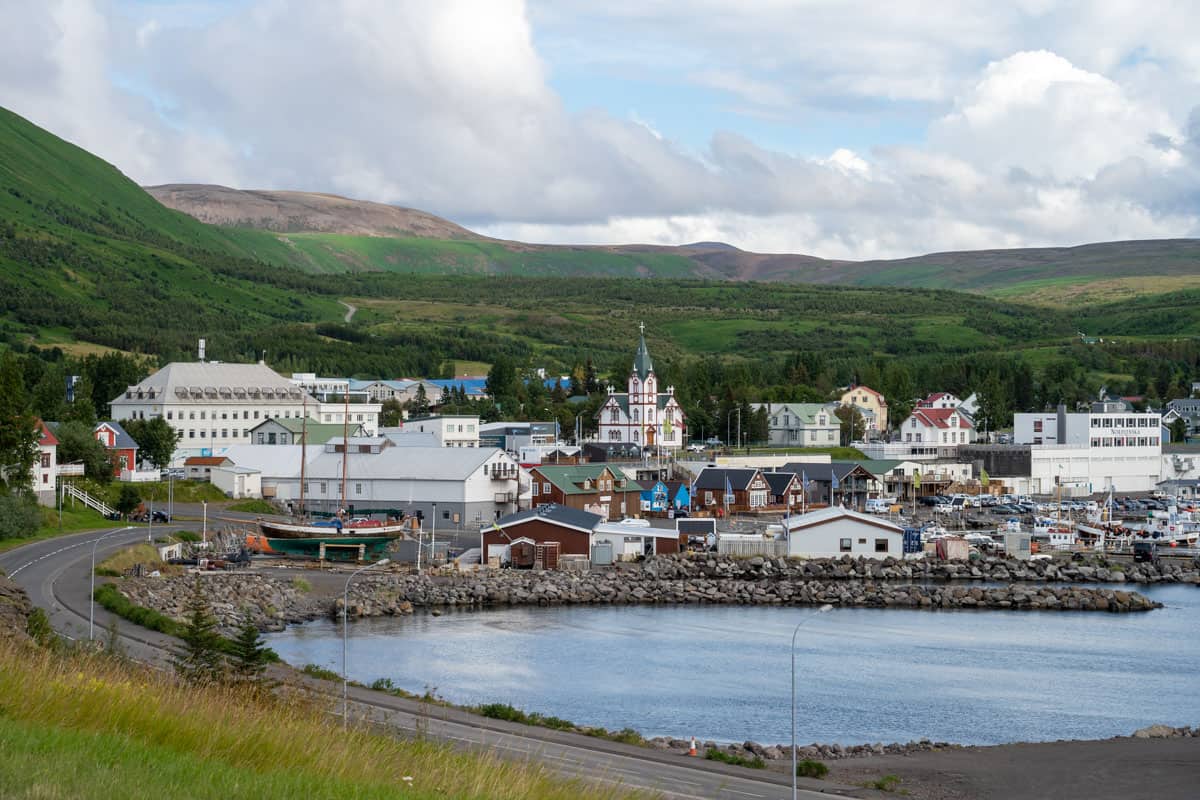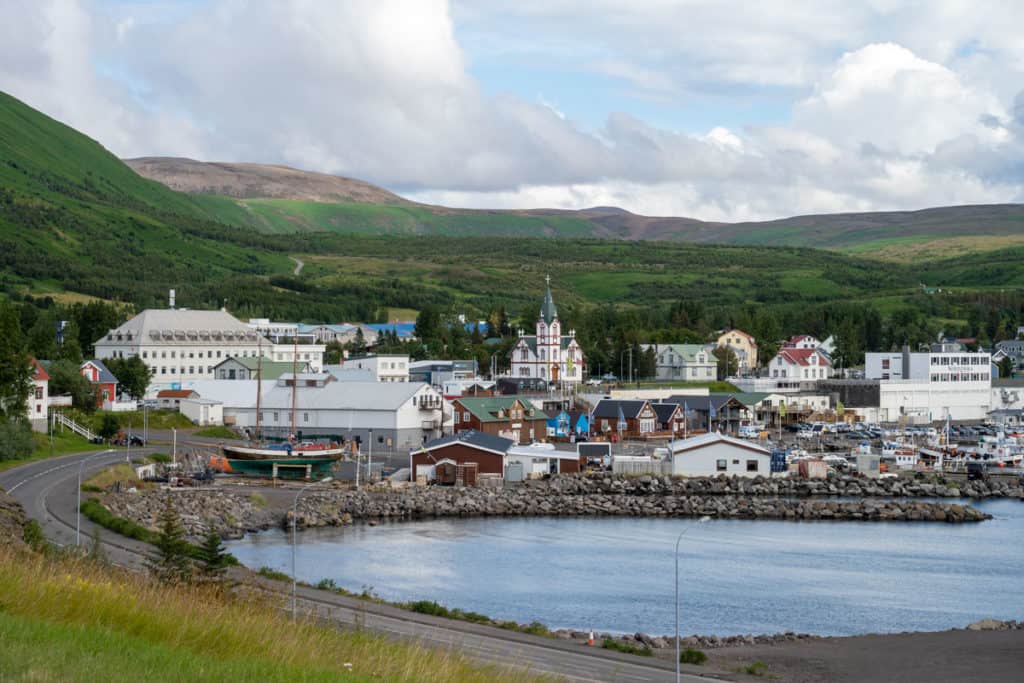 Husavik was well-known as the whale watching capital of Iceland well before the Eurovision Netflix film. But now it's also drawing visitors who want to experience Lars and Sigrit's hometown for themselves.
An introduction to Húsavík
Húsavík is a small Icelandic town that sits on Skjálfandi Bay in the far north of Iceland. It's home to roughly 2300 people, and can trace its history back to the very first Norseman who arrived in Iceland in the year 870.
It is served by a small regional airport, and otherwise is roughly an hour's drive away from Akureyri, the "capital" of north Iceland. I personally think that Husavik is a must-stop on any Iceland road trip itinerary!
The town isn't a large one, but there's actually a fair amount to do here. So don't just book your whale watching trip and then head back to Akureyri or on to Myvatn. Stay a while and soak up the charm that Sigrit sings about in the Oscar-nominated "Husavik (My Hometown)" song.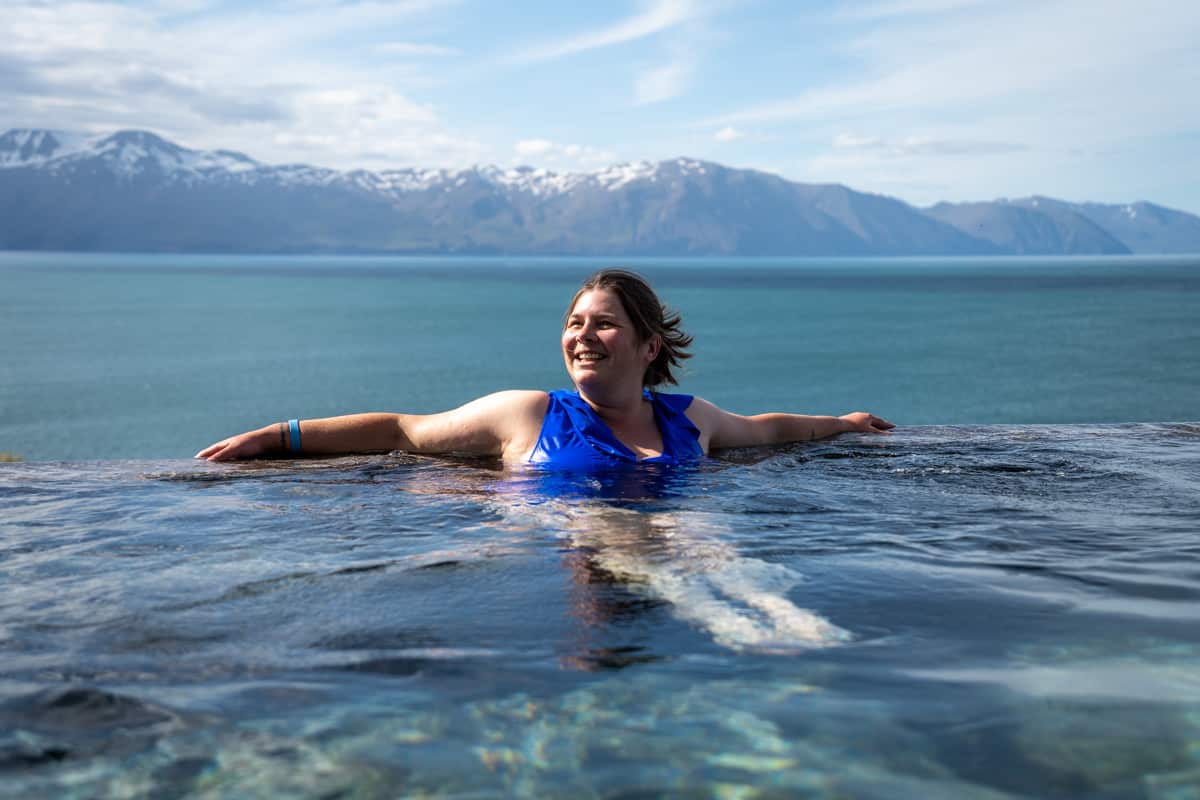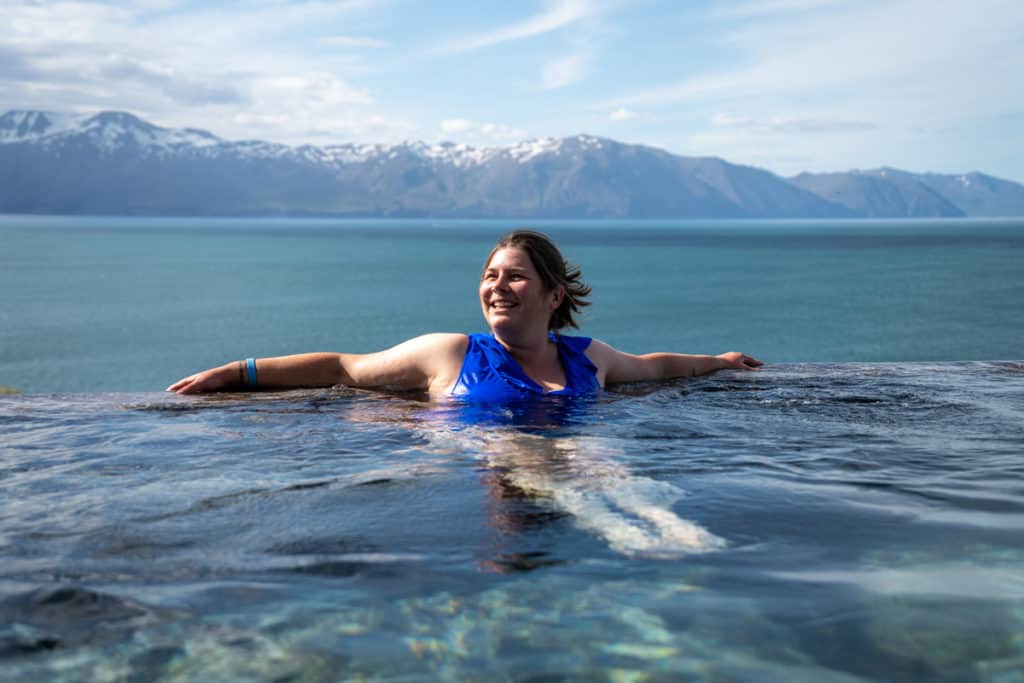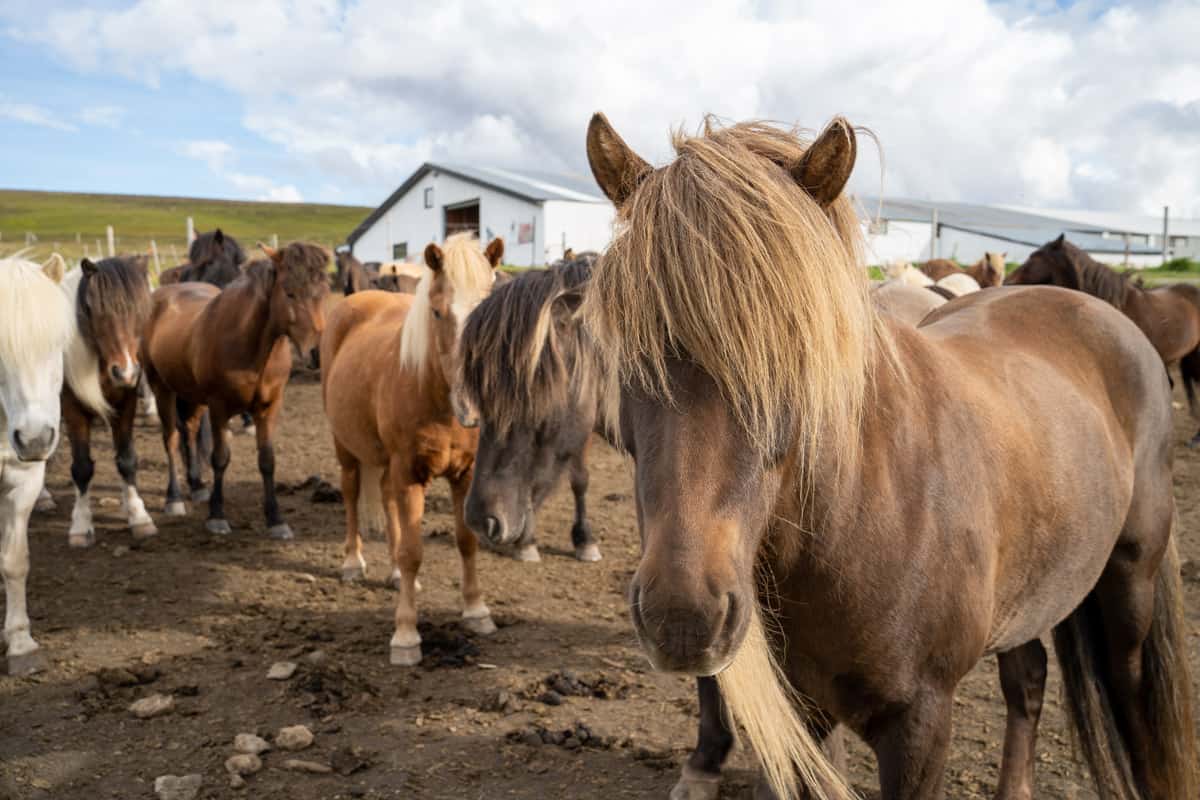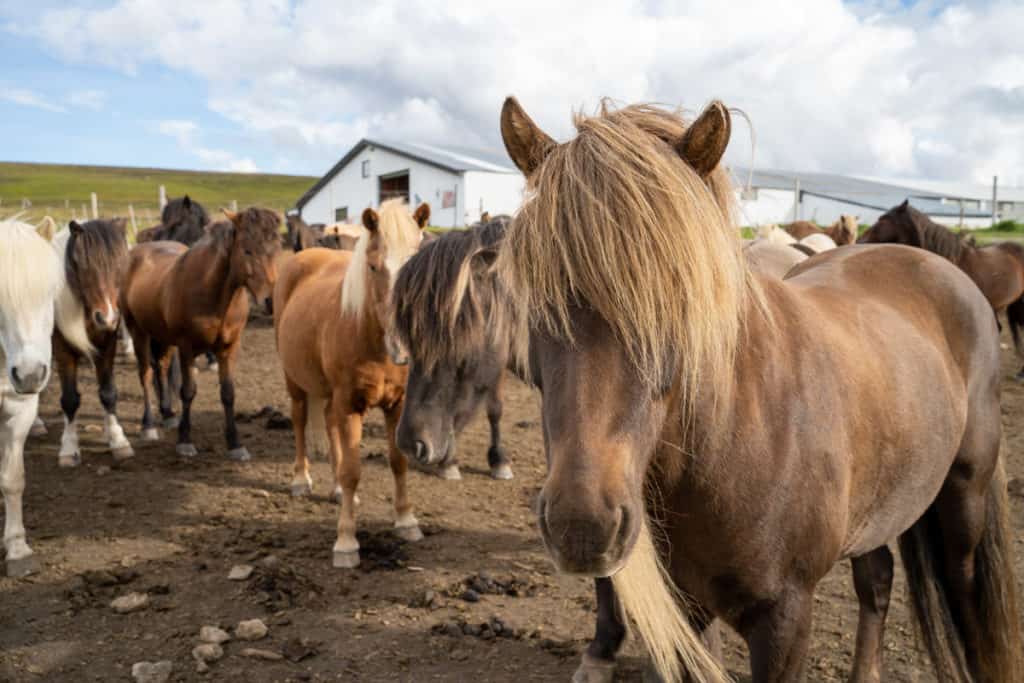 Top things to do in Husavik in one day
You can technically tick everything off this Husavik to-do list in just one day – though if you can stay overnight, I would highly recommend that!
Here are the top things to do in Husavik:
1. Go whale watching
If you want to experience some of the best whale watching in Iceland, then Husavik is where you want to be. The town sits on Skjálfandi Bay, where three different nutrient-rich ocean currents converge to support a variety of species of whale year-round. You can spot everything from humpbacks to minke whales to even blue whales, plus porpoises and dolphins.
The whale watching in Husavik is regarded as some of the best in all of Europe, and during the summer months especially you're almost guaranteed to spot something.
Several companies offer whale watching tours in Húsavík, either in traditional wooden boats or in RIB boats (rigid-bodied zodiaks that go fast). Tours usually last about 3 hours, and most companies will provide you with a warm set of coveralls to wear.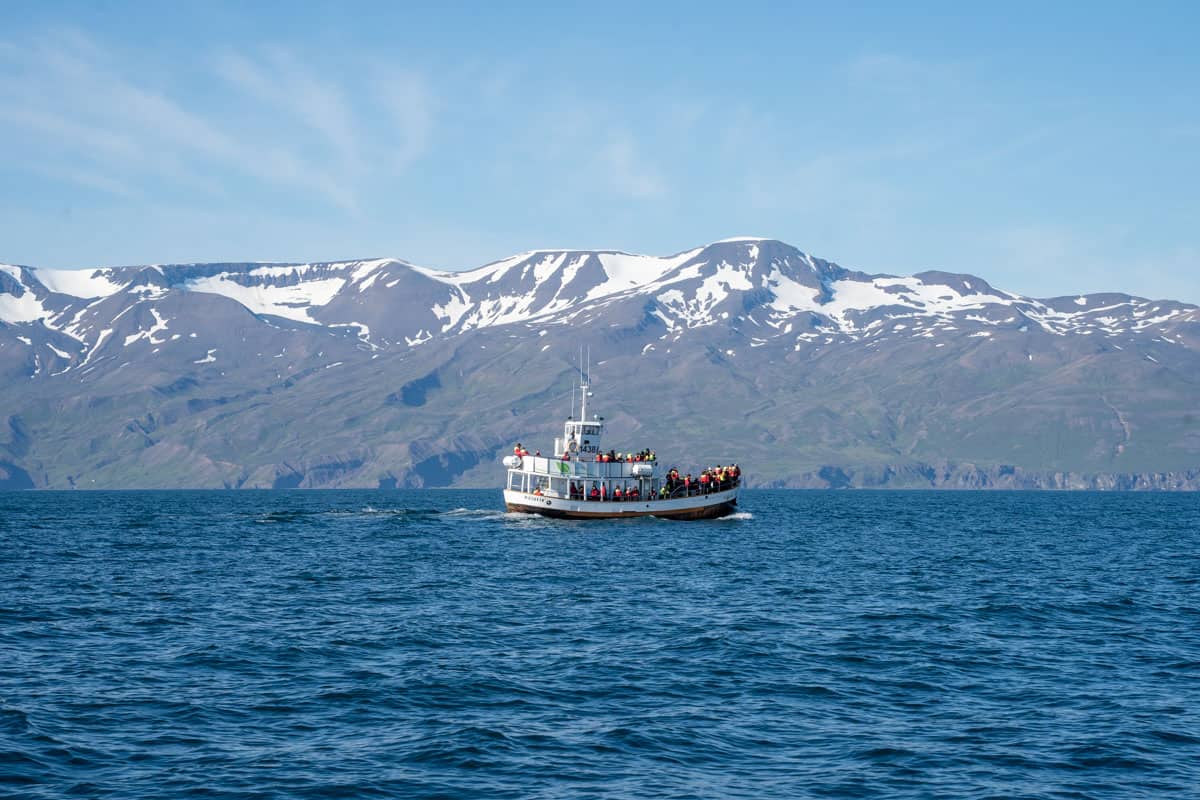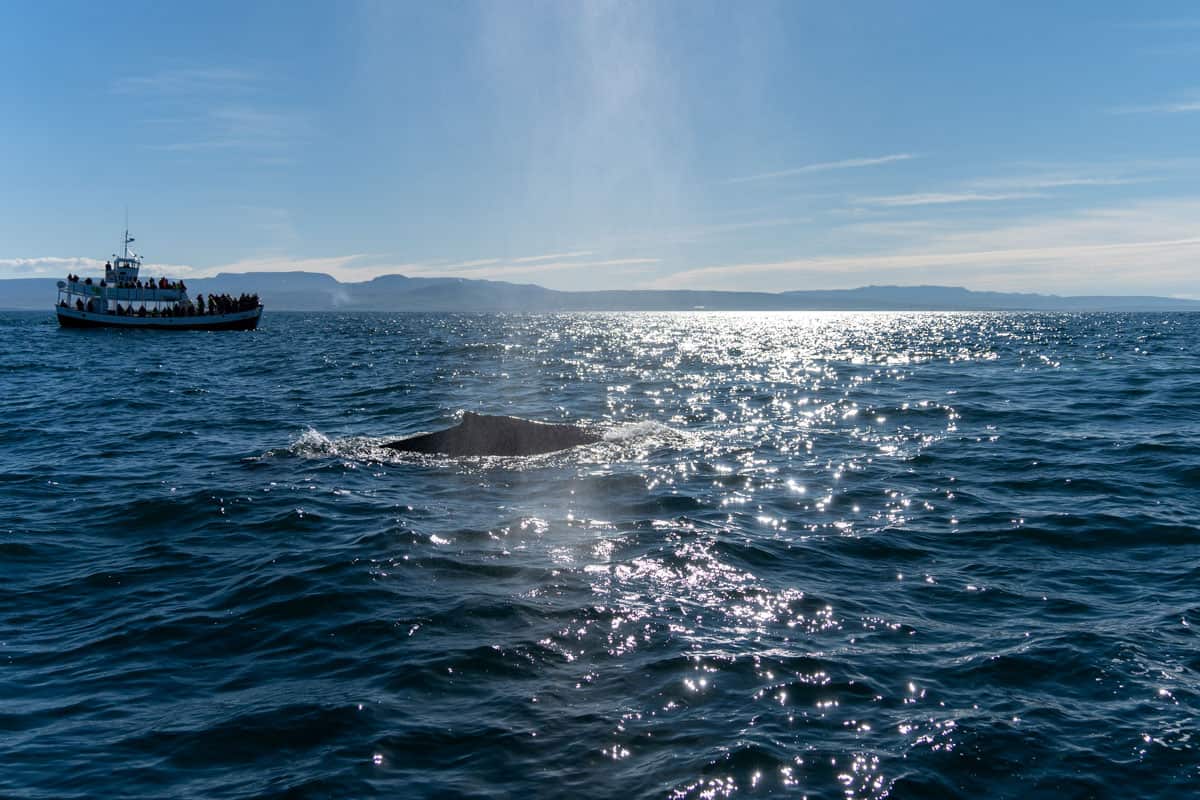 I did this tour in a traditional boat, and loved being able to spend some time up in the upper section for great views. (And we were lucky enough to see a couple whales, too!)
If you have more of a need for speed, a RIB tour like this might be better for you. Or, there's one company that offers "silent" whale tours on a carbon-neutral boat, which is pretty cool.
Book your whale tour in the morning and get your day started early!
2. Visit the Whale Museum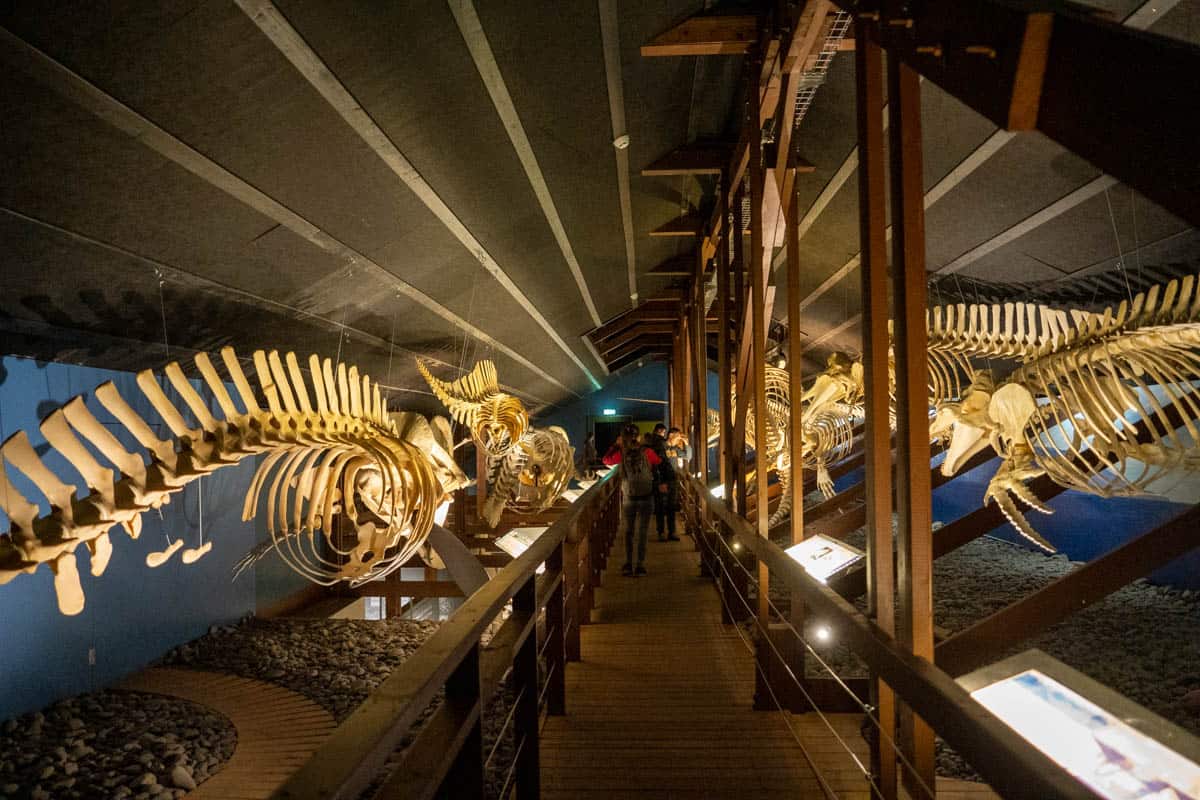 Since you'll already be at the harbor after your whale watching tour, you may as well visit the Húsavík Whale Museum (and you'll get a discount if you show your whale watching tour ticket, too!).
This small museum packs a big punch, covering not only all the different whale species you'll find in Iceland, but also the history of the country's relationship with the marine mammals.
The museum has a huge collection of whale skeletons on display, the most impressive of which being a full blue whale skeleton. You'll be in awe standing next to it and realizing how big these whales actually are!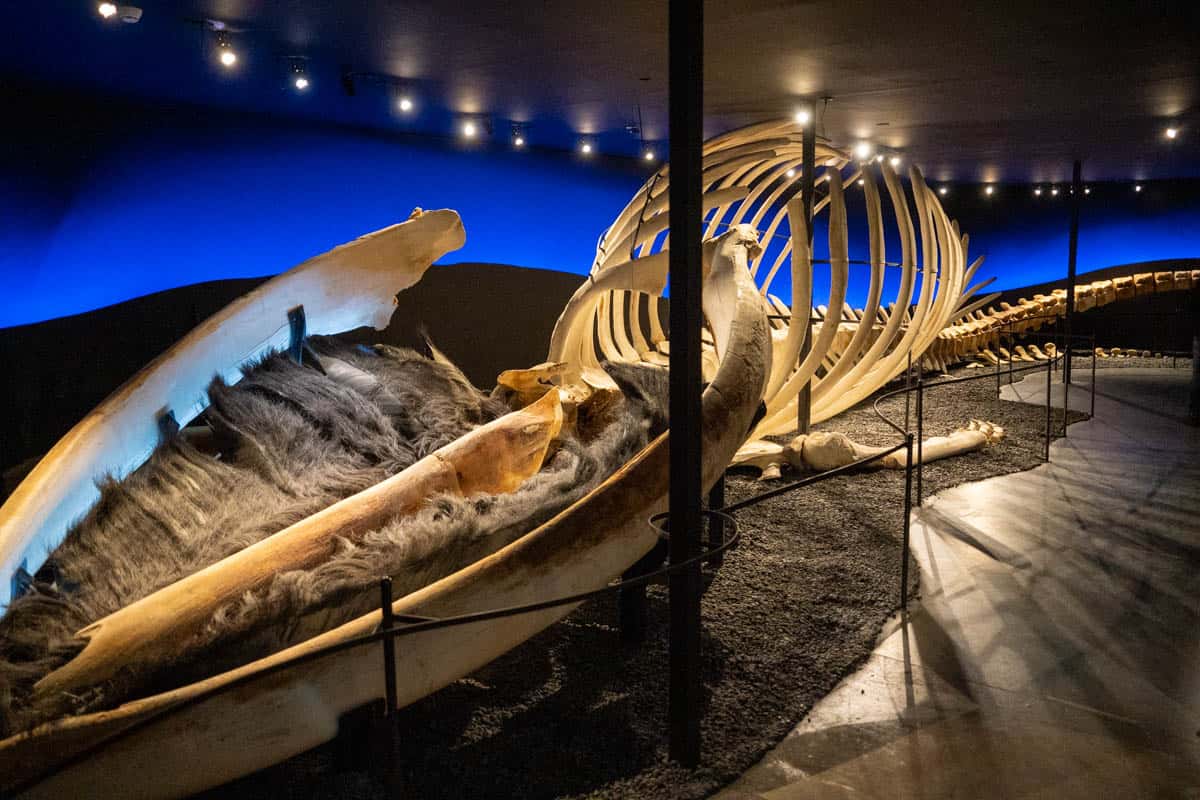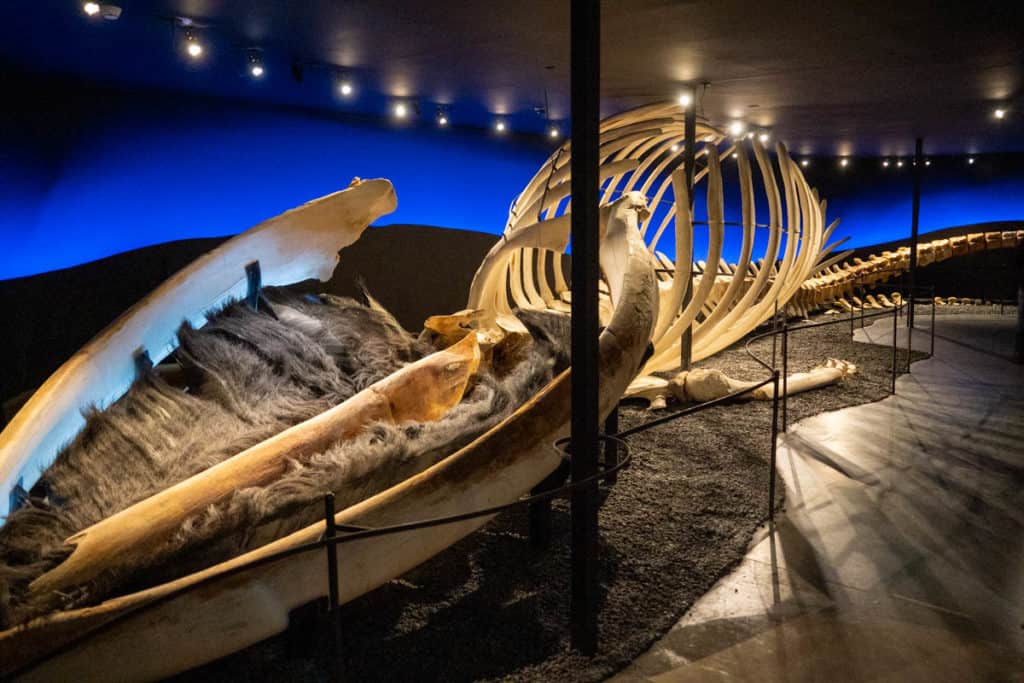 3. Explore the cute town
After that, you can spend some time exploring Husavik (the city center is not large, so this won't take long!). Get your photos of the iconic Húsavíkurkirkja (Husavik Wooden Church), and then enjoy lunch near the water.
4. Go horseback riding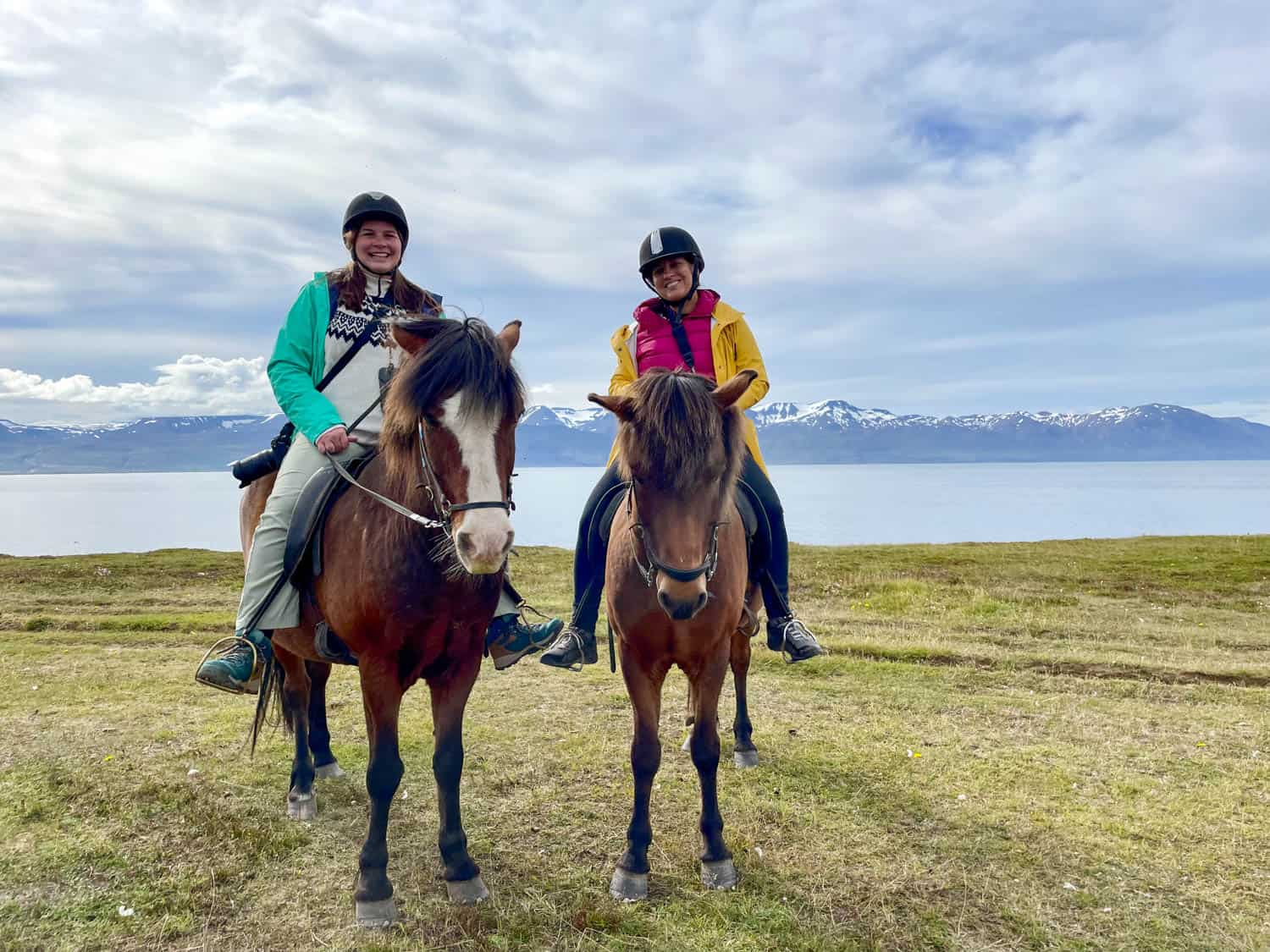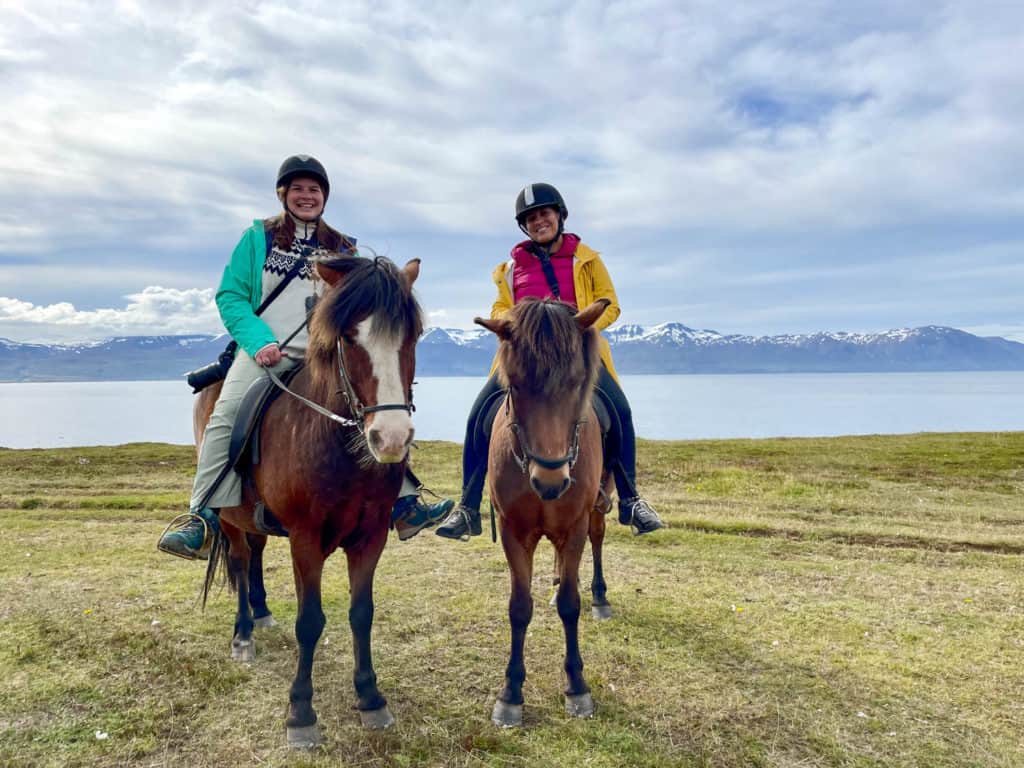 This afternoon, I recommend going on a horseback riding tour with Saltvik Farm, just a short drive outside of town. Their "Seaside Tour" is a 2-hour riding tour that will take you down to a black sand beach within sight of snow-dusted mountains.
You'll get to ride an adorable Icelandic horse, and have the chance to try out their extra gait called the Tölt, which is kind of like a speed-walk.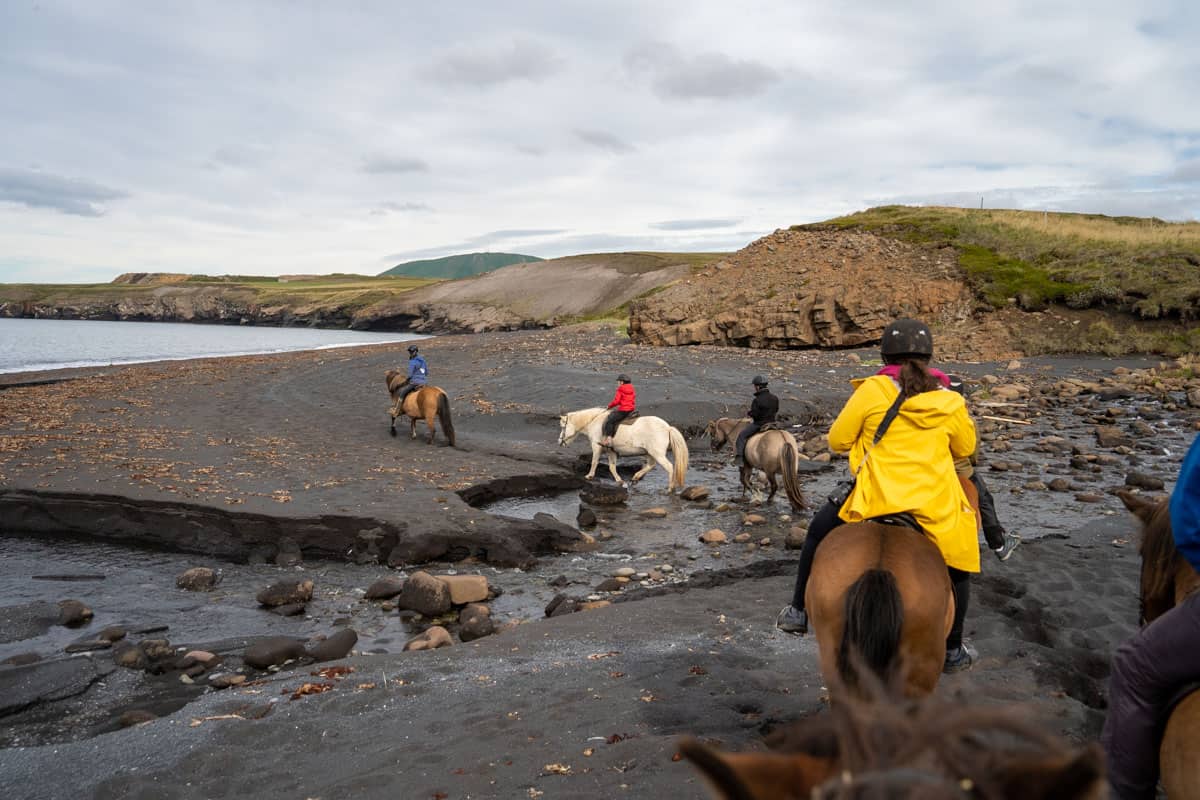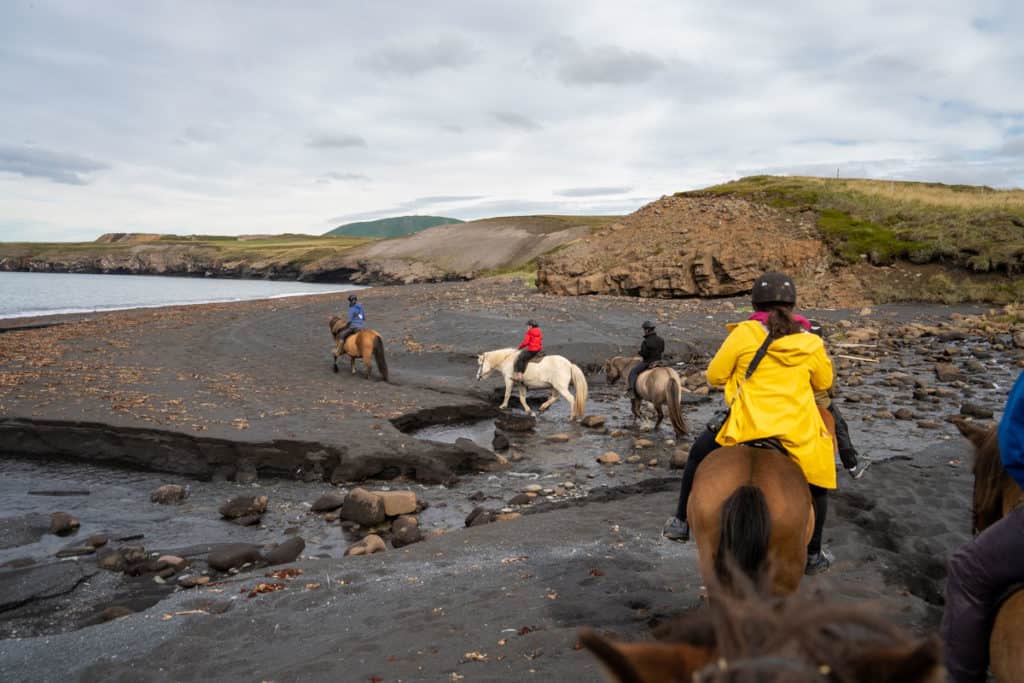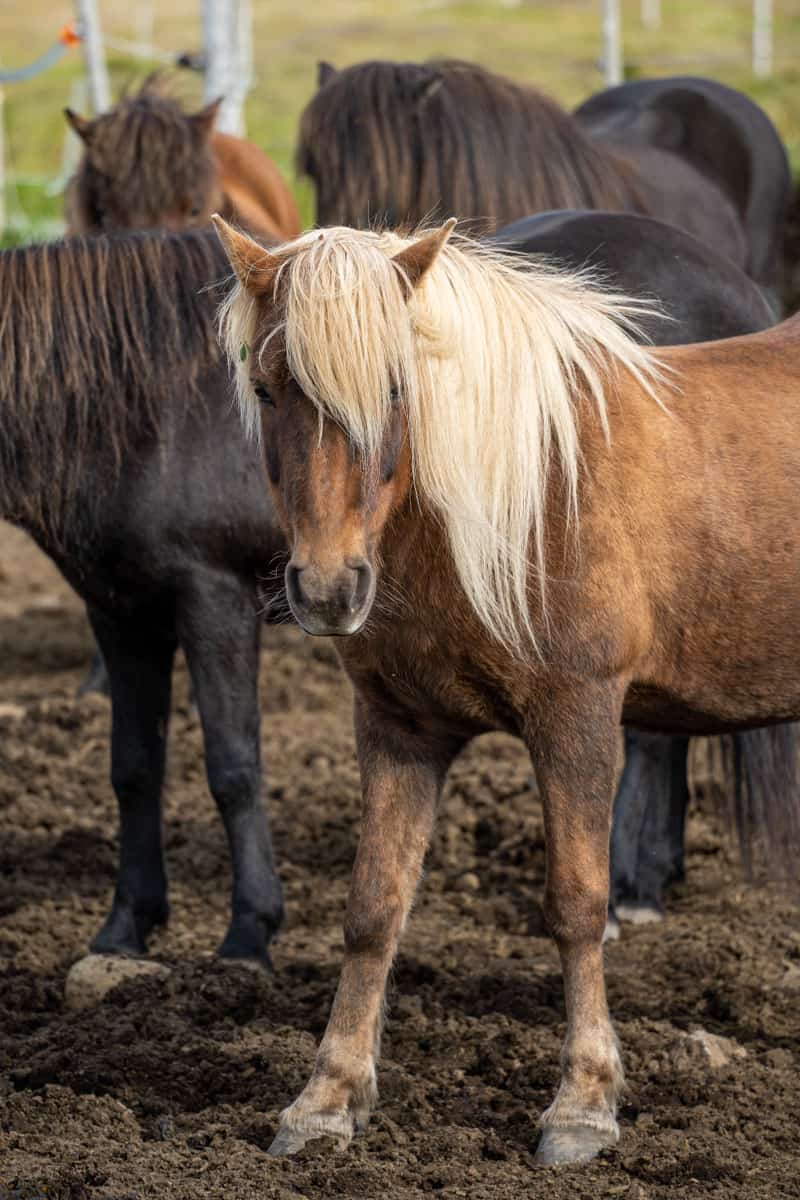 There are lot of places to go horseback riding in Iceland, but I honestly think the scenery here overlooking Skjálfandi Bay is some of the best!
5. Soak at Geosea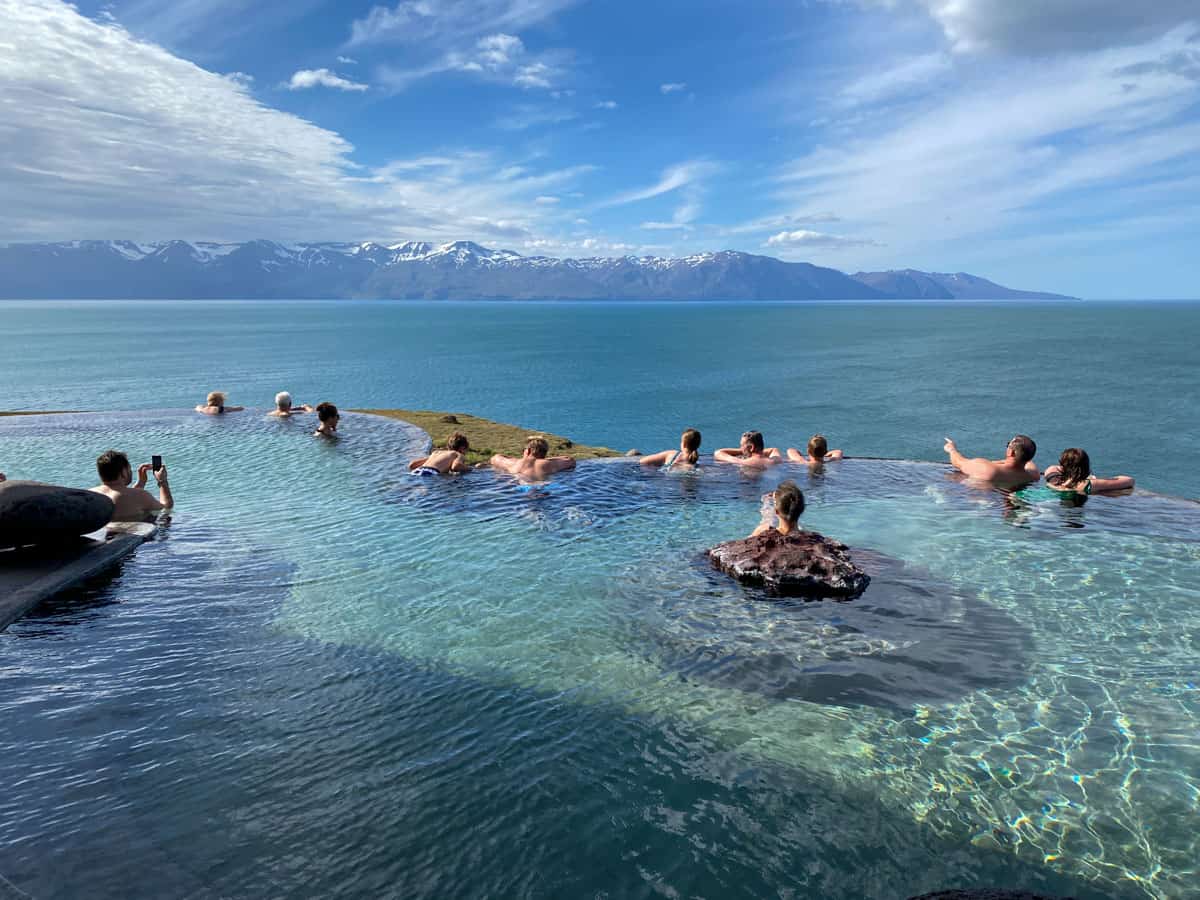 After a morning at sea and an afternoon on horseback, you'll have earned yourself some time relaxing at the thermal pools at Geosea.
The infinity-style Geosea Geothermal Sea Baths sit up on a hill to the north of Husavik, once again with fantastic views out over Skjálfandi Bay and its mountains.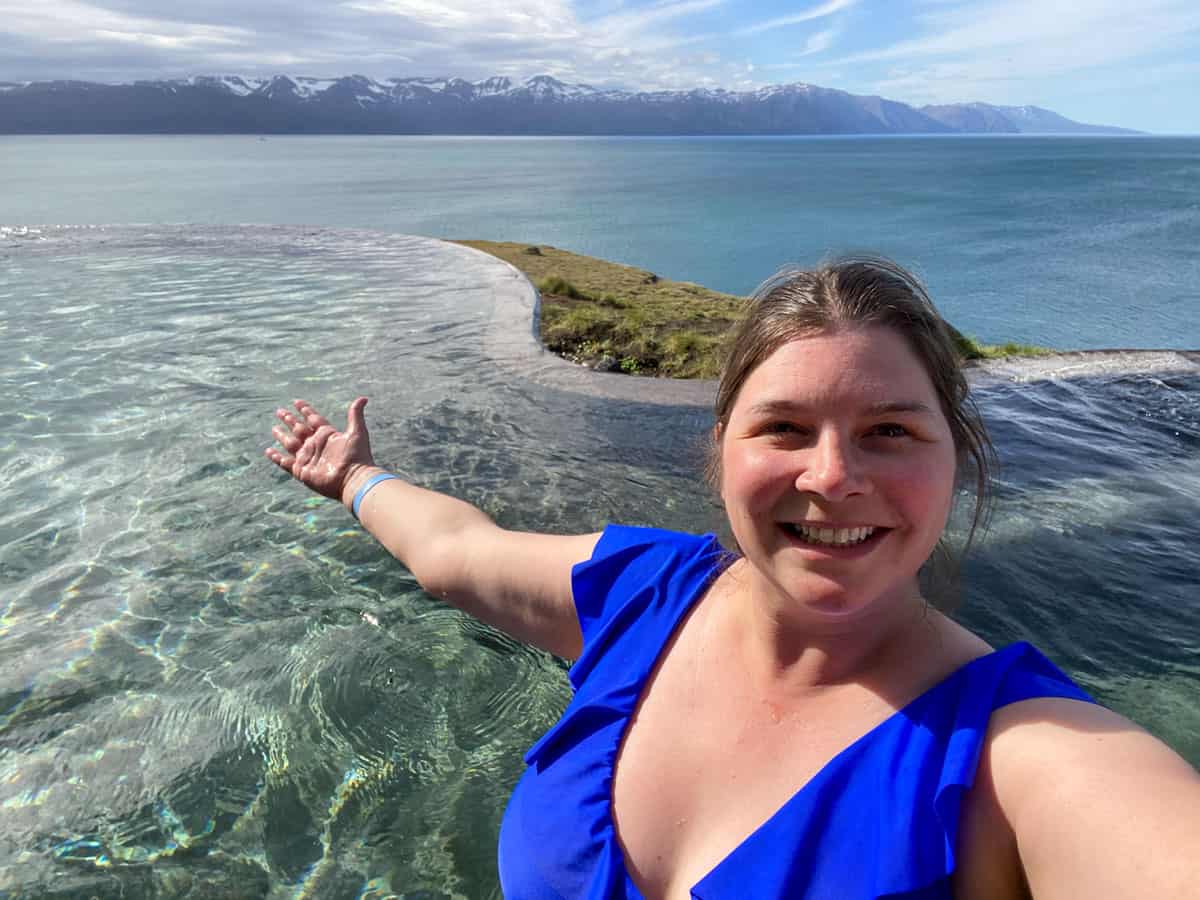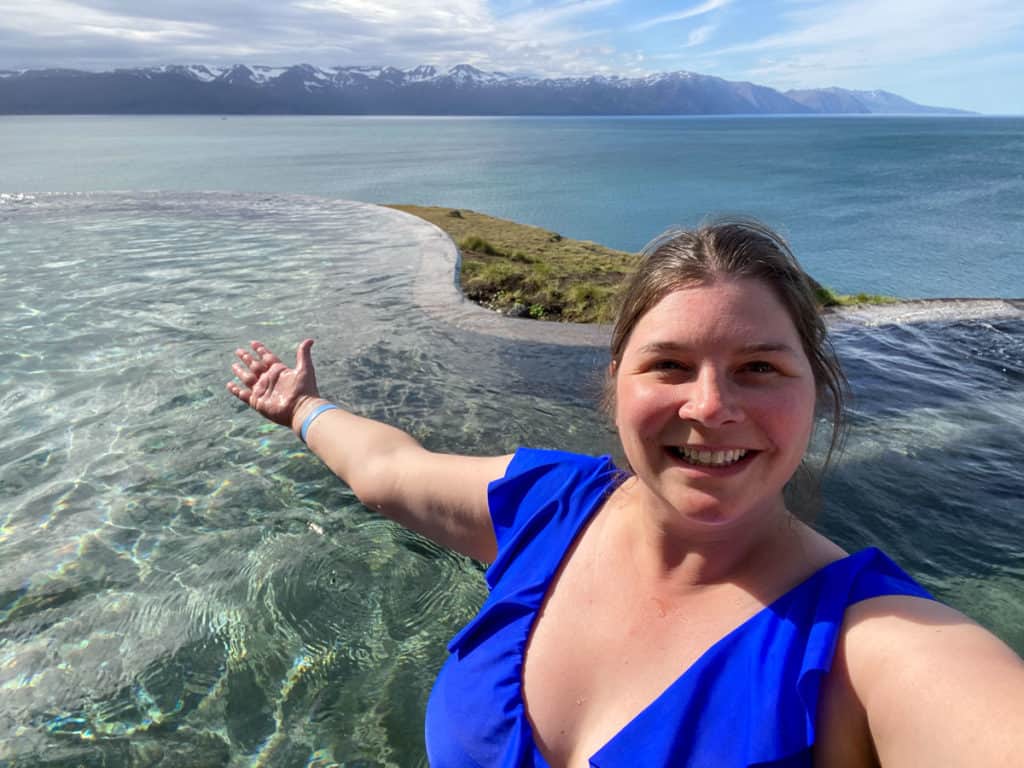 There are three connected hot pools here filled with mineral-rich saltwater, along with saunas and a swim-up bar. The vibe here is quite relaxed (and these baths are kid-friendly), and it's easy to while away an hour or two while soaking in the pools – and soaking up the views.
You can book tickets ahead, though you can generally also walk up and purchase tickets here most days.
RELATED: 10 Essential Tips for Visiting Iceland Hot Springs and Thermal Baths
6. Celebrate Eurovision at Jaja Ding Dong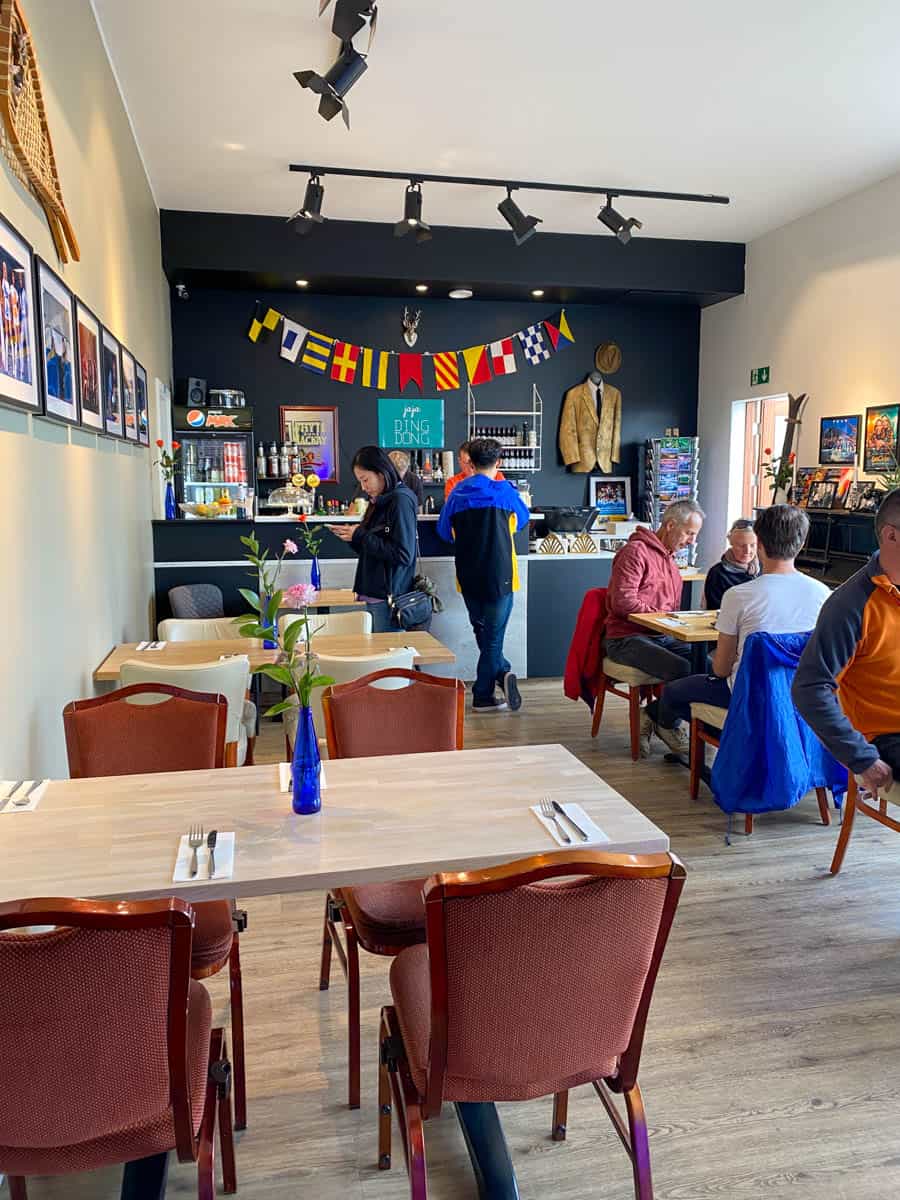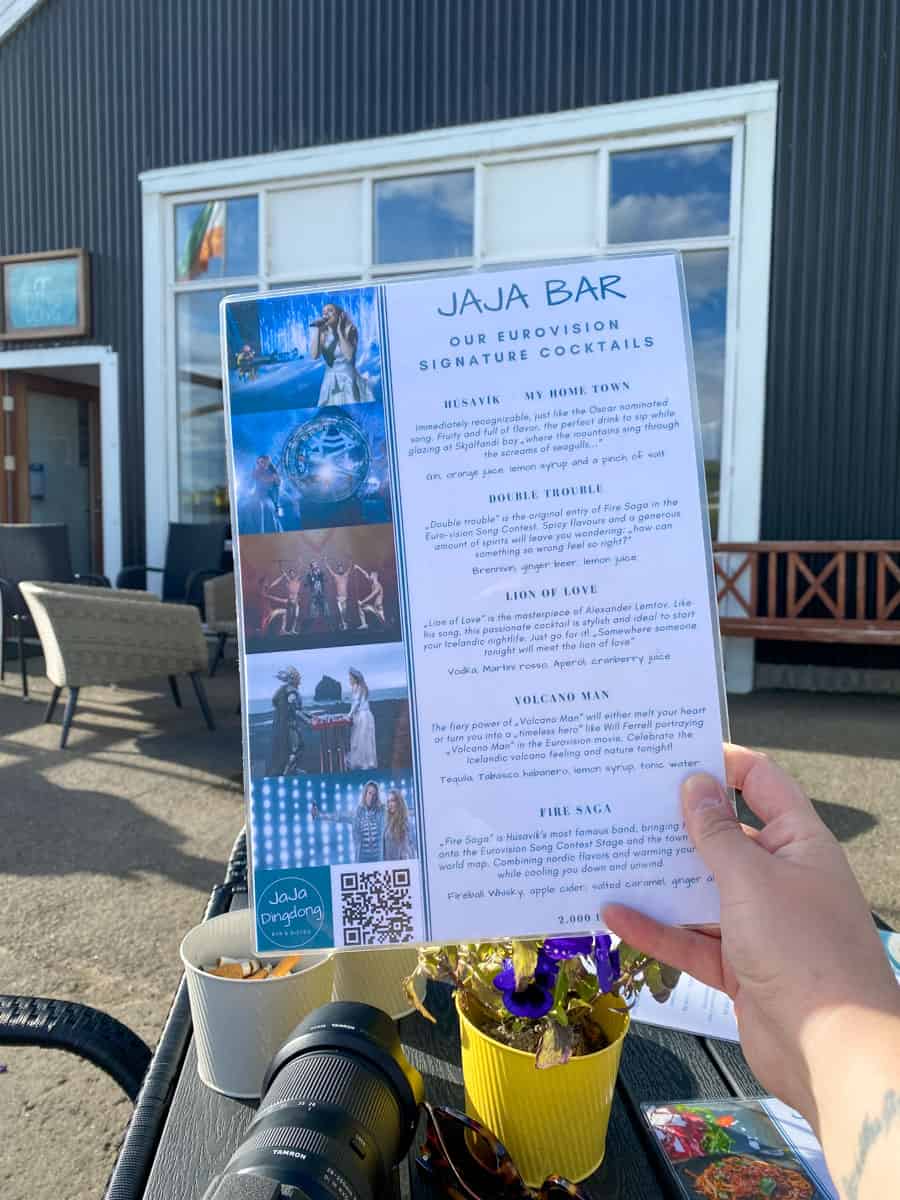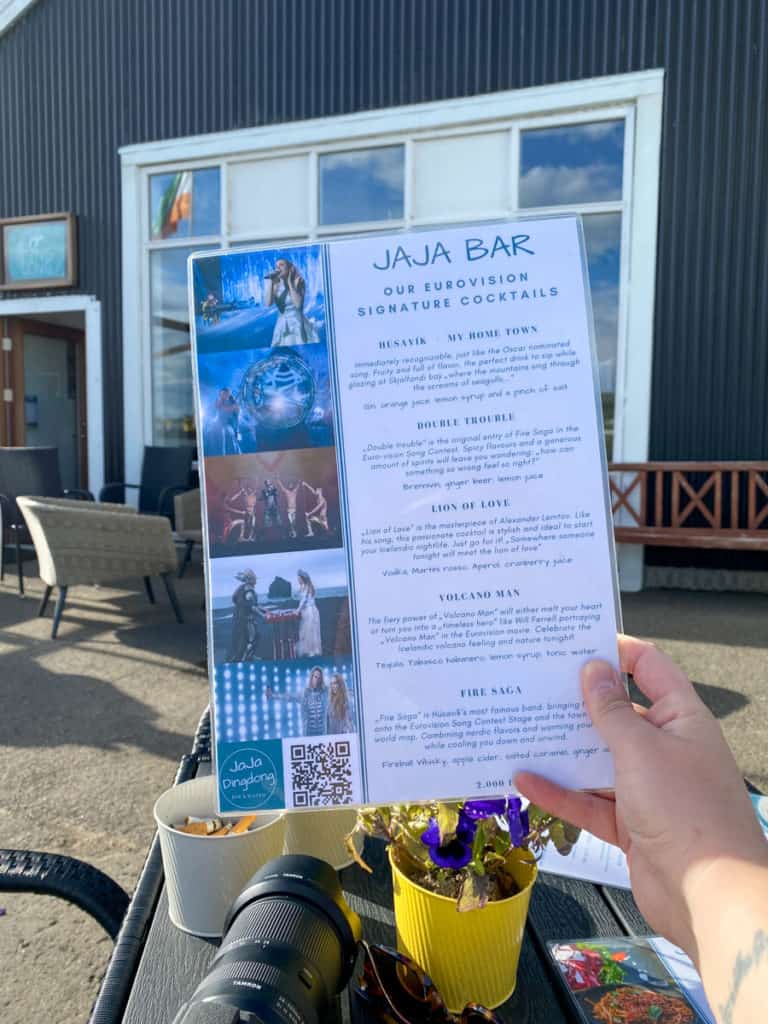 I can't write a post about Húsavík these days without mentioning a spot that's embracing the town's pop culture fame: a bar and cafe called Jaja Ding Dong (a reference from the Netflix film).
The bar fully embraces its source material, serving up cocktails with names like "Fire Saga" and "Double Trouble." (They also serve really delicious pizzas if you're craving one of those.)
Jaja Ding Dong is connected to the Cape Hotel in Husavik, and also offers access to a new museum-style Eurovision exhibit. The exhibit covers Iceland's history in the actual Eurovision Song Contest, and also has a room filled with props and costumes from the Netflix film. Entry is 1500 ISK (or 1000 ISK if you purchase something at the bar).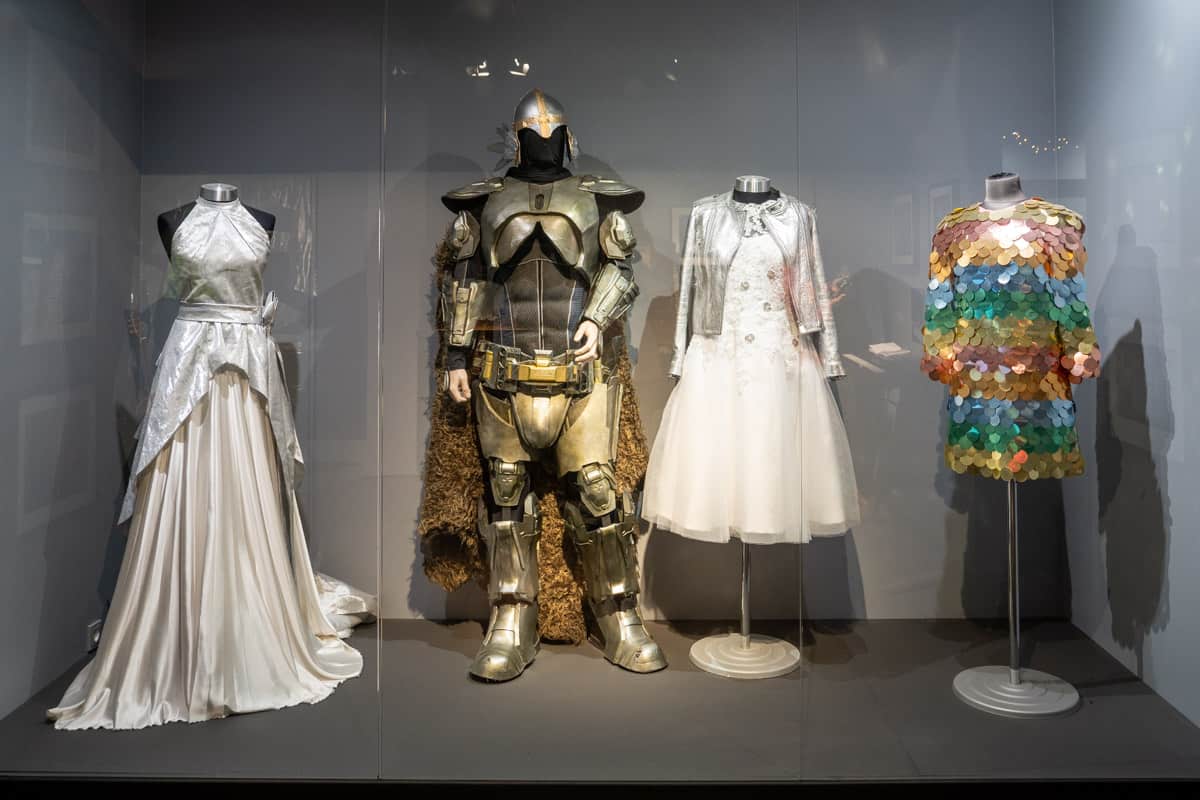 Kudos to the owners here for seizing on such a great opportunity and creating such a fun space!
7. Eat delicious seafood
If you just want to grab drinks at Jaja Ding Dong and go out for dinner elsewhere, definitely book yourself a table at Naustið. Here deliciously fresh seafood dishes are served up in a cozy historic home that's been renovated into a restaurant.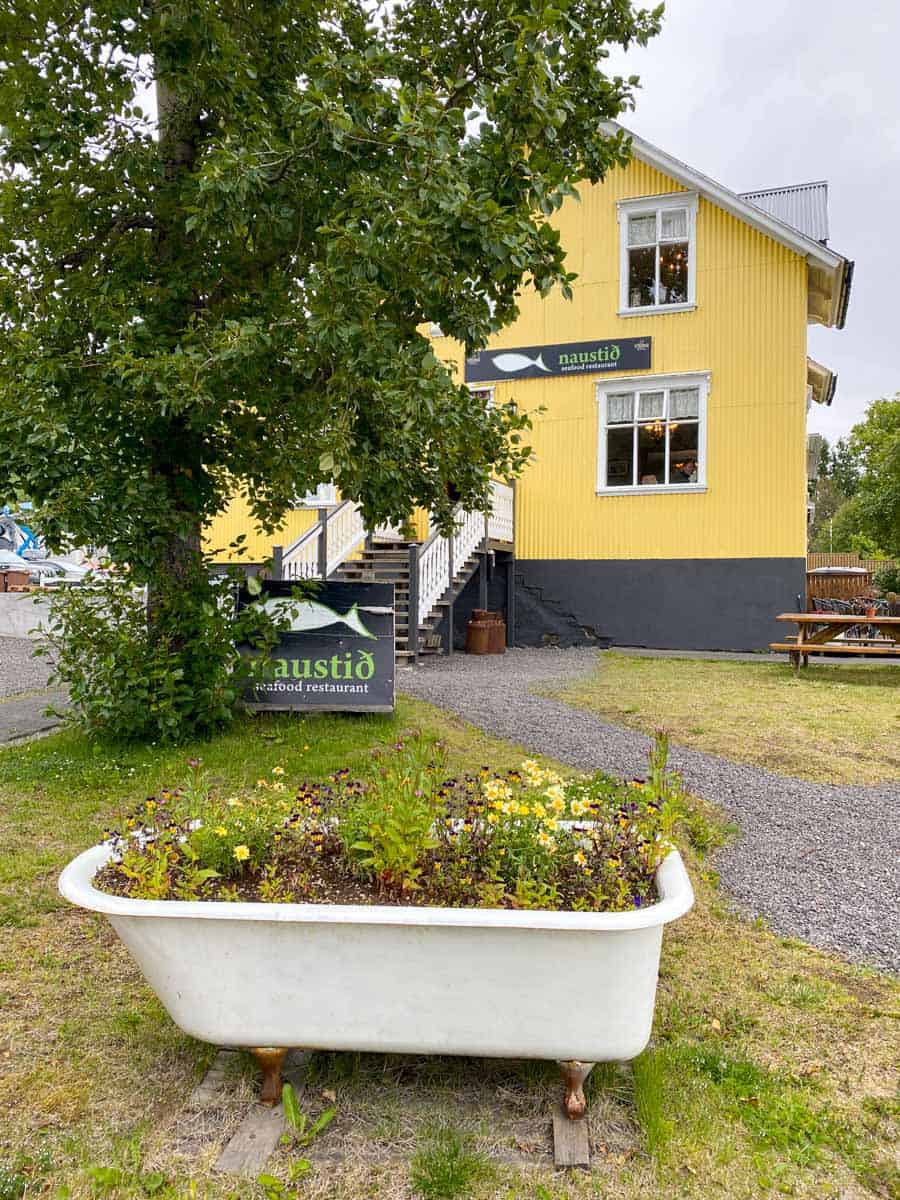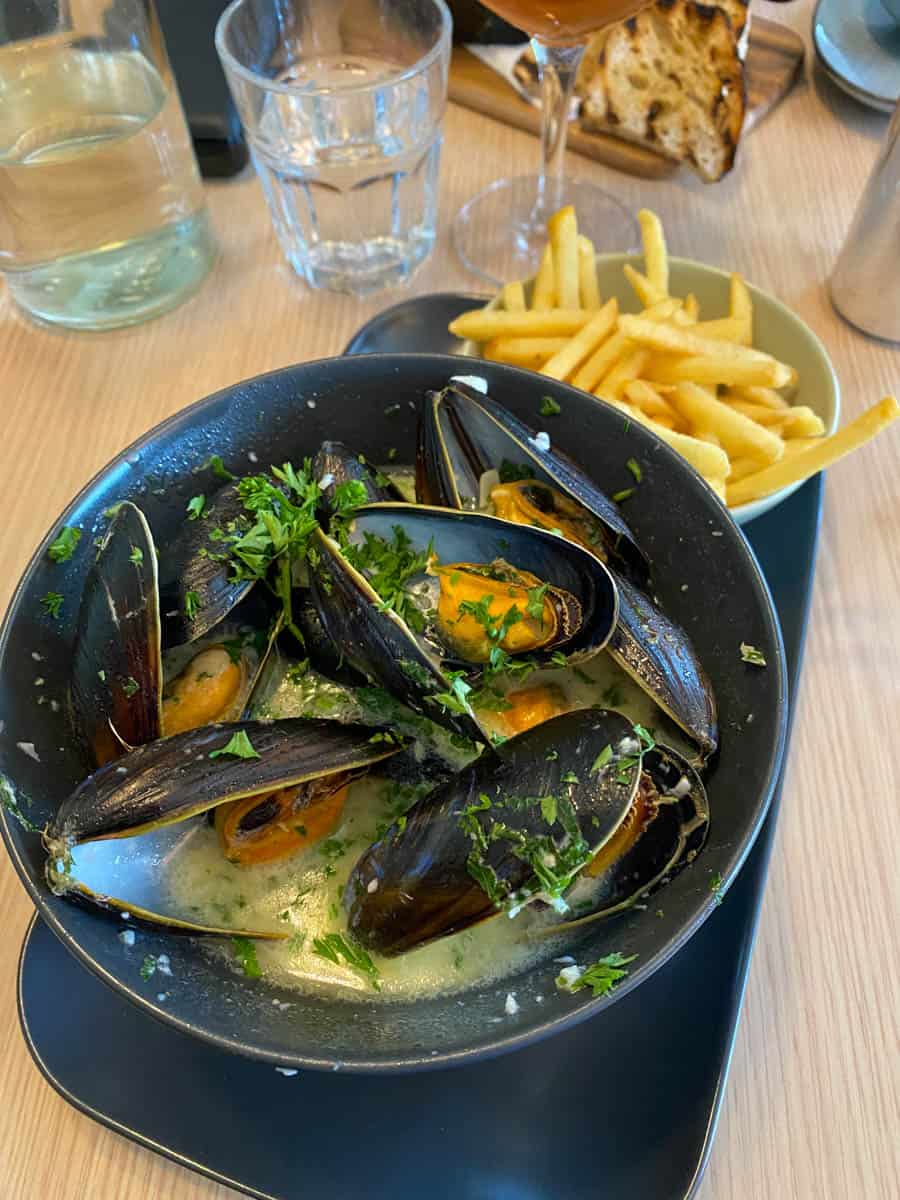 Fun fact: the house the restaurant is in dates back to 1930, and was the first house in Husavik to have a bathtub installed! The famous tub now sits outside Naustið and is now used as a flower planter.
Bonus: Diamond Circle
Have you been convinced to spend some time in Húsavík? If so, you can actually use the town as a base to visit some other nearby sites, too, including those that make up the "Diamond Circle."
Sites on this popular driving route include the Goðafoss and Dettifoss waterfalls, as well as Lake Myvatn and the Hverir geothermal area. (Godafoss is 25 minutes from Husavik, Lake Myvatn about 50 minutes, and the west side of Dettifoss is 1.5 hours away.)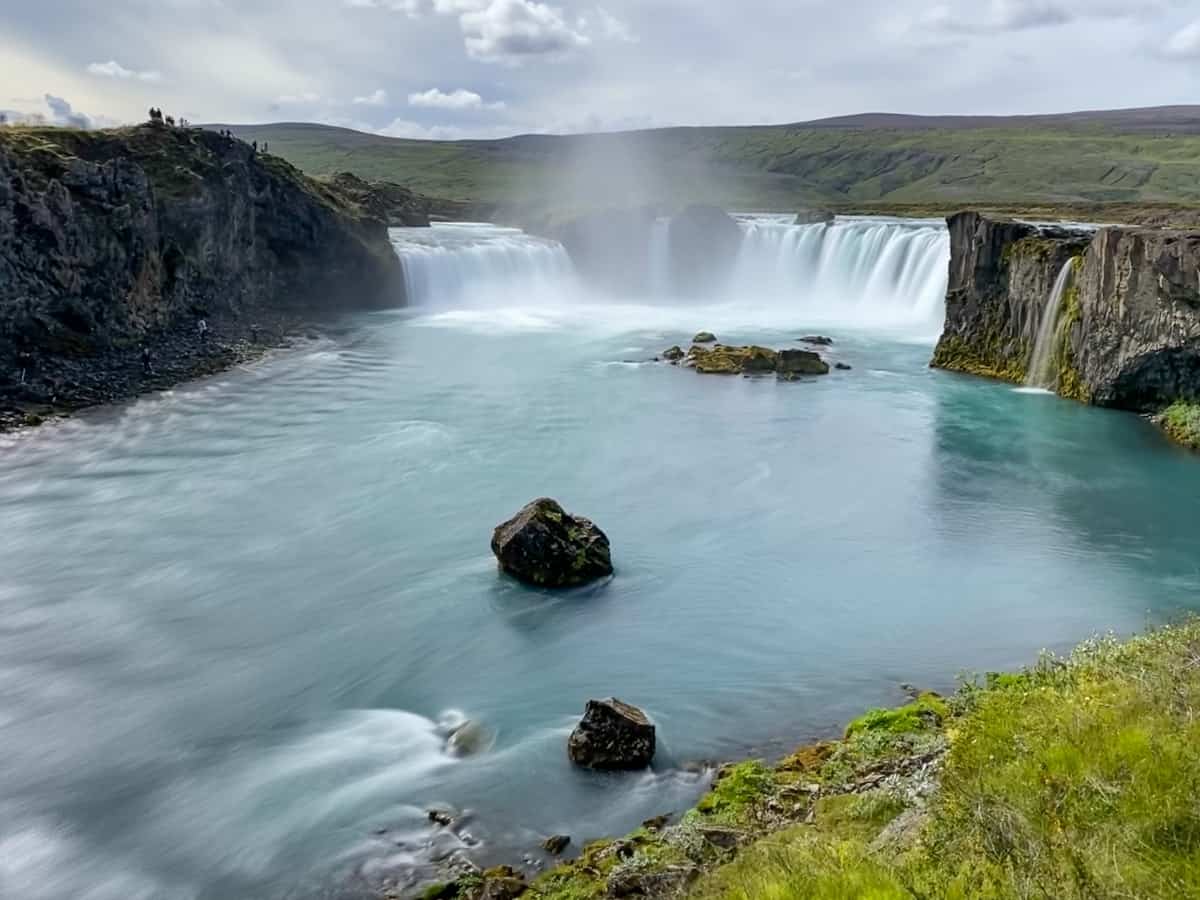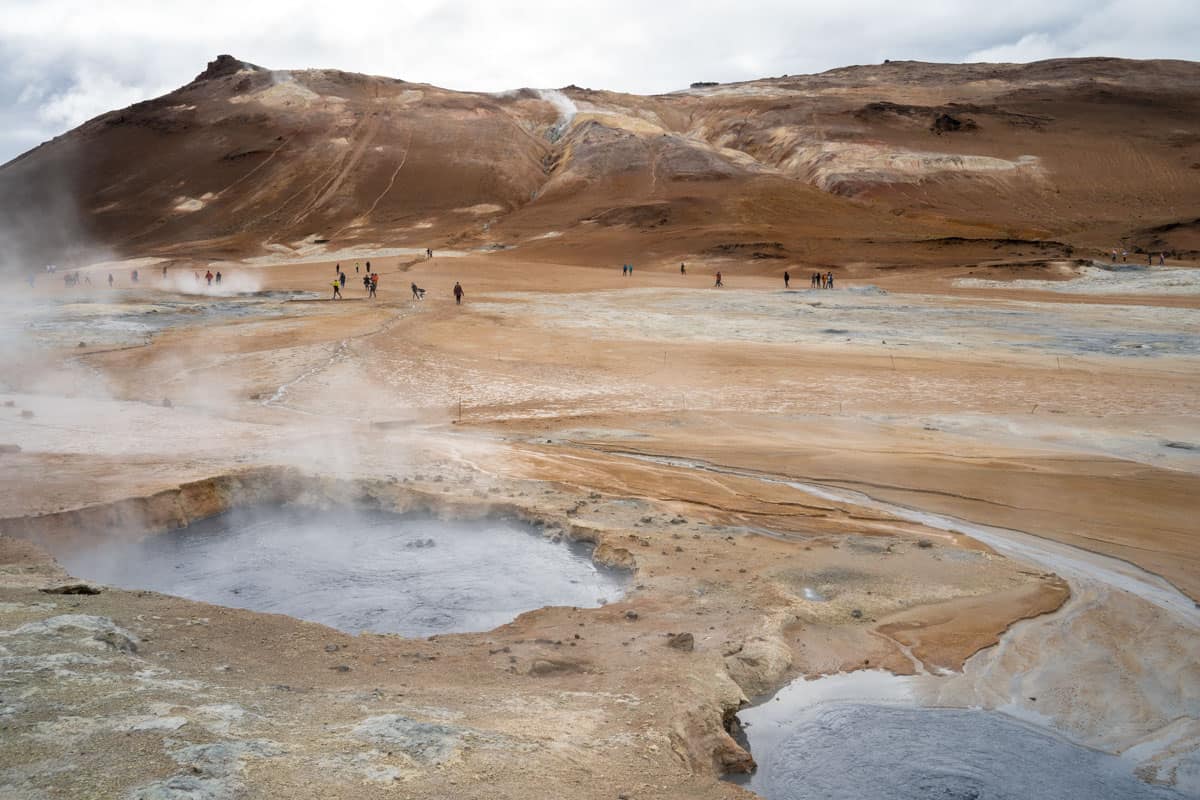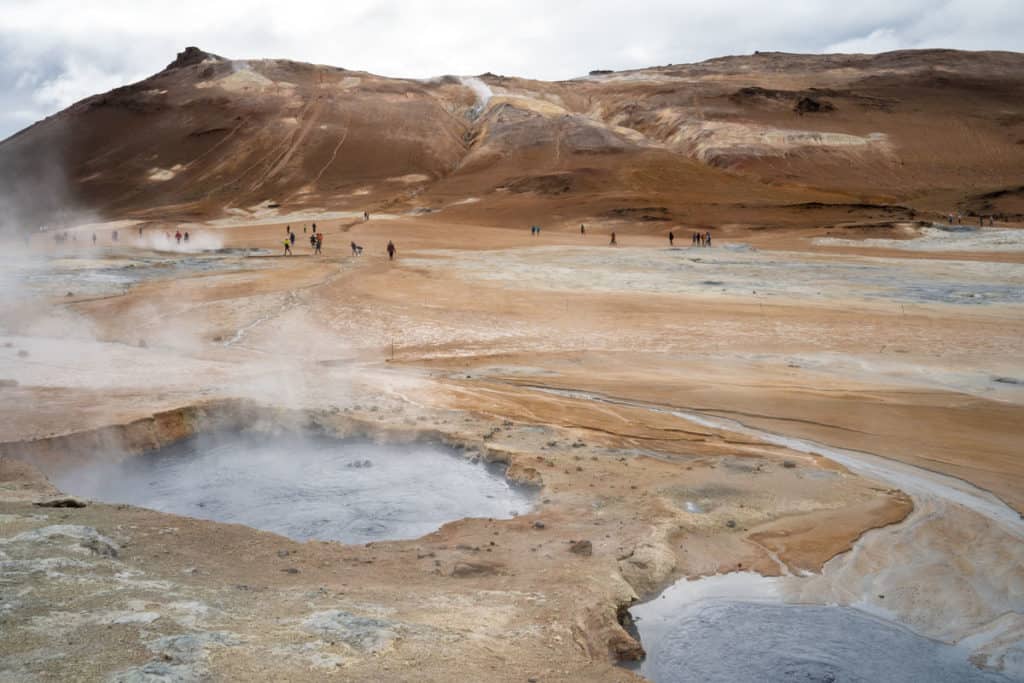 RELATED: An Epic 10-Day Iceland Ring Road Itinerary for the Best Iceland Road Trip
Where to stay in Husavik
Everything was sold out in Husavik when I visited, so my friend Kate and I stayed in Akureyri instead. But if you do want to stay overnight in Husavik itself, here are some good options:
When to visit Húsavík
You can technically visit Husavik any time of year, but for the most daylight hours and best weather for things like whale watching and horseback riding, you'll want to visit during the summer months (June-August), or on either side of summer (like in May or September).
Visiting in September or October is also not bad, as you'll have a chance of spotting the Northern Lights.
---
Who wants to plan a trip to Husavik now?