Some posts on this site contain affiliate links, meaning if you book or buy something through one of these links, I may earn a small commission. Read the full disclosure policy
here
.
---
When it comes to big epic US road trips, Oregon might not be the first destination that comes to mind. You might first think of Route 66 or the American Southwest or maybe road tripping up the California coast. But the truth is that Oregon is one of the most diverse states in the U.S.
Oregon has a beautiful coastline, snow-capped mountains, desert-like landscapes, volcanoes and waterfalls, and even a wine-growing region. And in just 10 days you can experience a little bit of everything.
If you're looking for a unique summer road trip this year, here's my suggestion: go to Oregon!
A 10-day Oregon road trip in summer
This itinerary is based on a road trip I took with my husband Elliot, plus a second trip I took to the Oregon Coast. I only recommend things I've personally done on this site!
Highlights of this road trip include:
Exploring Portland
Wine tasting in the Willamette Valley
Driving/hiking the Columbia River Gorge
Seeing Mount Hood
Visiting the town of Bend
Smith Rock State Park
The Painted Hills
Crater Lake National Park
The Oregon Coast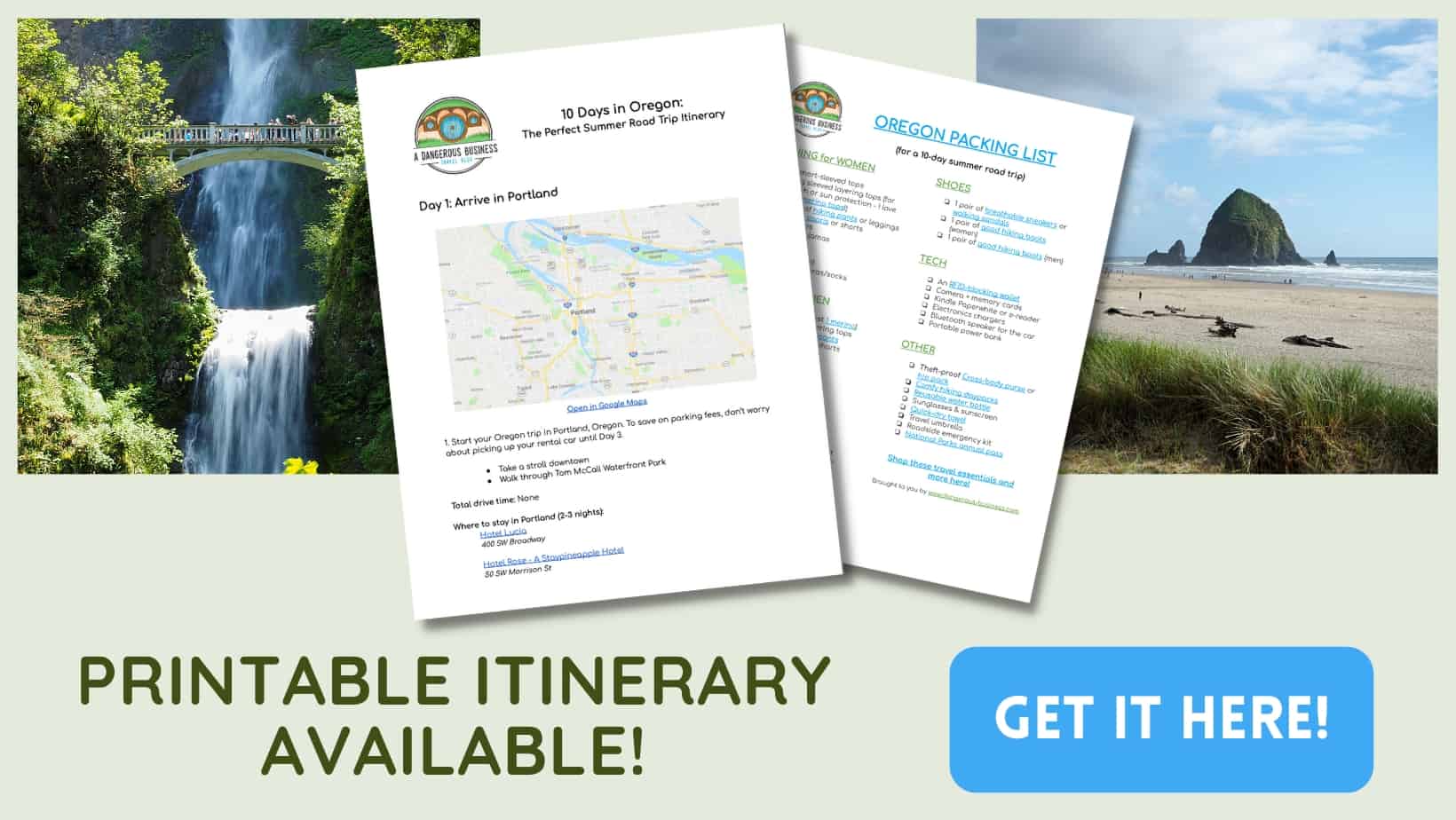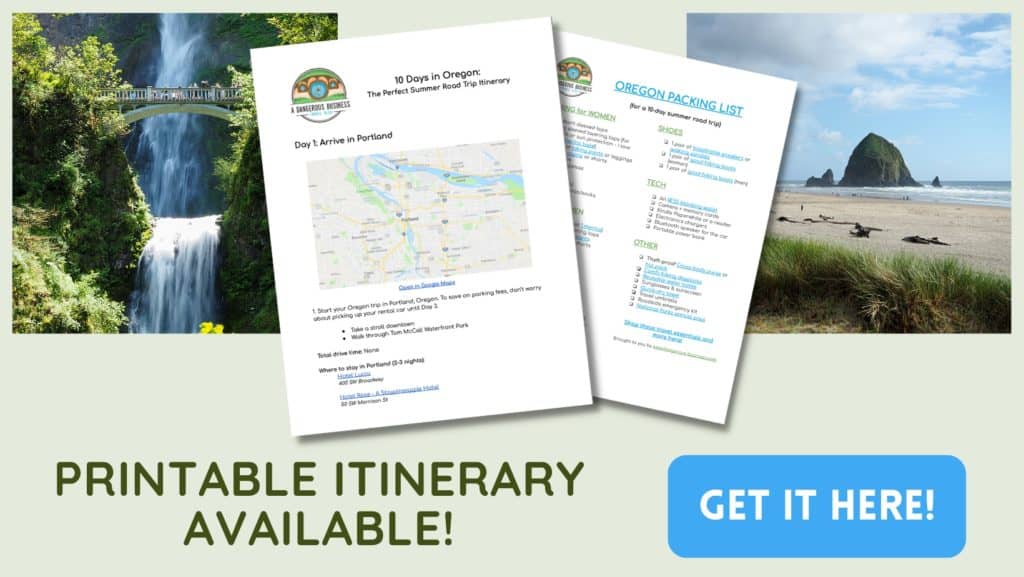 Day 1: Arrival in Portland
Flying in to Portland, Oregon's cool and funky largest city, is the best way to start your Oregon road trip. Depending on what time you arrive, I recommend getting acclimated to the city by taking a stroll downtown or perhaps through Tom McCall Waterfront Park.
To save yourself some money in parking fees, I recommend waiting to pick up your rental car until Day 3. You can easily get around Portland on foot, by bike, or by pretty affordable Uber rides. (And if you haven't booked your rental car yet, compare rental car prices here.)
Total drive time: None
Where to stay in Portland: On our first trip to Portland, my husband Elliot and I wanted to be in a really central location, and decided to stay at Hotel Rose – A Staypineapple Hotel, just a block up from Tom McCall Waterfront Park and within walking distance of just about everything downtown. (Read reviews on TripAdvisor | Book a room here)
Other good Portland options include Hotel Lucia (top-rated on TripAdvisor), Inn at Northrup Station (an all-suite boutique hotel), and The Benson Portland downtown.
Where to eat/drink in Portland: Some of our favorites included Blue Star Donuts + Coffee (a great alternative to Voodoo), lunch at Grassa (which makes homemade pasta dishes), and dinner at Bottle + Kitchen (right inside our hotel).
Day 2: Portland
This is your day to fully explore Portland. There are a lot of weird and wonderful things you could do today.
Spend time getting lost in the stacks at Powell's City of Books, take a relaxing stroll through the fragrant International Rose Test Garden (or maybe the Portland Japanese Garden right across the street), grab lunch at one of Portland's famous food cart pods (you'll find more of them open for lunch than for dinner), and brave the line to get a famous Voodoo Doughnut.
RELATED: Which of Portland's Top Attractions are Actually Worth It?
Total drive time: Potentially none
Where to stay in Portland: Again, I recommend Hotel Rose – A Staypineapple Hotel, Hotel Lucia, Inn at Northrup Station, and The Benson Portland.
Where to eat/drink in Portland: You can't come to Portland, the home of the food truck phenomenon, and not get at least one or two meals at a food truck pod! You'll find them all over the city.
Day 3: Willamette Valley
Did you know that Oregon has an award-winning wine region? Because it totally does! The Willamette Valley is home to more than 500 wineries, most known for their Pinot Noir.
The prime wine-growing region stretches from just south of Portland through Salem and down to Eugene, and the good news is that the region makes for a pretty easy day trip from Portland (Salem is just an hour away on I-5).
After picking up your rental car this morning, I recommend spending the day in the Willamette Valley. Some of the most popular wineries include the Eyrie Vineyards, Domaine Drouhin, Elk Cove Vineyards, Chehalem Winery, Argyle Winery, Sokol Blosser, Rex Hill, and Willamette Valley Vineyards. A couple wineries offer tours, but most just have tasting rooms that you can enjoy.
When researching our road trip, I bought a Fodor's Travel guide to Oregon, and in it saw a photo of a beautiful winery on a hill overlooking the countryside and a bright red farmhouse (see above). I decided that this was the winery I most wanted to visit – except that the photo had no caption!
An hour of Googling and visiting various winery websites later, I figured out that this was the Sokol Blosser winery, one of the oldest and most famous in the Willamette Valley!
We went for a wine tasting and some nibbles, and it was even prettier than in that guide book photo.
Total drive time: 2-5 hours, depending on how many wineries you want to visit
Where to stay in the Willamette Valley: You can still use Portland as your base for Day 3 since the Willamette Valley isn't that far away. OR, if you'd prefer a change of scenery, there are several nice B&Bs in the area. Check out the La Bastide Bed and Breakfast in Dundee.
Day 4: Columbia River Gorge
*NOTE: The Gorge and some of its surrounding forest was sadly scorched in one of the large wildfires that ravaged the West in September 2017. The Eagle Creek Fire was large and dangerous, and parts of the Historic Columbia River Highway and a few area hiking trails may still be affected by closures. Most areas have re-opened, but you should still check for updates at the Forest Service site when planning your visit.
Put on your hiking shoes and make sure your camera is charged on Day 4 of your Oregon road trip, because today you're going to explore the Columbia River Gorge. This is a river-carved canyon that stretches for more than 80 miles, with the Columbia River forming the boundary between Washington state and Oregon.
Highlights of visiting this area include driving the historic Columbia River Highway (which was the first planned scenic roadway in the United States), doing a couple short hikes, and stopping to see the area's famous vistas and waterfalls.
Seeing Multnomah Falls (a 620-foot double waterfall) is probably the highlight for most people who visit the Columbia River Gorge, though there are plenty of other beautiful spots to stop and see, too.
(Be aware that the Highway is very popular during the summer months, and parking at viewpoints and trailheads fills up fast – be sure to start your day early, and pack plenty of patience with you!)
Some shorter/easier hikes you might want to consider include Latourell Falls, the hike into the Oneonta Gorge* (beware that you'll likely get wet), and the Elowah Falls hike.
*The Oneonta Gorge is one area that remains closed in 2023 from wildfire damage.
Total drive time: 2-ish hours, plus lots of stops
Where to stay in the Columbia River Gorge: I recommend staying in either Hood River or The Dalles, both located towards the far end of the Columbia River Gorge from Portland. In Hood River, check out Columbia Cliff Villas Hotel or the historic Hood River Hotel. In The Dalles, consider the Celilo Inn. (I personally recommend staying in Hood River simply because it makes for a cooler drive on Day 5.)
Day 5: Bend via Mount Hood
If you stay in Hood River on Day 4, you can take OR-35 south towards Mount Hood and perhaps detour to see Oregon's most famous volcano this morning. Mt. Hood is considered one of the 7 Wonders of Oregon and is home to the only year-round ski resort in North America (yup, on the slopes of a volcano!). You probably won't have enough time to hit the slopes, but you can still enjoy the beautiful views.
Then it's time to continue south to Bend, the outdoor recreation mecca of Oregon. Elliot's sister lives in Bend, so that was our main motivation for visiting – but I think this cool little city definitely deserves a spot on any Oregon road trip itinerary.
If the weather is clear this evening, head up to Pilot Butte – an extinct volcano in the center of town – for sunset.
Total drive time: 3 hours
Where to stay in Bend: For a luxury stay, Wall Street Suites is the #1-rated Bend hotel on TripAdvisor. For something more budget-friendly (yet still highly-rated), go for the Hampton Inn & Suites Bend. If you want to be right in the middle of the action, check out The Oxford Hotel, which is right downtown.
Where to eat/drink in Bend: You'll want to check out Deschutes Brewery's pub at some point (they serve good food, too, as well as local brews). Or if it's world cuisine you like, some of Bend's best options include Zydeco Kitchen & Cocktails for Northwest food with a Cajun/Creole flair and Barrio for Latin cuisine, plus several other breweries.
Day 6: Bend
Bend (and most of Central/Eastern Oregon) is known for its sunny days. So if you hit one, definitely spend today outdoors! Rent a bike, walk up Pilot Butte, or "float the river" through Bend like a local (this basically consists of renting a tube and literally floating down the Deschutes River from the Old Mill District to downtown Bend).
If the weather isn't ideal (it happens – it was cloudy, rainy, and cool the whole time I was in Bend in June!), downtown Bend has tons of cute shops to explore, and there's also the High Desert Museum you could visit.
And if you want to hit the road again today? Set out on the Cascade Lakes Scenic Byway, a 66-mile historic highway that will take you past mountains like Mt. Bachelor, Broken Top, South Sister, and 14 different alpine lakes. Beginning in July each summer, Mount Bachelor offers scenic chairlift rides from the West Village base area to the Pine Marten Lodge at 7,775 feet.
Total drive time: 4-5 hours if you drive the entire Cascade Lakes Scenic Byway; about an hour if you just go as far as Mt. Bachelor
Where to eat/drink in Bend: If you can get to McKay Cottage early enough, they serve up the best breakfast in Bend (go on a weekday if you can!). Otherwise, Bend Mountain Coffee is a great way to start your morning. You also may want to check out Pine Tavern, which serves up classic American fare in the oldest restaurant in the city.
Day 7: Smith Rock and the Painted Hills
On Day 7, let's head out to some parts of Oregon that you might not find on other road trip itineraries. We'll start the morning off at Smith Rock State Park, about 40 minutes to the northeast of Bend. This is one of the prettiest state parks you've probably never heard of.
Smith Rock is known in the climbing community as "the birthplace of American sport climbing," though there are also some great hiking trails there if rock climbing isn't really your forte. Elliot and I tackled the Misery Ridge trail (it's challenging, but not as awful as its name makes it sound), which took us about two hours to complete.
If a vigorous hike doesn't sound like a great way to spend your morning, there are easier trails along the Crooked River to check out, too.
Afterwards, reward yourself with lunch at Terrebonne Depot Food + Drink, a restaurant located in a converted train station. (Try the buffalo nachos!)
RELATED: Hiking a Ridge Called Misery
From Terrebonne, you'll keep going east into Eastern Oregon. This part of the state is woefully overlooked by most tourists (my Fodor's guide dedicates only 38 pages to the entire eastern half of Oregon!), but the drive is worth it. Your destination is the Painted Hills unit of the John Day Fossil Beds National Monument near Mitchell, Oregon.
You know those photos of the Rainbow Mountain in Peru that you've probably seen all over the internet? Yeah, well you can see essentially the same thing in Eastern Oregon – but minus the strenuous hike, high elevation, and huge crowds!
The Painted Hills really do look like they're painted, and are usually best viewed/photographed in the late afternoon and right before sunset. There's a scenic drive to take through the park, as well as a handful of short trails to hike around the hills*.
*If you hike here, please abide by any signs that ask you to stay on the trail/not climb on the hills.
Afterwards, it's just about 2 hours back to Bend.
Total driving time: 4.5 hours total
Where to stay: I would recommend spending another night in Bend. But if you want to mix it up (and if you don't leave the Painted Hills too late), you might want to spend a night at Sunriver Resort, which lies in the foothills of the Cascade Mountains just 20 minutes south of Bend. (Read reviews on TripAdvisor | Book a room here)
Day 8: Crater Lake
You'll want to make Day 8 an early one so you can head to Oregon's most famous national park: Crater Lake! It's only about 1.5 hours from Bend/Sunriver to the northern entrance to Crater Lake National Park, so leaving early means you can basically spend the whole day exploring.
Coming from the north entrance station of the park, you'll skirt Crater Lake for a while on your way to the Steel Visitor Center, where you can watch a film about the lake and get park information. From there, you can either backtrack the way you came to drive the full 33-mile scenic loop drive*, or continue on from the visitor center and go counter-clockwise around Crater Lake.
The top thing to do at Crater Lake in the summer is to take a two-hour park ranger-led boat tour around the lake. You can get tickets at the historic Crater Lake Lodge (which is also worth visiting). But note that getting to the boat dock requires you to hike down (and eventually back up) the Cleetwood Cove Trail, which is 1.1 miles one-way and has an elevation change of about 700 feet. This is the only trail that leads down to the lakeshore.
If the strenuous hike isn't going to work for you, don't worry – there are plenty of lookouts and shorter hikes around the lake that you can still enjoy. Check out viewpoints like Discovery Point, Phantom Ship Overlook, and Cloudclap Overlook. And easy/moderate hikes like the Castle Crest Wildflower Trail (best in July when wildflowers are blooming) and the Watchman Peak Trail are also worth checking out.
*NOTE: The road around Crater Lake is usually only open from late June to early October each year; if the area has seen a lot of snow, the road may not even open until early/mid-July. So if you definitely want the full Crater Lake experience, you'll want to plan your Oregon summer road trip in July or August.
Total drive time: 3-4 hours of actual drive-time
Where to stay at Crater Lake: The historic Crater Lake Lodge would be a great splurge, but rooms book up months (sometimes a year) in advance. My advice would be to stay between Crater Lake and the coast tonight, maybe at the Prospect Historic Hotel in Prospect, Oregon, or the Maple Leaf Motel in Shady Cove.
Day 9: Head to the Oregon Coast
Today it's time to head to the coast, because no Oregon road trip would be complete without a day or two spent driving up Oregon's stunning coastline.
If you stay in Prospect or Shady Cove on Day 8, it won't take you long to meet up with I-5. I would take this north to Sutherlin/Union Gap and then head west to the coast.
This route will spit you out in Reedsport, near the bottom of the Oregon Dunes National Recreation Area, which stretches all the way up to the town of Florence. Spend some time exploring the dunes, and then begin your drive north up the coast on the 101.
Some stops you might want to make this afternoon include the sea lion caves in Florence, the small town of Yachats, and the Yaquina Head Lighthouse (the tallest lighthouse on the Oregon Coast) in Newport, which is where I recommend stopping tonight.
Total drive time: 5 hours
Where to stay: I recommend staying tonight in Newport, a little more than halfway up the Oregon Coast. Check out the Hallmark Resort or the Inn at Nye Beach.
Where to eat in Newport: Newport is often called the "Dungeness crab capital of the world," so you can bet they have some great seafood to try here. There are plenty of restaurants to choose from, with Local Ocean Seafoods and Georgie's Beachside Grill both coming highly recommended.
Day 10: Oregon Coast
Today will be a more leisurely drive up the rest of the Oregon Coast, with plenty of time to stop at beaches and eat lots of seafood.
You could actually spend days exploring this part of the coast, so where you stop will depend on your interests.
Places you might want to stop include:
Depoe Bay, which is famous for whale watching.
Pacific City, known for its laid-back vibe and nice beach.
Oceanside, where you can follow a man-made tunnel from the beach at Oceanside Beach State Park to Tunnel Beach.
Tillamook, where you can visit Tillamook Creamery (a great lunch stop, since they have a cafe!).
Cannon Beach, with its famous Haystack Rock and nearby Ecola State Park.
Cute coastal towns like Manzanita and Seaside.
Astoria, the oldest city west of the Rocky Mountains.
Of these spots, Cannon Beach and Astoria are really the must-visits. Cannon Beach is the beach you see on all the postcards, and Astoria was founded in the early 1800s and named after John Jacob Astor.
Cannon Beach has a cute downtown with lots of shops and restaurants, and the area around Haystack Rock is great for tidepooling at low tide. The nearby Ecola State Park also offers up great coastal views (but there is a $5 entry fee).
Astoria is a town you might recognize from classic movies like Free Willy and The Goonies (there's even a small museum called the Oregon Film Museum), and also has a quirky downtown.
You could stay in either Astoria or Cannon Beach tonight (they are only 40 minutes apart).
Total drive time: 3.5 hours
Where to stay in Cannon Beach: In Cannon Beach, check out the Ocean Lodge, the Hallmark Resort & Spa, or The Waves.
Where to stay in Astoria: For a luxury stay, it has to be the #1 hotel in Astoria: the Cannery Pier Hotel. Meanwhile, historic hotel lovers might enjoy Hotel Elliott.
(If you have extra time to spend, I would probably dedicate it to the Oregon coast – you could do an entire Oregon Coast road trip, there's so much to see.)
Day 11: Return to Portland and head home
From Astoria, it's only a 2-hour drive back to Portland. If your flight leaves later in the day, spend a few more hours enjoying the coast, or maybe head back to Portland for one more food cart meal.
And on the flight home, you can start dreaming of your next trip to Oregon!
Don't forget to get a printable version of this itinerary to take with you on your trip.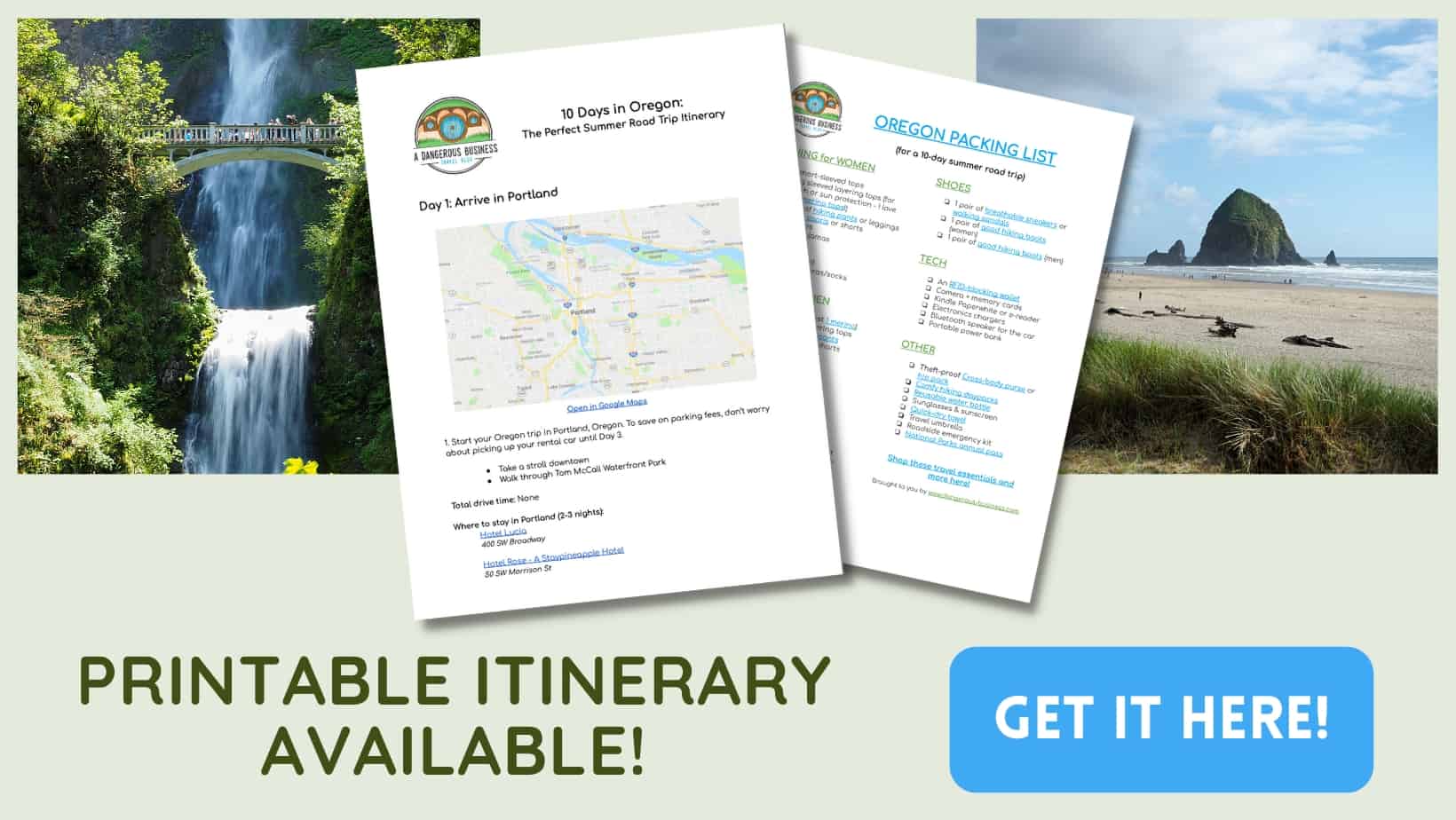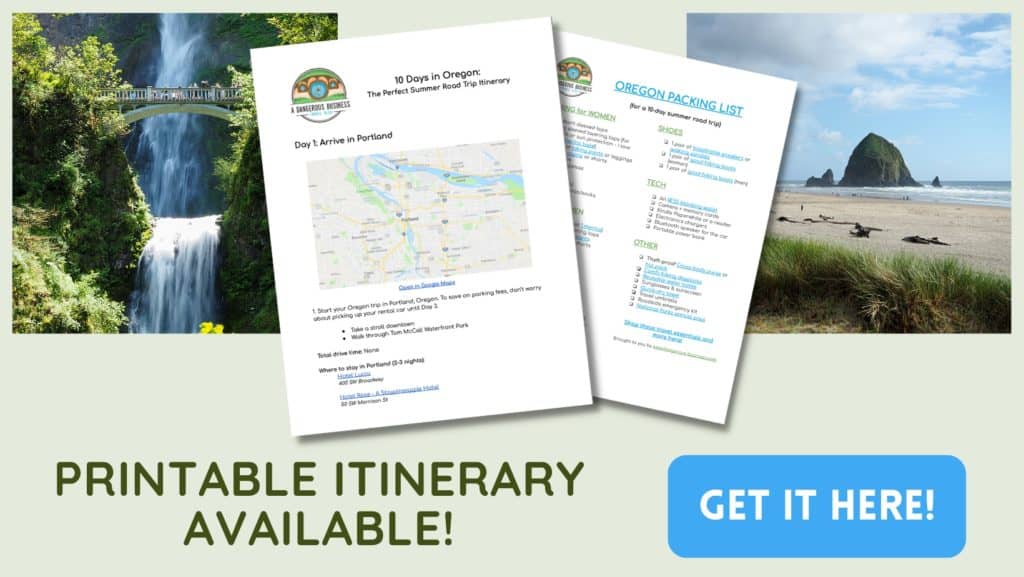 ---
Things you might find useful for your trip:
---
When should you take an Oregon road trip?
This specific itinerary is designed with summer in mind (June-August, but especially July-August or early September) simply because some of the mountain destinations I suggest you visit might not be accessible outside of those months.
If you want to skip the mountains and Crater Lake, though, and just focus on Portland, the wine region, and the Oregon Coast, then you could certainly do this road trip any time of year! In fact, the Pacific Northwest in the winter is a lot of fun because the weather along the coast is generally pretty mild, but you won't run into many other tourists.
---
Have you ever done a road trip in Oregon? If not, are you ready to plan one now?
Pin it for later: