Some posts on this site contain affiliate links, meaning if you book or buy something through one of these links, I may earn a small commission. Read the full disclosure policy
here
.
---
I spent the whole month of August 2013 traveling around Western Europe with a company called Busabout. I'd traveled with Busabout previously, too (albeit on a guided trip that time), and the company is definitely one that I would travel with again. But, since Busabout is largely unknown outside of Australia, I figured I should probably give you a detailed run-down of what my month with this company was like.
Here we go!
(Note: Info and pricing is kept as up to date as possible! The last update was made in May 2017.)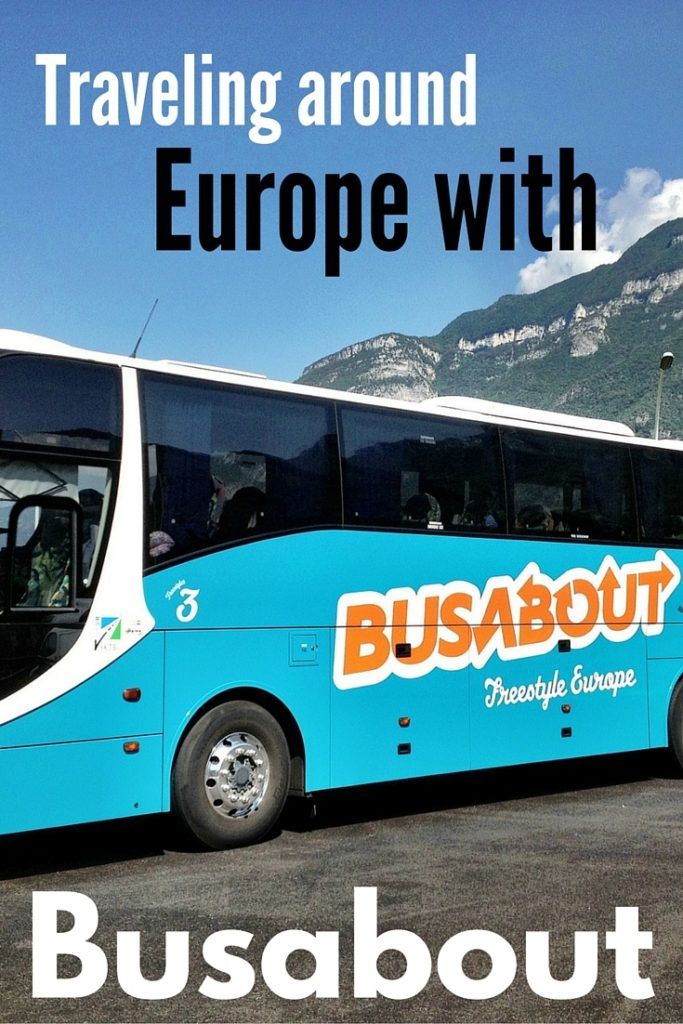 Who or what is Busabout?
Busabout is a UK-based travel company that caters towards younger travelers, mostly in Europe. The company, with its "freestyle travel" motto, offers guided trips throughout Europe (and also now in places like Asia, Turkey, and Morocco), and also operates a hop-on, hop-off bus network across Western, Central, and Eastern Europe. Busabout's hop-on, hop-off network is probably the most popular, though its Sail Croatia, festival, and Greek Islands trips also draw lots of young travelers each summer.
How does it work?
The hop-on, hop-off part of Busabout is essentially a means of transportation. It is NOT a guided tour of Europe; you decide where you want to go and when, and then you just use Busabout to get from Point A to Point B. There ARE guides on each bus, but they are only responsible for answering questions, getting you to the drop-off hostels, and coordinating any sightseeing/rest stops that might be on a certain bus leg. You won't necessarily have the same guide on every bus you take.
The hop-on, hop-off network itself is pretty straightforward. It runs from May through October, with buses leaving every other day. You either buy an unlimited pass or a timed pass (available for anywhere between 2 and 5 weeks), which will allow you to travel on Busabout between 46 different cities in Europe.
The routes Busabout covers can be roughly divided up into "loops," many of which go just one way. This means you do have to plan out your route ahead of time. However, since you only have to be booked on a bus 24 hours before departure, you can change your mind (and your plans) at any time. You can plan your route using the Busabout website once you've bought your pass, and you are also able to make changes to your itinerary through a guide on each bus.
Where can you go?
Busabout won't take you EVERYwhere in Europe. But its routes cover most of the main cities, as well as a few smaller ones that you probably wouldn't otherwise consider or even know about.
Busabout's routes can be seen here: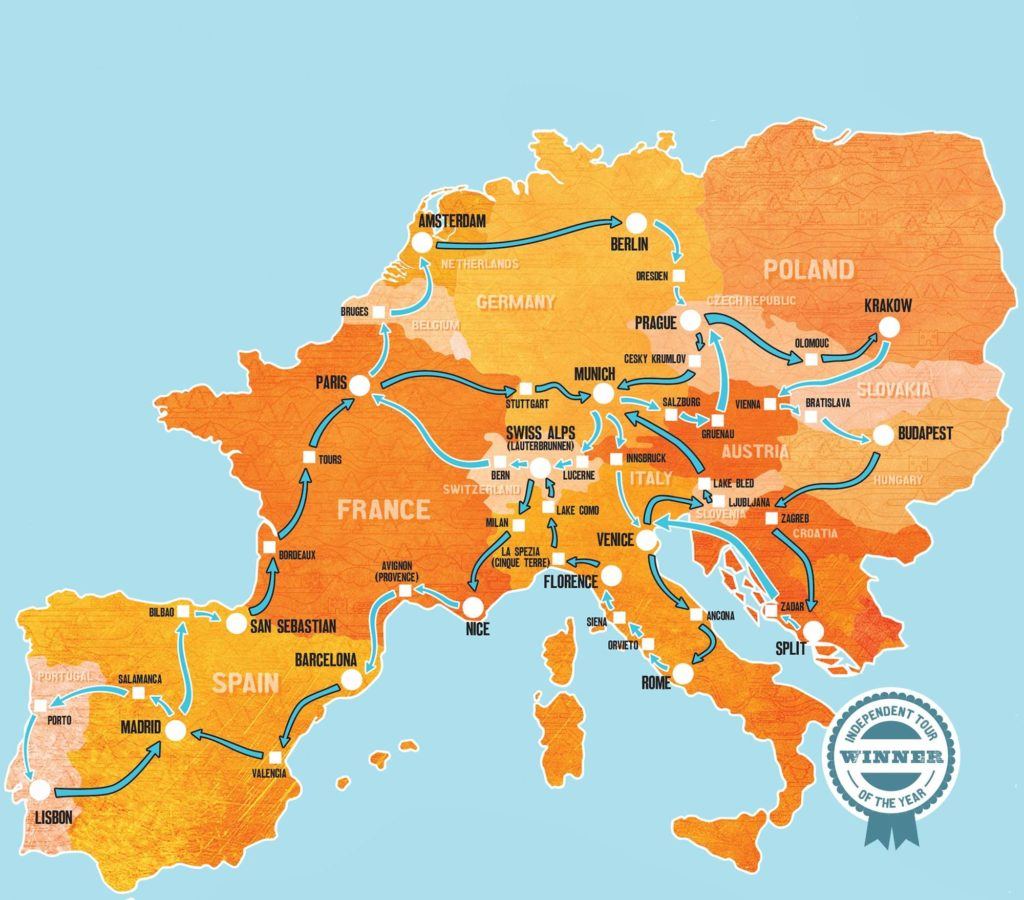 Major cities you can visit include Lisbon, Madrid, Barcelona, Nice, Paris, Amsterdam, Berlin, Prague, Munich, Krakow, Budapest, Venice, Florence, and Rome.
There are tons of smaller cities to visit, too – and I highly recommend stopping at some of these optional spots!
All of the routes connect to one another, and most connect to some of Busabout's other tours, as well (for example, Ancona on the South Loop is a popular jumping-off point for Busabout's sailing trips, though not necessarily a place you'd want to stay for a few days).
(Also check out the handy Busabout timetable.)
How flexible is it?
I get asked about the flexibility of these bus passes all the time. And it IS something worth mentioning. Busabout will not give you as much flexibility as, say, a rail pass in Europe simply because Busabout's stops are limited. However, there's far more flexibility in buying a pass on Busabout's hop-on, hop-off network than booking a guided tour of Europe.
At each compulsory stop on Busabout's routes, you must stay at least one night. And at each optional stop, you must stay at least 2 nights. However, you can stay ANY odd-number of nights at each compulsory stop, and ANY even-number of nights at each optional stop. I, for example, stayed anywhere from 1-5 nights in cities along the routes.
How long you want to spend in each destination is completely up to you.
In theory, changing your itinerary is very easy and can be done at any time, too, meaning that if you fall in love with a place you can choose to stay longer. In practice, though, this can sometimes be tough, as buses tend to fill up quickly during the busy summer months — meaning if you give up your booked seat, you may have to try a few different times to get a seat on another bus. If you have to be in one destination on a certain date (for example, if you're connecting to a tour or attending a festival), you may not want to change up your itinerary too often, just in case.
The same goes for the "you only have to book your seat 24 hours in advance" rule. In theory it's great and offers up a bit of flexibility. But, in reality, waiting until the last minute to book a seat can sometimes mean you won't get one. Most people I traveled with on Busabout had their itineraries fully planned before they traveled.
Where will you stay?
The good news is that you can stay wherever you like! Since the hop-on, hop-off network really only covers transport, you are free to lay your head wherever your heart desires each night.
Having said that, Busabout DOES recommend specific hostels in each city — namely the hostels that the buses pick up from and drop off at. If you're going to stay in hostels anyway, it's convenient to just book the recommended drop-off hostel at each stop. This way you don't have to worry about navigating to somewhere different at night or early in the morning (this is especially worth noting, since many of the buses leave at 8 a.m. — not ideal if you book accommodation an hour away!).
I ended up booking the recommended hostel at most of my stops, so long as they had beds/rooms available. I was a little apprehensive about this at first, but I'm happy to report that Busabout works with some kick-ass hostels all across Europe.
Not one place we stayed was dirty, dingy, or shady. Yes, some were nicer than others, and some were located slightly out of town, but on the whole I was really pleased with all of the Busabout-recommended hostels that I stayed at. Busabout works with big hostel chains like Wombats, St. Christopher's, and PLUS Hostels all across Europe — all great places to stay — and you can book these hostels directly through the Busabout website as you're setting up your itinerary.
What can you do?
Like I said before, Busabout is not a guided tour around Europe. However, the company provides each traveler with a handy Busabout guide at the start of the trip that includes Busabout-recommended activities and tours at each stop. Guides on the buses will give you a run-down of each activity and help you book right there on the bus if you want. They also usually can give you recommendations on things to see and places to eat in each city.
I, for example, booked the best walking tour I've ever been on in Berlin, took a day trip out into the Tuscan countryside from Florence, went rafting in Cesky Krumlov, and took a "Sound of Music" tour in Salzburg — all on Busabout's recommendations. You can also add on other Busabout trips and tours at any time. Quite a few people I was traveling with decided to go on the Italian Adventure from Rome, and people were booking Oktoberfest festival packages left and right.
Of course, you can always do your own thing, too! Since you are free to spend as long as you like in each destination, you can have your own adventures, at your own pace.
Who will you travel with?
After my Busabout trip, I got a lot of questions about who travels on these bus loops around Europe. The general demographic is young solo travelers. I did run into a lot of couples and best friends traveling together, too, but I'd say the majority were solo travelers between the ages of 18 and 30 (and 30 was at the "old" end of the spectrum).
Most Busabout travelers right now are Australian, simply because that's where Busabout is most aggressively marketed — and also because Aussies seem to love to travel around Europe! I was often the only American on the buses I was taking, but that didn't bother me much at all. Busabout DOES market to a younger demographic, but it puts no age limit on its passes.
So who is Busabout ideal for? I think it's ideal for the solo traveler who wants to meet people and be social while traveling around Europe, but who wants more flexibility than what a guided tour would offer. It's incredibly easy to meet new people on the Busabout buses, and even easier to strike up new friendships and make plans with other travelers since you are headed to the same places.
How much will it cost?
Busabout offers lots of deals on its bus passes each year, so prices can fluctuate greatly. In general, though, Unlimited Passes start at around $1400 USD, while Timed Passes start around $440 (for 2 weeks).
Accommodation is obviously not covered in those prices — you can expect to pay anywhere from $15-$50 per night at hostels, depending on which country and city you're in (though $20-$30 per night will cover you in most places). Also factor in money for meals, extra activities, and any gifts/souvenirs you might want to bring home.
And now that I've hopefully covered all the big questions about traveling with Busabout, here's a look at what I think Busabout does well on its hop-on, hop-off network, along with what I think it could improve upon:
What Busabout does well
Guides — Each bus has a Busabout guide aboard, despite the fact that there's really no tour element to the hop-on, hop-off network. Guides can help you change/check your itinerary, book seats or other tours, and generally just answer questions about Busabout. They also usually give you an overview of the places you're traveling to/through, which is a nice touch — you won't get that if you're taking the train or a public bus.
Entertainment on buses — Busabout's big blue buses are equipped with entertainment systems. Since bus rides can be long, the guides will usually put on a movie, or perhaps some TV episodes or a comedy show. I appreciated that the movies were sometimes linked to whatever destination we were headed to — for example, from Paris to Bruges we watched "In Bruges," and on the way to Rome we watched "Galdiator."
Frequent stops for food/toilets — These bus rides can sometimes be VERY. LONG. I'm talking upwards of 8 hours, especially if you're skipping an optional stop between two major cities. You never go more than 2 or 3 hours without a stop to use the toilet, grab some food, and stretch your legs, however, which I really appreciated.
The Busabout Bible — When you board a Busabout bus for the first time, you should be given a couple of things, including a Lonely Planet guide book covering just the cities Busabout's routes cover, as well as a little handbook known as the "Busabout Bible." This handbook is great. Not only does it include a copy of the all-important timetable and a list of all the drop-off hostels with addresses, but the handbook also has an entry for each Busabout stop where those recommended tours and activities are listed. Even if you don't plan to book any of them on the bus (though if you do you usually save a few bucks), leafing through the options in each city can at least give you an idea of what there is to see and do there.
Good drop-off hostels — I already touched on this earlier, but Busabout does a great job of choosing some top-notch hostels all over Europe. Simply having a hostel recommended in each city and knowing that it's likely to be a good (or at least a decent) one is such a nice touch — it took a lot of the stress out of booking accommodation for me!
What Busabout could do better
Wi-fi on buses — Busabout advertises that its big blue buses have wi-fi. But then you get on and realize that the wi-fi is not free, and that it doesn't really work very well. Either get rid of the wi-fi, Busabout, or install wi-fi that works that you are willing to give your passengers access to for free. I've been on public buses in Europe (even in Bulgaria, of all places) that had free, fast wi-fi, so I know it's possible. Plus, if you give Busabouters free wi-fi, chances are they're going to be posting about you more on social media as they travel!
Be more honest about drop-off points — Busabout advertises service that drops you off "right outside" your accommodation. Well, this isn't actually true in all cases. In some cities (and especially at many of the optional stops) the roads are simply too narrow for large coaches to navigate. This means that you often actually have to walk with all your luggage for 10-15 minutes to get from the bus to the drop-off hostel, and vice versa. This isn't a huge deal, but most people don't expect it — and some don't pack for it at all! A little heads-up would be nice, that's all.
Create an app — This really isn't a complaint, just a suggestion. Busabout currently doesn't have an app, and I think having one would be great for them. An app that could have the handbook and timetable included, where you could log on to check you itinerary and maybe even access guides to each city (put together by Busabout guides, perhaps?). Booking buses and hostels would be a nice touch, too, though I think even a strictly informational app would be something travelers would download. I can't tell you how many times I heard people asking for extra copies of the handbook because they'd lost theirs, or asking the guide to help them double-check that they had their next leg of travel booked correctly.
Be more up-front about the student discount restrictions — Busabout advertises student prices for all of its passes and tours. And, in the terms and conditions of those student fares, it DOES state that you need to hold an ISIC (international student ID card). This means your personal college ID isn't going to work to prove you qualify for the student discount — you have to apply for a special ID. The problem is that a lot of people don't read the fine print (or perhaps travel agents aren't passing along the fine print), and I witnessed quite a few Busabouters having to pay extra because they could not produce the right kind of student ID. Make it much clearer to people before they book the student fare, Busabout!
So, would I recommend Busabout?
At the end of the day, yes. Definitely.
I can't say how Busabout compares to rail travel in Europe because I've never traveled with a rail pass. However, I would hazard a guess that you won't meet as many travelers on trains who are traveling the same way you are, going to the same place, and even staying in the same hostel. Plus, there's no stress related to figuring out train stations and timetables with Busabout, or gambling on whether you'll actually get a seat or not.
I had a really good time traveling with Busabout. I made some good friends and travel buddies, visited some cities I've always wanted to explore, and came home with some great memories. I would highly recommend them!
What's my biggest tip?
I'll leave you with one piece of advice. And it has nothing to do with booking ahead or not getting so drunk that you miss your bus. My biggest bit of advice is this: Don't skip the optional stops.
If you look at the itineraries I listed earlier in this post, you'll notice that in between each major city, there's usually at least one optional stop. In most cases, these optional stops are ABSOLUTELY worth an extra couple of nights. I made stops in optional cities like Bruges, Cesky Krumlov, and Salzburg, and they were some of my absolute favorites cities I visited with Busabout. I really regretted not stopping in places like Grunau, the Wildschönau Valley, and the Cinque Terre.
More reading
Lastly, here are a handful of posts that I wrote about some of the cities I visited thanks to Busabout:
Have YOU ever traveled with Busabout? Would you want to?
*Note: Busabout provided me with transport on all 3 of their Europe loops, but all opinions of my experience are entirely my own!
Interested? Book your own Busabout trip!