Some posts on this site contain affiliate links, meaning if you book or buy something through one of these links, I may earn a small commission. Read the full disclosure policy
here
.
---
It's November, and that means it's time to look back at the last two months! (How crazy that there are less than two months left in 2022… this year has seriously flown by.)
I was very busy in September and October, traveling for roughly 50% of that time both domestically and abroad. I'm taking a travel break until the holidays so I can get caught up on work, enjoy the holiday season in Cleveland, and work the polls on Election Day again (make sure to get out and VOTE, my American friends!).
Now let's get to that update…
September and October: The months in travel
Countries visited: 3 – USA, the UK (Northern Ireland), and Ireland
States visited: 3 – Washington DC, North Carolina and Texas
Flights legs taken: 8
Days spent on the road: 30
Travel highlights
Exploring the Inner Banks – Just after Labor Day in September, I went on a brief road trip to an area of North Carolina called the Inner Banks. I stopped to see a friend in the Washington DC area on my way south, and then soaked up some local history and nature in the area just inland from the famous Outer Banks. I haven't written a blog post about it yet, but you can find a bunch of photos here and here.
Northern Ireland road trip – Elliot and I left home in mid-September for his very first trip to Ireland! We started in Dublin, and then spent 5 days road tripping through Northern Ireland, visiting places like Belfast, Derry, and the Causeway Coast. We even stayed at a fancy spa resort for a couple nights – I'll write about it all soon!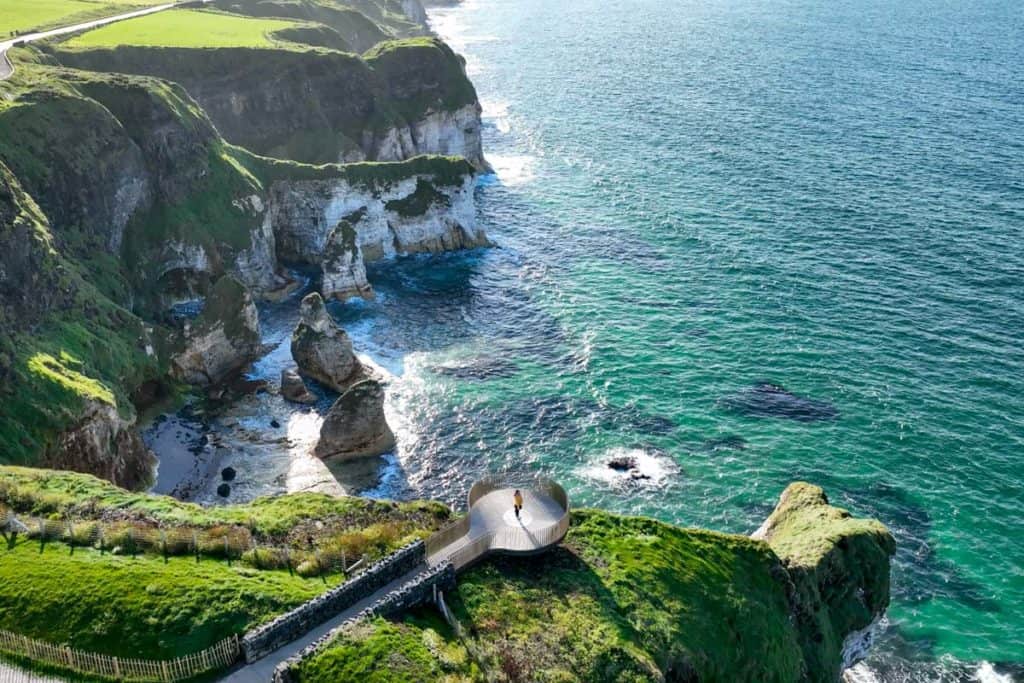 Re-visiting favorite spots in Ireland – After our Northern Ireland adventure, Elliot headed home and I joined an 8-day tour of the Republic of Ireland with a tour company called Globus. (I try my best to combine personal and work trips like this to cut down on how much I'm flying!) On this tour, we visited Dublin, Westport, Galway, and the Aran Islands, and it was so much fun re-visiting so many awesome spots in one trip. (I wrote a bit about it in this post.)
Going to the US Grand Prix – Finally, in October Elliot and I headed to Austin, TX to go to the US Grand Prix. Elliot has been a Formula 1 fan since he was a child, but going to a race in-person was a first for both of us! We had time to catch up with lots of friends in Austin, and then spent two days at COTA (the Circuit of the Americas racetrack) soaking up the F1 atmosphere. I'll eventually write about going to the race and whether the pricey Paddock Club tickets we bought were worth it, but rest assured we had an amazing time!
Travel lowlights
Getting sick on the road – It's been a while since I've felt under the weather on the road, but I ended up with a super sore throat for several days in Northern Ireland. It wasn't COVID, but I was convinced it was strep throat so I went to see a doctor. It's never fun trying to navigate healthcare in other countries, but I ended up being fine (it wasn't strep, and whatever it was Elliot never caught it from me), and only had to spend about $12 on some lozenges and a throat spray. Thankfully I felt better by the time I started my group tour!
September and October on the blog(s)
September brought with it the usual back-to-school traffic slump that almost all travel blogs experience every year. And, just like every other year, I had a mild freak out about a 25% drop in traffic before reminding myself that this is unfortunately not abnormal.
People have finished their summer travel, and aren't yet thinking forward to the holidays or beyond. It still sucks every year, though, especially when my August traffic numbers were pretty good!
A Dangerous Business traffic: 128,842 unique visitors and 183,121 pageviews in September; and 139,554 unique visitors and 191,952 pageviews in October
Most popular post: 5 Days in London: The Perfect London Itinerary for Your First Visit – After at least a dozen visits to London, I've finally put together what I feel like is the ultimate itinerary for a first-time visit.
Other posts published:
(And yes, I have more Iceland content to come!)
On my Cleveland niche site, the back-to-school traffic slump hit, but not quite as badly as it did on my main travel site. Numbers were down a bit in September, but I know that sweet, sweet holiday traffic is coming!
Cleveland Traveler traffic: 43,194 unique visitors and 55,414 pageviews in September; and 42,016 unique visitors and 53,726 pageviews in October
If you want to see what I've been up to on Cleveland Traveler lately, visit the site here.
September and October on social media
Nothing super exciting to report on social media in the last couple of months (no more viral videos), but I've still been having fun creating video content to share along with photos.
Most popular post on Instagram (@dangerousbiz): I shared mostly Iceland content in September and October, which always does well on Instagram. This reel from my favorite Iceland hike got the most views/engagement:
Most popular post on Instagram (@clevelandtraveler): On my Cleveland account, my guide to finding local fall color was the most popular, followed by this reel about glass blowing, and these ghost photos.
September and October business update
Remember, I report my earnings when they hit my bank account, meaning these advertising earnings are from June and July, and the affiliate earnings are mostly from August/September travel.
With money coming in from the peak summer travel season, my income was up in the last couple of months.
A Dangerous Business September income report:
Advertising: $12,903.52
Affiliates: $5,987.93
Course/product sales: $195.27
Travel campaigns: $3000
Other: $2,212.69
A Dangerous Business October income report:
Advertising: $9,498.6
Affiliates: $6,293.96
Course/product sales: $102.09
Other: $200
(Note that this is my income before deductions/expenses and taxes.)
On Cleveland Traveler, ad earnings are pretty steady, consistently hitting that $2K per month threshold now, which is more than I ever expected to make with this site!
Cleveland Traveler September income report:
Advertising: $2,699.09
Social media: $129.81
Cleveland Traveler October income report:
Advertising: $2,703.82
Product sales: $140.62
(Note: A Dangerous Business was started in 2010, and has been monetized for more than 10 years; Cleveland Traveler was started in 2019, and has been monetized for nearly 3 years.)
Business highs and lows
I can't think of anything notable in the last couple of months to report on here – which is actually a good thing!
Upcoming this winter
December: PNW in winter – This trip hasn't been fully fleshed out yet, but tentatively I'm planning a trip over New Year's with a friend to Washington and Oregon. We're thinking of hitting up the non-snowy parts of Olympic National Park, and the northern part of the Oregon coast. Yes, we're aware that it will probably be very wet and are okay with that!
January: Back to Scottsdale – I've visited Scottsdale a couple of times now, and have talked the Arizona city up so much that Elliot really wants to go! So we'll be heading back for about 4 days in mid-January. It should be a lovely sunny break from winter in Ohio!