Some posts on this site contain affiliate links, meaning if you book or buy something through one of these links, I may earn a small commission. Read the full disclosure policy
here
.
---
You might associate Scottsdale, Arizona with things like upscale golf courses, baseball spring training, and (increasingly these days) bachelorette parties. And you will indeed find all of those things in Scottsdale. But Scottsdale also has a great arts scene, incredible food and wine options, AND a wide variety of outdoor activities to enjoy.
I've now been to Scottsdale a few times, and every single visit I'm surprised by another cool outdoor adventure to try. From mountain biking to hiking to horseback riding to even paddling sports, Scottsdale offers a little bit of everything.
Here are the best outdoor adventures to enjoy in Scottsdale, whether it's your first visit or your fiftieth!
Note: This post is brought to you as part of a paid partnership with Experience Scottsdale. But, as always, all opinions are 100% my own and based on my personal experiences!
The best things to do outdoors in Scottsdale
1. Go for a hike
Scottsdale has some epic hiking options to choose from, whether you're looking for a gentle desert stroll or a challenging mountain trail. Most of the trails here are dotted with towering saguaro cacti, too, which is an added bonus!
Just a few of Scottsdale's popular hiking areas include:
McDowell Sonoran Preserve – This 35,500-acre preserve is home to 5 major trailheads that connect to more than 225 miles of desert trails. Most of the trails here are less than 5 miles long, with the most popular being the Gateway Loop Trail, the Tom's Thumb Trail, and Lost Dog Wash. And the Bajada Nature Trail is a flat, half-mile loop that's great for an easy desert walk.
Pinnacle Peak Park – The trail up to the summit of Pinnacle Peak is a great option in north Scottsdale. The total trail length is 4 miles, but my husband Elliot and I did a 2-mile out and back section of it and still got fantastic views.
Camelback Mountain – The most recognizable mountain in the area, Camelback Mountain is a popular hiking spot for locals and visitors alike. You can hike either the Echo Canyon or Cholla trail, both of which offer up some stunning views over Scottsdale and Sonoran Desert. (Just note that this is a very strenuous hike!) Find more info about climbing Camelback Mountain here.
Note: if you're visiting Scottsdale in summer, I don't recommend going on any of these hikes (except for maybe the Bajada Nature Trail) in the middle of the day. It will just be too hot and dangerous. If you want to hike during the summer months, choose a shorter trail and start as close to sunrise as possible!
The local REI co-op offers some guided hiking tours, too, if you want to learn more about the flora, fauna, and geology of the desert as you hike.
2. Try mountain biking
If you'd rather hit the trails on two wheels instead of two feet, Scottsdale has some great mountain biking options, too! Many area hiking trails are actually mixed-use trails suitable for mountain bikes, including trails in the Brown's Ranch Trail System, McDowell Mountain Regional Park, and McDowell Sonoran Preserve.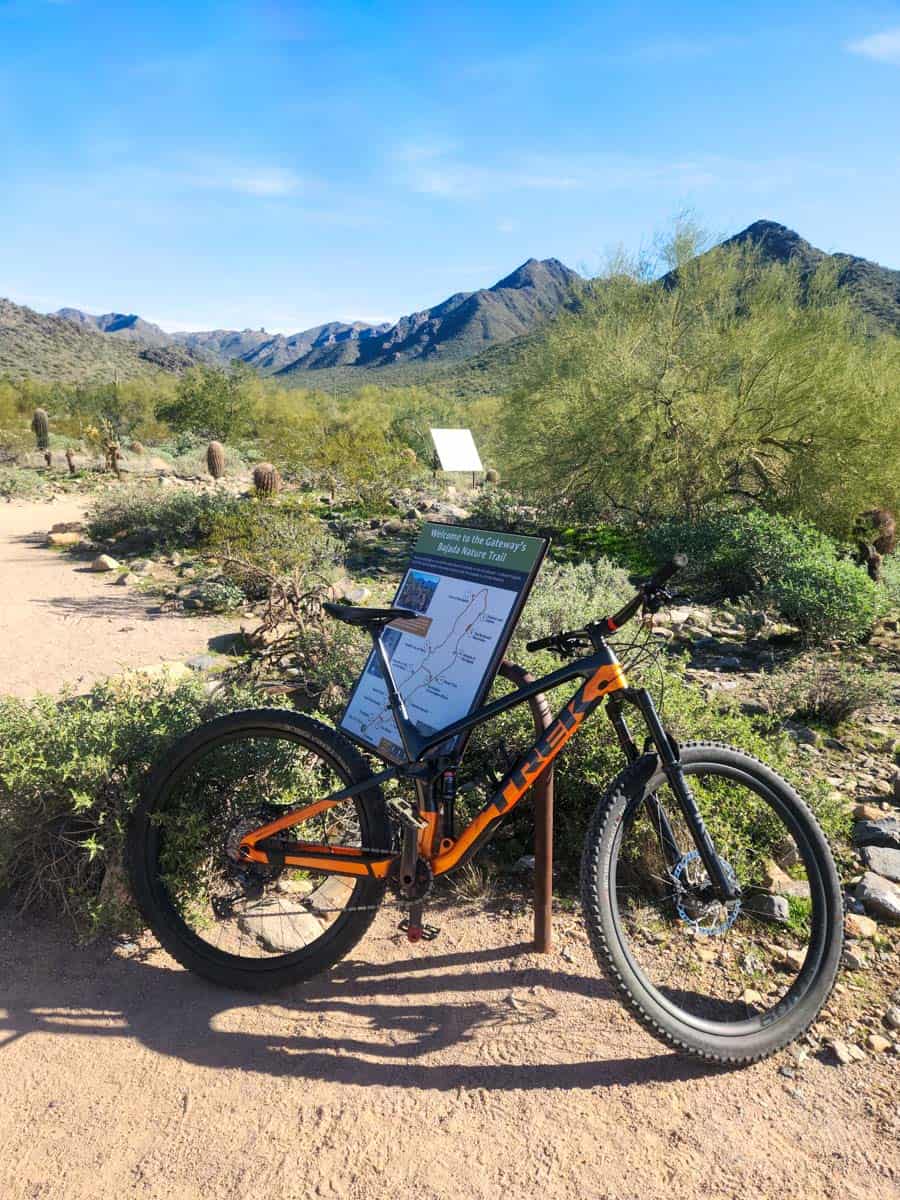 You can rent a mountain bike from REI Co-op and hit the trails on your own, or you can join a guided mountain bike tour (which is suitable for beginners!). There's even this e-bike desert tour if full-on mountain biking isn't your jam.
Elliot tackled part of the Gateway Trail in the McDowell Sonoran Preserve on our last visit, and said it was challenging but fun.
3. Sunrise hot air balloon ride
The Scottsdale area is a great spot for a hot air balloon ride, especially if you've never tried one before. Hot air ballooning is quiet and peaceful and a great way to experience the desert. You can watch the sun come up as you float above the desert landscape, keeping your eyes peeled for wildlife below.
There are a couple companies in the Scottsdale/Phoenix area that offer hot air balloon rides over the Sonoran Desert, with all the sunrise options ending with a champagne breakfast. (Book your own tour here.)
RELATED: Top 10 Romantic Things to Do in Scottsdale
4. Go horseback riding
This might be surprising if you only associate Scottsdale with luxury golf resorts, but north of Scottsdale you'll find a thriving ranch culture! There are several ranches in this part of Arizona – and even a bar (the Buffalo Chip Saloon) in Cave Creek that hosts amateur bull riding twice a week!
If you want to feel like a bit of a cowboy (or girl) during your time in Scottsdale, you can book a desert horseback riding tour. MacDonald's Ranch is located in north Scottsdale, and their all-levels horseback riding tours are the perfect way to experience the Sonoran Desert.
You'll feel worlds away from downtown Scottsdale as you're riding between towering Saguaro cacti with mountains in the distance. (And no riding experience is needed!)
This self-professed "horse girl" loved the chance to do something like this in Scottsdale!
5. Paddle the Salt River
When the weather gets hot in Scottsdale, you'll want to head for the water – because yes, there's water nearby! One of the most popular spots to cool down on a hot day is the Salt River. This 200-mile-long river is a short drive from Scottsdale, and you can enjoy it on a tube, raft, or kayak.
Because the Salt River is fed from up in the mountains, the water is always nice and cool in the summer – perfect for paddling or a quick dip!
I've done this Lower Salt River Kayaking Tour with REI Co-op Experiences, which was a beautiful and relaxing paddle. Or there's a relaxed rafting option, too, suitable for the whole family.
If you're lucky, you might see some of the wild horses that live within the nearby Tonto National Forest during your paddle. The horses come to the Salt River to drink and cool off (especially in the mornings) during the summer months.
RELATED: How to Spend 3 Days in Scottsdale
6. Go on an ATV or UTV adventure
One of the most exciting outdoor adventures I've had in the Scottsdale area was the UTV tour Elliot and I did with Stellar Adventures. These tours take you far out into the Sonoran Desert in the Tonto National Forest, where you tackle off-road trails in beefy UTVs.
The company provides a guide and all the safety gear you need; you only need to bring a sense of adventure – and a willingness to get really, really dusty.
Our 2-hour tour included a full 2 hours out on the trails, with a handful of stops for water and photos. Stellar Adventures offers both ATV tours and UTV tours, though I personally prefer UTVs!
If driving on your own off-road terrifies you, though (I get it; I am that person), you can also book an off-road Jeep tour or Hummer tour where someone else does the driving!
7. Hit the golf courses
And, yes, you can of course golf to your heart's content in Scottsdale, too! There are more than 50 golf courses IN Scottsdale and 200 (TWO HUNDRED) golf courses in the surrounding area, so you really do have your pick.
Scottsdale hotels for outdoor lovers
Honestly, most hotels in Scottsdale offer desert views and outdoor-centric vibes; you can't really go wrong. But a couple I would specifically recommend for their outdoorsy feel include:
Andaz Scottsdale Resort & Bungalows – This vibe-y hotel with views of Camelback Mountain consists of low-slung bungalows that do a good job of blending in to the desert landscape. It's one of the more affordable options in Scottsdale, and one of my favorite hotels there.
Four Seasons Resort Scottsdale at Troon North – Along with beautiful rooms that include nods to Adobe architecture, this Four Seasons resort also has two golf courses, a private hiking trail leading to Pinnacle Peak, and wellness programs that include things like a "Desert Bathing experience."
The Boulders Resort & Spa – Along with two award-winning golf courses, the 5-star Boulders Resort also offers rock climbing classes and stargazing with a professional astronomer. It's the perfect spot for any outdoors lover.
RELATED: Where to Stay in Scottsdale Based on Your Travel Style
---
What sorts of outdoorsy things do you enjoy doing when you travel?