Some posts on this site contain affiliate links, meaning if you book or buy something through one of these links, I may earn a small commission. Read the full disclosure policy
here
.
---
When it comes to weekend getaway destinations, the city of Scottsdale, Arizona, really is the full package. It's easy to get to and get around, has a great food scene, is close to nature, and is more artsy than most people realize.
Oh, and it's also sunny year-round, and is somewhere you can visit in any season!
I've visited Scottsdale more than once, and am continually surprised by everything the city of 250,000 people has to offer.
Previously, I had always assumed that Scottsdale was exclusively for golfing and luxury spas. And while you CAN find those things there, there are so many more things to do in Scottsdale other than golf!
Whether you love food, art, spas, or the outdoors, Scottsdale has something for you. Below, find three different Scottsdale itineraries based on interests, each one perfect for a long weekend in Scottsdale!
Note: This post is brought to you as part of a paid partnership with Experience Scottsdale. But, as always, all opinions are 100% my own and based on my personal experiences!
The itineraries you'll find in this post include:
3 Days in Scottsdale for the art lover
3 days in Scottsdale for the wellness seeker
3 days in Scottsdale for the adventurer
3 Days in Scottsdale for the art lover
Scottsdale is an extremely artsy city. It has multiple art museums and galleries, has been home to some brilliant architectural minds, and has more than 100 pieces of public art scattered throughout the city.
Highlights of this artsy itinerary:
Scottsdale's public art
Several of the city's museums and interactive spaces
Some famous architects and designers
The Scottsdale Wine Trail
Day 1: Arrival and Old Town
Chances are you'll be flying into Phoenix, and from the airport it's only about a 20-minute drive to Scottsdale. I recommend making straight for Old Town Scottsdale, where you can start exploring Scottsdale's quirky, artsy side.
If you arrive in time for lunch, I recommend hitting up either The Mission (their table-side guacamole is art in itself) or Craft 64 for woodfired pizza and craft beer. You can also grab a sweet treat at Super Chunk (known for their cookies) or Sugar Bowl (an old-school ice cream parlor serving up shakes, malts, and floats).
Then, you can spend some time getting to know Old Town Scottsdale and the Arts District. This part of the city comprises shops, restaurants, and lots of art galleries that you can pop in and out of.
Old Town is also home to a lot of Scottsdale's public art. Public art is a big part of Scottsdale's identity; so much so that the city levies what essentially equates to an art tax on any new construction projects, with a certain percentage of the project's total budget required to be set aside for the Public Art Program.
In Old Town Scottsdale, you can follow a self-guided public art walking tour that will take you past 10 of Scottsdale's most famous works of public art in about an hour. Find the map for this walk here.
You also may want to check out part of the Scottsdale Wine Trail today – because wine is its own art form, right? Scottsdale's urban wine trail currently has 7 stops scattered throughout Old Town Scottsdale. My favorites are LDV Winery Tasting Room, Carlson Creek (which doubles as a small art gallery), Arizona Stronghold Vineyards, and Merkin Vineyards (which is owned by Tool frontman Maynard James Keenan).
For dinner tonight, try Citizen Public House. This spot is know for its craft cocktails and good food, including bacon-fat popcorn (SO GOOD) and a chopped salad that has its own Facebook page (seriously).
---
Where to stay in Scottsdale
My picks for artsy hotels in Scottsdale include Hotel Valley Ho and the Andaz Scottsdale Resort & Bungalows.
Hotel Valley Ho is a beautifully preserved mid-century modern hotel that has been a favorite Hollywood getaway since it opened in the 1950s. Today, the hotel oozes Mad Men vibes, and you can book an architecture tour to learn about its design, restoration, and history (I highly recommend this!). (Book a room here)
The Andaz Scottsdale Resort & Bungalows is basically a Millennial dream property, with cute one-story bungalows instead of stacked hotel rooms, and lots of pops of bright color and cacti. You can go on an "Instagram walk" to learn about the property, and can admire lots of artwork on display through the Andaz's partnership with the local Cattle Track artists compound. (Book a room here)
---
Day 2: Museums, museums, museums
Today, focus on some of Scottsdale's best museums.
Start out at the Scottsdale Museum of Contemporary Art (SMoCA), which is a small but very thoughtful contemporary art museum in Old Town Scottsdale. Exhibits change a couple times per year, so check out their website to see what's currently on.
While at SMoCA, don't miss the Knight Rise skyspace and Environ exhibits, which are ongoing and partially outside along the front side of the building. (I won't lie: the spool chairs in the Environ room were my favorite thing at this museum!)
Next, you can walk to Western Spirit: Scottsdale's Museum of the West (it's less than 10 minutes on foot). This museum focuses on the art, culture, and history of the American West. There's a nice mix of art, sculpture, and historical items on display, so be sure to allow at least 1-2 hours here to see everything.
For lunch today, head to Diego Pops for delicious (and beautiful) Mexican food. My favorites include the braised pineapple pork taco and the Brussels sprout nachos.
After lunch, head up to Scottsdale's Fashion Square. Fashion Square is a massive upscale shopping complex – but no, I'm not telling you to go shopping! (Though of course you can do that, too!)
Housed inside Fashion Square is the first permanent installation of Wonderspaces, an immersive and interactive art space with revolving exhibits by artists from around the globe. Wonderspaces is SUCH a cool concept, and might be my favorite way to experience contemporary art.
We spent nearly 2 hours here, going slowly through every exhibit. There's also a bar inside Wonderspaces, so you can sip on a cocktail or beer as you make your way through the different spaces.
The best part about Wonderspaces is that they change out all the exhibits a couple times per year, meaning you can visit more than once on different trips and still see something completely new!
For dinner tonight, check out FnB, a farm-to-table spot by James Beard Award-nominated chef Charleen Badman, or perhaps Marcellino Ristorante, which is a great romantic spot in Scottsdale.
RELATED: 7 Reasons You Should Put Scottsdale, Arizona on Your Must-Visit List
Day 3: Get your architecture on
One thing I was surprised to learn was that Scottsdale has for decades been a center for great architectural minds. I guess this makes sense due to the great weather and the fact that the city has been a popular Hollywood getaway for more than half a century. But it was still fascinating to learn about!
On your third and final artsy day in Scottsdale, I recommend getting to know this other type of art in the city.
If you decide to stay at Hotel Valley Ho while in Scottsdale (highly recommended!), you can book a spot on the hotel's Magical History Tour, which is a 90-minute tour of the hotel and its history (bookable through the concierge).
The hotel was designed by architect Edward Varney, who studied under Frank Lloyd Wright. The tour also includes some juicy stories of the hotel's Hollywood past!
Next, it's time to head a little north of central Scottsdale to visit Cosanti Originals. Italian architect Paolo Soleri (another of Frank Lloyd Wright's students) lived and worked here up until his death in 2013. He's now most known for his Soleri Windbells, which you can see all over the site.
Take a walk around Cosanti on your own (it feels lifted straight out of Star Wars!), or join a guided tour that includes watching artists at the foundry pouring molten bronze into bell molds. These demonstrations take place twice per day, around 11 a.m. a 1 p.m.
For lunch, I recommend going to Postino, known for its affordable wines and bruschetta boards. There are two Postino locations in Scottsdale to choose from, both about a 10-minute drive from Cosanti. I went to Postino Highland, which is located in a restored mid-century bank (are you seeing a theme today?).
This afternoon, it's time to learn about the mid-century master himself. Drive out to Taliesin West, Frank Lloyd Wright's winter home, studio, and architecture school. The drive is about 20 minutes from either Postino location.
Taliesin West is part of a brand new UNESCO World Heritage Site honoring Wright's most iconic works, and is well worth a visit and a tour. The standard tour is the Insights Tour, which is 90 minutes long and runs every 15 minutes up until 4 p.m. Booking your tour in advance is highly recommended!
After Taliesin, head back into Scottsdale for your last night in town. For dinner tonight, I recommend ZuZu at Hotel Valley Ho, which was recently remodeled but still retains its '50s vibe. Everything I tried here was delicious – but try to save room to try one of the restaurants Show Stopper Shakes, which change every month.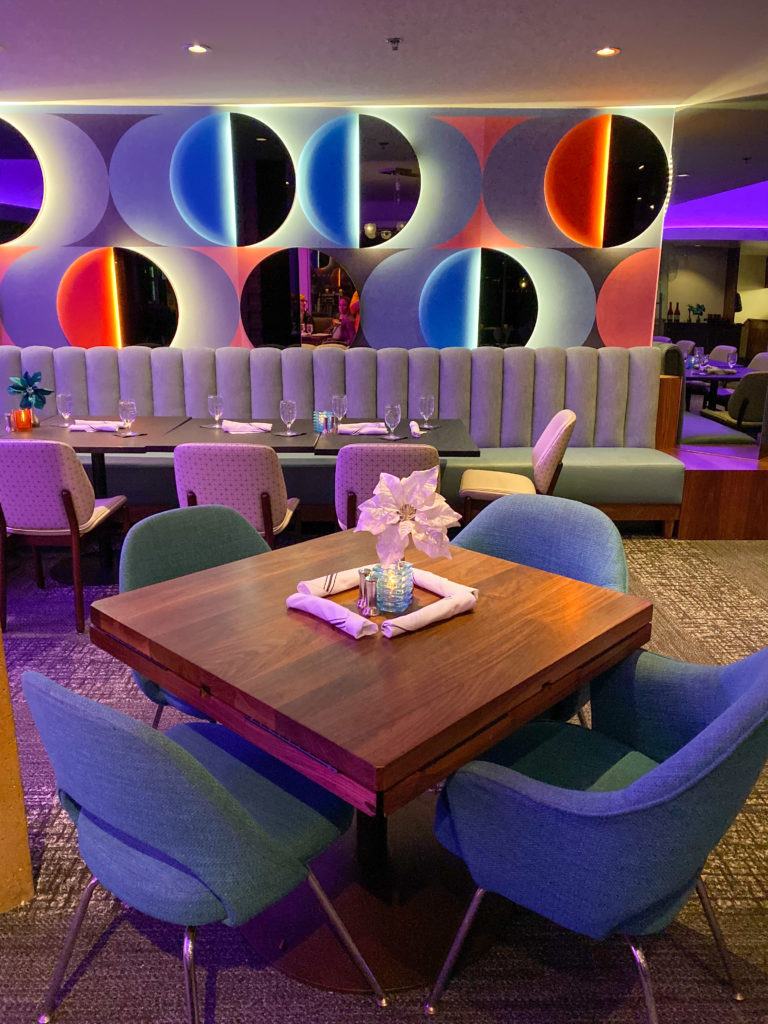 ---
Renting a car in Scottsdale
There are lots of ways to get around in Scottsdale, including affordable Lyft and Uber rides, and electric scooters. (Plus, Old Town is totally walkable!)
But for these itineraries, you'll probably want to rent a car from the Phoenix Airport. In the US, I like using Discover Cars to compare rental car prices.
The great news is that most of the parking in Scottsdale is free!
---
3 days in Scottsdale for the wellness seeker
Scottsdale is often ranked as one of the most livable cities in the US – and also one of the happiest! Which is perhaps why the concept of "wellness" is so popular here.
The dictionary definition of wellness is "the quality or state of being healthy in body and mind, especially as the result of deliberate effort." And Scottsdale is a great place for a wellness getaway!
Highlights of this wellness itinerary:
Best bites in Scottsdale
Where to go for a spa day
Ways to expand your mind
Fun ways to get active in Scottsdale
Day 1: Arrival and food tour
Start out your time in Scottsdale with an afternoon food tour by trolley! Scottsdale has SO many incredible restaurants, and this tour hits up some good ones and will also give you a good introduction to Scottsdale and its history.
I know stuffing your face for 3 hours may not sound super healthy, but food tours can be a great way to try a variety of restaurants without absolutely gorging yourself. (There's also this walking food tour if you'd prefer to work off some of those calories as you go!)
After your food tour, you might want to hit up the Scottsdale Wine Trail today – because wine is good for you, right? Scottsdale's urban wine trail currently has 7 stops scattered throughout Old Town Scottsdale. My favorites are LDV Winery Tasting Room, Carlson Creek (which doubles as a small art gallery), Arizona Stronghold Vineyards, and Merkin Vineyards (which is owned by Tool frontman Maynard James Keenan).
You probably won't need a full dinner tonight after your food tour, but if you want to go somewhere for drinks and light bites, consider Farm & Craft.
---
Wellness resorts in Scottsdale
You might actually want to split your time on this itinerary between two different hotels. In central Scottsdale, I recommend either the Bespoke Inn or the The Canyon Suites at the Phoenician. Outside of Scottsdale, I recommend CIVANA Wellness Resort and Spa.
The Bespoke Inn is a small boutique hotel located within walking distance to most of Old Town Scottsdale. The inn does not offer a spa, but it does offer a small infinity pool, a relaxing courtyard, a good restaurant, and free bike rentals for guests. (Book a room here)
 Canyon Suites at The Phoenician is basically a resort within a resort at The Phoenician, one of the most famous luxury hotels in Scottsdale/Paradise Valley. Guests at the Canyon Suites have a dedicated reception and concierge, a separate secluded pool, but access to everything on The Phoenician property – including the spa. (Book a room here)
CIVANA Wellness Resort and Spa is located in a small town called Carefree – how perfect for a wellness retreat! This desert resort has a beautiful spa, tranquil rooms, multiple restaurant options, and a bunch of classes and activities that are included for free with your stay. It's also really affordable for everything that's included. (Book a room here)
Read my full review about staying at CIVANA here.
---
Day 2: Feed your soul with art and the outdoors
If you stayed in central Scottsdale your first night, then start off your day appreciating some of the great art throughout Scottsdale.
Stroll through Old Town to see some of Scottsdale's numerous public art installations. Follow this self-guided public art walking tour to see some of the best in about an hour.
You also can stop in to the Scottsdale Museum of Contemporary Art (SMoCA), which is a small but very thoughtful contemporary art museum in Old Town Scottsdale. Exhibits change a couple times per year, so check out their website to see what's currently on.
For lunch, try the Original ChopShop for healthy midday bites (they have several locations around the Scottsdale area).
If you want to get some fresh air this afternoon, you could consider heading to the McDowell Sonoran Preserve, a 30,500-acre nature preserve where 5 major trailheads connect to more than 200 miles of desert hiking trails. It's only about 20 minutes from Scottsdale, and on the way to CIVANA, where I recommend spending the next 2 nights.
One caveat for the Sonoran Preserve: IF you're visiting in summer, I don't recommend going on a strenuous hike in the middle of the day. It will just be too hot. You can still stop by, though, and maybe just walk the half-mile Bajada Nature Trail in order to get your fill of saguaro cacti and desert landscapes.
If you're visiting in the winter (which would be my preferred time to visit Scottsdale!), then you could definitely squeeze in a hike this afternoon.
Afterwards, make your way north to CIVANA. Be prepared to potentially see some epic desert sunsets here.
Tonight, have dinner at Terras at CIVANA, which serves up great cocktails and veggie-forward meals.
Day 3: Spa day!
No wellness retreat to Scottsdale would be complete without a spa day!
At CIVANA, a spa day can look different depending on what your interests are, since this resort offers so many different classes, activities, and treatments to choose from.
Maybe start your morning with a guided hike or cardio class to get your blood flowing.
Afterwards, catch a cooking demonstration with one of CIVANA's wellness chefs, join a yoga class, or enjoy a leisurely healthy lunch at Cafe Meto (their smoothies are really good!).
In the afternoon, indulge in the spa. Treatment options range from massages to facials, and you can also enjoy all the spa's amenities like steam rooms, sauna, a private pool, and the aqua vitality circuit. The relaxation room in the spa is also really lovely.
This evening, wind down with a yoga class, a walk around the property to enjoy the sunset, or a relaxing dip in the pool or hot tub.
You can have dinner and drinks again at Terras, and revel in the last few hours of your wellness getaway.
RELATED: 10 Romantic Things to Do in Scottsdale for the Perfect Couples Getaway
3 days in Scottsdale for the adventurer
Where are my nature and adventure lovers at? Even though Scottsdale is known for its golf courses, spa culture, food, and art, the city is perfectly located for lots of outdoor activities, too. Scottsdale is in the desert, but also close to mountains, rivers, and plenty of adventurous things to do.
Highlights of this adventure itinerary:
Hot air ballooning at sunrise
Places to hike near Scottsdale
Adventurous outdoor activities to try
Cool places to eat in Scottsdale
Day 1: Arrival and Old Town
Upon arriving in Scottsdale, it's time to fuel up before some afternoon adventure! Head into Old Town Scottsdale for lunch and hit up The Mission, which is located next to the historic Old Adobe Mission in Old Town Scottsdale. No matter what else you order here, be sure to get the guacamole, which they make fresh at your table!
In the afternoon, get to know more about Scottsdale with a golf cart tour of the city. It's legal to drive golf carts on the road in Old Town, and several companies offer golf cart transport and even tours.
I recommend a tour with JoyridesAZ. They have all different types of tours to choose from, from the classic Urban Historic tour, to Native American Culture tours, to a Sip & Shop tours. Choose whichever jumps out to you.
For dinner tonight, check out Hula's Modern Tiki, which serves up Hawaiian-inspired food and drinks in a cool space that does the tiki hut theme tastefully.
---
The best Scottsdale hotels for nature lovers
You can argue that any hotel in Scottsdale would be great, as most offer desert views and a tranquil environment.
For a hotel that won't break the budget, I recommend the Andaz Scottsdale Resort & Bungalows. It has views of Camelback Mountain, but isn't too far away away from downtown Scottsdale. (Book a room here)
If you're looking for a luxury splurge, look at The Phoenecian, which sits right at the bottom of Camelback Mountain, or The Boulders Resort & Spa, which is out near CIVANA and has two golf courses.
---
Day 2: Land and water
Start out your second day in Scottsdale with a morning hike.
Right in Scottsdale is Camelback Mountain, and a hike to the top is very popular among locals and visitors alike. You can hike either the Echo Canyon or Cholla trail, both of which offer up some stunning views over the city and Sonoran Desert. Just note that this is a VERY strenuous hike and not recommended during the summer. Find more info about climbing Camelback Mountain here.
If you're looking for a less-intense hiking experience, I recommend driving 20ish minutes out to the McDowell Sonoran Preserve. This 35,500-acre preserve is home to 5 major trailheads that connect to more than 225 miles of desert trails, ranging in length and difficulty. The most popular trails are the Gateway Loop Trail, the Tom's Thumb Trail, and Lost Dog Wash.
Or, a good middle-ground hike would be the trail up to the summit of Pinnacle Peak in north Scottsdale. The total trail length is 4 miles, but you can just do a portion of it and still get fantastic views.
For lunch today, visit Diego Pops for tacos or perhaps a Sonoran hot dog (a bacon-wrapped all beef hot dog with lots of toppings).
This afternoon, head out with REI Co-op for a Lower Salt River Kayaking Tour. You may not know this, but Scottsdale is close to the Salt River, a 200-mile-long river in Arizona.
Kayaking down the Lower Salt River is relaxing and beautiful, and you'll have the chance to swim if it's really hot. If you're lucky, you might even see some of the wild horses that live within the nearby Tonto National Forest.
Have a chill evening tonight with dinner at Craft 64. They serve woodfired pizzas (with homemade mozzarella!), and have a huge selection of craft beers.
Day 3: Balloons and bikes
Since last night was pretty chill, you should have no problem getting up extra early this morning for a sunrise hot air balloon ride!
I did this tour with Hot Air Expeditions, and loved every minute of it! We floated over the Sonoroan Desert near the Phoenix Mountains, keeping our eyes peeled for jackrabbits and stately saguaro cacti below us. If you've never been up in a balloon before, this is a great spot to try it out!
Afterwards, you might want to head back to your hotel for a quick nap, or maybe go off in search of coffee. In Scottsdale, both Cartel Coffee Lab and JOJO Coffeehouse are good bets, with JOJO offering up a full menu complete with coffee flights and mimosa flights!
For lunch today, check out Rehab Burger Therapy, where you'll find a laid-back vibe and some creative burgers.
After lunch, you might want to have a wander around the shops and galleries in Old Town Scottsdale, or perhaps visit Wonderspaces (the immersive and interactive art space mentioned above in my artsy Scottsdale itinerary).
Later this afternoon, you can tackle another outdoor adventure like mountain biking. This part of Arizona has some of the best mountain biking trails in the Southwest, so it seems silly not to take advantage of them.
Sign up for a Half-Day Scottsdale Mountain Bike Tour with REI Co-op; they have options for all skill levels, and will supply all the equipment you need, including a bike. (Or you can also rent a bike and take to the trails yourself if you have some experience.)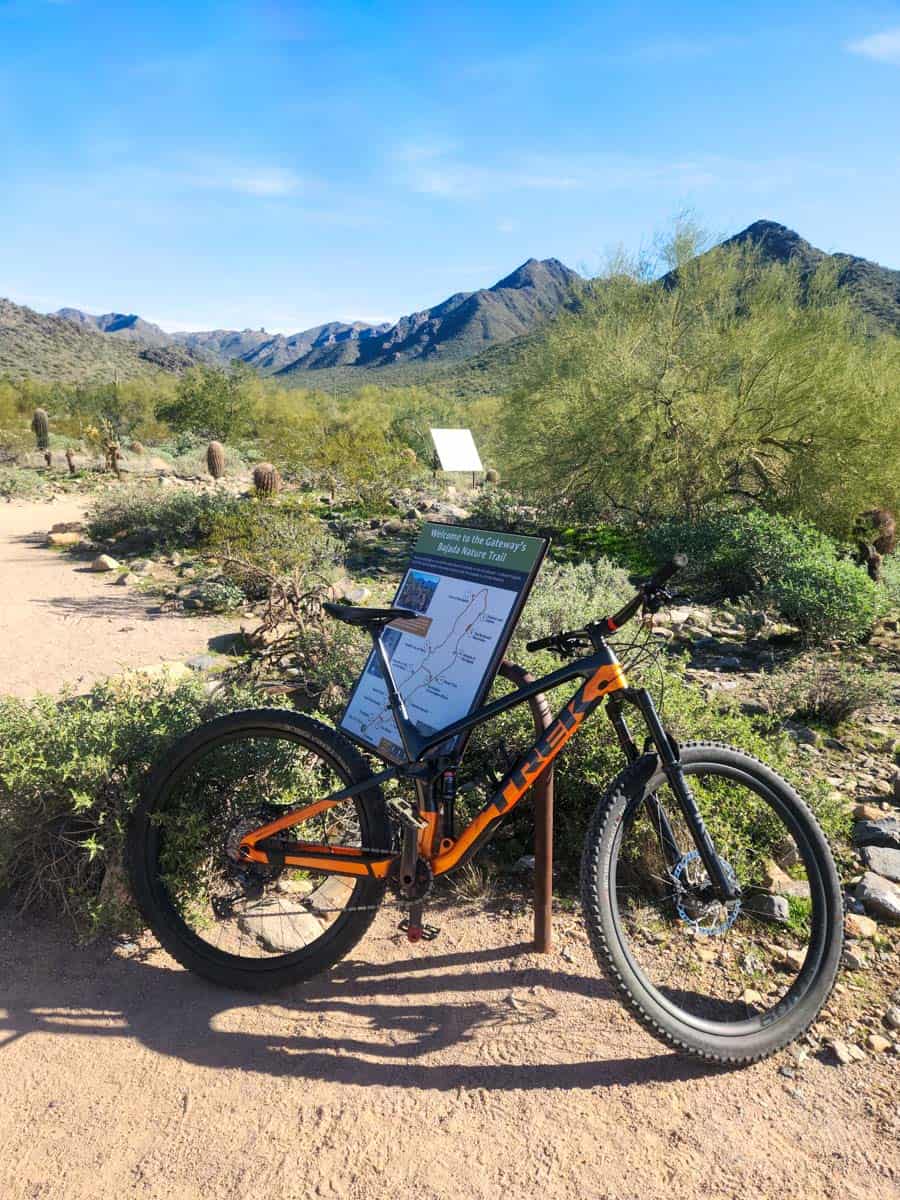 Not into mountain biking? There are several other fun options, including horseback riding or an ATV tour. Check out my guide to outdoor adventures in Scottsdale for more ideas!
This evening, unwind with dinner at your hotel and maybe a soak in a hot tub or pool after all the Scottsdale adventure!
If you're up for one more "adventure" this evening, book at table at Platform 18, which is an immersive, speakeasy-style bar at Century Grand. Platform 18 is set up to resemble the inside of a classic train car, and your 90-minute "ride" comes complete complete with digital windows that make it look/feel like you're chugging through the countryside.
The drinks menu is unique, with craft cocktail options that you won't find anywhere else (try the clarified milk punch!).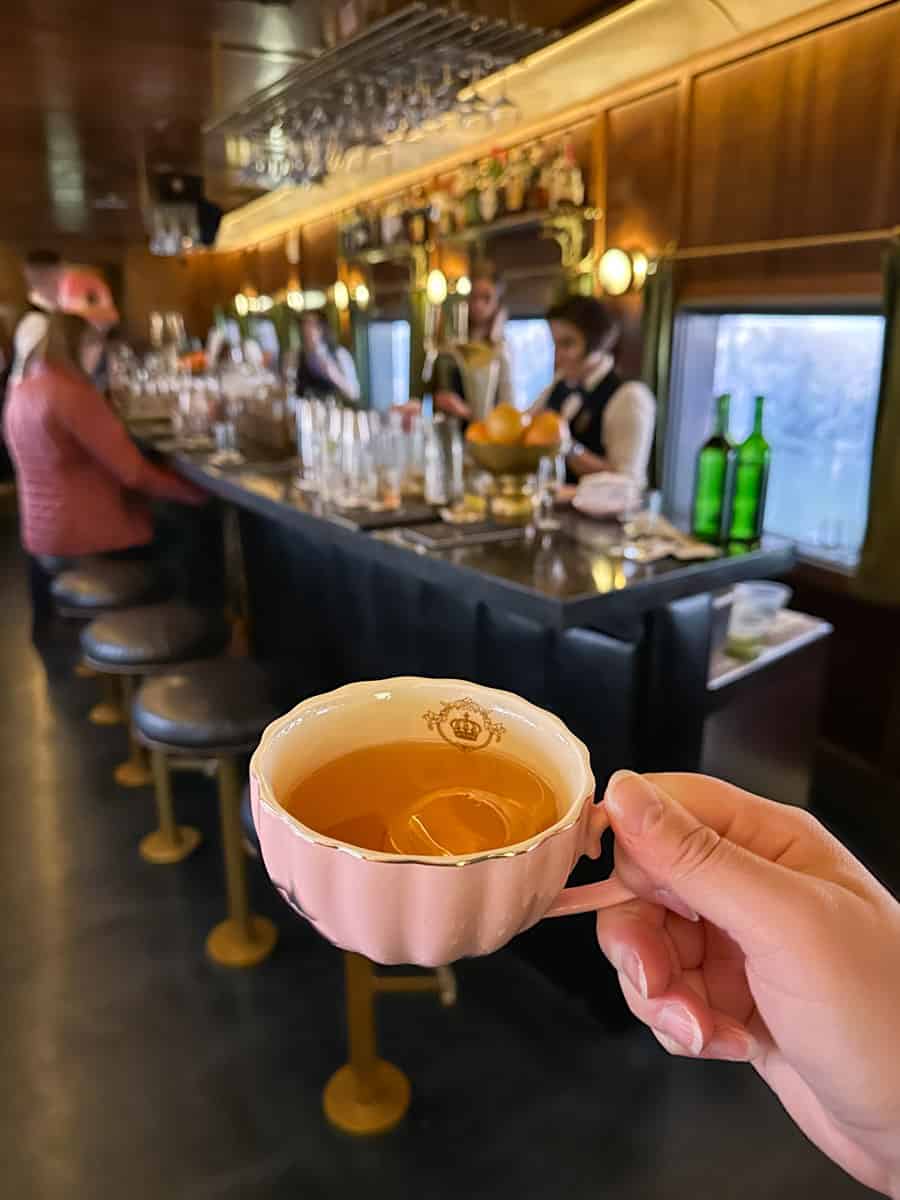 ---
Whew. Okay. There you have it: Three days in Scottsdale 3 different ways! And would you believe that I still didn't cover everything you can do in this Arizona city??
Scottsdale is an excellent destination no matter what kind of getaway you're looking to have. Hopefully this post has given you some ideas for your next trip!
READ NEXT: Is Summer the Best Time to Visit Scottsdale?
---
Which Scottsdale itinerary would YOU be most excited to try?
Pin it for later: