Some posts on this site contain affiliate links, meaning if you book or buy something through one of these links, I may earn a small commission. Read the full disclosure policy
here
.
---
Have you heard? I've fallen in love with the desert city of Scottsdale, Arizona.
After two visits in the past year, I've racked up all sorts of unique Scottsdale experiences, from hiking among saguaro cacti, to tracing the urban wine trail, to hot air ballooning over the desert at sunrise, to watching amateur bull riders at a western bar.
Who knew there were so many cool things to do in Scottsdale?
And that list just scratches the surface. There are also art museums and architecture to admire, outdoor activities like kayaking and mountain biking, and tons of great food and drink to try. In fact, writing this kind of makes me want to plan another trip to Scottsdale!
If you're thinking of planning your own trip to this desert destination, you might be curious about where to stay in Scottsdale. Scottsdale has a long list of hotels and resorts to choose from and, frankly, a LOT of them are really great.
But if you want some specific suggestions based on places I've actually stayed in Scottsdale, here are my top picks for the best Scottsdale hotels.
Note: This post is brought to you as part of a paid partnership with Experience Scottsdale. But, as always, all opinions are 100% my own and based on my personal experiences! I've stayed at all these properties personally.
6 of the best hotels in Scottsdale
1. Hotel Valley Ho – For architecture lovers
Did you know that Scottsdale used to be a favorite getaway for the Hollywood elite? When Scottsdale first incorporated back in the 1950s, it was still considered pretty remote, meaning movie stars and famous musicians could escape from the prying eyes of the paparazzi in Scottsdale.
One of the favorite celebrity haunts from this period was the Hotel Valley Ho.
Opened in 1956, the Hotel Valley Ho was designed by architect Edward Varney, who studied under Frank Lloyd Wright. All the great mid-century modern details from the original hotel have been beautifully preserved – in fact, this hotel is considered to be one of the best-preserved mid-century hotels in the United States.
The Hotel Valley Ho gives off some major Mad Men vibes, but also has more modern amenities like a spa, two swimming pools, flat-screen TVs, and free wifi.
The rooms: You can stay in one of the original low-slung buildings that fan out from the Hotel Valley Ho's lobby, or you can book a suite in the hotel's newer tower, many of which come with full kitchens and sitting areas.
Must-do: Book a spot on the hotel's Magical History Tour, which is a 90-minute historical tour of the hotel. You'll learn all about the hotel's history and architecture, plus hear some juicy stories of the hotel's Hollywood past!
Where to eat: The hotel just revamped its ZuZu restaurant, which has both '50s vibes and an excellent menu. You'll want to save room after your meal for one of their Show Stopper Shakes, which are over-the-top milkshakes that change every month.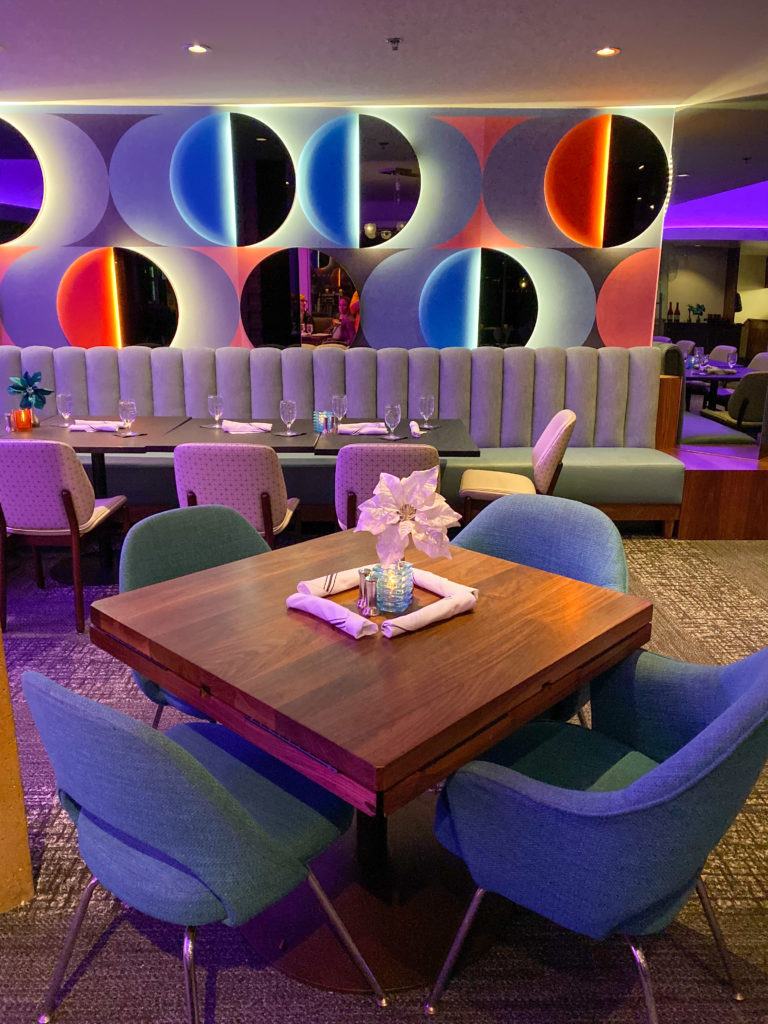 Good to know: The Hotel Valley Ho is still a Scottsdale favorite with celebrities, so you never know who you might run into! The hotel is also known for its summer pool parties, so if you're a light sleeper you might not want to book a room right next to the OH Pool.
Why I loved it: The history and style, of course! I wanted to move into my suite permanently. AND, I also love that this is a hotel in Scottsdale that doesn't charge a resort fee.
How to book: Read more reviews on TripAdvisor, or book a room here on Booking.com.
2. Andaz Scottsdale Resort & Bungalows – For the Millennial traveler
You don't *have* to be a Millennial to enjoy the updated Andaz Scottsdale Resort, but I think the hotel does definitely appeal to the younger crowd.
With cute one-story bungalows instead of stacked hotel rooms and lots of pops of bright color and cacti, the Andaz Scottsdale Resort & Bungalows is basically my Millennial dream property. The Andaz is also filled with artwork, all of which comes from artists at the nearby Cattle Track Arts Compound.
The hotel has a large swimming pool with cabanas and a bar, along with a spa and fitness center with a quieter, private pool. In the summer months, the pool hosts pool parties, movie nights, and more.
The rooms: The bungalow-style rooms and suites at the Andaz are spacious (the smallest rooms are still more than 300 square feet) and have a mid-century modern design on the inside. They all have flat-screen TVs, free wifi, and an in-room cocktail bar. Each room has its own outdoor terrace or patio, too.
Must-do: Plan a relaxing pool day, or book at service at the Palo Verde Spa & Apothecary.
Where to eat: Grab breakfast, brunch, or dinner from Weft & Warp Art Bar + Kitchen, where they serve up tasty and healthy dishes overlooking the Turquoise Pool.
Good to know: The resort fee you pay at the Andaz includes things like rides in the hotel's Tesla anywhere within a 3-mile radius of the hotel, access to the Cattle Track Art Compound, and even complimentary GoPro usage during your stay.
Why I loved it: This hotel is beautiful and relaxing, but in a fun and vibrant way. I loved the bungalow-style rooms (you don't have to worry about loud upstairs neighbors!), and the fact that you can see Camelback Mountain from so many points on the property.
How to book: Read more reviews on TripAdvisor, or book a room here on Booking.com.
3. Bespoke Inn – For an intimate boutique experience
If you're looking for a relaxing, and rather romantic retreat in Old Town Scottsdale, then The Bespoke Inn is the place for you. This small boutique hotel offers just 10 rooms in the Arts District just south of downtown Scottsdale, making it the perfect base for exploring Old Town's public art and restaurants.
There's no spa here, but The Bespoke Inn does offer a relaxing courtyard, restaurant, and small infinity pool.
The rooms: The rooms at The Bespoke Inn are cozy and include luxurious details that ooze character, like plush leather arm chairs, claw-foot bathtubs, and leafy patios where you can sip coffee or a glass of wine. Each room and suite is slightly different, like in any good B&B.
Must-do: Take a bike out and explore Old Town Scottsdale. It's filled with public art, great restaurants, and even an urban wine trail!
Where to eat: The Bespoke Inn is home to Virtù HONEST CRAFT, an excellent Italian/Mediterranean restaurant run by James Beard-nominated chef Gio Osso. Virtù is open for brunch and dinner, and reservations are recommended.
Good to know: The Bespoke Inn offers free bike rentals to all its guests.
Why I loved it: You can easily walk to restaurants and museums (the Scottsdale Museum of the West is just two blocks away), and it really is a relaxing oasis in the center of Scottsdale.
How to book: Read more reviews on TripAdvisor, or book a room here on Booking.com.
4. The Canyon Suites at The Phoenician – For a romantic resort getaway
If a full-service resort-style hotel is more your speed for a romantic getaway but you'd still like a little pampered luxury, then you need to check out the Canyon Suites at The Phoenician. The Phoenician is one of the most famous luxury hotels in Scottsdale/Paradise Valley, and the Canyon Suites is basically a resort within a resort.
The 5-star luxury property has a dedicated reception area, large suite-style rooms, a special tucked-away pool with views of Camelback Mountain, and easy access to everything at The Phoenician like the golf courses and spa.
The rooms: The Canyon Suites has a mix of 60 luxurious rooms and suites. They're all large and contemporary, and all have private patios or balconies. Even the regular rooms have massive bathrooms, plush robes, and in-room Nespresso coffee machines, among other amenities.
Must-do: Enjoy a day by the secluded Canyon Suites pool, or spend time exploring the rest of The Phoenician property – ask for a golf cart ride to any parts that are far away! Check out the multi-tiered pool area, book in for a spa service, and have drinks on the terrace of the Thirsty Camel bar.
Where to eat: You can have breakfast in the Canyon Lounge and snacks at the pool area, and then The Phoenician has three restaurants (J&G Steakhouse, Mowry & Cotton, and The Phoenician Tavern), a pool bar, a golf course grill, plus a grab-and-go marketplace. They also serve afternoon tea.
Good to know: This is a AAA Five Diamond resort, and it shows, especially at the Canyon Suites. The hotel even has its own signature scent!
Why I loved it: My husband Elliot and I stayed here on a romantic getaway to Scottsdale, and loved the quiet elegance of the Canyon Suites. The staff is all incredible, too.
How to book: Read more reviews on TripAdvisor, or book a room here on Booking.com.
5. Mountain Shadows – For mid-century modern vibe lovers
Mountain Shadows Resort has a long history in Scottsdale/Paradise Valley, having originally been built in 1959. The entire resort was rebuilt from the ground up in 2017 – but they did such an excellent job that it still exudes authentic mid-century modern vibes.
With cozy lounge areas, a pool area that oozes old Hollywood, a built-in art gallery, and live music at the bar on weekends, Mountain Shadows is an excellent hotel choice. It somehow feels a bit under-the-radar, too, despite having been around for decades.
The rooms: The rooms were completely reimagined during the hotel renovation, and now mix regular modern elements with the mid-century mod vibes. Our room has cement floors, a modern seating area, a patio, and a huge shower – but the shower is only separated from the rest of the room by a curtain, which could be weird depending on who you're staying with.
Must-do: Play a round at The Short Course (an 18-hole course that was named one of the best par-3 courses in America), have a pool day (they have two of them, connected by an over-water walkway), and maybe take a pilates or yoga class – all fitness classes are included for guests.
Where to eat: Mountain Shadows has an on-site restaurant called Hearth '61 that serves up excellent food. There's also Rusty's at the Short Course, which serves up breakfast, lunch, and happy hour specials.
Good to know: Mountain Shadows is a popular location for weddings and other events, so if you're staying over a weekend, don't be surprised to find some of the public areas blocked off for ceremonies, cocktail hours, and receptions.
Why I loved it: This is a luxury hotel, but with absolutely zero pretension. It also can be more affordable than some other hotels in the Paradise Valley area, while still feeling really special. I also loved the pool area, despite us visiting on a cloudy winter weekend.
How to book: Read more reviews on TripAdvisor, or book a room here on Booking.com.
6. CIVANA Wellness Resort and Spa – For spa-seekers
I never used to think I would enjoy staying at a spa resort… but that's before I spent a couple days at CIVANA Wellness Resort and Spa. Found in the small town of Carefree (how appropriately!) not far from Scottsdale, CIVANA is a laid-back wellness resort in the heart of the Sonoran Desert.
CIVANA has a beautiful spa, tranquil rooms, multiple restaurant options, and a bunch of classes and activities that are included for free with your stay. During my stay, I joined a guided desert hike, signed up for an outdoor yoga class, when to a culinary demonstration, and spent a day at the spa.
The best part is that this wellness resort is fairly budget-friendly, meaning it's something everyone can try.
The rooms: The rooms at CIVANA are minimalistic and contemporary. The beds "float" in the center of the room, facing out towards balconies that look out over the pool, spa, or even Black Mountain. The bathrooms are large and spacious, and come complete with fluffy robes that it's perfectly acceptable to wear anywhere on the property.
Must-do: A stay at CIVANA comes complete with unlimited access to classes that range from yoga and cardio fitness classes to guided hikes and mountain biking. I recommend signing up for at least one or two!
Where to eat: CIVANA has a great on-site restaurant called Terras. They focus on a locally-sourced, seasonal menu that tends to be pretty veggie-forward, and also serve up some inventive cocktails and a Sunday brunch. Terras is open for all meals, but there's also a more casual cafe on the property called Cafe Meto, where you can go for smoothies and wraps.
Good to know: As part of your stay, you also get access to CIVANA's spa facilities, including steam rooms, an aqua therapy circuit, the spa pool, and more. You don't have to book a separate spa treatment in order to enjoy the spa facilities, which is great!
Why I loved it: As a wellness resort virgin, I was afraid that I would feel out of place. But all I felt at CIVANA was relaxed. The property is very tranquil with a cactus garden and amazing desert sunsets, but offers plenty of classes and things to do, too. Read my full CIVANA review here.
How to book: Read more reviews on TripAdvisor, or book a room here on Booking.com.
What's the best time to visit Scottsdale?
If you're wondering when to visit Scottsdale in order to enjoy one of these great properties, I personally don't think there's a bad time to go.
Scottsdale in winter has pleasant temperatures and lots of sunshine – but not enough people consider it for a winter getaway!
Conversely, Scottsdale in summer can get extremely hot, but it's a dry heat that the locals (and local hotels) know how to deal with. If you're willing to travel during the summer, you can usually find some excellent deals at Scottsdale hotels.
READ NEXT: How to Spend 3 Days in Scottsdale
---
Which of these Scottsdale hotels would YOU like to stay at?
Pin it for later: