Some posts on this site contain affiliate links, meaning if you book or buy something through one of these links, I may earn a small commission. Read the full disclosure policy
here
.
---
When I was preparing for my tour in Egypt, I had so many questions about what to pack for Egypt as a woman.
This was going to be my first time in the Middle-East region (2 days in Istanbul back in 2012 doesn't really count), and I knew I would need to be more conscious about dressing conservatively than on most other trips I'd taken. But, as a non-Muslim woman, just how conservative did I need to dress in Egypt?
Did I need to cover my hair?
Were long sleeves required, or would t-shirts be acceptable in hotter cities?
Could I wear capris?
Did all my clothing have to be super baggy?
Would a cross-body purse accentuate my boobs too much?
It was easy to find the answers to some of these questions online, while other searches brought up nothing useful. So I decided to write my own guide to packing for a trip to Egypt as a woman, based on my own personal experience there.
(And yes, I'm aware that some women might feel perfectly comfortable NOT dressing conservatively in Egypt, and I don't particularly like policing women's bodies or clothing. BUT, when visiting a place with different cultural norms, I generally find it makes for a more enjoyable travel experience if you do your best to respect those cultural differences. These tips are based on what I felt and witnessed while traveling to Egypt as a woman.)
First, let's address those questions about how to dress in Egypt as a woman! (Unless you just want to skip ahead to my full packing list – if so, just scroll down.)
RELATED: 7 Things That Surprised Me About Traveling in Egypt
Questions about what to wear in Egypt for women
1. As a non-Muslim woman, do I need to cover my hair in Egypt?
In short, no, you don't need to cover your hair as a female traveler in Egypt. As a tourist you aren't expected to wear a hijab or any other hair or facial covering in Egypt.
The only exception to this is if you're visiting a mosque – in that case, you do indeed need to respect the fact that you're entering a religious building and cover up. Usually just using a regular scarf to cover your hair will do.
Some female tourists choose to cover their hair at all times in Egypt, though, especially if they're traveling independently. This is definitely not necessary – but it's based on what you feel comfortable with!
2. Do I have to wear long sleeves all the time?
Again, no, you don't have to cover your arms as a woman in Egypt. Tank tops and strapless tops are generally frowned upon, as are tops that reveal too much cleavage. But as for arm coverage, the general rule is to just make sure your shoulders are covered.
Covering your elbows is polite, but you won't get too much unwanted attention if you go out in a normal t-shirt. I mostly wore tops with 3/4-length sleeves, but would have felt fine in short sleeves, too.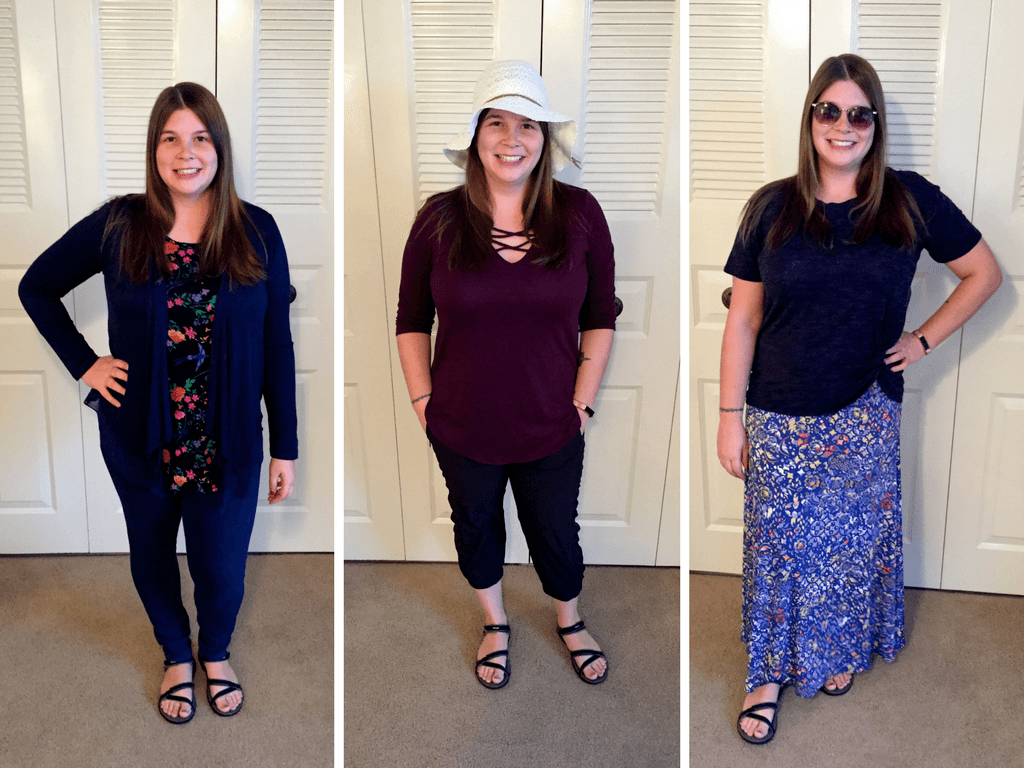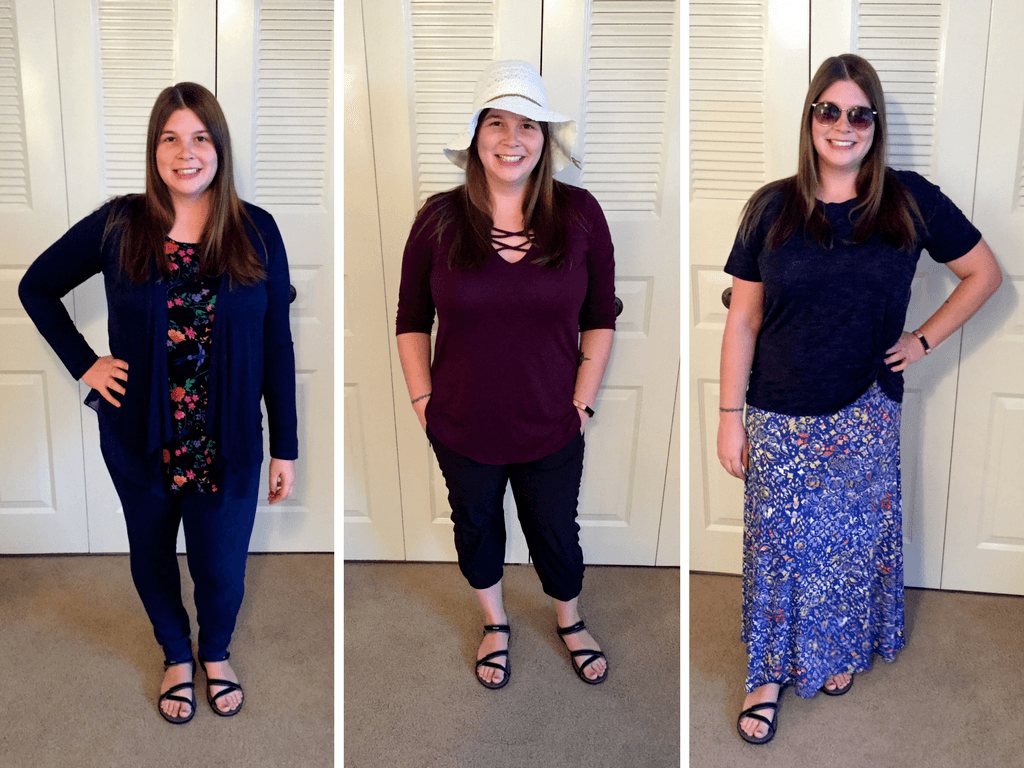 3. Can I wear capris in Egypt?
Yes, you can wear capris in Egypt! Just like you don't always need to wear long sleeves, you don't always need to wear long pants in Egypt. Capris are acceptable for women as long as they cover your knees. (For men, longer shorts are fine, but I personally wouldn't wear shorts as a woman outside of beach resorts.)
4. Does all my clothing have to be super baggy?
While skin-tight clothing isn't always considered modest, you don't have to pack baggy, shapeless clothes as a woman in Egypt.
Obviously the more you emphasize your curves, the more attention you might receive, but I know from experience that it's sometimes impossible to find clothing that will "hide" big boobs and a backside without making you look like you're wearing a sack. (And I don't know about you, but I wanted to look at least mildly cute in my Pyramid selfies!)
The good news is that most local Egyptian women dress quite modern – I saw skinny jeans everywhere! I tried to make sure that if I had on slightly more form-fitting bottoms that I wore a looser, more flowing top, but that's personal preference.
5. Can I wear a cross-body purse in Egypt?
Any woman with a larger chest will know that you can't wear a cross-body hand bag without the strap strongly emphasizing The Girls. It doesn't matter how heavy the bag is; if you have boobs, they're going to stand out when wearing a cross-body purse.
My go-to travel bag is, of course, usually a cross-body one (they're much more secure, as they're more difficult to steal while you're wearing them), but I wasn't sure I would feel comfortable wearing one in Egypt. I opted for a pickpocket-proof backpack instead, which made me feel more comfortable when out sightseeing.
I did bring a small cross-body bag with me, too, for going out to dinner or for instances where I didn't need to carry my camera or water bottle or other heavy things. I didn't experience any harassment wearing this bag, though I did often wear it paired up with a jacket or scarf.
I don't have a definitive answer on this one, but I would say that if you're worried about it, go with a theft-proof backpack instead. (Or maybe a cute sling/hip bag since these are back in-style now?)
6. Is there any time I can just wear what I want?
Generally speaking, I always try to adhere to local customs when I travel. It's just respectful, and also makes your travel experience more positive. This isn't to say that I didn't see tourists wearing tank tops or short shorts in Egypt – I did. I even saw one woman at a temple in a short, strapless romper!
But I wouldn't recommend wearing your normal American or European summer clothing in Egypt. It's just kind of rude.
The one exception to this is if you go on a Nile river cruise, or if you're planning to spend time at any of Egypt's seaside resorts.
Things are generally more relaxed on cruise ships and at resorts since you're surrounded by other tourists (you can, for example, wear your bathing suit on the sun deck and in the pool). BUT, remember on cruises especially that the crew will be all Egyptian, and that there may be Egyptian or other Muslim families on the boat, too. I found the topless sunbathing on my cruise boat to be a bit insensitive.
---
Interested in booking a tour in Egypt?
These are the two tours I recommend:
Or you can combine Egypt and Jordan in this 15-day trip.
(And you can read my full review of the Egypt tour I took.)
---
Egypt packing list (for women)
Now that we've covered the packing FAQs, here's what I actually packed in my bag for my 12-day trip to Egypt.
I visited in November/December, which is "winter" in Egypt. Temperatures were mild (even cool in the evenings), but I would probably have packed similar things for a trip during the warmer months, since you can't really wear less clothing in such a conservative country!
My bag for Egypt
My bag for this trip was a hard-sided, carry-on size spinner from Delsey*, with an expandable zipper and TSA-friendly locks. Yes, this is a small bag, but I really didn't need anything bigger since I was mixing and matching my clothing and wearing things more than once!
For longer trips (or if you're just not a carry-on-only type of traveler), I'm a fan of Osprey's rolling bags. I've had an Osprey convertible bag for about 7 years now, and it's traveled to 4 different continents with me! This Osprey Fairview 65 is a good option (and will last you years and years!), or they make a larger 80L version, too.
And I always swear by packing cubes to help keep my luggage organized! (These compression packing cubes are so handy.)
*Note that you'll want to check carry-on luggage size requirements for the airline you're flying. The Delsey bag I use is slightly too large for some international carriers.
RELATED: 10 Tips for How to Pack Carry On Only for Your Next Trip
Clothing for Egypt
Note: This list is good for a 10-15 day trip, though I personally had laundry done once about halfway through my trip.
On top
1-2 tunic tops
1 long top with 3/4-length sleeves
3 t-shirts (including at least one merino t-shirt, which you barely need to wash)
1 tank top for layering
1 flowy short-sleeved top for layering (the one I currently like is this one from Amazon)
1 long-sleeved jersey wrap top (or a cardigan, depending on season)
2-3 dresses (midi/maxi – I love this maxi dress with pockets, and this one which is very light)
On the bottom
1-2 pair of thin flowy pants (I like these ones, which are super light, and these heavier, dressier-looking ones that come in lots of colors)
2 pairs of leggings, one long and one cropped
OPTIONAL: 1 pair of jeans for evenings (especially in winter)
OPTIONAL: 1 maxi skirt (if you like the flowy type of skirt, this one is an affordable option, though is very full; this one is shorter but will still cover your knees)
OPTIONAL: 1 flowy jumpsuit (I am currently obsessed with this soft jumpsuit. You do need to wear a t-shirt under it, but it's so comfy.)
Under things
2 regular bras
1 comfy sports bra
Breathable underwear (these ExOfficio ones are my favorite)
1-2 pairs of Jockey Skimmies for wearing under dresses (my fellow curvy ladies will understand the need for these in warmer weather!)
1 swimsuit (especially if visiting the Red Sea)
Outerwear
Shoes for Egypt
1 pair of sneakers (I love my SUAVS, which are lightweight, breathable, AND washable; save 15% using the code DB15)
1 pair of walking sandals
OPTIONAL: A pair of flats or flip-flops
I also highly recommend packing a pair of light slippers for Egypt. Something like these will do the trick for cold hotel room floors.
Toiletries / first aid
This travel toiletry bag is currently my pick for what to use to pack this all!
Travel toilet paper rolls (they take up even less room than tissues, and you'll often need your own TP in public bathrooms) and perhaps some individual wipes
Hand sanitizer (crucial for bathrooms in Egypt)
Toiletries like sunscreen, contact solution, toothpaste, and moisturizer (OMG bring a good moisturizer or lotion – it is SO DRY in Egypt!)
Solid shampoo/conditioner – I like the solid bars by Ethique, and this shampoo bar by Garnier; you don't have to worry about liquid rules, AND they won't explode in your suitcase (plus, eco-friendly!)
Any skin care products you usually travel with
First aid kit with Band-Aids, motion sickness pills, pain killers, Imodium, and rehydration salts (and I sadly needed some of this – our group passed around a stomach bug!). You also may want to consider taking a probiotic in Egypt to help ward off any tummy troubles – I've used Travelan in the past and it seems to work!
Tech to pack
Need a good tech bag to help you organize all your cords, charger blocks, and adapters? I like this one! And inside it you'll want:
Portable wifi or eSIM
If you don't want to rely on patchy hotel wifi, you might want to look into traveling with a portable wifi hotspot like a Solis wifi hotspot. Solis works by connecting you to a local mobile network – but no SIM cards are required.
You can buy a device at home, and then purchase day passes or a monthly data plan for your Solis. (I like the day passes, since then you only pay for what you use.) You can connect up to 10 devices to a Solis, which is perfect if you're traveling as a couple or a family. Learn more about Solis here.
The other option is to get an eSIM for your phone so you can easily use it abroad. (This is a better option if you're not traveling with any other devices.) Basically you purchase an eSIM before your trip with a certain amount of data allotted, and then you simply switch over to it when you arrive in Egypt. My go-to for eSIMs is Airalo, and they do offer options in Egypt!
Misc other things
Insurance
I also highly recommend purchasing travel insurance for the entirety of your trip in Egypt. Travel insurance usually covers things like medical emergencies, but can also compensate you for things like travel delays and lost luggage.
(Most tour companies will require you to have travel insurance in Egypt.)
Free printable packing list for Egypt
What if I'm going to Egypt in summer?
If you're traveling to Egypt during the summer months (which can be extremely hot), you'll still want to cover up – so make sure to pack light, breathable fabrics, and some extra pieces in case you need to change outfits during the day.
For ladies like me who have never known what a thigh gap is, I recommend trying the following if you'll be wearing skirts or dresses to combat chafing:
Jockeys Skimmies – These moisture-wicking slipshorts are perfect for under just about anything; I wear them constantly in the summer! (Recently I've also been liking these yoga shorts by Baleaf – they don't ride up at all AND have pockets, but are heavier than the Skimmies.)
Megababe Thigh Rescue Anti-Chafe Stick – Don't want to add an extra layer? Then pick up one of these anti-chafe sticks, which really do work wonders to combat chafing!
What were my Egypt packing must-haves?
I packed pretty well for this trip – I wore everything that I brought for Egypt and don't feel like I took anything unnecessary. That being said, I was happy to have a few specific things:
I got two new hidden pocket travel scarves from Speakeasy Travel Supply, and took one of them to Egypt with me. I LOVE these scarves for travel – the pockets are large enough for your passport and money, making them excellent to wear on travel days.
And they make them in all sorts of materials, too, including a lightweight rayon, which doesn't make you super hot.
I also used my scarf at temples when I needed a pocket (sadly not all women's clothing comes with pockets!). You'll want pockets in Egypt since nearly every temple, tomb, or other historic site you visit will give you a paper ticket that you may have to show more than once.
I also tucked my phone into my scarf once or twice when I was lacking a pocket but didn't want to have to keep digging in my backpack in order to do an Instagram Story.
2. Good shoes
I take my Teva Verra sandals with me almost everywhere as long as the weather isn't supposed to be cold. Not only are these sandals comfortable and supportive for walking, but they're also perfect for a destination like Egypt. Why? Because everything in Egypt is DUSTY (it is mostly a desert, after all), and I could easily rinse these sandals off in the shower every night. (Plus, even though they're technically "hiking sandals," I don't think they're hideous!)
(I also love the Teva Hurricane XLT2 sandals – they have even more cushion and grip than the Verras.)
If you prefer covered shoes, check out the Zilker Knit shoe by SUAVS. I love these shoes because they're light and super easy to pack, AND they're machine washable, meaning you can easily wash all the dirt and sand off when you get home.
(And, as a reader of A Dangerous Business, you can save 15% off a pair of SUAVS! Use the code DB15 at checkout.)
3. Pacsafe backpack
Lastly, taking my Pacsafe theft-proof backpack on this trip was a great idea. I didn't have to worry about the cross-body strap of a purse accentuating things I didn't want to accentuate, and I could fit everything I'd need for a day inside it (including my camera, wallet, sunscreen, hat, water bottle, and scarf), and I always had extra room for a souvenir or two.
The bonus of taking a Pacsafe bag is that you don't have to stress about pickpockets since all the zippers are lockable and the material is slash-proof. Even when we were in areas where our guide told us to keep an eye on our bags, I wasn't worried about anyone getting into mine.
I usually travel with a camera-specific Pacsafe backpack, but the following ones are great too:
(And yes, I'm a crazy Pacsafe fangirl and do actually personally own all of these backpacks, so I can vouch for them being great; I've not had to replace one yet!)
And if you want to keep your things *even safer* (or, if like me you usually travel with a laptop and expensive camera that don't fit into hotel safes)? Consider taking a packable, portable safe with you, so you can lock things up in your hotel room.
PS – Don't forget to use a VPN (Virtual Private Network) when you're traveling, too. It helps keep your private details (like passwords and other sensitive data) safe when you're using public wifi networks. I use Express VPN, which is easy to install and use.
RELATED: How to Keep Your Money and Valuables Safe on Your Travels
---
Interested in visiting Egypt for yourself? Check out these posts about my trip there:
---
I hope this has answered some questions for you about how to dress in Egypt, and what to wear in Egypt as a woman!
Have you ever been to Egypt? If not, do you have questions about traveling there? Feel free to ask me in the comments below!
Pin it for later: