Some posts on this site contain affiliate links, meaning if you book or buy something through one of these links, I may earn a small commission. Read the full disclosure policy
here
.
---
Chances are you've heard of the Canadian province of Alberta. Maybe you've heard of its Rocky Mountain national parks, or the annual Calgary Stampede, or its dinosaur fossils… or maybe you just know that it's in Canada.
Regardless of whether you know a lot or a little about Alberta, the fact of the matter is that it's a pretty awesome place to visit. Alberta has lots of unique things to do and see that you won't find anywhere else in Canada – or the world, for that matter.
So when you're planning your next trip to Canada, here's a huge list of all the unique things to do in Alberta.
Note: This massive Alberta bucket list is divided up into 3 sections! Use the table of contents below to help navigate if you're looking for something specific.
Things to do in Alberta's national parks
1. Spend time at Lake Louise
Banff National Park
Lake Louise is one of the most iconic spots in Alberta. It's a glacial lake in the Rocky Mountains that's usually a vibrant shade of blue-green. The Fairmont Chateau Lake Louise sits right on the edge of the lake on one side, and a glacier hangs over the lake on the opposite side.
You can walk all the way around Lake Louise, rent bright red canoes in the summer, go ice skating in the winter, and hike or horseback ride to tea houses set up in the nearby mountains.
Lake Louise is a great base for adventure within Banff National Park, and is the perfect first stop in this part of Alberta.
2. Visit the Lake Agnes Tea House
Banff National Park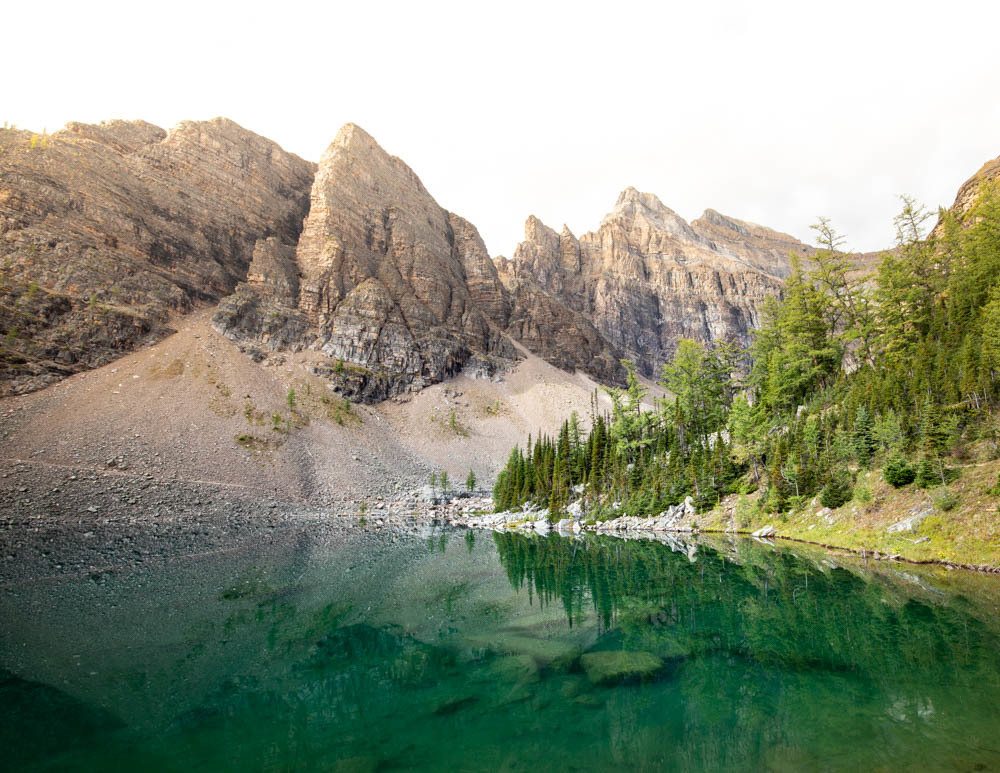 The 3.5 km hike (each way) up to Lake Agnes is one of the most unique hiking experiences in Canada. Starting at the stunning Lake Louise, the trail heads uphill through the forest, passing the remarkable Mirror Lake (it genuinely looks like a mirror in the early morning light!) to Lake Agnes, a beautiful lake surrounded by mountains that is only accessible by this hiking trail.
From Lake Agnes, you can also hike onto Little Beehive and Big Beehive lookouts, which offer some of the best views of Lake Louise. (These add on an additional 1 km and 1.6 km each way respectively, but are well worth the effort.)
However, it isn't the scenery or the views that make this trail different. What makes this hike truly special is the tea house at Lake Agnes. Just like the numerous tea houses in Nepal, the one at Lake Agnes is rustic, traditional, and has a long history.
Built in 1905, the tea house has been serving loose leaf tea and homemade food to hikers wanting to see this beautiful part of the Rockies for more than 100 years. It still runs in a similar way today, with staff hiking in the ingredients and hiking out the trash. You can follow in the footsteps of over a century of hikers who walked the trail to have breakfast or lunch at this iconic spot.
– Submitted by Cat of Walk My World
3. Hike the Plain of Six Glaciers
Banff National Park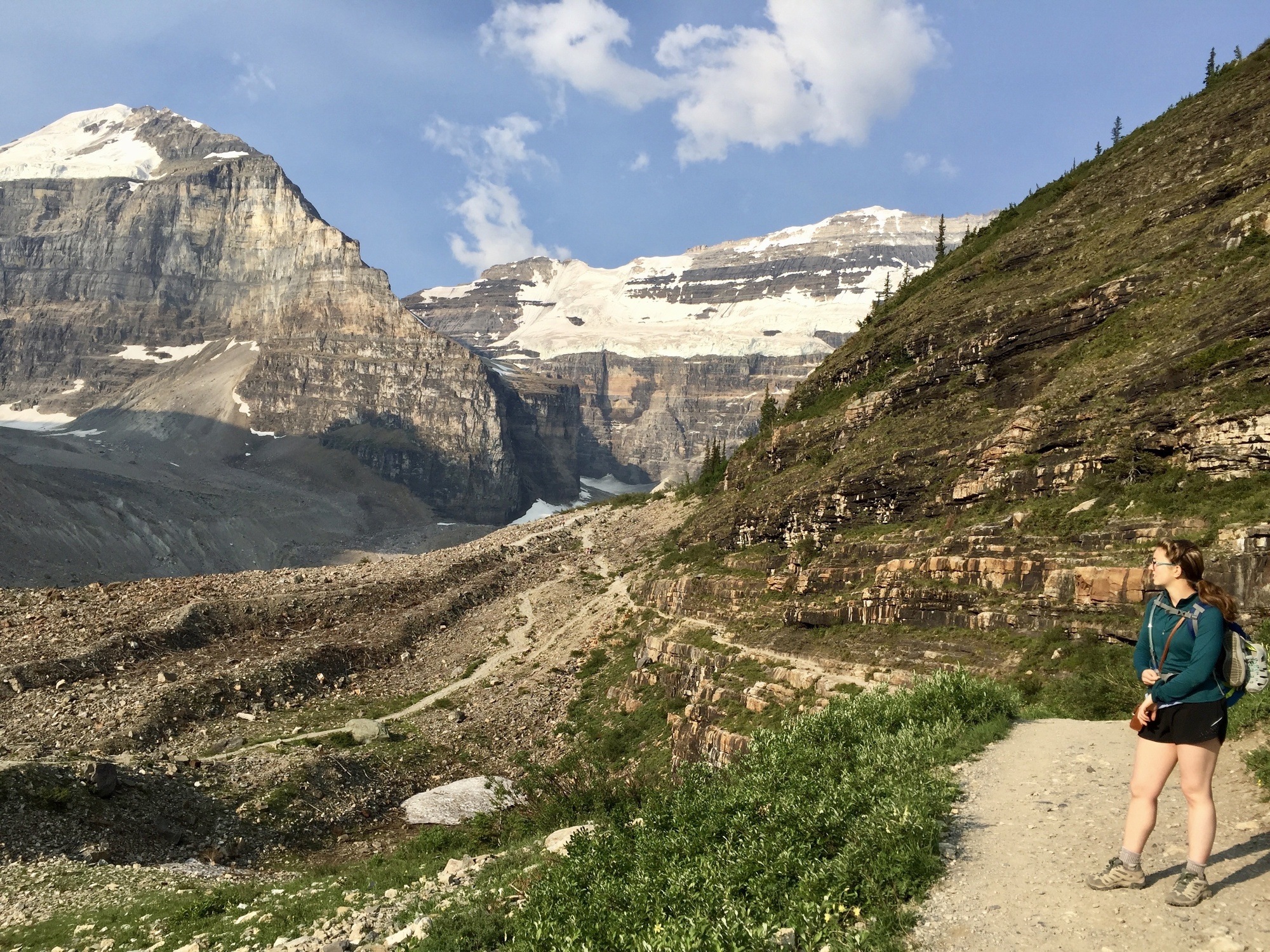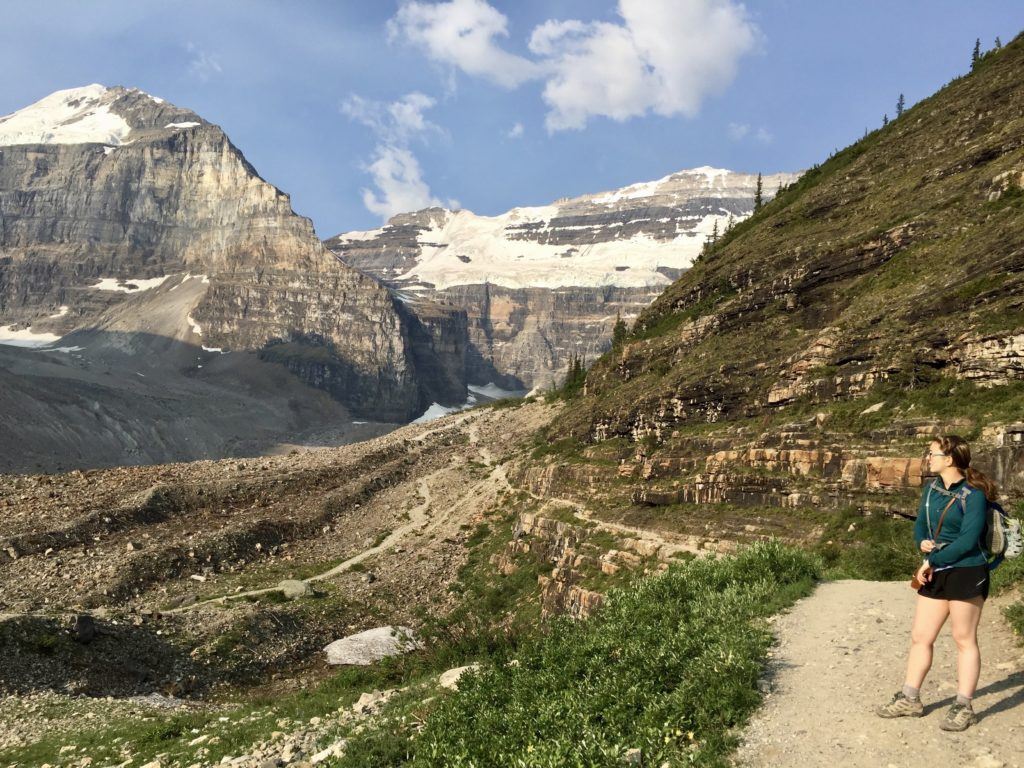 Lake Louise is one of the most iconic places in Alberta, and one of the best ways to experience the lake is by hiking to the glacier that feeds it. The Plain of Six Glaciers hike is spectacularly beautiful and rewarding, and an excellent way to escape the crowds at Lake Louise.
The 8-mile round-trip hike starts from Lake Louise's lakeshore, where it meanders for a couple of miles through the pine forests next to the lake. Then it veers off and begins the trek uphill, eventually reaching the "plain of six glaciers," a moon-like landscape that was carved by, you guessed it, six different glaciers.
What makes this hike particularly epic is that it has not one, but two rewards at the end. First, the trail takes you to the very foot of Victoria Glacier. Victoria Glacier feeds Lake Louise, and once you're this close to it, you can actually hear it "roar" every now and then!
The second reward is the tea house, which serves tea, coffee, and delicious soups, sandwiches, and chocolate cakes throughout the summer. (Note: it's cash only, so make sure to bring some with you!)
– Submitted by Maggie of Pick Caddy Travelogue
4. Visit Moraine Lake in the morning
Banff National Park
Moraine Lake sits in the Valley of the Ten Peaks within Banff National Park. It's a glacially-fed lake, meaning that it's always an unusual shade of blue-green. This is common of glacial lakes because of the rock flour (rock pulverized by ancient glaciers) that floats in the water.
From the Rock Pile viewpoint (where you'll get the "Twenty Dollar View" – the view of lake and peaks that was featured on the old Canadian $20 bill), Moraine Lake is often a deep shade of turquoise in the morning, with the calm waters reflecting the surrounding mountain peaks.
Moraine Lake is a popular spot for to watch the sunrise, and early morning is definitely the best time to visit, both for photos and to beat the crowds. You can also start several walks and hikes from here, including walks on the Lakeshore Trail, and hikes to Larch Valley and Sentinel Pass.
Note that the road to Moraine Lake is usually only open from late May or early June through early October, and that the lake is often frozen until at least late June.
5. Hike Sentinel Pass
Banff National Park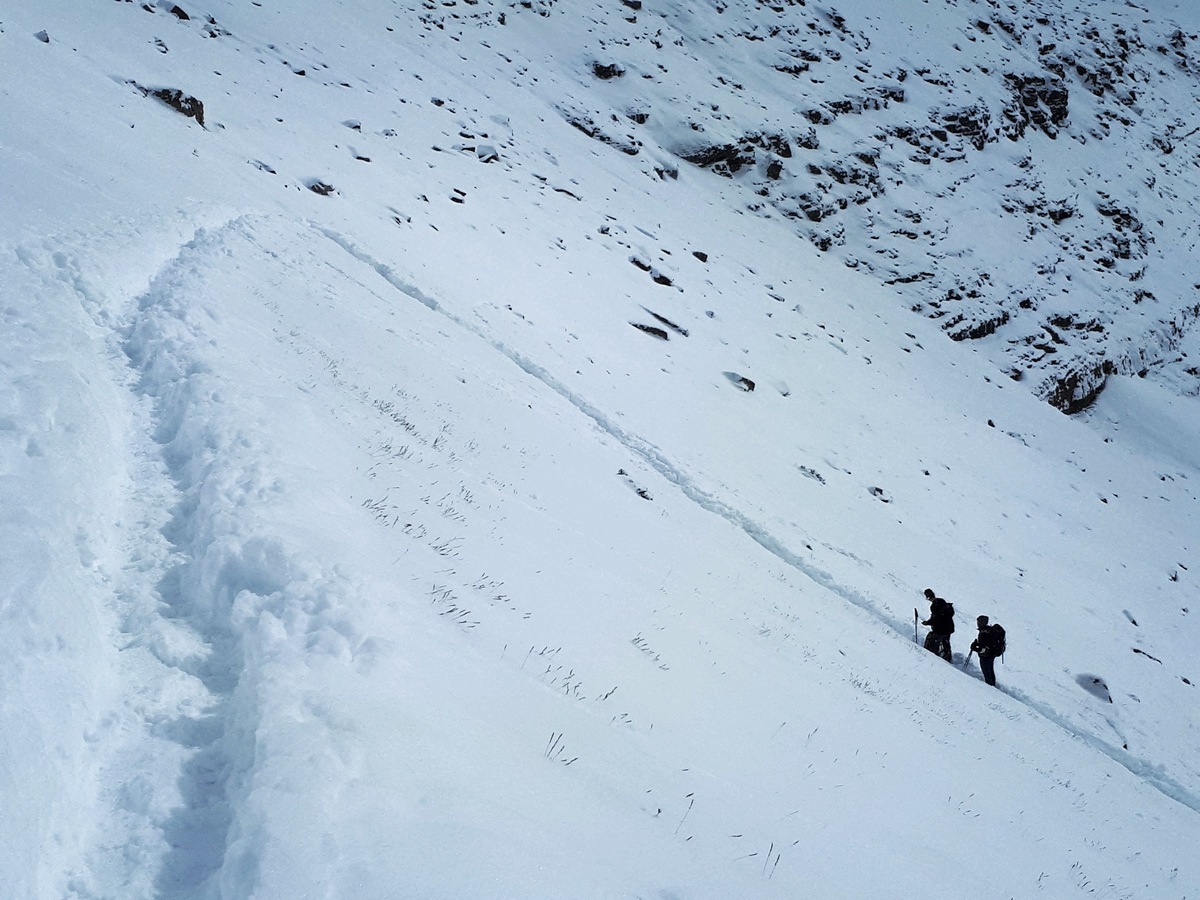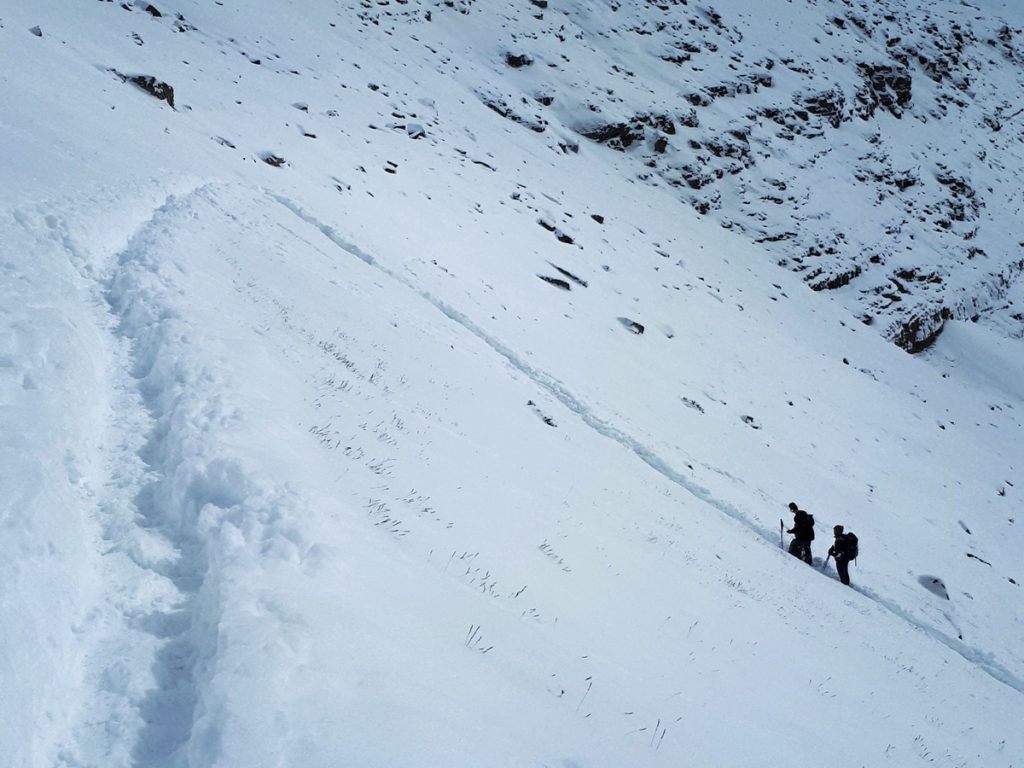 The awesome Sentinel Pass hike is one of the most popular (and strenuous) hikes in Banff. The hike starts from Moraine Lake, going into the beautiful Larch Valley with amazing views of the surrounding Ten Peaks. Autumn is a great time of year to hike the Larch Valley, when the larch trees turn from green to lime to a brilliant golden yellow color.
Hiking through the Larch Valley, the route passes through densely forested areas, giving you glimpses of Moraine Lake and, at higher altitudes, the towering Ten Peaks. From the tarn lake at the base of Mount Temple and Mount Pinnacle, you continue up Sentinel Pass. The switchback trail is steep up to Sentinel Pass, which sits at 2611 m above sea level.
From the top of the pass, there are excellent views over Paradise Valley. It is a 4 to 5 hour hike to complete the 12 km Sentinel Pass hike from Moraine Lake, and be prepared for snow in autumn!
– Submitted by Campbell and Alya of Stingy Nomads
6. See Peyto Lake
Banff National Park
There are lots of exciting things to do around the village of Lake Louise in Banff National Park, and viewing Peyto Lake is definitely right up there at the top of the list. Set in the midst of some of the most spectacular scenery on the planet, Peyto Lake is one of the first stops along the Icefields Parkway if you're driving it from Lake Louise to Jasper.
While you can visit the lake front, what you really want to do is hike the short trail to the viewing point and see Peyto Lake from above. Even if you've seen those gorgeous photos of Peyto Lake on Instagram, your jaw will still drop when you see it for yourself. Guaranteed!
A glacier-fed lake, Peyto Lake has that unreal turquoise color that makes it stand out like a jewel in the midst of the dark green pine forests surrounding it. And its shape, like the head of a dog or a wolf, completes the picture postcard scene. If you're eager to capture the color, make sure you visit when it's fully thawed, generally from July until September.
The hike to the viewing point from the parking lot is about 0.4 mile one way. It's a little uphill but easily doable for most people. And there's an accessible parking lot that allows for drop off at the viewpoint.
– Submitted by Dhara of It's Not About the Miles
7. Overnight in the backcountry at Bow Hut
Banff National Park
Perched on the edge of a glacial headwall just 8 km from the road is one of Banff National Park's backcountry experiences. And in a park as busy as Banff, getting away from the crowds in the backcountry is always worth it.
Bow Hut is a backcountry hut managed by the ACC. It's an all-season spot where hikers can walk in along the Bow Hut Route and use it as an adventure base, or cross-country skiers can escape the elements and sleep inside as they undertake the Wapta Traverse.
The hut sleeps up to 30 people in six long bunk beds. While you'll have to bring your own bedding, foam mattresses are provided. The hut is also equipped with an indoor pit toilet and everything you'll need to cook the food you pack in, light a fire in the woodstove, and brighten up the hut at night. With an ACC membership, expect to spend $30CAD per person per night plus the $9.75 CAD backcountry wilderness permit.
For those more used to hut-to-hut travel in Europe, the ACC huts can be quite basic. But for anyone who would have otherwise pitched a tent in the unpredictable wilds of the Canadian Rockies? They're damn near luxury.
– Submitted by Taylor of Travel Outlandish
8. Cycle from Canmore to Banff
Banff National Park
Our favorite bicycle route near Calgary is to ride from Canmore to Banff on the Goat Creek Trail, grab a beer in Banff, and return on the paved Legacy Trail.
The road up to the Goat Creek trailhead from Canmore is a steep dirt road carved into the edge of a mountain. We recommend booking a taxi. The Goat Creek Trail is 17 km of a mostly downhill (with some steep uphill sections) well-defined dirt road and trail with plenty of rocks, gravel and some dirt and mud. The trail is great for the experienced beginner and above.
You will arrive in Banff at the famous Banff Springs Hotel. Head towards Main Street for your choice of pub or restaurant. If you decide that you are finished riding, you can return to Canmore on the public bus – they will even take your bike!
For the full epic experience, return to Canmore on the Legacy Trail. This trail is a purpose-built paved pathway. It's a fairly easy 20(ish) km route with an overall gentle downhill grade. It's pretty popular, so watch for out for other cyclists, kids, and even bears. Keep on the lookout for the red chairs with a great view of Mount Rundle.
– Submitted by Matt and Heather from Reason2Roam
9. Have afternoon tea at Fairmont Banff Springs
Banff National Park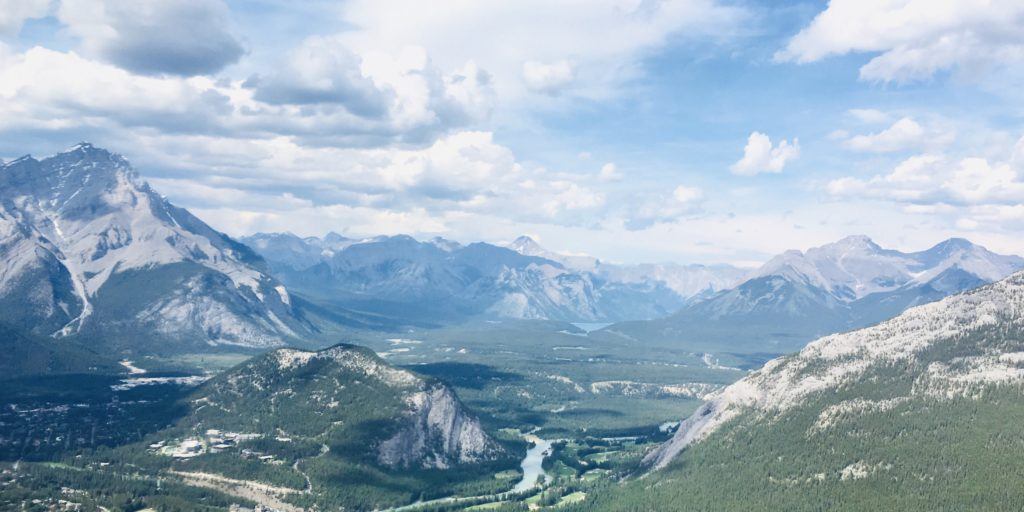 One of my favorite things to do in Banff National Park is afternoon tea at the Fairmont Banff Springs, Canada's "Castle in the Rockies." It's a truly amazing experience from the moment you walk through the front door, and one I highly recommend when visiting Banff.
This hotel, also called the Banff Springs Hotel, is a stately historic hotel located within Banff National Park. It was one of the earliest Canadian grand railway hotels opened in 1888 by the Canadian Pacific Railway to attract tourists to the region. Everything about this hotel exudes luxury, style, and comfort.
We enjoyed our afternoon tea in the dining room looking out over sweeping views of the Rocky Mountain range and a lush valley.
The Rundle Lodge offers what they call the Rocky Mountain Afternoon Tea from 11 am-3 pm daily. The service is impeccable, the tea is delicious, and the three-tiered food tray was beautiful and very tasty. It's a worthwhile splurge at 55 CAD ($42 USD) per person!
– Submitted by Sam of My Flying Leap
10. Soak in Banff Upper Hot Springs
Banff National Park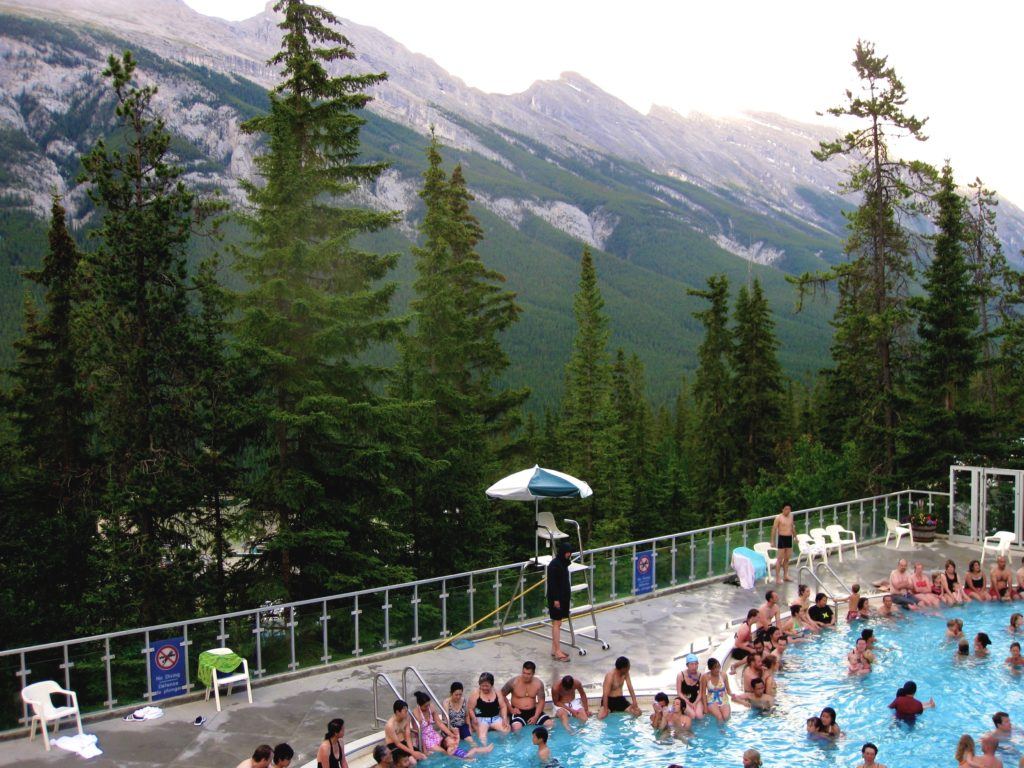 One of the best ways to connect with the Canadian Rocky Mountains in Alberta is to sink into their thermal warmth at the Banff Upper Hot Springs. Located on Mountain Avenue just before the gondola that goes up Sulphur Mountain, the hot springs are a refreshing way to enjoy the crisp mountain air.
Originally discovered more than a century ago, in 1883, the hot springs are one of the main reasons Banff became such a popular tourist destination. While the Upper Hot Springs are the only springs available to the public for bathing, you can also visit the Cave and Basin Natural Historic Site where the springs were discovered.
The pool is outdoors, and while it's not a glamour spa, it's inexpensive, fun, and a great way to soothe any aches from wandering the Rockies (especially if you've hiked up Sulphur Mountain). As the hot springs are open all year, and in the evenings, a mineral bath is also a relaxing way to end a day of skiing at one of the famous ski resorts in Banff.
The Upper Hot Springs are popular, so be prepared to wait in line at peak times. The entrance fee for adults is a reasonable $8.30, and you should bring your own bathing suit, though you can also rent one, as well as a towel, for an additional fee. The Upper Hot Springs are not in the center of town, so the easiest way to get there is the Route 1 Roam Bus towards Sulphur Mountain.
– Submitted by Carol Perehudoff of Wandering Carol
11. Hike to Ink Pots via Johnston Canyon
Banff National Park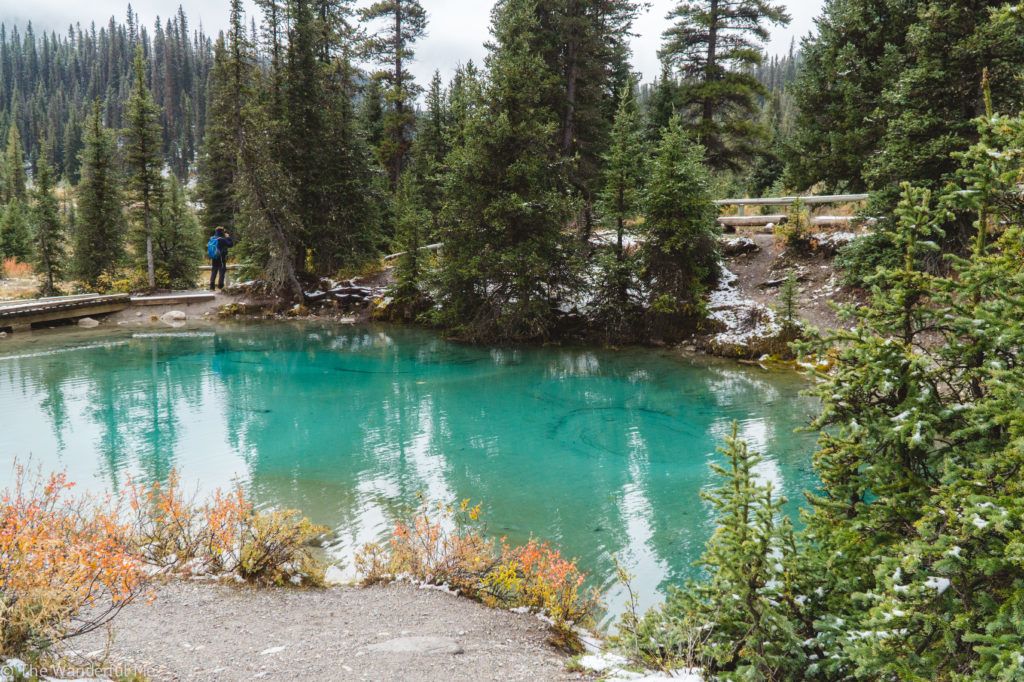 Ready to experience beautiful scenery, captivating caverns, lush forests, and mind-blowingly beautiful colored pools? Though many head out on the popular Johnston Canyon hike, they skip out on going a little further to see the magnificent colored pools of Ink Pots (which, by the way, are completely amazing and worth the extra miles).
From aquamarine to turquoise and teal to light blue-green, the pristine mineral springs that are the Ink Pots pools will captivate you at first sight. A popular spot to have a picnic or learn about the scenery, the pools differ in color because each fills at a different rate. Cool, right? According to one of the informational signs at the site, "the milky-green pools fill more slowly and have a heavier suspension of fine materials than the clear, deep-blue pools."
Although, what's even cooler is despite the fact that Johnston Canyon is one of the most popular hikes in Banff, Ink Pots is lesser known and if you head out at the right time, you can have the entire place to yourself! I recommend going early in the morning or later in the day to avoid the crowds as best as you can.
What you need to know: the hike to Ink Pots via Johnston Canyon takes about 3-4 hours in total.
– Submitted by Sophie of The Wanderful Me
12. See frozen waterfalls in Johnston Canyon
Banff National Park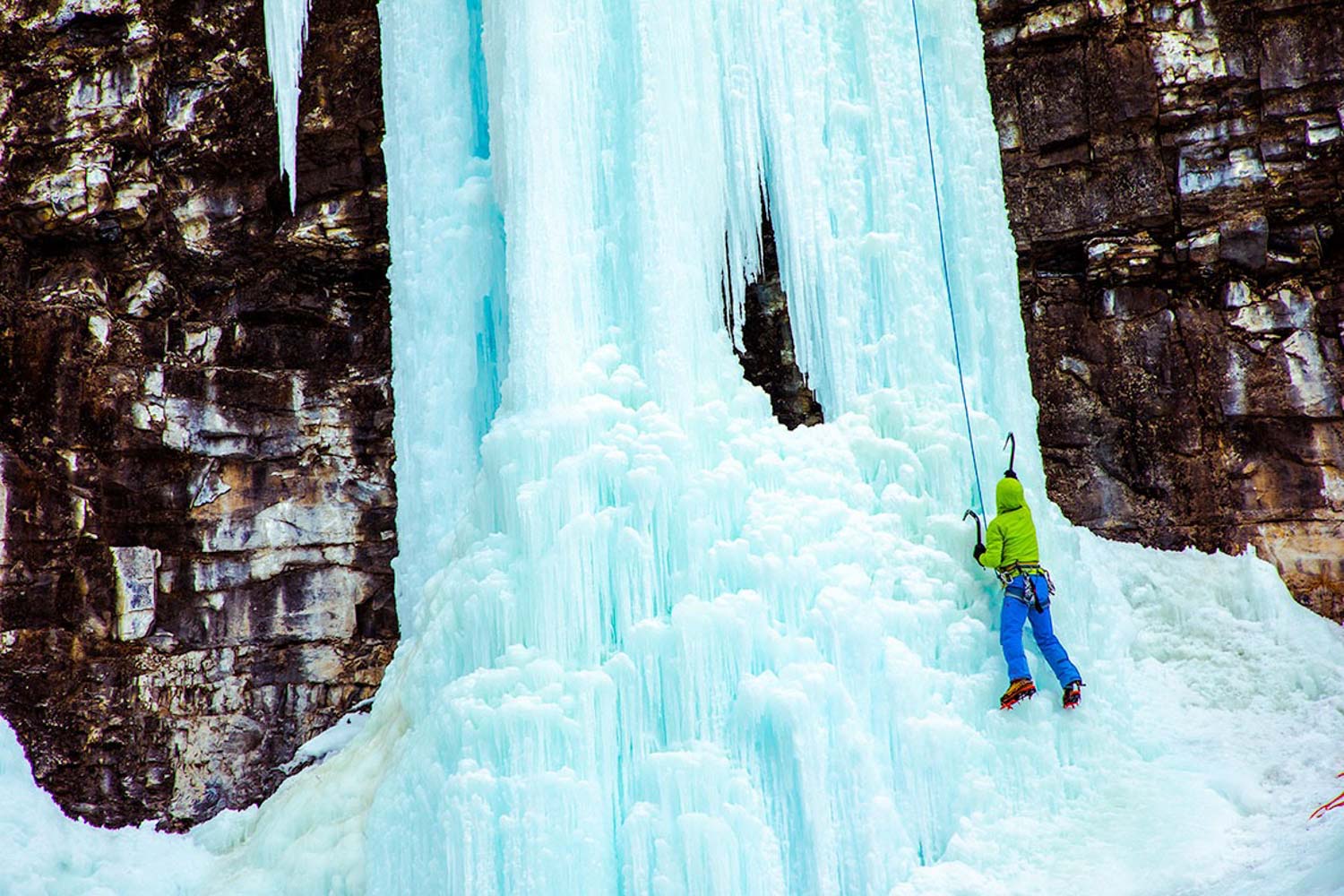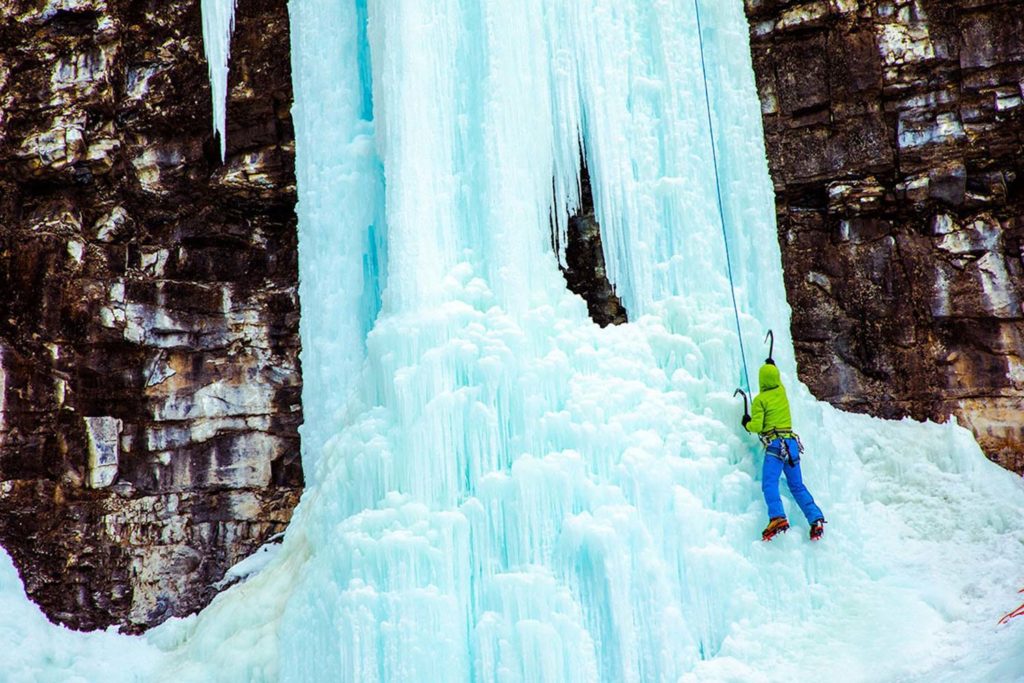 Winter in Banff is just as beautiful as summer, if not more so, with plenty of outdoor activities to enjoy. Anyone (including kids!) can strap on a pair of gators and hike through Johnston Canyon to see the frozen waterfalls.
If you are looking for a guided hike, both Banff Adventures and Discover Banff Tours offer great morning and afternoon treks around the canyon. For anyone looking for more of a workout, you can head to the top of the Upper Falls to see the Ink Pots, seven green-colored mineral springs.
Best of all, the Upper Falls freezes enough to do a bit of ice climbing, with perfect spots for beginners as well as more advanced climbing sections. Unless you are a seasoned climber, though, do go with a guide or climbing company who can show you the (literal) ropes. Banff and Lake Louise both have several guides and tour companies who would be more than happy to get outside and play with you for a few hours. (Book an icewalk here.)
– Submitted by Keryn Means of Walking on Travels
13. Hike up, ride down Sulphur Mountain
Banff National Park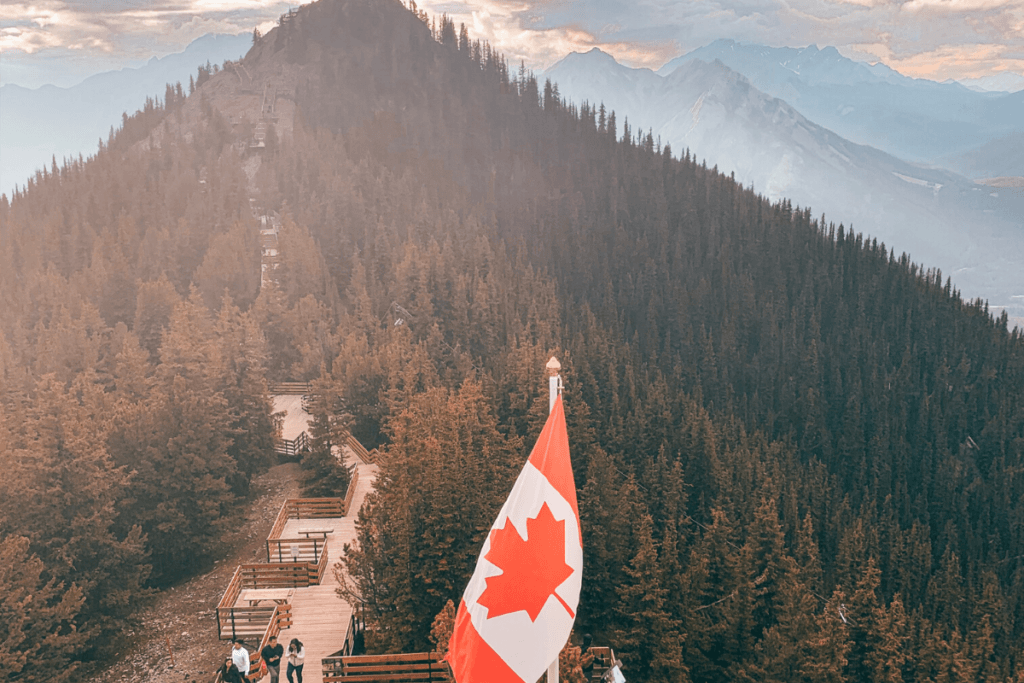 Sulphur Mountain is one of the coolest places in Banff. Banff is one of the coolest places in Alberta. So Sulphur Mountain is one of the coolest places in Alberta! Why makes Sulphur Mountain so cool? Well, a few things!
First off, the view at the top is absolutely stunning. The boardwalk takes you all the way around the peak of Sulphur Mountain and gives you a 360 degree panorama of the Banff valley. Your jaw will literally be on the floor, especially if you experience a Sulphur Mountain sunset.
Secondly, on top is a visitor center full of fun activities. There is a bar and restaurant if you're interested, but it doesn't stop there. There is live music throughout the summer evenings, a mini museum dedicated to Banff, AND a free show on the history and wildlife of Banff.
As if you needed any more reasons why Sulphur Mountain rocks, here is a third one: there is a gondola! Now, you can pay to take the Banff Gondola both up and down, but we have a secret. If you do the hike up the mountain, you can take the gondola down for free in winter, or for half-price in summer!
– Submitted by Julie of Ruhls of the Road
14. Ride the Mt. Norquay chairlift
Banff National Park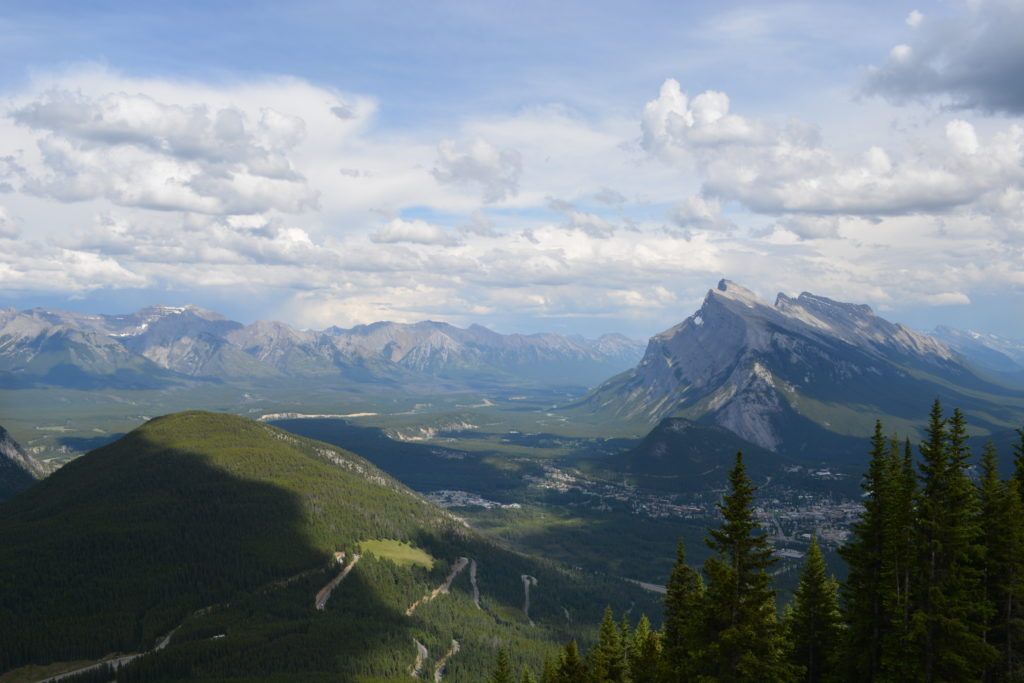 Open year round, the Mt. Norquay chairlift is one of the best places to get a view of Banff from above. Take the free bus from the Banff train station to reach the sightseeing chairlift, then buy tickets for your trip to the top. Tickets are roughly half the price of the nearby Sulphur Springs Gondola.
The chairlift isn't for the faint of heart (and a warning that it might stop from time to time as you are on it), however the views are stunning. Once at the top of the chairlift you will find yourself overlooking downtown Banff, Mt. Rundel, and the Rocky Mountains as far as the eye can see.
In the winter, ride to the top and hit the ski slopes; in the summer months, ride to the top and tackle a via ferrata, or a good hike. No matter the season, make sure you visit the Cliffhouse Bistro for their great views and a drink or bite to eat.
This is an especially great thing to do if you only have one day in Banff!
– Submitted by Cailin O'Neil of Travel Yourself
15. Ski the Big 3
Banff National Park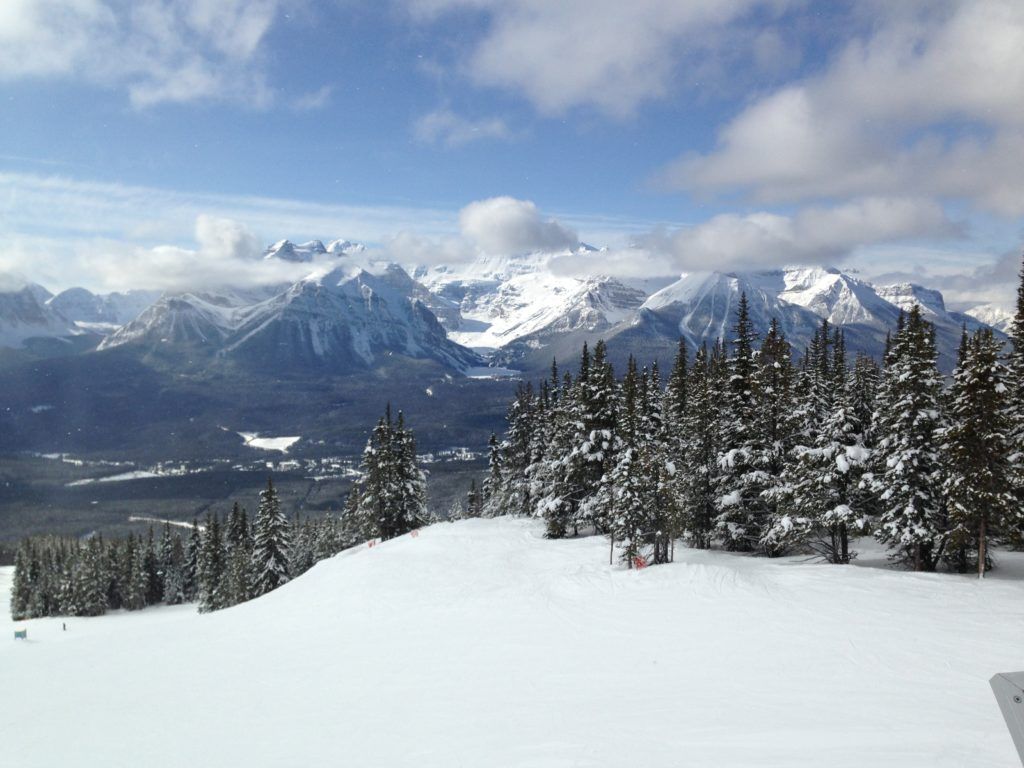 Some of the best skiing in Canada is in Alberta, and hitting the slopes in the Canadian Rockies is an adventure to put at the top of your bucket list. Banff National Park has incredible snow, fantastic scenery, and plenty of exciting experiences on the slopes for skiers and snowboarders of all levels. The experience of skiing or snowboarding in a national park is what Alberta is famous for!
Three fantastic winter resorts – Banff Sunshine, Lake Louise, and Mt. Norquay – are known as the "Big 3" and offer exciting winter adventures like no other place in Canada. Look out for wildlife on the slopes, as you never know where you might spot a lynx or an elk.
The three resorts are spread across 8,000 acres of skiable terrain, with 356 runs and 28 lifts. Intermediate or Advanced skiers and riders will love exploring the mountains with the help of skilled mountain guides on the new Guided Adventure Program, where adventure seekers can explore rougher terrain while being coached.
– Submitted by Christina of Travel 2 Next
16. Take an alpine helicopter tour
Canmore, Banff National Park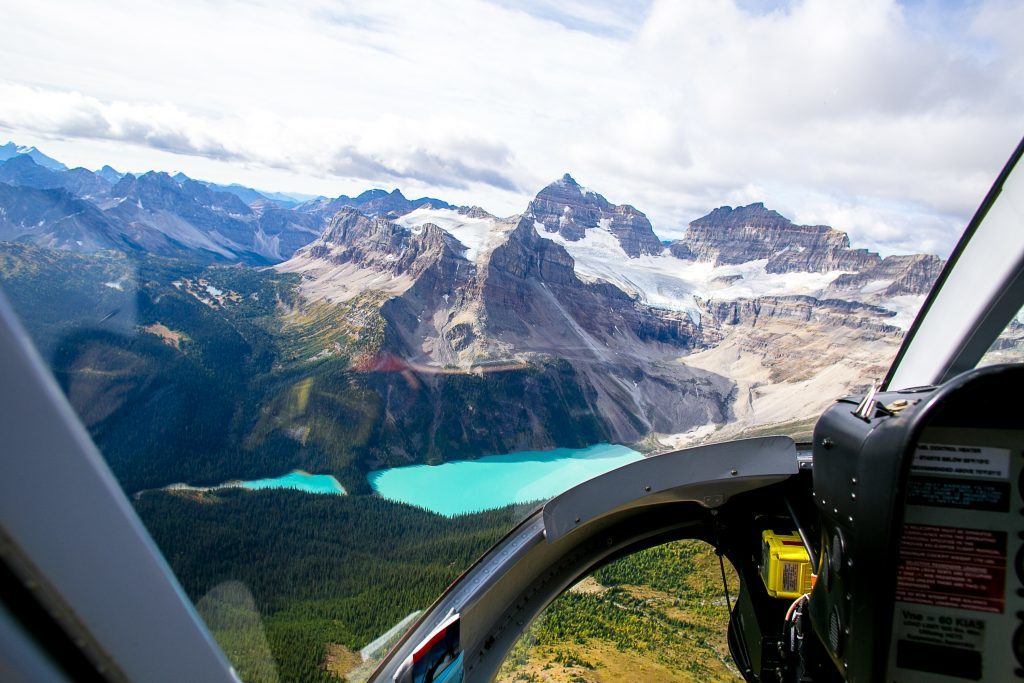 The Rocky Mountains are breathtaking whichever angle you see them from, but viewing them from above is like nothing else. If you want to see just how expansive this towering mountain range is, book a helicopter tour over them. Alpine helicopters have been operating here for more than 50 years and offer flights out of two Alberta bases..
The flight routes that leave from the Canmore helipad are pretty hard to beat, offering a scenic flight from the second you take off. Leaving from the base of the famous Three Sisters Peaks, you'll enjoy epic views over Banff National Park almost instantly. From there, there is a choice of four different flights, but it's hard to beat the Mt. Assiniboine and Glaciers tour.
Lasting 30 minutes in total, you'll ascend over the Rockies until you see Gloria Glacier and Mt Assiniboine. It's a truly breathtaking sight, and will likely be the highlight of your entire trip to the Canadian Rockies. If you're lucky, you may also spot a grizzly bear wandering around below!
– Submitted by Jodie of Alajode
17. Drive the Icefields Parkway
Banff National Park / Jasper National Park
Officially known as Highway 93, the Icefields Parkway is a scenic offshoot from the Trans-Canada Highway that connects Lake Louise and Jasper.
The road isn't free – a Canadian national parks permit is required to drive the 144 miles – but I think the price is MORE than worth it.
The highway is named because you can see a lot of glaciers (icefields) from the road, and it's no surprise that many people name this road as one of the most scenic drives in the world.
Plan for this drive to take a while, as there are several viewpoints and places to stop so you can soak in the views.
18. Hike Parker Ridge
Icefields Parkway, Banff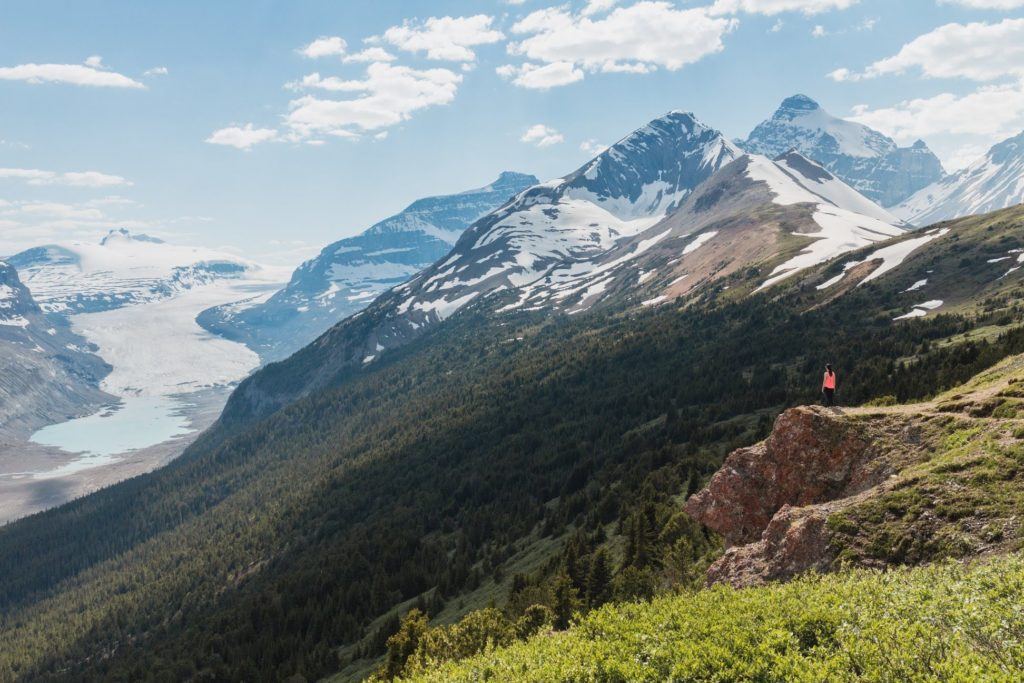 Alberta is full of amazing places to visit and hike, and Parker Ridge is one such beautiful hike. Located along the Icefields Parkway between Banff National Park and Jasper National Park, Parker Ridge is often overlooked by travelers who are in a rush to get to Jasper. In reality, the Parker Ridge hike is actually one of the best and most rewarding hikes in Alberta due to its short distance and stunning view at the top.
The Parker Ridge hike is a 5 km round trip hike with a 250 meter (820 feet) elevation gain. The trail has some moderately steep switchbacks and part of the hike is exposed. However, once you get up to the summit you will have a fantastic view of the Saskatchewan Glacier as well as the surrounding peaks and valley.
This hike is suitable for most people including families with children older than 7 or 8, making this a fantastic thing to do when visiting Alberta.
– Submitted by Serena of Serena's Lenses
19. Brave the Columbia Icefields Skywalk
Icefields Parkway, Jasper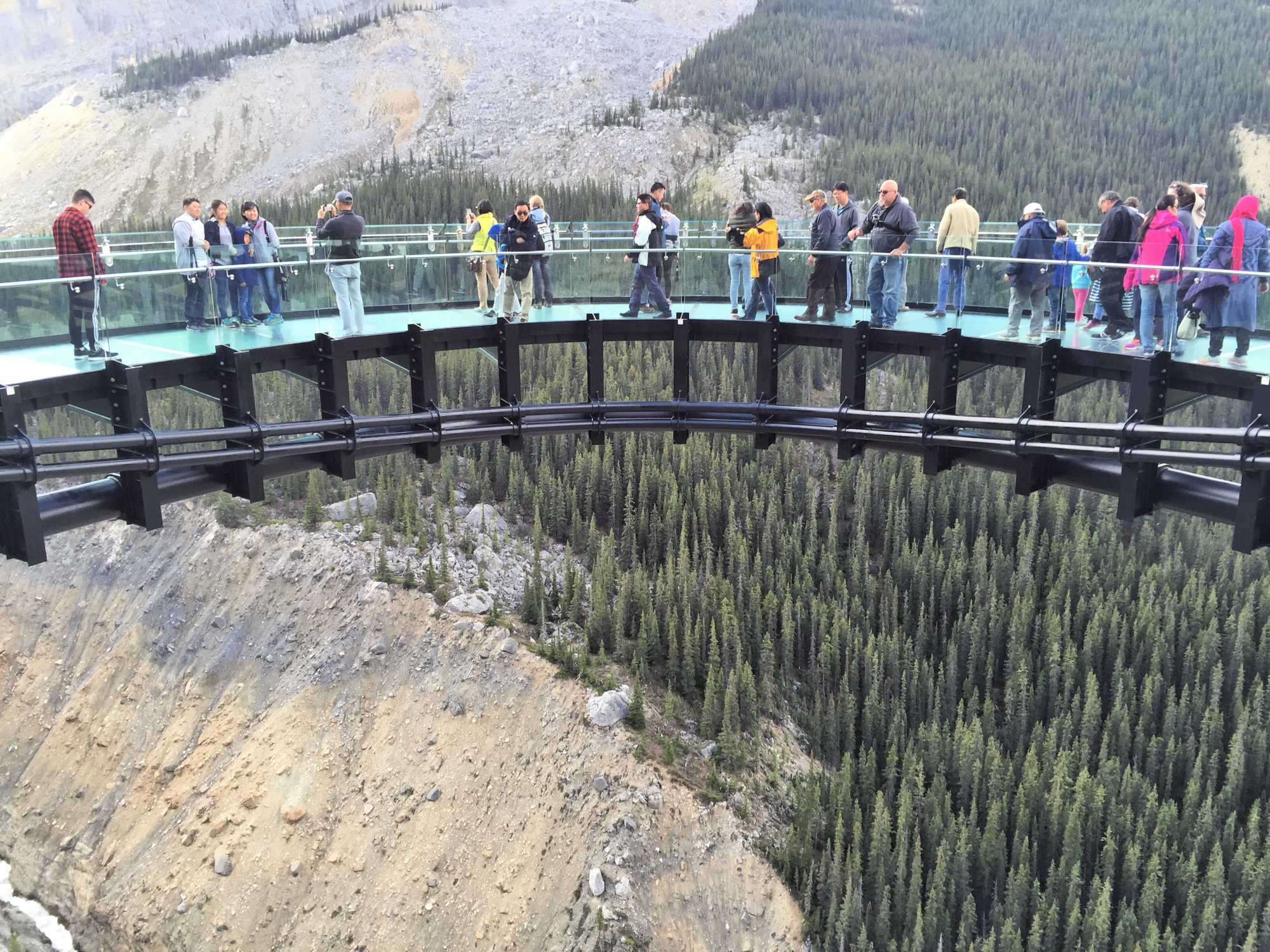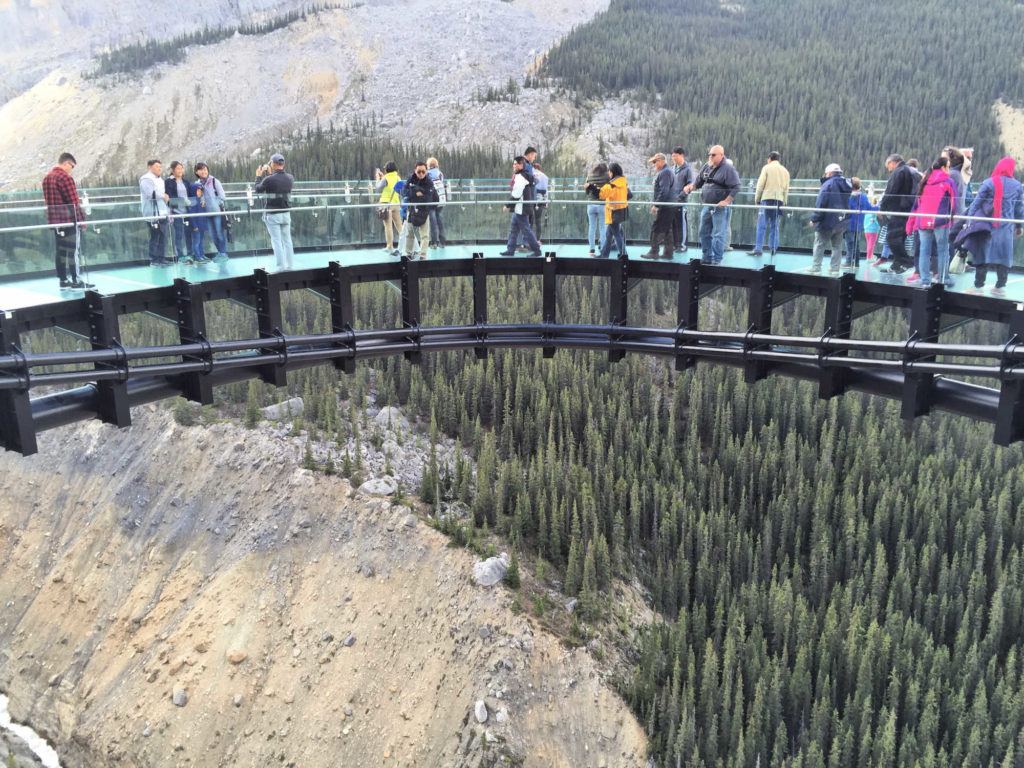 For the thrill seeker, a trip along the stunning Columbia Icefields Parkway between Banff and Jasper isn't complete without a visit to the Columbia Icefields Skywalk.
Rising 918 feet above the Athabasca River valley, this award-winning cliff-edge walkway offers stunning views of the Rocky Mountains and its many glaciers. As visitors move along the clear glass panels of the walkway, the entire structure moves. This is deliberate, as the walkway was designed to move with the kinetic energy of people walking along its surface.
Anyone with a fear of heights of vertigo may be content with enjoying the view from the periphery, but for others, this scenic high-altitude walk is an incredible and thrilling experience. It's especially a must-do if you're visiting Banff with adventurous kids.
Tickets must be purchased in advance online or at the Columbia Icefield Glacier Discovery Centre along the Parkway. Visitors are transported to the Skywalk and back by shuttle bus. Parking at the Discovery Centre is free.
– Submitted by Claudia Laroye of The Travelling Mom
20. Hike the Valley of Five Lakes
Jasper National Park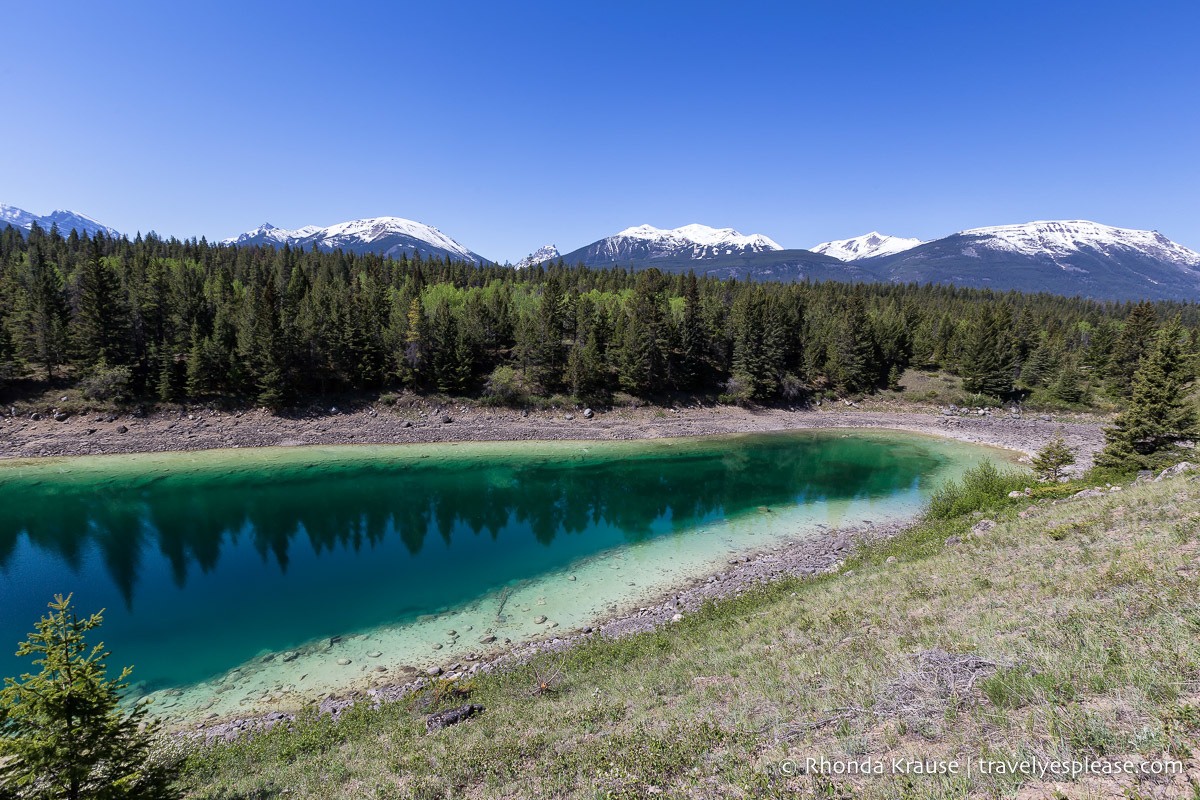 Alberta's mountain parks are great destinations for hiking, and one trail that should not be missed is the Valley of Five Lakes. This hiking route in Jasper National Park shows off some of Jasper's most beloved scenery, but the gem of this hike is of course the five colorful lakes.
Over 4.5 km, the trail leads through a treed valley and loops around five lakes that are different shades of blue and green. Each lake's colour is unique, but all are equally beautiful! On a sunny day, the lakes reflect lovely views of the surrounding mountains and evergreen trees.
This hike can be enjoyed by occasional hikers, as it's rated moderate and takes less than two hours at a relaxed pace. At the end of one of the lakes, Parks Canada has even placed a set of red Adirondack chairs to enjoy the view from.
– Submitted by Rhonda Krause of Travel? Yes Please!
21. Hike around Maligne Lake
Jasper National Park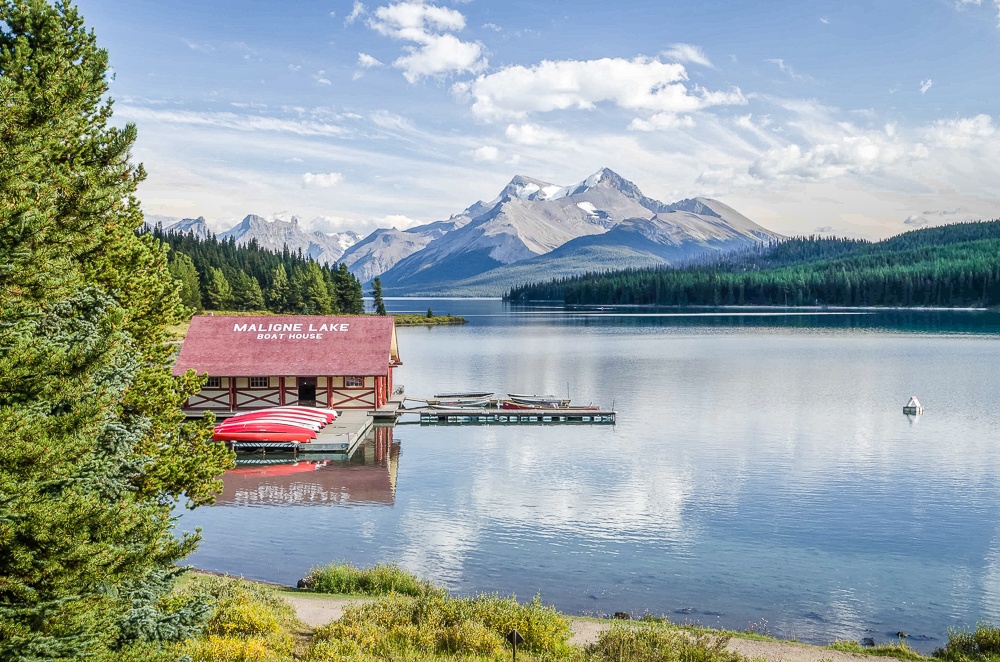 Maligne Lake is the largest natural lake in the Canadian Rockies, and is quite possibly one of the most picturesque spots in Canada. Located 44 km south of Jasper, the lake can be reached by car or by shuttle bus. The entire area is beautiful and there are so many things to do, but one of my favorite bucket list activities is to hike in the area.
There are a number of well-maintained hikes around Maligne Lake to appeal to all types of hikers. The easiest trail is the Mary Schaffer Loop, named after the first explorer of the Canadian Rockies. The 3.2 km loop can be done in 1-2 hours, is paved, and is fairly easy to complete since there's no elevation gain.
If you're looking for more adventure, the Opal Hills Loop is for you. The 8.2 km trail will take about 4-6 hours and is very difficult because you'll gain an elevation of 460 m in the first 3 km. However, the views at the top over Maligne Valley are well worth the effort.
The most difficult trail is the Skyline trail, a 44 km trail that starts at Maligne Lake and ends near Jasper. The trail is not for the faint of heart, as it takes at least 3 days to complete. You'll mostly be hiking above the treeline with exquisite panoramic views the entire time. It's quite an experience.
– Submitted by Ioana of The World is My Playground
22. Cruise to Spirit Island
Jasper National Park
When visiting Jasper National Park, you want to be sure to set aside time to take the cruise on Maligne Lake to Spirit Island. The island really is as cool as the name sounds, but the beauty lies not just in the island but in the whole trip there.
You cruise on this beautiful blue-green water with gorgeous scenery of mountains, forests, and glaciers all around you. On our trip over, our guide was telling us information about the lake, its history, and the surrounding area with a few fun stories mixed in. You are also able to walk out on the back deck of the boat – which we highly recommend.
When you arrive at the island, you hop off the boat to walk around and explore this picturesque location. The vibrant water with the green of the trees and the mountains and glaciers in the background make it an unbelievably beautiful location!
– Submitted by Bryanna of Crazy Family Advnture
Want to book a tour of Jasper, Maligne Lake, and Spirit Island? Check out this one.
23. Go horseback riding in Jasper
Jasper National Park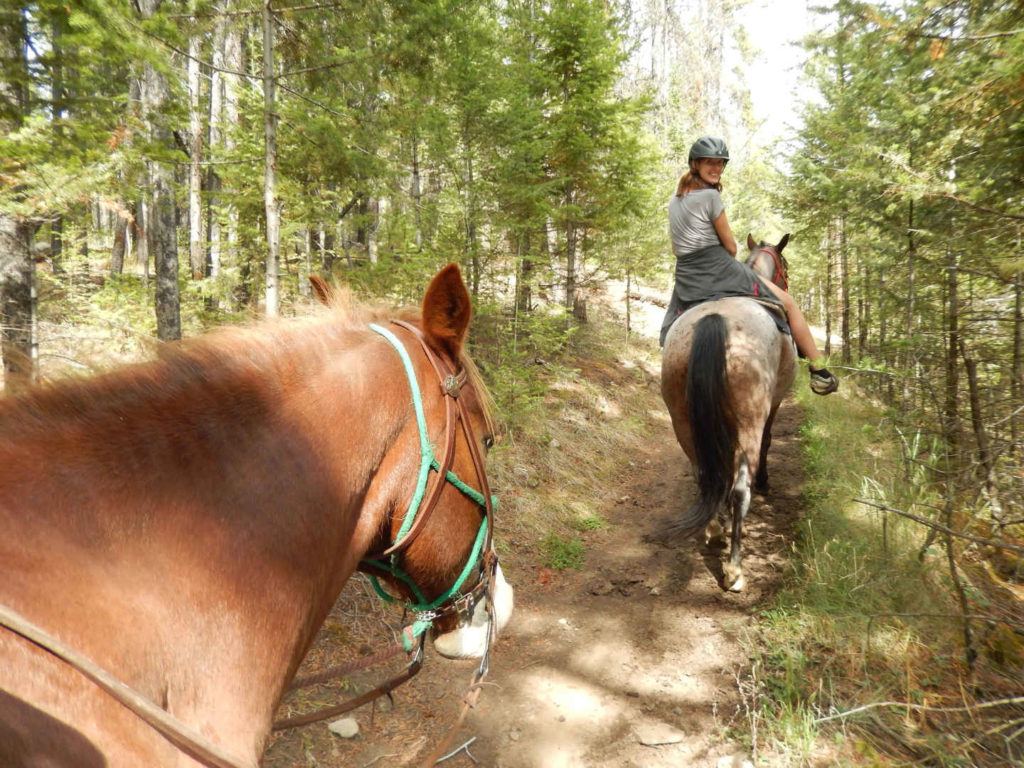 Horseback riding in Jasper National Park is one of the most sublime things you can do on a backpacking trip across Canada. Gently riding among the silver birches and taking in the sweeping valley views is an incredible way to experience one of Alberta's most picturesque places.
The horseback riding route begins high up near Jasper's Pyramid Lake so you can see for miles across the lakes, rivers, pine tree forests, and mountains, as birds of prey circle overhead.
You don't need any riding experience, and the horses are well-behaved. Meanwhile, a cowboy-hatted tour guide from Jasper Riding Stables regales you with entertaining stories and insight into the local area and how it is impacted by climate change. This epic experience makes you feel so connected with your surroundings and even more determined to protect this breathtakingly beautiful planet of ours.
– Submitted by Claire of Backpacking Bella
24. Attend the Jasper Dark Sky Festival
Jasper National Park
Look up to see millions of stars, different planets and galaxies, all on the backdrop of the majestic Canadian Rocky Mountains. Jasper National Park is the home to an 11,000 square kilometer (6,800 mile) dark sky preserve; it's one of 17 in Canada and the second biggest in the world. To qualify as a dark sky preserve, the town and park have made a commitment to ensure that the area is free or has minimal unnatural light pollution.
Every year in October, the town of Jasper and the national park celebrate their celestial distinction by hosting the Jasper Dark Sky Festival. The 10-day annual festival welcomes some of the world's top astronauts, scientists, PhD's, astronauts, and space enthusiasts to stargaze and talk all things surrounding the final frontier. Past speakers have included George Takei, Chris Hadfield, and Dr. Robert Thirsk.
Beyond the guest speakers, there are plenty of space and science-themed activities including food labs, astrology viewings atop a mountain, science fairs, and even a symphony under the stars.
– Submitted by Pete Heck of RoadTripAlberta.com
25. Explor ice caves on Athabasca Glacier
Jasper National Park
If you brave the Canadian winter, you will get rewarded. One of the secrets of the Canadian Rockies is ice caves. We were lucky to find a big one on Athabasca Glacier located in Jasper National Park. You can visit Athabasca Glacier on a bus tour in summer, and also visit in winter without the masses of tourists.
Drive up to the Toe of the Athabasca Glacier and take a short and marked walk along the glacier. If you observe your surroundings well enough, you can see an ice cave on the right side of the glacial wall. The surface of the glacier was sturdy enough to explore a bit when we were there, but I wouldn't venture too far inside the cave. (This is not a tourist attraction and you're responsible for your own safety if you choose to look for ice caves.)
The blue ice inside of the cave with several walls looking like whipped cream made of snow was an unreal experience.
When we came back in April, the ice started to melt and it was no longer safe to visit. Some caves collapse over the summer and new ones are formed the next winter. That's the beauty of this adventure; you never know what you'll find.
– Submitted by Maya of Travel With the Smile
26. Look for bison at Elk Island
Elk Island National Park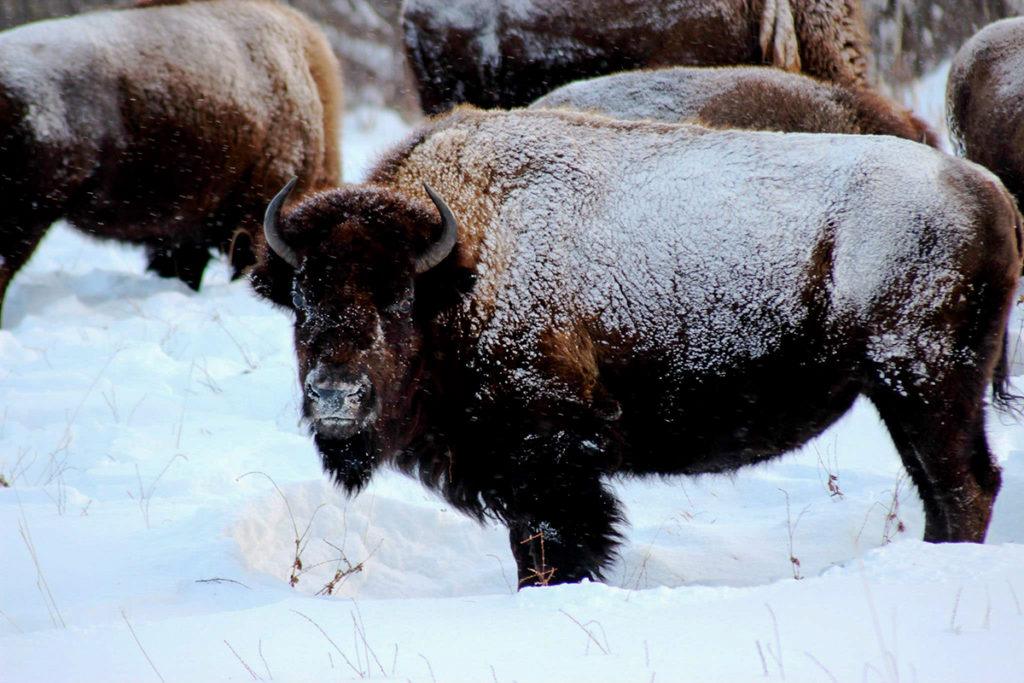 Elk Island National Park, 35km east of Edmonton, is the perfect place to spend an afternoon bison watching. The fully-enclosed national park was designed as a wildlife sanctuary to help conserve elk and the nearly extinct bison.
Bison roam free all over the park, lazily grazing on their own or as part of the herd. During the summer, they can be much harder than usual to find, as they're often hidden as they try to escape the heat. The best times to see the bison in summer are first thing in the morning and at sunset when the temperature is cooler.
In winter, the bison are much easier to spot, as their dark figures stand out clearly against the white snow.
You can often spy bison along the side of the main road relaxing or eating grass. But there are a few favorite hangouts they prefer above all others. One of these places is Bison Loop, located near the south entrance of the park. Here you can watch herds of bison grazing in the grassy, open plains.
Want to find out more about bison? The Elk Island National Park provides weekend "Bison Backstage Tours" throughout summer to teach visitors the ways in which the park brought bison back from the verge of extinction.
– Submitted by Crystal of Wandering Crystal
27. Explore Waterton Lakes
Waterton Lakes National Park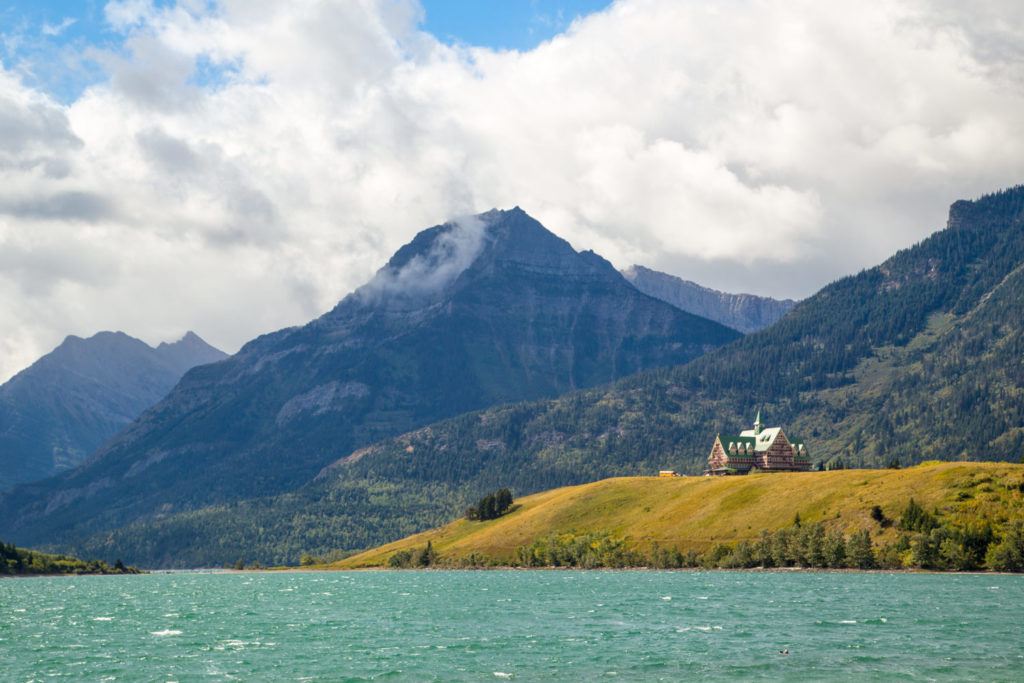 Bordering the US state of Montana in southern Alberta, Waterton Lakes National Park is the Canadian counterpart of Montana's Glacier National Park.
Waterton Lakes is known (obviously) for its chain of lakes at the foot of the Rocky Mountains, but also boasts a small red rock canyon, waterfalls, and wildlife like bison, elk, bighorn sheep, and bears.
Visitors can drive the Red Rock Parkway and Bison Paddock Loop Road, walk through Red Rock Canyon, go kayaking or biking, and hike around several lakes and to see some waterfalls.
Things to do in Alberta's cities
1. Walk across the Peace Bridge
Calgary, Alberta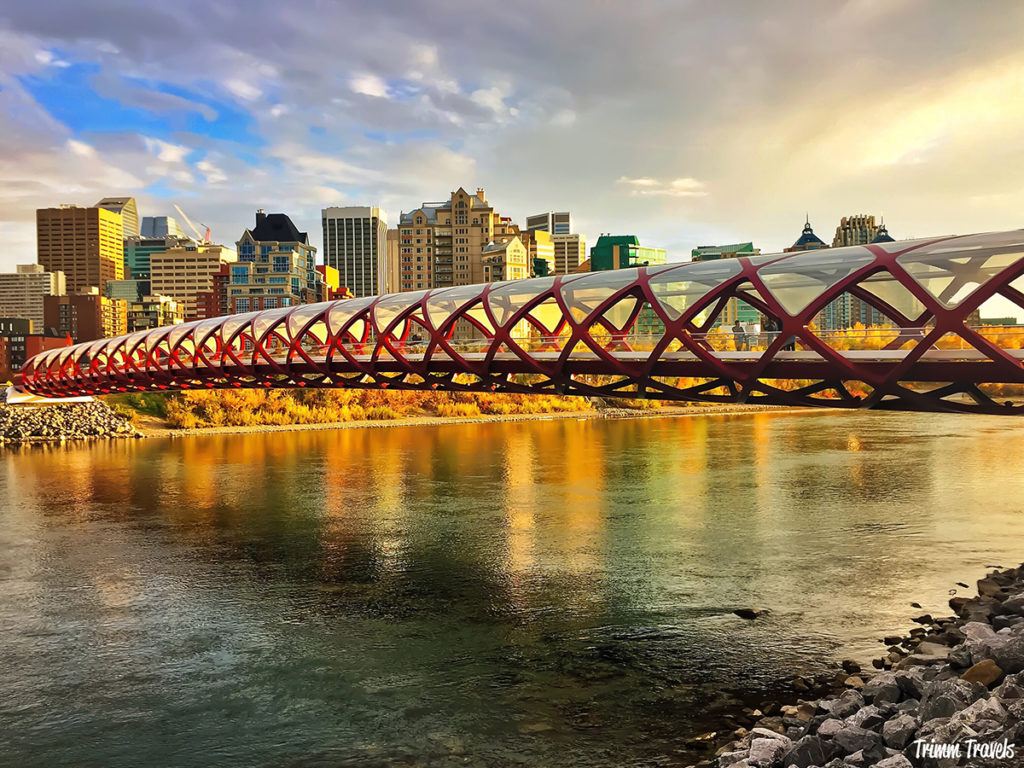 Having visited four times in a period of 16 months, it's safe to say that Alberta is a favorite destination of mine. I enjoy both the nature and city aspects the Canadian province offers. If you are visiting the Banff/Lake Louise area, you are likely flying in and out of Calgary. If this is the case, then the Peace Bridge is a must-see bridge you just can't miss!
Located in downtown Calgary, the Peace Bridge is a foot and bike path pedestrian bridge that crosses the Bow River. Opened in March 2012, the bridge was designed by my favorite architect, Santiago Calatrava. The Spanish native designed the bridge to help the commuter population gain easier access between downtown Calgary and the community of Sunnyside.
In my opinion, the two best times to see Peace Bridge are right before sunset and after dark. Watching the sunset from either the north or south side of the bridge produces stunning color. Stick around after dark and watch the double-helix tubular bridge light up in all its glory!
– Submitted by Heather Trimm of Trimm Travels
2. Go Western at the Calgary Stampede
Calgary, Alberta
If you're visiting Calgary in summer, on your bucket list should be attending the Calgary Stampede.
With the tagline "The Greatest Outdoor Show On Earth," the Stampede is basically what you get when you cross a massive county fair with a rodeo. It has all the county fair trappings I know and love from growing up in Ohio (the fried food, the midway rides, the agricultural barns), but also centers around rodeo events like bull riding and chuckwagon races.
Add in some beer tents, a Canada-famous Grandstand show, some First Nations culture, and a music festival atmosphere that spills out beyond the Stampede grounds, and you have a must-do summer event.
The Calgary Stampede runs for 10 days every July.
3. Go to a festival in Canada's Festival City
Edmonton, Alberta
Edmonton is known as Canada's Festival City, and hosts a bunch of really cool festivals throughout the year (with a large proportion of them takings place in the summer).
Some of the major festivals to check out in Edmonton include:
International Street Performers Festival (July)
Edmonton Folk Music Festival (August)
Edmonton Fringe Festival (August)
Edmonton Dragon Boat Festival (August)
I was in Edmonton during the International Street Performers Festival, which was a fun couple of days filled with so many buskers and fun street acts.
4. Ride the High Level Bridge Streetcar in Edmonton
Edmonton, Alberta
One of my favorite unique things to do in Edmonton was ride the High Level Bridge Streetcar. The car runs between Jasper Plaza in downtown Edmonton and the historic Old Strathcona neighborhood, crossing the North Saskatchewan River on the High Level Bridge.
The High Level Bridge is one of the most iconic bridges in Edmonton. The bridge sits more than 150 feet above the river, and opened in 1913 as the only bridge in Canada designed to carry four different types of traffic: rail, streetcar, automobile and pedestrian.
Today, the historic High Level Bridge Streetcar still uses the bridge to carry people across the river. The ride from Old Strathcona to Jasper Plaza takes less than 20 minutes, but you'll get the very best views from the bridge as you cross over the river.
Streetcars run roughly every 40 minutes (check schedules here), and it costs $7 for a round-trip ticket.
Things to do in other parts of Alberta
1. Ride the Rocky Mountaineer train
The Rocky Mountaineer is a private scenic luxury train that runs a route through British Columbia and Alberta, usually traversing from Vancouver to Banff and Jasper through the Rocky Mountains.
The company has been running scenic train tours in Canada since 1990, and is known for its double-decker Gold Leaf train cars, which offer incredible views of the passing scenery.
A Rocky Mountaineer trip is a true bucket list experience, and one that I still gush to people about even though my trip was several years ago!
2. See ice bubbles at Abraham Lake
Clearwater County, Alberta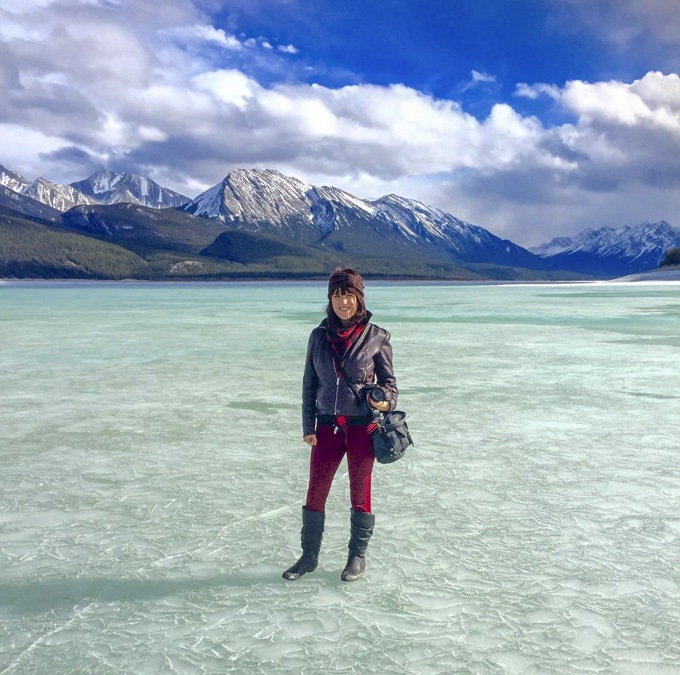 Visiting Abraham Lake is one of the most unique things you can do during the wintertime in Alberta. It's similar to the other glacial lakes in the Rocky Mountains, with striking milky blue waters and surrounding snow-tipped peaks, but has a unique twist.
During the winter, methane bubbles rise up from the lake bed and become frozen in the ice at different levels. This creates stacks of frozen bubbles, which outdoor enthusiasts and photographers come to see every winter.
The best time to capture the frozen bubbles in Abraham lake is from mid-December to the end of January. But even if you miss them, Abraham Lake is still worth a visit. While frozen, you can walk or skate across it, with many opportunities for photos of the surrounding landscape.
Abraham Lake is located in Western Alberta between Banff and Jasper national parks. If you're doing a road trip along the world-famous Icefields Parkway or taking the train across Canada, it makes for a perfect stop.
– Submitted by Lora of Explore With Lora
3. Paddle through the Badlands
Dinosaur Provincial Park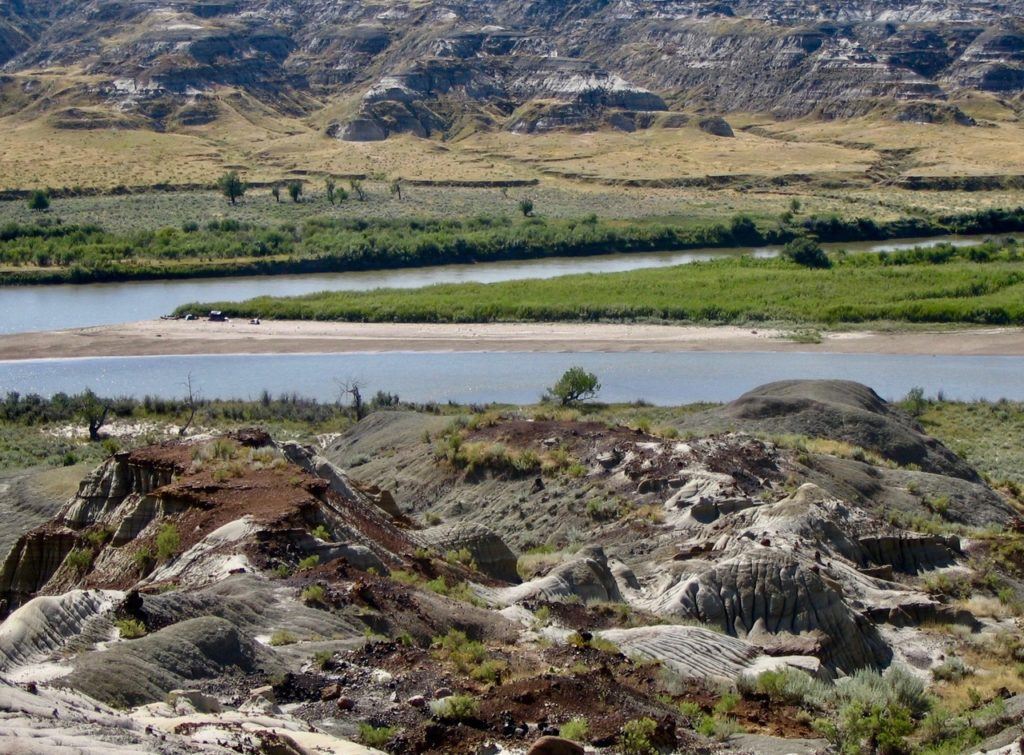 The Red Deer River near Drumheller is a classic Canadian Badlands paddle – gentle, but with enough flow to keep feet up on the gunwales and paddles barely dipping. For a family-friendly float ending in Dinosaur Provincial Park, opt for the 13-kilometer section from the upstream bridge at Stevesville. It's an easy meander down the muddy brown primordial soup of a river that flows with suspended pieces of the past.
Overnighters will appreciate the section from Dinosaur down to Jenner Bridge – an easy two to three-day, 38-kilometer Badlands paddle adventure. Float by great blue herons standing like silent sentinels on the shore. Watch white pelicans soar effortlessly overhead. Listen for beavers slapping their tails before a quick escape. Keep an eye out for rattlesnakes coiled up in the shade of sagebrush. Be ready for a nightly coyote chorus, and don't forget to look up after dark for endless starry skies and occasional Northern Lights.
Human history also lives along this section of the river at Happy Jack's, also known as Mexico Ranch. Here an abandoned farmhouse and outbuildings lie testament to Lord Bereford's turn of the century ranch and subsequent home of Hansel "Happy Jack" Jackson until his death in 1942.
– Submitted by Megan Kopp of Time Travel Trek
4. Visit the Royal Tyrell Museum
Drumheller, Alberta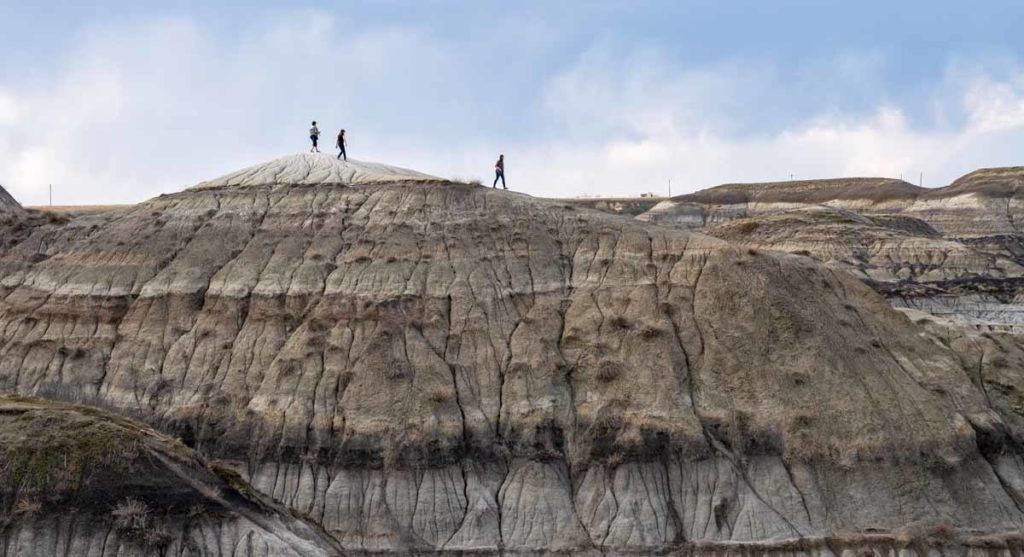 If you're into dinosaurs, I highly recommend adding Drumheller to your Alberta bucket list. The reason is that the Badlands, the area surrounding Drumheller, is home to an incredible amount of dinosaur discoveries – including not just skeletons and fossils, but also eggs, track fields, and probably much more that hasn't been uncovered yet.
All these discoveries (or at least the best of them) are now housed into the Royal Tyrell Museum, a great museum dedicated to all things paleontology. The museum will take you through a million-year journey, describing what Alberta used to look like when it was a dinosaur's playground – all covered in rainforests.
The highlight of the museum is the Dinosaur Hall, the largest dinosaur collection on display. You'll find well-known species like triceratops and brontosaurus, as well as some lesser-known ones like the pachyrhinosaurus and the ichtyosaurus, the largest marine reptile ever to exist.
We recommend dedicating at least half a day to the museum, and spending the rest of the day exploring the Badlands, to understand where all these discoveries came from.
– Submitted by Margherita Ragg of The Crowded Planet
5. Head underground at the Atlas Coal Mine
Drumheller, Alberta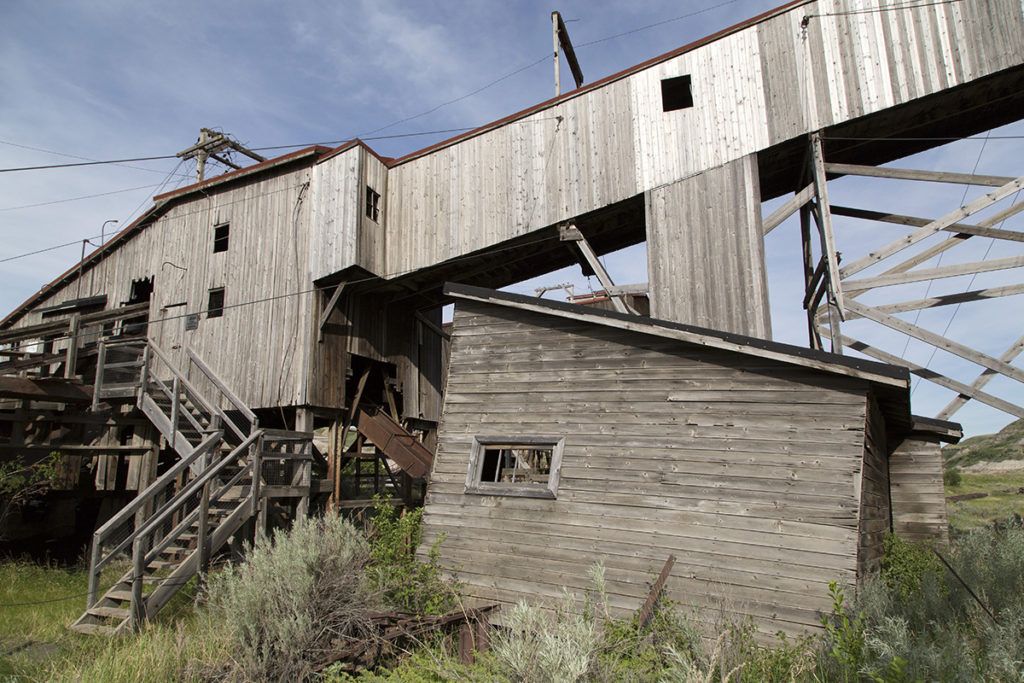 It's not just fossilised dinosaurs that are buried in the Badlands around Drumheller, the home of the impressive Royal Tyrrell Museum of paleontology. The stratified landscape is also rich with seams of coal dating back the Carboniferous Period, during which dinosaurs roamed the planet.
Coal mining was once a major industry in this part of Alberta. During the last century, as many as 139 coal mines operated in the Drumheller Valley. The Atlas Coal Mine is a 20-minute drive southeast of Drumheller and has been preserved as a National Historic Site. It's possible to don a safety helmet and lamp and join guided tours of the pit and its outlying buildings.
The tours are a way of learning about the perils of working within a coal mine. It's possible to walk alongside the conveyor belt that transported hewn coal onto trucks, and peek inside of a mine shaft supported by sturdy joists. Fascinating and insightful, visiting the Atlas Coal Mine is a way of understanding a once important aspect of Alberta's industrial heritage.
– Submitted by Stuart Forster of Go Eat Do
6. Get to know some wolfdogs
Cochrane, Alberta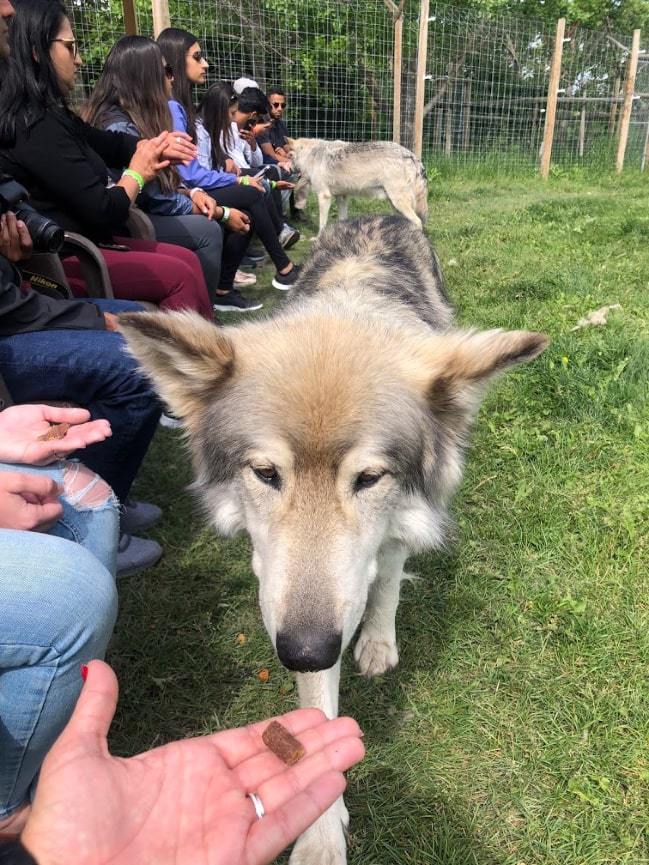 If you love animals, you've got to check out the Yamnuska Wolfdog Sanctuary. It's just 30 minutes outside Calgary in the town of Cochrane, so it's super easy to get to.
There are interpretive trails throughout the rescue, so you can wander past enclosures housing the different packs of wolfdogs. To really learn about what makes a wolfdog though, you can take the interactive tour and go inside the enclosure to meet some of the bravest pups. You won't get to snuggle them – wolf dogs are notoriously shy and naturally fearful of humans – but if you're lucky, calm and quiet, one might gently take a treat out of your hand.
Visiting the sanctuary makes a great day trip from Calgary, and all entrance fees support the dogs at the shelter.
– Submitted by Angie Orth of Angie Away
7. Go dogsledding in winter
Kananaskis Country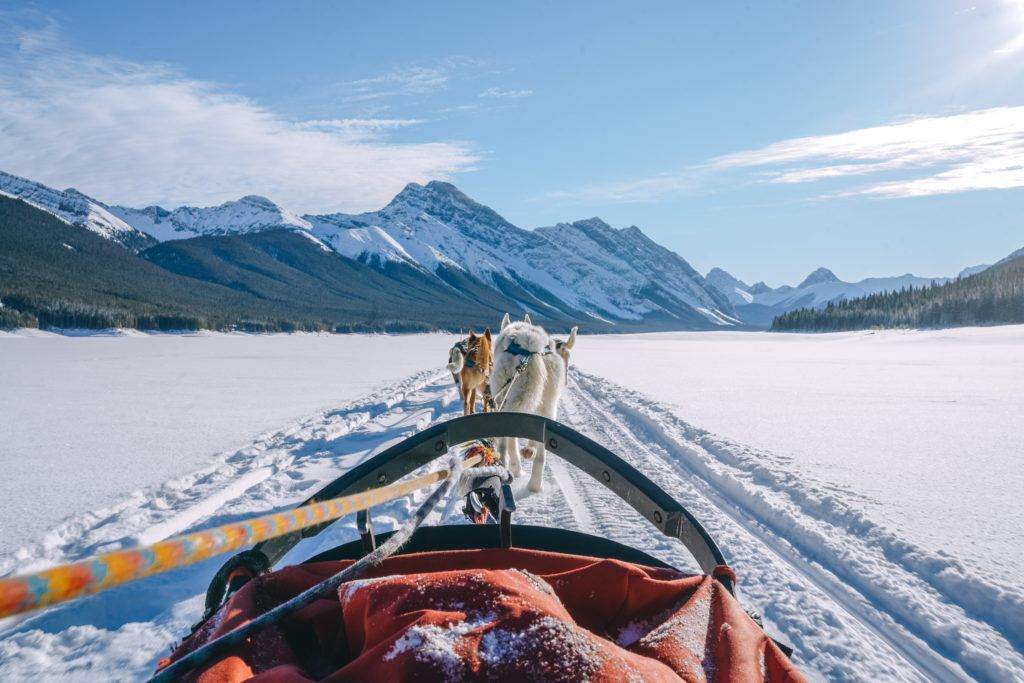 When visiting Alberta, you absolutely cannot pass up the chance for a dog sledding expedition across Spray Lakes in Kananaskis Country. Whether you are a hopeless romantic who fancies a dreamy winter wonderland adventure, or an adrenaline junkie looking for action and thrill, this once-in-a-lifetime experience will be the highlight of your trip!
Mad Dogs & Englishmen Expeditions Inc. is a small family-owned company offering 6 different tours during the winter. If you're pressed for time, the 1.5-hour or 2-hour tour is a perfect match for your schedule. Half-day and full-day tours are available as well for those who are more physically active. If you're feeling adventurous, you can even dogsled at night under the stars!
And not to worry, the huskies are all well-taken care of. The staff have extensive knowledge in caring for these cuties, and they are super friendly and helpful in helping you capture the perfect travel memory.
– Submitted by Jasmine of My Suitcase Journeys
8. Hike to Grassi Lakes
Canmore, Alberta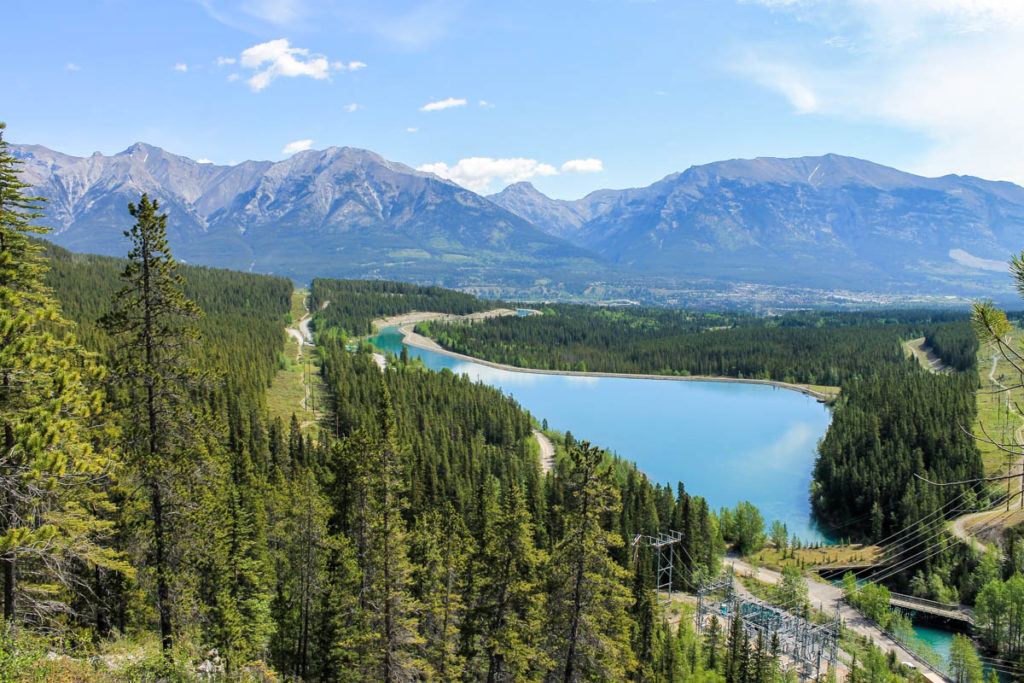 A fantastic short hike located near Canmore in Alberta's Rocky Mountains, Grassi Lakes takes you to beautiful teal lakes and mountain scenery. Because it's in Canmore, it's a shorter drive from Calgary than Banff and entry is free.
The Grassi Lakes hike is quite easy, taking only 1.5-2 hours, with two trail options. One option does bypass the scenery but is a more gentle slope. The scenic route takes you up the rocky trail past a waterfall and to many lookout points. From the trail, you can look down over the valley and see the town of Canmore and mountains surrounding it. It's also got a fantastic view of the reservoir and dam below.
The end of the trail has you arriving at two clear lakes. They aren't large lakes, but both hold perfectly clear teal water. A short walk around the lakes takes you to a huge rock wall that is popular with climbers. The hike is located in a wildlife corridor so you do need to have bear awareness when you visit. It's the perfect short hike to add on to any Banff itinerary or as a day out in the Kananaskis region of Alberta.
– Submitted by Brianna of Curious Travel Bug
9. Get hands-on at Bar U Ranch National Historic Site
Longview, Alberta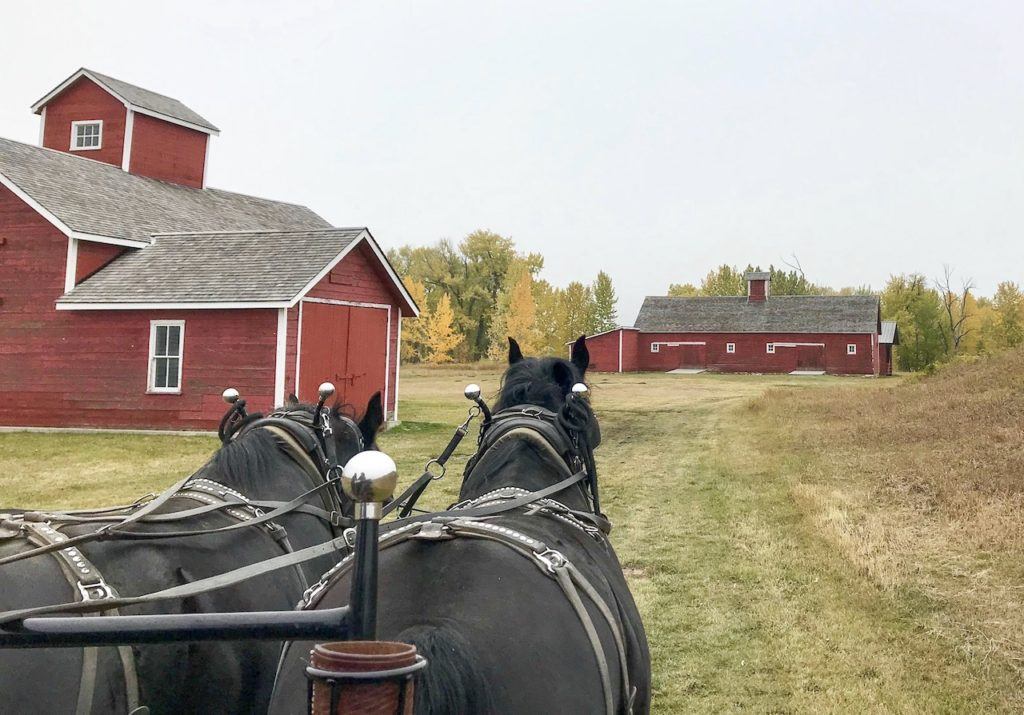 Ever wanted to be a cowhand for a day? One of the most memorable things to do in Alberta is to experience the old-style western ranching lifestyle at Bar U Ranch National Historic Site, a working ranch located on the province's rugged Cowboy Trail.
Operated by Parks Canada, Bar U Ranch is Canada's only National Historic Site commemorating the history of cattle and horse ranching. Its outdoor museum features 35 preserved buildings, including historic barns, cookhouse, corrals, blacksmith shop and more. It recreates the spirit of adventure of a ranching operation that lasted from 1882 to 1950
Bar U Ranch was once the leading ranch in Canada with a herd of more than 10,000 cattle and 500 horses, including the famous Percheron horses, known as the "gentle giants" of horse breeds.
Today, visitors can try their hand at roping a steer, take a horse-drawn wagon ride through the foothills of cowboy country, learn how a saddle-maker repairs a rein, and experience the rhythm of day to day life in the foothills of the Rocky Mountains.
Wrap up your visit by sipping cowboy coffee around an open campfire or by enjoying a hearty lunch of chili and beans at the Bar U Ranch Cafe in the Visitors Centre. Check the official website for seasonal hours of operation.
– Submitted by Michele Peterson of A Taste for Travel
10. Hike Turtle Mountain and Frank Slide
Crowsnest Pass, Alberta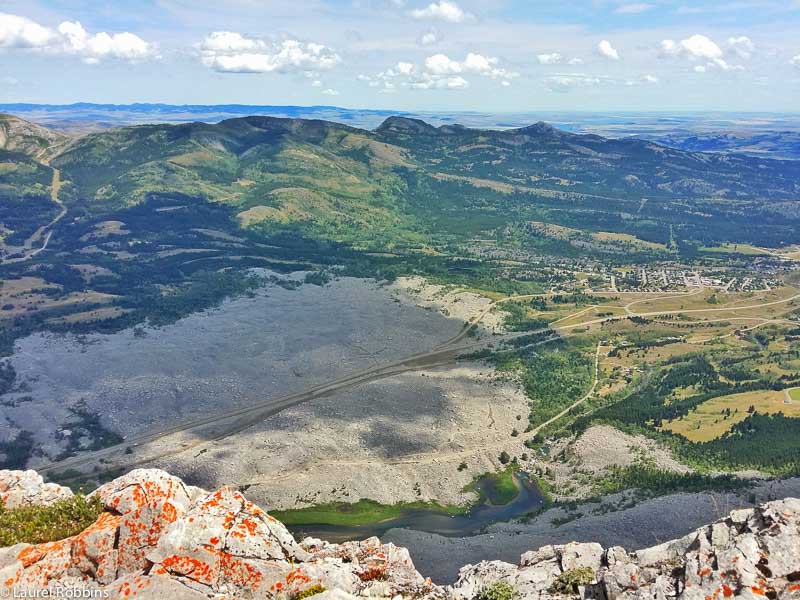 Frank Slide was the deadliest rockslide in Canada's history, occurring in 1903. Part of Turtle Mountain collapsed, leaving boulders as big as houses and tragically killing around 70 people in 100 seconds.
Today, Turtle Mountain is still unstable but closely monitored, meaning it's safe to hike. It's one of the most unique hikes/scrambles in the Canadian Rockies. For the last 45 minutes or so you'll need to use your hands in places, therefore I'd only recommended this hike if you're comfortable doing so.
Even though hiking Turtle Mountain is safe, it's a bit spooky given its history and especially as you reach the summit and see the long cracks that seemingly have no bottom.
Before hiking up Turtle Mountain, I'd highly recommend visiting the Frank Slide Interpretive Centre. You'll get more information about the rockslide which will make it a more meaningful experience.
As an added bonus, it's located in the Crowsnest Pass, a part of Alberta that often gets overlooked in favor of the more popular national parks.
– Submitted by Laurel of Monkeys and Mountains Adventure Travel
11. Go to a long table dinner on a farm
Leduc, Alberta
One of my favorite evenings in Alberta was the one where we took a drive from Edmonton out to Leduc for a Long Table Dinner at the Old Red Barn. These dinners take place several times throughout the summer in partnership with local chefs, and showcase local flavors and produce.
This was such a unique (and delicious!) evening, and you can really tell that the organizers are passionate about presenting a true farm-to-table experience. I can't recommend this enough!
On the drive back to Edmonton, we stopped by a blooming canola field for photos (the yellow fields you see throughout Alberta during the summer months are likely canola!). Alberta's mountains are stunning, yes, but the rest of the province can be equally as stunning.
12. See rock art at Writing-on-Stone Provincial Park
Milk River, Alberta
Alberta is known for its national parks, but it has some significant provincial parks, too. One of those is Writing-on-Stone, one of the largest areas of protected prairie in Alberta.
Writing-on-Stone is a nature preserve for birds and other animals, but exists primarily to protect ancient rock carvings and paintings. The area is important to the Blackfoot and other indigenous First Nations tribes, and contains more than 50 petroglyph sites and thousands of works of rock art.
As of July 2019, Writing-on-Stone is a UNESCO World Heritage Site.
---
Tours in Alberta
Looking for something specific to do in Alberta? Here are some of the top tours in the province:
---
Did you have any idea there was so much to do in Alberta? Which things would you put on YOUR Alberta bucket list?
Pin it for later: