Some posts on this site contain affiliate links, meaning if you book or buy something through one of these links, I may earn a small commission. Read the full disclosure policy
here
.
---
When it comes to the province of Alberta, Canada, chances are you know about its famous national parks, mountains, and incredible lakes. In fact, I've written a post featuring many of them!
But what do you know about its cities?
Chances are you don't know a whole lot, because Alberta's cities are criminally overlooked as simply being the places you fly in to/out of for trips to Banff and Jasper.
Calgary is overshadowed the most, I think, by Alberta's national parks. It's the largest city in Alberta, and yet most visitors completely breeze through it on their way to the mountains.
Well stop it, travelers of the world. Calgary is actually really cool, and a great city to spend a couple days in before you head to the national parks.
I said more than once that I could totally live in Calgary, and I wasn't kidding – it's a great city!
Note: This post is brought to you in partnership with Tourism Calgary, who hosted me during my trip. As always, though, all opinions are my own!
Top things to do in Calgary in summer
You might know that Calgary is a wintry destination thanks to the fact that it hosted the Winter Olympics once. But I think summer is actually the best time to visit Calgary.
Calgary is a great city to be in during the summer. It never gets too hot, there are always things going on, and there are so many ways to enjoy the outdoors without ever leaving the city limits.
Here are the best things to do in Calgary in summer:
1. Bow River Pathway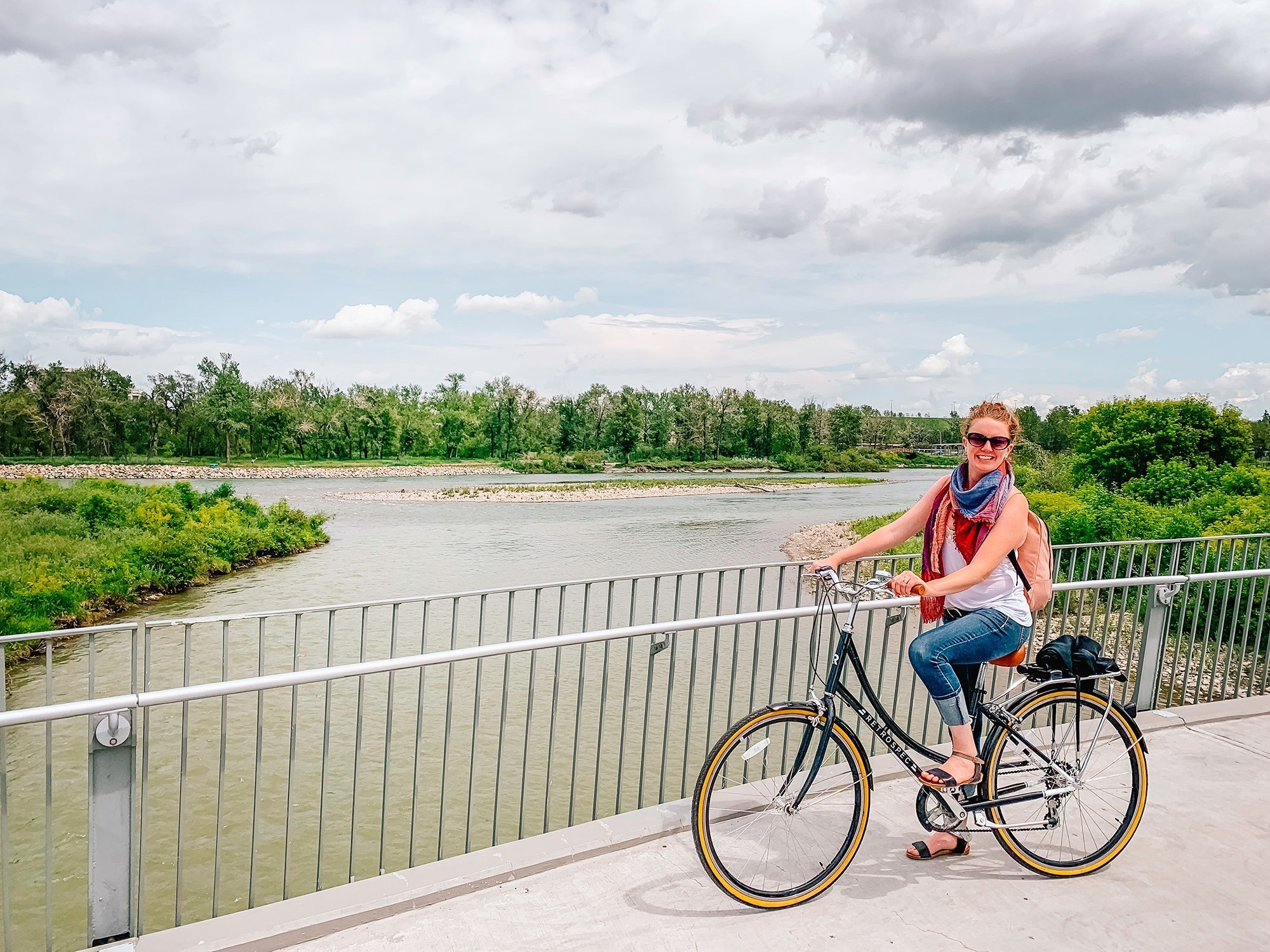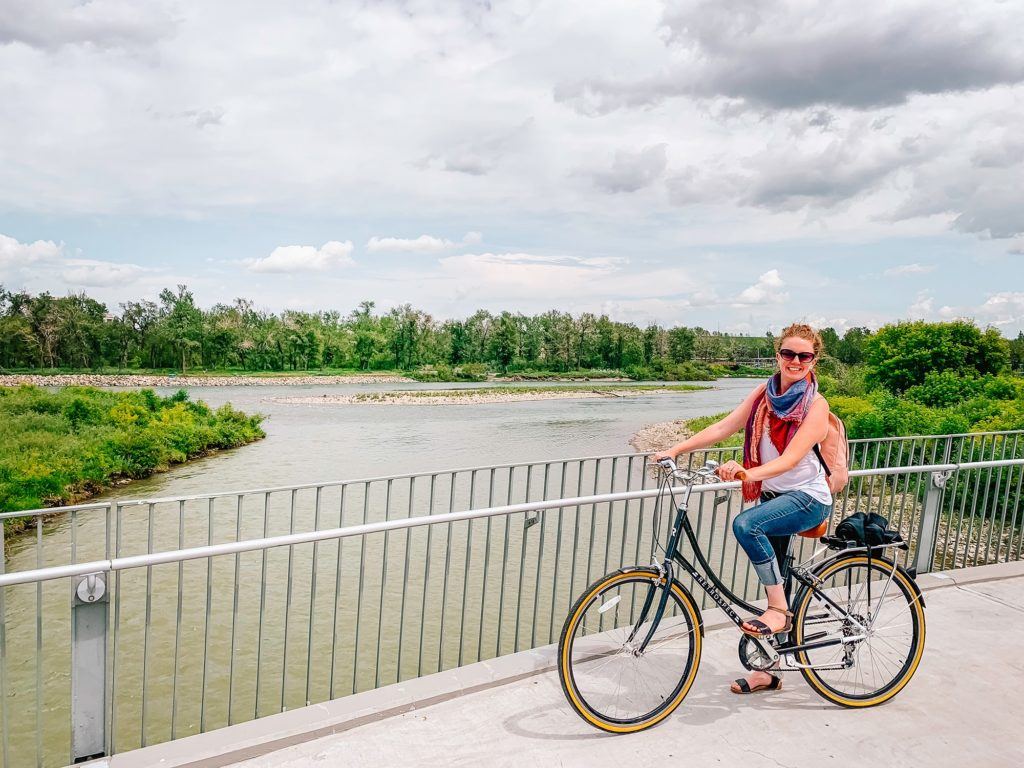 Like many major world cities, Calgary is built along a river: the Bow River. The river originates in the Rocky Mountains, and flows right through downtown Calgary.
The Bow River Pathway is a network of pedestrian and bike paths that connect both sides of the river and the various parks and neighborhoods along it. On a nice summer day, you can go for a walk or rent a bike to tackle part of this beautiful trail.
The river turns a bright glacial blue during the summer, and you can stop to admire bridges that cross the river – including the famous Peace Bridge.
If you're visiting Calgary and don't have a bike of your own, you can rent a really cute one from Rath Bicycle, and then take your bike over to a new section of pathway called RiverWalk, which stretches for 2 kilometers in the East Village neighborhood.
This is my #1 thing to do in Calgary in the summer simply because it's suitable for anyone and everyone, and doesn't cost a lot of money!
2. Float down the Bow River
Another way to enjoy the water in Calgary is to rent a raft, kayak, or paddleboard from The Paddle Station in order to float down the Bow River.
The river isn't super dangerous, meaning you don't have to book a guide if you don't want to (though, I won't lie: it was great to basically not have to do any paddling on our guided float!).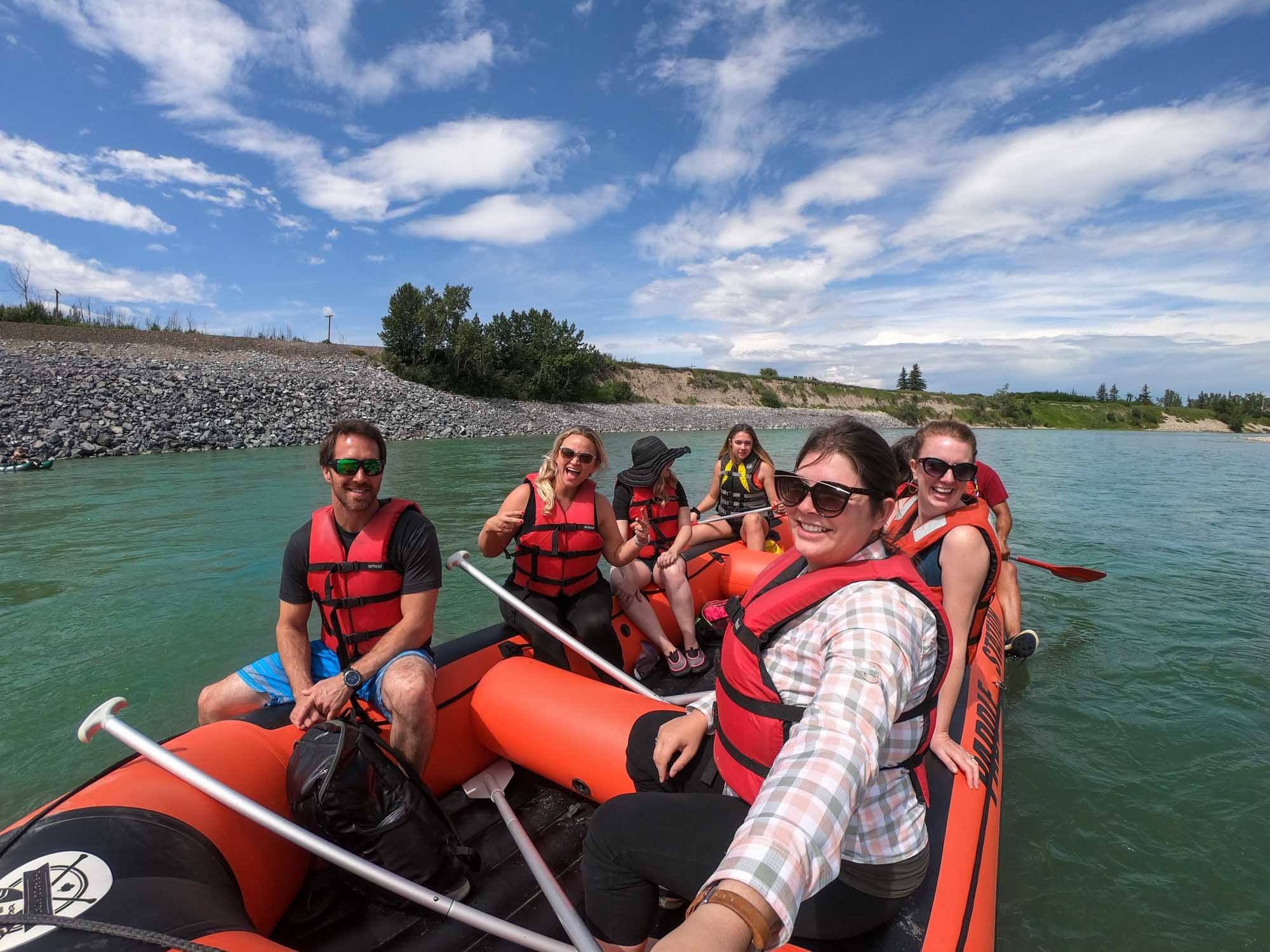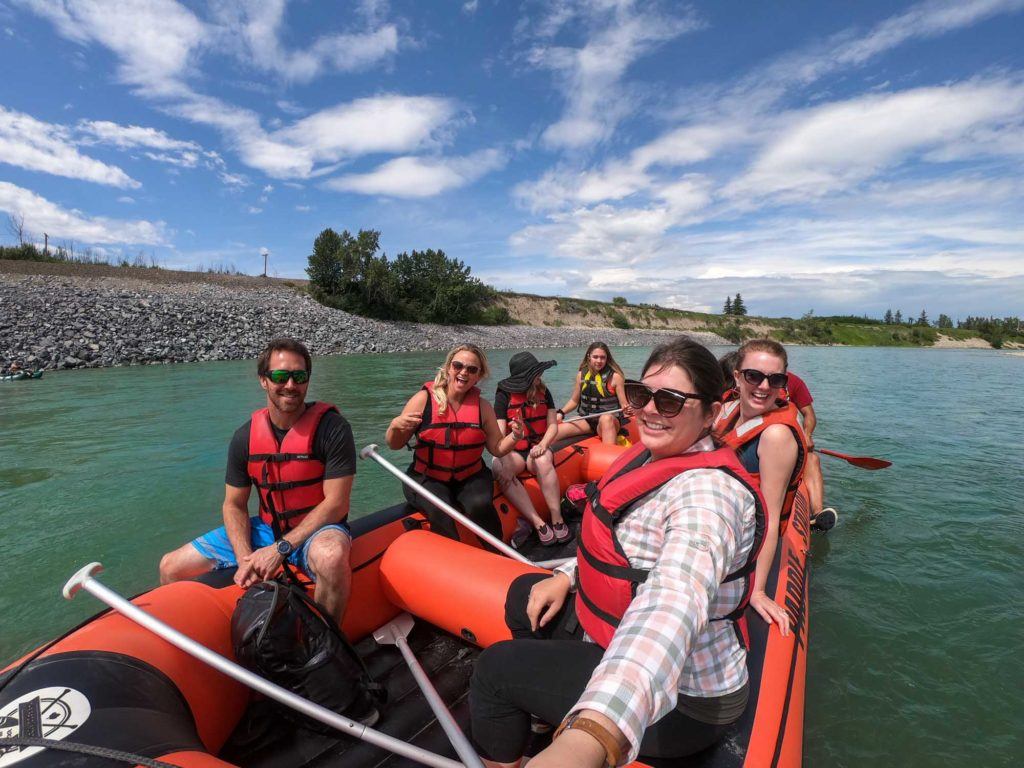 You can float for several miles down the river, including under some of the city's bridges. This is a great way to get a different perspective of the Calgary skyline.
3. Watch surfers at 10th Street Wave
Surfers? you ask. In a city? Yes! Calgary has a specific wave in the Bow River under the 10th Street Bridge that is perfect for river surfing.
You'll often find surfers here practicing their moves after work and on weekends.
If you want to try out river surfing for yourself, there is a local Calgary company called Outlier that offers intro lessons!
4. Shakespeare by the Bow
Calgary is home to lots of parks and green spaces, but my favorite I visited was Prince's Island Park. It's a park located on an island in the Bow River, and is a super popular spot for everything from festivals to picnicking.
One unique thing that happens at Prince's Island Park every summer is Shakespeare by the Bow, an outdoor performance series put on by Theatre Calgary. They perform one Shakespeare play each year several times from June through August.
5. Go to a festival
Did I mention that Calgarians like to be outdoors in the summer? Well, they also LOVE festivals. The summer calendar in Calgary is FILLED with all sorts of interesting annual festivals.
Some of the most popular summer festivals include:
Sled Island Music & Arts Festival (June)
Fiestaval Latin American festival (July)
Calgary Folk Music Festival (July)
Calgary International Blue Festival (July/August)
Calgary Fringe Festival (August)
Taste of Calgary (August)
GlobalFest (August)
6. Check out the Calgary Stampede
Speaking of festivals and events, we can't talk about summer in Calgary without talking about the Calgary Stampede.
With the tagline "The Greatest Outdoor Show On Earth," the Stampede is basically what you get when you cross a massive county fair with a rodeo. It has all the county fair trappings I know and love from growing up in Ohio (the fried food, the midway rides, the agricultural barns), but also centers around rodeo events like bull riding and chuckwagon races.
Add in some beer tents, a Canada-famous Grandstand show, some First Nations culture, and a music festival atmosphere that spills out beyond the Stampede grounds, and you have a must-do summer event.
The Calgary Stampede runs for 10 days every July.
7. Go for a date night at Heritage Park
Calgary's Heritage Park is a massive outdoor living history museum on the banks for the Glenmore Reservoir. The park traces western Canada's history from the pre-railroad days of the 1860s all the way though to the 1950s.
The park covers 127 acres, and has all sorts of interactive environments from an 1860s fur trading fort where you can learn about how pelts were used instead of money, to a 1910s railway town where you can visit a print shop and ride a real steam train.
Heritage Park is great for kids, but has plenty of summer events that would make great date night activities, too. For example, you can visit the Heritage Town Square for free concerts on Wednesday nights; sail on the S.S. Moyie (Calgary's only paddlewheeler) on a Captain's Cruise on Glenmore Reservoir; have a gourmet meal inside a vintage Canadian Pacific Railway car; or enjoy drinks and rides at an adults-only Night at the Midway.
I went to Heritage Park not knowing what to expect, and found myself not wanting to leave 2 hours later.
8. Race down a mountain on a luge
Luging is generally a winter sport – unless you put wheels on a luge-shaped cart like they've done at Skyline Luge in Calgary!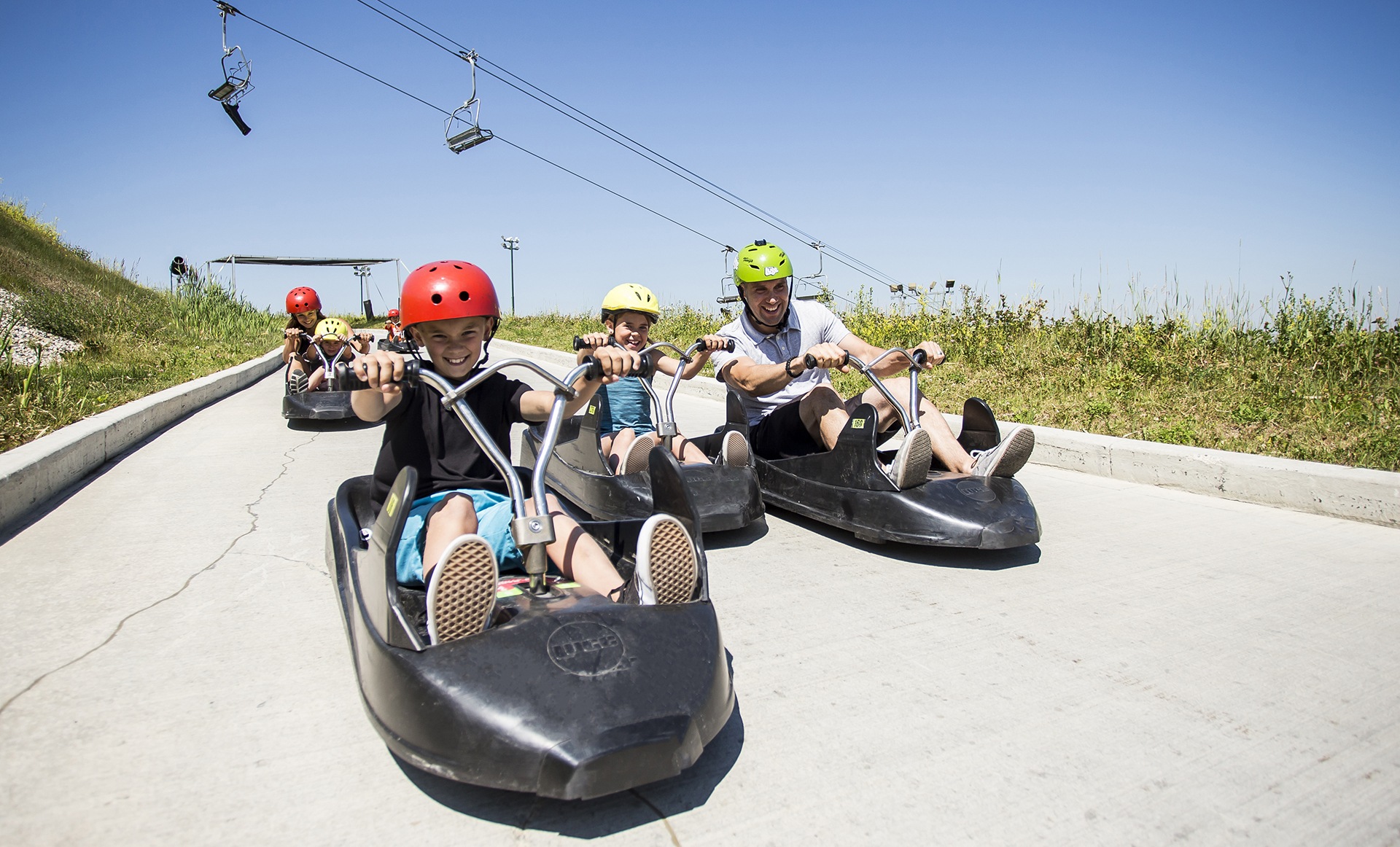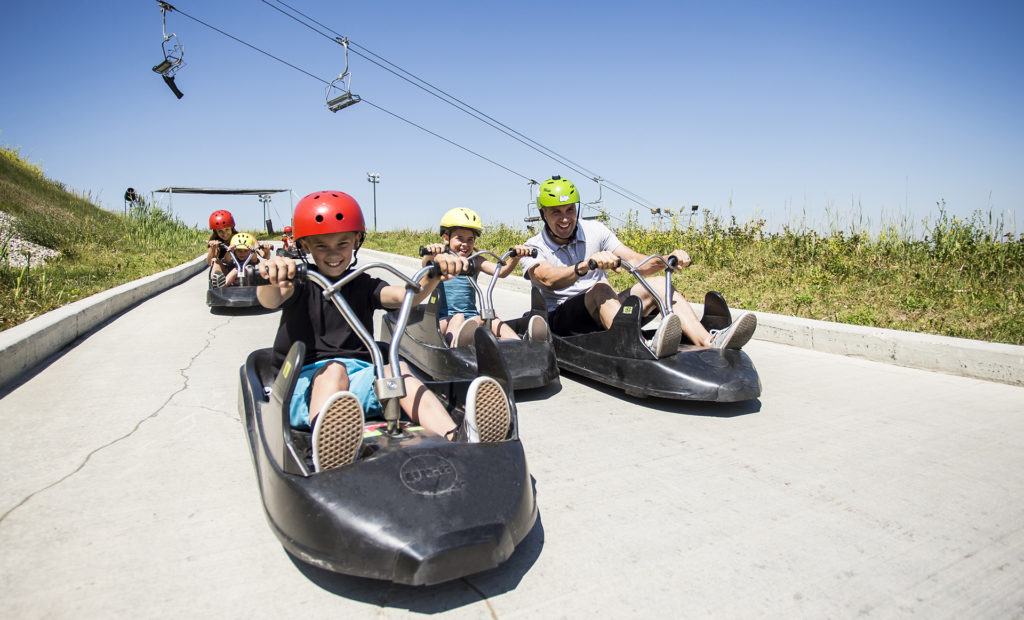 If you're looking for an adrenaline-inducing activity that's suitable for the whole family, head to Winsport Canada Olympic Park. This was one of the venues for the 1988 Winter Olympics – you'll probably notice the ski jumps when you arrive!
There are now several things you can do here during the summer months, from mountain biking to zip lining. You can also go down the Olympic bobsled track in a bobsleigh on wheels.
But the most fun thing you can do here? Go downhill karting with Skyline Luge! Climb onto a "luge" (a small plastic cart with wheels and bicycle-style steering), and zip down a curvy track alongside friends or family.
I haven't been "luging" in Calgary, but I have done this exact thing in New Zealand (Skyline Luge runs the luging in Queenstown and Rotorua, too), and can attest that it is SO FUN.
Where to stay in Calgary
On my own summer trip to Calgary, I was based at the brand new Residence Inn by Marriott Calgary Downtown. This is the largest Residence Inn in the world (yes, really), and is probably the fanciest one I've ever stayed in.
Rooms are large, complete with small kitchen, dining table, sitting area, bed, large closet, and bathroom. My room had 2 flatscreen TVs and huge windows with views of downtown Calgary. And, as a nod to the fact that the hotel sits where the historic Alberta Boot Company once stood, each headboard in the hotel has cowboy boot stitching.
Add to this a central downtown location and free breakfast, and you have a winner in my book. I would definitely stay here again.
Read reviews on TripAdvisor | Book a room at the Residence Inn here
Other hotel options in Calgary that I would consider include:
The Fairmont Palliser – In case you have a goal of staying at all the Canadian Fairmont hotels like I do!
Hotel Elan – This luxury boutique hotel is the #1-rated Calgary hotel on TripAdvisor.
Where to eat in Calgary
Calgary is quite the foodie city, and there are tons of options when it comes to where you should eat and drink. In the summer, many Calgary bars and restaurants have outdoor patios that spill out onto (and sometimes beyond) sidewalks.
Some of my personal favorite places in Calgary that I would recommend include:
For coffee: Rosso Coffee Roasters – I got the CUTEST latte at Rosso's Inglewood shop.
For breakfast/brunch: Sidewalk Citizen – Flaky pastries and delicious breakfast sandwiches abound here. The East Village location shares space in the Simmons Building with Phil & Sebastian Coffee Roasters, too, which makes it a perfect morning spot.
For brunch: Burwood Distillery – An unsuspecting brunch spot, I loved the options (both food and brunch cocktail) at Burwood Distillery.
For brunch/lunch: River Cafe – Located in Prince's Island Park, this cafe is in a beautiful spot in Calgary. It also serves up some delicious, locally-sourced food, too. We sat on the outdoor patio and had fruit plates and a cheese board.
For drinks: Shelter – This speakeasy-style cocktail bar is a super fun and funky spot to go out for drinks. The place is decorated with old lightbulbs and decorated gas masks, and they even offer cocktail classes a couple times per month.
For dinner: Ten Foot Henry – SO many locals raved about Ten Foot Henry – and the place totally lived up to all those stellar reviews. You'll find tons of great vegetable-centric dishes here, all of which are great.
For dinner: Una Pizza + Wine – If inventive gourmet pizzas paired with a huge wine list sounds like your jam, then definitely visit Una while you're in town. It's on the trendy 17th Ave., which is lined with restaurants and bars – almost all of which have summer patios.
For dessert: Made By Marcus – The line for this chain of local ice cream stores is often out the door during the summer, but it's worth the wait! Made By Marcus serves up all sorts of crazy seasonal flavors, and all their ice cream is made from scratch.
---
Who is ready to plan a summer trip to Calgary?
Pin it for later: