Some posts on this site contain affiliate links, meaning if you book or buy something through one of these links, I may earn a small commission. Read the full disclosure policy
here
.
---
I was sure that the extra-tall train car would tip over as every single person on board threw themselves in the direction of the left-hand-side windows. They were tripping over camera bags and tray tables and their own feet simply because the four magic words had been spoken: "Bear on the left!"
It was Day 2 of my journey into the Canadian Rockies aboard the Rocky Mountaineer; the last of two days, in fact, and thus far we hadn't seen a ton of wildlife.
The scenery was enough for me, to be honest – but of course who doesn't want to see a bear?
As I sat back down in my seat a minute later (having seen no sign of a bear), I smiled, remembering one of my dad's favorite jokes: "There aren't any bears around here," he likes to say. "I saw a sign down the road that said 'Bear left.'"
I never did see a bear.
But the things I did see were still pretty awesome.
After my journey on the Rocky Mountaineer, I got a lot of questions about the train ride in western Canada. And that's fair – it's a bucket list item for many people, but totally unfamiliar to others.
I'll admit that I myself knew little about the Rocky Mountaineer before being invited to try it out for myself. All that I knew was that there was a train and mountains involved – two of my favorite things.
But now that I've traveled from Seattle to Lake Louise on the Rocky Mountaineer, I figured I would answer some of those burning questions of yours.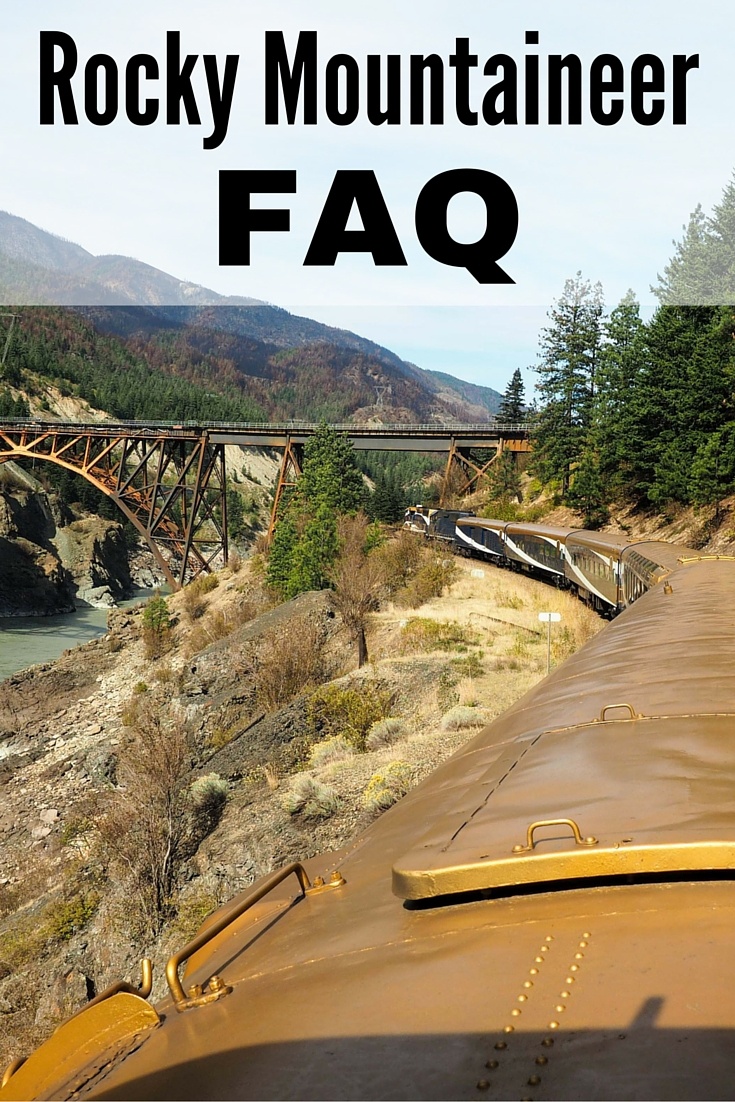 What is the Rocky Mountaineer?
The Rocky Mountaineer is a privately-owned luxury train company with routes between the west coast and the Canadian Rockies (hence the name). The company, begun in 1990, has a variety of itineraries, and two different classes of service – Silver Leaf and Gold Leaf. Starting in 2016, all services on the Rocky Mountaineer will enjoy the company's signature glass-domed train cars: single-level for Silver Leaf, and double-decker for Gold Leaf. (Take it from me: the double-decker Gold Leaf cars give you the best views and experience.)
Rocky Mountaineer offers packages ranging from 4 to 19 days long, depending on the route and extras you want to throw in. Most packages include 2 days at minimum onboard the Rocky Mountaineer train itself. My trip was 7 nights long, and I spent 3 days onboard the train.
Watch the highlights here!
How does it work? Can you get off whenever?
The Rocky Mountaineer is not like a regular train. It doesn't make stops throughout the day (unless it has to pause to let a freight train go by), and you can't hop off whenever you want. When you book your trip, you're booking an entire package – train ride, accommodation, and some additional activities. It's a full trip in and of itself.
Do you sleep on the train?
Nope! While the train is certainly comfortable enough for sleeping, there are no beds aboard. You travel on the train during the day, and then stay overnight at hotels (which are booked according to whatever package/service level you choose).
What is the inside of the train like?
I was lucky enough to experience Rocky Mountaineer's Gold Leaf service, which meant a seriously fancy train car. The Gold Leaf cars are double-decker, with a dining room, toilets, and outdoor vestibule on the lower level, and comfortable seats beneath a glass dome ceiling up top.
Rocky Mountaineer pays a lot of attention to detail on their trains, and the staff does everything to make sure your journey is as comfortable as possible. This means offering you snacks and pillows, keeping the toilets impeccably clean, and I'm pretty sure even washing the windows at the end of each day.
How did you take those pictures?
The top question I've been getting when sharing my Rocky Mountaineer photos on Facebook and Instagram is "How did you take those pictures? Were you on top of the train?" And the answer is no, I didn't pull a James Bond and climb out on top of the train (even though that would have admittedly been pretty badass). The explanation is that I was in a double-decker train car with a glass dome up top, and I happened to be in the first dome car on the train, meaning I got that awesome view.
How did I luck out to get in that particular car? I have no clue! I think it really was just luck.
RELATED: 27 Photos from Aboard the Rocky Mountaineer
How is the food and how do meals work?
On the Coastal Passage (Seattle to Vancouver), you get dinner onboard the train. For the ride into the Rockies (whether you're headed for Jasper of Banff), you get breakfast and lunch onboard each day. The dining room holds about half the passengers in each car, so you get divided into two dining groups. Don't worry though – if you're in the later dining group one day, you'll be in the early group the next (and you'll get snacks before both breakfast and lunch in case you get peckish).
I was really impressed by what two chefs in a tiny train kitchen could make. Both breakfast and lunch came with a full, multi-course menu – and the menus were different each day. I'm not really a foodie, but I thought the eggs Benedict was fantastic, and I enjoyed my two lunches and one dinner, too.
All your meals onboard are included, and they also serve you as much coffee, soda, mixed drinks, and local Okanagan wine as you can drink in between meals.
Who will you travel with?
Just like on the river cruise I went on earlier this year, it appeared to be a mostly older crowd aboard the Rocky Mountaineer. I'd say the average passengers were couples around 50-60. But this didn't bother me a bit! I made friends with an Australian surgeon and a really nice couple from Canada. Believe it or not, the top country that Rocky Mountain passengers come from is Australia, followed by Canada and the US, according to our main host.
What's it like for solo travelers?
I can't speak for the rest of the train, but there were four solo travelers in my train car alone. We all actually had our own set of seats since the train wasn't packed, and were seated near the front of the car. I'm used to traveling solo, so it didn't bother me to be on my own here. In fact, I loved just being free to stare out the window or hang out on the outside vestibule as long as I wanted to.
However, you do save money when booking as a couple as opposed to a solo traveler, because there appears to be a single supplement for all Rocky Mountaineer routes.
What is an average day like?
You'll board the train early – usually between 7 and 8 a.m. (unless you're taking the Coastal Passage from Seattle to Vancouver, as this is an afternoon/evening train) and chug along at an average speed of about 35 miles per hour. You'll have breakfast, some snacks/coffee, enjoy the scenery and onboard commentary until lunch, and then have some more drinks and time for sightseeing/chatting. Most days, you'll spend at least 8-10 hours on the train, getting in to your overnight destination before dark.
Ten hours sounds like a LONG time to be on one train, I know, but the time actually flew by for me!
What are the highlights?
The scenery!! You don't book the Rocky Mountaineer for the speed; you book it for the incredible scenery that you'll see out those domed windows. Some of my favorite parts were training through Fraser Canyon and along the Kicking Horse River on the "First Passage to the West" route. The train slows down to a crawl at some of the more scenic spots, like waterfalls and bridges, so you can get good photos.
When is the best time to go?
The Rocky Mountaineer only operates from April to October each year. This isn't actually because of snow/ice or anything like that in the winter – it's to ensure that you're enjoying the scenery during the daylight hours and not after dark.
I went in late-September, and the fall colors were incredible along the way!
What are the costs like?
As I mentioned before, the Rocky Mountaineer is a *luxury* train ride/vacation package. The prices, therefore, reflect this. Silver Leaf service on an itinerary similar to mine (7 nights from Seattle to the Rockies) starts around $4,000 per person.
What's included?
For what you pay, you actually get a lot. The price covers your train travel, all accommodation for the duration of your trip (and transport between the train station and said accommodation), meals while onboard the train, and often some activities like sightseeing in Vancouver, a post-trip land tour to Calgary, and even a helicopter ride in the mountains.
Where will you stay?
Your accommodation options are based on the service level you choose when booking. To give you a taste of what Gold Leaf service gets you, I stayed at the Fairmont Olympic in Seattle, the Fairmont Hotel Vancouver, Hotel Five-Forty in Kamloops, and the Fairmont Chateau Lake Louise. The Fairmonts are almost all historic railroad hotels, and are all absolutely gorgeous inside and out.
What makes it worth the money?
It's true that you could see the same scenery by driving yourself into the Rockies, or by taking a less expensive train journey. But I think what makes the Rocky Mountaineer worth the splurge is the service you get onboard. You get good food, good drinks, and fantastic, friendly service. The hosts in my car – three twenty-something Canadian girls – were bubbly and always up for a chat (or impromptu poetry contest). They popped on over the speakers to tell us about the history of all the places we were passing through, or to point out interesting landscapes or wildlife. I learned a lot more about Canada's rail history than I ever expected to on this trip!
It's also nice not to have to worry about ANY details throughout the trip. You don't have to get to/from the train station on your own. You don't have to book accommodation along the way. You don't even have to worry about your luggage – in both Kamloops and Lake Louise, my bag was waiting for me in my room when I arrived! There's definitely something to be said for convenience sometimes.
You'll probably also be wondering whether I think the Rocky Mountaineer is worth paying for. It's definitely something I asked myself before agreeing to go on this trip – because I never go on free trips that I wouldn't be willing to pay for myself.
In the end, I decided that, yes, this IS something that I think is worth saving up for – if you have the means. If you're a strict budget traveler who prefers the freedom of solo travel, then the Rocky Mountaineer probably isn't for you. But don't completely write it off – because I definitely know from experience that your travel style will change the older you get!
So, if you're looking for a luxurious, comfortable way to see western Canada, the Rocky Mountaineer is for you. I think it's a train journey you'll remember for the rest of your life!
Is a train ride like this on YOUR bucket list? What other questions do you have?
*Note: I was a guest of Rocky Mountaineer on this trip. But, as always, all opinions (and photos) are my own!