Some posts on this site contain affiliate links, meaning if you book or buy something through one of these links, I may earn a small commission. Read the full disclosure policy
here
.
---
"Suspended in the air."
That's the literal translation of Meteora, one of mainland Greece's most popular destinations. And this UNESCO World Heritage site certainly lives up to its name.
Here, rising from the plains of Thessaly a few miles from the town of Kalambaka, ancient rock formations reach for the heavens. And, perched atop these stone spires sit a collection of Eastern Orthodox monasteries. Suspended in the air.
Meteora was originally settled by monks in the 11th century, who originally lived in caves in the area. However, as the Ottomans pushed further and further into Greece, the monks moved higher and higher up into the peaks — until they built their monasteries as high as God would allow.
When you look at how sheer these rock faces are, you'll realize what an amazing feat this was.
Those 11th-century monks hauled up everything from people to building supplies using baskets and pulley systems — there were no roads, pathways, or even steps here until the 1920s.
At one point, there were as many as 24 of these precariously-perched monasteries at Meteora. Today, however, only six remain. Of those six, four are still in use.
While it is possible to hike to most of the remaining monasteries, I took the lazy way out.
I visited Meteora as part of my Busabout tour through the Balkans, and our bus drove right up to the highest monasteries, dropping us off outside of The Holy Monastery of Varlaam. All we had to do was climb a bunch of steps to explore this wonder in the sky.
And what a wonder it was — what wonders they ALL are.
This is definitely a place where the photos severely pale in comparison to how incredible the site is in person.
Unlike Athens, Meteora is one place in Greece that I absolutely loved.
If You Go…
Think you'd like to visit Meteora? Here are a few things to keep in mind:
Bring the sick bags. I know it's gross to talk about, but if you're driving up to the monasteries (and especially if you're doing so in a bus), take some motion sickness tablets if you are prone to it — or bring the sick bags. The drive is twisty and turny and very high up; more than a few people on my bus got sick from the nauseating ride.
Pay to enter. Each monastery costs a couple Euro to enter (at Varlaam, it was 2 Euro). In the grand scheme of things, though, it's not that expensive. And the experience is absolutely worth it.
Dress respectfully. Since most of these monasteries are still functioning, be sure to cover up for your visit. Women should wear a long skirt or pants and have their shoulders covered (I brought a scarf for this purpose). Men should also dress modestly.
You can also check out these Meteora tours:
Would YOU want to venture to Meteora?
Pin it for later: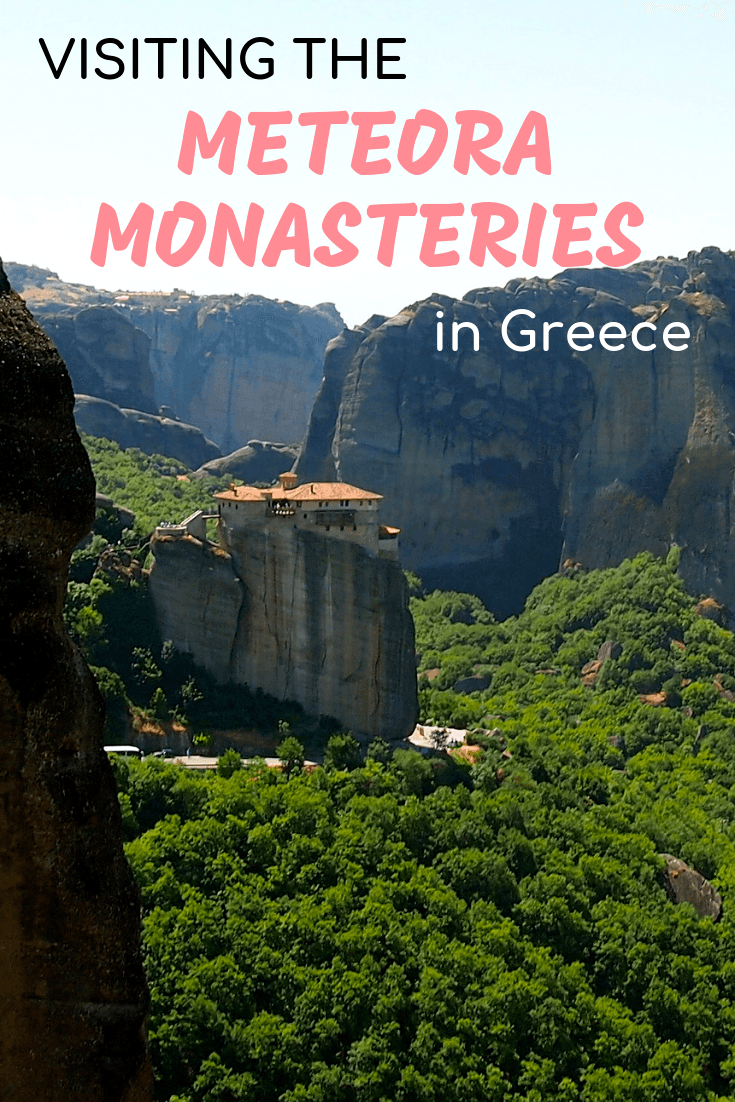 *Note: I visited Meteora as part of a discounted 9-day Classic Balkan Trek tour with Busabout. All opinions, however, are my own.