Some posts on this site contain affiliate links, meaning if you book or buy something through one of these links, I may earn a small commission. Read the full disclosure policy
here
.
---
When it comes to London's Soho neighborhood, there are a few things you need to know.
First, you need to know that Soho has been considered a major entertainment district in London for at least the last century. Except that, traditionally, the entertainment was of the, shall we say, unsavory kind. This was long the neighborhood of brothels and sex shops; of nightclubs and rowdy pubs.
In the mid-1900s, Soho was a grungy, seedy part of town.
In the last few decades, though, Soho has undergone a bit of a renaissance. Now, it's home to some of the most famous West End theaters, is filled with chic cafes and trendy boutiques, and is always packed with tourists and Londoners alike.
But a lot of those gritty undertones can still be found throughout Soho.
Which makes this the perfect neighborhood for a food tour.
Twilight Soho Food Tour in London
I went on my first food tour with Eating London back when it was just starting out and only offered one food tour. That tour was a food tour of the East End, and I still site it as one of the best food tours I've ever been on. Partly because of all the food, but also because of the fact that a tour from this company is about so much more than just the food.
So when they approached me about trying out their Twilight Soho Food Tour, I pretty much jumped at the chance (and made a note to wear my stretchy pants).
I met my guide, Hannah, outside the Palace Theater in Soho around 4:30 p.m. on a sunny June evening. The theater was buzzing as a preview of the new Harry Potter play was on that night, which was a perfect introduction to Soho as a whole – a little chaotic, but full of character.
Tacos done right
After a brief introduction from Hannah, we wasted no time and headed straight to our first tasting of our Soho food tour: tacos at La Bodega Negra. If anyone ever tells you that you can't find good tacos in London, bring them here and see if they don't change their tune.
Our tasting included two tacos: one pork and one shrimp. And one of them even had a jicama tortilla!
The tacos were paired with a tiny frozen margarita (oh, did I mention that this food tour also includes booze?!?), which this alcohol-avoiding traveler actually did not hate.
Forgive me Father for I have ginned
Another fun fact about Soho: In the early 1700s, the area (and London as a whole, really) went through what is now officially known as the Gin Craze. People went absolutely mental over the stuff – it got so out of hand that the government actually tried more than once to pass acts to slow the flow of gin.
Today, the London Gin Club keeps the traditions of the Gin Craze alive with a menu of literally hundreds of gins. We had a classic gin and tonic made with the London Gin Club's very own 7 Dials gin paired with an amazingly delicious gin-infused beef pie.
A hint of Spain in Soho
Our next stop was at Enrique Tomas, a Jamón shop that seems plucked straight out of Spain. We tried three different dry-cured slices of salty Jamón (including the delicious Jamón ibérico), paired with some cheese and a nice red wine.
I'm going to go ahead and admit that I enjoyed the cheese more than all the ham, but I loved this stop simply for the store itself. If you visit, be sure to take a look at the legs of Jamón hanging on the wall – some of them are worth nearly $1,000!
No shortage of choice
After filling up with Jamón, we headed over to the atmospheric Pix Bar. This place serves up Basque-style pintxos (think tapas) in a small space filled with high-top tables and bar stools.
Pix was packed even on a weeknight, and I waffled back and forth like crazy trying to choose just two pintxos to try (I went with some fried cheese and patatas bravos).
A peek into Chinatown
What I loved most about this food tour was the variety – and it was broadened by our second-to-last stop in Chinatown at Opium. Depending on who you talk to, Chinatown either is or isn't part of Soho. But, regardless, Opium definitely earned a spot on this tour.
A ridiculously large bouncer outside directed us up to the attic of a small building, where we enjoyed dim sum and some Chinese tea.
As we ate/drank, Hannah told us a little about how London's Chinatown formed. It dates back to the early 1900s, when Chinese dock workers settled in this part of London. And what was the area particularly known for back then? Its opium dens, of course.
A very Soho ending
The last stop on the tour saw us heading underground via a very nondescript door and set of stairs. As Hannah pointed out, "It wouldn't be Soho if it wasn't hard to find." Since so many places in this neighborhood used to be "underground" (both literally and figuratively), our last tasting at Basement Sate seemed appropriate.
Here, we enjoyed a delicious chocolate and hazelnut dessert paired with a tequila, prosecco, and fresh vanilla drink. And we even sang happy birthday to someone celebrating a birthday on the tour.
What sets this tour apart
If you've read this entire post, you'll probably realize that this tour not only comes with a variety of food, but also a LOT of it. Two tacos, a meat pie, Jamón and cheese, pintxos, dim sum, and dessert. I definitely did not need dinner afterwards.
Another thing I like to point out about Eating London's tours is that they aren't solely about the food. You also learn a lot about the neighborhood you're walking through. We stopped in Soho Square (fun fact: that little timbered building in the middle is actually a gardener's hut), took a break outside the old Marquee Club (where the Rolling Stones played their first live show), and even saw the recording studio where the Beatles recorded "Hey Jude."
Hannah was great about pointing out interesting buildings and sharing fun historical tidbits about the non-food-related places we were walking past, which made this so much more than just a food tour.
I came away with a much deeper understanding of London's Soho (as well as a huge list of places to eat at next time I visit).
IF YOU GO
Interested in taking this tour yourself? Here's all the info you'll need:
WHAT: Twilight Soho Food Tour with Eating London
WHEN: Tuesday-Friday, starting at either 4 p.m. or 4:30 p.m. (tour lasts about 3.5 hours)
HOW MUCH: £94 ($120 USD) per person. I know this sounds like quite a bit for essentially a dinner, but remember that you get food at six different places (and an alcoholic drink at most of them, too), as well as a walking tour around Soho.
NEED TO KNOW: Since there's alcohol involved at most of the stops, this is not a tour recommended for kids. 18+ only!
OTHER FOOD TOURS:
If food tours are your jam, here are some others to try in London:
READ NEXT: A Guide to the Most Unique Themed Afternoon Teas in London
Is this a tour YOU would take in London?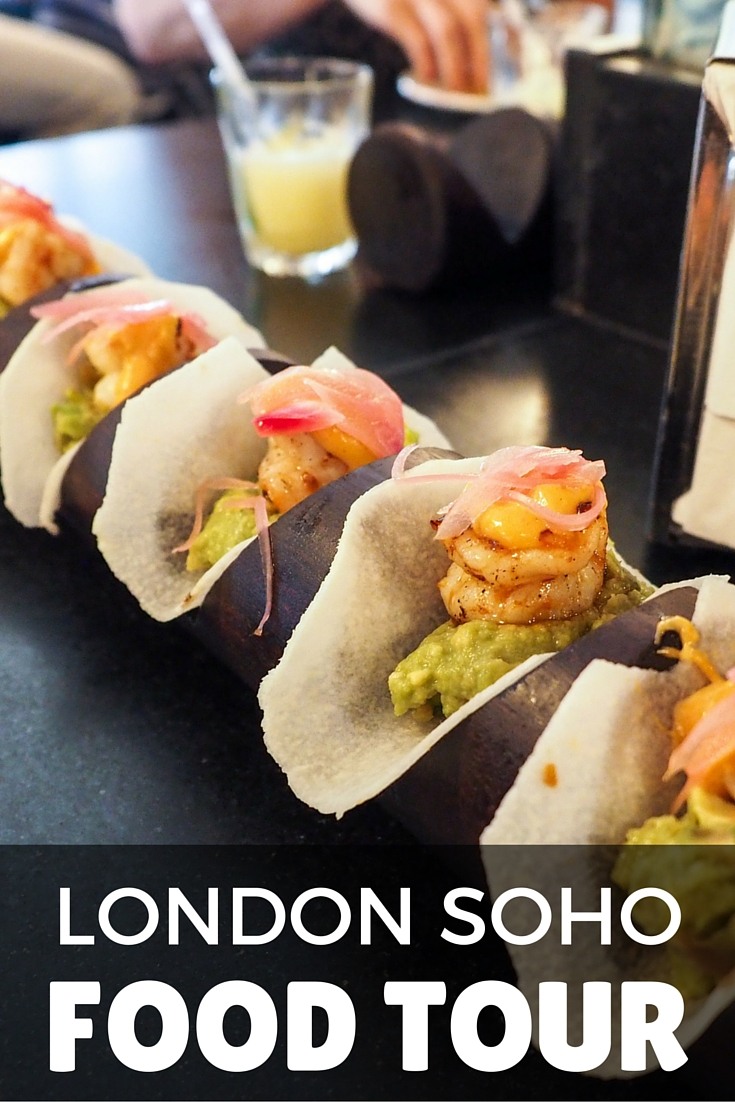 *Note: I did receive a complimentary food tour care of Eating London. But, as always, all opinions are 100% my own.