Travel looks very different right now depending on where you're from and where you're going. Be sure to check local restrictions and be willing to adhere to any and all safety regulations before planning a trip to any of the places you may read about on this site. Also, some posts on this site contain affiliate links, meaning if you book or buy something through one of these links, I may earn a small commission. Read the full disclosure policy
here
---
For me, England has always been synonymous with one thing. No, not royalty or sports or fish and chips; for me, it's always been afternoon tea.
When I planned my first trip to London (and later, when I took my mom for her first time), going somewhere to have afternoon tea was high on my to-do list. But, back then, I kind of assumed that all afternoon teas were relatively the same.
And while it's true that the usual trappings – the hot tea, the finger sandwiches, the scones, the sweet treats – are standard in any good afternoon tea, to say that afternoon teas are all the same is severely doing the tea experience a disservice.
As it turns out, afternoon tea is anything but standard, especially in a city like London.
London knows how to do a memorable afternoon tea, with several boasting really creative themes that only add to the overall experience.
I've made it my mission over the past year to try out as many themed afternoon teas in London as possible in order to bring you a guide to the very best of them.
The best themed afternoon teas in London
I won't lie to you: This list was VERY difficult to compile, not least of all because many of these themed teas change frequently. Mostly, though, it was just tough to pick a favorite because they're all done so well!
Here, then, are my picks for the best themed afternoon teas in London in reverse order.
6. Midsummer Nights Dream tea
Swan at Shakespeare's Globe, South Bank
If it's a themed tea with a great view you're looking for, you can't really beat the afternoon tea at Swan, the restaurant attached to Shakespeare's Globe theater. The tea here is loosely-based on A Midsummer Nights Dream, with an illustrated menu and bespoke tableware.
The food includes a selection of savory sandwiches, mulberry scones, and a handful of sweet treats, and I also added on a "Love Potion" cocktail (made with gin, honey, blackberry puree, and prosecco).
I also ended up winning the seating lottery on this one – my table looked out over the Thames and had a view of the dome of St. Paul's Cathedral!
The pros: The views are great, and this is the most affordable themed afternoon tea on this list.
The cons: The food is only lightly-themed, and I didn't find most of it to be particularly memorable. In fact, I didn't even finish all of my sandwiches.
Who this tea is best for: First-time visitors to London who want to go to an afternoon tea while exploring one of the most popular parts of the city (the South Bank) at the same time.
Price: £28.50 for standard tea; £35 if you add a cocktail
When: 2-hour seatings; offered 12-3 p.m. daily
Good to know: If you have dietary restrictions (vegetarian, vegan, gluten-free, etc.), let them know at time of booking, as they may not be able to accommodate these requests on the day. Booking ahead is recommended.
5. B Bakery Afternoon Tea Bus Tour
Central London
It's debatable whether this one really fits into the category of "themed afternoon teas," but I'm including it simply because it's so unique. Put on in conjunction with B Bakery (AKA Brigit's Bakery in Covent Garden), this tea has you riding a converted double decker bus around central London as you sip your tea and eat your scones.
With pickups at either Victoria Coach Station or Trafalgar Square, the general route of your tea bus tour takes you in a big loop around Hyde Park, passing London icons like Big Ben, Harrods, Oxford Street, and Hyde Park.
There's a recording that accompanies your tour so you know what you're looking at out the bus windows, and the pastries especially are really tasty.
The pros: It's a fun way to see a bit of London, and you get to go home with a souvenir travel mug (since you're on a moving bus, your tea isn't served in normal tea cups!).
The cons: You are moving throughout your tea, so be careful when trying to spread the jam on your scones! The buses also have very weak air conditioning, so be prepared for it to be warm if you catch London during a heat wave like I did. I also found it difficult to hear the recorded guide because of course everyone on the bus was chatting over their tea!
Who this tea is best for: A couple on a day-date, or a group of girl friends looking for a fun day out. I also think it's fun for solo travelers, since the bus tour portion is cool even if you're on your own. (Just note that you can't book a single seat online – you need to call to make a solo reservation.)
Price: Starting at £45 per adult, though I couldn't find seats for less than £56. Seats on the top deck are more expensive, and seats at the "VIP" front tables start around £66 and can go up to £71 per adult.
Length: 1.5 hours
Good to know: They can cater to vegetarian, vegan, halal, and gluten-free diets. They also do a gin bus tour, which is their typical afternoon tea combined with gin cocktails. You definitely NEED to book ahead for this one, as they often sell out – you can book a seat here!
4. Charlie and the Chocolate Factory tea
Indigo at One Aldwych, Covent Garden
I went to a Charlie and the Chocolate Factory-themed tea last summer (described in the next section of this post), but the one at One Aldwych is definitely the must-do. Tea is served in the modern Indigo restaurant (you might even get seated on a balcony-like section), and has, in my opinion, some of the best-themed afternoon tea food in London.
The Charlie and the Chocolate Factory tea is served in two courses: the savories, followed by the sweets. In true Willy Wonka fashion, some of the bites are a little weird (in a good way!), like the tomato/beef marshmallow, the savory scones served with bacon jam, and the savory blueberry cheesecake sandwiches. There's even a chocolate and banana milkshake that the menu says is "mixed by waterfall."
The tea selection is inventive, too, including a chocolate tea made with coco nibs. You can also add one of two "Fizzy Lifting Drinks" to your tea, which are cocktails that come in little glass teapots complete with dry ice for a smoking effect.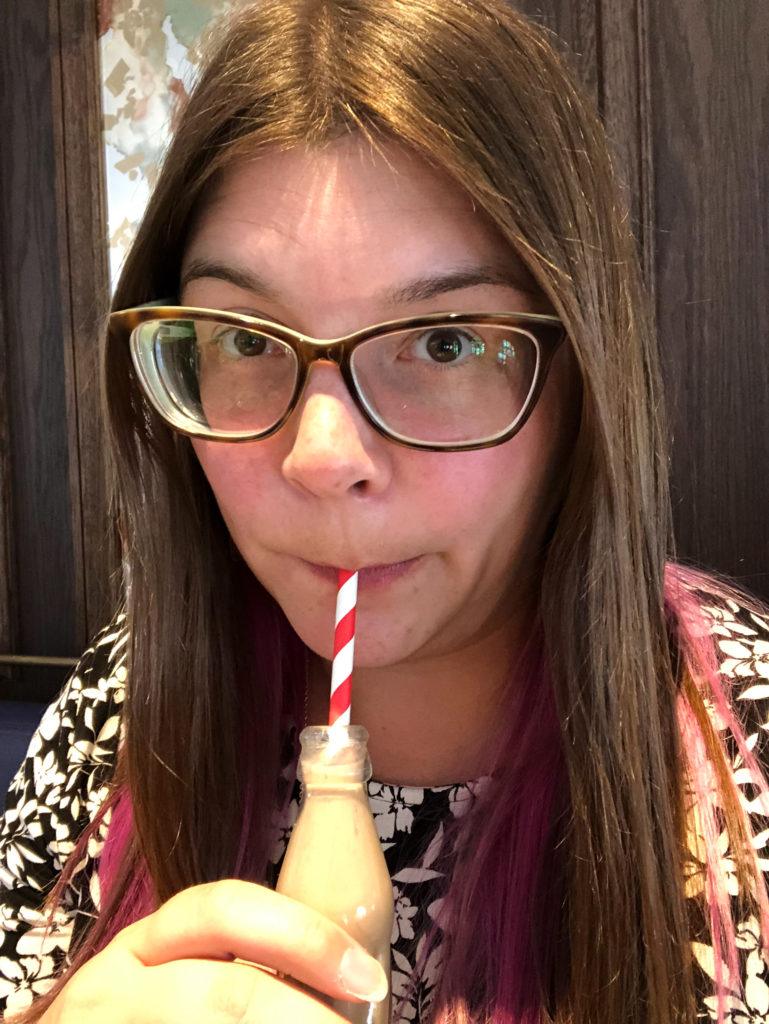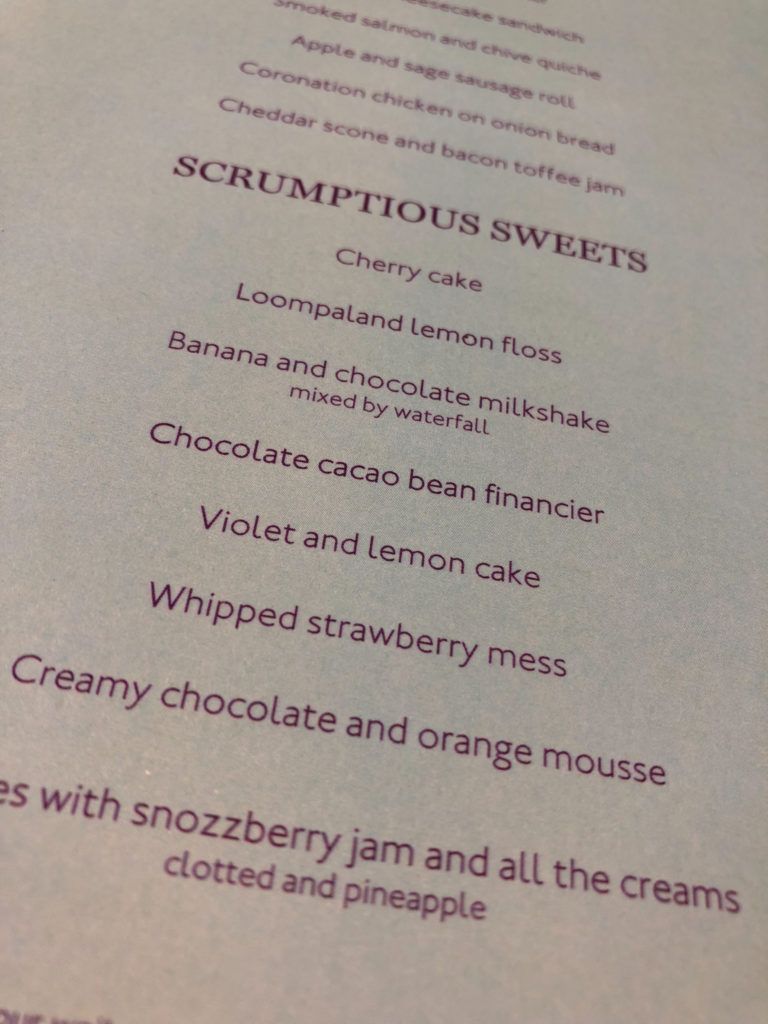 The pros: The food is not only really imaginative, but also really good! I liked all of the sandwiches, and especially loved the chocolate financiers on the sweets side. I also appreciated that everything from the tea selections to the cocktails were Wonka-themed. And they offered free refills on everything, too, including the food.
The cons: The sweets are all REALLY sweet (I mean, it comes with cotton candy, though, so this shouldn't be a surprise). I also was a bit bummed that the sweets aren't brought out until you finish the savories – the photographer in me was sad I couldn't take photos of everything together!
Who this tea is best for: Couples looking for a fun date, a good spot for a girls' outing, and also suitable for families.
Price: £45, or £56 with champagne or a Fizzy Lifting Drink (cocktail)
When: Seatings are for 2 hours; offered 12:30-3pm Monday-Saturday, and 12:30-5pm on Sundays.
Good to know: Vegetarian, vegan, and gluten-free menus are available, but they ask that you let them know about dietary requirements 48 hours ahead of time.
3. Science Tea
The Drawing Rooms at The Ampersand, South Kensington
You don't have to be a science geek to enjoy this themed afternoon tea – but it certainly doesn't hurt! Complete with an "experiment" to create your own lemonade, space-themed sweets, and a small box where you can "dig" for a dinosaur treat, this science-themed tea is just FUN.
While the food at this tea isn't really themed flavor-wise, so many other elements are that this is one of the more charming themed teas you can book. There are themed plates, dry ice surrounding a one of the planet-shaped chocolate bombs when your tea stand comes out, a "petri dish" of jelly, test tubes filled with fun toppings for your scones, and more.
The food at this tea is pretty good (I particularly liked the chicken and basil bun and the dark chocolate and passion fruit planet mousse), and The Drawing Rooms are bright and beautiful, even if you visit on a rainy day like I did.
Pros: The theme is such a fun one, and is executed really well. The service was good, you can get refills on any of your favorites (and take leftovers home with you), and I loved that they offer a kids' version that comes in a rocket-shaped tea stand! I also loved the "experiment" they give you (making lemonade) to pass the time while you wait for your food to come out. Plus, this one is offered almost all day long!
Cons: I could find few faults here. I would have liked more herbal tea choices on the menu, but that's about it.
Who this tea is best for: This is my top pick for a kid-friendly tea (I mean, there are test tubes and things to squirt into your food!), though of course anyone can enjoy it.
Price: £39.50 for the Science Afternoon Tea; £29.50 for Kids' Sci-Fi Tea
When: 2-hour seatings; tea served 12:30-9pm Monday-Saturday and 12:30-7pm Sunday
Good to know: For an additional £10, you can add a cocktail flight to your tea. Vegetarian, vegan, and gluten-free menus are available. Booking ahead is recommended.
2. The Potion Room (Harry Potter-themed tea)
Cutter & Squidge, Soho
Harry Potter fans, rejoice! London now has a deliciously immersive Harry Potter-themed tea! You'll find this tea at a bakery in Soho called Cutter & Squidge, and to simply call it a "themed afternoon tea" doesn't do it justice at all. This isn't just afternoon tea. This is a full-on tea experience.
You start by going down into the basement of the bakery, which has been transformed into the Potion Room. You get given a cloak and a wand, and are seated at a desk before you meet your Potions Master (or Mistress).
You then spend the next couple of hours mixing edible potions, drinking teas with names like "Elixir of Life" and "Unicorn Tears," and geeking out as much as your little magical heart desires. I did this one with fellow travel blogger Lauren, and it was SO FUN.
The pros: This was the most-themed tea I attended; it's a fully immersive experience, and you really will feel like you're in a Potions classroom! I was so impressed by the presentation, as well as the food – the ham sandwich, leek and potato pie, and rock cakes were my favorites. I also felt like this one gave you the most bang for your buck because of the overall experience AND all the extra goodies that are included.
The cons: I mean… I guess if you're not a huge Harry Potter fan this might seem a bit kitschy?
Who this tea is best for: Anyone like me who is still convinced that their Hogwarts letter got lost in the Owl Post… This one would make for a great date or an outing with a Harry Potter-loving friend. I'm glad I didn't do this one solo, as it was definitely more fun with a friend.
Price: £49.50 per person, and alcoholic mixed drinks are available for purchase
When: Teas last 2.5 hours; there are 3 seatings per day at 12pm, 3pm and 6pm
Good to know: They cater to vegetarian, vegan, gluten-free, and dairy-free needs. You need to book well in advance for this one! There are only 15 seats in the Potion Room, and they book up fast.
1. Mad Hatters Afternoon Tea
Sanderson Hotel, Fitzrovia
So are you surprised that the Harry Potter tea didn't take the #1 spot? I kind of was, too, to be honest! But, when it comes down to it, another of London's famous themed teas slightly nudged it out: the Alice in Wonderland-themed Mad Hatters Tea Party at the Sanderson.
Why did this beat out the Potion Room? Well, because I think the Potion Room appeals to a very specific kind of tea-goer (i.e. the kind who will happily wear a cloak and wave a fake wand around while enjoying an immersive tea experience), while the Mad Hatters tea has a much wider appeal while still being adorably cute and super delicious.
The Mad Hatters Afternoon Tea was the first themed tea I tried in London, and I was immediately enchanted. From the on-theme dishwear to the themed tea blends to the pretty plate of food that came out, I was super impressed with everything about this tea.
The pros: Pretty much everything – the theme is carried out perfectly throughout the whole tea, and the food is all very good. They'll also box up any extras for you to take with you (as will most of the other teas on this list).
The cons: The only slight downside is that the tea is served in both the Sanderson's restaurant and courtyard garden, but you won't know where you'll be sitting until you get there. The courtyard is very pretty, but if you're in London during a heat wave like I was, it may be a little warm!
Who this tea is best for: Pretty much anyone who wants to enjoy a fun themed afternoon tea! This would probably be my pick if you wanted to take kids to a themed tea.
Price: £48 per person, £35 per child
When: 2 hours; served Monday-Saturday 12:30-4pm and Sundays 1-4pm
Good to know: They can accommodate needs for vegetarian, vegan, gluten-free, and dairy-free diets.
BONUS: Tea with kitties
Lady Dinah's Cat Emporium, Shoreditch
One more fun tea that I think deserves a mention on this list is the afternoon tea you can have at Lady Dinah's Cat Emporium, a cat cafe in Shoreditch. Enjoy a regular afternoon tea menu, but do it while surrounded by a bunch of kitties in Lady Dinah's super cute cafe.
You can read more about this tea here: A Purrfect Afternoon Tea at London's First Cat Cafe
Pros: Umm… kitties!! If you love cats and would love to visit a cat cafe anyway, this is a great way to do it. The food is very good, and it's one of the most affordable afternoon teas you'll find in London.
Cons: Cats are jerks, and they probably won't cuddle with you when you want them to.
Price: £25 + cat cafe entrance fee
When: 1.5 hours
Good to know: They can cater to most dietary needs, including vegetarian, pescatarian, vegan, dairy-free, gluten-free, and even gluten-free vegetarian. I highly recommend booking this one in advance.
Themed London teas no longer offered
Many hotels rotate through afternoon tea themes, meaning some that I loved are no longer offered in the way that I experienced them. Here are a few more others that I enjoyed, along with info on what has since replaced them.
1. Sherlock Holmes afternoon tea
Kona at the Taj, Westminster
If you're looking for a beautiful (and tasty!) themed tea in London, you can't really go wrong with any of the offerings at Kona, one of the restaurants at the 5-star Taj 51 Buckingham Gate hotel. For me, there was no question about which themed tea I'd choose: it was Sherlock Holmes all the way!
I absolutely adored this tea, from the fun props on my table to the themed goodies like the "221 B Macaroon," which was flavored with Scotch; a stout cupcake called "Watson's Moustache," and a smoked caramel mousse in the shape of a cigar. This was not only a delicious tea, but was also presented in such a fun way.
The pros: The food was very good, and I loved the totally themed menu and inventive presentation. This was one of the more photogenic teas I attended.
The cons: I literally could find no cons to this one. I loved it!
Who this tea is best for: A group of friends, or maybe on a fancy date. I also felt like I got extra-nice service here as a solo tea-goer.
Price: £40 per person, or £45 if you add a glass of prosecco
Length: 2 hours
Good to know: You need to book any of the themed teas at Kona at least 24 hours in advance.
But the bad news is… this tea only ran through the end of July 2018. They add different themed teas frequently, though, so check out all their afternoon tea offerings here. (In August 2019 Kona was offering an Alice in Wonderland-themed tea, a "Jasmine Indian" tea, and a "Candy Striped Carousel" tea.)
2. Charlie and the Chesterfield
Chesterfield Mayfair hotel, Mayfair
After having tea at this charming Mayfair hotel, I'm now obsessed with staying here on a future trip to London. It's within walking distance to Green Park (and Buckingham Palace), and has that "old world" hotel feel without feeling too stuffy.
I went for their Charlie and the Chocolate Factory-themed tea, which like all afternoon teas at the Chesterfield, was served in their light-filled conservatory. The tea selection was unique (they have quite a few flowering teas on their menu), and I liked the chocolate scones and Wonka-inspired sweet treats, including an Oompa-Loompa cupcake and bubblegum eclair.
The pros: The tea selection was unique, the conservatory was nice, and there was even live music when I was there.
The cons: This was the least-themed of the themed teas I went to. The presentation was pretty standard, and I didn't think the food was all that special. (Then again, this was my 5th afternoon tea in 6 days, so maybe I was just over the finger sandwiches by that point!)
Who this tea is best for: Families with kids who want to go to a nice afternoon tea, but don't care if there's an over-the-top theme.
Price: £40 per person
When: 2 hours; 12:30-5:30pm daily
Good to know: They can accommodate vegetarian, vegan, and gluten-free diets. They also have a children's tea for £21.50. Booking ahead is recommended.
This tea was replaced with a sweetshop-themed tea as of July 2018.
The new theme is fairly similar in that it still centers around candy, and you'll still get to enjoy the quiet setting in the conservatory, along with the very nice staff at the Chesterfield.
---
Where to stay for afternoon tea in London
Here are some hotels to check out that are convenient to these afternoon teas:
WHERE TO STAY
Here are some hotels to check out that are convenient to these afternoon teas:
Charlie and the Chocolate Factory tea
Science Tea
Harry Potter tea
Mad Hatters tea
Charlie and the Chesterfield
Teas at Kona
Cat cafe tea
---
Have you ever been to a themed afternoon tea? Which of these are you going to book next time you're in London?
Pin it for later: