Some posts on this site contain affiliate links, meaning if you book or buy something through one of these links, I may earn a small commission. Read the full disclosure policy
here
.
---
For me, England has always been synonymous with one thing. No, not royalty or sports or fish and chips; for me, it's always been afternoon tea.
When I planned my first trip to London (and later, when I took my mom for her first time), going somewhere to have afternoon tea was high on my to-do list. But, back then, I kind of assumed that all afternoon teas were relatively the same.
And while it's true that the usual trappings – the hot tea, the finger sandwiches, the scones, the sweet treats – are standard in any good afternoon tea, to say that afternoon teas are all the same is severely doing the tea experience a disservice.
As it turns out, afternoon tea is anything but standard, especially in a city like London.
London knows how to do a memorable afternoon tea, with several boasting really creative themes that only add to the overall experience.
I've made it my mission over the past several years to try out as many themed afternoon teas in London as possible in order to bring you a guide to the very best of them. (It's a hard job, but someone has to do it!)
The best themed afternoon teas in London
I won't lie to you: This list was VERY difficult to compile, not least of all because many of these themed teas change frequently. Mostly, though, it was just tough to pick a favorite because they're all done so well!
Here, then, are my picks for the best themed afternoon teas (that are still offered) in London in reverse order.
10. Travel-themed tea
St Pancras Brasserie and Champagne Bar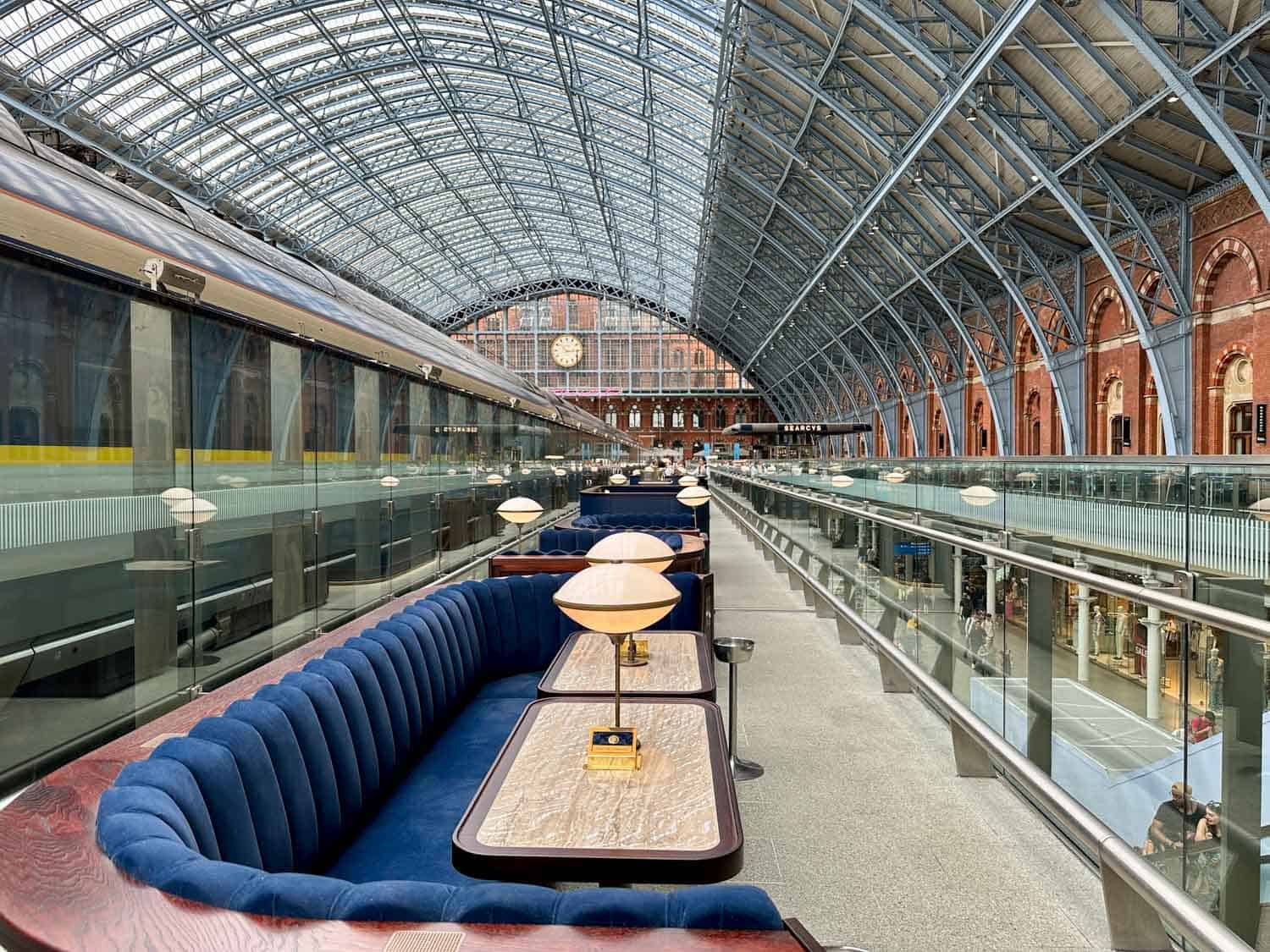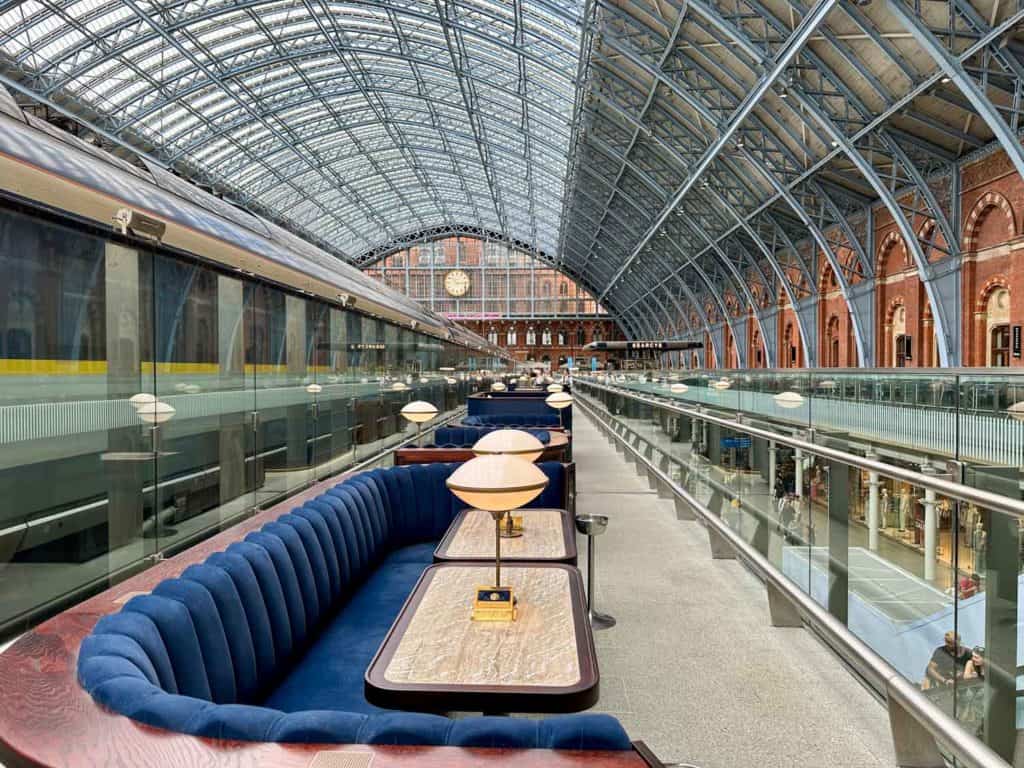 If you want to combine a themed afternoon tea with a visit to an iconic London train station, then you want to know about the Searcys' Travel Afternoon Tea. Searcys is a cool champagne bar inside St. Pancras Station, and it's connected to a restaurant called the St Pancras Brasserie and Champagne Bar, which is where you can enjoy this tea.
This afternoon tea is loosely travel-themed (the main foods are served in a cute suitcase), and the menu features ingredients and flavors from around the UK. It's not the best afternoon tea I've ever been to (for reasons I'll share shortly), but it is a fun option – and as a travel blogger, I couldn't resist this theme!
The pros: I liked the UK-inspired menu items (the Scottish smoked salmon Croque-monsieur was so unique!), and the suitcase presentation was super cute. It's also a very easy venue to reach since it's inside a major train station.
The cons: The restaurant itself is dimly-lit – I wish they would serve tea at the tables pictured above instead of in the "indoor" restaurant space. I also found it odd that I was offered a choice of either tea or coffee, but they looked at me like I was crazy when I asked for a tea menu. The presentation of my tea also looked a little bare, but I think if I'd been sharing the tea with another person the suitcase prop would have looked "fuller."
Who this tea is best for: Travel lovers and train station lovers will definitely enjoy this tea. It's also a fun option to do either before or after a trip if you're leaving from either St. Pancras or King's Cross – no one will look at you weird if you bring luggage into this restaurant.
Price: £45 per adult, or £55 if you add a glass of bubbly
Length: They only serve this tea from 3-5 p.m. Thursday-Saturday, and 3-4:30 p.m. on Sunday.
Good to know: You need to book this one in advance, and you'll be charged a reservation fee (it was £15 when I booked), but this fee will be subtracted from your total bill.
9. B Bakery Afternoon Tea Bus Tour
Central London
It's debatable whether this one really fits into the category of "themed afternoon teas," but I'm including it simply because it's so unique. The original "afternoon tea bus" is put on in conjunction with B Bakery (AKA Brigit's Bakery in Covent Garden), though there are other companies that now offer a similar tea bus tour.
All of these teas have you riding a converted double decker bus around central London as you sip your tea and eat your scones. You'll ride in a big loop around the city, passing London icons like Big Ben, St. Paul's Cathedral, Harrods, Oxford Street, and Hyde Park.
There's a recording that accompanies your tour so you know what you're looking at out the bus windows, and the pastries especially are really tasty.
The pros: It's a fun way to see a bit of London, and you get to go home with a souvenir travel mug (since you're on a moving bus, your tea isn't served in normal tea cups!).
The cons: You are moving throughout your tea, so be careful when trying to spread the jam on your scones! The buses also have very weak air conditioning, so be prepared for it to be warm if you catch London during a heat wave like I did. I also found it difficult to hear the recorded guide because of course everyone on the bus was chatting over their tea!
Who this tea is best for: A couple on a day-date, or a group of girl friends looking for a fun day out. I also think it's fun for solo travelers, since the bus tour portion is cool even if you're on your own. (Note though that if you're booking the B Bus direct, you'll need to call to book a solo table.)
Price: The B Bus starts at £45 per adult, though I couldn't find seats for less than £56. Seats on the top deck are more expensive, and seats at the "VIP" front tables start around £66 and can go up to £72 per adult. (Though I will say that sitting at the front table was really cool!)
Length: 1.5 hours, with multiple tour times daily
Good to know: They can cater to vegetarian, vegan, halal, and gluten-free diets, but cannot accommodate nut allergies. They also do a gin bus tour, which is their typical afternoon tea combined with gin cocktails. You definitely NEED to book ahead for this one, as they often sell out – you can book a seat here (GetYourGuide) or here (direct).
There's also this afternoon tea bus tour, in case the original is sold out.
8. Shakespeare-themed tea
Swan at Shakespeare's Globe, South Bank
If it's a themed tea with a great view you're looking for, you can't really beat the afternoon tea at Swan, the restaurant attached to Shakespeare's Globe theater. The tea here is loosely-based on Shakespeare's work (when I went, it was A Midsummer Nights Dream themed, but currently has a Romeo and Juliet theme), with an illustrated menu and bespoke tableware.
The food includes a selection of savory sandwiches, fruity scones, and a handful of sweet treats, and I also added on a themed cocktail. (You can also do this as a savory-focused tea if you don't love the sweets.)
I also ended up winning the seating lottery on this one – my table looked out over the Thames and had a view of the dome of St. Paul's Cathedral!
The pros: The views are great, and this is the most affordable themed afternoon tea on this list.
The cons: The food is only lightly-themed, and I didn't find most of it to be particularly memorable. In fact, I didn't even finish all of my sandwiches.
Who this tea is best for: First-time visitors to London who want to go to an afternoon tea while exploring one of the most popular parts of the city (the South Bank) at the same time.
Price: £40.50 for standard tea, and you can add themed cocktails for an additional charge.
Length: 2-hour seatings, offered daily between noon and 5 p.m.
Good to know: If you have dietary restrictions (vegetarian, vegan, gluten-free, etc.), let them know at time of booking, as they may not be able to accommodate these requests on the day. Booking ahead is recommended.
7. Charlie and the Chocolate Factory tea
Indigo at One Aldwych, Covent Garden
I went to a Charlie and the Chocolate Factory-themed tea last summer (described in the next section of this post), but the one at One Aldwych is definitely the must-do. Tea is served in the modern Indigo restaurant (you might even get seated on a balcony-like section), and has, in my opinion, some of the best-themed afternoon tea food in London.
The Charlie and the Chocolate Factory tea is served in two courses: the savories, followed by the sweets. In true Willy Wonka fashion, some of the bites are a little weird (in a good way!), like the tomato/beef marshmallow and the savory scones served with bacon jam I had on my menu. There's even a chocolate milkshake that the menu says is "mixed by waterfall."
The tea selection is inventive, too, including a chocolate tea made with coco nibs. You can also add a "Fizzy Lifting Drink" to your tea, which are cocktails that come in little glass teapots complete with dry ice for a smoking effect.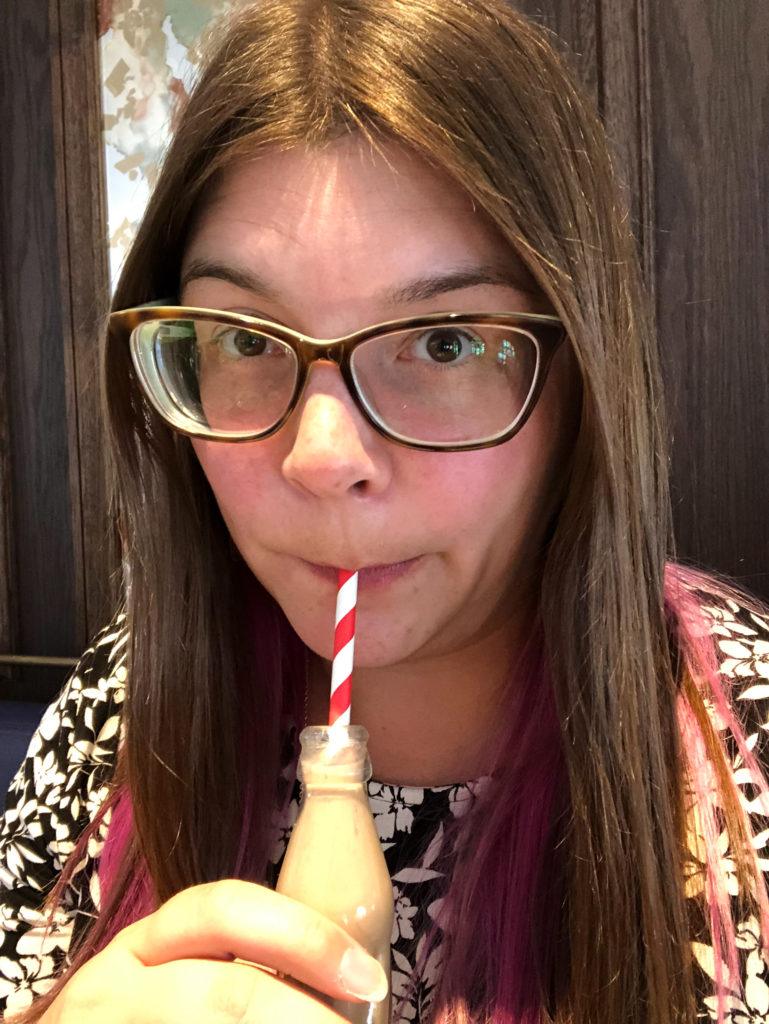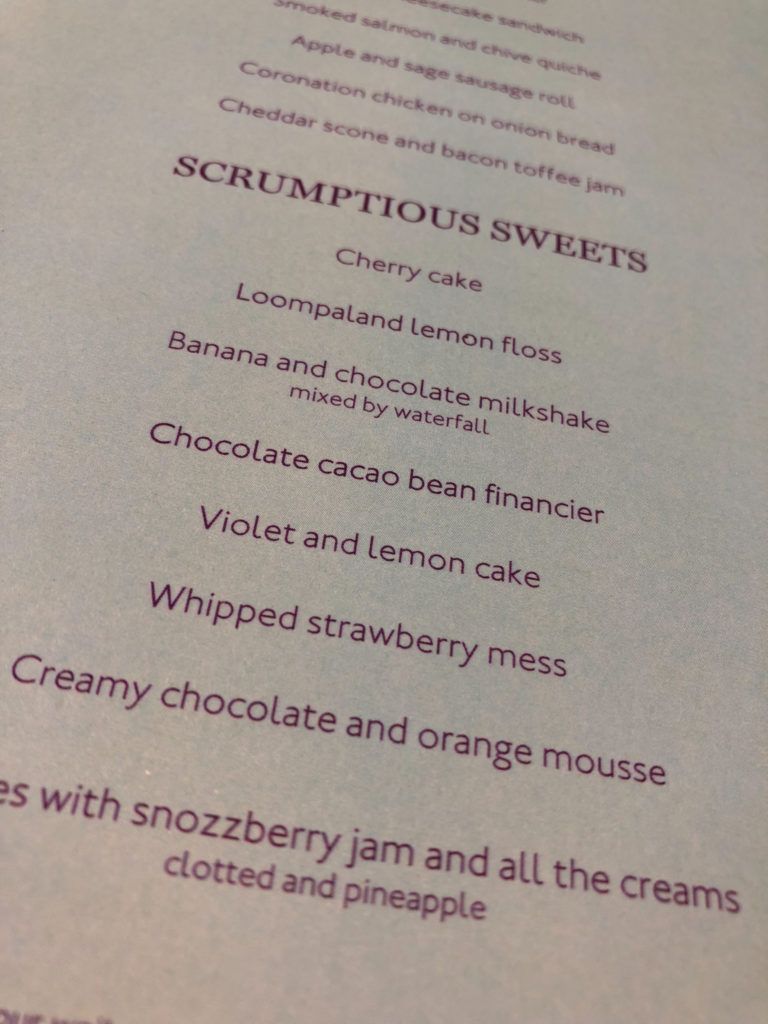 The pros: The food is not only really imaginative, but also really good! I liked all of the sandwiches, and especially loved the chocolate financiers on the sweets side. I also appreciated that everything from the tea selections to the cocktails were Wonka-themed. And they offered free refills on everything, too, including the food.
The cons: The sweets are all REALLY sweet (I mean, it comes with cotton candy, though, so this shouldn't be a surprise). I also was a bit bummed that the sweets aren't brought out until you finish the savories – the photographer in me was sad I couldn't take photos of everything together!
Who this tea is best for: Couples looking for a fun date, a good spot for a girls' outing, and also suitable for families.
Price: £70, or £85 with champagne or a Fizzy Lifting Drink (cocktail)
When: Seatings are for 2 hours; bookable only Wednesday-Sunday.
Good to know: Vegetarian, vegan, and gluten-free menus are available, but they ask that you let them know about dietary requirements 48 hours ahead of time.
6. Botanical afternoon tea
Lanes of London at London Marriott Hotel Park Lane
The Lanes of London Botanical Afternoon Tea was a new find for me, and it's a delightful lightly-themed option that includes everything you need for a memorable tea. This tea is inspired by Hyde Park, and is unique in that it includes three different tea pairings to go with the different "courses" of the tea (savories, scones, and sweets).
I booked this tea when Wimbledon was on in London, so some of the sweet treats were also Wimbledon-themed – two themes in one!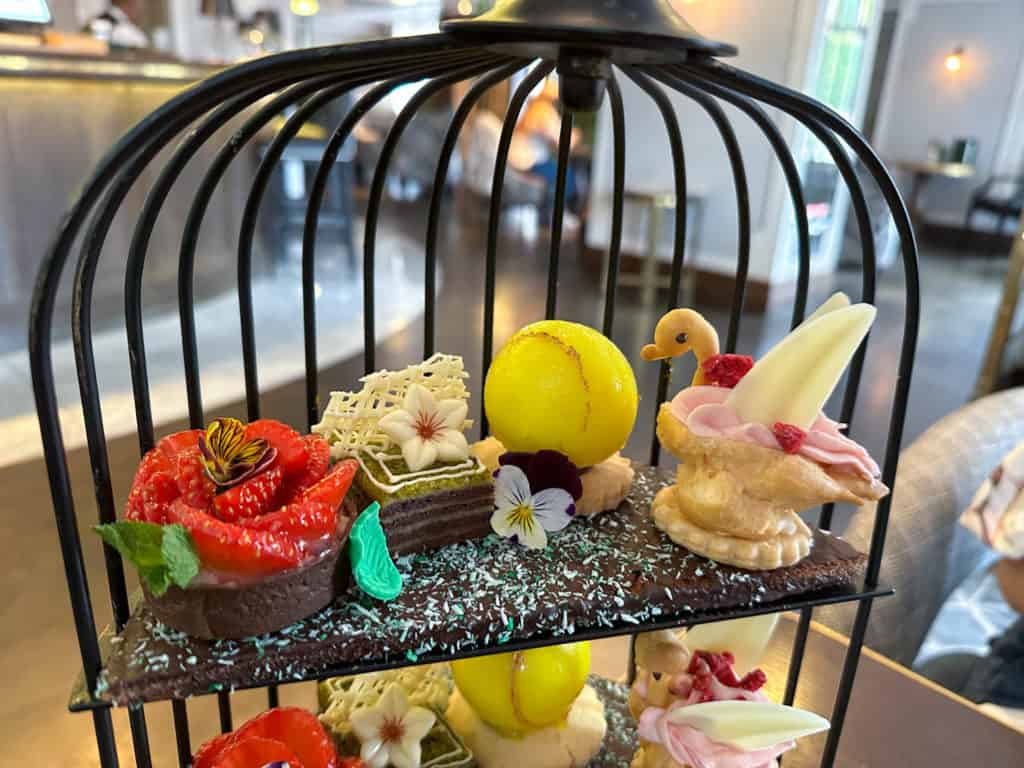 The pros: The food and presentation of this tea was absolutely top-notch. Everything was beautiful, and tasted just as good as it looked – which is sometimes rare with afternoon teas! I also loved to tea pairings (though you could opt for different teas than the ones recommended).
The cons: While Lanes is inside a luxury hotel, there's not really anything special about the space where they serve afternoon tea. Service was also very, very slow on the day we went; we waited at least half an hour after we arrived to even receive our first pots of tea. You can also only book this one on the weekend.
Who this tea is best for: It's definitely great for a girlfriends day out!
Price: Starts at £50 per person, which includes a glass of bubbly
Length: This is only offered Friday-Sunday from noon-4 p.m.
Good to know: They can do a vegan version of this tea, but you do need to book it in advance. Also, the rose and hibiscus scones might be the best scones I've ever had!
5. Bridgerton tea*
The Lanesborough hotel, Knightsbridge
When it comes to Regency vibes, it's hard to beat dining beneath the glass dome hung with glittering chandeliers inside the stunning Lanesborough hotel. Which is probably why this hotel teamed up with Netflix to put on a Bridgerton-themed afternoon tea fit for Lady Whistledown herself.
*This was a temporary themed tea that ran through the end of 2022 – BUT for 2023 they tweaked it just slightly to be a Queen Charlotte-themed tea (also under the Bridgerton umbrella), so the current tea will be very similar! And because it's been so popular, I wouldn't be surprised if they keep it for a while longer as new seasons of "Bridgerton" come out.
While Bridgerton fans especially will appreciate the themed sweet treats, even someone with no Bridgerton knowledge at all can enjoy the opulent setting and truly delicious bites. (My husband Elliot can attest to this; he hasn't seen a single episode of Bridgerton, but still enjoyed this tea!)
The pros: The setting inside The Lanesborough is reason enough to come here (so, when this tea is no longer offered, keep that in mind!), but the Bridgerton theme is done so well, from the beautiful themed pastries down to the menu complete with a note from Lady Whistledown. They also have a special tea blend, as well as a fun themed gin cocktail you can order.
The cons: The only con I can think of is that, along with being on the pricier end of the teas I'm featuring here, this one is only available for a limited time.
Who this tea is best for: The Diamond of the season, of course! Plus, any Bridgerton fans. Though, like I said, it's a good enough afternoon tea in such a beautiful space that I think anyone could enjoy it. This one isn't really geared towards kids, though.
Price: £75 per person (£85 with the themed cocktail)
When: Daily, though hours vary based on day of the week.
Good to know: They can accommodate dietary requirements if you let them know in advance. This is one you HAVE to book in advance.
4. Science Tea
The Drawing Rooms at The Ampersand, South Kensington
You don't have to be a science geek to enjoy this themed afternoon tea – but it certainly doesn't hurt! Complete with an "experiment" to create your own lemonade, space-themed sweets, and a small box where you can "dig" for a dinosaur treat, this science-themed tea is just FUN.
While the food at this tea isn't really themed flavor-wise, so many other elements are that this is one of the more charming themed teas you can book. There are themed plates, dry ice surrounding a one of the planet-shaped chocolate bombs when your tea stand comes out, a "petri dish" of jelly, test tubes filled with fun toppings for your scones, and more.
The food at this tea is pretty good (I particularly liked the chicken and basil bun and the dark chocolate and passion fruit planet mousse), and The Drawing Rooms are bright and beautiful, even if you visit on a rainy day like I did.
Pros: The theme is such a fun one, and is executed really well. The service was good, you can get refills on any of your favorites (and take leftovers home with you), and I loved that they offer a kids' version that comes in a rocket-shaped tea stand! I also loved the "experiment" they give you (making lemonade) to pass the time while you wait for your food to come out. Plus, this one is offered almost all day long!
Cons: I could find few faults here. I would have liked more herbal tea choices on the menu, but that's about it.
Who this tea is best for: This is my top pick for a kid-friendly tea (I mean, there are test tubes and things to squirt into your food!), though of course anyone can enjoy it.
Price: £54.50 for the Science Afternoon Tea; £37.50 for Kids' Sci-Fi Tea
When: 2-hour seatings; tea served daily from noon to either 6:30 or 7:30 p.m.
Good to know: Vegetarian, vegan, and gluten-free menus are available. Booking ahead is highly recommended.
Note: They've launched a second themed tea in 2023, called the Jurassic Tea! It's similar to the Science Tea, but leans more heavily towards the dinosaur theme. I need to try this one next time!
3. Peter Pan tea
Aqua Shard inside The Shard, Southwark
Looking to get swept away into a world of whimsy high above the rooftops of London? Then you'll want to check out the Peter Pan-themed tea offered at Aqua Shard, a restaurant on the 31st floor of The Shard.
This tea is great for several reasons. First, the food is themed and quite good (they even have special tea blends that fit the Peter Pan theme). Second, the restaurant has floor-to-ceiling windows offering excellent views of London's highlights; if you were planning to visit The Shard anyway, just book tea here instead!
And third, the presentation of this tea is one of the most unique. The tea stand they bring the sweets out on is shaped like a pirate ship, and comes complete with dry ice billowing out of it as you try to escape into the clouds from Captain Hook.
The pros: The food is themed and pretty good, and the presentation really is special. You also can't beat these views!
The cons: The savories are served before the sweets, which I find sometimes makes it difficult to pace yourself.
Who this tea is best for: A couple who wants to splurge a bit and enjoy stunning Shard views along with their tea. (Technically this tea is kid-friendly, though Aqua Shard definitely feels a bit fancy and I personally didn't see any kids there.)
Price: £52 per person (or £71 if adding a glass of Champagne or Fairy Dust cocktail)
When: Thursday-Sunday from 12:15 p.m.-4:15 p.m.
Good to know: They also have a non-alcoholic mixed drink you can add called the Never Grow Up punch. Also, the tea is in partnership with GOSH Charity, and a portion of proceeds are being donated to a children's hospital.
2. The Common Room (Harry Potter-themed tea)*
Cutter & Squidge, Soho
Harry Potter fans, rejoice! London now has a deliciously immersive Harry Potter-themed tea! You'll find this tea at a bakery in Soho called Cutter & Squidge, and to simply call it a "themed afternoon tea" doesn't do it justice at all. This isn't just afternoon tea. This is a full-on tea experience.
*Note: When I did this tea, it was themed like a wizarding potions class. These days, they've redesigned it to be a "common room" experience, so just note that the space will look different now than it does in these photos! I'm not sure how the experience will change, but will update this once they release more info.
You start by going down into the basement of the bakery, which has been transformed into the Potion Room. You get given a cloak and a wand, and are seated at a desk before you meet your Potions Master (or Mistress).
You then spend the next couple of hours mixing edible potions, drinking teas with names like "Elixir of Life" and "Unicorn Tears," and geeking out as much as your little magical heart desires. I did this one with fellow travel blogger Lauren, and it was SO FUN.
The pros: This is the most-themed tea I've attended; it's a fully immersive experience, and you really will feel like you're in a Potions classroom! I was so impressed by the presentation, as well as the food – the ham sandwich, leek and potato pie, and rock cakes were my favorites. I also felt like this one gave you the most bang for your buck because of the overall experience AND all the extra goodies that are included.
The cons: I mean… I guess if you're not a huge Harry Potter fan this might seem a bit kitschy?
Who this tea is best for: Anyone like me who is still convinced that their Hogwarts letter got lost in the Owl Post… This one would make for a great date or an outing with a Harry Potter-loving friend. I'm glad I didn't do this one solo, as it was definitely more fun with a friend.
Price: Starts at £44.99 per adult and £34.99 per child, and alcoholic mixed drinks are available for purchase (for the grown wizards and witches only, of course)
When: Teas last 90 minutes, and there are usually a couple seatings per day
Good to know: They cater to vegetarian, vegan, gluten-free, and dairy-free needs. You need to book well in advance for this one, as there's limited seating.
1. Mad Hatters Afternoon Tea
Sanderson Hotel, Fitzrovia
So are you surprised that the Harry Potter tea didn't take the #1 spot? I kind of was, too, to be honest! But, when it comes down to it, another of London's famous themed teas slightly nudged it out: the Alice in Wonderland-themed Mad Hatters Tea Party at the Sanderson.
Why did this beat out the Potion Room? Well, because I think the Potion Room appeals to a very specific kind of tea-goer (i.e. the kind who will happily wear a cloak and wave a fake wand around while enjoying an immersive tea experience), while the Mad Hatters tea has a much wider appeal while still being adorably cute and super delicious.
The Mad Hatters Afternoon Tea was the first themed tea I tried in London, and I was immediately enchanted. From the on-theme dishware to the themed tea blends to the pretty plate of food that came out, I was super impressed with everything about this tea.
The pros: Pretty much everything – the theme is carried out perfectly throughout the whole tea, and the food is all very good. They'll also box up any extras for you to take with you (as will most of the other teas on this list).
The cons: The only slight downside is that the tea is served in both the Sanderson's restaurant and courtyard garden, but you won't know where you'll be sitting until you get there. The courtyard is very pretty, but if you're in London during a heat wave like I was, it may be a little warm!
Who this tea is best for: Pretty much anyone who wants to enjoy a fun themed afternoon tea! This would probably be my pick if you wanted to take kids to a themed tea, as they have a dedicated "Little Hatters Tea" too.
Price: £48 per person (£65 with champagne), £35 per child
When: 2 hours; served daily from noon-7 p.m.
Good to know: They can accommodate needs for vegetarian, vegan, gluten-free, and dairy-free diets.
---
You might also like these other London posts:
---
Themed London teas no longer offered
Many hotels rotate through afternoon tea themes, meaning some that I loved are no longer offered in the way that I experienced them. Here are a few more others that I enjoyed, along with info on what has since replaced them.
1. Sherlock Holmes afternoon tea
Kona at the Taj, Westminster
If you're looking for a beautiful (and tasty!) themed tea in London, you can't really go wrong with any of the offerings at Kona, one of the restaurants at the 5-star Taj 51 Buckingham Gate hotel. For me, there was no question about which themed tea I'd choose: it was Sherlock Holmes all the way!
I absolutely adored this tea, from the fun props on my table to the themed goodies like the "221 B Macaroon," which was flavored with Scotch; a stout cupcake called "Watson's Moustache," and a smoked caramel mousse in the shape of a cigar. This was not only a delicious tea, but was also presented in such a fun way.
This specific tea is no longer offered as they change/add different themed teas frequently. Check out all their afternoon tea offerings here. (Their Jasmine Indian Afternoon Tea in the one that's usually always offered.)
2. Charlie and the Chesterfield
Chesterfield Mayfair hotel, Mayfair
After having tea at this charming Mayfair hotel, I'm now obsessed with staying here on a future trip to London. It's within walking distance to Green Park (and Buckingham Palace), and has that "old world" hotel feel without feeling too stuffy.
I went for their Charlie and the Chocolate Factory-themed tea, which like all afternoon teas at the Chesterfield, was served in their light-filled conservatory. The tea selection was unique (they have quite a few flowering teas on their menu), and I liked the chocolate scones and Wonka-inspired sweet treats, including an Oompa-Loompa cupcake and bubblegum eclair.
This tea was replaced with a sweetshop-themed tea. The new theme is fairly similar in that it still centers around candy, and you'll still get to enjoy the quiet setting in the conservatory, along with the very nice staff at the Chesterfield.
---
Where to stay for afternoon tea in London
Here are some hotels to check out that are convenient to these afternoon teas:
Charlie and the Chocolate Factory tea
Science Tea
Harry Potter tea
Mad Hatters tea
Charlie and the Chesterfield
Teas at Kona
Cat cafe tea
READ NEXT: The Perfect 10-Day London and Paris Itinerary for Your Dream Europe Trip
---
Have you ever been to a themed afternoon tea? Which of these are you going to book next time you're in London?
Pin it for later: