Some posts on this site contain affiliate links, meaning if you book or buy something through one of these links, I may earn a small commission. Read the full disclosure policy
here
.
---
Even though many people consider travel to be a "getaway" from routine and a person's normal life, the truth is that traveling isn't always relaxing. In fact, travel – and especially international travel – can sometimes be downright stressful.
I actually know plenty of people who have never traveled abroad simply because they don't know where to start.
This post isn't going to be about planning an international trip – there are plenty of other resources out there for that, and any tips I could give would really depend on the destination. Rather, this post is going to be about all the things you need to do before actually leaving on said international trip.
(Though, if you really don't know where to start with planning a trip, consider booking a small group tour for your first time – that way all the details will be taken care of for you! My go-to tour company is Intrepid Travel.)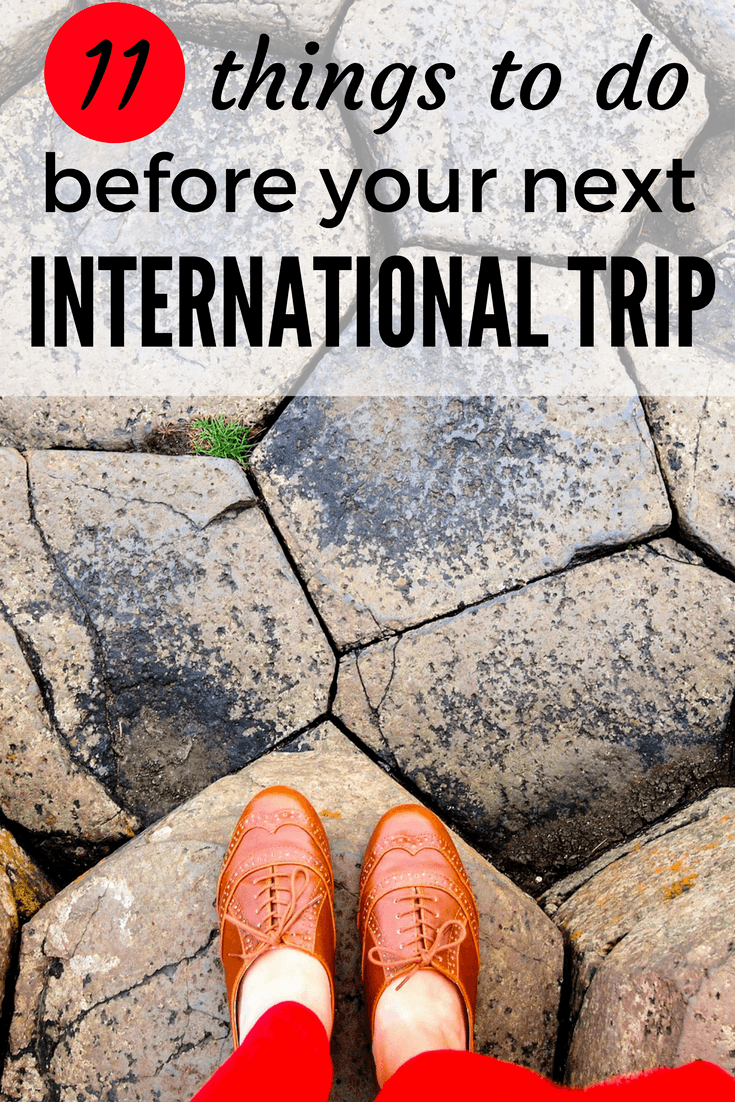 Pre-Trip Checklist for International Travel
Here are all the things you'll need to do before going on an international trip:
Know whether you need a visa
If you're an American traveler like me, you're lucky – we are able to visit many countries around the world without needing to apply for a visa beforehand. Some countries will require nothing more than a passport stamp, while others will enable you to get your visa when you arrive in the country. But don't just assume that because you carry a US (or Canadian or British or Australian) passport that you can travel visa-free to any country.
You'll still need to go through the visa application process to travel to places like Russia and Brazil. You'll need to apply for a visa-on-arrival for places like Vietnam. Going to Australia? Then you'll need to get an Electronic Travel Authority online before you leave home. And while you won't need a visa to travel to South Africa, you WILL need two FULL consecutive blank pages in your passport.
Be sure to check visa requirements for the country(ies) you'll be traveling to as soon as you book your trip – don't assume anything, and don't leave this go until the last minute. I usually use travel.state.gov to check visa requirements for American travelers.
(And checking on visa requirements early in your planning process will also help ensure that you won't miss something important, like your passport expiring!)
Get vaccinated if you need to
When I'm planning a trip to anywhere that's not in the US, Canada, or Western Europe, I double-check with the CDC website to see whether or not I need any vaccines in order to travel.
You can use this site to learn about recommended and required vaccinations for any country in the world. In general, you'll want to have all your routine vaccines (like MMR, tetanus, etc.) up to date. If you're traveling to less-developed parts of the world, you also may want to consider Hepatitis A and Typhoid vaccines, since both can be transmitted through contaminated water.
Malaria is also something you'll want to read up on if you're visiting any tropical areas, or certain parts of Africa and southern Asia. Some places have a higher malaria risk than others. If you're traveling to a high-risk area, you'll probably want to visit a doctor to get an anti-malarial prescribed.
RELATED: Travel in the Time of Zika: How to Avoid Mosquitos on the Road
The only vaccine that is frequently required around the world is the one for yellow fever. Some countries outside of yellow fever zones still require you to show proof of vaccination if you're traveling from a country where the mosquito-borne disease is prevalent. The yellow fever vaccine isn't cheap, but it's guaranteed to be cheaper than being turned away at a border if you need the vaccine and don't have it.
Purchase travel insurance
It's not nice to think about, but getting injured/sick is a possibility whenever you travel. Plenty of other not-so-nice things can happen to you while you're abroad, too, like having an airline lose your luggage, or getting pickpocketed on the street.
For this reason, having travel insurance is vital.
When it comes to getting sick on the road, your current health insurance provider might already cover you overseas – you'll just need to call and check. If this is the case, you still might want to invest in a basic insurance plan that will cover you in the event of a canceled trip or other non-health-related misfortune on the road. For basic travel insurance, World Nomads is one of the most affordable options out there.
If your current insurance doesn't cover you abroad, be sure to buy a full-coverage travel insurance plan (and make sure it includes medical evacuation!). For this type of coverage, you can check out Allianz.
Call your bank/credit cards
A couple of days before you leave, be sure to alert your bank and credit card companies that you'll be out of the country and will be potentially using your card(s) abroad. This helps lessen the likelihood that your card will be declined or shut down for suspicious activity when you're trying to use it overseas.
Most credit cards will have a customer service number on the back you can call to do this – and some even let you enter travel notifications online these days!
Know how you'll get local currency
Speaking of bank cards, have a plan for how you'll get some local currency. Even though most countries accept credit cards these days (with Visa and MasterCard being the most widely-accepted), it's still a good idea to have some local currency on you, too.
There are a few ways to go about getting currency for your trip:
You can order currency from your bank a few weeks before you leave.
You can exchange money when you arrive (though note that airport exchange counters offer the most awful exchange rates – exchange at a bank if you can!).
You can use your debit card at a local ATM – this is what I prefer to do!
Have a travel-friendly credit card
If you don't already have a credit card with no foreign transaction fees, consider getting one if your credit is good and you don't have a lot of debt (responsible credit usage, people!). Foreign transaction fees are annoying and can really start to add up – so make sure to have a way around them if you don't plan to pay for everything in cash.
Need suggestions on a good travel-friendly card? This post from The Points Guy offers a lot of great suggestions. You may as well choose a card that will earn you travel rewards while you're at it!
Research transport for your arrival
If you're booking a tour or organizing your trip through a travel agent, transport from the airport to your first hotel may already be arranged for you. But if you're planning your trip independently, it's a good idea to read up on your transport options before you leave home.
How much would a taxi cost? Does Uber or Lyft or another rideshare program exist? Does your hotel have a shuttle? Is public transport available and easy to navigate?
Finding the answers to these questions before you leave will cut down on the stress of arriving in a strange airport after a (likely) long flight. I know the last thing I want to do after a long overnight flight is try to figure out how to leave the airport.
Pack appropriately
Make sure you know what the weather will be like wherever you're going – remember that seasons are different depending where in the world you are, and that "summer" and "winter" can be vary from continent to continent! Know what season you'll be packing for well in advance, and then keep an eye on the weather forecast for exactly where you'll be in the weeks leading up to your trip.
Also make note of whether there are any cultural norms to take into account. For example, many Middle-Eastern and Asian countries are much more conservative when it comes to dress, meaning you may need to avoid packing things like tank tops and shorts.
Check out my packing lists page for country-specific packing lists.
You should also check what type of power outlets you'll encounter on your trip. Voltage doesn't matter so much any longer (most electronics and chargers can operate internationally with no problem), but you will likely need an adapter for wall plugs. I like this multi-country adapter from Skross, which will work in just about any country.
Lastly, you'll want to ensure that everything you're packing is going to stay safe. I love Pacsafe's line of theft-proof bags, and highly recommend grabbing a RFID-blocking, slash-proof backpack or handbag. In certain parts of the world, a portable safe also isn't a bad idea!
RELATED: How to Keep Your Money and Valuables Safe on Your Travels
Make copies of important documents
Passport, tickets, reservation confirmations… it's a good idea to have hard copies of things, and to also have photocopies of important documents like your passport – just in case! Keep these copies somewhere safe, ideally separate from the originals.
Make sure someone knows your plans
And speaking of those important documents, be sure to leave a copy of your itinerary with someone at home. This is especially important if you're traveling solo, to ensure that someone knows where you should be and when.
Thankfully, it's easier than ever to stay in touch on the road. Wifi is widely available in most parts of the world, and international phone/texting plans, apps like WhatsApp, and Skype make it easy to check in with friends and family back home. When I travel alone, I make sure to check in with someone at home every few days.
If you want to take things a step further, you can also register your trip (if you're American) with the nearest U.S. Embassy or Consulate by enrolling in the Smart Traveler Enrollment Program (STEP). STEP is free, and essentially makes it easier for your family or an Embassy to contact you in the event of an emergency.
Do a little homework
Lastly, do a little homework about your destination before you leave home. Read up not only on things to do and foods to eat, but also familiarize yourself with common scams to watch out for, how public transportation works, and if there are any areas you should avoid.
Learning a few phrases in the local language (especially things like "hello" and "thank you") will also go a long way. Lonely Planet has quite a few useful phrasebooks that you might want to check out.
And then, once your checklist is complete, be sure to relax and enjoy yourself!
Are there any other things on your to-do list before leaving on an international trip?